Our vision has been to give entrepreneur, everything they need to increase their business on mobile.
The september 2015 release of Mofluid delivers on that vision providing improved features which makes your mobile app more friendly to your customers.
These new solutions available to your Magento Mobile App, provides you fresh ways to convert your sales more effectively. Check them out!
Modern theme comes with a bunch of desired and much wanted features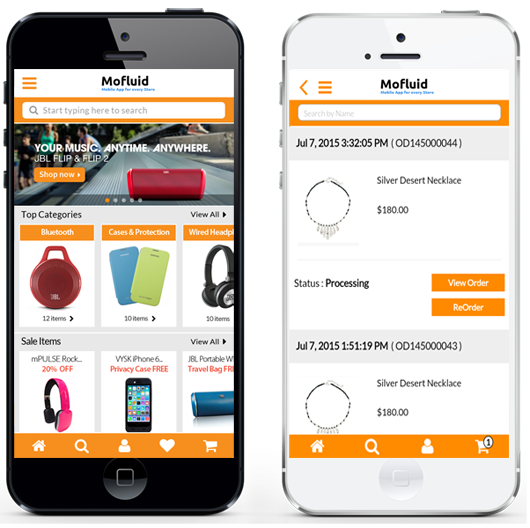 We are sure that your customers would be in love with your app because of the new updated version of modern theme as we got a bunch of desired and much wanted features.
Now your customers can log in with Google+ ,check out as guest, can move on the page by just sliding and a lot more which would definitely enhance your customer usability of the mobile app. Just have a look at its beautiful layout!
Easy for your customer to login with Google+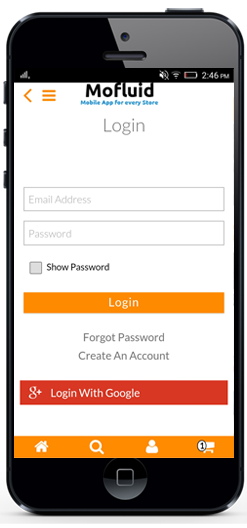 Guys, we are back with one of the most awaited feature!
Yes, your users can login with Google + and you get your user's relevant informations automatically with it.
Now to login with in mobile app no need to enter email address and remember password. Now user simply clicks on Login with google + tab from its mobile app login page and the app will synchronise with user Google + account logged in to the device and then user will automatically register or login with in app.
Following steps will enable the google plus login feature in app:
Navigate to Mofluid >> Theme configuration and click on any one theme. Screen similar to above screen will appears and here you have to enter your google client id and set login with google as enabled and save the details now generated app will have login with google feature enabled.
Even guest customers can make purchase using "check out as a guest"!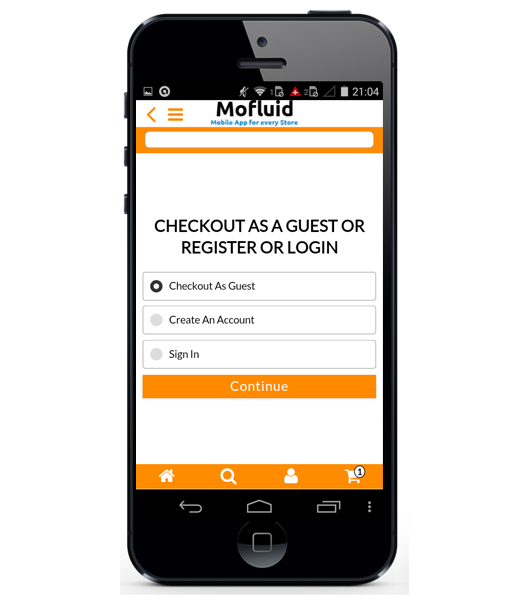 Now placing an order using mofluid mobile app will be much more simpler and easier as there is no need to create new account. Users will be able to browse and place orders in app by filling some relevant details as guest users.This feature will surely attract new customers.
No more loading time for products!
Yeah you guessed it right !
We have further improved performance of mofluid App as now caching is implemented for large number of catalog inventory. If there are large number of products available in category then those items can easily store in app cache so that user can open this page again without loading of page.
Just slide to move on the next page
Now have a smooth effect with mofluid app !
To be more user friendly we have now added page transition effect in app to slide from right side of screen when you move to one page from another. Yes, it works like charm!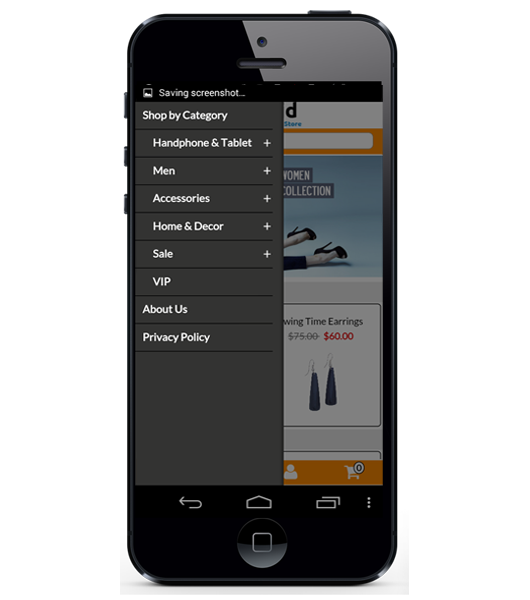 Yeah! Now all your categories, sub- categories are there in your main menu as well.
No need to scroll the whole app if you want to see product categories on homepage. You can simply click on Sandwich icon from header and can see all categories displayed in slider menu.
Now magento categories are placed in left side panel user can select categories from there without going back or forward to previous and next page.
Now you can enable/disable the tax details option with product price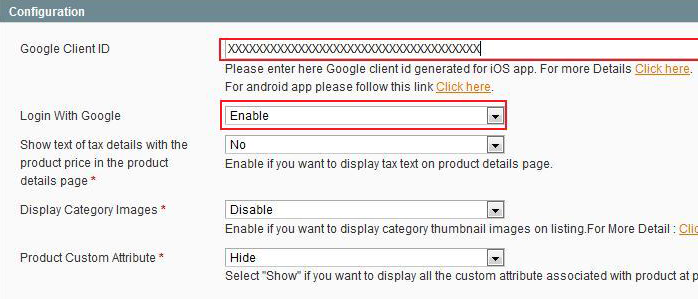 Dont want to show that your product is inclusive of taxes?
No problem, Now admin can have option to choose whether to show the text related to tax or not. Enable/Disable the tax details option with product price from magento under mofluid theme configuration tab.
Now configurable product are redirected to product detail page
From cart page when Users clicks on product image then users were directed to child product in case of configurable products. Now it has been fixed and user is redirected to parent product so that if user wants to add same product in cart with different configurable option, it can be done easily.
Stay tuned for more features to be added in later updates as well – and as always.

Author: Sam Zaman
Sam loves to write on technology & related stuff. Ecommerce, mobile and internet marketing equally drive her interest. Likes gardening and experimenting with new recipes. An avid reader and absolutely mad @bout donuts :)