Managing customer feedback is important for online businesses.
Brian Halligan — the founder of HubSpot who was voted top CEO in America — explains the importance of customer feedback management in six words:  "Feedback is the breakfast of champions."
Positive feedback about a company makes a positive impression on prospective customers. But negative feedback is also not without value.
By promptly responding to every irate customer, you can turn a negative comment into positive results.
Feedback Genius is one of the best feedback management tools we had reviewed earlier that can help you in managing customer feedback.
But you are not limited to this software to manage customer feedback and reviews.
If Feedback Genius does not make the cut for you, there are a lot of other feedback management software tools that you can consider.
Best Feedback Genius Alternatives

Feedback is one of the best Feedback Genius alternatives that you can buy online. The feedback review and management software are targeted to Amazon sellers who receive lots of product feedback and review.
Using the software, you can improve organic product reviews rate with persuasive requests that will make buyers respond.
The emails crafted by the software have convicting content and attractive layout and design. This results in a high click-through rate of emails.
You can change the settings to customize how and when customers receive emails. What's more, you can include extras such s targeting specific ASINs, promo code buyers, repeat buyers, and others.
With the CSS email templates, you can convince buyers to leave a positive review.
An important thing regarding the software is that you can change almost everything with just a click of a button.
You can set up email alerts so that emails can be sent whenever someone posts on the ASIN listings.
In addition, you can add buyers to exceptions who have opted out of receiving the email.
The software can help you manage multiple online marketplaces from one window. You can manage Amazon marketplaces targeted to the US and EU countries such as Italy, Germany, the UK, France, and Spain.
The software allows you to send targeted emails that are automatically translated for buyers in a specific country.
Feedbackz Pricing
Feedbackz has a plan for all.
The plans start at $9 per month for 500 emails and go up to $249 per month offering 60k emails. They also have an Enterprise plan for big businesses which has a custom price.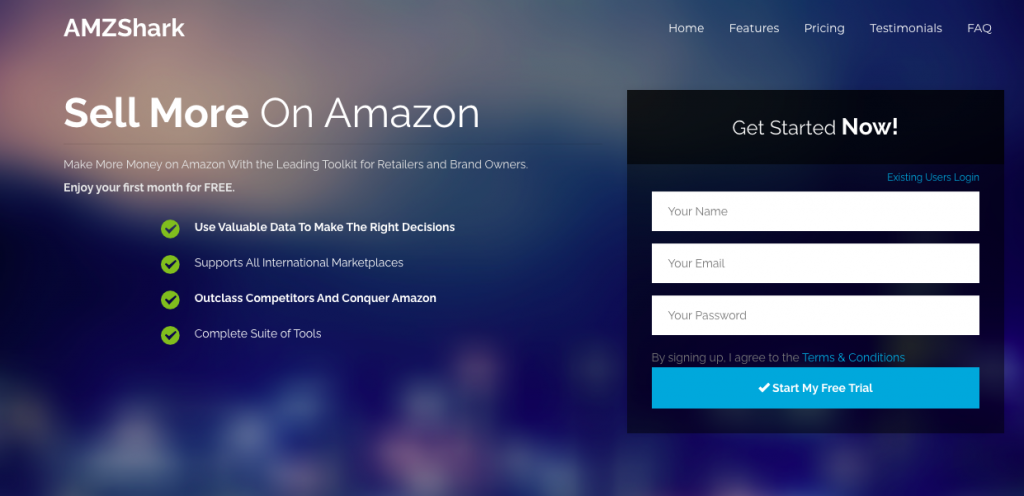 AMZShark is yet another great alternative to Feedback Genius that can help you manage Amazon feedback reviews. The software can monitor the review of almost any type of product in any country.
The software regularly updates to you about the sales data. It can show up to 90 days of data highlighting merchants who control the buy box.
AMZShark Customer Feedback
The software will alert you about customer feedback. You can also set up the software to monitor the response to customers' feedback automatically to the customers.
This will ensure that you don't miss a single negative comment posted online. The feedback review and management feature helps in managing a large number of online reviews and feedbacks.
Related : Amazon Feedback Tools & Review Management Softwares
AMZShark Product Tracking
This software can display information about a large number of products accurately.
You can track about 1000 products at once in almost any country.
AMZShark Reports
With the help of a colourful graph, you can view total units that were sold, sales prices, and net sales revenue of each item sold on the Amazon market place.
AMZShark Niche Finder
A great thing about the feedback software is that you can research niches that have great potential for profitability.
You can view lots of information about a niche including average reviews, monthly sales, and much more.
AMZShark Rank Tracker
Another great feature of this software is the rank tracker. You can then track which product ranks high in search engine for the different marketplace.
Also, you can track multiple keywords to know the ranking on the market place. The results of the market optimization campaign can be viewed daily.
AMZShark Keyword Research
Keyword research feature allows you to find out hundreds of keywords that are relevant to the product.
These keywords can be used to gain maximum online exposure. You will know about the most popular list terms that you can include in your online advertising campaigns for maximum effectiveness.
AMZShark Compare Listings
You can also compare listings and find out the best keywords for your campaign.  The software allows you to compare 20 keywords at one time.
The option can also help in pinpointing profitable niches that can be targeted to earn above average results.
AMZShark Competitor Search
A unique feature of the software is the Supplier Scout feature. This feature allows you to find the best supplier – both Amazon and non-Amazon sellers.
You just have to enter a keyword and the software will generate the listing within a few seconds. The feature will allow you to find potential competitors of your product who target the same market online.
AMZShark can also constantly watch the listings of the product on Amazon marketplace. You will be alerted if any competitor tries to steal the Buy Box, you will be informed promptly about the activity.
You can also direct customers towards your site using Super URLs. This will boost search ranking on the online marketplace.
AMZShark Pricing
AMZShark pricing is simple. The tool is free for the first month followed by $99/month.
You get unlimited KW searches, super URLs, comparisons and several other features.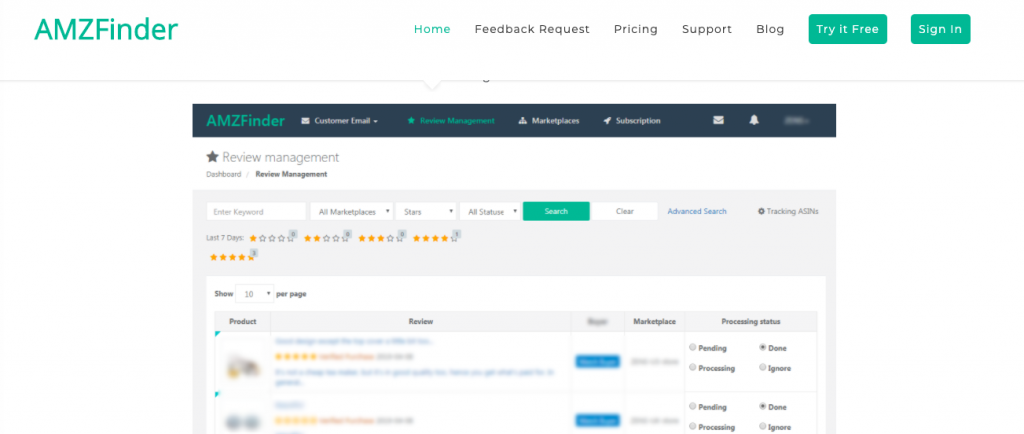 AMZFinder is another great feedback request system that can serve as an alternative to the Feedback Genius.
The efficient feedback review tool allows you to gain more positive reviews online. You can optimize the listings and boost sales by soliciting positive feedback about customers.
Related : How To Get More Reviews On Your Products on Amazon
Greater Control Over Emails
With the software, you can send specific emails to your customers. The software will automatically send emails to customers.
Prior to sending the emails, you can select whether the email should be prioritized by fulfillment channels or the order generation time in different marketplaces.
This level of control is something that is not present in other feedback review and management software.
AMZFinder Multiple Marketplace
You can review feedback from different marketplaces. Whether you own a marketplace serving the US, the US, France, Germany, Canada, Italy, Spain, and even Japan.
You can manage feedback and respond appropriately using email templates.
AMZFinder Automatic Invoice Generation
A great thing about the software is that it supports automatic generation of invoices.
The software will generate an invoice as per the specific needs of the marketplace.
The software can send VAT invoices to the customers on the EU Amazon market place. This saves a lot of time catering to customers in the UE region.
AMZFinder Email Templates
Personalized email templates are another hallmark of the Amazon feedback management software.
You can craft the perfect custom email for specific customers. The email soliciting feedback from customers can be tested and personalized to get the most positive response from customers.
The system has templates in different countries. You can personalize the email templates for sending to clients in different locations.
Blacklisting Customers
The software can also blacklist customers you don't want to receive the email. In this way, you can send emails only to customers who are willing to offer feedback from customers.
Blacklisting customers will ensure that emails are sent to only those customers who have opted to receive emails from the company.
AMZFinder Pricing

The packages start from $49 per month to $799/month. All plans include 10 marketplaces.
You get 5000 to 200000 mails with 10 to 1000 ASINs depending on the plan you've subscribed for.
Annual plans are cheaper.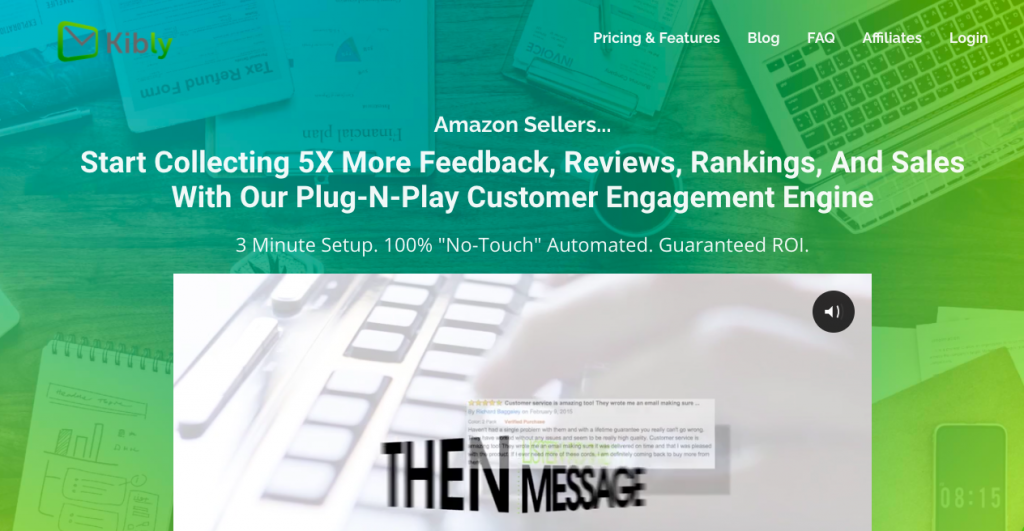 Among the more popular Feedback Genius competitors, Kibly has a permanent place.
You should consider Kibly if the above-mentioned feedback review programs don't make the cut for you. With this software, you can get more feedback and reviews.
Setting up the software is easy with three simple steps. The installation is 100 percent automated and you don't need to configure anything to install the software.
With this software, you can solicit glowing reviews about your customers. Your customers will tell everyone about the great product that will convince other shoppers.
Kibly does more than managing feedback and reviews. You can also delight customers by sending personalized postcards that are delivered right at the doorstep of the customers.
The beautifully crafted postcard can be customized to make the best impression on your customers.
With Kibly Connect, you can target customers through social media platforms such as Instagram and Facebook. The feature tool will help you display ads of your Amazon products on past customers' screen.
You can use Connect and SendPost feature to make a positive impression on your customers.
The personalized email, postcard, and social media ad will help forge a strong connection with customers. This will allow you to grow the business by boosting sales.
Kibly Pricing
You can start Kibly by creating a free account. Their feedback assistant tool comes free.
If you want added features, you'll have to pay. For automated email follow-up, they charge between $0.003 to $0.50 per email.
Kibly connect comes at $0.08 to $0.16/record. It turns your orders to mailing list.
Review and feedback tracking dashboard is priced at $1/month per product.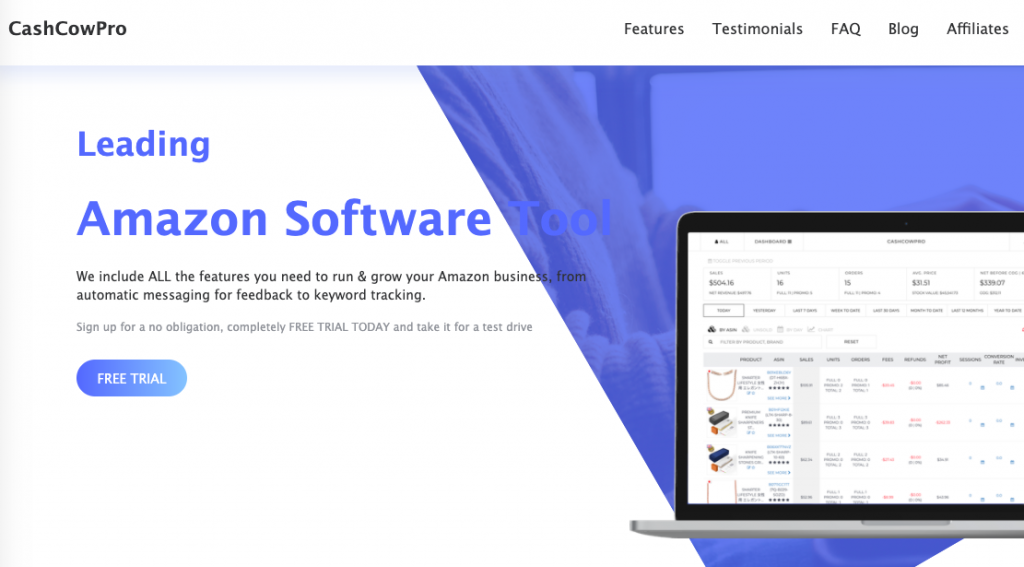 CashCow Pro is another great alternative to Feedback Genius Alternative that offers great value for money.
The software has lots of tools that can make you boost the ranking of Amazon product listing. With the software, you can do a lot of things to manage customer feedback.
CashCowPro Automated Feedback Management
The automated feedback collection feature will streamline the process of managing customer reviews.
Unlike most other feedback management tools, you can send unlimited emails to your customers. Also, the send-times can be customized to suit your exact requirements.
CashCowPro Sales Tracker
Apart from managing customer feedback, you can also track sales performance. You will know the sales performance during a specific period.
The software will show a lot of statistics such as session data, page view, conversion, and sales. It will present information about net profit and ROI.
Related : Best Amazon Sales Estimator Tools 
CashCowPro Metrics Tracking
The software can process sales data and present different statistics.
You can track different metrics that relate to your online product. The tools allow you to perform a health check on the Amazon business.
You can track the metrics to understand what needs to be changed to improve sales performance.
CashCowPro Keyword Tracking
Keyword tracking is another invaluable feature of this software. The feedback management tool allows you to monitor a maximum of 100 keywords for a product.
This can help you to optimize the listings and improve sales and profitability.
CashCowPro Competitor Analysis
Using the software, you can track the best Amazon sellers. The tool can help you shortlist sellers that are a direct competitor to your product.
This will allow you to customize your product offering to gain an edge over customers.
CashCowPro Inventory Management
Lastly, you can use the tool to monitor inventory on Amazon. The software will let you know the inventory levels so that you can restock before the items become exhausted.
You can check the SKU quickly and predict what inventory items should be restocked.
Related : Best Amazon Inventory Tools
CashCowPro Pricing
The monthly plan was earlier priced at $99.70. They are now giving it at $47.97/month.
Similarly, the annual plan was expensive earlier. Now you can get it at $497/year.
You can try the tool for free for 10 days and cancel it anytime you want.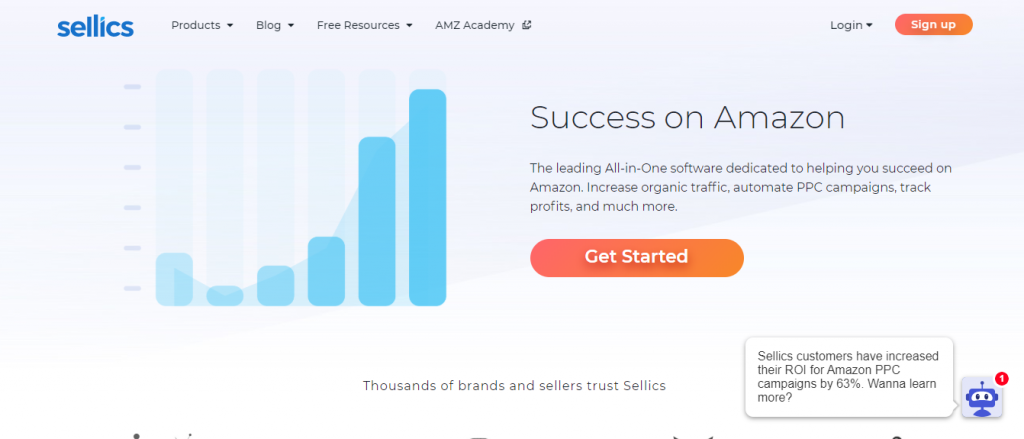 Sellics is a feature-rich product that can help you to make the most of the negative reviews. The software allows you to take immediate action against negative comments.
You can sort customer feedback based on the average product rating. With just a click of a button, you can respond to negative customers in a positive manner.
The comment can be made directly from the dashboard resulting in a smooth workflow.
Related : How To Remove Bad Reviews on Amazon
You can also sift through positive reviews to know what customers best like about the product. You will know what features customers liked the best.
The highlighted features can help the marketing personnel to customize their message when promoting the product.
Sellics Pricing
The pricing of Sellics seller edition depends on the annual sales. For Amazon sellers with sales between $1k – $60k, the software costs only $67 per month.
If you opt for bi-annual plan, you need to pay $57/month. Annual payment plan is cheaper of all at $47/month.
A 14-day free trial is available as well.

Salesbacker is another strong Feedback Genius competitor.
It is a great software tool to automate the task of managing customer reviews.
The software allows you to set up an email to be sent automictically once a purchase is made. This will help you to improve the positive seller feedback.
You can select default emails designed to get seller reviews, feedback, and more. You just have to set up the software once and let it do the rest.
With this software, you can monitor the feedback of sellers and product reviews. You can receive email alerts when a seller sends negative feedback.
You can have the software automatically send an email requesting the user to contact relevant company personnel to resolve the issue.
The proactive approach in resolving the issues will have a positive impact on existing and prospective customers.
You can also email attachments of up to 7 MB in the form of a PDF or other document file along with the email. You can offer a bonus or extra value to the customers through the feature.
Salesbacker Pricing
Salesbacker pricing includes a free plan which gives 120 emails a month. Besides, there are four monthly subscription plans. They start from $19 to $159/month.
All plans include premium features. The difference is of the number of emails you're allowed to send.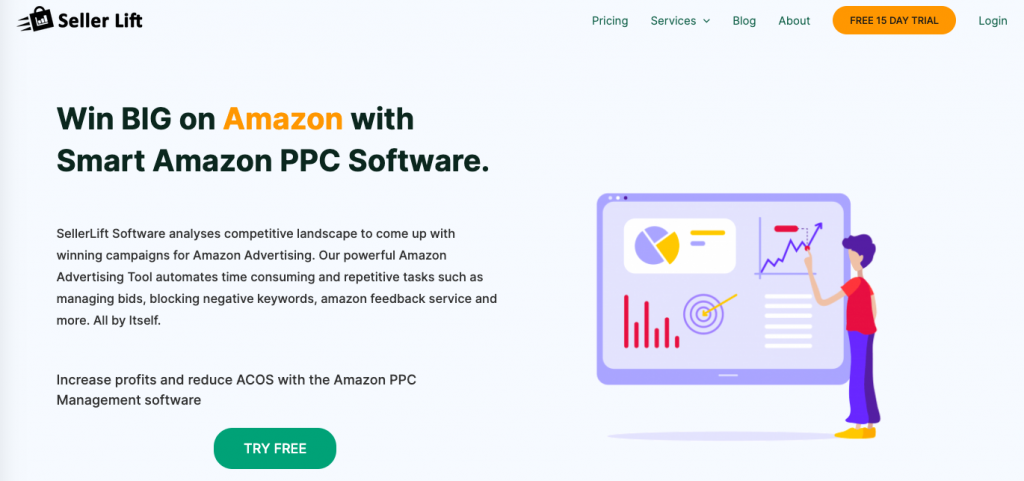 SellerLift will allow you to reach out to customers without dedicating time and effort in maintaining customer relationship. You can automate sending of customized emails to the customers.
The integrated scheduler allows you to specify when the emails should be sent. You can customize the delivery to reach out to customers at the right time.
Similar to other feedback review tool, you can monitor and sort customer reviews based on the type of reviews.
However, a unique feature present in this software is the ability to sort the comments based on the order frequency. In this way, you can give priority to high-value clients in addressing their concerns.
A great thing about the software is that it can send mobile-friendly emails. The emails will look great on small mobile screens of the customers.
You can preview the emails so that they look great no matter what the screen size.
The emails are personalized get a positive response from customers. The emails can be customized by adding buyer name, order number, and review link that is filled automatically.
You can also block list customers who have opted out of email response. This will prevent further communication with customers.
SellerLift Pricing
SellerLift offers four plans starting from $39 per month to $299/month.
Higher priced plans get added features like free set-up, email support, sponsored product management, unlimited stores etc.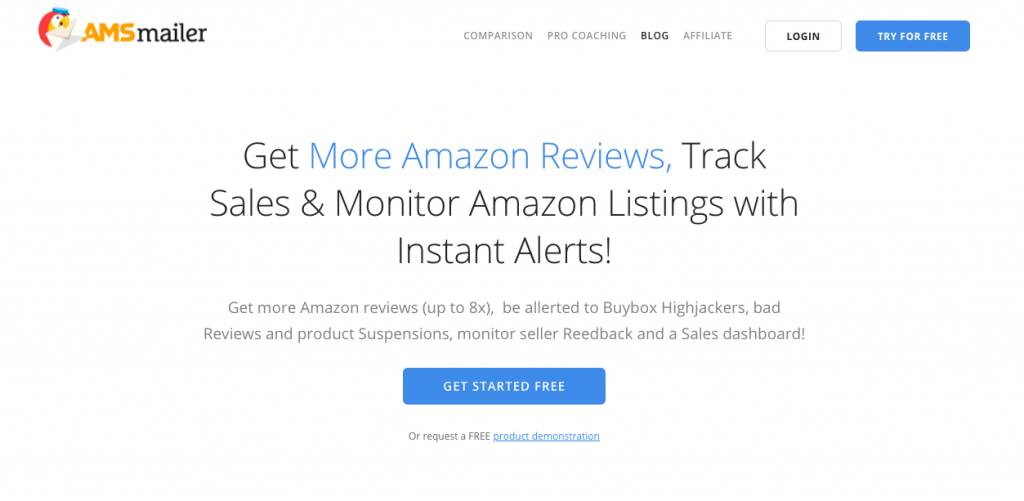 AMSMailer was AMZMailer earlier. It is one of the best review and feedback management software for Amazon sellers. The software is a great alternative to Feedback Genius with a lot of interesting features.
You can send automated emails to get more reviews from the customers. The software can monitor negative seller feedback and reviews and display the information in a dashboard.
The automated software will send an alert if a seller posts 3 stars or fewer reviews. You can instantly respond to the customer to resolve the issue.
You can use the software to manage feedback from unlimited email accounts. The software can respond to customers using a series of automated and highly targeted emails.
The emails can help boost positive customer response that can improve the listing of the Amazon products.
You can send attachments with the emails. This provides you with an opportunity to convert an irate customer into a loyal, committed one by sending personalized discount cards or other promotional offers.
The software has different pricing plans allowing you to scale upwards with growing sales. You can send between 1,000 to 120,000 plus emails and respond to unlimited ASINs.
AMSMailer Pricing
The four plans start from $19 per month to $249 per month.
Depending on your plan, you get the number of emails you can send.
Final Words
So these are some of the best Feedback Genius alternatives.
After evaluating the features and pricing, you can pick the one that suits you more.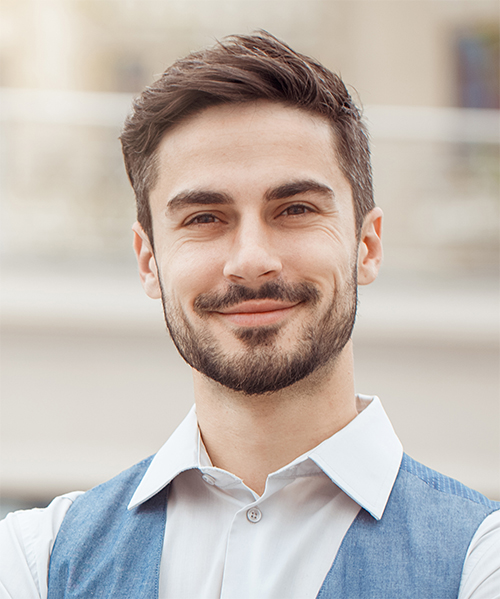 Author: Scott Macarthur
Scott L. Macarthur is a marketing consultant and an online author. He is mostly engaged in providing his expertise to startups and SMBs. He is also an author on TheNextWeb.