Responding to customer feedback is the single most important thing online business owners can do to improve business.
By following up with customers' comments, you will be able to turn irate customers into satisfied customers.
The goal of responding to customers is not just to resolve issues but to improve the brand profile.
In this regard, a feedback review tool can prove invaluable. This will help reduce the ratio between positive and negative reviews. It will also help you automate the task of managing feedback. 
Seller Labs Feedback Genius is one such tool to use.
What Is Feedback Genius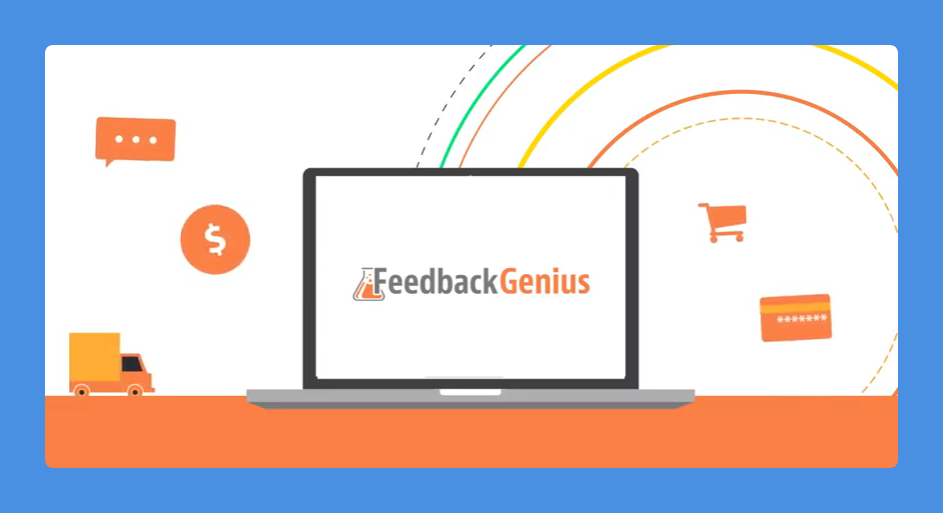 Feedback Genius is a feedback management and communication tool for Amazon sellers.
The parent company, Seller Labs provides many other tools for Amazon sellers that lets them engage with online buyers.
Using the tool can help in improving the customer buying experience and also get positive feedback from customers.
The aim of the software is to boost the buying experience and solicit positive feedback from the customers.
At the moment, the software supports integration with eight different marketplaces.
You can integrate the software with Amazon US, Mexico, Canada, UK, France, Spain, Italy, and Germany.
The first marketplace is completely free. For managing feedback from multiple marketplaces, you need to pay an additional $10 per month for each marketplace.
You can send emails to customers soliciting feedback, showing appreciation, and much more. You can customize the software to do the leg work of reaching out to customers for you.
A great feature that most people love about Feedback genius is that option to block customers. The software can block customers who have opted out of receiving marketing messages. It has a master blacklist that contains information from different buyers.
Similarly there are many other features it offers.
In this article, we will present a detailed review of Feedback Genius so that you can find out whether the software really makes the cut for you.
Related : Best Amazon Feedback Tools & Review Management Softwares
Feedback Genius Features
Let's take a look at each of the value-added features of Feedback Genius in detail.
Sending Emails
Feedback Genius allows you to receive feedback from customers through a two-email strategy.
When an order is placed by a customer, an automated email is sent to by Amazon.
You can opt to send your email at the same time or a day after the order is dispatched.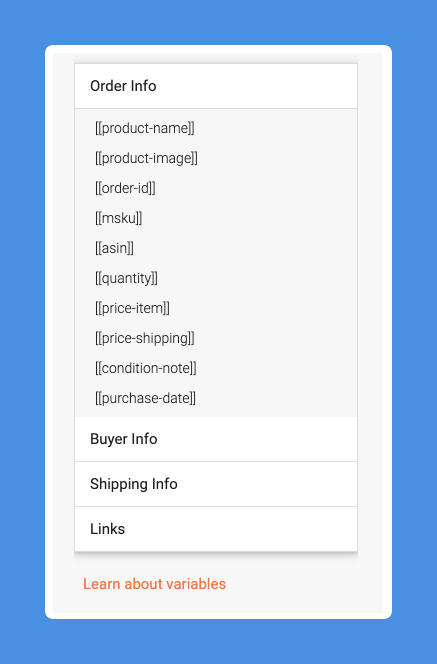 The software allows you to schedule emails to be sent a specific number of days after the purchase.
Along with the email, you can send a request asking the customer to send a positive review.
Customers are more likely to write a positive review soon after they receive the package.
You can insert variables in the email that will be filled automatically by the software.
For instance, you can insert variables like [[first-name]], [[product-name]], company logo, and order link with the email.
Feedback & Product Review Request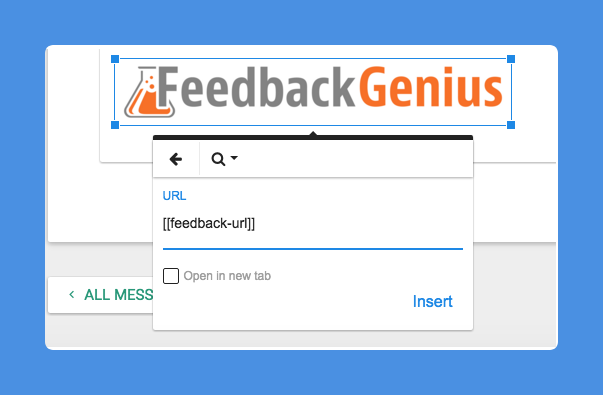 You can add a default 'excellent feedback link' with 5-star pre-selected.
This will increase the chances of receiving positive feedback from the customers.
In addition, you can add a request for product review by inserting a link to Amazon product review.
This can be sent a few weeks after delivery of the product.
The customers should be encouraged to write experience in using the product.
Product reviews will improve the popularity of your product on Amazon.
The brand profile will improve when you receive positive product reviews.
The sales rank will increase that will present the opportunity of improving profitability.
Related : How To Get More Reviews On Amazon
Feedback Genius Email Templates

Feedback Genius Email templates are another great feature. The software contains a lot of different templates.
You can customize the templates to match the brand profile.
Moreover, each template can be made specific to a particular product.
You can add a customized logo, brand message, and more in the email for multiple brands.
You can create product-specific emails informing the date of dispatch, expected arrival date, and product tracking.
Analytics & Insights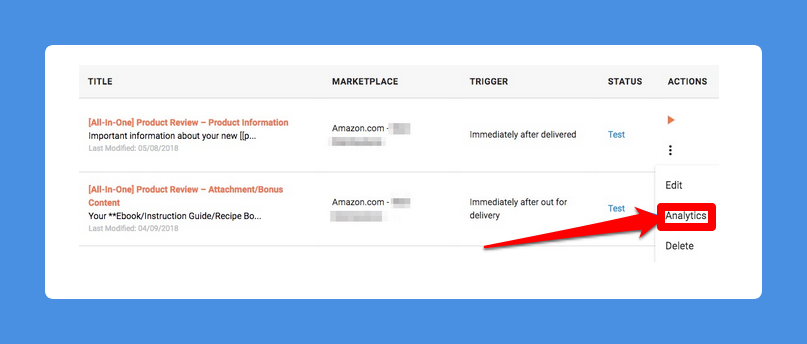 Feedback Genius contains basic feedback analytics metrics that show the performance of your emails.
You can access the emails from the Messages tab.
You can view the percentage of open and unsubscribed messages as well as the clicked rate percentage over a period of time.
The Clicked Rate Graph is particularly useful in showing the effectiveness of the CTAs.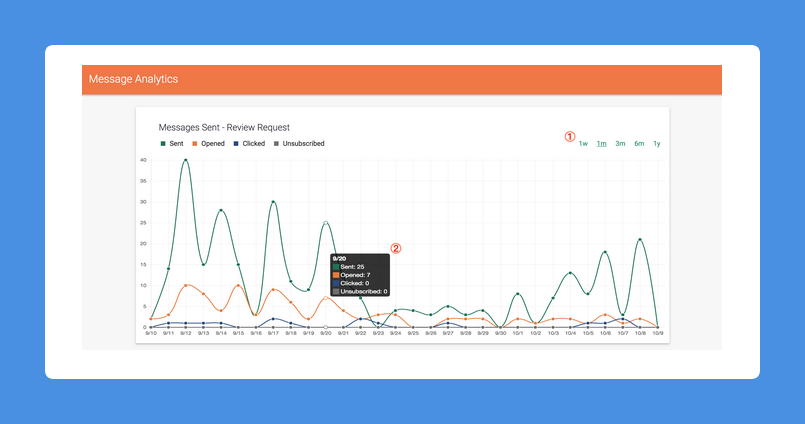 You can view three different reports in Feedback Genius.
One report aggregates all the monthly stats on your marketplaces.
Another report will show you how much feedback you have received over time.
In addition, there is a report that shows the recent usage report.
This report displays how many emails you can send during a month.
Different plans allow you to select a different number of emails.
You will know the details about this in the pricing section.
Related : Amazon Seller Scanning Apps
Monitoring Of Negative Seller Feedback
The paid plan includes the feature of monitoring negative customer feedback.
You will receive an SMS and email notification in case negative feedback is sent.
This will allow sellers to act in a timely manner to resolve the issue.
Related : How To Remove Bad Reviews on Amazon
Advance Email Block List Features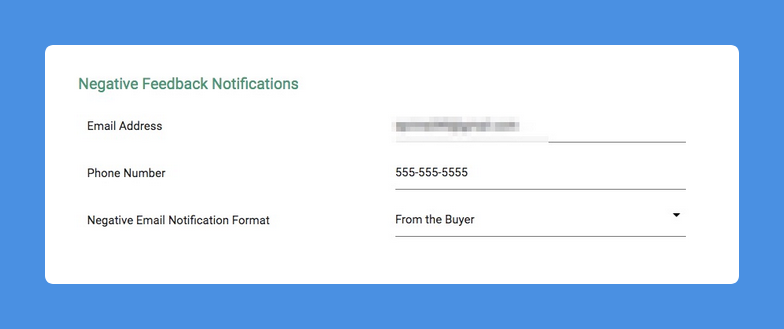 The software has the option to stop sending emails to customers.
The ID and email addresses of customers who have opted out of receiving marketing messages are displayed in the Email Blacklist.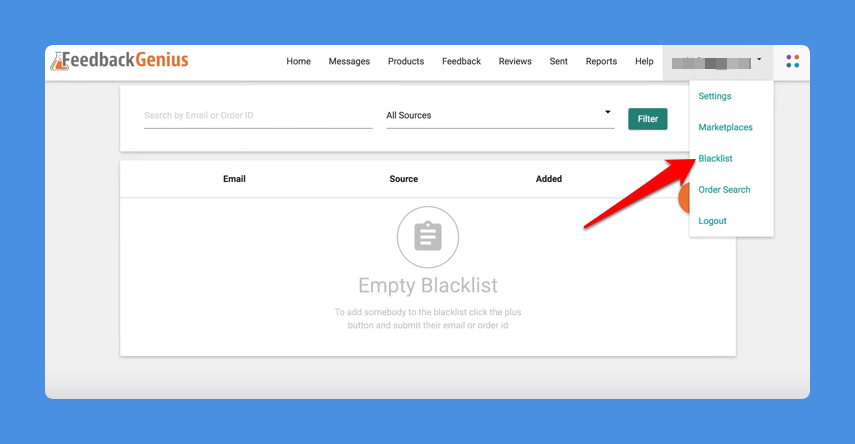 What's more, customers have the option of clicking on the Unsubscribe button at the end of the email address.
These are useful features as some customers get annoyed when receiving marketing messages.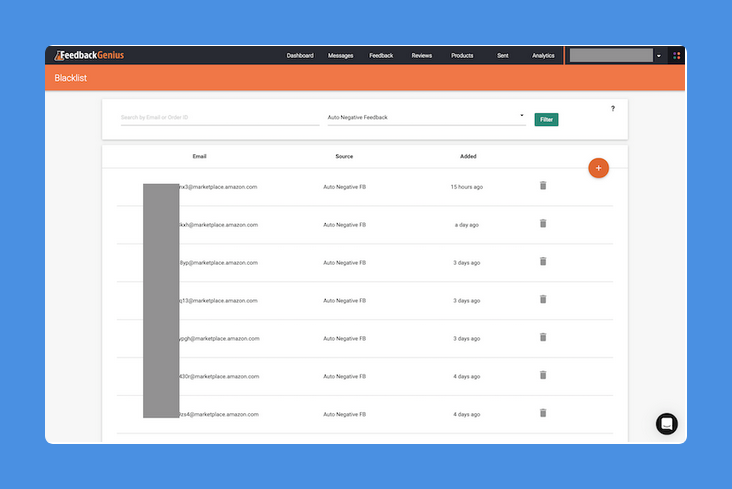 A/B Testing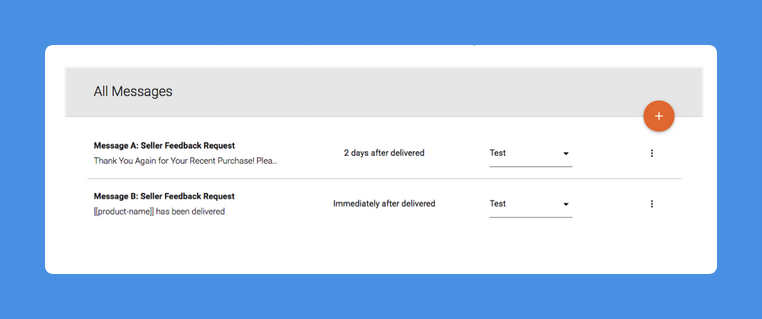 A feature available in more expensive plans is the A/B testing feature.
This feature allows you to test which of the two messages results in a more positive response.
The feature can help you to gauge the effectiveness of emails and adjust accordingly.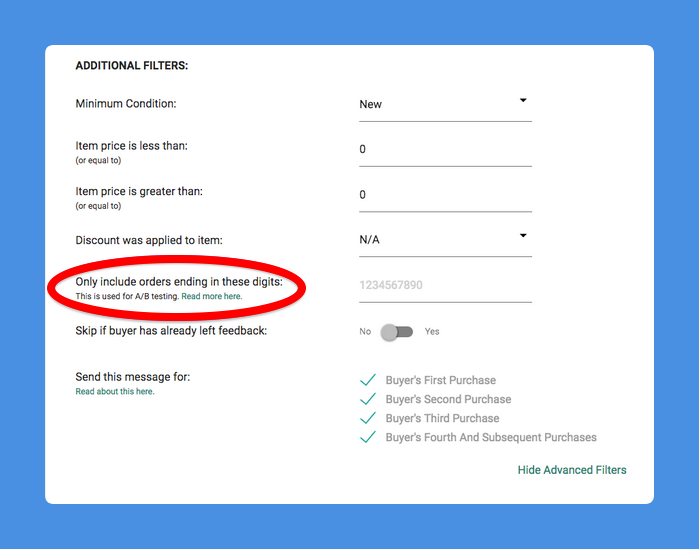 Personalized Messages
A highlight of Feedback Genius is the ability to personalize templates while remaining within the guidelines specified by Amazon.
You can create as many personalized emails as you want.
With the use of the software, you can create customizable templates for the first time and repeat buyers.
You can create separate emails for the first time and repeat buyers.
Also, you can schedule to send emails only to specific customers.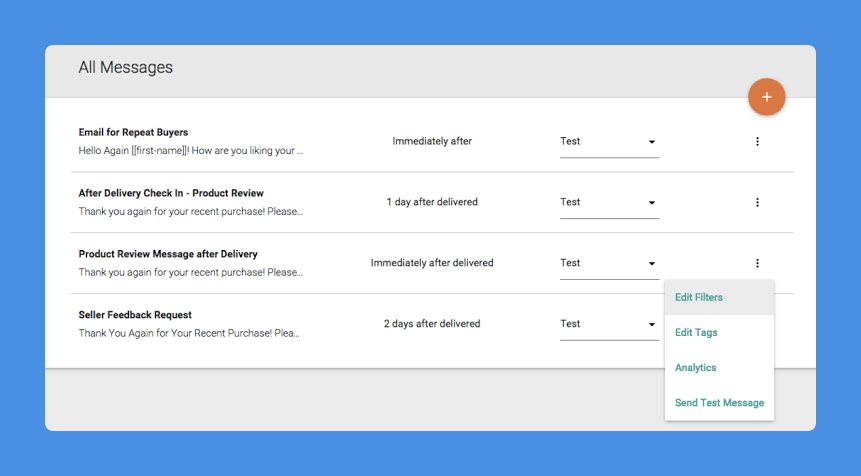 The email will automatically filter out customers who have left a message.
In this way, you can send a reminder to only those customers who have left feedback.
Customer Support
Feedback Genius customer support is another highlight of the software.
Seller Labs customer support team is available 10 am to 5 pm EST, Monday to Friday.
What's more, there is a comprehensive Knowledge Base and a list of Frequently Asked Questions on the website.
You can call or email the customer support staff to request a meeting if required.
Feedback Genius Pricing
Let's talk about Feedback Genius pricing.
Feedback Genius is a part of Seller Labs Pro which starts at $49/month if your annual sales are under $50K.
The price increases as you go up on your sales.
Annual plans are cheaper starting at $39/month.
How To Set Up Feedback Genius?
Once you have purchased a Feedback Genius plan, you need to connect it to the Amazon account.
The site will walk through the steps needed to hook up the seller account. The process is straightforward and simple.
Once Feedback Genius is connected to Amazon seller account, all FBA order events will be automatically integrated.
However, you need to perform additional steps to connect the feedback review and management software with Merchant Fulfilled orders.
The Seller Central Integration process must be carried out during the initial account setup stage.
After the configuration is complete, you can start sending and receiving a message for Merchant Fulfilled and FBA orders.
Using Feedback Genius wizard, you can start sending emails to your customers.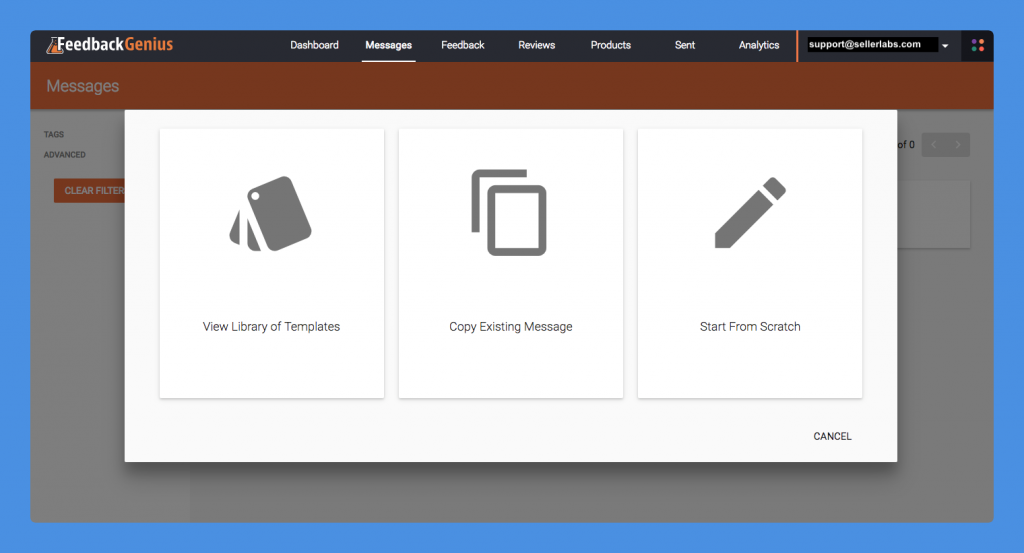 The software allows you to edit emails with an email editor. You can customize the email formatting and content.
Add a variable to personalize each product based on specific products and customers.
For instance, you can send the following message containing appropriate variables in Feedback Genius.
Dear [[first-name]],
Thank you for placing an order of [[product-name]] on our website. Your product has been dispatched. You can contact us [[contact-link: contact us]] if you want to know more about your order.
Your feedback is highly valuable to us. Kindly spare one minute of your busy schedule to leave feedback regarding [[product-name]].
[[product-review-link:Write your review here]].
Sincerely,
The variables in the email will be filled automatically by the software.
This allows you to send emails to hundreds of individuals without having to manually respond to each one.
The software wizard can also help you specify the number of emails that must be sent during a particular day.
You can also configure delivery times based on specific events.
Shipped
Confirmed
Marked for 'Out for Delivery'
Delivered
Returned
Positive Feedback
You can have one email sent immediately.
Another email can be sent a few days after the product has been delivered.
Another option with Feedback Genius review tool is specifying SKU or ASIN that must be attached to an email.
You can have these attached to one or many products.
Feedback Genius also supports advanced filters that let you locate specific products.
You can have the products sent after a certain day to specific customers.
For instance, you can filter emails to be sent only to customers in the US and France.
In this way, you can make sure that the emails are sent to the appropriate customers.
Another interesting feature of Feedback Genius tool is the ability to skip message to buyers who have returned products.
You can also customize the emails to be sent to repeat customers.
How To Make The Most Of Feedback Genius?
Feedback Genius contains a lot of useful features. You can easily set up the software and connect it with your Amazon account.
The software will have a positive impact on customers.
You can use subtle persuasive tactics to encourage customers to leave a positive review.
The emails can be crafted with a goal to increase customer engagement. This, in turn, will increase the chances of positive customer interaction.
Ideally, you should send the feedback as soon as a product is dispatched to a customer.
Ask a question to generate interest and provoke a response.
You can also attach an eBook as a value-added offering to customers. Everyone likes free stuff.
Your customers are more likely to write positive feedback if you send them something useful once a product is dispatched.
Consider sending anything that will add value for the customer.
Anything that a customer is not expecting and adds value will result in a positive response.
Before sending a product review link, you should ask whether the customer is satisfied with the purchase.
You should send the review link only if the customer is satisfied with your product.
The goal should be to target customers who are more likely to leave positive response.
You can report negative feedback identified by Feedback Genius that violates the terms of agreement of Amazon.
The software saves time in manually sifting through product feedback and reviews.
In this way, you can lower the negative feedback ratio that will boost your ranking on Amazon.
Steps To Amazon Feedback Success Using Feedback Genius
Step 1 — Find out if customers are satisfied with the purchase. If they are not, take action to resolve the issue.
Step 2 — The second step is to speak the customers about how to improve customer experience. Find out how the product or service can be further improved. This is the most important part that should not be ignored as you can get valuable feedback for improving the product offering.
Step 3 — Next, you should request customers to submit an honest review on Amazon. At this step, you should not incentivize the customer in any way such as by offering a discount. This is important otherwise your Amazon account could get blocked for violating the terms of the agreement.
An important tip when it comes to sending emails to customers is to ensure every email is unique and reflects your brand value proposition.
The templates should be customized by putting your own spin on the message.
Customers can tell whether a message is original or system generated.
They are more likely to respond positively to emails that are personal and unique.
There are no hard and fast rules but you should send the first email immediately after a product is shipped to the customer.
The second email should be sent about two to four days after the product is delivered.
The third email should be sent about ten days after the delivery of the product.
Feedback Genius FAQs
1. Can Feedback Genius Be Used for Feedback Management Only?
No. You can use Feedback Genius for just about anything. You can use the software to reinforce the brand message.
The software can be used to assure customers that their product is on the way. You can also educate customers about how to use the product.
In essence, the goal of the product is to manage customer engagement.
Feedback management is just a part of the software that you can use to boost Amazon ranking.
While the software was originally intended to manage product feedback, the software has evolved over the years and supports a lot of other things using the template emails.
2. Does Feedback Genius Support Multiple Marketplace?
Feedback Genius support unlimited marketplaces. But you need to pay $10 extra for additional marketplaces. Facebook supports Amazon.com, .mx, .ca, .uk, .de, .it, .fr, and .es.
3. Can Feedback Genius Send Messages to Previous Orders?
Yes, Feedback Genius can send messages to previous orders. But the software cannot send message to orders that are 60 days old.
4. What Did Most Customers Like About Feedback Genius?
Most customers have praised the easy user interface of Feedback Genius. In addition, customers liked the automated email message function that saves time for sellers in connecting with customers.
Customers also liked the fact that it allowed them to get more positive reviews for their Amazon products.
Features such as the ability to add images, schedule email campaigns, and create campaigns for specific products were also praised by users.
5. What Customers Disliked About Feedback Genius?
Some customers have complained about the lack of ability to see aggregated reviews for different products.
This feature would have helped to know who the changes in email message have affected the response rate.
Another drawback of the software that was highlighted by many customers is that it gets slow when pulling software of larger accounts.
Some users also did not like the pricing plans particularly the higher tier plans.
The limited email templates were also a drawback for some customers.
Although customer support is responsive, some customers felt irritated by the long wait times.
Overall, most customers have liked the basic features of the feedback and review management tool.
The tool allowed them to effectively manage feedback and solicit positive reviews from customers.
The highlight of the software is the powerful email scheduling feature that allows sellers to configure the system to send emails after specific events or certain days have elapsed.
Related : Alternatives to Feedback Genius
Feedback Genius Coupon Code
Seller Labs Feedback Genius promo code is available from time to time.
The promo code can give you a good discount. Always check if one is available before subscribing.
Try "BFCMNU50" to see if it is active at the moment. It offered 50% discount the last time we checked.
Final Verdict
A regular email software will not work in marketplaces. Amazon has a closed ecosystem. You can't access the emails of the customers.
While you can manually respond to customer's comments, the process is unscalable. In other words, you will find difficulty in responding to every customer when your Amazon sales revenue increases over time.
Amazon feedback review tools allow you to appropriately respond and manage the entire feedback process.
Feedback Genius is one such powerful tool that you can consider right from the day one.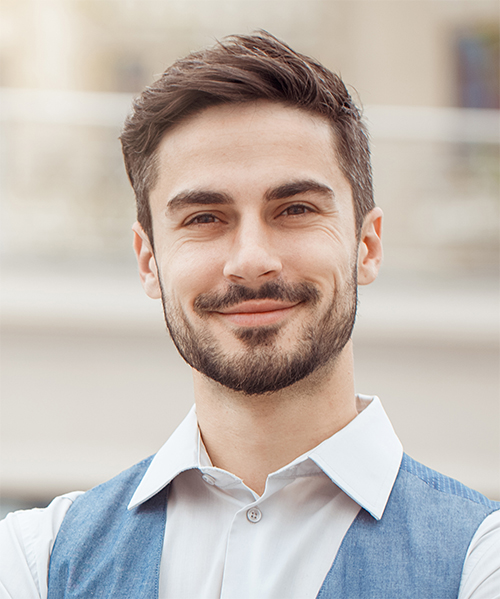 Author: Scott Macarthur
Scott L. Macarthur is a marketing consultant and an online author. He is mostly engaged in providing his expertise to startups and SMBs. He is also an author on TheNextWeb.