Amazon Seller tools are a dime a dozen on the internet. They are used by sellers, old and new, in order to boost their sales on Amazon and other online retail marketplaces.
This is because the market is so saturated with sellers that it's tough to stand out.
However, with these Amazon Seller tools, you can do so by either using feedback to your advantage and learning from the data that you got, or simply using various comparisons and contrasts to similar products on Amazon's listings to develop your own strategy.
Here is a breakdown of two Amazon Seller tools, Feedback Whiz and Jump Send.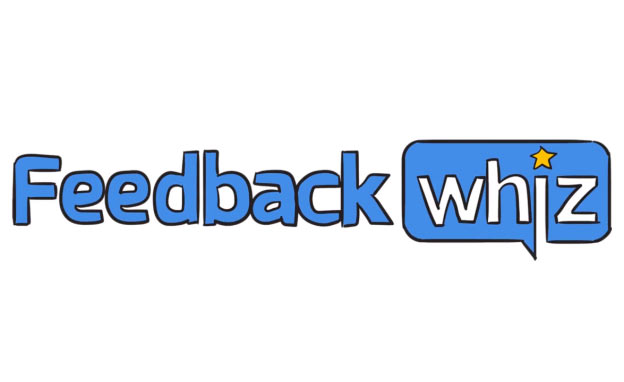 Feedback Whiz is an all in on tool to boost sales on Amazon and monitor and automate emails as well as feedback and review.
This allows its users to track products and their reviews as well as their sales. You can get automatic updates and notifications on how the product is doing.
You can get detailed analytics and metrics on the orders and products that are being sold. You can also create customized templates with professional images in emails so that your email campaigns are more effective.

Feedback Whiz is one of the best Amazon seller tools out there to monitor your progress and analyze the reviews for your products online.
It has a lot of tools that you can use to automate feedback and emails and control how the product is perceived by the consumers.
Related : Feedback Genius vs Feedback Whiz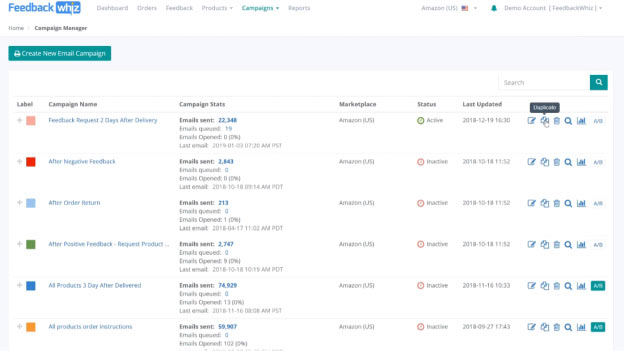 Feedback Whiz Feedback Automation
This feature can help you create emails that can engage customers and automate campaigns to send emails that are timed and thematically based.
You can manage feedback and setup alerts for positive and negative feedback. With this ability, you can remove negative feedback almost instantly.
Do keep in mind however, that removing negative feedback or reviews that are negative on Amazon does go against its policy and is counted as manipulating reviews.
Through automated feedback, you can get advanced data in order to find out which campaigns of yours are driving the most sales and which ones are the most effective.
This data can be used to tweak email content and delivery methods and can acquire a lot of feedback.
Related : Ways To Remove Bad Reviews On Amazon
Feedback Whiz Order Management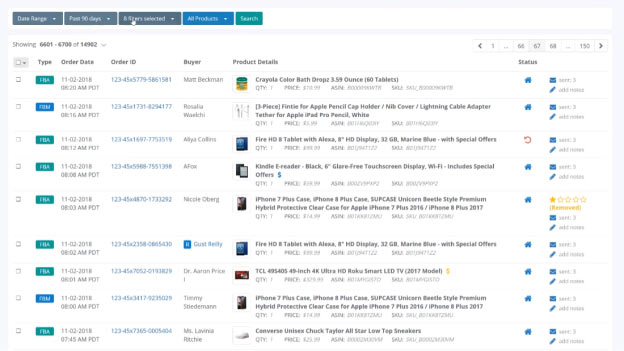 With the Order Management tool in Feedback Whiz you can instantly track the order status and pinpoint and promote products to returning customers.
You can identify if a product has been returned and also find the best selling products that you're managing.
You don't need to log in to Amazon Seller Central if you want to search for a customer's name or email, since they're all displayed here.
You can also email them to resolve issues right when they show up in the order management window.
You can also search for your order depending on different types of metrics.
This helps you to narrow down individual orders much more easily and you can find what you want in any single time frame.
You can also send emails here instantly to customers regarding shipped or unshipped orders or returned order etc. Feedback Whiz can track and display these emails and stats for every single order.
Related : Best Amazon Inventory Tools
Feedback Whiz Product Review Manager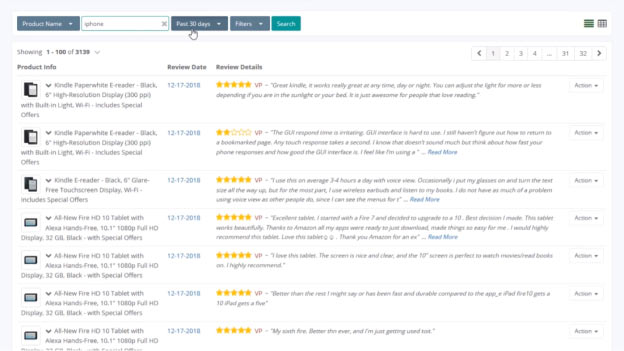 Through this feature, you can get all of your reviews to be displayed and integrated on one screen.
You can view them separately or group them according to the product. Other filters exist as well through which you can group the reviews and narrow down the ones that you want to see.
You can make it so that you get instant notifications for unfavorable reviews from Amazon and you can respond to the problem immediately.
This way you can repair your relationship with the customer if you can solve their problem.
This translates well for the customer because it shows that you will go all out for them.
Worth Reading : Feedback Five Review
Monitoring Of Amazon Products

This will help you monitor and manage as well as respond to critical events on Amazon. Through monitoring, you can respond to any reviews, through hijacker alerts you can get alerts if a seller has jumped on or off a listing of yours.
Through Buy Box Loss, you can get alerts if you've lost a box through a hijacker or competitor. And finally, listing title changes can help you find out if a hijacker has sabotaged a listing and if changes have occurred to a product title.
Related : Best Amazon Product Listing Softwares
Feedback Whiz Pricing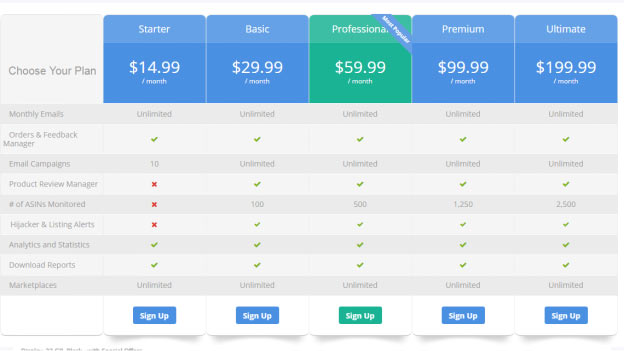 Every single plan in the Feedback Whiz catalogue has the option of sending unlimited emails, and orders and feedback manager, a 30 day free trial that you can cancel anytime and a risk free payment plan.
A/B split testing is also included in every single plan.
Starter Plan
The first plan is called the Starter. It costs $14.99 and gives you the ability to download reports for every single product and its performance and gives you analysis and statistics on your progress.
It also gives you access to multiple, limitless marketplaces, but just 10 email campaigns a month.
The subsequent plans all include the previous features.
Also Read : Feedback Five vs Feedback Genius
Basic Plan
The second plan is called the Basic plan which costs $29.99. It gives you access to unlimited email campaigns, the ability to monitor 100 ASINs and hijacker and listing alerts.
All subsequent plans simply increase the number of ASINs that you can monitor.
Professional Plan
The third plan is called the Professional. It costs $59.99 and vies you access to monitoring 500 ASINs.
Premium Plan
The fourth plan is called the Premium, and goes for $99.99. It gives you the ability to monitor 1250 ASINs.
Ultimate Plan
The final plan is called the Ultimate and goes for $199.99 a month. It gives you the ability to monitor 2500 ASINs.
Annual & Custom Plans
The Annual plans for Feedback Whiz have the same features but you get a 20% on them since the plans are for a longer commitment.
You can also ask Feedback Whiz for custom plans in order to manage more ASINs. You will need to contact them for this and the pricing will need to be negotiated, but it's nice to know that this option is on the table.
Interesting Read : Feedback Genius Review
Feedback Whiz Reviews
The majority of the reviews for Feedback Whiz are positive and highlight the strengths of the service.
Positive Reviews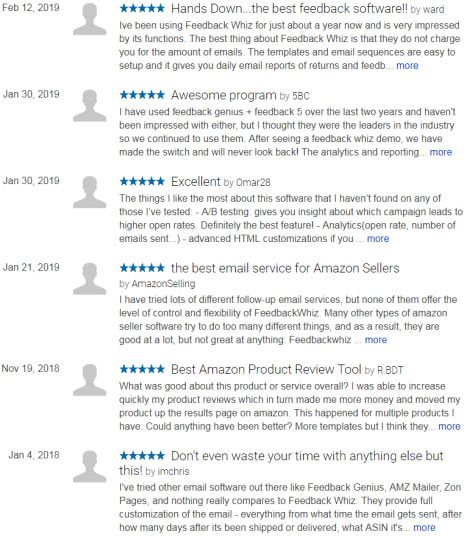 Positive reviews for Feedback Whiz highlight that it has a very easy to use interface and offers great control and flexibility through its features. One review goes as far as to say that you don't need to waste your time with any other seller tool.
On reviewer has even said that after using Feedback Whiz, they are much more satisfied with its performance than with Feedback Genius and Feedback Five.
Negative Reviews

Only a single negative review of the service exists and it seems like it's a one off problem that a customer has had. It's a bad customer service experience that soured the customer. However, that doesn't mean that it should be disregarded.
This shows that no matter how much a service professes to care about its customers, there are bad experiences and there are times when a service fails its customers.
Check Out : Best Feedback Five Alternatives

Jump Send is a product that was created by the makers of Jungle Scout. It is a booster tool for both sales and reviews.
Its unique identifier is that it banks on its community of nearly 100,000 shoppers that are always on the lookout to buy new products.
It helps you get those buyers interested by giving your products special discounts and deals and thus encouraging reviews from the buyers.
The reviews help your product gain interest on Amazon and thus it trends better on search results and gets a better ranking.
It makes it easier for you to communicate with the shoppers as well via an auto responder.
It kicks in right after the purchase has been made and the product specific information that the tool provides also helps you to rectify any mistakes with shipping or with customer service.
Jump Send has a lot of features that can help you get sales boosts. These mostly center on deals and discounts as well as keyword target searches.
There are other tools like customizable email campaigns, product boosting campaigns as well as customizable email templates.
This can help you add your own style to marketing and promoting your products. It will help you carve out a niche that will make you more recognizable among repeat shoppers.
This establishment of an identity can be the key to getting more customers that wait for you to list a product instead of the general competition.
The discount options that are provided by Jump Send are mainly made use of in their own marketplace of 100,000 shoppers.
After the initial impressions have been made, the product begins to fly off the shelves and becomes much better known.
The product reviews that the customers leave are all 100% compliant with Amazon's policies.
The seller and buyer rules are all obeyed and there isn't recourse when you use any of the options made available to you.
This makes Jump Send incredibly advantageous to sellers over other tools that focus on giving discounts to customers if they revise their reviews.
This doesn't sit well with Amazon. Letting the product speak for itself and letting more positive reviews roll in organically is a much better and safer way to grow.
This conduct not only puts you within the good graces of Amazon, but ensures that your success is not incidental, but deliberate.
Useful Resources :
Jump Send Promotions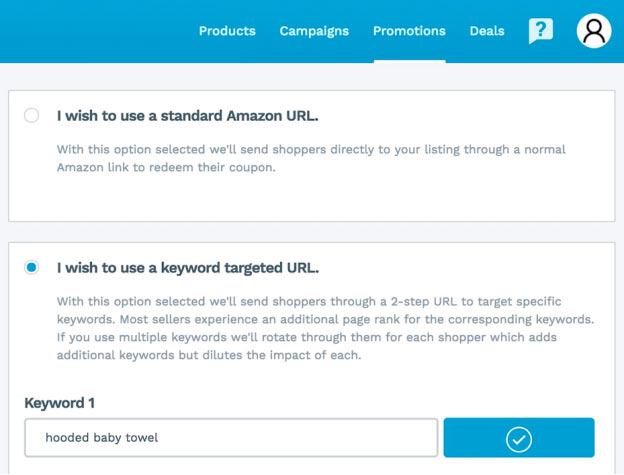 Promotional giveaways and special discounts are huge on Jump Send. This not only helps launch products but it also helps them get more reviews and sales early on so that the product climbs to the top of the sales rank and begins to generate sales.
The 100,000 shoppers in Jump Send's community make this incredibly easy to do. The promotions that they endorse help to fling the product in to high places on Amazon sales rankings.
The promotional launches and the discounts really help with the customers who are reluctant to purchase because of the price.
The promotions aren't just done through emails either, Jump Send makes use of social media platforms like Facebook, and forums like Reddit in order to promote the products.
The promotional tactics are also different depending on the user. They tend to enhance the customer experience by targeting shoppers.
This targeting can be geographically based on gender or age based as well. This helps to introduce the product to niches at the right time. The emails and the messages also come in when the customer receives the package or right after it has shipped.
The promotions carried out are also extremely specific when it comes to keywords. If you're selling a grinder on Amazon, then it could be promoted through the keywords "kitchen grinder", "grinder kitchen appliance" etc.
There are also coupons that you can create promotions with if you so choose.
These discounts are of course, a marketing tactic, and it's not useful to use them over and over again to sell similar products after they've been launched.
Useful Post : Amazon Seller App Review
Jump Send Deals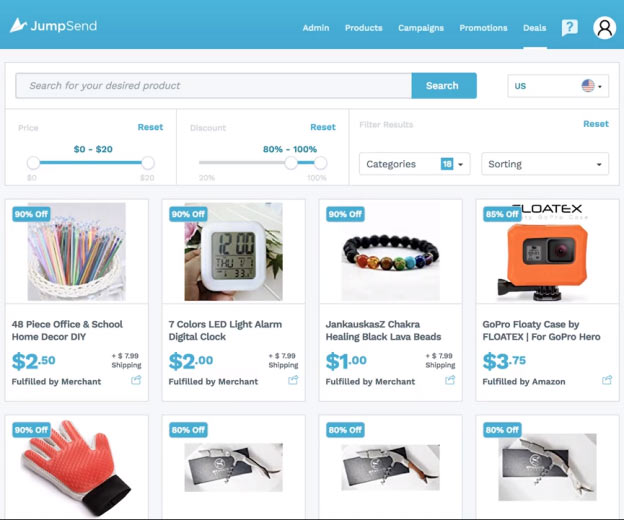 Promotions offered on Jump Send can come in the form of deals. These can be very small to very large and can range from bundles to discounts on the site.
You can choose the product and the discount yourself and then launch the promotion at a given time.
Customers that are attracted by the sale can get better traction through targeted promotion.
Jump Send Discounts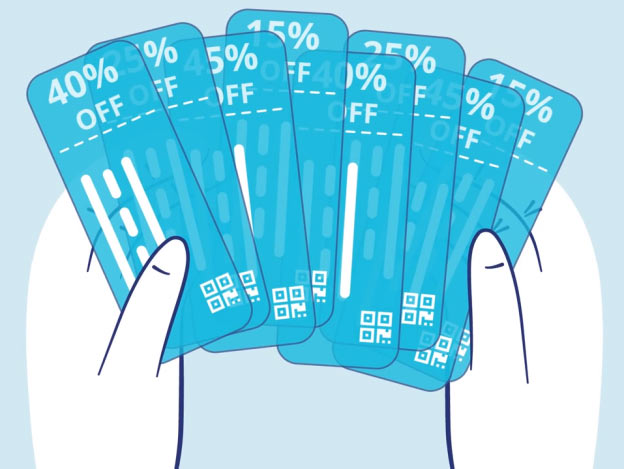 Coupons and discounts are some of the most effective ways to get people to buy your products.
It's why discounted holiday sales are so popular around the world and why days like Black Friday and the Single's Day sale in China are known to be some of the biggest money making days in the history of the world.
Hence, giving out discounts and coupons is a very effective way to get people to buy your product.
It's often the case that some of the most viable buyers for your products are the ones that are just waiting for the price to drop by 10% or 15% so that they can justify the purchase in their minds.
Once that price drops, so do their inhibitions and then the purchase is made within minutes. The conversions that you may get through this technique can be invaluable in future sales.
If you make a customer out of a browser, you may get their business for years to come in the future.
Interesting Comparison : Feedback Whiz vs Jump Send
Jump Send Email Campaigns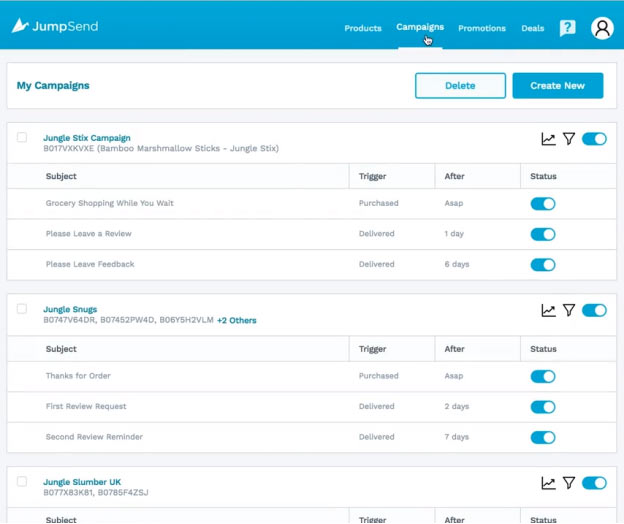 Jump Send allows you to make a coordinated effort for email campaigns. It's one of the most fundamental things you can do to reach out to customers through the internet, yet it's constantly underrepresented in media as an effective marketing strategy.
Emails help identify you with customers if you customize the banners and the greetings. These emails can help you become a harbinger of great discounts and deals in your customer's minds if you play your cards right.
Jump Send not only gives you access to creating your own email campaigns, but it also gives you control over when the emails are sent and when they are to be received.
There are timers that control emails that go out when the product reaches the customer's doorstep and targets customers that are anticipating the product.
This gives the customers a window to respond and a reminder to appreciate your product online.
You can gauge their interest for future purchase and find out if they experienced difficulties as well so you can make the experience better for future customers.
You can also fix the problems that they're facing almost immediately. You can also change their mind if they're thinking of leaving a bad review.
You shouldn't ask for a revised review though, since that practice is frowned upon by Amazon.
Related : Vipon vs Jump Send
Jump Send Email Templates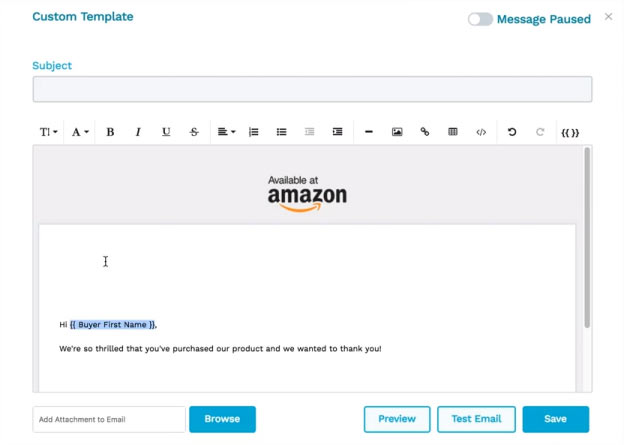 Custom email templates are how you can get recognized online by your customers.
The banners and the greetings and the closing messages that you send out to your customers are supposed to be some of the most memorable if you're to gauge their interest.
Most customers don't even look at the emails properly and just skim through them. If you make sure that each and every part of the email is eye catching, then you do stand a chance of attracting their interest in the first few seconds.
Jump Send Pricing
The pricing of Jump Send is pretty competitive. If you look at the beat for beat comparison with Feedback Whiz, you'll find a lot of similarities, for instance their top packages both go for $199 a month and they both offer mid tier services for nearly $60.
It's not a very competitive tool with the rest of the Amazon Seller tool list since it has a very one sided marketing strategy. Hence, if you can get something for cheaper, go with that instead.
Monthly Pricing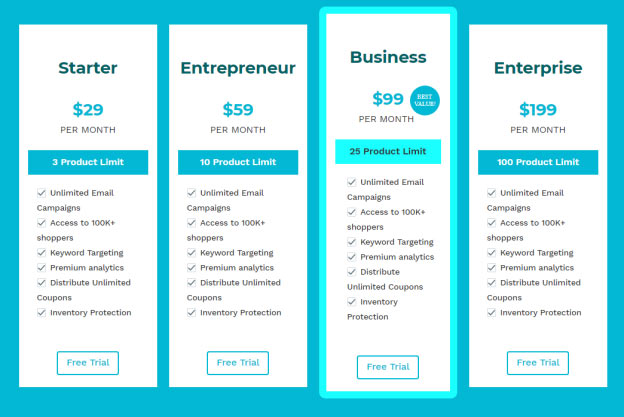 The starter pack for the Jump Send program begins at $29 and includes very basic things like access to 100,000 shoppers, keyword targeting, premium analytics, as well inventory protection.
The biggest attractors are the unlimited email campaigns and unlimited coupons. It has a 3 product limit.
The second package, called the Entrepreneur package, is $59 and includes all the previous options plus a 10 product limit.
The subsequent packages, Business and Enterprise, come in at $99 per month and $199 per month. The former has a 25 product limit while the latter goes up to 100 products.
Worth Reading : Jump Send vs ZonMaster
Annual Pricing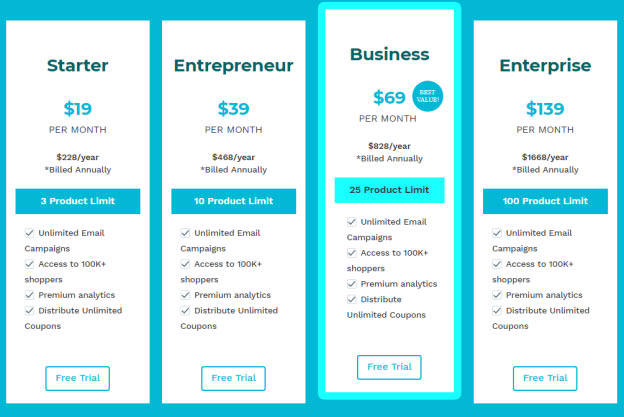 Annual pricing for Jump Send is cheaper per month than the monthly pricing packages since there is a much longer commitment involved. If you're going in for the long haul, then go with the Annual packages.
Here, the starter package costs $19 per month, the Entrepreneur tier costs $39 per month, the Business tier is $69 per month and the Enterprise package is $139 per month.
They have the exact same features as the monthly pricing plans, but they don't include the inventory protection option, funnily enough.
Jump Send Reviews
Jump Send doesn't have a lot of online reviews but the ones that are online speak of it mostly positively.
This can be taken as a good and bad sign since the positive reviews indicate that most people that use the service have been happy, but the lack of reviews suggests that it's not a very popular or used service.
Positive Reviews
Jump Send's positive reviews highlight it's easy to use interface, it's great services and features, but also cautiously advise against thinking that it's the only tool out there or that it's a particularly unique tool.
People point out that it's a great tool if you have a small inventory and choose to promote a few products, but as an overall listings promoter and inventory sales booster, it's not the most unique tool or absolutely necessary.
Negative Reviews

There is a one off bad review on Webretailers about Jump Send but this seems to be a bad customer experience and not indicative of the overall performance of Jump Send.
The customer clearly had a bad experience, which shouldn't be discounted since that has some weight to it. However, in the face of so many positive reviews, it's hard to give it much weight.
There are other unfavorable reviews on Reddit which point out that Jump Send isn't a bad tool but it's ultimately unnecessary since the promotion of your products can be done through similarly designed campaigns if you so choose to put in that effort yourself.
Explore : Best Jump Send Alternatives
Final Verdict – Feedback Whiz vs Jump Send
The winner here is clearly Feedback Whiz.
It's a great tool for the price and for the same tier pricing that Jump Send offers, it gives you multiple options and also gives you the ability to send unlimited emails and monitor many more products.
There's also an option to negotiate for custom pricing plans for greater options.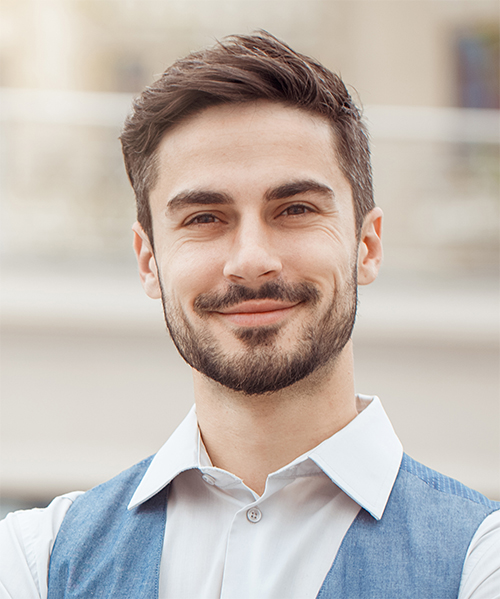 Author: Scott Macarthur
Scott L. Macarthur is a marketing consultant and an online author. He is mostly engaged in providing his expertise to startups and SMBs. He is also an author on TheNextWeb.