Amazon private label has emerged as a viable mean for many budding entrepreneurs to take off their own ventures through the unparalleled marketplace of the e-commerce giant.
Since the doors of Amazon are open for everyone who wants to administer their own business, the competition is hence also quite fierce there.
To lay it on the line, you can't progress as you have envisioned if you are not streamlining your selling operations on Amazon.
This is the reason why a number of software applications are designed and developed for one sole purpose: to streamline seller's operations on the medium and creates an ideal set of situations to scale their sales.
Feedbackwhiz is also one of those Amazon inventory management software designed to provide a streamlined and automated working environment to private label sellers on the medium.
The product is still new in the market. Therefore, really few people have the right idea of what Feedbackwhiz is all about.
For that matter, we are going to do a comprehensive Feedbackwhiz review today. We will talk about all the features and outline its price plans in this blog post.
All those Amazon sellers trying out new software applications to boost their operations will find this discussion really helpful.
Feedbackwhiz Features
Let's take a look at some of its features.
Feedbackwhiz Email Automation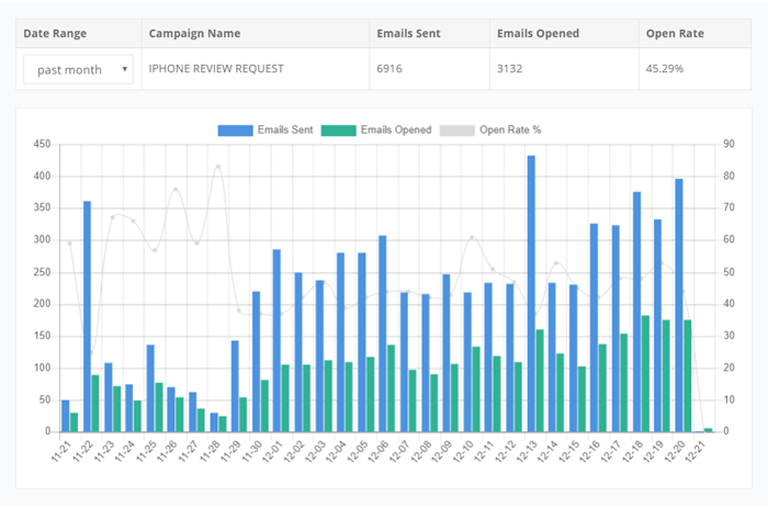 Let's be honest, every Amazon seller tries to avoid writing emails as much as they are able to manage because of the tricky rules established by the website.
And even if that was not the case, sellers would still prefer to invest their time in more productive tasks rather than manually writing and crafting emails.
The creators of Feedbackwhiz have completely understood sellers' intrinsic aversion to email writing and therefore created an extensively automated email system.
There are set templates that can be customized to create a unique email for every customer.
You are absolutely justified to question what's unique here since this sort of email automation is quite common among such applications.
So, how Feedbackwhiz's email automation is different from the rest?
Well, Feedbackwhiz offers you the option to send emails that can be categorized through product types, destination and SKU while also tracking record of customer behavior.
This sorting out feature offers impressive email customization that can help on many fronts.
For instance, it can help you in reaching out to customers with an eye-catching request piece to share their feedback with you.
Not only will it help you in creating a stronger relationship with your existing customers, but positive feedback will also come in really handy in acquiring new ones.
Feedbackwhiz Email Templates
If you are not sure of what template or subject line is going to yield better results and you don't have time (or expertise) to run analytics on your own, then Feedbackwhiz's email suite can be of great assistance.
The application can present you with better-optimized subject lines and content that ensures higher opening and conversion rates.
In short, Feedbackwhiz provides an email suite where you don't need to exhaust yourself in formatting and testing every single email. The software will take care of it on your behalf.
To put it in a categorical manner, these are the features you are going to get in Feedbackwhiz's email suit.
Custom email creator
Click-and-drop variables
Custom links and text
Live preview of order email
Send test emails
Exclude orders from solicitation
Exclude orders with feedback received
Logo & file upload
Insert product images
Target only orders with promotions
Global buyer blacklist
Buyer unsubscribe
Send emails based on delivery
Send emails at specific times
Target specific orders
Campaign Statistics
Email open statistics
Duplicate email detection
Feedbackwhiz Product Review Management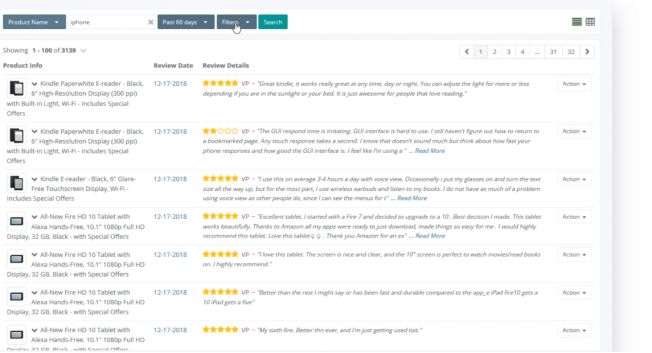 It won't be wrong to say half of the Amazon marketplace thrives on product reviews. And it's pretty straightforward in that sense. Bad reviews help the buyers in identifying the products that shouldn't be bought and culprit sellers.
This also offers opportunities to other sellers to capitalize on the mistakes of others. On the other hand, good reviews have uncontested powers to scale up any product or seller.
And it's not just about bad or good reviews. Reviews that offer an honest insight into a product help potential buyers in making up their mind.
In short, any Amazon seller who is really serious about maintaining and scaling their business on the medium can't ignore the reviews directed towards their offered products.
Here comes Feedbackwhiz's all-in-one product review manager. Its single-page interface can help you in sorting out all the reviews that your products have been received in the last two months.
You can enlist the reviews by product name, id, ASIN, SKU or the keywords associated with a particular product.
Group the Reviews by a Product
If you are interested in finding out how your particular product is excelling on the block, then have a quick look at its reviews on your Feedbackwhiz product manager panel.
This information can help you to decide if you want to scale up or scale down that commodity.
Group the Reviews by Rating
There is hardly an effective way to gauge the customers' response other than monitoring the ratings given by them.
The product review manager of Feedbackwhiz also let you sort out customer reviews through the star rating.
This sub-feature of Review Manager can act as a good reality check regarding the quality you are delivering with the assortment of your products.
Instant Notification on a Bad Review
You may or may not recognize this but you, as an Amazon seller, have your own brand that can be tarnished with an aggregate of bad reviews.
And remember that bad reviews can be a double whammy when you don't respond to them in time.  Developers of Feedbackwhiz understand the consequences of bad product reviews.
Therefore, they have offered an instant notification system in the Product Review Manager where the user gets notified about every bad review right at that moment.
This can help you in addressing the grievances of customers without any significant time lapse.
Detailed and timely responses to bad product reviews also make a good impression on potential customers.
It shows that sellers mean business and they are not there just to rip off customers.
The salient features of Feedbackwhiz Product Review Manager are
Advanced review search engine
Find keywords to identify trends
Product selector tool
Competitor tracking
Grouping by ASIN product view
Negative review notifications
Positive and neutral review notifications
Respond to reviews via comments
Add notes to reviews
Related :
Feedbackwhiz Order Management System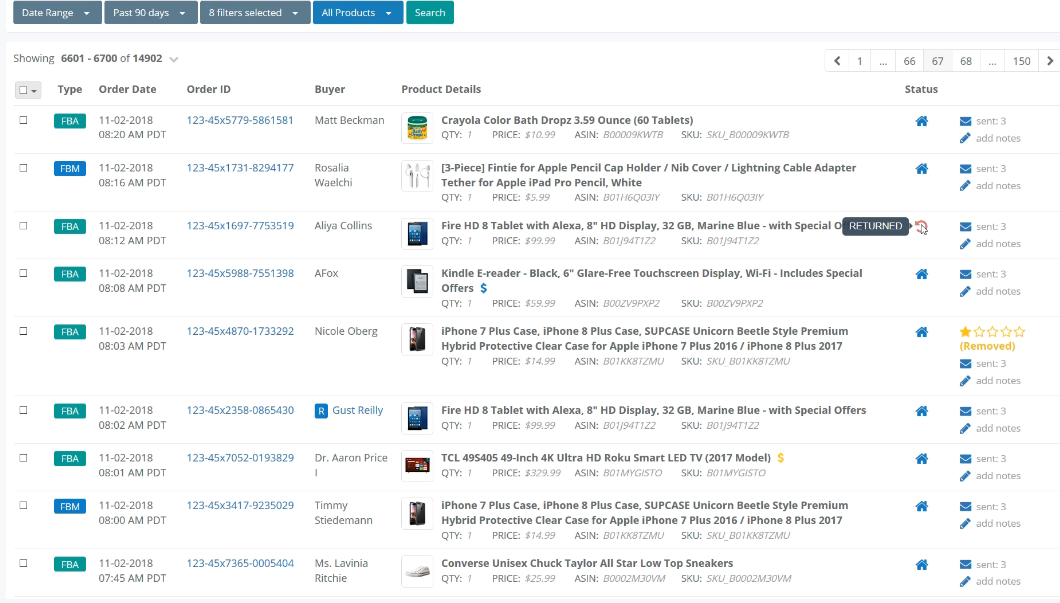 In the beginning, sellers love to manage and track orders manually. However, the initial excitement wears off with time and the number of order also starts piling up.
That's the moment when a seller aches for an easy-to-use order management tool. Feedbackwhiz also takes care of that.
You can manage and track all your order from a single page. There are no redirections to other pages. Moreover, you have a vast list of filters to apply to view your order from different lenses.
The feature that spices up Feedbackwhiz's Order Management System is the instant emailing.
This means you can send out the mail to every recipient right there from the order management interface. And not just for the shipped orders.
You can also reach out to the customers of unshipped and even the returned orders.
So, what's the catch here? How does this email integration, present in the order management window, help sellers?
This combination helps you in saving a lot of time in dealing with all customers interactions while reviewing the orders.
You don't have to separately sit to identify all those disputed orders and then to write a mail to their consignees.
The noteworthy features of Feedbackwhiz's Order Management System are:
Advanced search engine
Search by any time frame
Send instant emails to any order(s)
Find repeat buyers
View in-process & unshipped orders
View delivery status
Search with 20+ different variables
Do not solicit option
View emails sent per order
View email statistics per order
View promotional orders
View feedback and rating
View shipping status per order
Direct link to Amazon order page
View up to 200 orders per page
Related : Best Softwares for Inventory Management
Feedbackwhiz Feedback Management System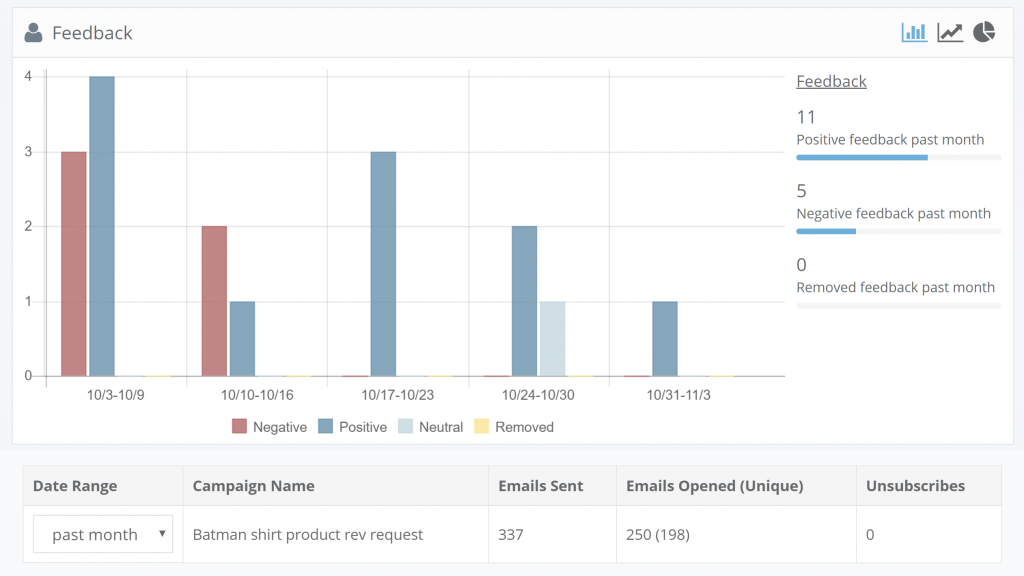 Like product reviews, clients' feedback matters greatly when you are trying to establish your brand on Amazon.
Unfortunately, customers can sometimes be quite petty when they give feedback that might not reflect your services on the medium.
Sorting out feedback and especially the negative one in a manual setup can be really taxing as well as disheartening for a seller.
To get around this drawback of a seller's work, you can use impressive feedback management features of Feedbackwhiz.
For instance, receive the alert on every negative feedback and file its removal request with a single click.
Yes, there are certain instances where Amazon can entertain your feedback removal offer.
You can also make that request directly to the customer through an impressive email suite of Feedbackwhiz. The important features of the Feedback Management System include:
Negative feedback notifications
Feedback removal notifications
Neutral feedback notifications
Send feedback removal request emails
Track all feedback received
Amazon support quick link
Feedback analytics
Filter only 1, 2, 3-star feedbacks
Track emails sent
Related :
Feedbackwhiz Monitoring System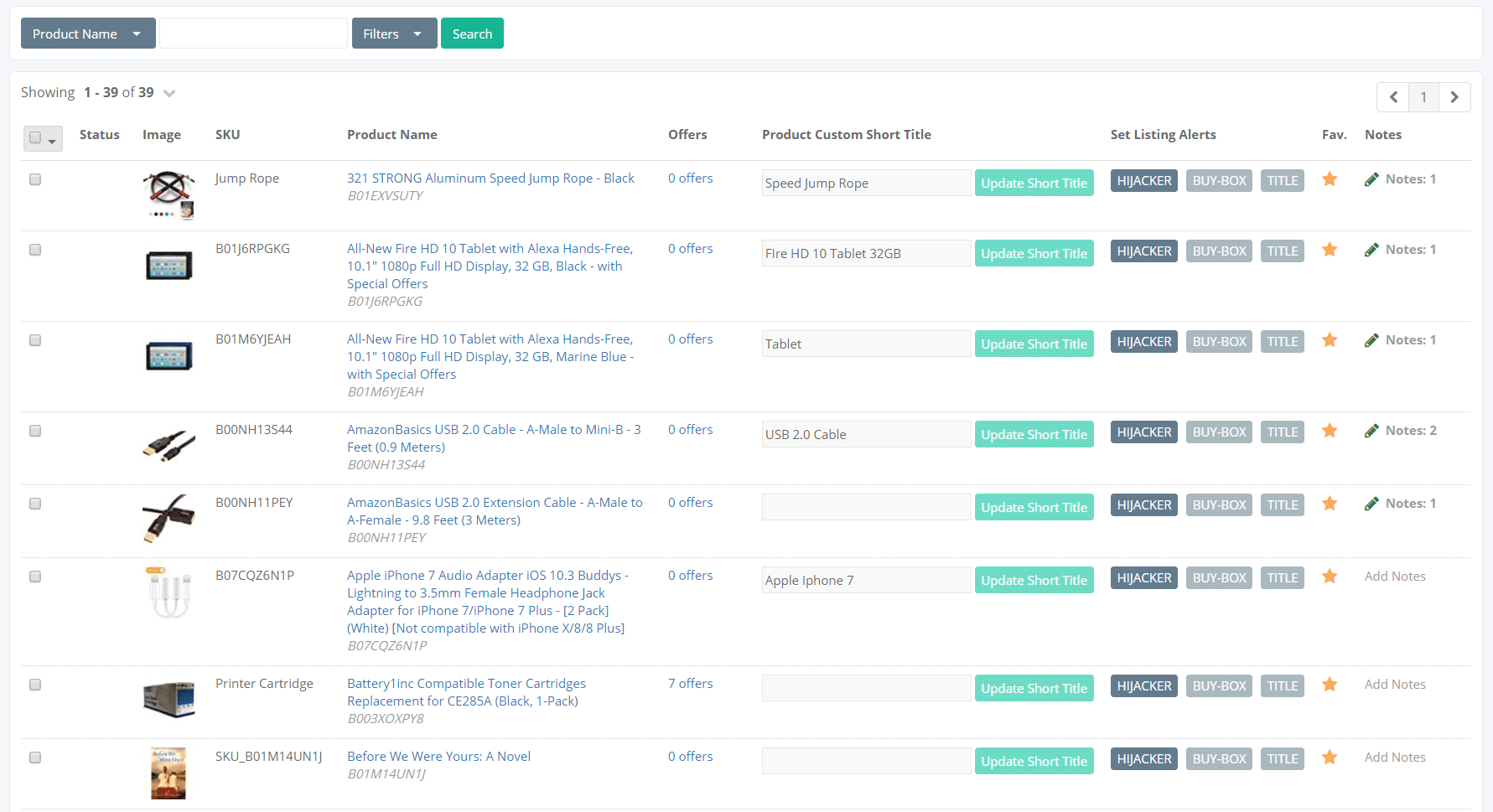 As mentioned earlier, you can't survive in an Amazon marketplace if you are not prepared for the cut-throat competition ahead of time. Keep in mind that these competitions are not always contested with fairness.
This is the reason why Feedbackwhiz offers a robust monitoring system to private label sellers.
Feedbackwhiz Hijacking Alert
'Hijacking' of lists has become a pretty common phenomenon in private label marketplace.  Listing hijackers actually put up commodities as a private seller that are not their own.
In such cases, they are basically jumping on the listing of some real private label seller.
Even though Amazon has stricter policies regarding listing hijacking, it's not easy for them to get rid of all of those imitators in time. In other words, you can't just rely on Amazon to deal with it.
You also have to act on your own in order to tackle those hijacks. Feedbackwhiz 24/7 monitoring system provides an immediate alert system regarding any such hijacking instance happening with your listing.
As soon as you receive the notification, you can file a request with Amazon that will expedite the removal of the seller hijacker from the listing.
Feedbackwhiz Listing Title Change Alert
Some listing hijackers are so ominous that they go on to change the name of the title of your product listing for their own benefit. Of course, it is totally illegal and unethical to do this.
However, they often succeed in making some sells before the real seller finds out what con has been played with them.
Feedbackwhiz also provides notification on listing title changes as they take place so that a seller can immediately act against it.
Feedbackwhiz Buy Box Loss Alert
Half the battle on Amazon is about securing the place in the Buy Box. There is hardly any other sure-shot-way to ascertain a boost in sales.
If you are working with a number of products, then it's not easy to manually track all your buy box position.
Feedbackwhiz's robust monitoring system also helps you with that. Whether you are losing it to a competitor or a hijacker, you are immediately notified by Feedbackwhiz.
Feedbackwhiz Pricing
Many Amazon inventory management software products on the block are amazing in their features but couldn't get the deserved traction because of their unreasonably high prices.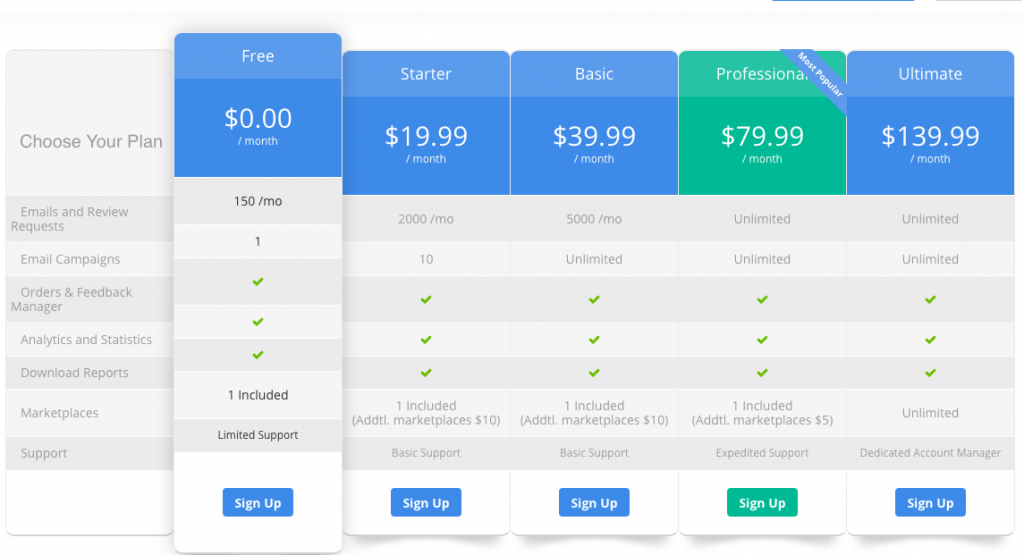 Similarly, many products couldn't serve to a large spectrum of sellers because they don't offer a variety in their pricing plans.
The developers of Feedbackwhiz have taken care of this aspect while offering their product to Amazon sellers.
This is the reason why Feedbackwhiz pricing is available in five different plans with a 30-day free trial period.
The services of every Feedbackwhiz plan is priced on a monthly basis. Following are the 5 plans.
Free
Starter – $19.99/month
Basic – $39.99/month
Professional – $79.99/month
Ultimate – $139.99/month
All plans include order and feedback manager, reports downloading feature and analytics.
As you go up on plans, you get access to more marketplaces and better support.
The starting three plans allow you to send 150, 2000 and 5000 emails a month respectively. In Pro and Ultimate plans, you can send unlimited emails.
Feedbackwhiz Coupon & Discount Codes
At the moment, there is no active Feedbackwhiz promo code available except that you can avail a 30-day free trial use.
However, that doesn't mean Feedbackwhiz developers don't incentivize their products with different discount offers.
Just two months ago, they were offering a 10% discount on every Feedbackwhiz package.
So, continue to visit their website or subscribe to their newsletter to remain in the loop whenever any Feedbackwhiz coupon code pops up.
A Critical Look at Feedbackwhiz
All the above discussion is actually centered on the upsides of Feedbackwhiz.
But it is also imperative to shed some light on the downsides of this Amazon seller management software.
Let's look at the aspects where Feedbackwhiz can do better.
Feedbackwhiz Order Management System
The order management system of Feedbackwhiz is decent enough. However, sellers can find a lot of better alternatives in the market for the same or even less price.
Feedbackwhiz's order management system might fall short for sellers that deal in the bulk of orders on a daily basis.
Feedbackwhiz Product Comparison
Product comparison helps Amazon sellers to adjust their inventory according to the ongoing trends.
In the last few years, product comparison tools have become the most sought-after software among Amazon sellers because they have proved to provide noticeably good ROIs.
Feedbackwhiz developers should have caught up with the trend by making its product comparison features more robust.
It would have made their product more comprehensive and attractive for more sellers.
Besides these two things, there are not any noteworthy shortcomings found out by experts with the use of Feedbackwhiz. And even these limitations can be sorted in the next upgrades if the developers have any such plan.
Related : Best Amazon FBA Calculators
The Final Words
The name 'Feedbackwhiz' and the detailed review of its features that we have stated indicate one thing; this software is primarily made for Amazon sellers to streamline customer feedback and response.
Whether its product reviews or general comments, Feedbackwhiz is a perfect application to moderate them.
Besides feedback moderation, Feedbackwhiz also offers a proactive solution with the help of its impressive email automation suite.
If you are looking for an application that can help you in improving your customer service, then the features of Feedbackwhiz can come in really handy.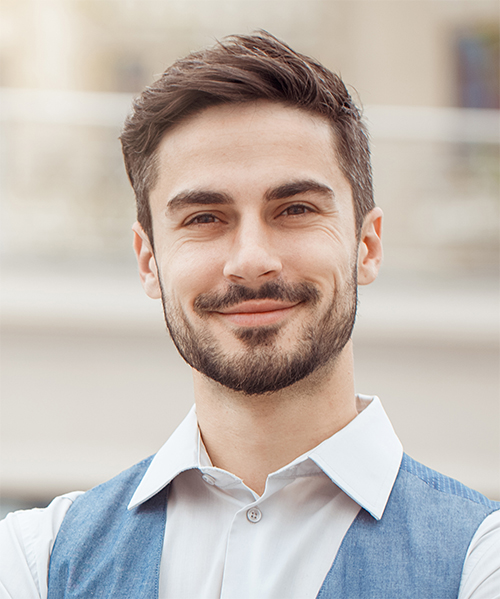 Author: Scott Macarthur
Scott L. Macarthur is a marketing consultant and an online author. He is mostly engaged in providing his expertise to startups and SMBs. He is also an author on TheNextWeb.