Many marketers predicted that this holiday season would be the year of mobile commerce, and they were right.
We saw the highest peak of mobile traffic, app installs and sales. Many online stores were not adequately prepared which resulted in crashes and missed sales.
In this post we are going to summarize the biggest wins and losses when it comes to mobile commerce during the 2014 holiday season. So here we go!
How Mobile Changed The Holiday Season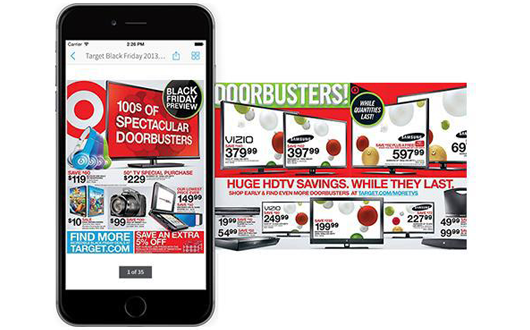 Back in the day, Black Friday was associated with waiting in long store lines and competing with other customers to get the best offers (before someone else did). But not anymore.
In fact, in-store traffic dropped by 5.6% this Black Friday due to the increased number of people shopping online.
As ecommerce has continued to grow each year, everyone predicted this would be the best year yet for online retailers.
But what about mobile?
This holiday season mobile showed itself as more important than ever. US consumers now spend more time using mobile devices each day than they do watching TV. This makes mobile the primary screen people use to entertain themselves in their free time.
In their analysis, Flurry found that time spent on mobile devices grew in the US by 9.3% – from 2 hours and 42 minutes to 2 hours and 57 minutes – in the past nine months.
What's more interesting is that 86% of that time is spent in apps versus the mobile web.
Related :
Mobile Traffic During The Holidays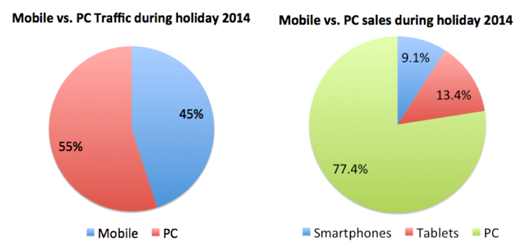 During the holiday season, mobile devices were projected to account for 53% of online shopping. In fact, the after-analysis showed that mobile devices on average drove 45% of all Internet traffic during the holidays.
At some point mobile traffic even exceeded 50% of all US traffic during the holidays. Here's data about each day during the holidays.
Thanksgiving statistics – On Thanksgiving, IBM reported that mobile traffic reached 52.1% vs 47.9% on desktop computers.
Black Friday statistics – On Black Friday, these numbers fell to 49.6% for mobile.
Weekend & Cyber Monday statistics – The mobile traffic decreased even more on Cyber Monday to 41.2%. Still this number showed a 30% increase from last year.
Related :
Mobile Transactions During The Holidays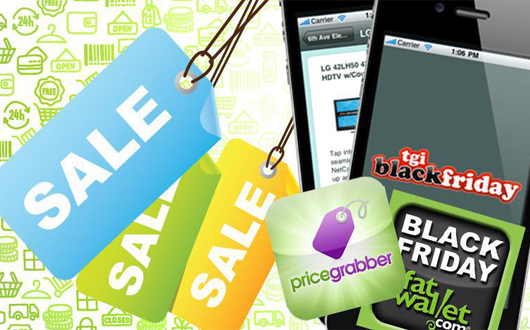 From Black Friday to Cyber Monday, 37% of online retail transactions were made from mobile phones and tablets.
Mobile transactions by days – This is a day-by-day mobile commerce breakdown for the mobile transactions made during the holidays. The data is from Iovation.
38% of all transactions happened on Black Friday
40% of all transactions happened on the weekend, November 29 and 30
30% of all transactions happened on Cyber Monday
44% of all transactions happened on the weekend before Black Friday, November 22 and 23
The interesting thing is that only 0.37% of all online transactions from mobile devices were fraudulent.
Android vs iOS –
Apple dominated the mobile commerce market this year. On Black Friday, 74% of the transactions were completed on iOS devices vs. only 24% on Android.
Two percent were on other mobile devices. On Cyber Monday, the numbers were nearly identical: 72% iOS, 25% Android and 3% for other platforms.
Smartphones vs Tablets –
The data showed that smartphones brought more traffic, but despite this fact, tablets still accounted for the majority of sales.
Tablets on average drove 16% of all ecommerce transactions, while smartphones accounted for only 9% of all ecommerce transactions.
Here's a breakdown for each day during the holiday season:
Black Friday – Tablets drove 16% of all ecommerce transactions on Black Friday, while smartphones accounted for just 13%.
Cyber Monday – On that day, smartphones and tablets were even players, both accounting for 28.5% of all traffic. When it comes to completed sales though, tablets drove 12.9% of all transactions while smartphones were responsible for 9.1%.
Related :
Mobile Web vs Mobile Apps
This holiday season, the mobile web accounted for 97% of all mobile sales while apps were only responsible for 3%. However, it's important to note that:
Mobile Apps Drive Sales Across Channels –
There is a study that suggests that native apps drive sales across other channels.
It was estimated that 42% of consumers will use their computer to make a purchase after browsing products on a brand's mobile app.
Related : How To Optimize Your Mobile App For Google Search
Mobile Sites Encountered Huge Problems –
Many ecommerce sites experienced glitches or even crashed because they weren't thoroughly prepared for the huge spike in mobile traffic during the holidays.
Big players like BestBuy were forced to shut down their site on Black Friday.
"The biggest winners so far this holiday season have been the retailers who were prepared for a huge surge in mobile traffic," said David Jones, web and mobile performance strategist at Dynatrace.
Mobile Sites Were Slower This Year –
Catchpoint also reported that the majority of mobile websites were slower this year. On average it took 2.954 seconds for a mobile page to load in 2014, compared to 1.879 seconds in 2013.
Related : Best CDN Providers To Speed Up Your Site
Maximum App Installs In The US Happened On Christmas Day –
In fact, Flurry tracked that there were 150% more app installs on this day compared to an average day in December.
Part of the reason why there were so many app installs on Christmas day is the activation of new devices received as gifts for the holidays.
Customers Were Using Multiple Apps –
According to a study, 44% of customers are using four or more mobile apps to shop for the holidays and 39% are using four or more tablet apps. At the same time, they're also extremely loyal to the ones they're using.
Push Notifications Beat Email On Mobile –
Marketers witness 50% higher open rates on push notifications versus email. Click-through rates are twice as high, too.
Unfortunately, so far push notifications can reach only users who have downloaded and installed the apps, while email marketing offers the ability to reach a much broader audience.
However, push notifications can now reach not only smartphones but tablet and smart TV users.
Interesting Read :  How Walmart Leveraged Push Notifications To Boost Sales
Conclusion
We can conclude that mobile has a huge impact in the ecommerce world and can no longer be neglected by retailers. Having a responsive, or even a mobile, site is no longer enough.
Retailers should now focus on providing the best possible experience for users and be prepared for huge peaks during the holidays.
What do you think? How did mobile affect your traffic and sales this holiday season? Let us know in the comments below.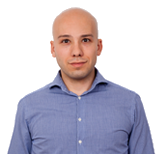 Author: Martin Zhel
Martin Zhel is an inbound marketing expert and Founder of Orior Creative. He specializes in SEO, content marketing & conversion rate optimization.