Editor's note: Progressive web apps are a great way to test waters before opting for a full-fledged mobile app. Not only are they easy to use and cost efficient, but are nearly as effective as traditional mobile apps. Check out this post to know how you can multiply your sales ahead of the festive season using a PWA. Another great idea is to hire professional Magento ecommerce website development services. They will help you launch a PWA quicker, making you ready in time.
So we have all heard that now more traffic comes to any website through mobile devices. Here are some statistics to add perspective
In late 2015, mobile web traffic surpassed desktop for the very first time. Since then, we've been living in a mobile world, and mobile device usage has skyrocketed
But since we are here to focus specifically on eCommerce websites, here is another data point specific to online stores
Last year, on key days, such as Christmas Day, smartphones accounted for 68% traffic and 50% of online transactions, and Thanksgiving Day smartphones accounted for 62% of traffic and 46% of orders.
Check Your Acquisition Device Report
Acquisition Device Report tells you the % of traffic that comes to your store through Desktop VS Mobile VS Tablets, it looks something like below:
Check your Acquisition device report on Google Analytics: Read How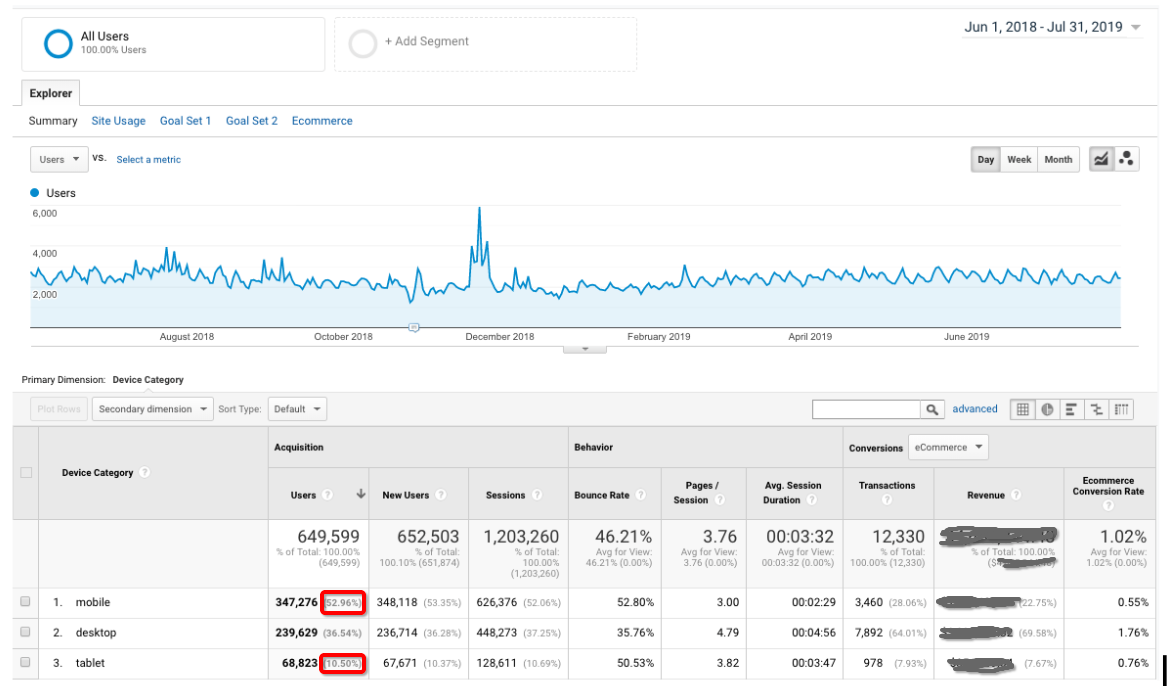 Traffic through non-desktop for above example if 52.9%+10.5% = 63.4%, so it becomes a sure shot case for PWA and mobile conversion optimization.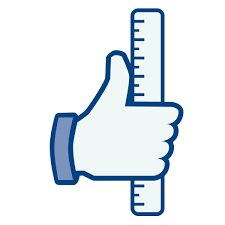 Thumb Rule: If your traffic % through Mobile + Tablets is already >40%, it means your users have started moving to mobile and you need to optimize it.
Do you have a healthy SALES CONVERSION FUNNEL?
A quick health check of Sales Conversion Funnel can give you crucial pointers on what is to be fixed: You need to look for areas where prospects are dropping off.
If you have already set up goals on analytics, you can find your Sales Funnel in your "Conversions" reports (Reporting >> Conversions >> Funnel Visualization.
A sales visualization funnel will look something like this: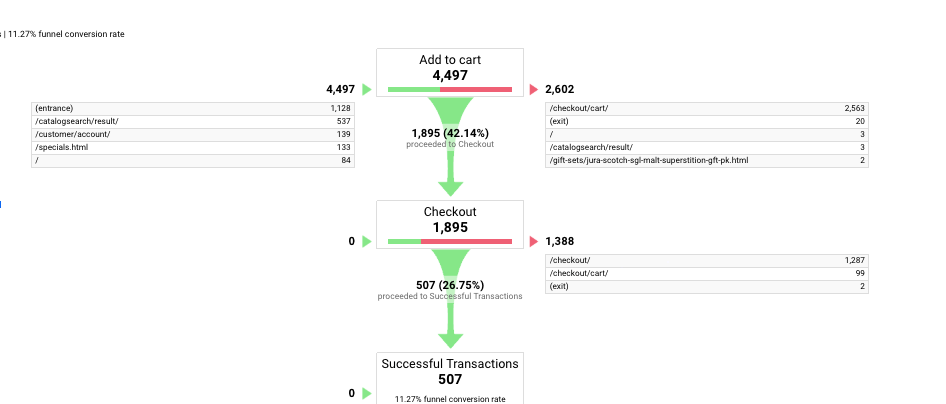 If your sales funnel is not already set-up, click here on how to do it.

Generally for ecommerce stores, conversion % on desktop is 3-5 times mobile conversion %. So a traffic of 100 is giving 3-5 conversions on desktop, it would be 1 conversion on mobile responsive website.
However this is highly subjective and may vary depending on factors like product type, price range, and industry.
What you can do is to benchmark your current conversion % and keep an eye on it as you optimize.
OUR AIM: Move mobile conversion % closer to desktop conversion %. In some very rare instances we have even seen mobile conversion % beat desktop %.
Why Is Conversion % on Mobile Devices Low
There are several reasons why the conversion % on Mobile Devices is low, eCommerce marketplaces have really cracked mobile conversions in the last 1-2 years.
While more than half of visits to retailer websites come through Mobile Devices, just 36% of purchases happen on mobile.
People are happy to browse and look for options on Mobile but make the final purchase on their laptop, below are a few possible scenarios when people move to desktop for making a purchase:
When purchases are more complex like configured, grouped and bundled products.
When items are expensive, people trust desktop more, however, this trend is changing with the younger population.
Add to cart rate for mobile is 10.3% while desktop is 12.8%. It implies that although customers are adding items to cart but getting dropped off.
Not sure about you but when I think about me shopping online on the weekend, I do not open my laptop for it, it happens through mobile. Also for Amazon, Alibaba and travel sites now I have started preferring PWA over a mobile app.
On second thoughts these purchases are majorly on Mobile apps like Amazon but of late I have started using mobile web for infrequent purchases like travel bookings, purchasing gifts and all.
For marketplaces, when I dig a little deeper into it, they all are already either Web Apps or PWAs.
HOW TO DOUBLE UP YOUR MOBILE SALES BEFORE CHRISTMAS?
There are 03 steps to double up your mobile conversions
PWA Assessment: Have a mobile expert assess your current magento website and conversion parameters to come up with a PWA plan. The plan will contain details on how much can be picked up from existing vanilla PWA solutions like PWA studio or Mofluid PWA and what needs to be customised & re-designed.
Implement PWA for your Mobile visitors (04 weeks): Although a simple PWA theme can even be implemented on a Magento store in <1 week, however it will not be all the way through for checkout pages and custom features.
Optimise Mobile conversion funnel: Split Testing (06 weeks): In split testing, the main sales funnel pages are split testing tested with variations (on designs, fonts, colors, placement) to optimize the complete funnel for conversion.
So as we discussed earlier, typically web conversion % are 3-5 times of mobile conversions through a responsive website.
As you move from responsive website to PWA, you can expect a 50% instant boost in conversions through mobile traffic, another 50 % would need some A/B testing and conversion funnel optimisation.
Below is a week by week plan for your PWA implementation before Christmas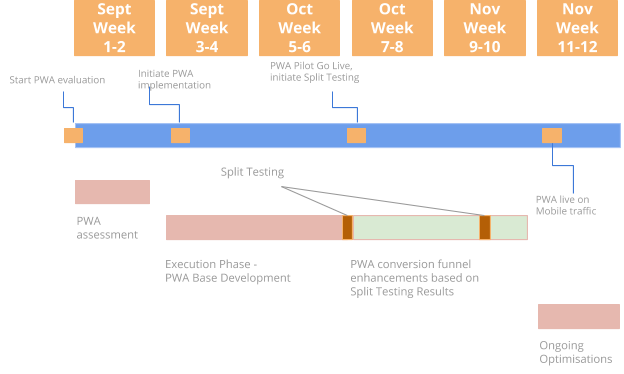 The above plan can work well with +-20% variation for a Magento Community store with <5 m USD revenue and average order value <100$ & low level of customisations on Magento.
Get access to free Magento PWA demo and case study: click here
Why PWA enhances your Mobile conversions?
The fight went on for long between Mobile Apps and Responsive websites and the final winner was PWA.
The main reason for a quick impact on mobile conversions once you move your mobile traffic to PWA(instead of a responsive website), is a super smooth user experience which makes the overall buying process intuitive and fast.
The next advantage comes in the form of improvement in mobile search keyword ranking which increases because of better SEO & better speed.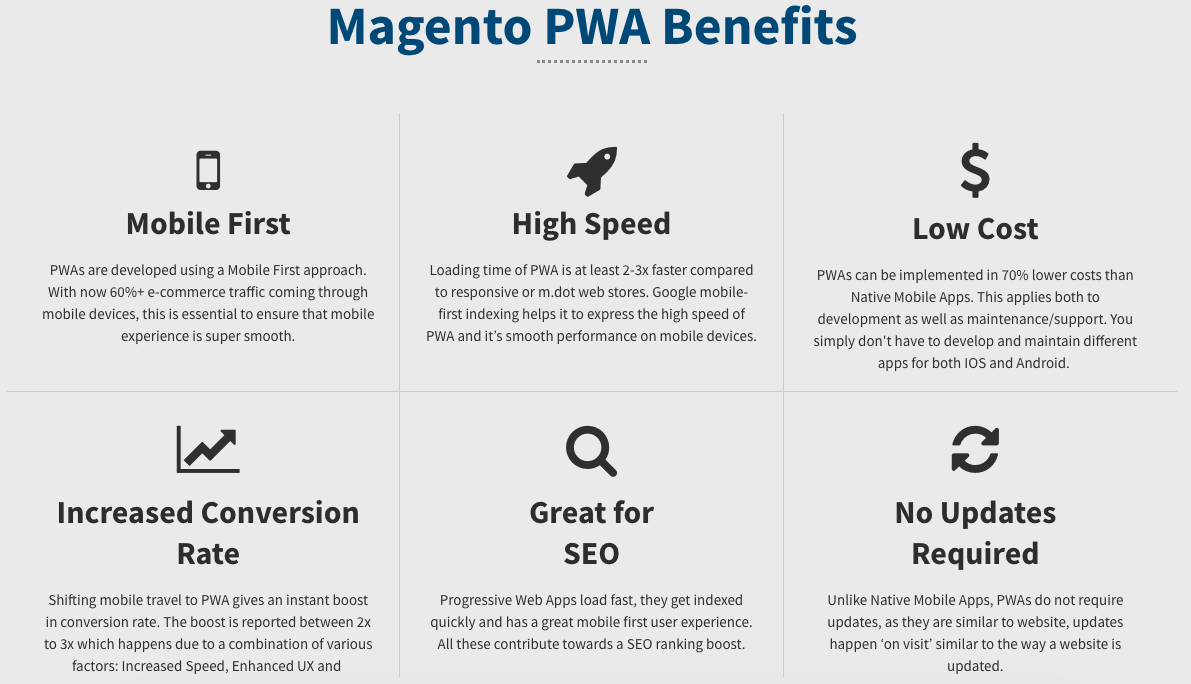 Below mentioned tech biggies took a leap into PWA and once they realized its immense benefits and there was no turning back.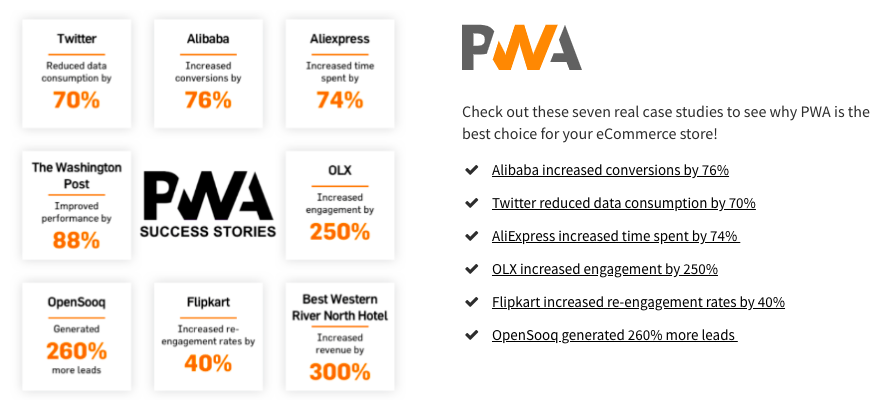 Conclusion:
PWA's can result in ~50% higher conversions – plus, PWAs get a healthy SEO boost from Google.
PWA is recommended for:
Mobile First focused companies.
Retail Ecommerce websites with 40%+ traffic coming through Mobile devices.
Companies that do not really need a mobile app.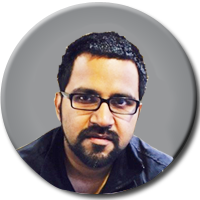 Author: Vibhav Gaur Gaur
Vibhav Gaur plays a key role in empowering Ebzion's ecommerce clients to sustainably grow mobile traffic & conversions by leveraging PWA, AMP and Mobile Apps. With a strong background in technology and key focus online conversion funnel optimisation, he has helped multiple OEMs and Retailers make it big online. Need quick PWA assessment to improve your current mobile strategy? Feel free to reach out: vgaur@ebizontek.com