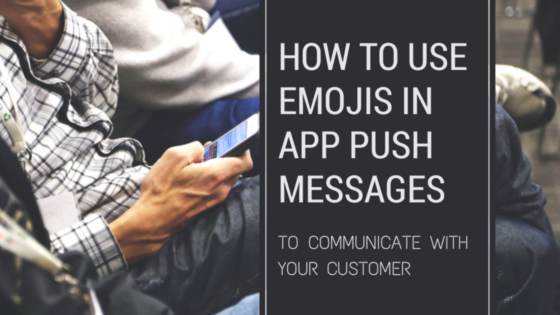 Emojis are helping to generate a human presence by establishing means to express emotions and ideas within the electronic communication system.
Marketing specialists are now utilizing email, and texting for advertising purposes.
To personalize promotional communications, entrepreneurs are using emojis, a nonverbal form of communication in their app push messages.
Human communication is enhanced when there is clarity in a message allowing emotions to be accurately conveyed.
The caricatures of human faces and gestures the emojis portray are now being used in mcommerce push messaging.
Related : Guide To Content Personalization For Ecommerce
These Clever Little Drawings Are Making An Impact
You have seen them and most likely use them in personal communications. The selections of emojis available are endless.
For your app push messages, you can choose from a cute little face that emits an emotion, waves, or gives you a hug. People have found a substitute for those emotional nuances missing in texts with the emoji.
These symbolic icons help the reader better interpret messages. There are even emojis that can be downloaded to represent specific goods you are trying to promote.
For the baker, there are birthday cakes and cupcakes.
These little drawings breakdown linguistic obstacles bringing immediate recognition to a company's brand. Recipients enjoy receiving messages containing emojis sensing the real intentions of the marketer.
Emojis lend a lighter air to the communications also giving the recipient a positive impression of the company.
Related :
Capture Your Customers' Attention
Getting an idea across quickly in clean, clear concepts is what the emojis deliver. It is hard to ignore a message with cute imagery that catches the eye of the reader in an app push message.
When a travel site needs to promote discounted airline tickets, have various emojis typifying the travel industry like luggage, travel destination images, and different airplanes to utilize in a push message.
It would be practical for a shoe retailer to use an emoji of a cute little high heeled shoe for the end of season shoe sale. These symbolic emojis get the point across straight away.
For any professional textual message, there are numerous emojis appropriate for marketing purposes.
Worth Reading : Best Practises For Engaging & Retaining Mobile App Users
How Does The Emoji Highlight The Intended Message?
Emojis Attract Attention –
Grabbing the reader's interest to the text with colorful emojis makes it hard to resist such a message. They help to peak the reader's attention the push message.
Home goods stores have the ability to accentuate their message with a charming house icon to promote home furnishings sales.
Useful Post : Ways Mcommerce Marketers Can Increase Conversions
Reduce Print Space –
Emojis increase understanding while reducing print space to convey a promotional message. It only takes a little glance at an icon for the reader to comprehend the reason for the communication with fewer words.
Icons are a fantastic way to promote a Flash Sale. With just one or two little images displayed in your message, the customer easily remembers your particular retail site.
Pictures have immense power aiding memory recall, boosting the significance of your message.
Interesting Read : Best Mobile Conversion Optimization Tricks
Provide Immediate Recognition –
Specific emojis related to your brand are helpful to push alerts to clients. Mcommerce apps offer the use of different emojis to help merchants identify their products.
Using a dog or cat emoji for client notifications for pet food sales, vaccinations, or supplies would be advantageous for both veterinarians and local pet supply stores.
The possibilities are limitless with the new emojis that are available. One pizza delivery company is now using emojis in their texts to sell pizza.
They request that if the customer wants pizza, they can just return a text with a pizza emoji in it. What a great use of an icon and sales technique!
Open Up The Push App Message –
Using emojis to open up larger messages with colorful emojis effectively augment the communication.
It sets off the main messages between sentences to keep the reader's attention.
Using too many emojis in your message could be counterproductive. The emojis could end up being a detraction, minimizing its effectiveness, making the message appear cluttered and confusing.
Check Out : Top Reasons Why People Abandon Your App
Dare To Be Creative –
Brighten up your app push messaging with emojis that bring a cheery air to your clients in these nonverbal messages. Texts and emails can be a bit drab without an emoji to spice them up.
Lightening up the customer's mood sends positive messages with these cheerful surrogates in the text. Who doesn't smile when one sees a cute caricature? They definitely leave the impression that you care.
Also Read : How To Use Admob To Promote Your Mobile App
Who Will Grasp The Meanings Of Emojis In Push App Messages?
Emojis are here to stay. Their popularity continues to grow as their utility in marketing grows. Emojis lend fun features to push app messages improving their marketing performance.
Worth Reading : App Marketing Tips & Tricks
They are an innovative trend in mcommerce that sticks out in a field of endless words.
Marketing professionals find that the emoji has multigenerational appeal. Its universal appeal is helping to intensify app push marketing objectives.
Sam loves to write on technology & related stuff. Ecommerce, mobile and internet marketing equally drive her interest. Likes gardening and experimenting with new recipes. An avid reader and absolutely mad @bout donuts 🙂