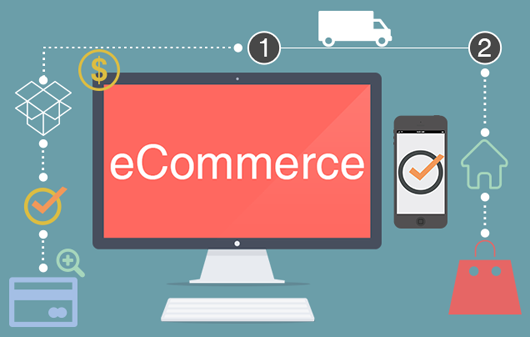 If you are planning to create a mobile presence for your business, one of the first development dilemmas organizations face is whether to build a mobile application, mobile website, or both.
For starters, mobile websites and apps might look very similar. Both can help you boost commerce, increase user base and retain happy customers.
But determining which one is best for your needs is a tough question. Should you have both an app and a website?

The answer is simpler than you thought. The two can co-exist. Rather than threatening each other, they can support each other for better business.
A recent survey by Biznessapps studied this question, "Should you have a mobile website or app or both?"
The survey questioned 500 small businesses, and 81% of them said both are equally important for business.
Related :
Mobile Apps and Website are different
A mobile app might have the upper hand when it comes to evaluating ROI, repeat business and usage rate.
But studies have shown that if you looking to provide services like shopping or searching to a wider audience, a mobile website is the best choice. If you are looking to build an interactive game, an app would be your best friend.
While websites are immediately available to use, apps have to be downloaded. This means websites might have broader accessibility and a wider user base, but apps have a more engaged audience.
Websites may cost less time and money, but apps have a better ROI. Websites are ideal for information retrieval whereas apps complete a task.
The bottom-line is that mobile websites differ from apps in the purpose they solve, audience they reach, performance and cost.
Development Dilemma of Either/Or
Since mobile websites and apps are not mutually exclusive, these two marketing models should hold hands in planning strategies, rather than competing against each other.
Mobile apps might be the latest rage, but mobile websites have grown alongside keeping up with the pace.
A study conducted in December 2014 for Interactive Advertising Bureau (IAB) Mobile Marketing Center of Excellence and Mobile Web Consumer Survey, suggests that 33% of mobile internet users in the US spend equal amounts of time using apps and mobile websites. In comparison, 18% spent significantly more time using apps over mobile websites.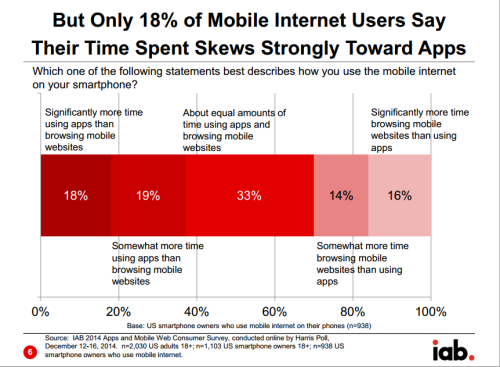 Useful Tactics to keep in mind when building Mobile Strategy
1. Get More App Downloads By Redirecting From the Mobile Website
You have an app, that's good. But how do you expand your app user base?
If you have an existing mobile website, consider using it for cheap, effective and easy ways to drive traffic to your app to increase app installations.
2. Use Analytics
Consider adding analytics to improve the performance of your websites and apps. Real-time traffic monitoring helps you analyze your traffic source and understand your audience and their requirements better.
3. Seamless Experience Navigating Between Web and App
One of the most important factors to help retain loyal users and convert potential visitors is the ease of use and convenience. Depending on the task at hand, users switch between websites and apps.
Creating a seamless experience between the two channels lets the user decide what is most convenient for them.
If you look at it from the user point of view, it means that you need to create a consistent and integrated experience across devices. For instance, consider a customer that has successfully purchased items from your desktop website. Now he/she moves to your app. It should reflect the last transaction and take you forward from there.
Common Core Features in App and Website
Another element to delight customers is to have some common core functionality across channels. Offer key features while adding some mobile relevant features only, like bar code scanning.
You need to write down the core features and prioritize them according to the environment needs. Make sure you optimize the feature for mobile use.
Key Takeaway
Apps and websites will continue to co-exist in the future. Businesses should consider an approach that considers both channels in a way that fills each one's gaps.
If your company's mobile roadmap pays more attention to apps, consider creating a basic mobile optimized website. And if your business already has a mobile presence, don't stop there. Keep in mind the budget, requirement goals and user reach. Extend and empower your business with a mobile app.

I am a technology geek and love all things smart and purple. A computer engineer by education, I was once a cubicle dweller at Intuit Inc. But since I had my calling from the written word, I quit my five year old job in software development and started writing. When I am not writing about technology or health, you can find me drinking tea, on facebook, or tinkering a new gadget.