When you buy a product on Amazon, you want to leave reviews. This generally helps others to decide whether they should buy the product or not.
Sometimes, you may try to review a product on Amazon or read another reviewer's comment only to find that it's hidden and there's no way to reveal the original post.
This problem has happened to a large number of buyers on Amazon, some of whom think it could be an abuse of Amazon's sensitivity filters for product reviews to harm others.
Whether you're reviewing a health product or a simple water bottle, it's possible to get hit by the "hidden by sensitivity filter" notification.
What most buyers don't know is that there's a reason why the filter is activated and a workaround to resolving the problem if you keep encountering it.
This guide explains what the "review hidden by sensitivity filter" means on Amazon and how to fix it so you can continue reviewing products unhindered.
What is The "Review Hidden By Sensitivity Filter" On Amazon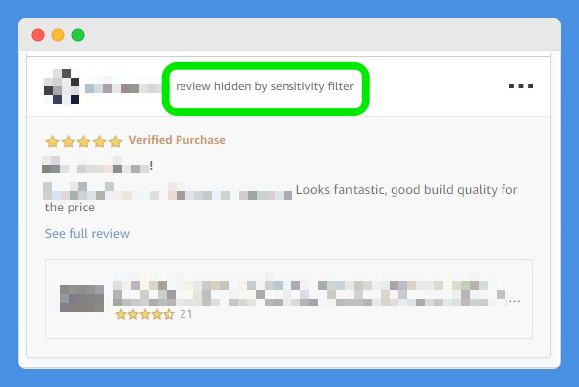 Any time you make a public contribution or activity associated with products that Amazon has classified as sensitive, you'll notice that such reviews or comments will automatically be hidden from your public profile.
However, the review/comment will be maintained on the product page.
There are several types of products that Amazon lists under the 'sensitive' classification which include among others:
Certain personal care products
Intimate clothing
Jewelry
Erotic Media
Self-help products
Products used for personal protection
Amazon categorizes any products in any of these groups as sensitive because they want to protect their own customers from possible embarrassment.
You may have discovered that all your reviews are displayed as available for "private viewing" only and not for public viewing. This is where the hidden by sensitivity filter kicks in.
All this is worsened by the fact that you won't get any notification of why or when your reviews suddenly disappear from your public profile.
How an Amazon Product Review Works
Amazon encourages buyers to leave reviews – favorable or unfavorable – on items listed on the platform. The company expects them to leave genuine feedback.
It has a zero tolerance policy over any reviews that are out to manipulate or mislead others.
Plus, you can't leave a review that seeks to promote a product or falsely describe to others what it can or can't do.
Examples of reviews that are unacceptable on the platform include those posted by people with direct financial interest in the product, or who have close relation to the manufacturer, artist, or owner of the product.
Negative reviews by sellers on competitors' products aren't allowed either. Sometimes they hire people to pose as unbiased shoppers and review competitors' products negatively.
All these instances attract penalties from Amazon, which could see your review being removed altogether.
There are a few steps to take to submit a review as follows:
Go to the detail page for the product you'd like to review. Alternatively, check Your Orders page if you placed an order for the product
In the Customer Reviews section, select Write a customer review
Next, select a Star Rating. If you successfully submit the ratings, you'll see a green check mark
If you want, you can add media files (videos or photos) or text and then select Submit
How the Hidden by Sensitivity Filter Works
The hidden by sensitivity filter just means that your reviews or contributions won't appear on your Amazon profile from where others can view all the items or products you have reviewed.
The reviews may be available to be read, but they're hidden from your public profile, and can cover even health care items such as medical grade gloves, medications, and other privacy sensitive items.
For medical or healthcare products, it may make sense as no consumer would want to have stuff like dandruff shampoo or antifungal skin cream listed as part of their public profile.
However, some users have raised concerns that even items as simple as water filter pitchers are considered sensitive, and wonder whether it was mis-classification on Amazon's part.
One of the reasons why some items get classified as sensitive relates to the words used in the product name. For example, if an item has the word "chubby" in its product name, it may be classified as sensitive.
Thankfully, it's not entirely about the naming or wording of the product, but more related to how people view your public profile.
Why Amazon Uses the Hidden by Sensitivity Filter
Any well-meaning company would like to protect its customers as much as possible, which is why Amazon added the hidden by sensitivity filter as part of its customers' profiles.
A while back, the company added some privacy settings to users' accounts. This included the option to hide reviews, questions, wish lists, and any other personal content by default from public pages.
When that change was finally rolled out, many reviewers suddenly noticed that their reviews were no longer being displayed.
For most people, the first thought was that Amazon may have deleted their reviews, seeing as the company usually removes anything it deems as going against its guidelines. However, after much research, it was discovered that the issue is within the privacy settings.
The hidden by sensitivity filter is designed to protect your activity, privacy, and contributions associated with the products you use, which are classified as sensitive, away from the eyes of the public.
The filter works automatically to hide such sensitive items but as an Amazon customer, you're still free to choose whether to expose such reviews to the public.
If you want to display all reviews, including those of sensitive products on your list, you can use the steps below to disable the Hidden by Sensitivity filter on an individual basis.
How To Fix The "Review Hidden By Sensitivity Filter" On Amazon
The "review hidden by sensitivity filter" need not worry you because after all it could just be a setting that you need to change and fix the problem for good.
As an Amazon customer, you can customize your public customer profile in such a way that you choose whether to expose reviews of sensitive items or not in your profile. You can display all reviews by disabling the sensitive Items filter including reviews of sensitive products.
Follow the steps below to customize your profile and change the filtering settings on Amazon:
Sign in to your Amazon account.

Next, select the drop down menu next to Account & Lists at the top right side, and then select Your Account.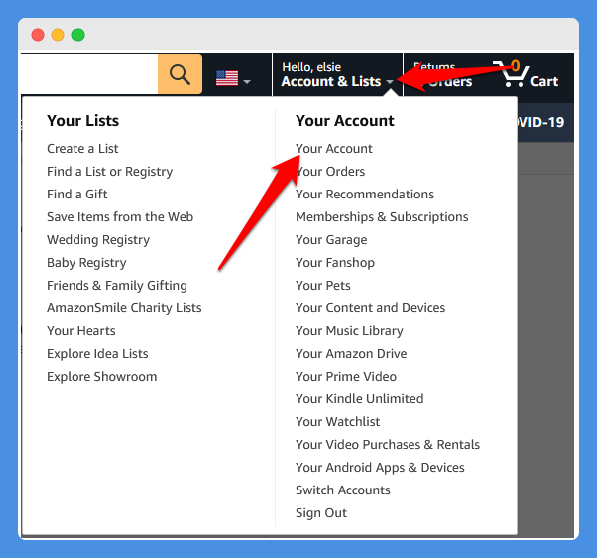 In Your Account settings page, scroll down and select Your Amazon Profile.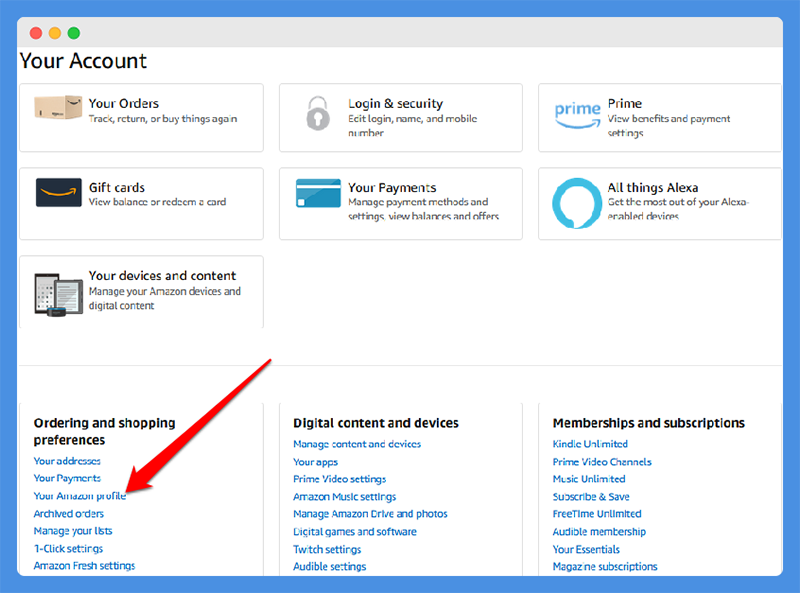 Select Edit your public profile button.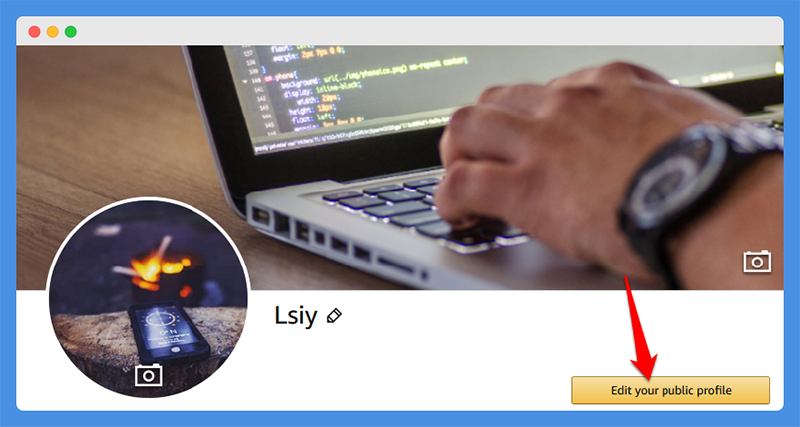 Next, select the Edit privacy settings tab.

In the Privacy settings window, deselect or uncheck the Hide sensitive activity checkbox.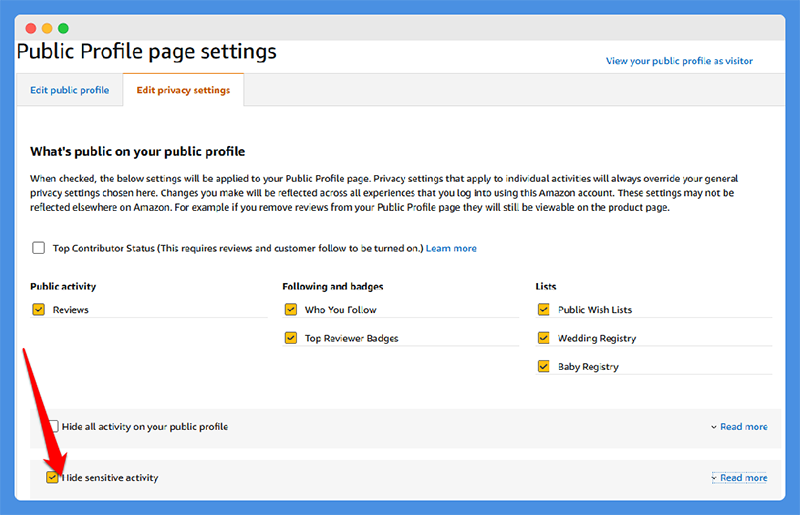 Note: Deselecting the Hide sensitive items box will unhide all reviews that you create for sensitive products from your public profile page.
These will include reviews for intimate items, personal care products, self help, erotic media, jewelry, and any other products that may or could be controversial.
You can also display an individual review from your public profile page, and the reviews will still be seen elsewhere on Amazon especially the specific product's reviews section.
Select Save to save the changes and disable the hidden by sensitivity filter. You should now be able to see all your reviews back on Amazon.

To re-enable the hidden sensitivity filter, just use the same steps above and select or check the Hide Sensitive Activity box.
Wrapping Up
As an Amazon customer, you want to keep your profile as private as possible, especially if you don't want everyone knowing about each and every item you purchase or review.
The hidden by sensitivity filter is designed specifically for such potentially embarrassing moments, where customers want to keep some items to themselves, and decide when to expose them on their own.
If you've been struggling to figure out how to fix the problem, we hope you find this guide helpful and you're now able to see all your reviews and contributions in your public profile.

Author: Sam Zaman
Sam loves to write on technology & related stuff. Ecommerce, mobile and internet marketing equally drive her interest. Likes gardening and experimenting with new recipes. An avid reader and absolutely mad @bout donuts :)