Webinars have grown to become a must-have tool for businesses and consumer brands since the 1990s when they were first introduced.
A webinar combines everything marketers love: lead generation, thought leadership, and customer interaction all in one tool.
However, such presentations could be a major flop without a webinar software.
What To Look For In A Top Webinar Platform?
Webinar software is the glue that holds all other elements of a webinar together, so you can have an interactive event with your attendees from any location.
Most companies use webinar software to create and host webinars, thus giving any person in their target market, across the world, a chance to participate at the same time with everyone else.
Scalability
Online webinar platforms usually have technical limits on how many attendees can join at a go. Pricing tiers are also available based on the size of the audience.
This helps estimate the number of participants you may have now and in the future.
Encryption Strength
Some webinar tools offer built-in end-to-end encryption to protect business data and privacy.
Ease of Dial-in
The ease of joining a webinar platform varies, but you need to check whether any account creation or app downloads are required prior to joining as these complicate the user experience.
Consider also the participant buy-in levels, length of your webinar, and desired functionality.
Features Of Webinar Softwares
Depending on the platform, some of the typical features you'll find in webinar software include the following. The tools that perform these functions well, can be classified as the best platform for webinars.
Screen sharing
Event management
Live chat
Branding
Recording
Q&A, Polls, and Voting
Number of attendees
Analytics
Technical support
15 Best Webinar Platforms
We canvassed the internet and compiled a collection of the 15 best webinar software services available right now, so you can evaluate each of them before purchase, and get your webinar strategy started.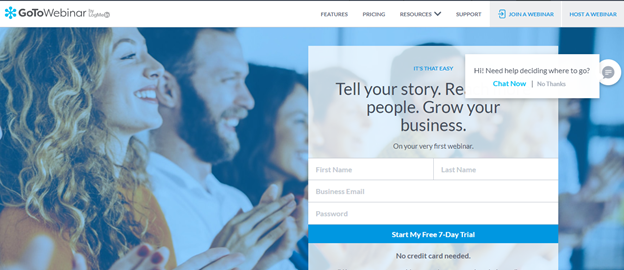 GoToWebinar is one of the best webinar platforms. It prides itself on its widespread use with more than 2.7 million webinars hosted every year on the platform.
GoToWebinar allows presenters to increase interactivity with the audience while tracking interest and engagement during the webinar.
GoToWebinar Features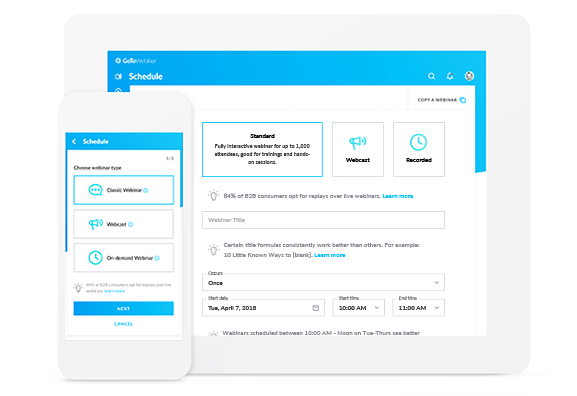 Event management to view every webinar and adjust settings easily
Flexible scheduling to set up a one-time series, live-event, or on-demand experience
Webinar templates so you can use settings from past webinars for new events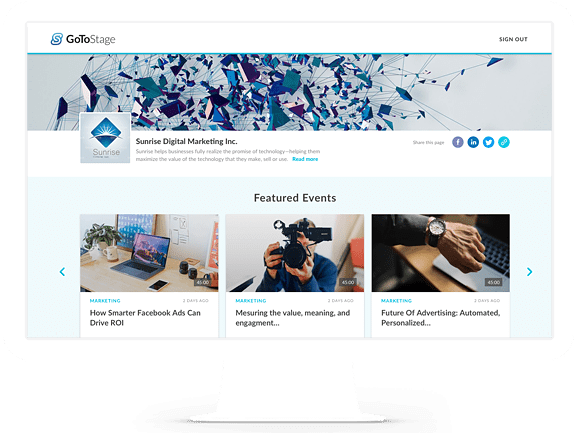 Branding tool to add your logo, brand colors, and images on webinar materials
Custom registration that lets you create questions and capture registrant information
Channel page for easy, on-demand webinars
GoToStage that offers all you need to draw the crowds to your webinar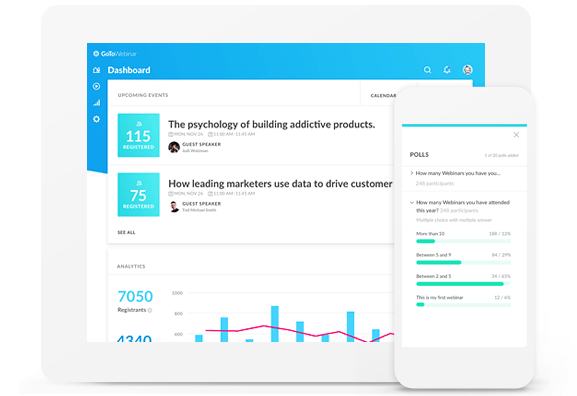 Engagement dashboard to monitor hands raised, attentiveness, and time elapsed
Presenter webcams for you and the panelists to be seen
Polls and surveys to engage audiences with slide-in questions and live results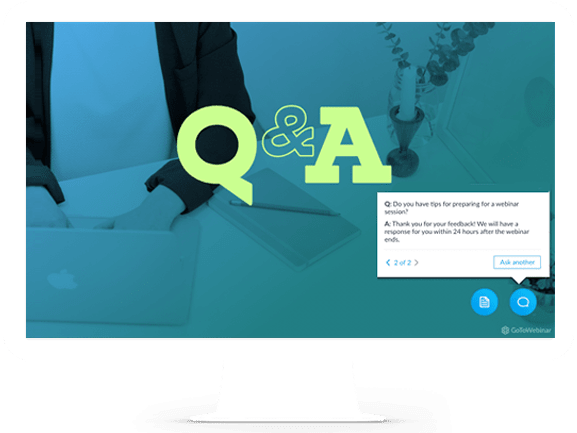 Recording for your webinar to be shared online and expand your reach
Pre-recorded events or webinars with the same vibrant feeling of live events
Integrations with marketing automation or CRM and more for one-stop managemen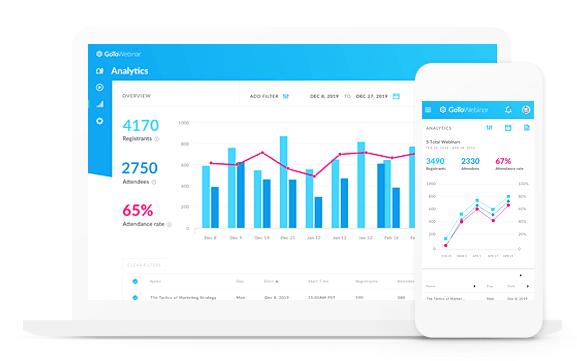 Attendee reports to explore who joined and attended the webinar
Event analytics to see and measure webinar performance and download key metric reports
Source tracking to discover channels that drove the most signups to your webinar
GoToWebinar Pricing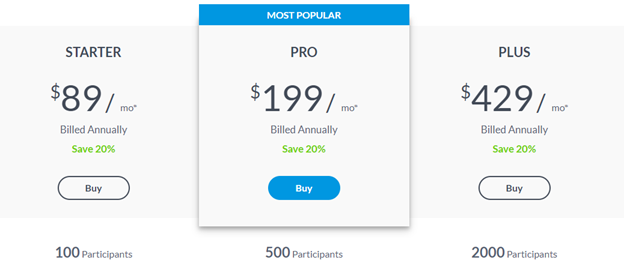 GoToWebinar is sold in three plans-
Starter plan costs $89 monthly (or billed annually at $1068) and lets you host webinars with a maximum of 100 participants
Pro plan costs $199 monthly (or $2388 annually) and gives you up to 500 participants
Plus plan costs $429 monthly (or $5148 annually) and allows for up to 2000 participants – an excellent choice for large webinars.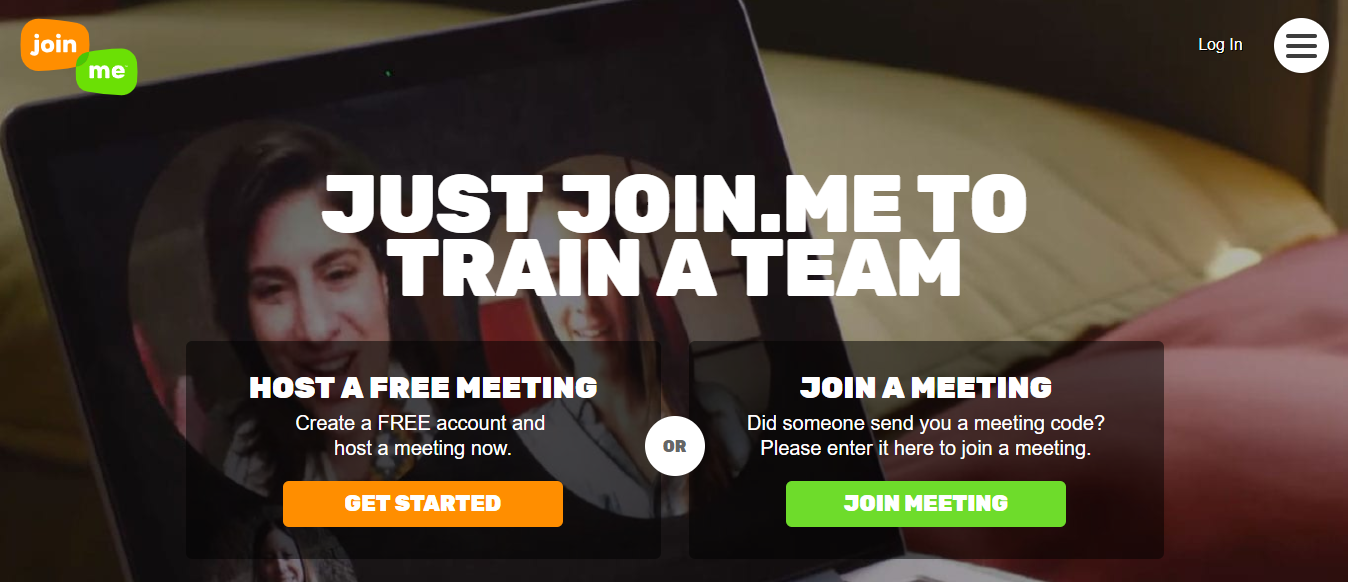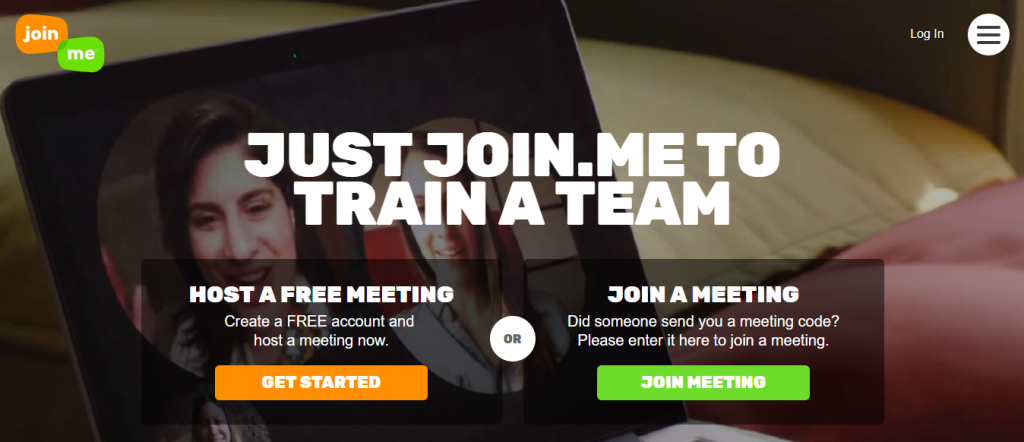 Join.Me is a collaboration tool designed to help individuals, teams, and companies cut through pointless protocols, processes, and politics for simple, continuous, and instant collaboration.
Join.me Features
Video conferencing with video bubbles (light, simple floating visual images of you and your participants). These can be viewed live or simultaneously while sharing screens.
Audio conferencing complete with local conference numbers in more than 50 countries including the U.S., audio controls for meeting hosts like Individual Mute, Active Speaker, and Roll Call, plus optional toll-free numbers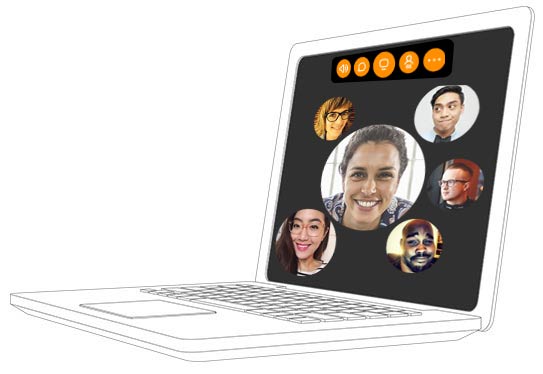 Mobile apps to take your meetings on-the-road and host from your Android or iOS devices. The Mobile Whiteboard for iPhone and iPad offers a new way to brainstorm and collaborate with participants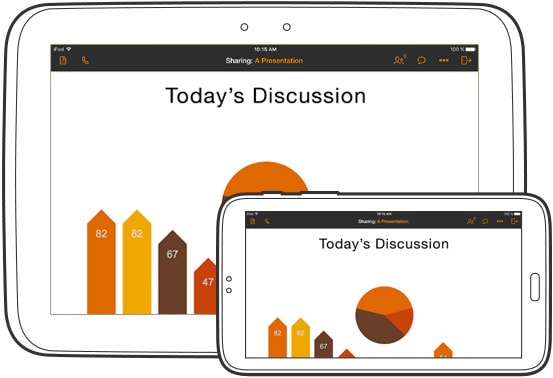 Scheduler allows you to set up meetings in advance, or directly in Google Calendar or Outlook. See how many meetings are scheduled, send invitations, and start meetings with a single click
Personal link for ease of joining conversations. A custom link can be set up for your meeting, whether it is your own name or that of your company. Meetings can be branded with personalized backgrounds to convey the right image to participants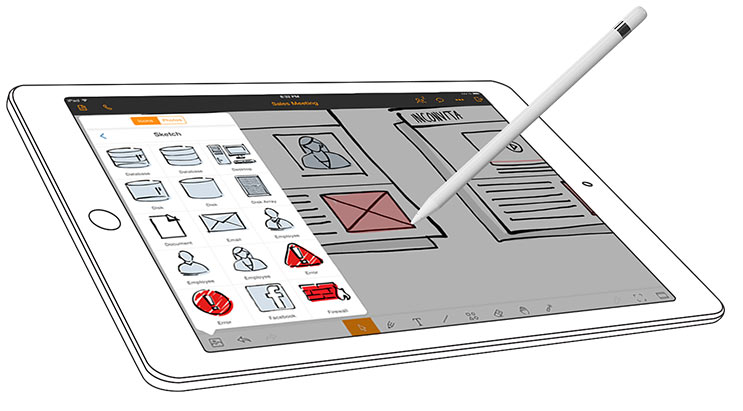 Mobile Whiteboard gets everyone on board even if they're not in the same room. Anyone with a mobile device, laptop, or desktop can see things in real time and participate.
Presenter Swap lets you take turns presenting screens as a team. Hand over presenter roles to any participant so they can broadcast with full control
Screen Sharing makes it easy to share with coworkers or peers as though they were right there with you, looking over your shoulder. The Pro account lets you share with up to 50 people
Join.me Pricing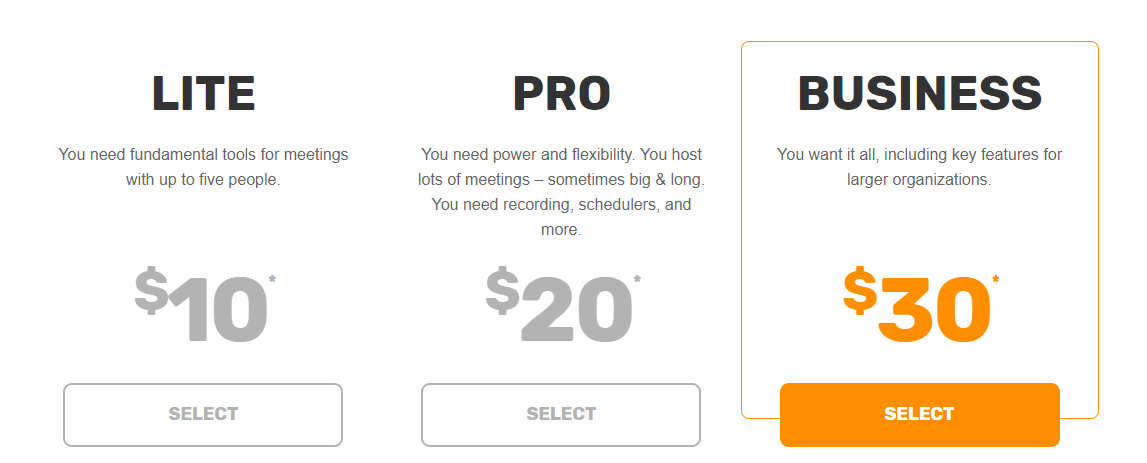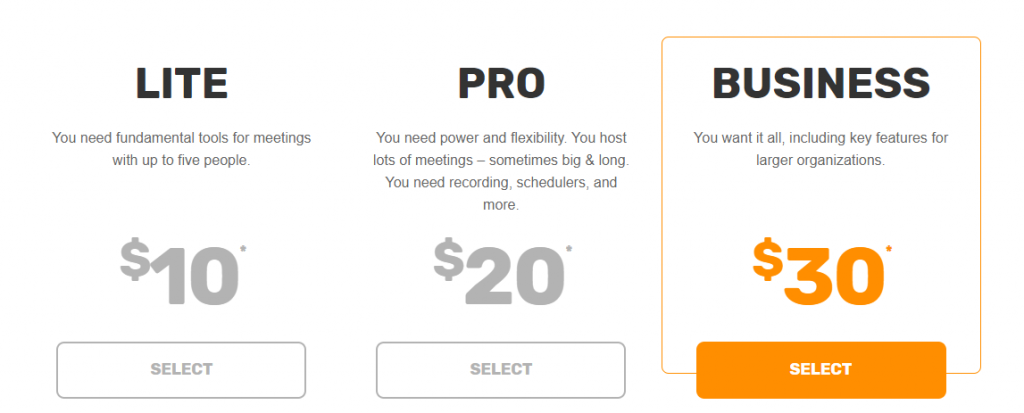 Join.Me also has three pricing plans:
Lite plan costs $10 and offers fundamental tools for meetings with up to 5 people (including organizers and viewers)
Pro plan costs $20 and offers flexibility and power for hosting big and sometimes long meetings, with recorders, schedulers and much more for up to 50 participants (including organizers and viewers)
Business plan costs $30 and offers key features that are available for larger organizations with up to 250 participants per meeting (including organizers and viewers)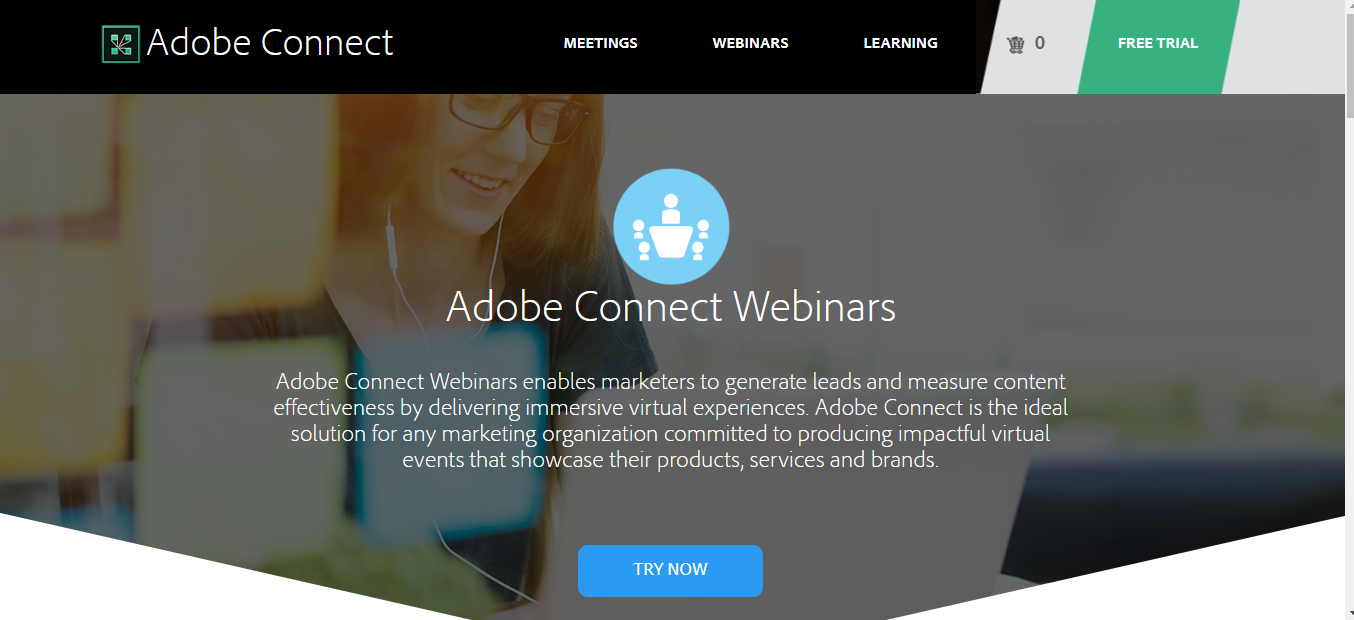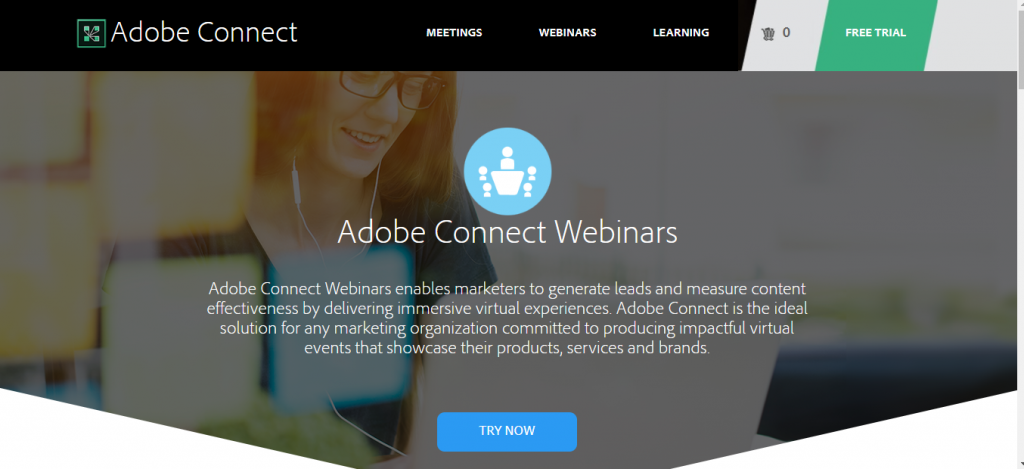 Adobe Connect Webinars allows you to create sleek, beautiful webinars with a focus on engaging experiences for attendees.
If you already use Adobe and want to continue with its software ecosystem, Adobe Connect Webinars is for you as you'll feel right at home with the software.
However, if what you need is analytics and data, plus ability to do small-group presentations outside of your primary webinars, you can use Connect's feature-rich webinar software.
Adobe Connect Features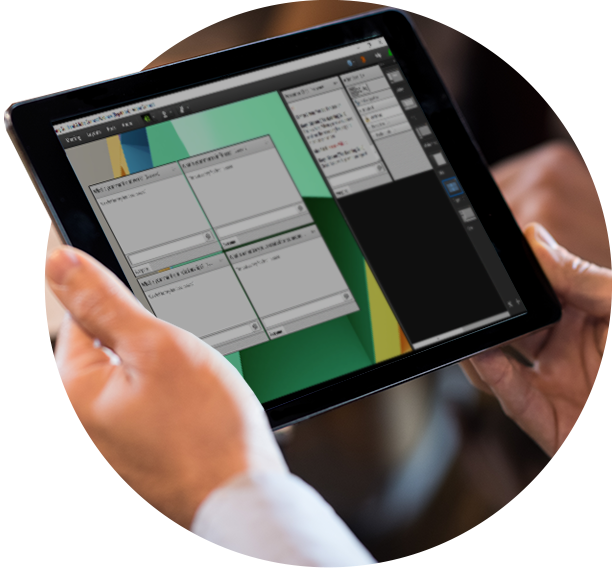 Dynamic video and multimedia, interactive multiple polls, smart Q&A, and quick status options, or add timers, ice breakers, and other custom apps to create engaging experiences
Persistent rooms that let you set up ahead of time and re-use previous session content, so you can present with confidence
Use the engagement dashboard to gain insights into level of interest and participation
Webinar power tools like Prepare Mode and Presenter Only Area for you to work with other presenters behind the scenes to produce great results
Host controls so you don't have to worry about participants closing panels
Web page and email templates to ease set up and create consistent webinars
Customize registration forms to capture information for lead qualification
Email options like invitations, follow-ups, and reminders
Customization controls for your room such as background images and content, control over what participants see, and custom web and email templates for consistency
Robust analytics and campaign reports
Engagement monitoring and measurement so you can continuously improve delivery
Adobe Connect Pricing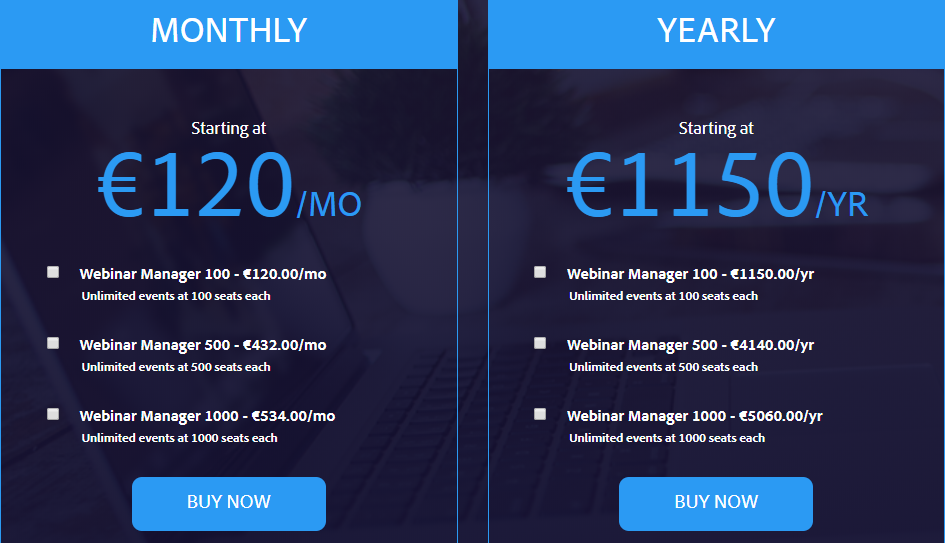 Adobe Connect Webinars offers three pricing plans:
Webinar Manager 100 for €120.00/mo for up to 100 participants
Webinar Manager 500 for €432.00/mo for up to 500 participants
Webinar Manager 1000 for €534.00/mo for up to 1000 participants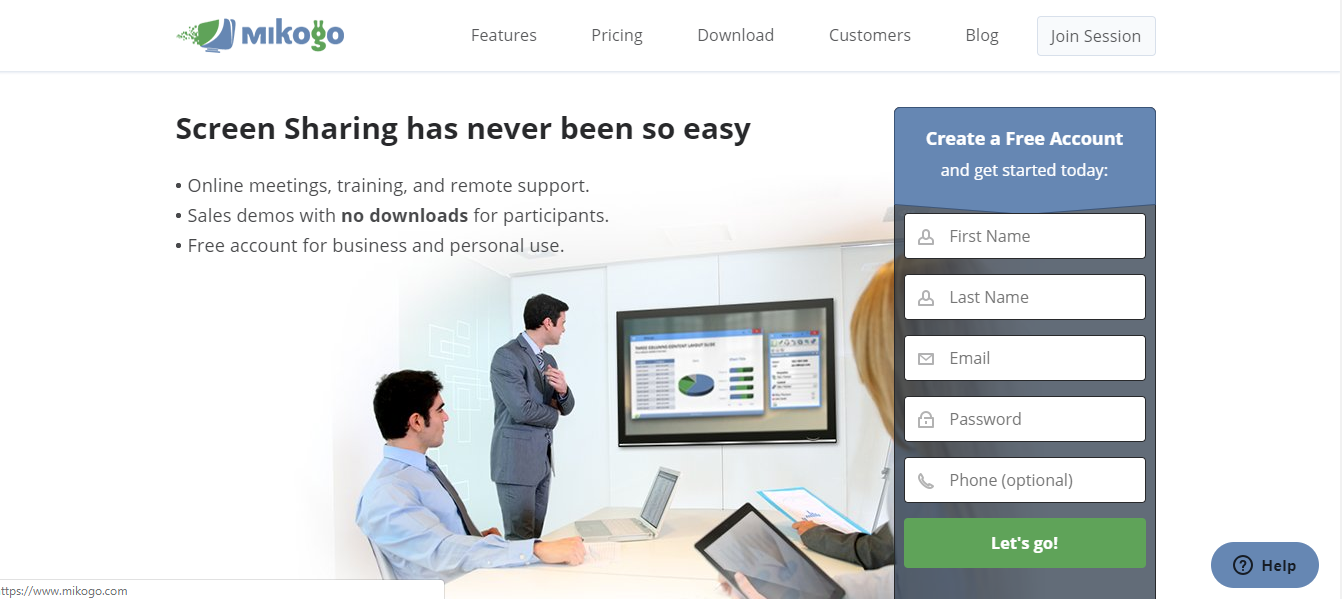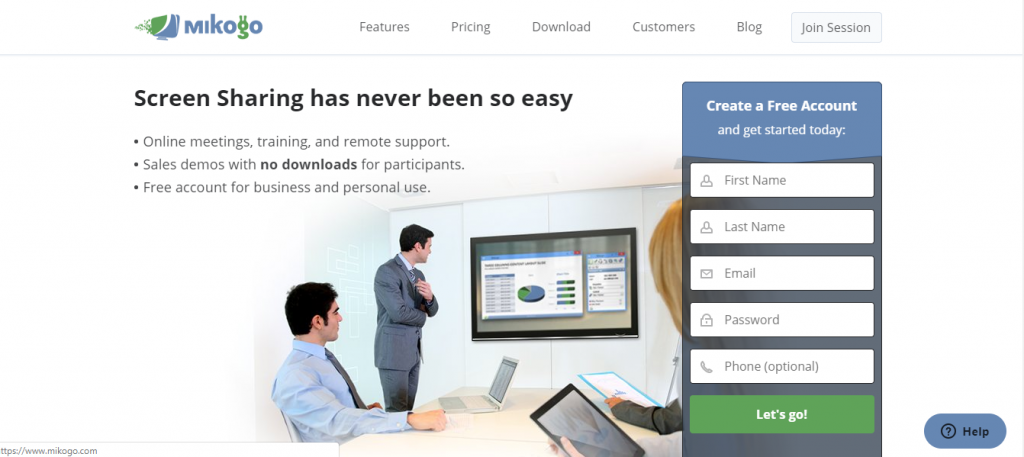 Mikogo is an innovative, intuitive, easy-to-use, and powerful webinar software that offers a free screen sharing solution for facilitating web conferences, remote support sessions, and online presentations and meetings.
Mikogo Features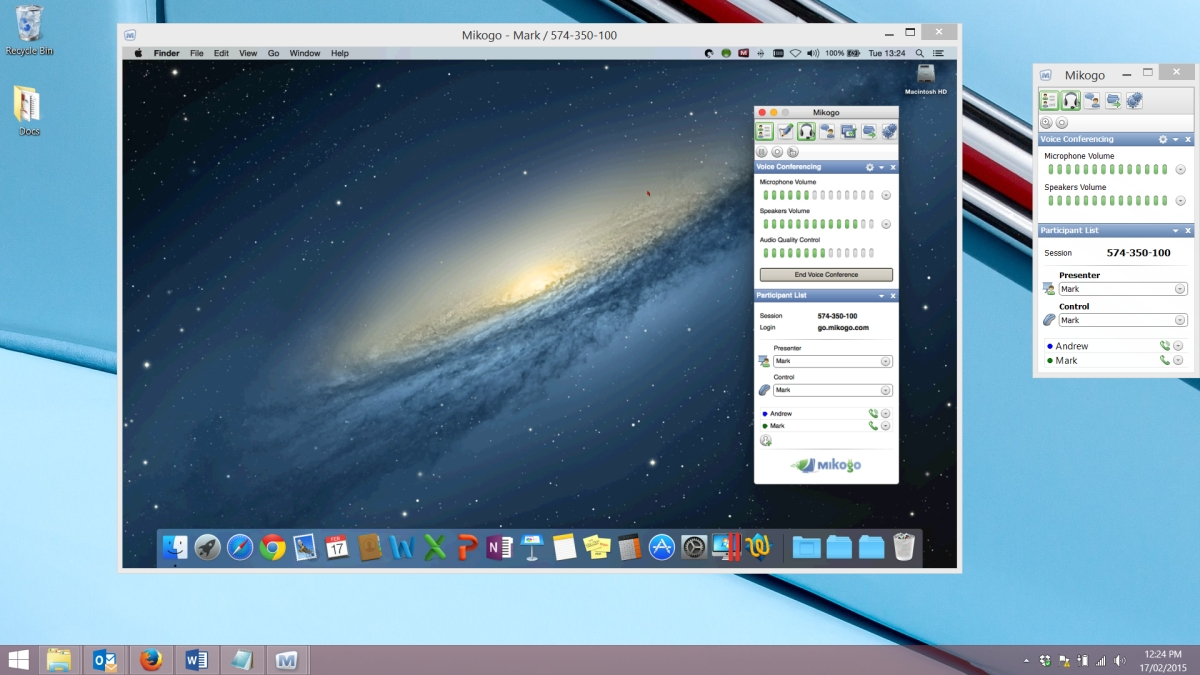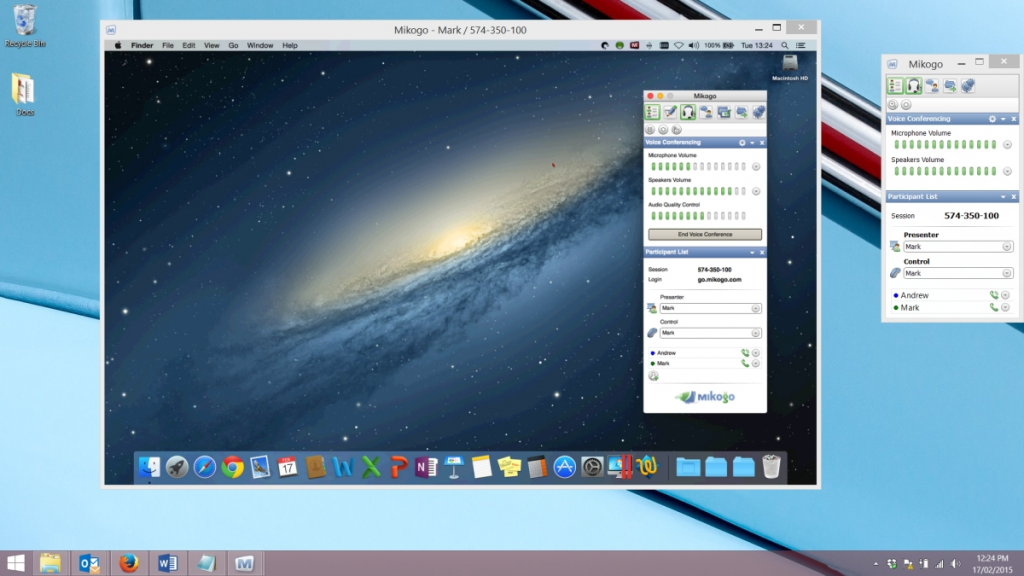 Cross platform lets you share your desktop, application windows, or documents in real time with up to 25 participants, and host sessions on Mac or PC
Switch Presenter lets any participant take the stage and share their screen
Remote control helps customers with remote mouse and keyboard control. You can also let someone else control your computer
Mobile apps allow you to join or view meetings via mobile browser, or with Android or iOS apps
High quality VoIP, teleconferencing and video-conferencing numbers for more than 28 countries
Session Scheduler to set up meetings in advance and reserve your unique session ID, then send a calendar or email invite
Session recording to record VoIP calls and your screen, and then replay the meeting using the session player. You can also convert it to a video.
Multi-user whiteboard to visualize your ideas in real time.
Annotation Tool allows you to highlight presentations and keep participants engaged at the click of a button
Application selection and multi-monitor to display the windows you want while hiding others so the presentation is at the center of your participants' attention. Monitor support is available for up to 4 screens
Profile Manager to customize feature and setting profiles for each use case
File Transfer to send attachments of up to 200MB
Chat to send and receive instant messages from participants or the whole group
Secure 256-bit AES encryption for all Mikogo meetings. The website has a 128-bit encryption using SSL, plus multiple security measures during meetings like session passwords, randomly generated session IDs, and lock session tool
Mikogo Pricing

Mikogo offers a free account with unlimited use of the standard features, and a 14-day trial of its premium feature set.
The software is available in more than 30 languages and detects your default computer language automatically, or you can set it manually in the software's settings.
Three pricing plans are available:
Standard plan costs $14 monthly for 1 person per session; good for conducting one-on-one sessions
Professional plan costs $25 monthly for up to 25 users per session
Team plan costs $48 monthly for teams of up to 5 users conducting sessions simultaneously
Enterprise customers with special requirements can get multi-user licenses or attractive single-user license packs, a customizable login website for session participants, and more participants per session.


Zoom webinar software offers one consistent enterprise experience, and is engineered and optimized to work reliably for all use cases.
It's an easy-to-use, buy and scale platform at an affordable, straightforward price. It is quite popular with most people placing it among the best webinar platforms.
Zoom Features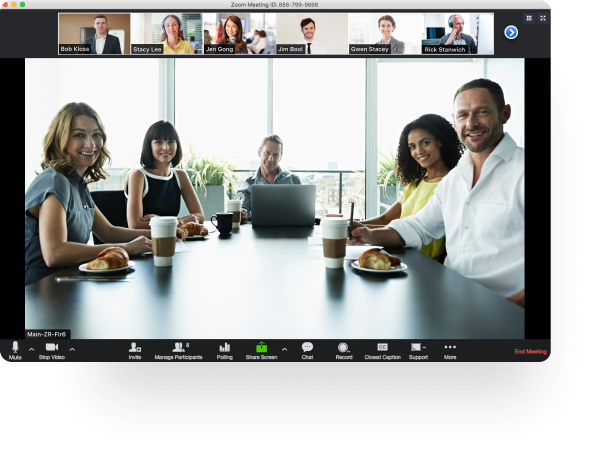 Cloud video conferencing with HD video, HD voice with dynamic voice detection, feature-rich mobile apps for Android and iOS, dual stream for dual screen, and accessibility features to enable users with disabilities be part of the webinar or meeting
Group collaboration for platforms such as Windows, Mac, Chromebooks, Linux, Android and iOS
Collaboration features such as simultaneous screen sharing, annotation and co-annotation, whiteboarding, keyboard and mouse control, and group messaging plus more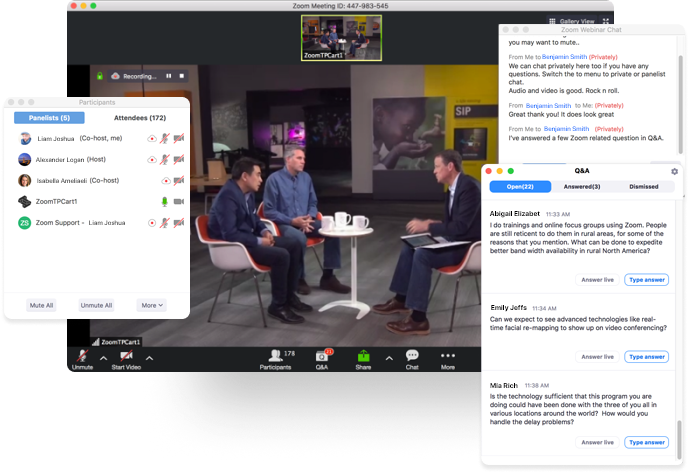 Security tools for meetings including AES 256-bit encryption with SSL, single sign-on or Google/Work login, HTTPS access, and admin feature controls
Audio for unlimited VOIP, call me/call out, toll-free or toll-based options in more than 60 countries, and integration with any third-party teleconferencing service
Hybrid cloud service that lets you scale and add capacity easily, complete with a meeting connector for private cloud, 24/7 online monitoring, and instant global service backup
Simple online meetings with personal meeting ID, URL name, high quality screen sharing, raise hand, host controls, virtual backgrounds, and recording for MP4 or M4A formats
Partner integrations for unified login, content sharing, scheduling and starting meetings, room collaboration, and marketing/process automation


Related : Zoom Vs Webex
Zoom Pricing
Zoom offers four different pricing plans:
Basic (free)
Pro ($14.00 monthly per host)
Business ($19.99 monthly per host for a minimum of 10 hosts)
Enterprise ($19.99 monthly per host for a minimum of 50 hosts)
People looking for free webinar software can go with its basic plan.
Also included are:
Zoom Rooms $49 per month per room
H.323 Room Connector $49 per month per port
Video webinar from $40 per month, per host for up to 100 interactive video participants and 10,000 view-only attendees
Add-ons such as Audio plan from $100 per month, and additional cloud recording storage from $0.4 per GB per month
Zoom Voice at $10 per month, per user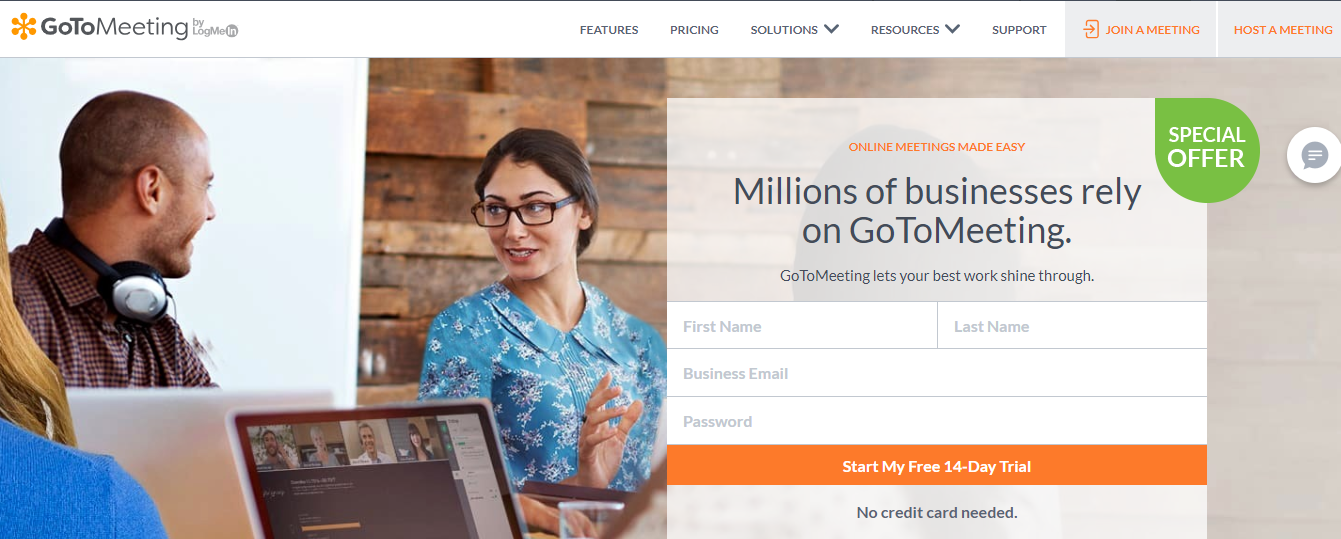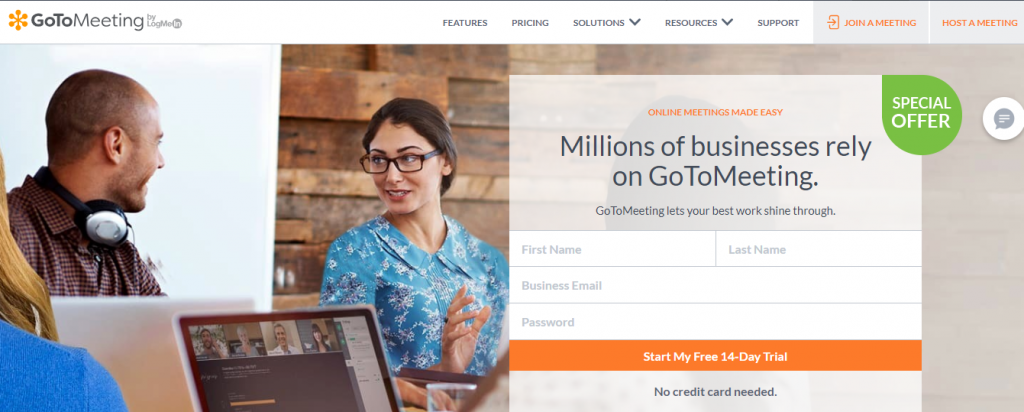 GoToMeeting is perhaps the best platform for webinars. It is a feature-rich tool that connects anyone on any device with everything they need for a successful presentation.
GoToMeeting Features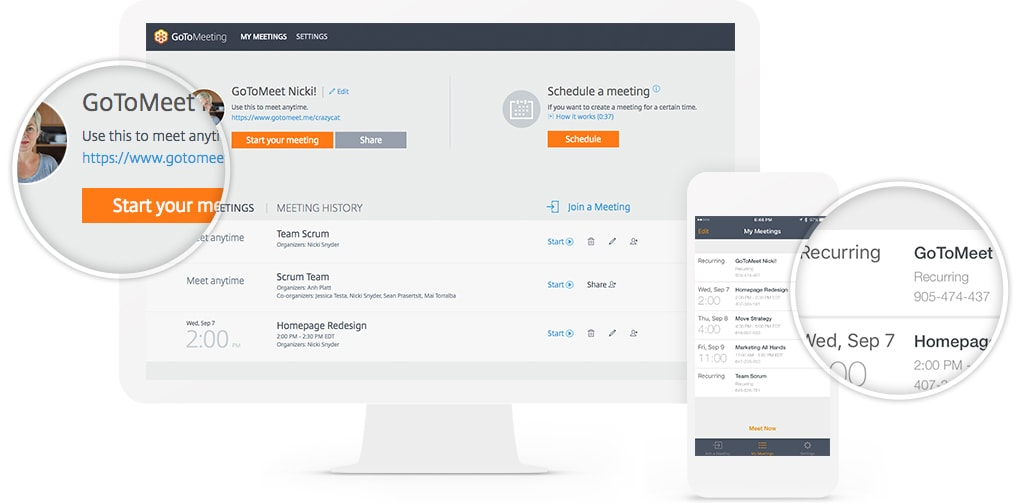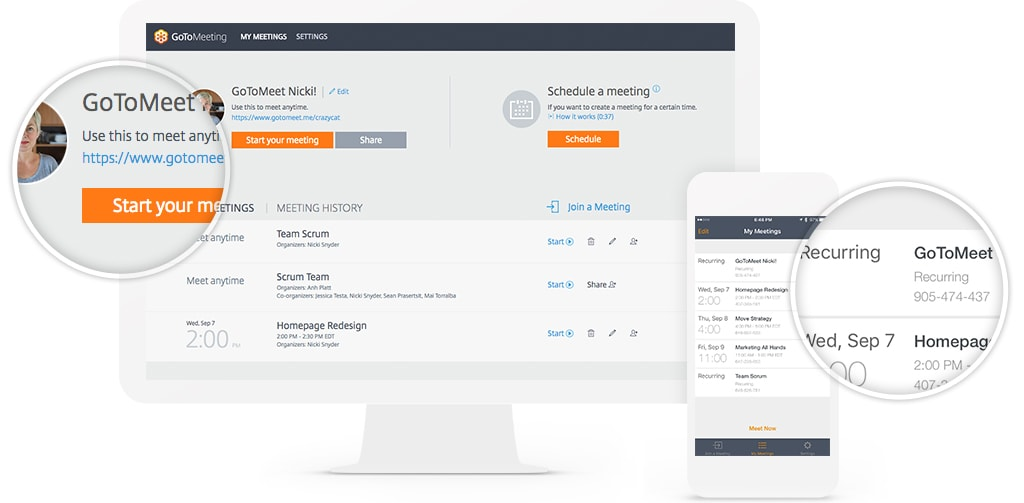 Business Messaging, lets you chat with people within or outside your company and transition instantly into a full meeting
One-click meetings launched quickly from popular apps that are already in use such as CRM, email, or messaging
Smart Meeting Assistant, allows you to search through and share automatic transcripts of recorded meetings easily
Desktop or Mobile options so you can start or attend sessions in seconds from your PC, Mac, Linux, Chromebook, iOS or Android device. Mobile screen sharing is available or you can show on the whole device.
GoToMeeting InRoom Link with built-in support for Cisco, Lifesize, and Polycom devices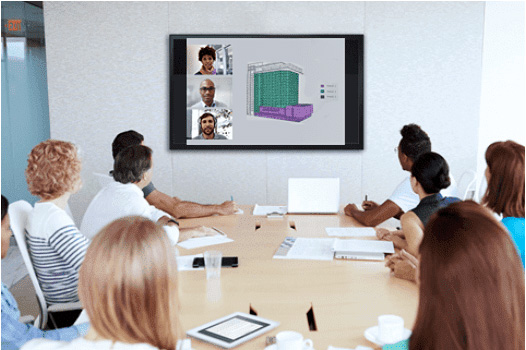 Call Me tool lets you join meetings by answering a call – no PINs or codes needed
Built-in audio, you can choose between toll-based or VOIP options at no extra cost
Toll-free option is available through OpenVoice that makes setting up conferencing manageable and easy
Personal meeting room for every customer with custom URL
HDFaces Video conferencing for collaboration with up to 25 HD video feeds in each session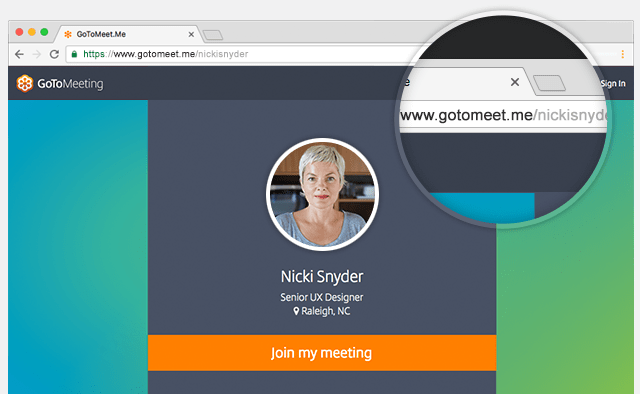 GoToConference for rooms with up to 10 people and offers hardware and software out-of-the-box
Cloud recording to record and store meetings online for easier sharing or review
Drawing tools help direct attention as you share your screen
Related : GoToMeeting Vs WebEx
GoToMeeting Pricing


Starter plan at $14 monthly for up to 10 participants
Pro plan at $29 monthly for up to 150 participants
Plus plan at $39 monthly for up to 250 participants
Enterprise plans are available for up to 2000 participants
A 14-day free trial is also offered with up to 50 attendees, and no credit card is required.
Just sign up for your free trial and enjoy access to GoToMeeting's top-notch features.
You'll get a notification before the trial expires after which you can decide to subscribe to a paid plan.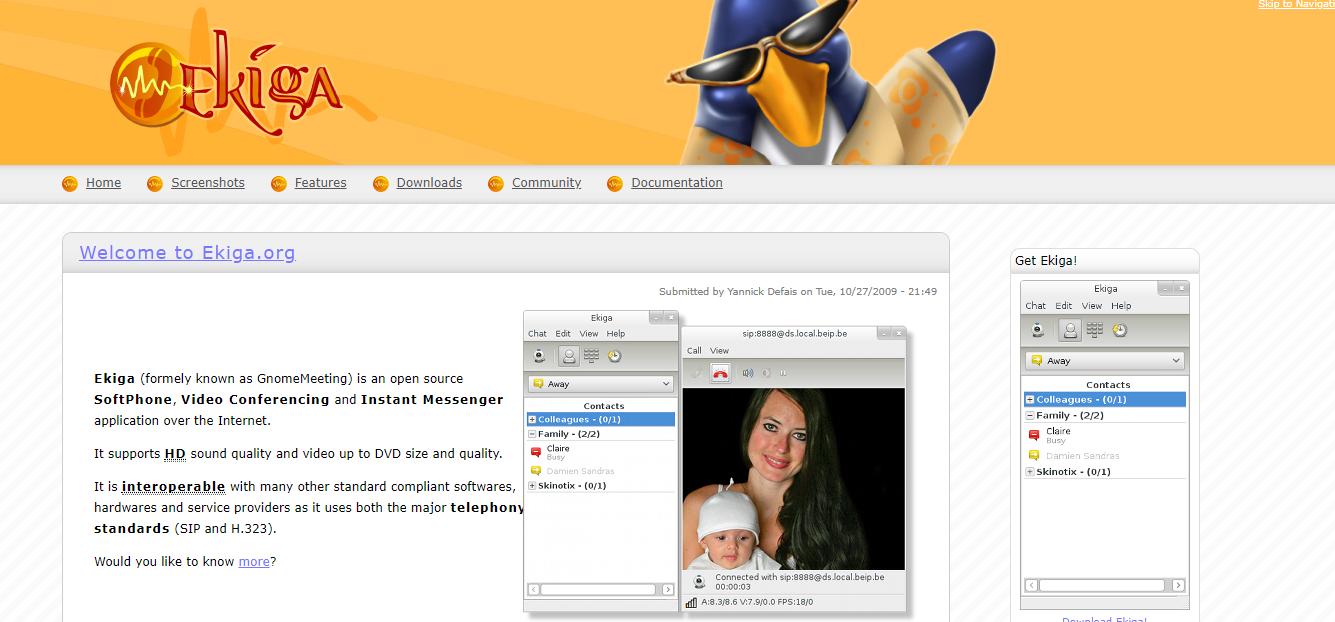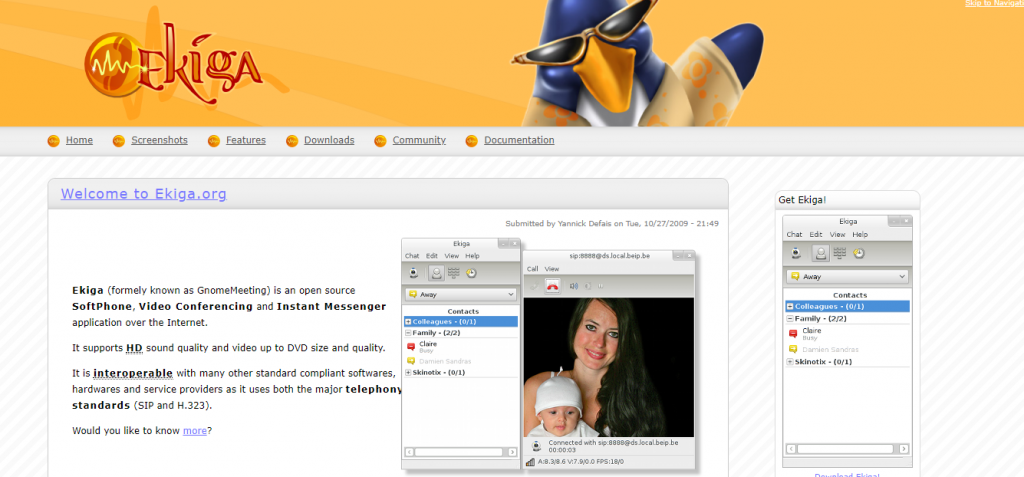 Formerly known as GnomeMeeting, Ekiga, is a free webinar platform, open-source video conferencing, softphone, and instant messenger application that's simple to use, and user-friendly.
It offers VoIP softphone app offers seamless Session Initiation Protocol (SIP) communication for Linux and Windows platform users.
Ekiga Features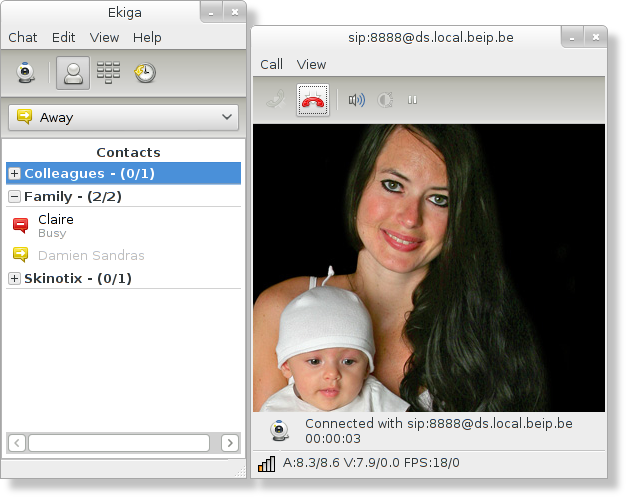 Graphical user interface that is HIG compliant, so it fits into the GNOME user interface, looks right, and works properly
Multi-language translation capability
Contact centric interface to list preferred contacts
Contact's presence display: four options – Away, Offline, Online Status, Busy
Automatic addition of network neighbors' contacts using ZeroConf/Bonjour protocols
Separate call window and desktop-wide notifications
Easy to use shortcuts
Message waiting indications that can tell you how many voicemails are waiting
Call Hold/Transfer/Forwarding
Dialpad to dial numbers from a graphical alphanumeric keypad
Call History and call monitoring on incoming/outgoing calls, and network traffic caused by Ekiga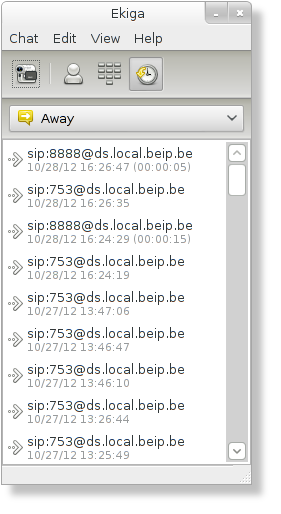 Call auto-answer for incoming calls
Audio and Video codec support
Text chat for instant messaging with built-in smiley support, presence display for peer chat statuses
Advanced address book to find users to call or save your list of regularly called persons locally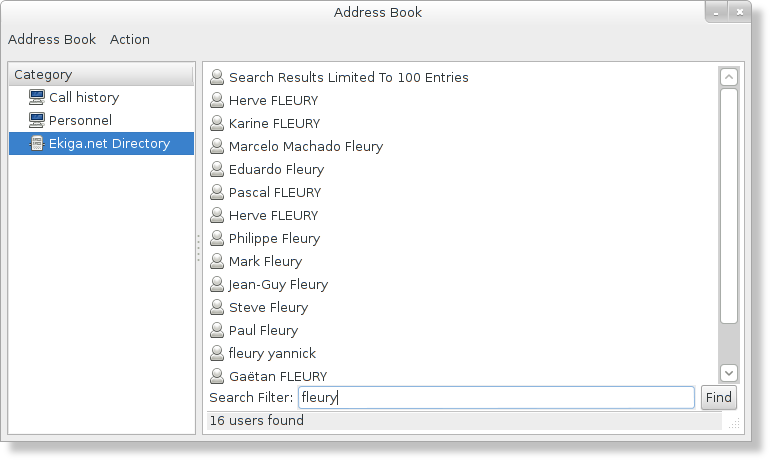 Remote address book that loads list of users from remote LDAP directory
Device auto-detection and hotplug for automatic detection of devices on Linux
Sound and Video API
VoIP, Network, and Integration services, and more
Ekiga Pricing
Ekiga is free which makes it a preferred tool for those who want a free webinar software, offering all essential features.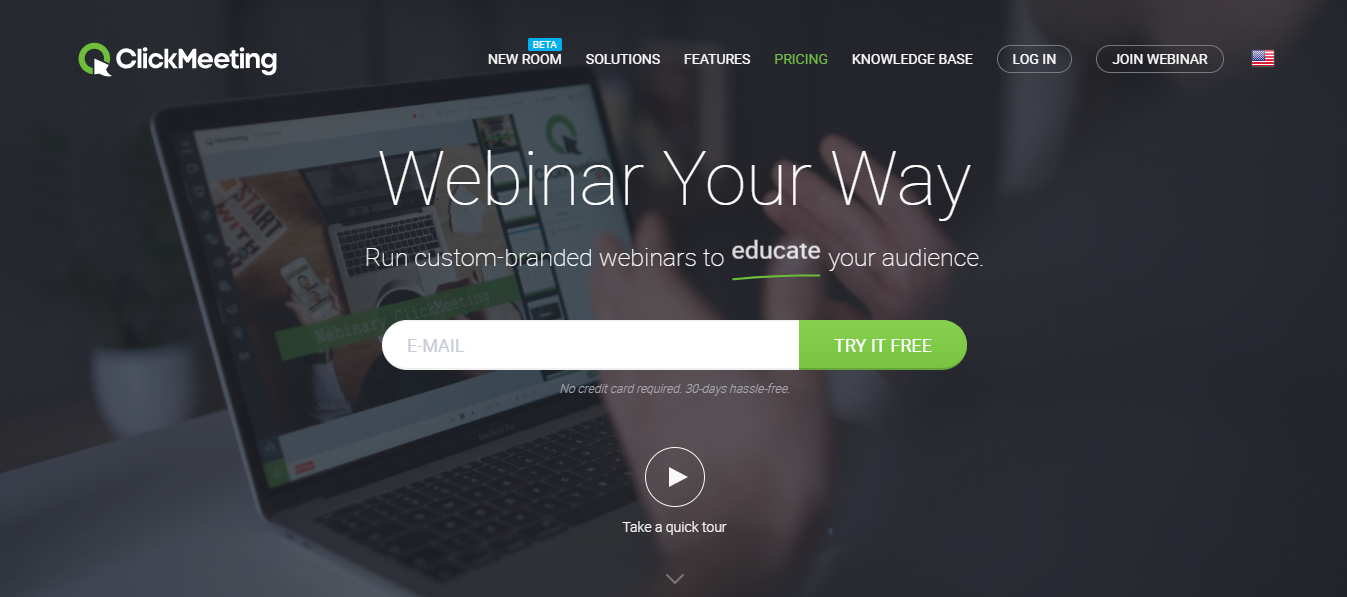 Another great tool in our list of best webinar software is ClickMeeting. This is an excellent feature-rich online webinar tool that helps you before, during, and after your webinar, with a 360-degree approach to engaging, inviting, reminding, and thanking participants.
It's layout is organized and user-friendly both to you and your attendees.
The software is used in 161 countries and helps thousands of its customers achieve their business goals from sales, marketing, e-learning, onboarding and training.
ClickMeeting Features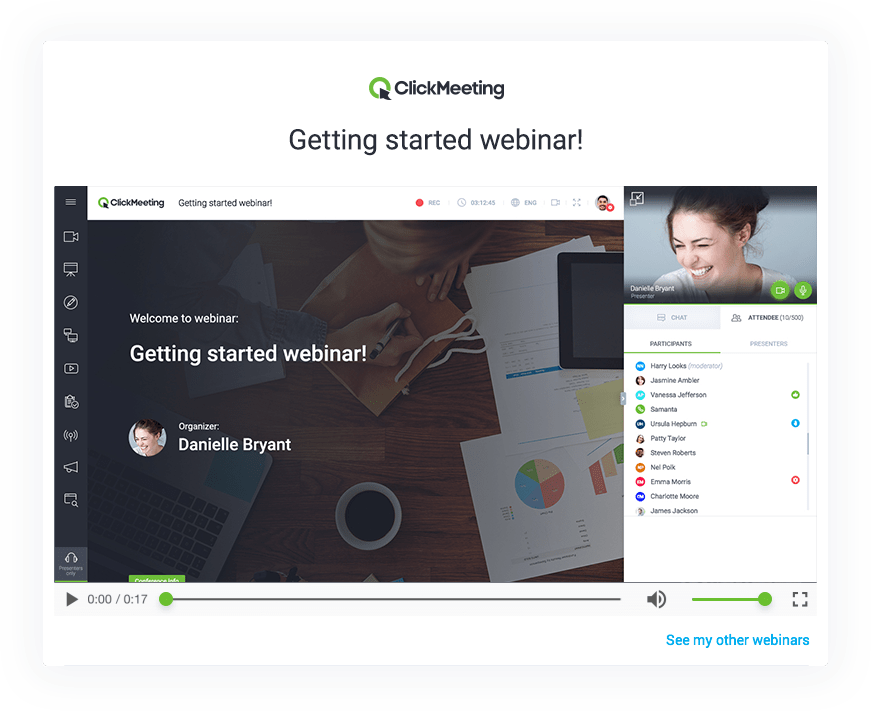 Webinar timeline shows all past and upcoming webinars on a timeline with quick access to essential information and statistics
Add-ons when you need extra than what your plan allows, you can extend
Paid webinars, a new feature that uses PayPal integration to sell webinar access while monetizing your expertise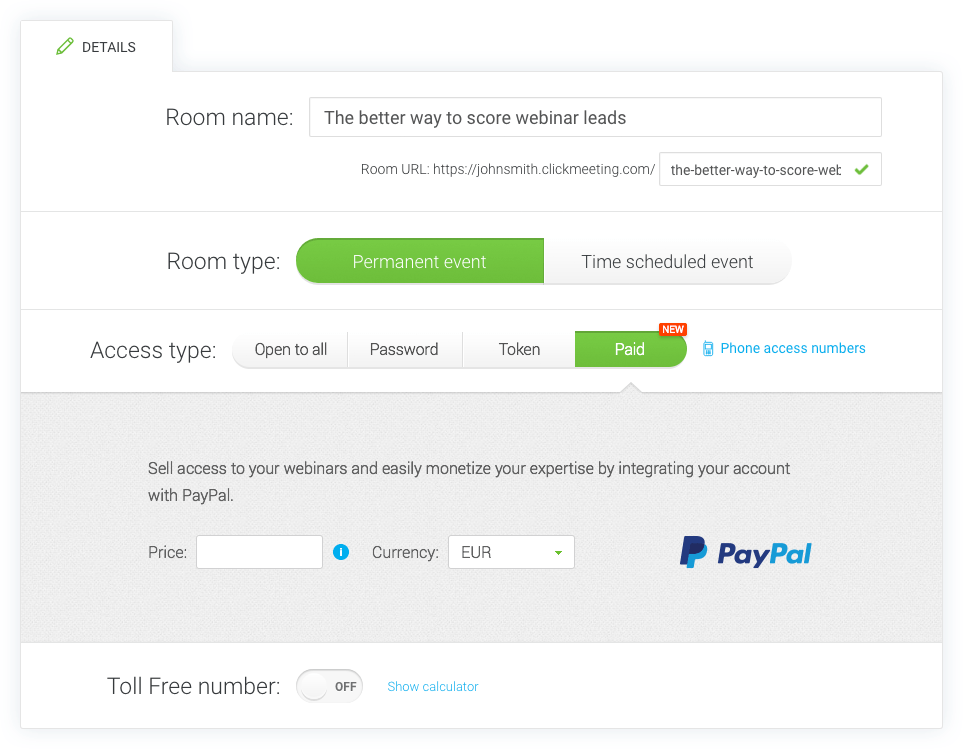 Sub-accounts created for different users, with roles managed from a main admin account
Multi-user accounts for coworkers to log into ClickMeeting. This avoids confusion over credentials while saving money on multiple account charges
Custom branding to add your brand colors and logo to your webinar and waiting room for the full brand experience and greater impact
Address book for managing and keeping your contacts organized
Customized invitations make it easier for invitees to confirm their attendance after seeing the value of your webinar
Registration and profile page to collect useful information about prospects while creating an outstanding branded profile page for your webinar with information on files for download and upcoming events
Waiting room with agenda to keep audience engaged before the presentation starts and give them information on the topics, and presenter profiles
Interactive tools like whiteboard, screen sharing, polls and surveys, moderated Q&A, private chat, audio and video, toll-free numbers
Facebook and YouTube Live streaming to expand your webinar content's reach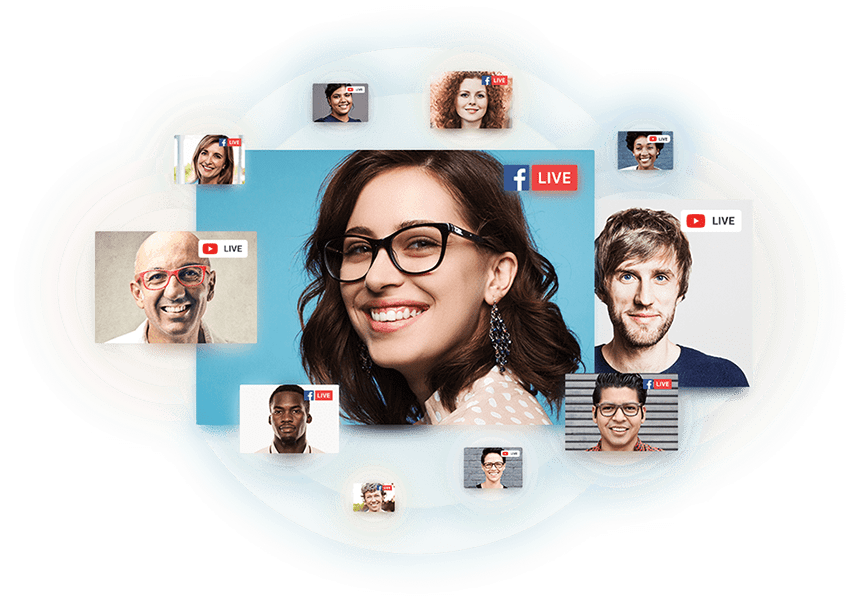 Call-to-action to urge audience to take action. You can display your offer at the right time for instant sales
Webinar recording, analytics, storage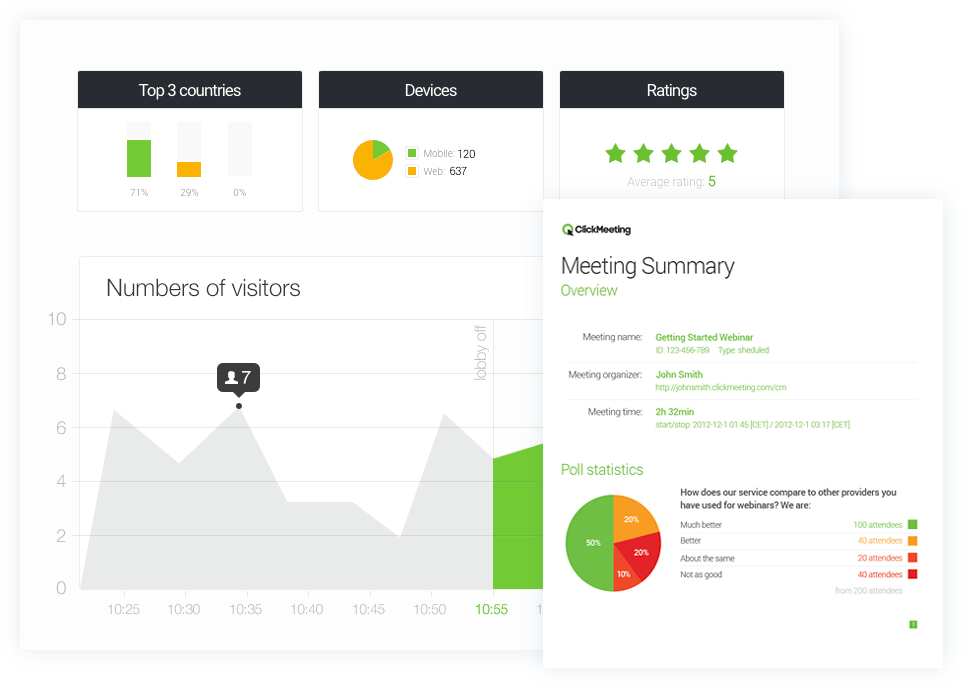 On-demand webinars unlock an easier and faster way to build your lead base. It also enhances your expert status
Thank you page and social media sharing
ClickMeeting Pricing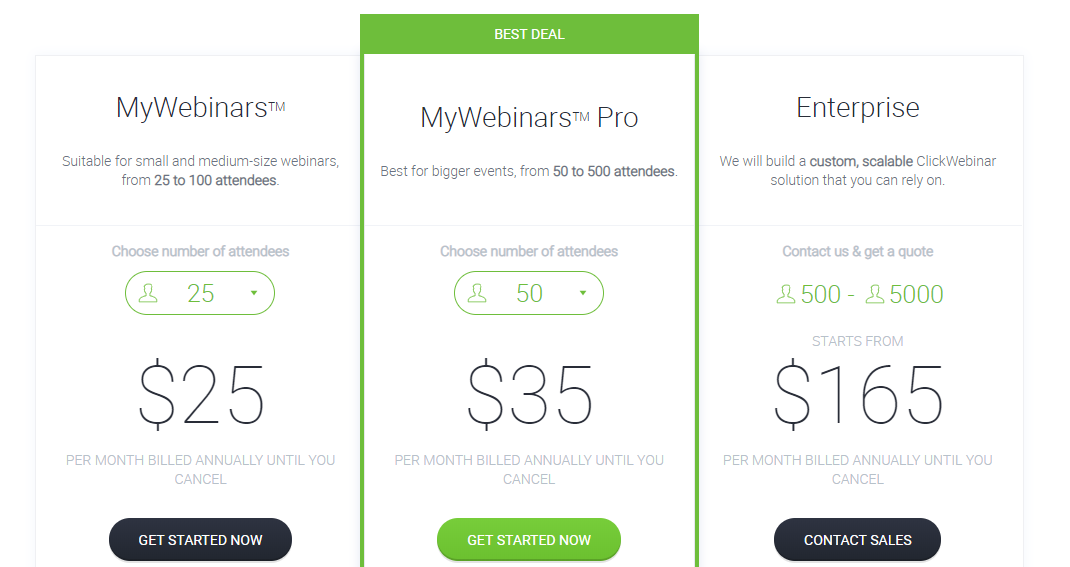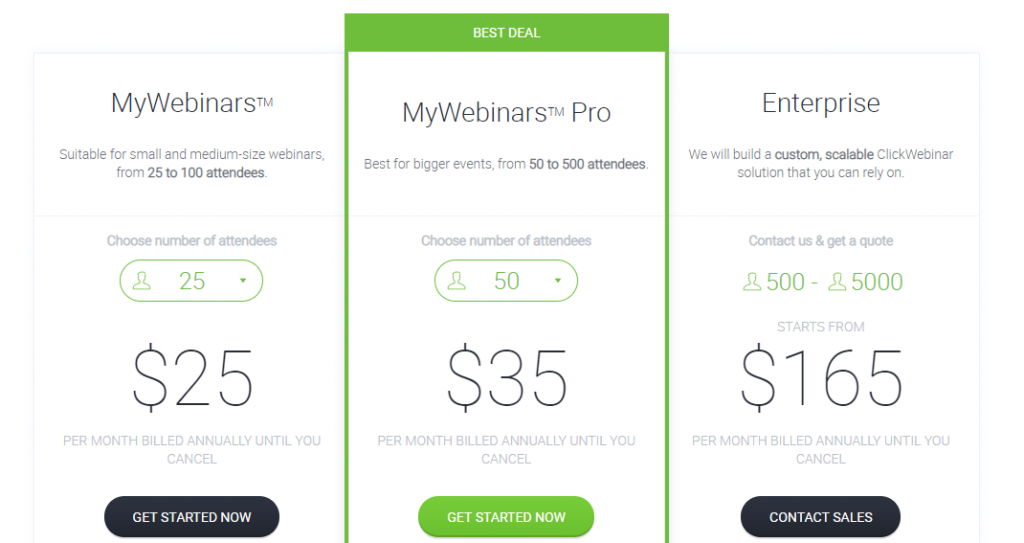 ClickMeeting offers three pricing plans:
MyWebinars at $25 per month for 25-100 attendees
MyWebinars Pro at $35 per month for bigger events from 50-500 attendees
Enterprise plan from $165 that is custom, scalable, and reliable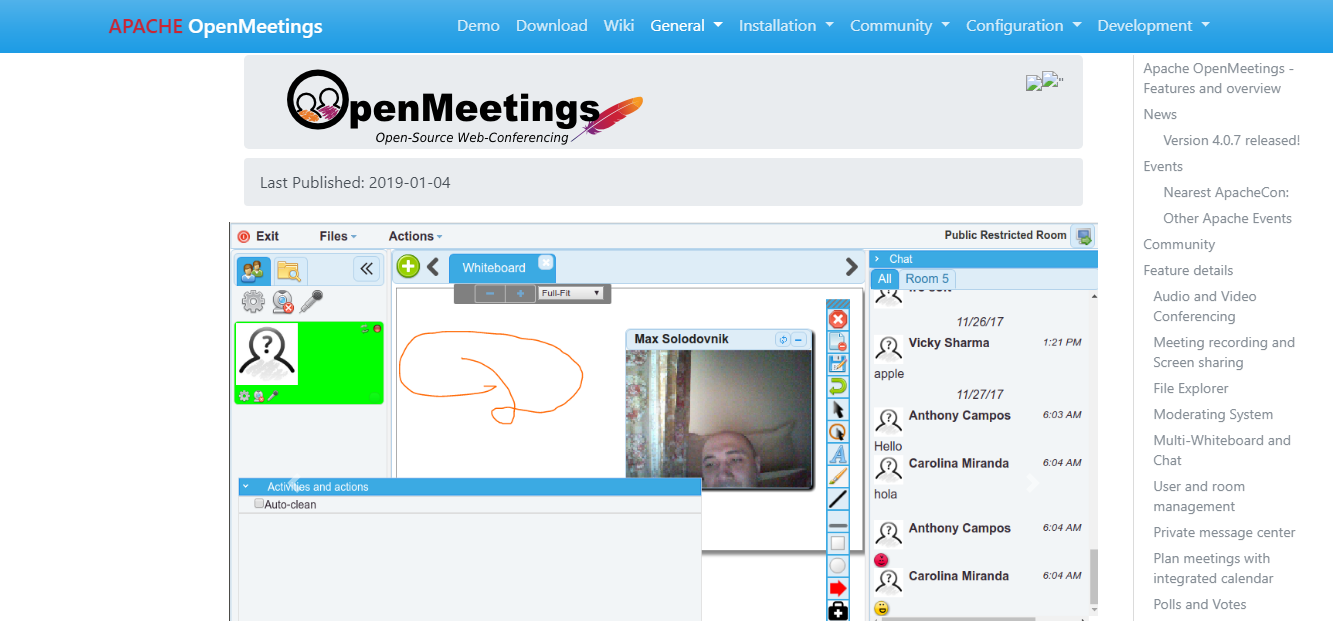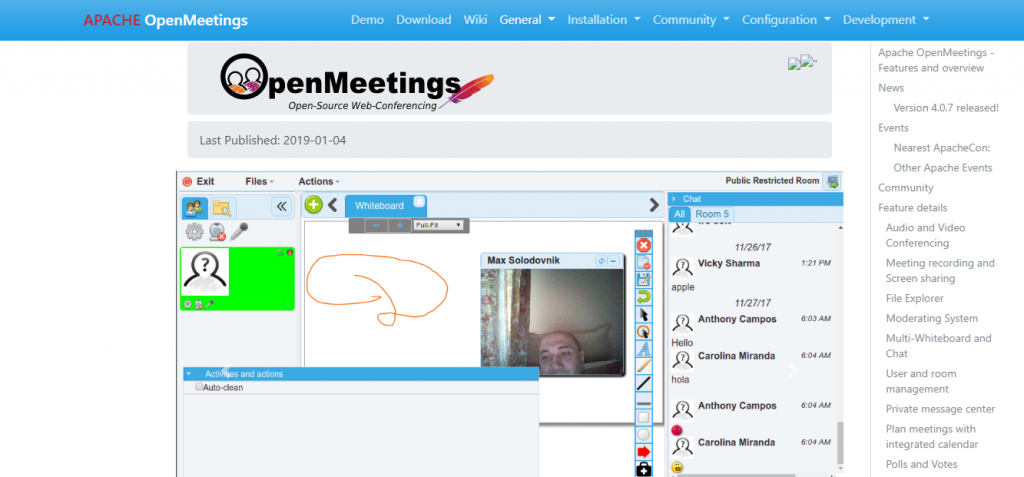 Next on our list of top webinar platforms is OpenMeetings. It is a free webinar platform, open-source project of Apache that offers video and/or voice conferencing for webinars.
It doesn't limit usage or number of participants per meeting, but you need to download and install a small package before using the software.
OpenMeetings Features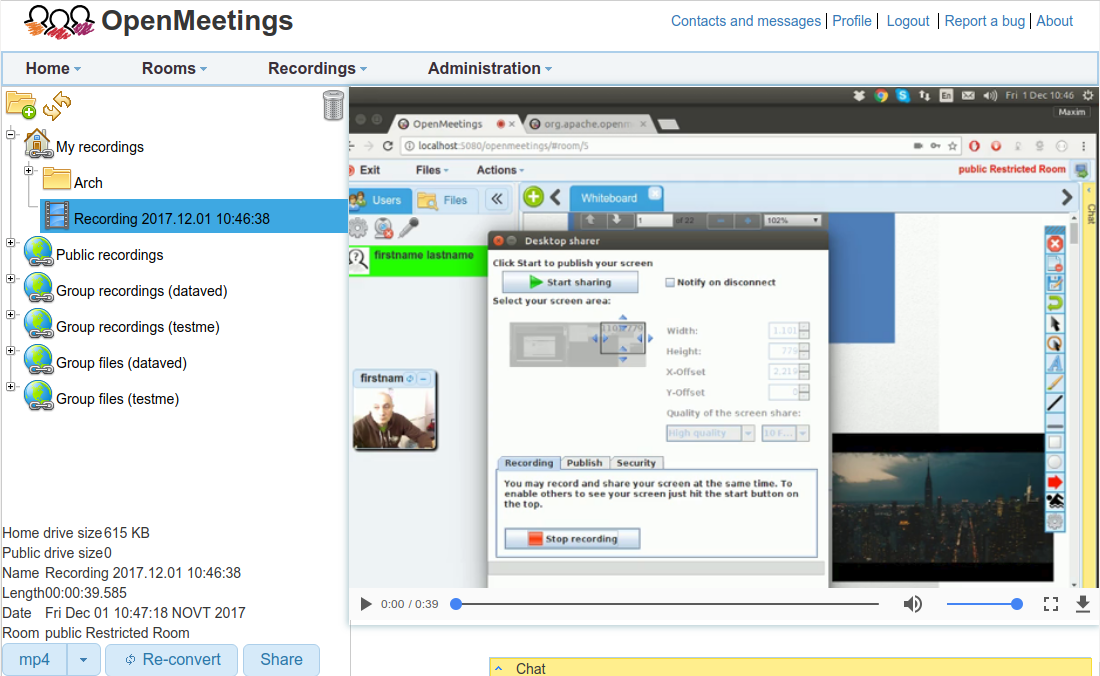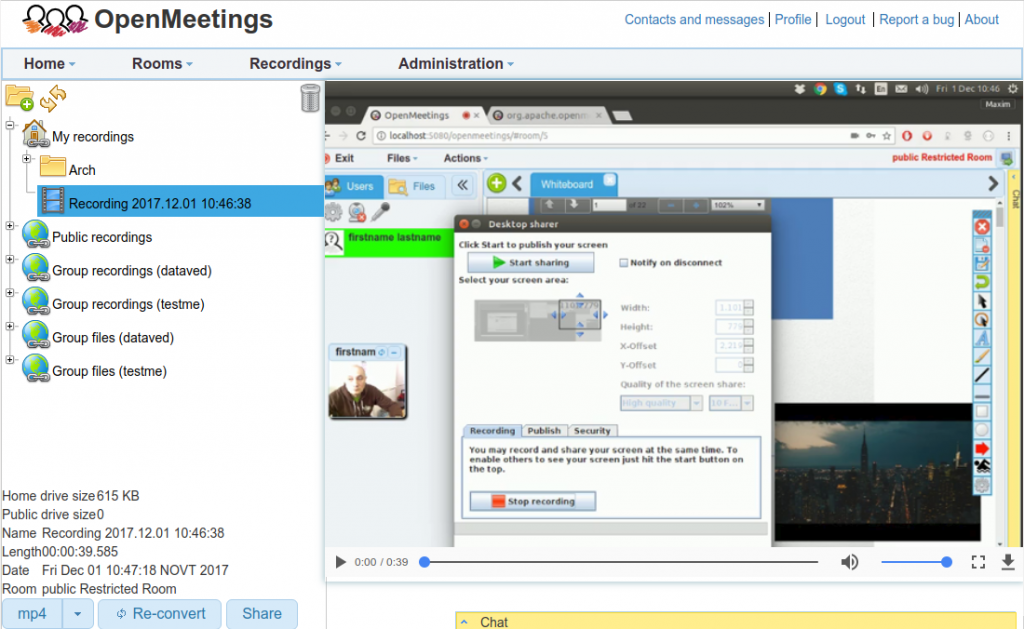 Audio and video conferencing offered in four options: audio and video, audio only, video only, and picture only. You can also change the video/audio quality, choose input devices and multiple camera resolution
Meeting recording and screen sharing
File explorer in each conference room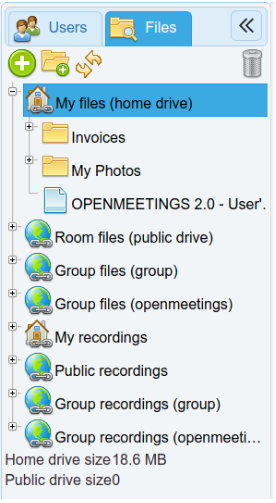 Drag and drop interface to manage uploaded files
Private drive with files visible only to the currently logged in user, and public drive bound to the conference room
Moderating system to adjust user permissions for each user individually
Chat and multi-whiteboard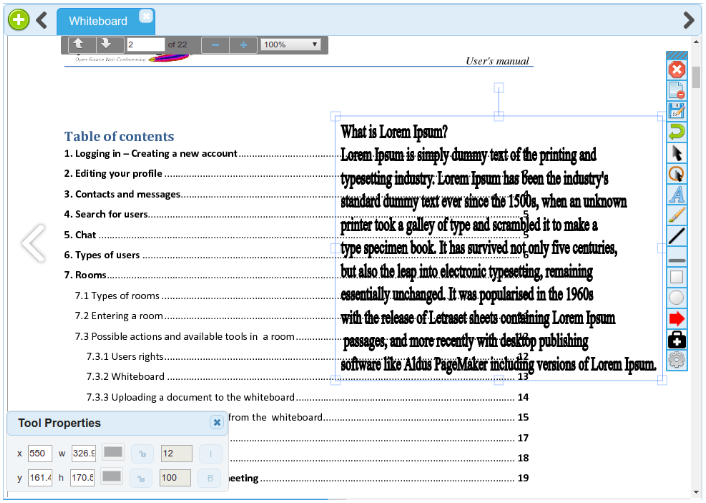 User and room management in a single OpenMeetings instance
Private message center through which you can send users messages and organize them into folders or book conference rooms through private messages
Integrated calendar to plan meetings and share with contacts
Polls and votes with yes/no or 1-10 questions. Voters also see the results as pie-chart and you can store the polls
Backup for all user-generated data including files that users upload in one ZIP file, and import it in to new OpenMeetings installation again
OpenMeetings Pricing
OpenMeetings is free, making it a perfect tool for users seeking a decent free webinar software.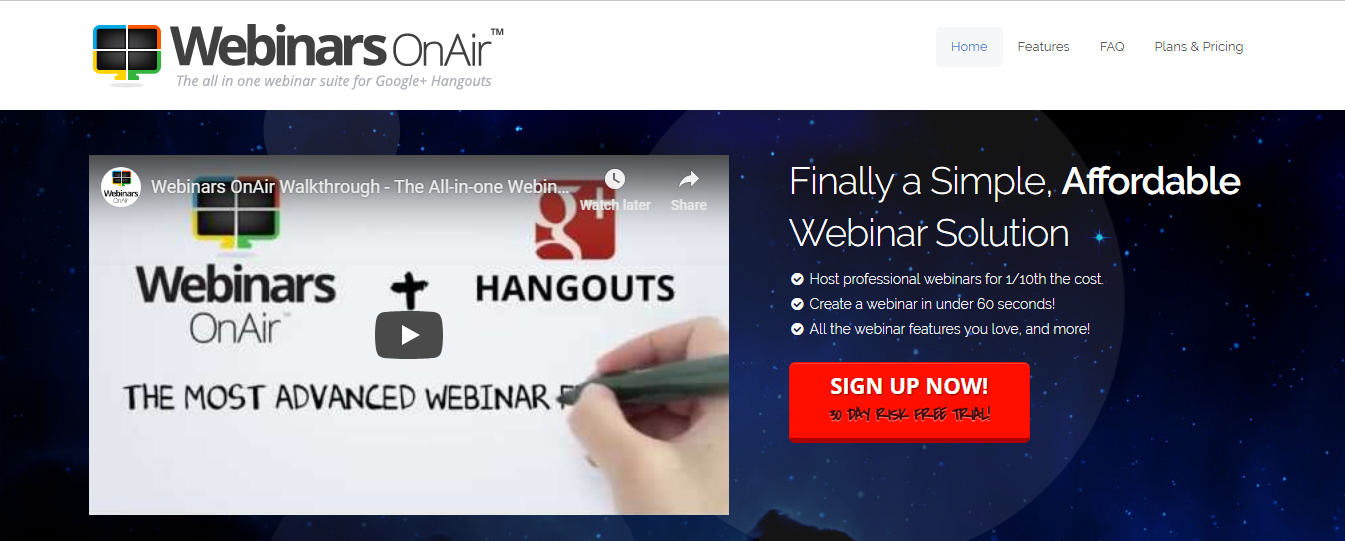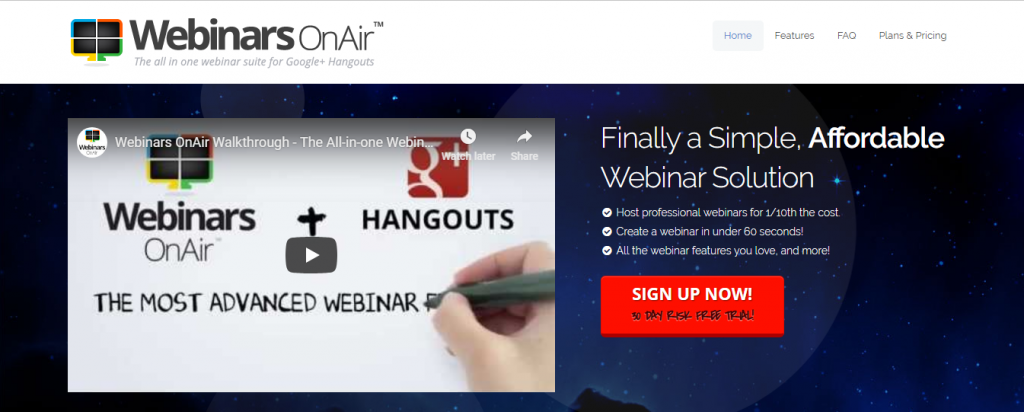 This software positions itself as a provider of all essential webinar features and therefore, we have listed it in our list of top webinar platforms.
Though it lacks a few vital marketing features, and hardly feels as professional as it should, it's a great tool to use if you need to do webinars on a budget.
Webinars OnAir Features
Paid webinar via PayPal integration. Attendees receive webinar invites once they pay and you keep 100 percent of the revenues
One-click selling of your offers to attendees
Custom post-registration redirect once registration by attendees is completed. You can control fully the page they see next, for instance thank-you page, or landing page, or offer page
Webinars OnAir app with Google Hangouts integration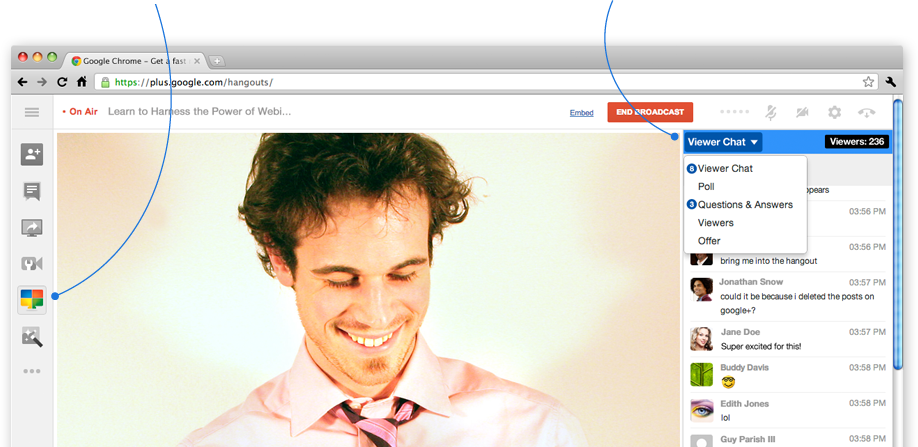 Autoresponder integration for registered attendees to automatically join your lists
10 moderators or speakers at a go allows your attendees to speak and share screens. They can be added or removed at the click of a button
Screen sharing
Recording of webinars
Private labeling and customization with a slick user experience controlled fully by you complete with your branding
Social media sharing and invites to join webinar
Email interaction on auto-pilot
Attendee tracking
Live chat to connect and interact with attendees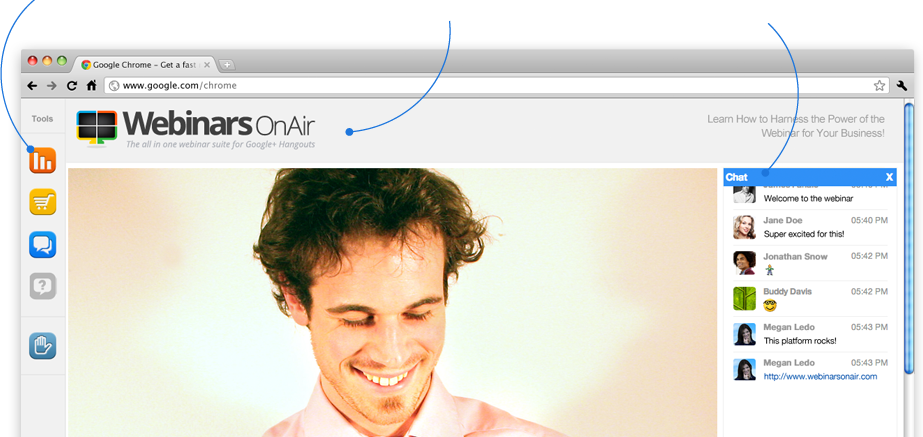 Interactive polls, surveys, and Q&A
Customization and high-def streaming to make the room your own and resize to fit all attendees browsers
Webinars OnAir Pricing
Webinars On Air is not accepting new members at the moment, as it improves on its software due to recent changes to Google's Hangouts.
You can subscribe if you're interested in joining once it reopens and be the first to know when they're accepting new users.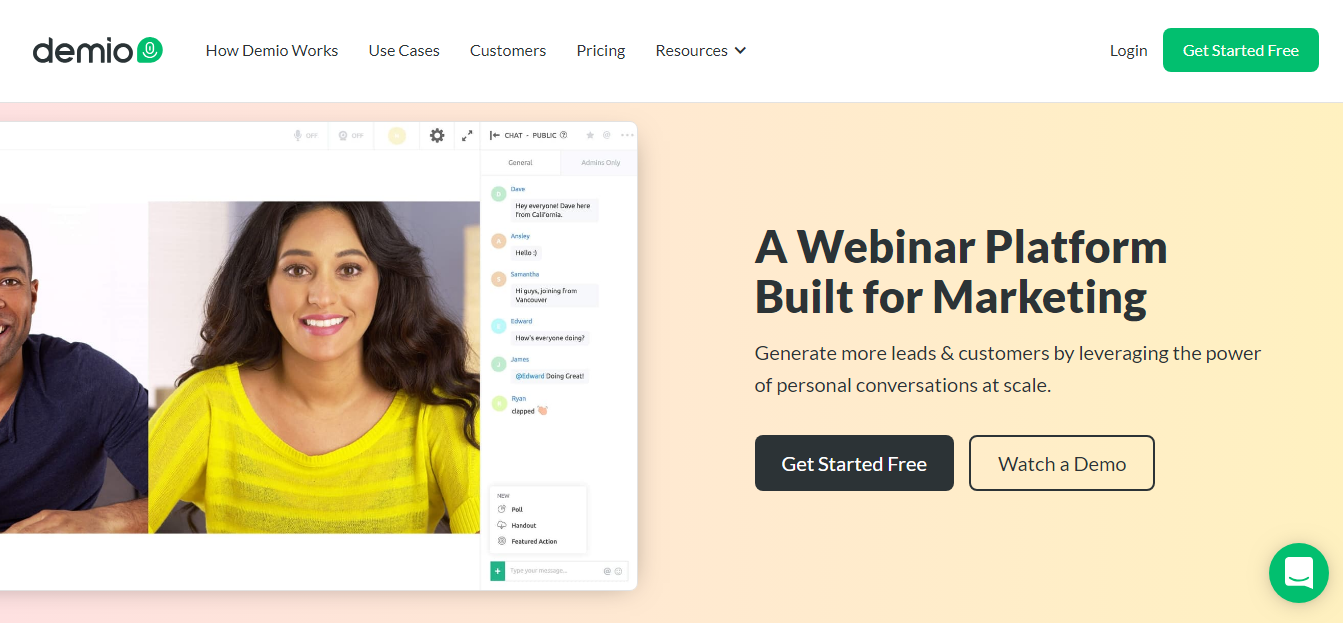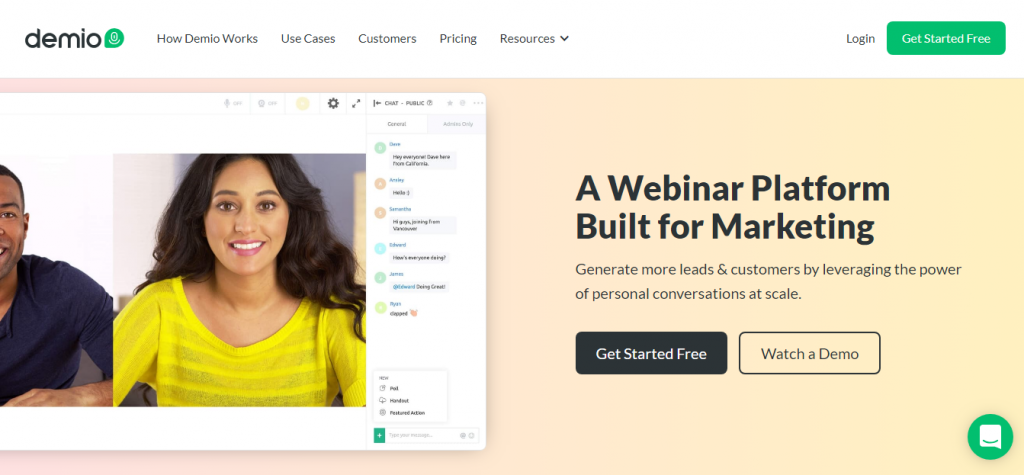 Demio is an ideal webinar software for marketers looking for a tool that puts emphasis on live events, with automated replays.
The slick platform however lacks the crucial just-in-time feature that sets other such tools apart.
Demio Features
Live events to host webinars, trainings with real time HD streaming, workshops, and Q&A sessions
Automated events to put events on auto-pilot with pre-recorded presentations among other simulated elements
Flexible registration consistent with your brand
Interactive room to build relationships at scale right in the browser

Automatic replays
Actionable insights and campaign analytics
One-click joining of browser without bulky software downloads
Screen and webcam sharing
Branding of webinars and related materials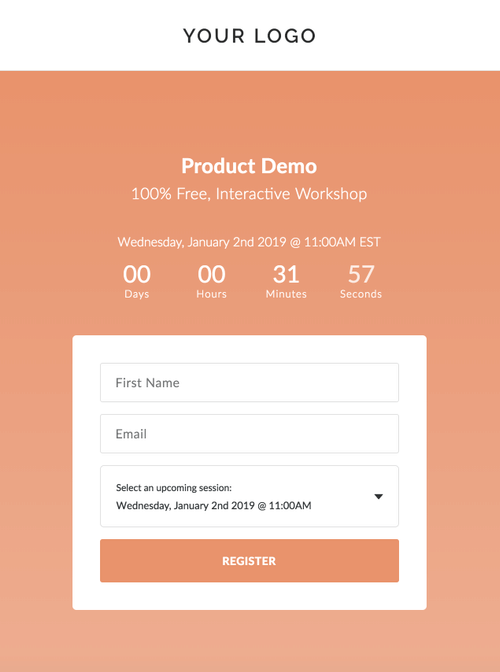 Automatic reminder notifications
Direct uploads of presentation slides or video sharing from Demio
Built-in integration with apps you already use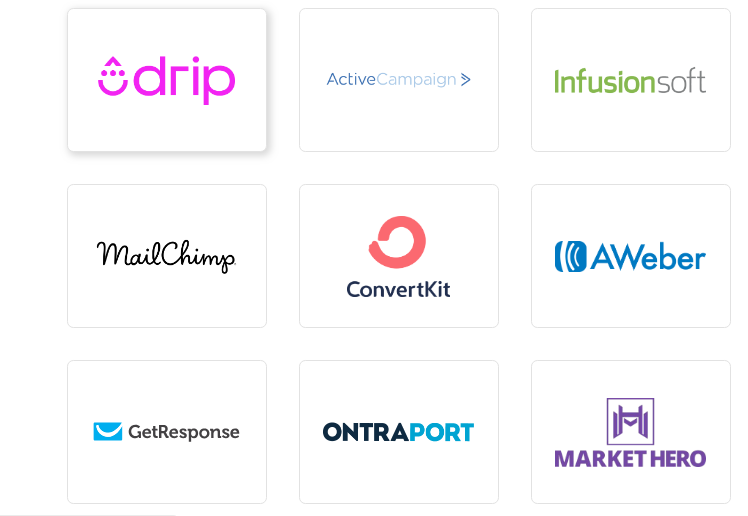 Interactive polls with statistics
Launch offers with CTAs
Private or public chat
Gestures and @mentions to give audiences more ways of interacting and tagging other participants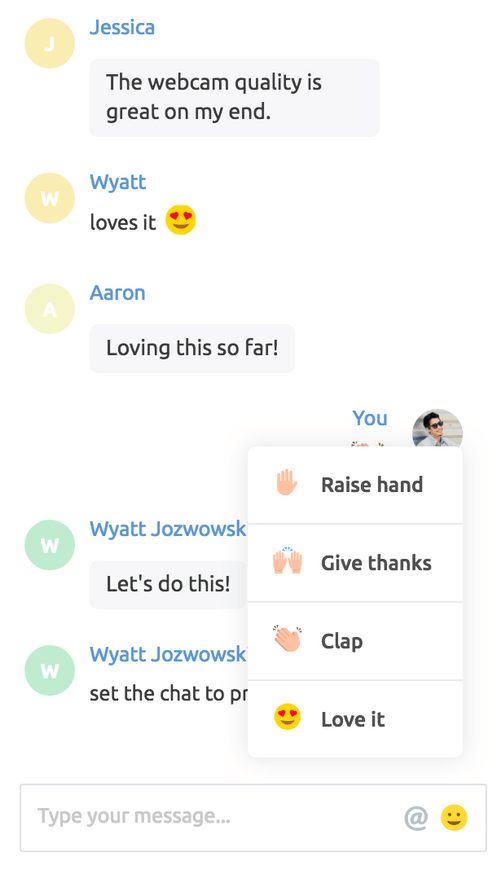 Recording and replay pages. Sessions are automatically recorded in HD in the cloud
Built-in security
24/7 dedicated support with live chat
Strong and adaptive streaming quality for a reliable experience
Comprehensive knowledge base
Demio Pricing

Three pricing plans are available with Demio:
Starter plan at $34 monthly with a 50-attendee room
Growth plan at $69 monthly with a 150-attendee room
Business plan at $163 monthly with a 500-attendee room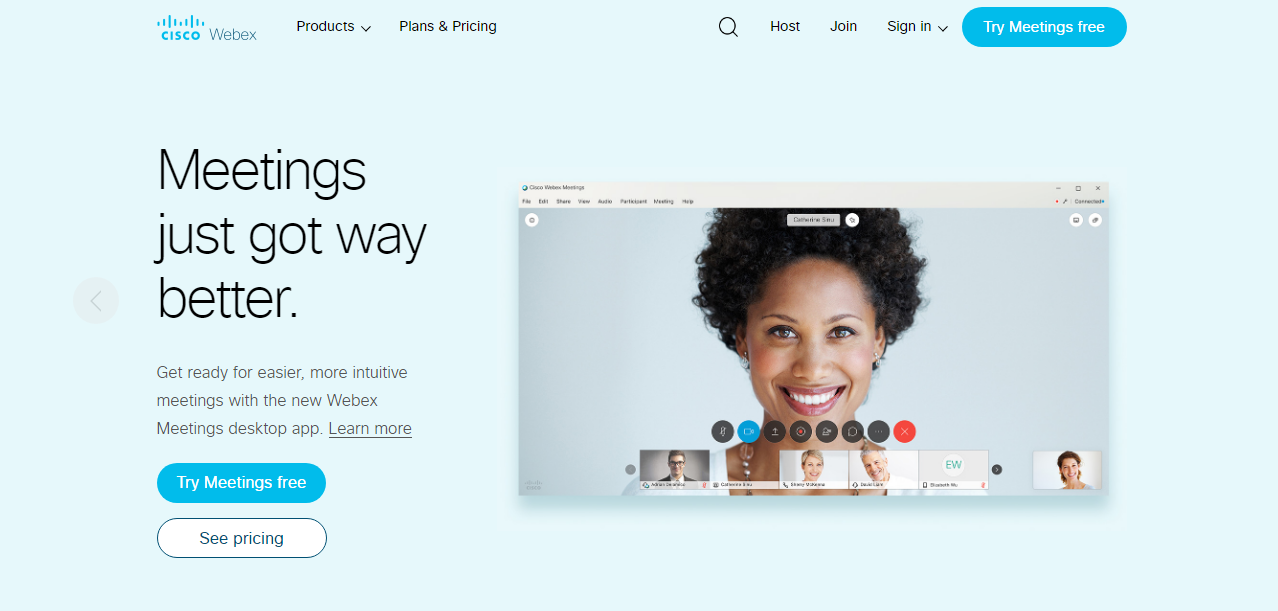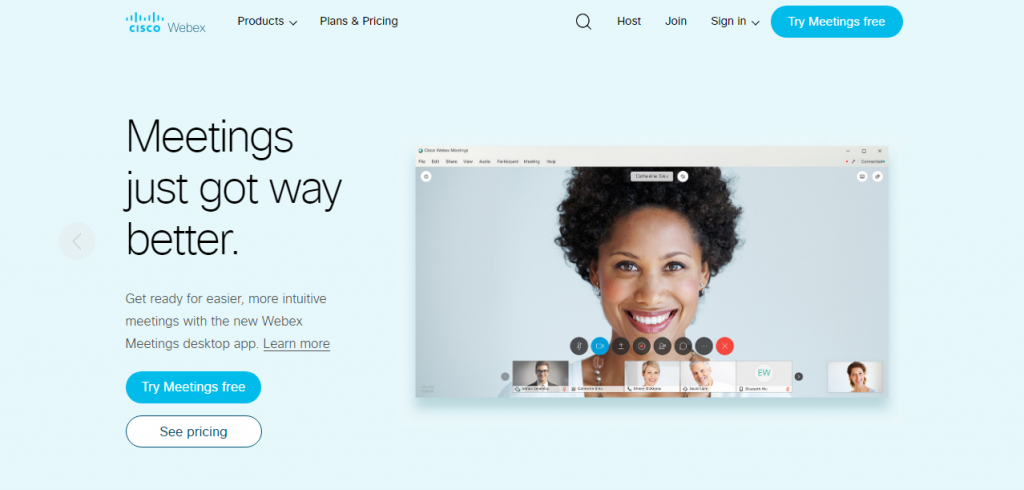 WebEx combines a wider range of features for online webinars, making it much more than just a webinar platform. WebEx can't be left out when talking about the best webinar software.
You can hold events, online meetings, interactive presentations, trainings, and team collaboration.
WebEx Features
Cisco Webex Meetings makes online meetings simple as it brings together people from all over the world as if they were there in person. It allows them to join from any device, share screens, get HD quality video/audio, and do video conferencing.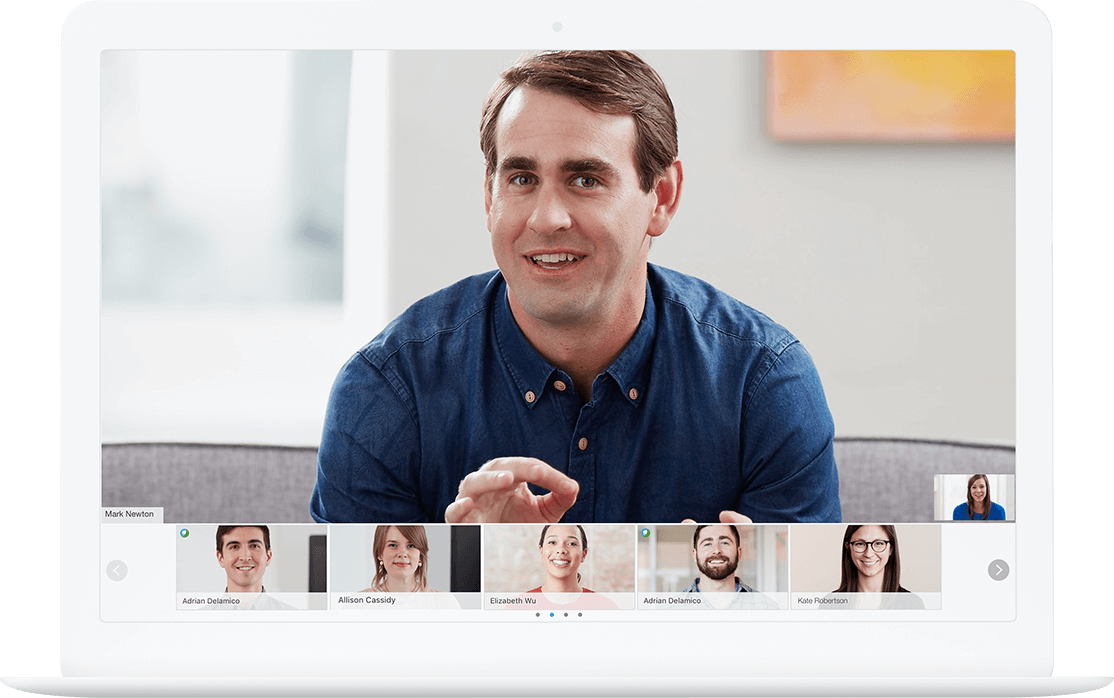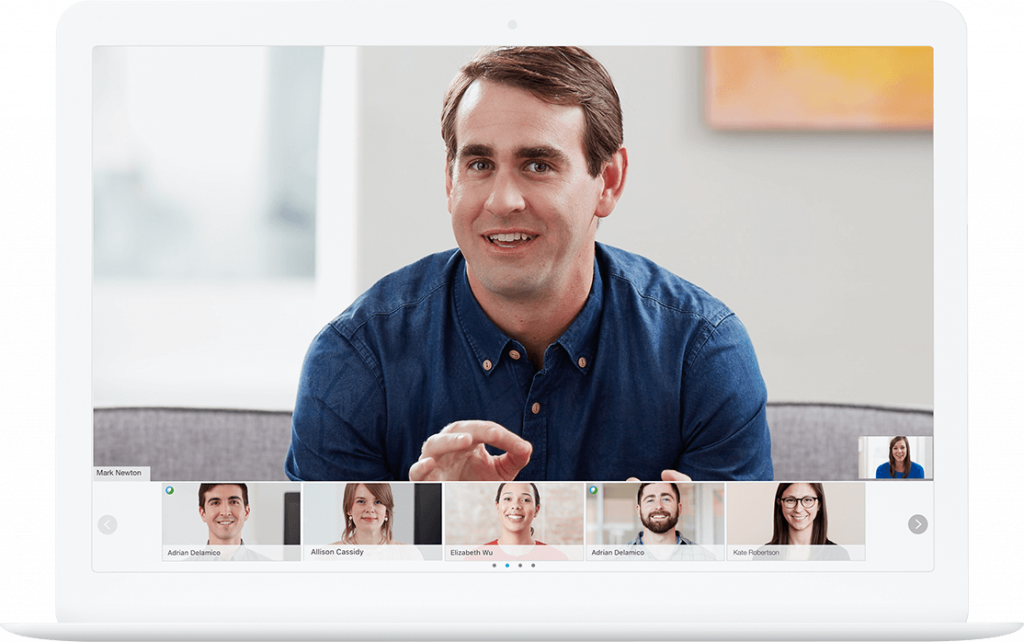 Cisco Webex teams offers continuous collaboration in one secure app for file sharing, video conferencing, group messaging, and whiteboarding.
Cisco Webex Calling allows you to call and connect with anyone directly from a Webex Teams space or Cisco IP phones. It is cloud-based and delivers the benefits of traditional phone systems without complex deployments
Related : WebEx Vs Microsoft Lync
Cisco Webex devices offers conferencing devices to connect and create, for team collaboration. You can connect your work to the meeting room, and teamwork happens live, whether you're there or not.
Cisco Webex Room Kit with Webex Integrations to connect your existing tools and ensure work moves smoothly or create custom ones that fit in your workflow
High security solutions ensure whatever you share, type, or say is protected by end to end encryption, with authorized admins at hand to manage and enforce these policies.
Related : Reasons To Use Cisco WebeEx Meeting Center
WebEx Pricing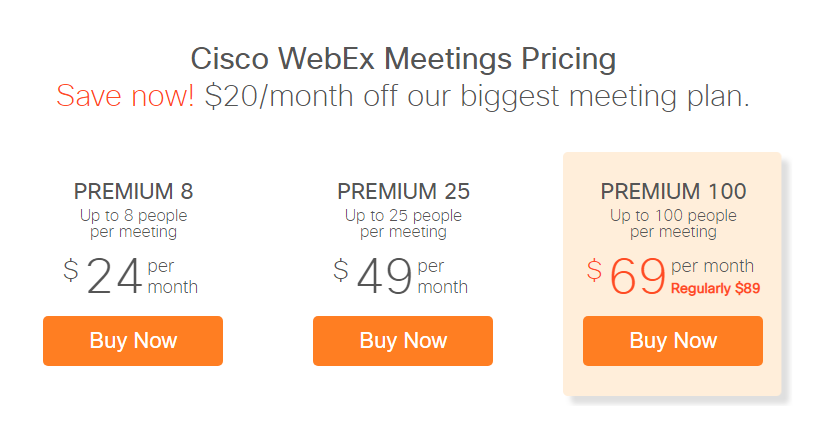 Cisco WebEx meetings has three pricing plans:
Premium 8 at $24 per month for up to 8 people per meeting
Premium 25 at $49 per month for up to 25 people per meeting
Premium 100 at $69 per month for up to 100 people per meeting
Related : WebEx Vs Teamviewer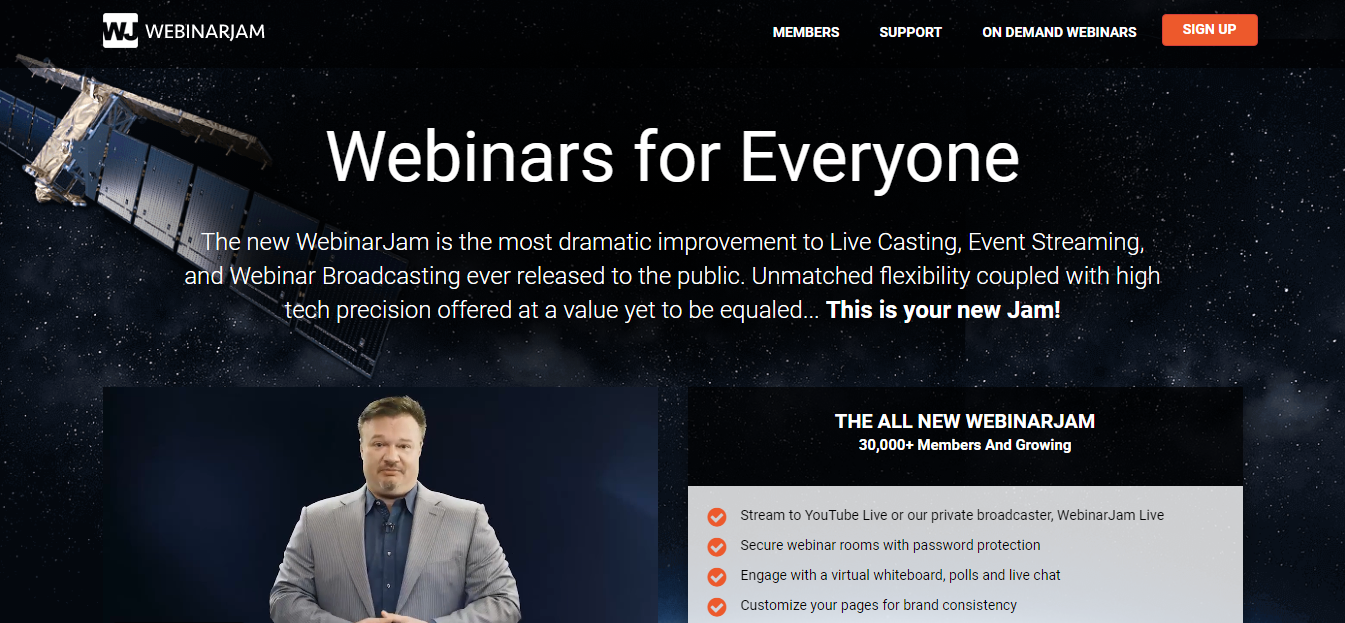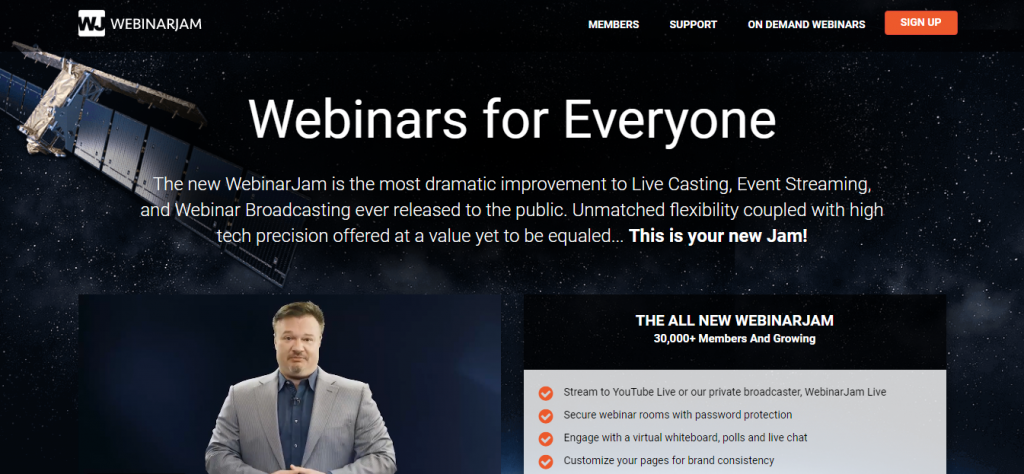 This software focuses on screening live webinars so it's designed for live events.
WebinarJam Features
Jam Session to stream in HD, and invite up to six co-presenters or host a roundtable to share knowledge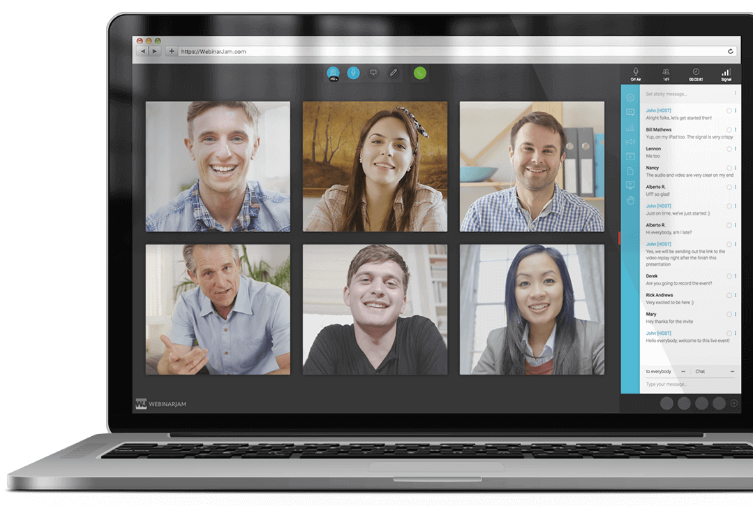 Active Chat with fully controllable communications
Streaming to YouTube and Facebook Live, or WebinarJam's private JamCast broadcaster
Branding pages to customize for consistency
Recording for use with EverWebinar
Attendee spotlight allows you to invite attendees to join any time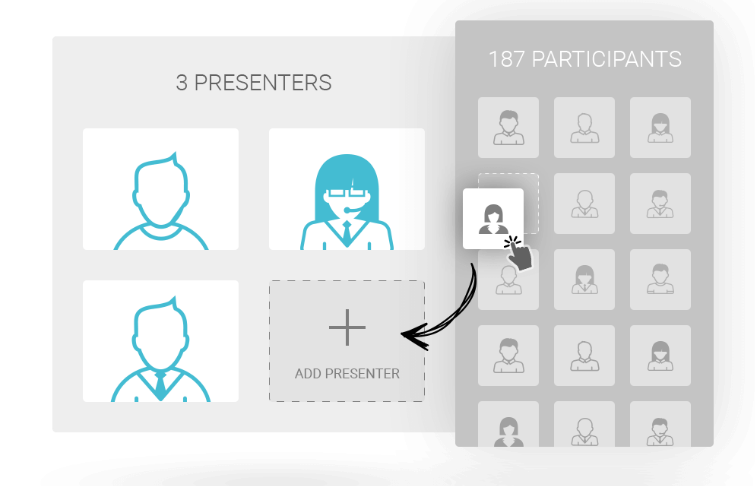 Presentations in which you can insert pre-recorded videos
Security via passwords for webinar rooms
Interactive tools like polls, live chats, and a virtual whiteboard
Analytics that report your live webinar performance
Universal compatibility with all browsers, OS, and devices
Express Jam to set up your webinar as fast as possible, and use customizable Smart Preferences ensuring the webinar works properly based on your needs
WebinarJam Pricing


WebinarJam offers three pricing plans:
Monthly at $189 (paid in three payments a year) for 500 attendees
Annual at $479, one payment a year for 500 attendees
Biennially at $719.76, one payment every two years for 500 attendees


GetResponse prides itself as the first email marketing service to offer a full webinar marketing solution built to increase engagement and conversion rates.
GetResponse Features
Scheduler allows you to take up to three minutes to set up and schedule your webinar, enable registrations, and begin lead collection
Advanced date and time picker allows you to customize your webinar URL with a title and enjoy flexible scheduling options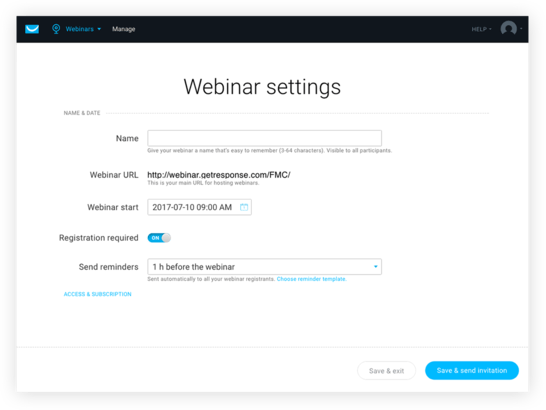 Security options are available so you can choose whether the webinar will be password-protected or open to everyone, and secure them with SSL-encrypted URLs
Email invites and reminders (with free templates) to nurture leads and turn subscribers to repeat clients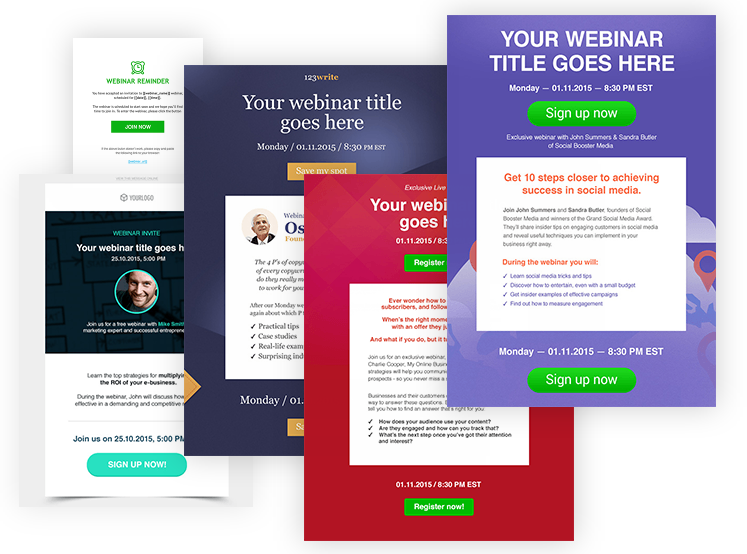 Auto-login hash allows contacts to enter without logging in
Mobile registration/joining via smartphone or tablet. This also allows you to stream audio and video for convenient and instant access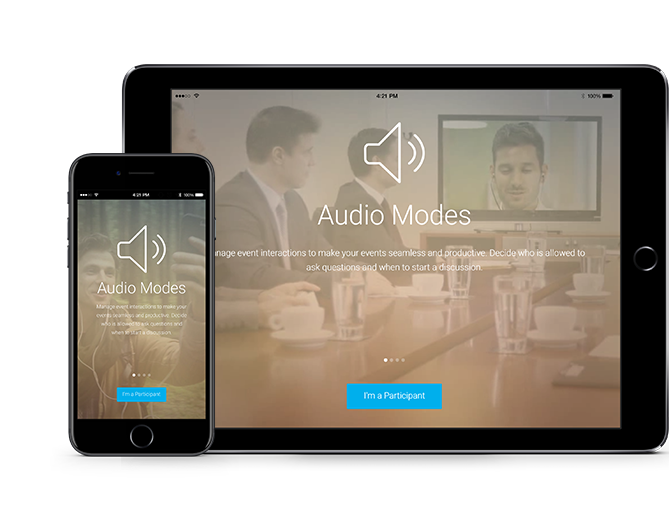 Recording of webinars with one click, and you can download and share it
Text chat lets attendees provide feedback and interact with you as you control the webinar
Interactive whiteboard, videos and dynamic presentations, screen-sharing, polls, and YouTube integration
Free online storage
Add webinar registrants to drip campaigns for lead nurturing and follow-up
Analytics and reporting for future optimization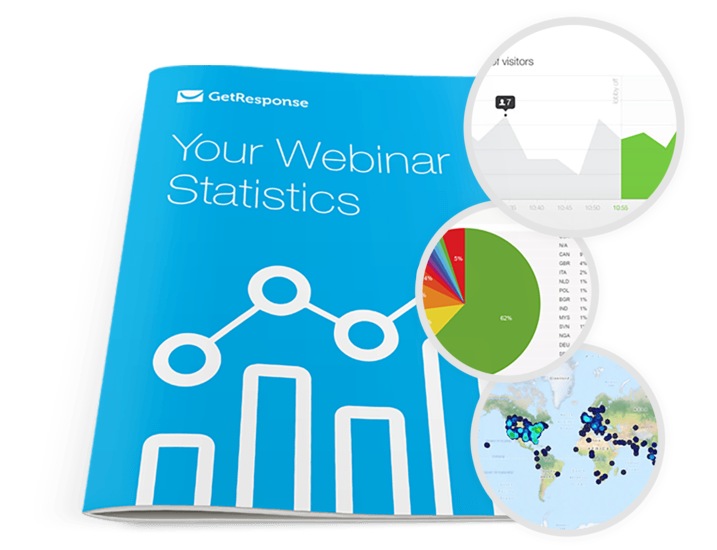 GetResponse Pricing
Contact vendor for details.


AnyMeeting is another decent tool among online webinar platforms.
service that helps you engage and influence your audience, while extending your company's reach.
AnyMeeting Features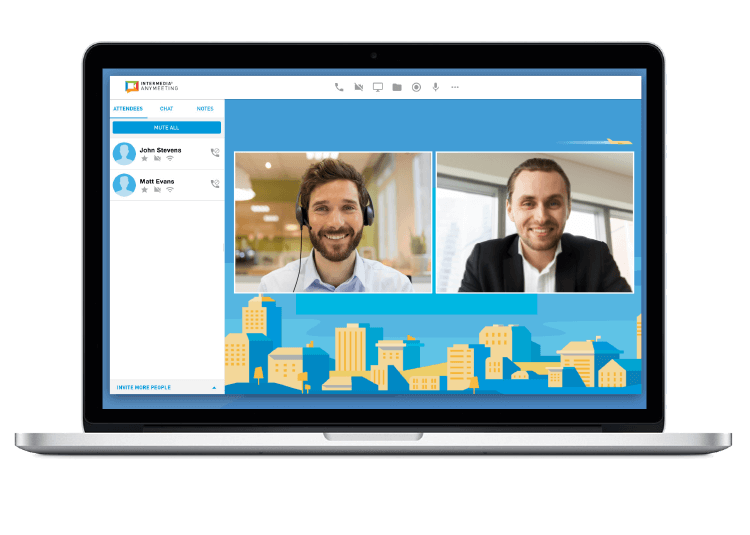 Live presenters on video to engage your audience with support for up to six presenters at any given time on video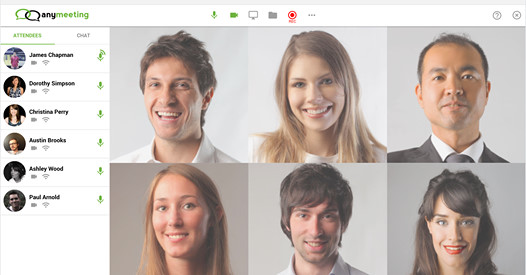 Hosts up to 1000 attendees
Live attendee chat
Attendee list with social data to get their public social media profiles
Video file sharing
Live polls in real time on any topic you choose
Pre-record webinars and upload to your content library then use it for follow-up webinars
Slide sharing to load your best presentations
Content library to store up to 1GB of content and pull it up any moment
Audience Q&A tool for interaction with the audience and field queries in real time
Built-in phone conferencing
Screen sharing
Recording and hosting
Mobile friendly – audience can join via iPad, iPhone, or Android tablets
Integration with popular business apps
Analytics and statistics with built-in reporting on attendees and how long they were in the webinar for. You can review engagement data and evaluate quizzes and surveys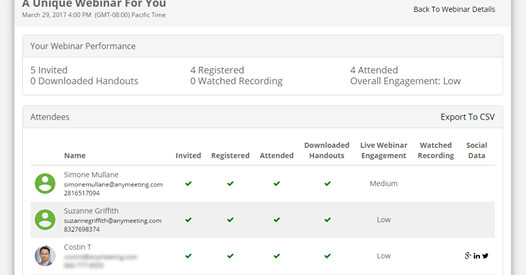 Custom registration forms
Promotion via social media – Facebook and Twitter
Follow up emails, surveys or quizzes
AnyMeeting Pricing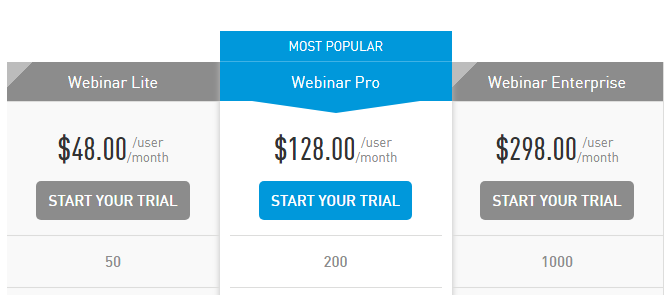 AnyMeeting is available in three plans:
Webinar Lite at $48 per user per month for 50 participants
Webinar Pro at $128 per user per month for 200 participants
Webinar Enterprise at $298 per user per month for 1000 participants
All plans include a 99.999 percent financially backed SLA and J.D. Power-certified 24/7 support.
Wrapping it up
We've reviewed 15 of the best online webinar software platforms available so you can find one that's best for your talk, among the dozens online.
Remember to pick the one you actually need that'll help you achieve your business goals.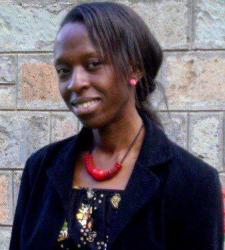 Author: Elsie Biage
Elsie started off as a freelance business and tech journalist. Having written for publications like Lifewire, and WindowsReport, she has garnered immense exposure over the years. She is a certified social media expert with deep interest in internet marketing, ecommerce and information technology.