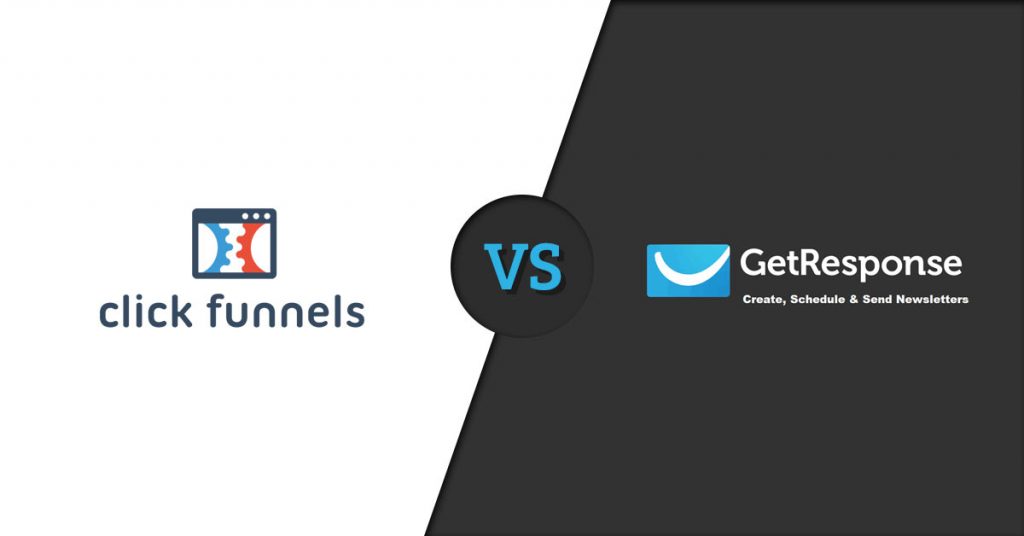 There was a time when freelancers and small business owners had to rely on professionals for email marketing and sales funnel creation.
However, this has changed, thanks to the availability of advanced solutions. Automated tools available today allow anyone to create sales funnel and manage email marketing without relying on a third party.
One of the most popular tools used for email marketing is GetResponse. On the other hand, a powerful tool that is used for creating funnels is ClickFunnels.
The two platforms are different from one another and the one that's right for you will depend on several things.
We are going to discuss the features and capabilities of both ClickFunnels and GetResponse to help you determine the platform that is right for your needs.
Before we get down to our GetResponse vs Clickfunnels review, let's understand what are they.
What Is ClickFunnels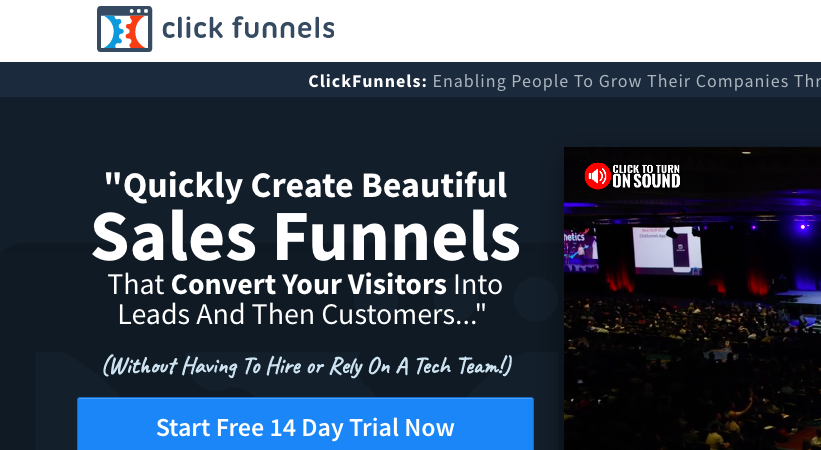 ClickFunnels is designed to be a user-friendly tool for creating sales funnels.
There is a range of layouts, images, and designs to choose from. There is also a basic template that you can use to start from scratch.
The in-built functionality of ClickFunnels is great. You can use the drag-and-drop editor of the platform to design your sales funnels.
Moreover, ClickFunnels has several great features that make the task of funnel creation a breeze.
What Is GetResponse

GetResponse started off as a simple platform to help users with email marketing. However, it now offers similar functionality to the funnel creating platform ClickFunnels.
You can create landing pages on GetResponse and also use the automated tools to design webinars.
We now take a look at ClickFunnels vs GetResponse features.
ClickFunnels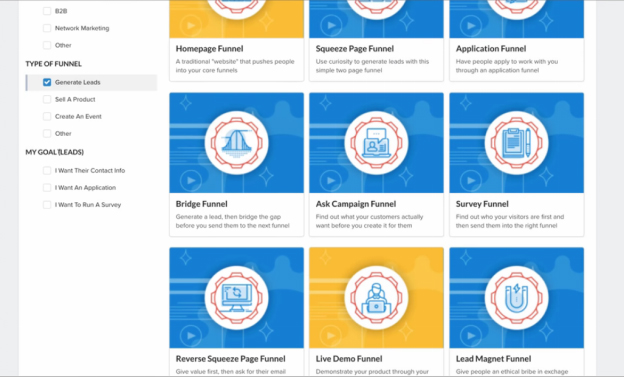 ClickFunnels variety of Pre-built Funnels
ClickFunnels offers a variety of pre-built funnels that are generally classified into three major categories: occasion funnels, sales funnels, and lead capture funnels.
Each funnel comes with its own collection of templates and layouts. Even if you don't have any design expertise, you can edit the templates and layouts to suit your needs.
ClickFunnels Drag-and-Drop Editor
While ClickFunnels offers several templates, the drag-and-drop editor of the platform is where you can make each page in the template your very own.
You could use your mouse to drag elements on the page and position them wherever you want.
The editor of ClickFunnels is great and can be used to attain any type of design you have in mind. What we like about it is that it is very user-friendly.
Choosing parts on the page and moving them where you want is seamless. You can also customize any kind of properties through the fly-out sidebar.
You don't need any coding knowledge to use the drop-and-drag editor. So you don't have to waste your precious time figuring out CSS or HTML.
ClickFunnels Page Elements
Elements or widgets are essential for providing users the adaptability to develop the type of sales funnels they want.
ClickFunnels offers a wide range of page elements that you can use to design individual landing pages of a sales funnel.
Standard components include image, headline, text, input kinds, button, and video clip widgets. These are basic foundations of all landing pages.
ClickFunnels also offers a variety of other things to add on a page like text signup, countdown times, FAQ blocks, Facebook remarks, rates tables, studies, and custom-made HTML.
Customized components such as subscription elements for subscription pages and delivery type elements for order landing pages are also available.
Each element can be customized in the editor's sidebar. With some components, you can alter residential properties such as placement, typefaces, margins, and background shades.
ClickFunnels Features
A/B testing or split testing
Email integration
A variety of funnel templates
Custom order pages
Option to share templates
Downsell upsell pages
Integration with several tools
Shopping cart
Backpack affiliate program
Actionetics autoresponder
Limit On Funnels & Visitors
The basic plan of ClickFunnels restricts you to 20 funnels, 100 pages, and 20,000 website site visitors.
These restrictions aren't justified given the fact that the basic plan costs $97/month.
Steep Learning Curve
The scope of what ClickFunnels can do is substantial and it might even seem frightening to some. It will take some time for you to learn the functionalities of the software and become accustomed to it.
GetResponse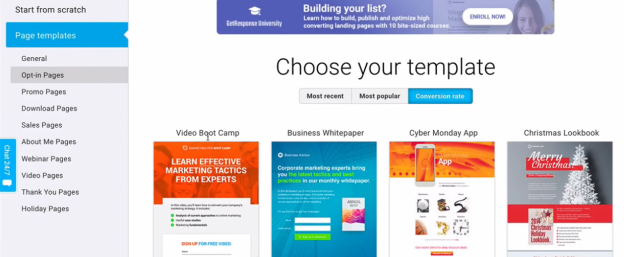 GetResponse Visual Automation Editor
One of the things we like about GetResponse is its marketing automation editor.
This editor allows you to develop both simple and complex automation. It works similar to the automation editor of ActiveCampaign and Drip, but it isn't as powerful as they are.
However, by making the most of the editor, you could improve the performance of your email marketing campaigns.
GetResponse Autoresponder
Autoresponders of GetResponse allow you to create email sequences to be sent later at a certain date and time.
This makes the platform a good option for people who carry out webinars and other live programs.
GetResponse Opt-in forms
Many email service providers feature a simple opt-in form that the user can integrate directly into their website.
GetResponse offers several different opt-in type alternatives to you that you can manage using third-party services like OptinMonster.
Some opt-in forms offered by GetResponse include lightbox pop, exit popup opt-in, repaired bar opt-in, and download and install box.
GetResponse User-friendly interface
GetResponse is pretty simple to use. You can easily carry out basic tasks like create campaigns, import contacts, check stats, and set autoresponders.
The interface of the platform is intuitive and tidy. In terms of how GetResponse stacks up against other email service providers, we would say that Campaign Monitor is easier to use but it isn't as complete as GetResponse.
The interface of Mailchimp is slicker, but finding specific functionality in the platform can get tricky.
One part we feel could be better in terms of user-friendliness is the e-newsletter of GetResponse.
While in theory, the drag-and-drop technique provides a flexible method for creating blocks of material and moving them around, it isn't really that easy in practice.
The editor is actually cumbersome to use and it can often result in unintentional positioning or removal of content.
If you practice, you will be able to use the drag-and-drop editor better but we believe that implementation should have been better to provide a better experience to the user.
GetResponse Conversion Funnel
GetResponse Autofunnel is now GetResponse Conversion Funnel. It is the funnel creation tool that helps creating landing pages, promoting and selling products, improving conversions and expanding sales.
Even though GetResponse has this feature, Autofunnel vs Clickfunnels comparison is still far-fetched. ClickFunnels is known for its amazing funnel creation capabilities.
GetResponse features
Autoresponder
Advanced analytics
CRM
Mobile app workplace
Ability to run webinars
Landing page templates
Survey creation
Email automation
Forms
List builder apps
GetResponse Templates
GetResponse has several layouts that you can choose from for developing opt-in forms and e-newsletters. However, these layouts aren't all that great. Most of them look outdated. Moreover, forms aren't that personalized.
There is an editor that you can use to customize them, but you are very restricted in the degree of customizability allowed. This means that you might not be able to create the design you have in mind.
Master of none
The expression "Jack of all trades, master of none" fits GetResponse perfectly. The platform provides you with features you would want in an email service provider.
On top of that, it offers some additional features such as a landing page builder and assistance for webinars.
This is good for someone who plans to do everything from building pages to managing email campaigns on a single platform.
However, these added attributes aren't all that great. For instance, the landing page builder of GetResponse is pretty basic and doesn't come close to that of more popular landing page building platforms like Instapage.
Similarly, the opt-in forms of GetResponse aren't the best we have seen.
ClickFunnels Functionality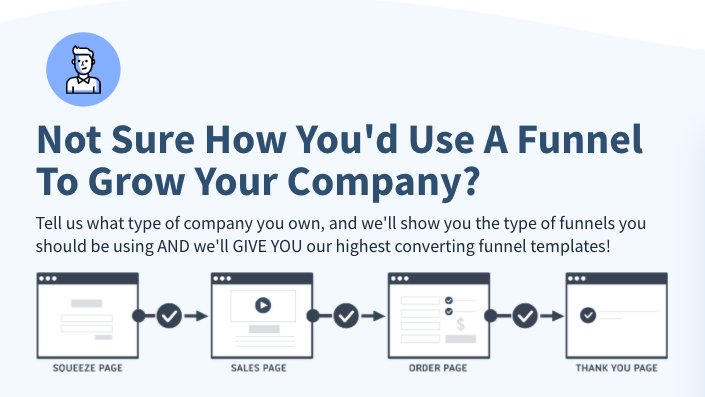 You can easily start using ClickFunnels after signing up for their 14-day free trial. Once you have completed the sign-up process, you can access the ClickFunnels dashboard.
Here you will find features and high-end tools like Actionetics provided you signed up for the $297/month plan.
Before you can create a sales funnel, you must first configure the platform's setting that can be accessed by clicking on the avatar at the top right-hand corner.
Settings that you can change include payment gateways, domains, and email provider integration.
Once you have configured the settings, you can start creating your funnel. You can use the cookbook that features a variety of funnel sets and templates.
Simply select the industry, the type of funnel you want to create and your funnel's goal.
ClickFunnels will provide you options that come close to your needs.
Once you have selected the funnel, you will be presented with a selection of premium and free landing pages to choose for your funnel.
You can preview any template and choose the one that you find suitable for your project. After selecting the template, you can configure the settings of your funnel.
There are several features and tools within the ClickFunnels' dashboard that you can use to optimize your funnel.
These include the editor, email automation, funnel settings, and analytics reporting.
You can fully customize your templates in the ClickFunnels editor.
Some options you will find in the editor include content blocks, forms, media, and social media sharing buttons.
Once you have created the funnel, the final task is to publish it.
ClickFunnels offers numerous publishing options like using the WordPress plugin, sharing the funnel on social media and embedding it on the website using a code.
You can find these options within the funnel dashboard. Just select publish and choose the option you want.
GetResponse Functionality

When you visit GetResponse after signing up for the service, you will be welcome with an adjustable dashboard.
Here you can avail all the functions that the platform offers.
You can also personalize the dashboard by including different widgets so that you can see stats for your forms, autoresponders, and automations.
You can create your autoresponders and e-newsletters in GetResponse. Autoresponders are drip emails that you can send anytime you want.
You can create ordinary emails or develop visually appealing emails using the templates.
The marketing automation feature of GetResponse allows you to create scalable workflows based on customer journeys.
You can create operations that are personalized to individual customers. Automation features are also beneficial for sending targeted offers to customers.
GetResponse boasts robust reporting capabilities. Simple reports appear in the dashboard providing an overview of campaign performance via pie chart and raw numbers.
Additional details can be found in the email analytics section with bar and line graphs for clicks, opens, complaints, bounces, and unsubscribe rates.
Let's move to GetResponse Clickfunnels pricing section now.
ClickFunnels Pricing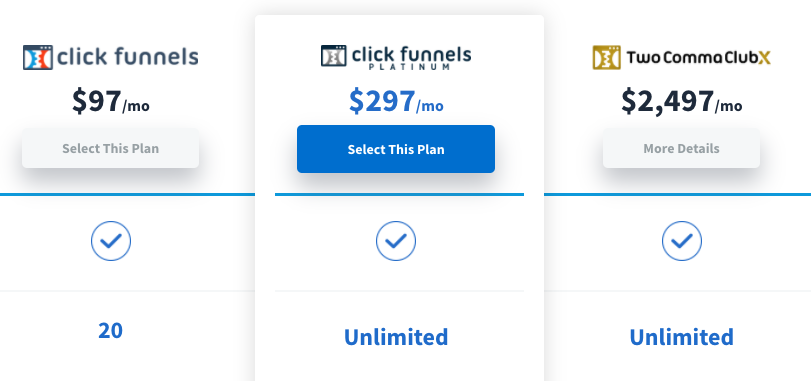 ClickFunnels pricing includes three packages. The basic plan costs $97 per month, providing 100 pages, 20 funnels, no limit on contacts and 20000 visitors/month.
Platinum package costs $297 a month offering unlimited stuff. You get access to 3 users, nine payment gateways and domains.
Two Comma Club X plan costs $2497/month. It gives you access to 9 users, 27 domains and equal number of payment gateways plus unlimited funnel creations.
ClickFunnels - Check Special Pricing
Beautiful high-converting sales funnels. Simple, quick & easy to build. Includes email, Facebook automation along with in-built shopping cart. Check Special Pricing.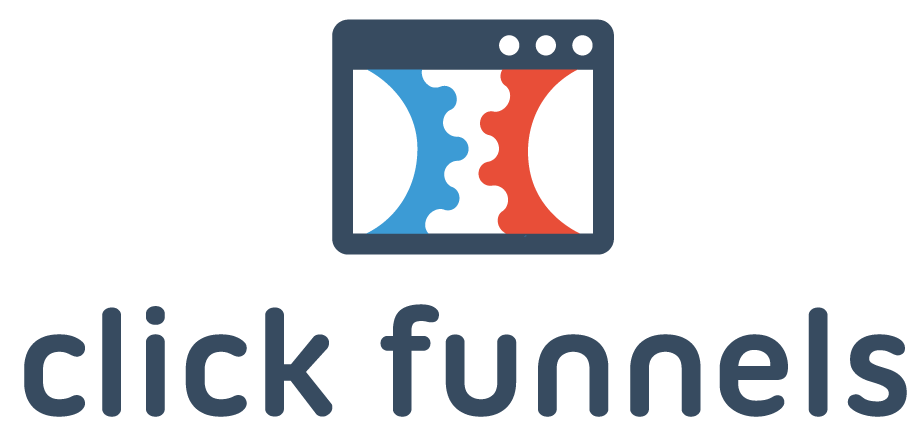 We earn a commission if you click this link and make a purchase.
GetResponse Pricing

GetResponse pricing has been changed.
They offer 30 day trial period for which you don't need a credit card. GetResponse plans include:
Basic – $15/month, allows sending of emails
Plus – $49/month, lead generation and selling
Professional – $99/month, automation features and integrations
Max – Custom pricing for advanced requirements
You also have the option to pay for 12 or 24 months. Naturally, you get discount on it.
Their Plus plan is the most popular of all.
ClickFunnels Support
ClickFunnels support boasts a messaging feature that makes it easier to ask for help from the support team.
Moreover, the platform has a huge Facebook group with about 204,000 members right now. This group is pretty active and the members are helpful.
The official support is offered through an email Monday to Friday, 9 AM to 5 PM EST.
GetResponse Support
The customer support group of GetResponse has won several awards for their performance.
GetResponse provides email assistance in seven different languages and 24/7 live chat is also available.
You can refer to the platform's resources, like the learning center and the help center, if you have any questions.
These knowledge bases include FAQs, webinars, video tutorials, and downloadable files such as whitepapers, reports, and handbooks.
Why Should You Use ClickFunnels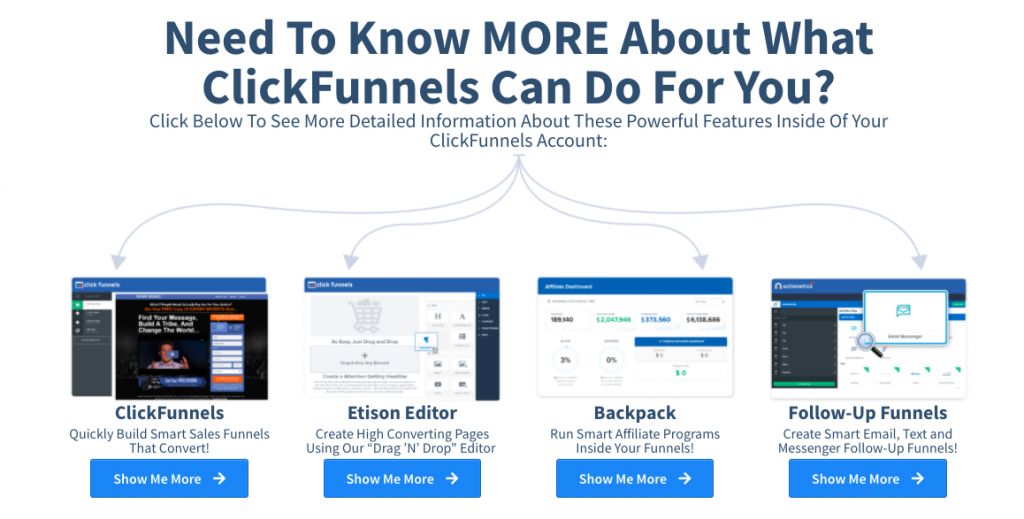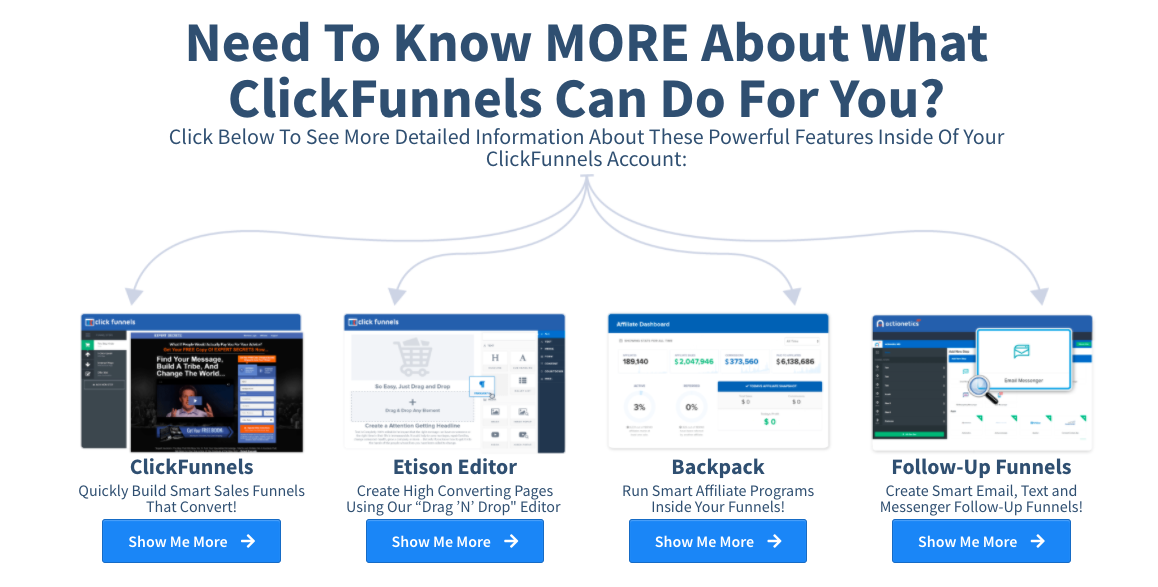 ClickFunnels offers some impressive features that a user needs to create their sales funnel like email autoresponder software and shopping cart. The remarkable features allow users to create a sales funnel for different purposes.
Creating landing pages is simple. However, design options aren't as great as those available with Leadpages.
ClickFunnels come with a built-in email responder – the $297/month plan only — which means that a user doesn't have to integrate with other email software like Drip or Mailchimp to create their email sequence
ClickFunnels also integrates with Twilio allowing users to send automated text messages to their funnel subscribers.
ClickFunnels makes managing all aspects of marketing and sales funnel simpler as everything can be accessed from one application.
Why Should You Use GetResponse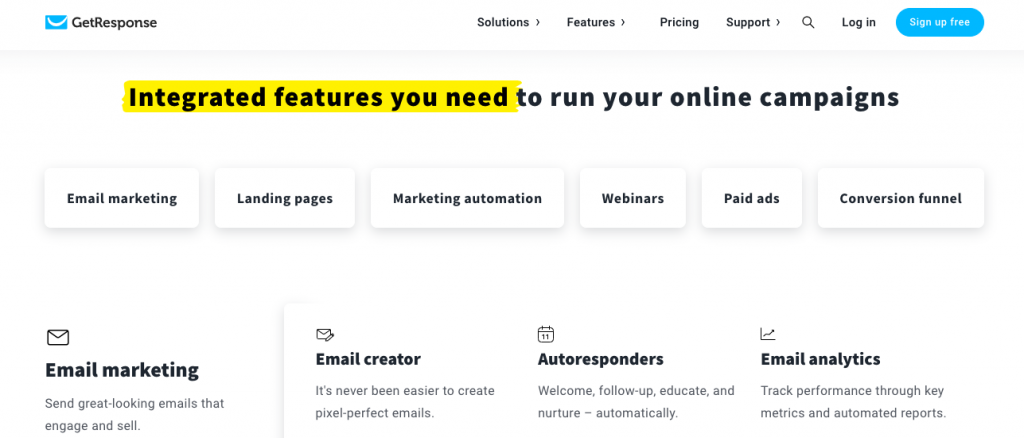 Great marketing automation features
Free 24/7 support with all plans
If you are using an Email package, GetResponse will be more affordable to you than most of its competitors
The discounts you get when paying for one year or two years are very generous – it's very difficult to find similar reductions in the charges from competitors
The CRM functionality of GetResponse is fairly unique.
It split-testing and reporting features are very useful
GetResponse offers a good approach to data segmentation
Using GetResponse you can add subscribers to your mailing list on a single opt-in basis as well as a double opt-in basis.
GetResponse comes with a landing page editor
How Tech-Savvy You Need To Be To Use The Two Platforms
You don't need any coding experience to use ClickFunnels and GetResponse as both these platforms are user-friendly.
ClickFunnels has a drag-and-drop editor that you can easily use even if you don't have any tech knowledge.
Moreover, the templates and features available with the platform mean that even those with no coding or website design experience can create funnels and landing pages using ClickFunnels.
ClickFunnels also features videos that show users how to use the platform.
GetResponse is also user-friendly and you don't need any tech knowledge or coding experience to use this platform.
You may find the editing process complicated in the beginning, but once you get the hang of it, you will love to work on GetResponse.
Related : Best ClickFunnels Alternatives
Final Thoughts – GetResponse Vs ClickFunnels
We now get to the conclusion of GetResponse vs ClickFunnels.
Both ClickFunnels and GetResponse are great at what they do. We can't say that one is better than others for all users.
If you intend to create sales funnels, then obviously ClickFunnels would be a better option for you as it's designed for creating funnels and comes with several funnel templates to make the job easier for you.
On the other hand, if you are looking for an email service provider to manage your email marketing campaigns and subscribers, then GetResponse would be the right platform for you.
It has several features like autoresponder that can help you manage your email campaigns.