Today we are going to do Avast SecureLine VPN review but let's first understand why security matters in this digital era.
The privacy issue making headline news over social networks and websites being able to access consumer data, has led to an increased awareness and anxiety.
Internet users are worried over just how much information the web knows, and uses, based on their activity.
The Internet is a huge and open road that allows you to go where you'd like, with some guides along the way.
However the bottom line is, what you search for, the sites you visit, and other things you do online can be seen by a lot of people.
Interesting Post : Data Security Becomes Imperative For Mobile Apps
This is why virtual private networks are increasingly being used today as they give Internet users an assurance that their security and privacy online is protected.
Without a VPN, your information and activity is accessible by almost anyone.
This includes your Internet Service Provider (ISP) who sees everything you do and employers who control what you do online.
You are also monitored by governments that censor whatever you see while spying on you and of course the online thieves who steal your identity and hack into your accounts.
Avast SecureLine VPN is a good option if you don't want anyone to see what you're doing online.
At the click of a button, Avast VPN delivers true online privacy by encrypting your Internet connection, allowing you to enjoy the Internet your way.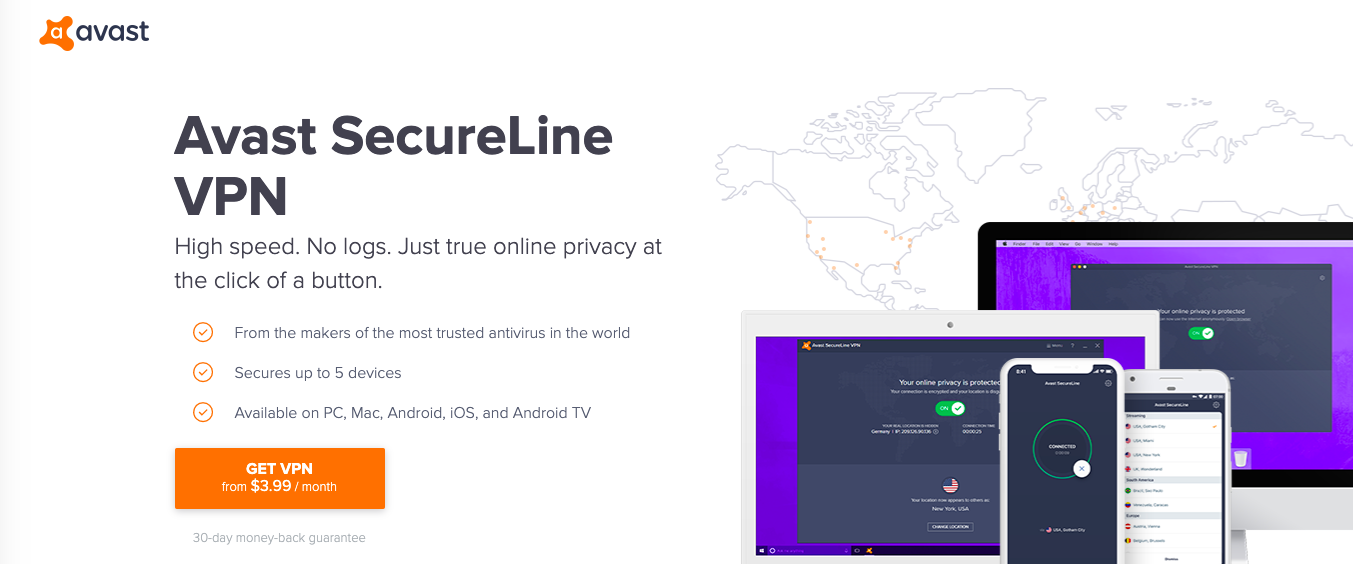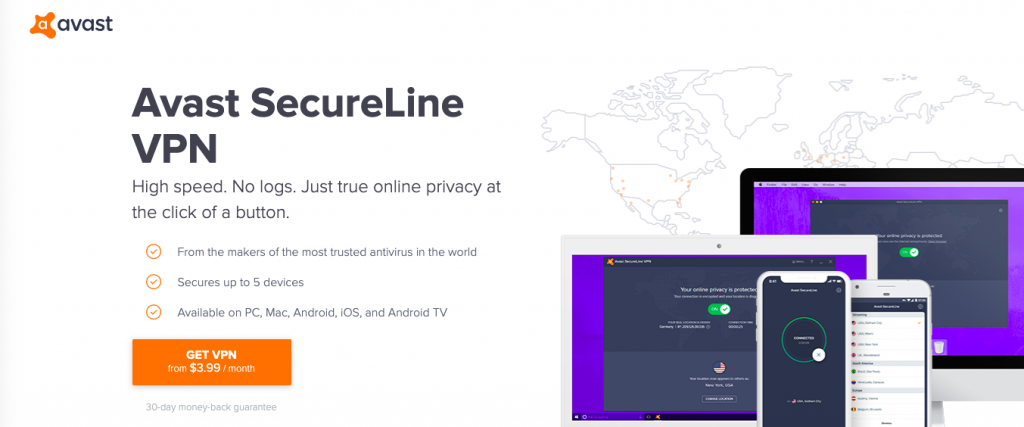 Among the benefits of using Avast VPN include:
Real privacy as your activities are hidden from your ISP, hackers, advertisers, employers and other online snoopers.
Secure connection so you can be safe wherever you browse from, including when using WiFi in public spaces such as a hotels, airports, school or university campuses, and coffee shops.
Access any content and enjoy your favorite shows on your own time, as you please.
Great speeds from a variety of fast servers across the globe.
Let's consider each of these benefits so you can understand just how much freedom and privacy Avast SecureLine VPN offers you.
Interesting Post : Total VPN Review
Avast VPN Privacy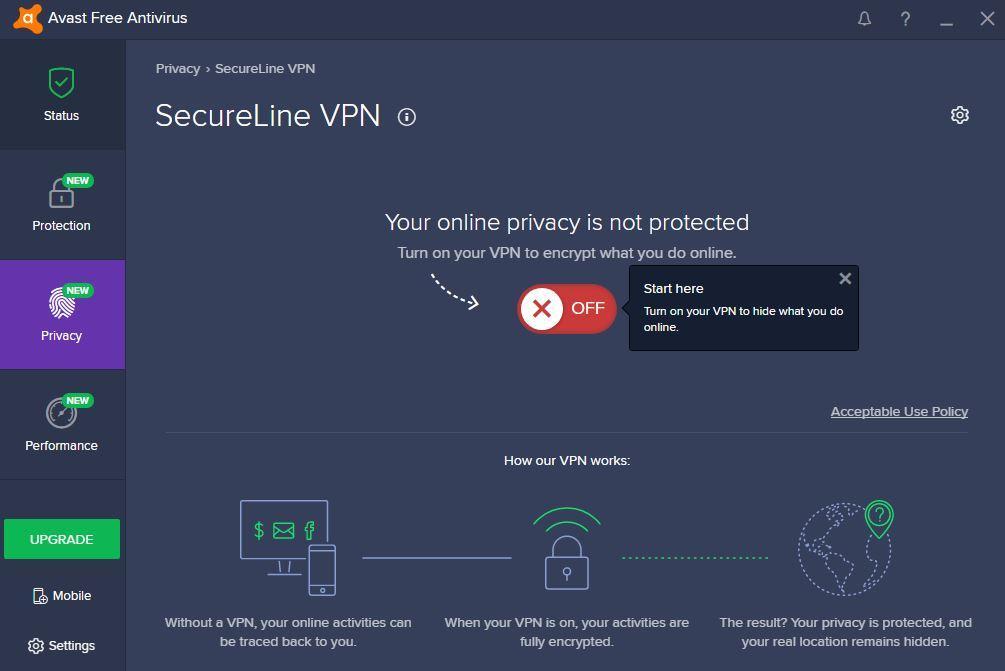 When it comes to true online privacy, what people want from a VPN is to know that their IP addresses are hidden and their identity is anonymous online.
These are just two of the most basic privacy elements that people consider when looking for a VPN.
Avast SecureLine VPN offers this and so much more & therefore a good choice. To begin with, you are assured of your IP address remaining hidden, because this is one of the main ways you can easily be tracked across the web.
Once you install Avast VPN, its servers provide a mask and a new address so you don't have to give out more than you must.
Additionally, you get the same IP as everyone else who is connected to Avast VPN, which is good because it makes it more difficult for traffic on the specific server to be associated to any of the users on that IP address.
Avast VPN also provides DNS leak protection. You can actually test the VPN to see whether it leaks your DNS through these three simple steps: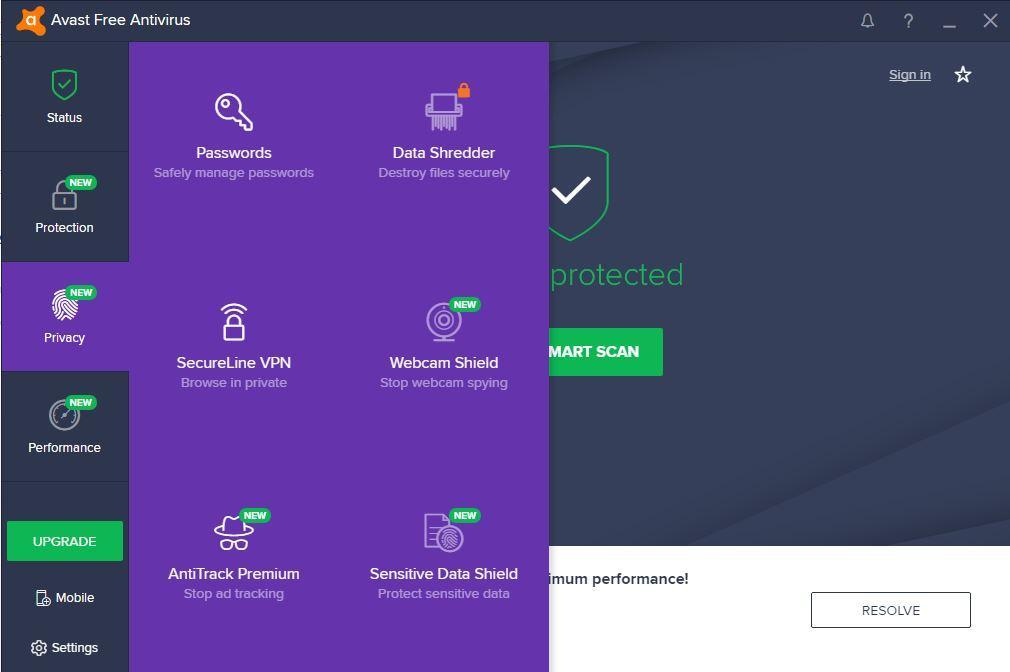 Before logging into your VPN, go to What Is My IP Address and take note of your actual IP address provided by your ISP.
Log in to your VPN, and choose a server location in a different country, then confirm that you're connected.
Go to What Is My IP Address again, and note the IP address it displays this time. It should be different from the first one you wrote down, but it should correspond with your VPN and the server location you selected.
Visit WebRTC test page and write down the IP address displayed on that page.
Ideally, both sites should show your VPN's IP address. However, if the first site shows your VPN, and the second shows your actual ISP-provided IP address, then your browser is leaking your IP address to everyone online.
We took the test with Avast VPN, and it scored high marks on all fronts, which means when it says it provides DNS leak protection, it does just that.
Avast VPN ensures all IPv4 traffic from your device(s) is/are firewalled, while disabling any IPv6 requests.
People often ask me, does Avast VPN keep logs?
No. It doesn't track the apps you use once connected to the servers, nor does it keep any logs on the websites you visit or content you consume.
Avast VPN Secure Connection
This is perhaps the most important section to talk about in this Avast Secureline VPN review.
Avast VPN builds its privacy protection on transparency, using OpenVPN, the most widely used and trusted VPN protocol.
OpenVPN is an open source protocol which makes it the most trusted, as there is no proprietary code in its setup that plays around with your data.
Also included is the OpenSSL libraries which run the whole thing over UDP ports so that you're able to enjoy the fastest speeds via the VPN connection.
As stated earlier, Avast VPN does not keep any logs of your online activity, meaning it doesn't see the apps you've used, sites you've visited, or content you've engaged with.
Its 256-bit AES encryption means all of your data, whether incoming or outgoing, is encrypted, so hackers and other online snoopers are blind to your activity.
This advanced encryption standard of security is difficult to crack, making it a thorough VPN.
Additionally, you get to share one IP with other users, so it is much more difficult to track you down, plus you can connect safely to any public WiFi or hotspot, whether you're at a coffee shop, in the park, or at the airport.
Useful Post : Ways To Ensure Security While Shopping Online
Access Any Content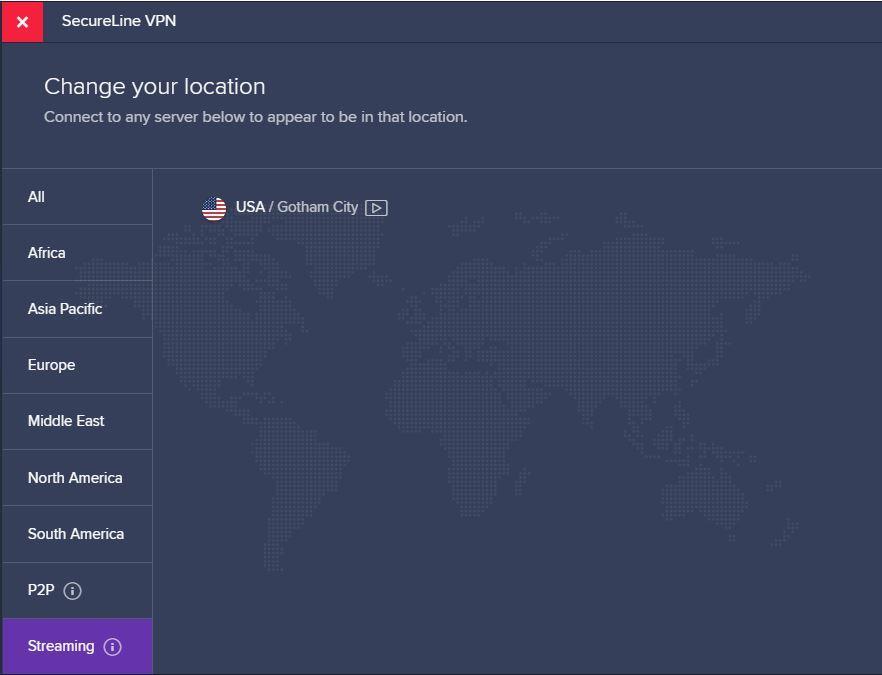 When it comes to content accessing, Avast VPN rating gets good 4 stars out of five.
No matter where you are in the world, you can bet on Avast VPN to help you access geo-restricted content, and bypass censorship on any service or media.
When choosing your server location via the Avast antivirus dashboard (if you have that installed on your computer), you also get to select locations that can allow you to access streaming media such as Amazon prime, Netflix, Hulu, BBC iPlayer and many more.
This means you can get around content blocks so you can watch, read and engage with whatever you find online, regardless of where it is from.
This includes high definition movies and games, as well as very large files.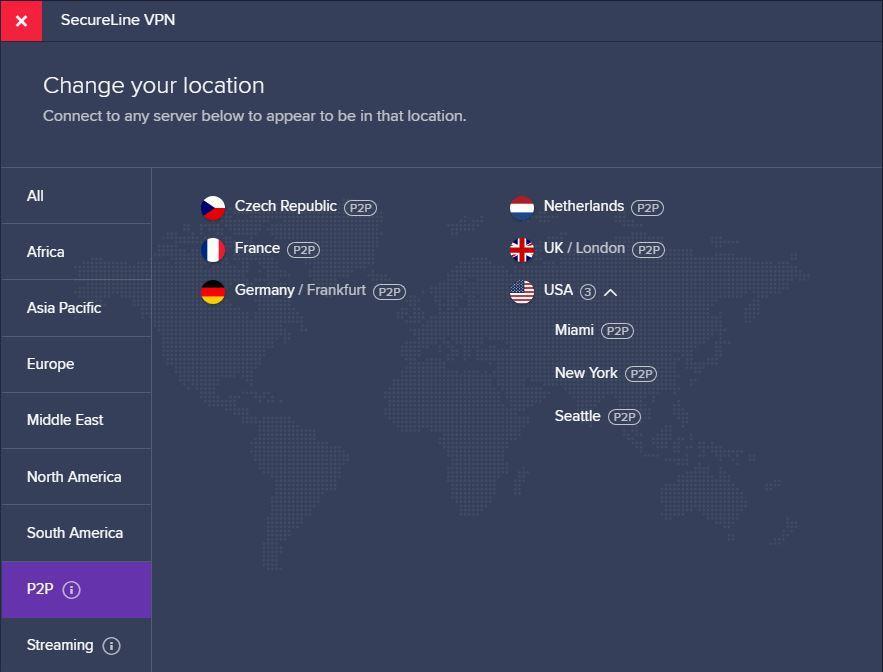 Avast VPN also allows for P2P (peer-to-peer) support, so if you have stuff to share, you can do it simply and privately online, from wherever you are.
From the dashboard you can also select P2P tab, and pick any locations which are marked out on the selection screen, making it even easier for you to find.
Avast VPN Speed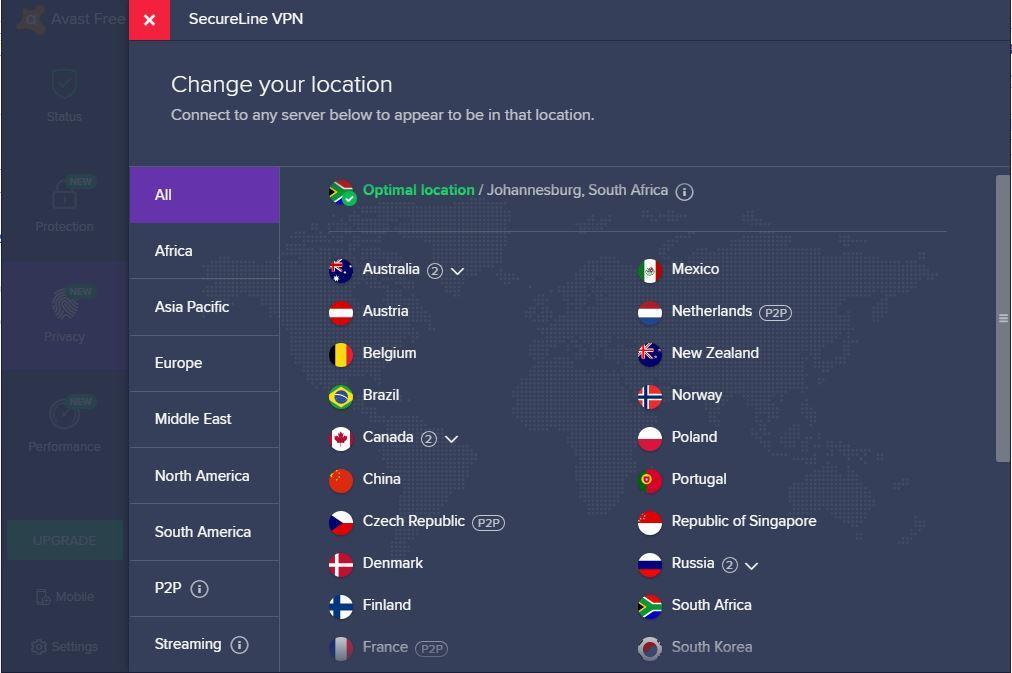 Most online Avast VPN reviews echo in the same tone when it comes to Speed. Avast never compromises on network speed.
With 54 server locations spread across more than 34 countries, Avast VPN has a way to get you to wherever you want to go, and at lightning fast speeds too.
Avast increases its server speeds and performances constantly so you can enjoy a speedy online experience as you stream, play games, or even download huge files.
Related : Best CDN Providers To Speed Up a Site
The benefit to using Avast VPN when it comes to speed is that you can use it on up to 5 devices simultaneously with speeds of up to 2gbits/second with absolutely no bandwidth limitations.
Avast VPN has proven itself where VPN blocking is concerned, as it features dedicated hardware servers that maintain performance with automatic traffic balancing across the servers to ensure they don't get overloaded.
Avast VPN Pricing
Avast VPN price is flexible. It has 3 plans:
Monthly plan – $8.99
2 year plan – $3.99/month ($95.76 billed annually)
1 year plan – $4.99/month ($59.88 billed one time)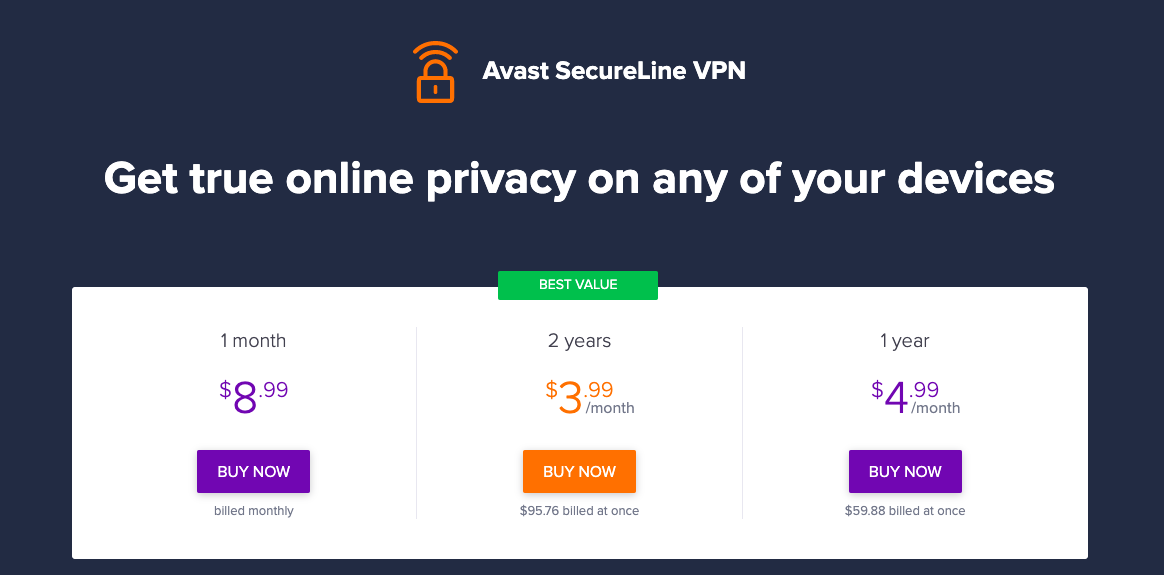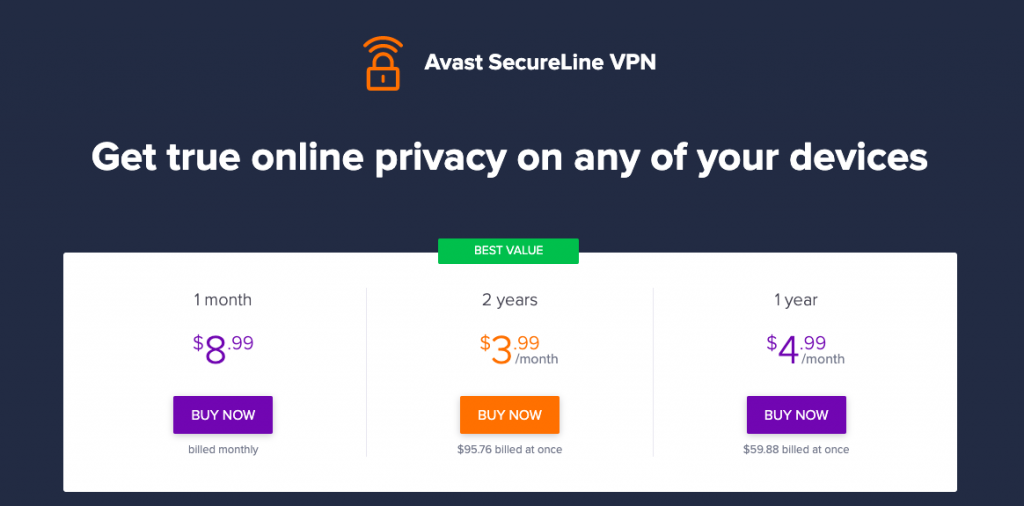 These plans are available for PC, Mac, Android, and iOS, offering security to 5 devices.
If you're not ready to pay up immediately and start using the service, there's a seven-day free trial period that's also ad-free, so you can test run Avast VPN for yourself.
Avast VPN prices are subject to change so it's better to check about the plans on Avast site rather than exploring random Avast VPN reviews on the net.
It offers aforementioned plans for now.
You might want to read : Hola VPN Review
Summary
So here we come to the conclusion of Avast SecureLine review. We know these questions are waiting to be answered.
Is Avast VPN good? How good is Avast VPN?
Avast SecureLine VPN is integrated into its antivirus offering as a way of protecting its users when they're on unsecured wireless networks.
Its clean and simple interface is easy to use, plus its extensive server network across a variety of locations is ideal for anyone looking to access content that would otherwise be blocked.
Overall, it's a great VPN for casual users.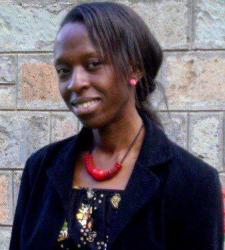 Author: Elsie Biage
Elsie started off as a freelance business and tech journalist. Having written for publications like Lifewire, and WindowsReport, she has garnered immense exposure over the years. She is a certified social media expert with deep interest in internet marketing, ecommerce and information technology.