Total VPN is one of the most prominent and popular VPN services on the market today. It definitely has an impressive list of features.
Since its makers and users tend to make bold claims regarding its efficiency, let us look at why it is so highly regarded. We'll do a quick Total VPN review.
The Rise of VPN Services
A good VPN (Virtual Private Network) has become a necessity for any business today and has also proven to be very useful for private use.
VPNs enable users to access wider online networks and even to geo-restricted content. It also allows for private and anonymous browsing while keeping your data encrypted and secure.
Both private users and businesses turn to VPN for an array of uses.
Related : Data Security Becomes Imperative For Mobile Apps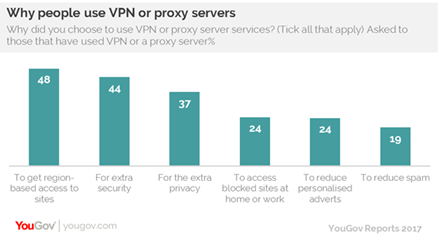 Many businesses rely of VPNs to:
Manage their sensitive information
Securely transfer data to various departments and business premises
Allow remote access to data and communication with remote employees
View and manage inventory
Total VPN Features
Total VPN offers a range of useful features. You can even customize many of these features easily. These features include:
Total VPN Coverage
Total VPN has over 60 servers worldwide, spanning 30 locations across 6 continents to.
This allows users wide access to content across the world. Their server locations include: Europe, USA, Southeast Asia, Africa, Hong Kong and Latin America
Complete Anonymity
Total VPN conceals a user's IP address, location and all personal data, restricting third party tracking and access to their data
Secure Encryption
Secure Encryption with a range of encryption protocols including:
Ø  SSTP
Ø  PPTP
Ø  OpenVPN
Ø  L2TP/IPSec
Ø  IkeV2
This will hide your identity from hackers and from the government spying on your browsing.
NB (However, it is worth noting that Total VPN does have a legal obligation to supply relevant authorities with your information and certain data if requested to do so.)
No Monitoring
Total VPN claims not to keep any logs of your browsing history in respect of your privacy.
However, Total VPN does log your IP address and data usage in their own database. Again, Total VPN does have a legal obligation to supply relevant authorities this information if need be.
You might want to read : Best VPNs For Amazon Firesticks
Public Wi-Fi Protection
Total VPN can protect your data, even when using public WI-FI networks.
Unrestricted Data
for Premium users and restricted bandwidth and data caps for free users
99.99% Uptime
for Premium users
Total VPN Interface
The Total VPN interface is clean, simple and relatively user-friendly. Getting started with the service is also quite a straightforward process, devoid of any complicated instructions.
How It Works
We'll now discuss the process for Total VPN download and its use.
All a user need do is to download the app from Total VPN's official website onto their device. A user will also need to set up a profile with some of their details and select a username and password.
Once the programme is installed, a single click is all that is needed to achieve a connection to the service.
The installation process is very simple and fast with plenty of simple instructions to guide you along the way.
There is also a solid customer support system in place should a user need extra help.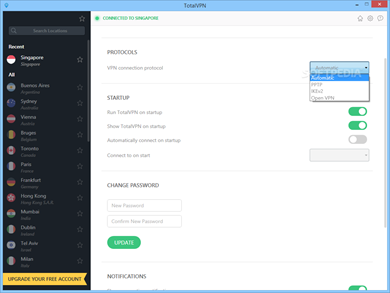 Total VPN Compatibility
Total VPN is supported on all major digital platforms and operating systems, including: Windows and iOs. Unfortunately, it is not available for Linux.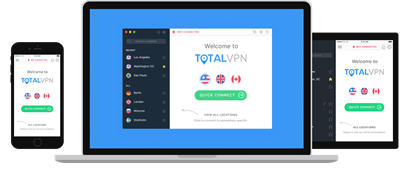 It is compatible for most of the major devices, including:
Android, and Android Tablet
iPad
iPhone
Mac
The developers of VPN claim that it is soon to be available for Chromebook.
Total VPN Performance
Total VPN's services run relatively fast and reasonably smooth. There are sometimes complaints of slower internet speed when using the service.
However, this happens because every VPN tends to slow down ISP connections slightly.
Even with this slightly reduced connection speed, VPN's still allow for all types of media streaming and for the use of multiple tabs, without major hassle.
Related : Best CDN Providers To Speed Up a Website
One contentious issue surrounding Total VPN is the DNS leaks. Some report zero DNS leaks , while some report multiple DNS leaks.
Total VPN does not have built-in built-in DNS leak protection. It is recommended that Total VPN users make use of additional services such as up Google Public DNS for extra protection against this.
Total VPN Privacy & Security
Total VPN generally does deliver what they promise in terms of security. Their selection of encryption protocols is solid. They definitely do make use of some of the best protocols available.
Every protocol is best for a different function. This is why Total VPN even allows you to select your encryption protocols according to your online activity at the time.
As mentioned earlier, Total VPN does have legal obligation sot hand over certain information to authorities if this information is warranted.
This will include you IP address and data usage. It will not log your browsing history or track the amount of websites visited.
Other than this, you are safe from most hackers, third party access to your data general government monitoring.
The following is an excerpt from Total VPN's terms and conditions, in regard to their law enforcement policy:
 "Total VPN may disclose User information to law enforcement agencies without further consent or notification to the User upon lawful request from such agencies. We cooperate fully with law enforcement agencies."
Although Total VPN promises to respect a user's right to privacy and free will, there are some standard, legal restrictions to the use of their service.
The policy does state that they prohibit the use of their service for:
Illegal Activities
Non-Personal Use
Infringement of Intellectual Property Rights
Sexual Exploitation of Minors
Bear in mind that Total VPN may use all users' IP addresses for their own research and logistical use.
The following is an excerpt from Total VPN's privacy policy:
"We use IP addresses to analyze trends, administer our website and servers, track access, and gather broad demographic information for aggregate use."
Also Read : Hola VPN Review
Total VPN Support
Total VPN offers new users an extensive range of guides and tutorials, telling you everything you need to know.
If a user should need further assistance, they have the choice of an email ticket or a live online chat.
The response rate for the two options available has been reported to be quite fair. The average waiting time for a response is within two hours.
Unfortunately, Total VPN does not offer any form of phone support or verbal chat. All conversations are typed, which means you are sure to receive many generic responses to emails and written chats.
Total VPN Pricing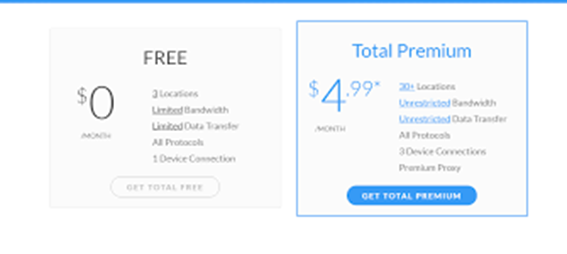 Let's talk about pricing in our TotalVPN review.
There are two main pricing options: Free and premium of $4.99 a month.
Many users find the free version adequate, but the benefits of the premium are well worth the affordable price of just under $5 a month.
You can also choose your contract duration from anywhere from 1 month to 2 years.
Total VPN Free Plan
All security encryption  protocols
Access to three server locations
Connection to only one chosen device
Limited bandwidth
Limited data transfer
TotalVPN Premium Plan
All security encryption  protocols
Access to a selection of all Total VPN servers over 30 locations around the world
Connection to three chosen devices
Unlimited bandwidth
Unlimited data transfer
30-day money back guarantee –no questions asked
Related : Avast VPN Review
Total VPN Pros & Cons
Pros
User-friendly
Affordable
Fast Speeds
Good selection of security encryption  protocols
Free plan can work well on its own
Compatible with a wide range of devices and operating systems
Cons
Slow speed in some parts of world
Not compatible with Linux c
DNS leak concerns still need to be properly addressed
Lack of personal customer support
No complete guarantee  against hacking or government monitoring
Final Thoughts – Total VPN Review
Better Safe than sorry!
At just $4.99 a month, Total VPN is not an investment many have to consider too deeply. When ever-increasing security risks threaten your security, your privacy and your access to relevant information, this is a small price to pay to protect them.
Of course, Total VPN cannot offer 100% protection, but they do cover their basics very well.
Overall, it is a solid and fair investment for any individual and business who cannot afford to feel exposed online.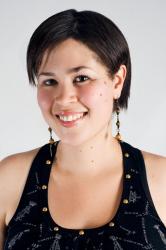 Author: Candice Janneman
Candice Janneman is a freelance blogger and copywriter from South Africa. One of her specialties is writing informative blog posts on topics relating to business, entrepreneurship and digital marketing. She is also a lover of books, films, nature and all things interesting, weird and wonderful.