Content Delivery Network (CDN) brings the static content of your website closer to the global users, using point based servers.
In other words, it reduces the distance between the original hosting servers and the destination computers, by placing several connecting or point servers in different parts of the world.
These servers then cache some of your website's elements and distribute them to their 'nearest local servers'.
This technique not only helps in decreasing both page-load times and the bandwidth costs, but also reduces the stress on the original server, while enhancing the customer experience.
Wondering which are the best CDN providers 2021? Let's get started.
Best CDN Providers To Speed Up Your Website
Following is a list of 10 best CDN providers to speed up a website-

N7 – The Nitrogen Platform utilizes its cutting-edge AI/ML technology, delivering phenomenal acceleration in website performance, a boost in SEO rankings & reduction in operational costs, without any code changes. They are hailed as "performance disruptor" by publications like Times Now and Entrepreneur India and have joined forces with major commerce leaders such as Shoppers Stop, Housing.com and Tata Capital, redefining the digital landscape. 
Nitrogen N7's global CDN spans 70 cities, delivering a staggering 120 Tbps capacity and 7 PB caching for lightning-fast website performance. Adaptive Image Optimization tailors optimized images through AI/ML, enhancing user experiences. 
Digital Experience Accelerator supercharges Google Core Web Vital scores by 30 to 70%, boosting performance and SEO rankings. SEO Optimizer increases Google page crawls for organic traffic growth. N7 offers unparalleled website security, utilizing Managed WAF, DDoS protection, and advanced Bot Management. Unlock deeper user insights with Real Digital Experience Monitoring tool.  
Explore the platform features by registering for N7's Forever Free Plan.  

Stackpath is one of the popular Content Delivery Networks in the world as their servers are strategically placed across 90 countries.
The SSD loaded servers are optimized to provide excellent image acceleration and page loading speed that improves the overall performance of a website.
The inbuilt SSL feature protects your site in real-time, while the secured tokens and two-step authentication help in locking your content and securing your account. The control panel enables you to change the rules of how your content should be cached on each location.
Stackpath is compatible with all the popular content management systems like Magento, WordPress, Drupal etc, while the 'REST API' allows integrations with users, zones, and other resources into your applications.
People looking for a good CDN for ecommerce can rely on it without thinking twice.
Stackpath is the best content delivery network in our list.
MaxCDN / StackPath
Give your business a serious advantage with high performing apps and website. Stackpath offers CDN edge with 80% cache hit ratio. Serverless with zero warmup time. Dedicated private network between edge locations & more.

We earn a commission when you click this link and make a purchase.
3. Cloudflare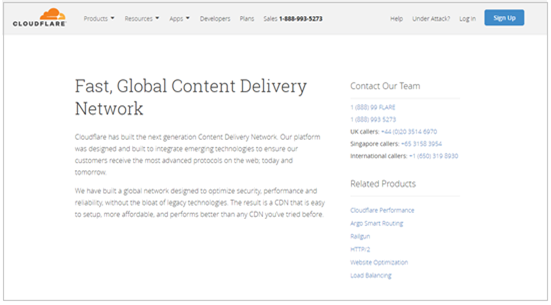 Cloudflare is a highly reliable CDN service provider for protecting your website and boosting its performance even under Free plans. It has a global presence with 115 data centers spread across North and South America , Europe, Asia-Pacific, Australia, Africa, Middle East etc.
Cloudflare uses 'Anycast' to create extremely resilient network. The built-in load balancing and automatic failover features help to maintain the service deliverability, despite losing 50% of the network.
The advanced DDoS protection offered – is one of the largest in the world, and is capable of handling all kind of attacks that are targeted towards UDP and ICMP protocols, SYN/ACK, DNS amplification as well as Layer 7 attacks.
And with the help of it's real-time analytics, you can also monitor and block threats and search engine crawlers – that usually make up for 20% – 50% of the total traffic!
In comparison to Cloudfare, Incapsula provides a better website security, DDos protection & is a faster CDN..
You Might Want To Read : How Healthy Is Your Magento Store
4. Cachefly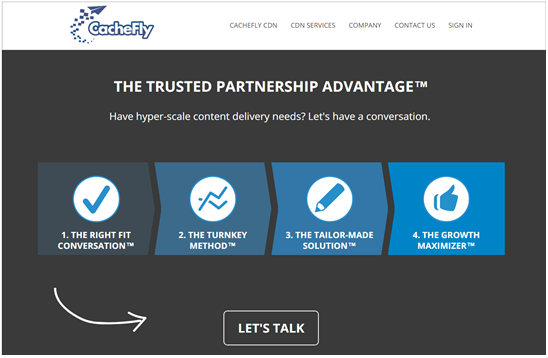 Cachefly offers an extensive range of CDN services and excellent performance with low error rates. This makes it among the popular CDN vendors. It has 40 points of presence across the world and each point is highly reliable in bringing the rich media content closer to their nearest users.
It expedites the delivery of static objects up to ten times, and provides gzip compression that caters to the faster accessibility without leaving a footprint.
The md5-shared secret system enables you to create several security controls for your website using Time-stamp, IP address, and Return URL.
Other features include two-factor authentication, real-time reporting & analytics from Paessler, CloudHarmony and Cedexis, on-demand bandwidth with no risk to performance degradation or timeouts, and much more.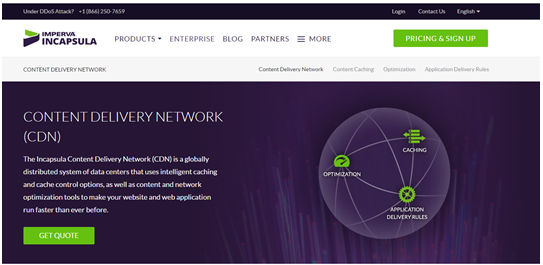 Incapsula is the best cloud based and robust CDN you can find to improve your site performance.
The dynamic caching technology ensures that the content is fresh and the bandwidth consumption is reduced.
The page loading time and user experiences are further improved through the content and networking optimizations.
It provides unmatchable security to a website and block threats using the integrated DDoS protection and web application security services, while also offering real-time traffic monitoring, failover and load management features.
6. Rackspace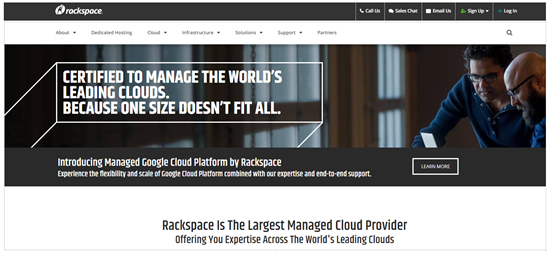 Rackspace is another best content delivery network in our list. It offers solid uptime (close to 99.99%) and great security features that is probably the best amongst others.
They use RAID-10 SSD with advanced backup technology and unique protocol that automatically move and adjust themselves in case of a potential threat. This ensures absolutely zero downtime, increased reliability and data security.
Rackspace also offers three-layer scanning to protect your communications and businesses, along with pay-as-you-go file storage options for hosting large files, images or other static content.
It is more apt for large businesses with complex websites and hostings.
7. Key CDN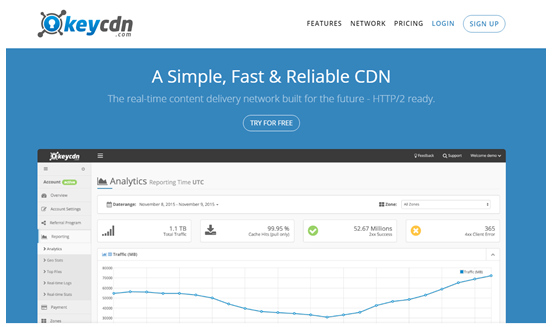 KeyCDN is another popular and feature-loaded CDN service provider that provides advanced technology and optimizations at a much affordable price – even if the bandwidth is increased.
They use 100% SSD-optimized servers for low latency, and all of their points-of-presence are located in premium SSAE 16-compliant data centers such as Coresite, Digital Realty, Equinix and Softlayer.
Other KeyCDN features include the intuitive dashboard; HTTP/2 for faster delivery; GZip compression for faster data accessibility; real time reportings; extensive security (with DDoS protection, shared or custom SSL, secure token etc); origin shield and much more.
KeyCDN supports all platforms such as Drupal, vBulletin, Magento, Joomla, Wordpress etc.
Interesting Read : What Makes Magento The Best Ecommerce Platform
8.  Akamai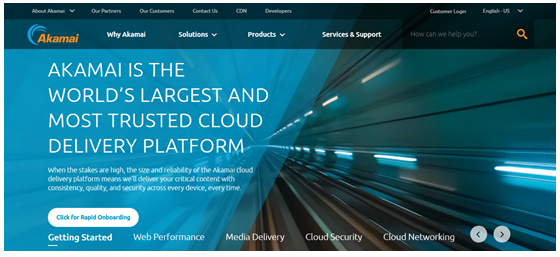 Akamai is a cloud based optimization platform having a strong infrastructure to speed up sites, networks and connections.
Akamai's intelligent platform offers several features that thoroughly improve the site performance. For instance, the Dynamic Site Delivery instantly scales the delivery of websites globally, even during the peak demand.
The real-time visualization provides technical insights to global regions that are susceptible to web attack traffic, and helps in identifying the cities with slowest web connections or highest traffic density.
Though Akamai offers the most reliable CDN, it uses DNS based lookups that tend to make it slightly slower as compared to Anycast.
Despite that, it is more popular within larger enterprises with high revenue and high market cap, such as Adobe or Nintendo.
9. Amazon CloudFront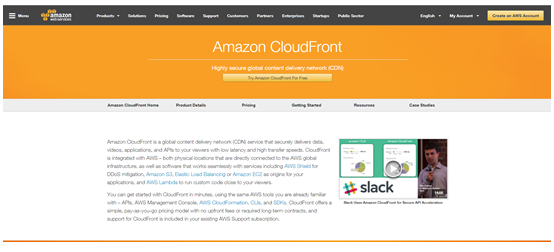 Amazon CloudFront integrates with all the Amazon Web Services and delivers content, applications and APIs – with low latency and higher transfer speeds.
It offers high availability and scalability across 21 countries through 77 edge locations and 11 regional edge cache locations that help in maintaining high-cache hit ratios.
It also allows you to use your own domain name and SSL certificate at no additional cost, and provides a complete secure environment to host any website.
Other features include live video streaming, support for dynamic and personalised content, as well as the geo-restrictions that allow you to restrict your content within a country.
10. jsDelivr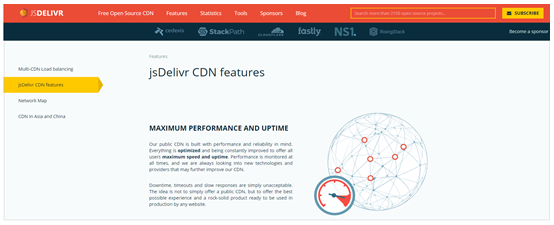 jsDelivr is among free and open source CDN vendors that has specifically been designed for webmasters and developers.
It hosts all kind of files such as JavaScript libraries, jQuery plugins along with workable files like CSS, fonts and more.
jsDelivr uses the unique multi-CDN load balancing – for delivering best possible uptime and performance, especially in cases where if one server goes down, the traffic can be re-directed to the other functioning servers.
It also uses Cedexis for getting a real time insight to the performance of a website over their network, while the two synthetic uptime monitors help in detecting early downtown and instant failover.
It even has a bot called 'libgrabber' that periodically scans the hosted projects for any new changes/versions and keeps them up-to-date.
11. Microsoft Azure CDN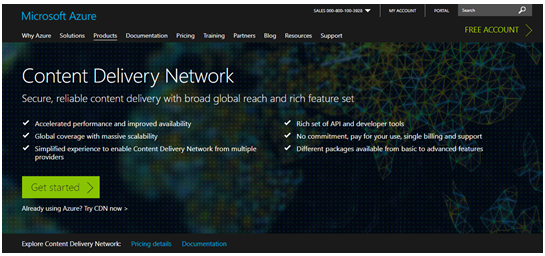 Microsoft Azure CDN has an impressive infrastructure that helps you reduce load times, save bandwidth and increase responsiveness for an assortment of websites that are heavily dealing in streaming media, gaming softwares or firmware updates etc. This is why it is counted among the best CDNs.
It is easy-to-use and rich with features that provide robust security and advanced real time analytics along with acceleration of any content on any device. It can even cloud hosts to support ASP.NET.
12. CDN77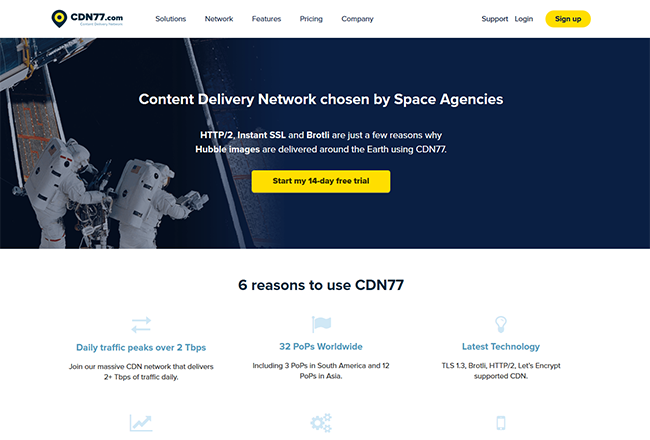 CDN77 is known as an innovation frontrunner for deploying the newest features as soon as possible – such as HTTP/2, Brotli compression or TLS 1.3. There is no surprise why it is counted among the best CDN services in the market today.
They offer competitive prices in both pay-as-you-go and monthly plan pricing plans. Global coverage of SSD-based data centers with total of more than 5 Tbps network capacity ensures smooth and fast delivery.
Customers especially like their 24/7 live support, easy setup and intuitive dashboard.
CDN77 supports all major CMS like WordPress, Drupal, Magento, PrestaShop, Opencart, Joomla! or SocialEngine.
You can try their 14-day free trial to get to know their service better.
Wrap Up –
So that was our list of the best CDN providers 2021. You now know what each of those offers.
Do your study and pick the best that suits your needs. They all are good in one way or the other.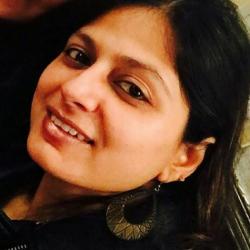 Author: Divya Dube
Divya Dube is an e-commerce subject writer at
Mofluid
. She loves to research and is an avid reader of technology, psychology and fiction. She is also a gadget freak, a traveller, loves chocolates & music and has an immense passion for writing.