As Amazon is the top ecommerce platform in the world, it is constantly attracting new sellers.
In fact, there are over five million sellers on various Amazon marketplaces around the world, with more than one million new sellers joining each year.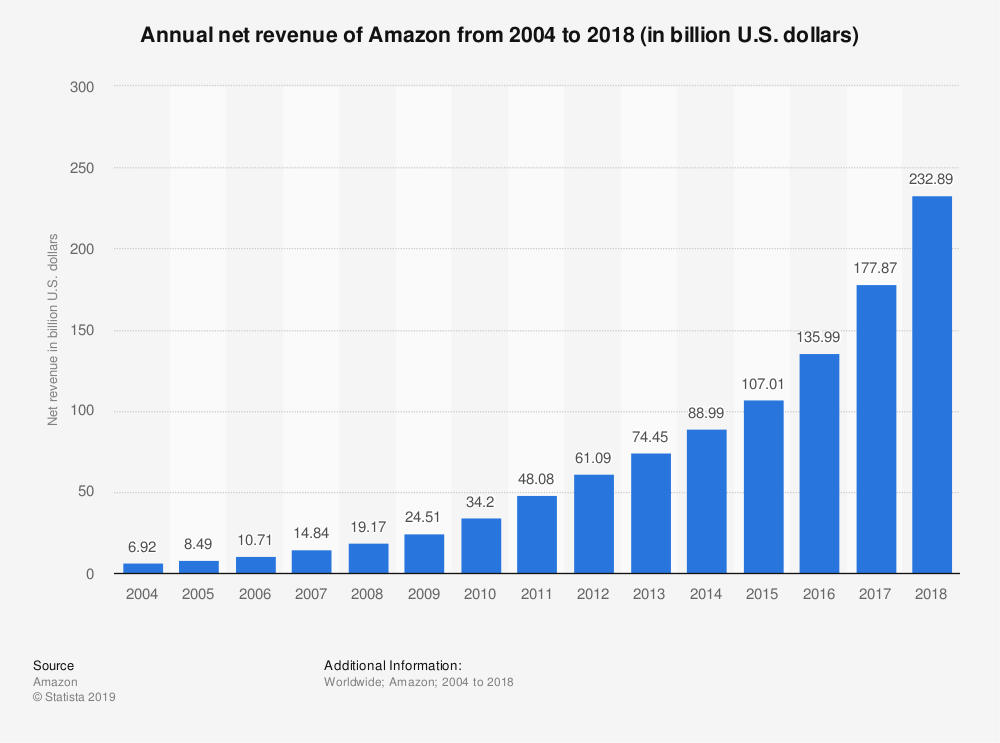 Many Amazon sellers take advantage of Amazon's FBA service, which stores your stock for you.
Instead of keeping your inventory in your own warehouses, you can save space and money by having it shipped directly to Amazon's warehouses.
Amazon will also take care of the shipping and handling for you, which takes another burden off your back and can lead to increased customer satisfaction due to Amazon's high-quality fast shipping services.
However, getting started with Amazon FBA isn't as simple as opening up an Amazon seller account. There's a lot of factors involved, including finding good products and manufacturers. There is also a lot of competition to deal with.
Amazon FBA training courses are designed to make selling easier for FBA sellers. The best FBA course would teach you everything about Amazon selling. It's almost a must to invest in one before starting off.
So now the question is – What's the best Amazon FBA course ? Don't worry, we are going to answer this.
Today, we will take a look at five best Amazon FBA courses, where you can learn strategies that can help you make your Amazon FBA store a success.
Also Read: Proven Amazon Course Review
Best Amazon FBA Training Courses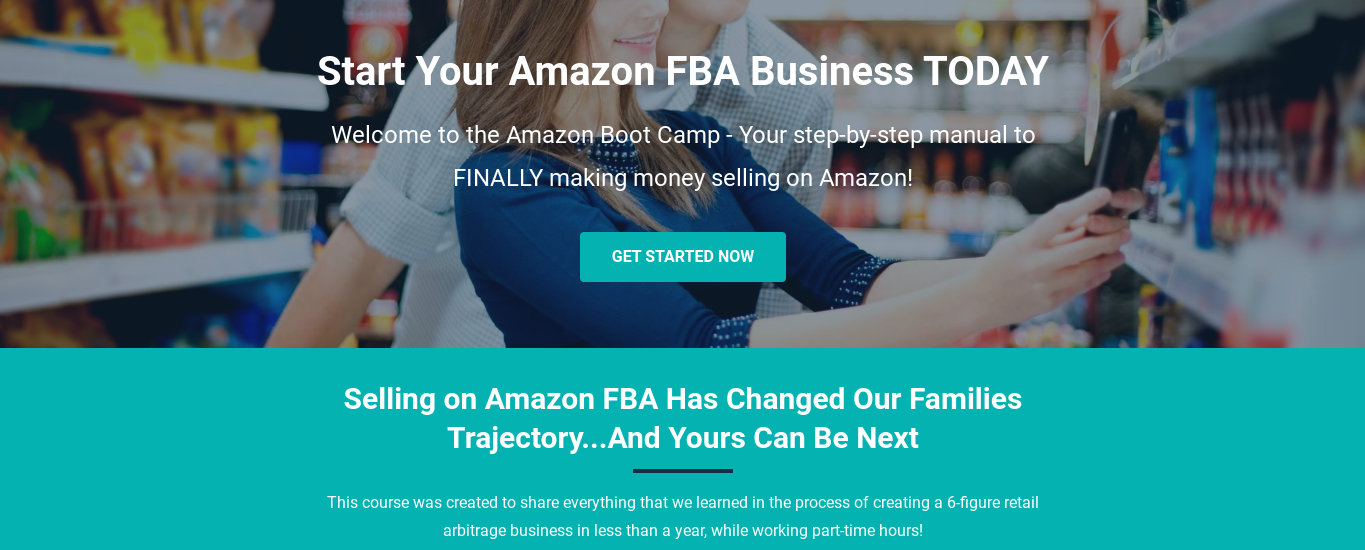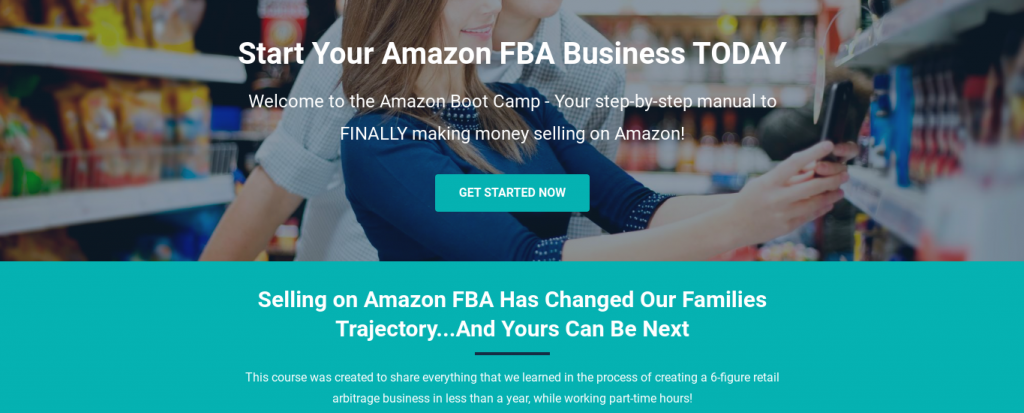 Amazon Bootcamp course by The Selling Family, is the oldest and most well-known Amazon FBA course out there.
Over 5,000 people have bought the course already, according to their homepage.
It's not like other Amazon courses. It gives you a step-by-step introduction to Amazon FBA, leaving nothing out.
There are 14 modules in the basic course:
Our Favourite Amazon Course
Selling Family Amazon Bootcamp Course
Your step-by-step guide to making money on Amazon. Includes modules on Amazon selling, account set-up, scanning apps, Amazon ranks, categories, Buy box, pricing, product listing, prepping, packing, shipping & more.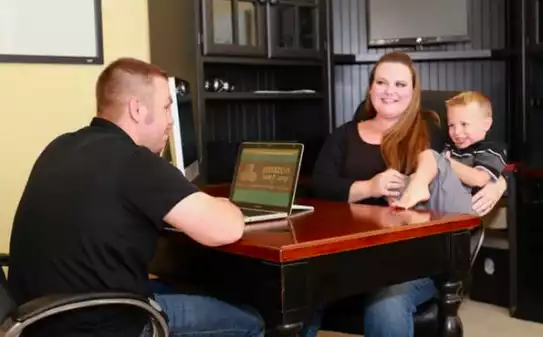 We earn a commission when you click this link and make a purchase.
Amazon Business Basics – Here you will learn the foundations: How you can make money on Amazon, how to find inventory, how to set up your business legally, and the right attitude to have in order to be successful.
Amazon Seller Account Setup – Here, you will learn how to create and set up your Amazon seller account and how to use the seller dashboard.
Scanning Apps and Other Supplies – In this module, you will learn about various tools and apps you can use to save time and become more efficient.
Amazon Categories, Ranks & The Buy Box – Learn how to analyze product data to determine its profitability.
Modules 4 and 5 are grouped together.
Evaluating If a Product Is Worth Selling – Here you will learn additional information to determine if you should sell a product and how much stock to purchase.
Retail Arbitrage Sourcing – This module covers a technique known as retail arbitrage. You can actually find profitable products to sell at stores such as Walmart or Target, especially products that are on clearance sale.
Online Arbitrage Sourcing – Not everyone has time to go to the store or has a large retail store in their area. In this module, you will learn how to find profitable products on online stores to sell on your Amazon store.
Pricing and Listing Your Products on Amazon – It's important to create your listings carefully so that they get highly ranked on Amazon and get a good conversion rate.
Modules 9 and 10 are grouped together.
Prepping – Packing – Shipping – Whether you've bought your products online or in a retail store, this module will teach you how to prepare them and get them sent to an Amazon FBA warehouse.
Modules 11, 12, and 13 are grouped together.
Modules 11, 12, and 13 are grouped together.
Managing Your Amazon Account – Now that you've set up a successful store, learn how to continue managing it for further success.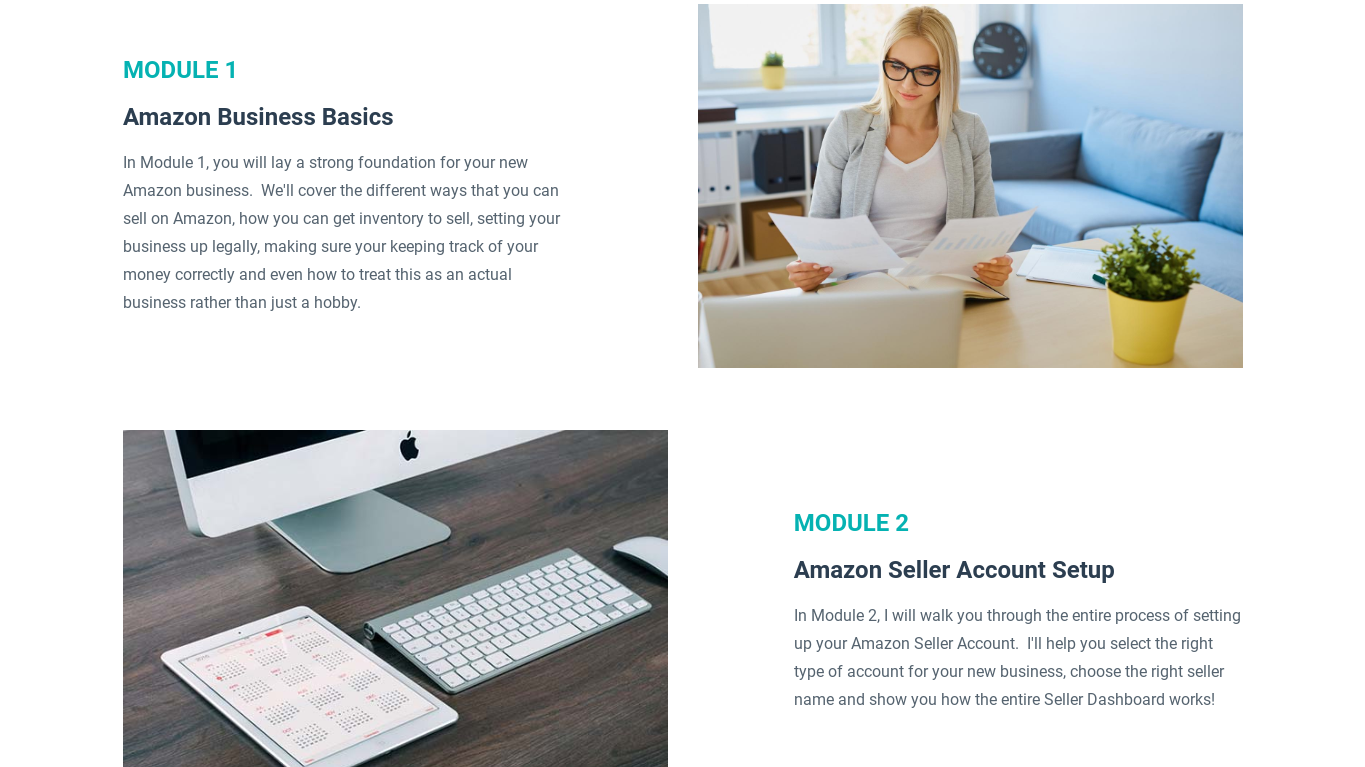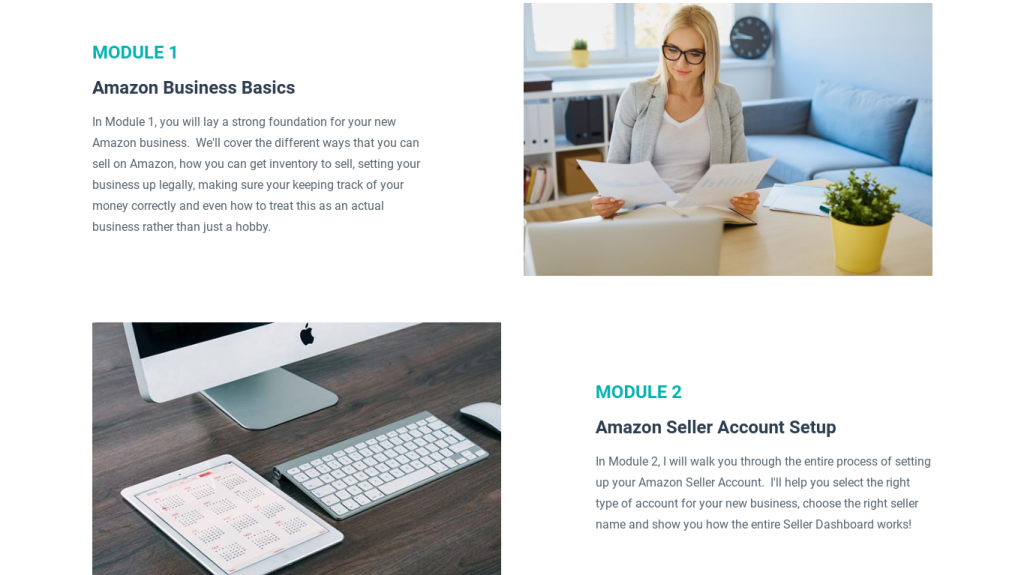 Amazon Bootcamp videos are short yet informative. This invites a lot of interest from the audience, making it perhaps the best Amazon FBA course.
You won't have to spend hours watching a single video; instead, you can watch videos whenever you have free time.
There are also a number of bonuses included, besides the main course:
Facebook Group Access – It's important to have access to a community that can help you when you are struggling and answer the questions that come up in the course of setting up and managing your online store. The Amazon Bootcamp Facebook group has over 5,000 active members.
Special Deals – Customers of Amazon Bootcamp can get special deals, discounts, and extended free trials for Amazon selling tools.
FAQ Library – This is an extensive library with answers to common questions that may arise.
One of the best things about Amazon Bootcamp is that unlike many other Amazon FBA courses, which are highly-priced, this is very affordable.
It costs a one-time payment of $495, but to make things easier on people who are bootstrapping their business, there is a three-month payment plan of $195 a month for lifetime access.
Amazon Bootcamp shows you methods that can work even if you don't want to deal with manufacturers from overseas.
Anyone can go to their local Walmart and make extra money on clearance items.
All in all, it is a great Amazon FBA training course.
Also Read: Amazon Boot Camp Review
Our Favourite Amazon Course
Selling Family Amazon Bootcamp Course
Your step-by-step guide to making money on Amazon. Includes modules on Amazon selling, account set-up, scanning apps, Amazon ranks, categories, Buy box, pricing, product listing, prepping, packing, shipping & more.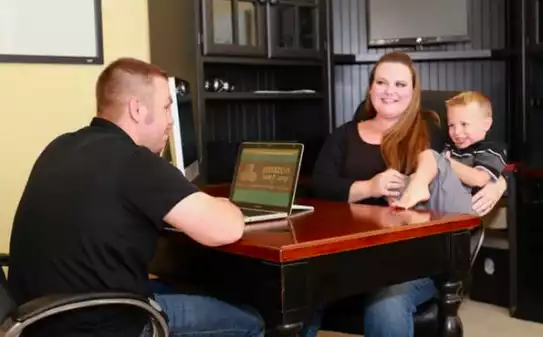 We earn a commission when you click this link and make a purchase.
2. Jim Cockrum's Proven Amazon Course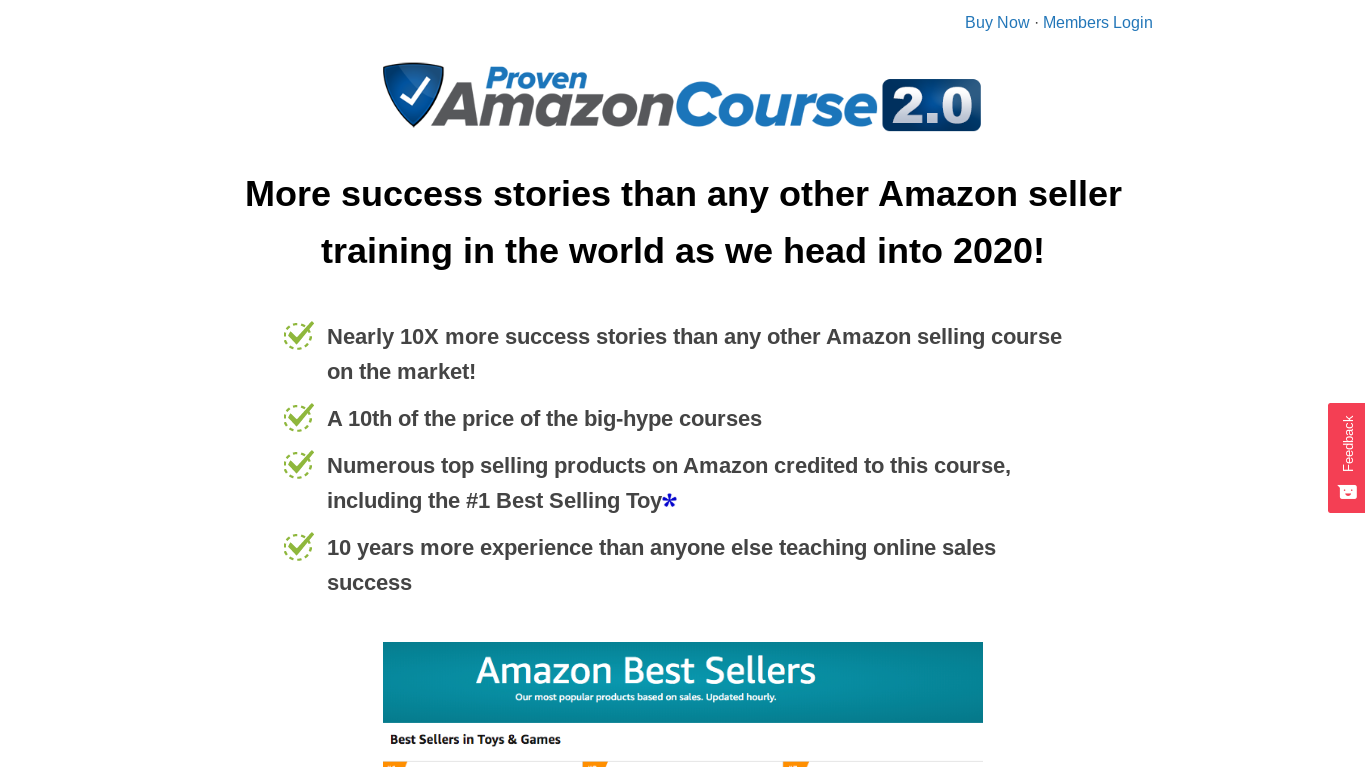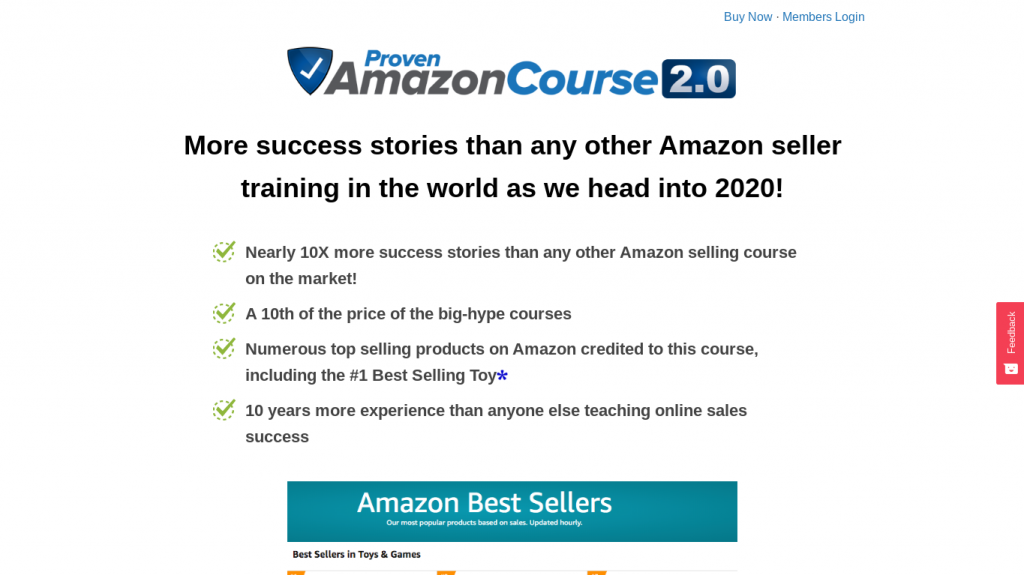 If you're looking for the best Amazon FBA course , Jim Cockrum's Proven Amazon Course is a wonderful choice. It is another top seller in the Amazon FBA course industry.
Jim started teaching Amazon FBA years before all the other courses came out – the original version of the Proven Amazon Course came out in 2009 – and he has constantly updated his course to reflect new changes as they arise.
Some of the top-selling products on Amazon are sold by students of Jim.
Proven Amazon Course has many sub-courses. There are courses for sections such as:
Getting Started
Low Budget Arbitrage Sourcing
Long Term Advanced Strategies
Business Building
International Sellers
Merch By Amazon
And more
Examples of courses you can enroll in once you enter the Proven Amazon Course learning portal include:
Getting Started
Online Sourcing Strategies
Buy Local & Sell to the World
As you can see, Proven Amazon Course is more than just a video course with a few videos.
It is an entire learning platform with in-depth courses on every aspect of Amazon selling.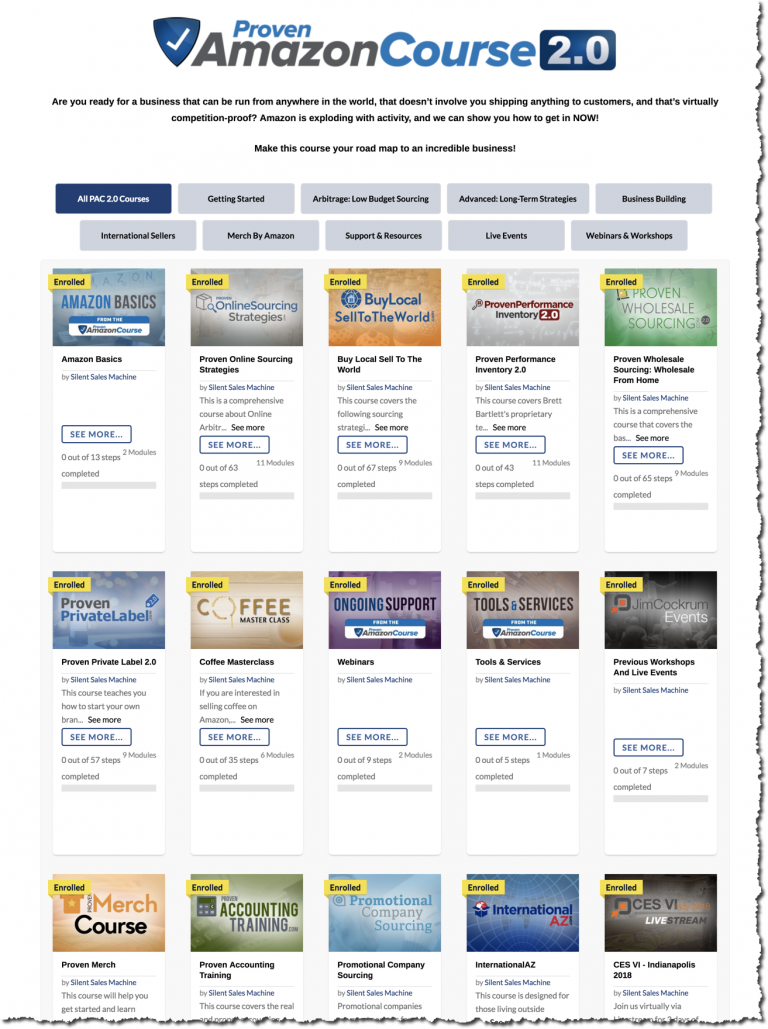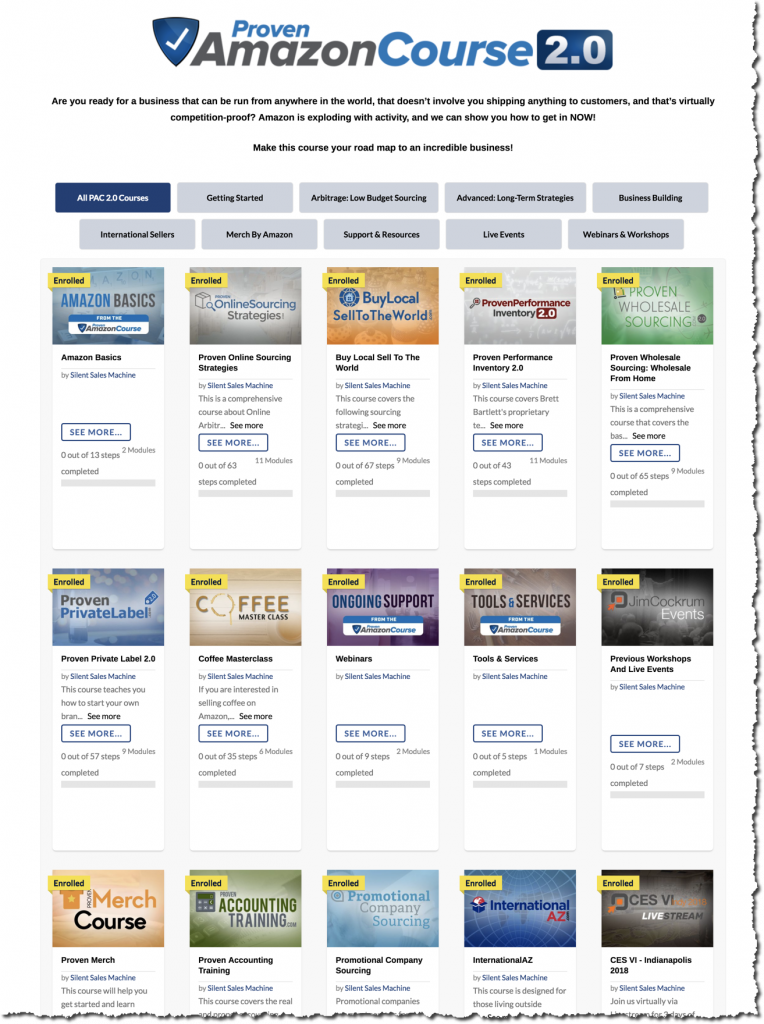 For those who are new to Amazon, you can learn the basics by taking the Amazon 101 Course.
This course will walk you through the foundations of Amazon and help you get your seller account set up.
This extends beyond FBA as well.
Included in your purchase is Proven Private Label, which is an intensive course designed to teach you how to sell private-label products on Amazon.
The team at Proven Amazon Course has sold a few hundred million dollars worth of private label products on Amazon.
They also have the #1 best selling private label toy on Amazon.
In the Proven Wholesale Sourcing course, you will learn the top secrets of four experts in the industry.
Check Out: Matt Clark Amazing Selling Machine Review
This course is actually a recording of a live Las Vegas conference, which people paid over one thousand dollars to attend.
In the Proven Performance Inventory course, you will learn how to find inventory that will sell well.
There is a lot of data on Amazon itself that can be utilized to figure out which products are likely to bring in profits for you.
In this course, you will also learn how to spot opportunities and potential products to sell as you are going about your daily life.
The Proven Team Building course will show you how to build an efficient team.
Having a team behind you can help you be more productive and get more done.
You can also use Merch By Amazon to create and sell your own t-shirts easily. Take the Proven Merch Course to learn how.
There are plenty of other courses, such as the Proven Product Partnering and the Promotional Company Sourcing courses.
You will also get an ebook guide called Import Direct From China and Many Other Countries.
As its name suggests, this guide will show you how to find and sell cheap products from overseas.
The videos are all categorized into different sections to help you find what you are looking for easily.
However, you will get a lot more than the actual video courses.
First of all, you will get discounts and special deals on tools and services that can help you grow and manage your Amazon business.
As Jim is one of the most well-known teachers in the industry, he is able to work out these deals for his customers.
You will also get an entire list of over 200 legitimate retail sources. This can take away a lot of the guesswork and save you a lot of time and effort.
Finding legit retailers to source from can be a hassle, as choosing the wrong ones can be detrimental to your business.
With this list, you already have half of the work done for you.
There is also a Facebook group you will have access to.
This group is much larger than the Amazon Bootcamp group, as it has over 50,000 members.
Regardless of where you live, the Proven Amazon Course can help you. They have teachers and students from all over the world.
The cost of the course is a one-time payment of $499 or three monthly payments of $183.
This makes it on par with the price of Amazon Bootcamp v3.0.
There is yet another option – you can pay the $499 with PayPal Credit, after which you can pay it back at your leisure.
If you pay it back within six months, PayPal will not charge you interest rates.
Proven Amazon Course offers a 30-day money-back guarantee if you are not satisfied with your purchase.
Also Read: Colossal Statistics On Amazon
3. Theo McArthur's Udemy Course – How To Start An Amazon FBA Store On A Tight Budget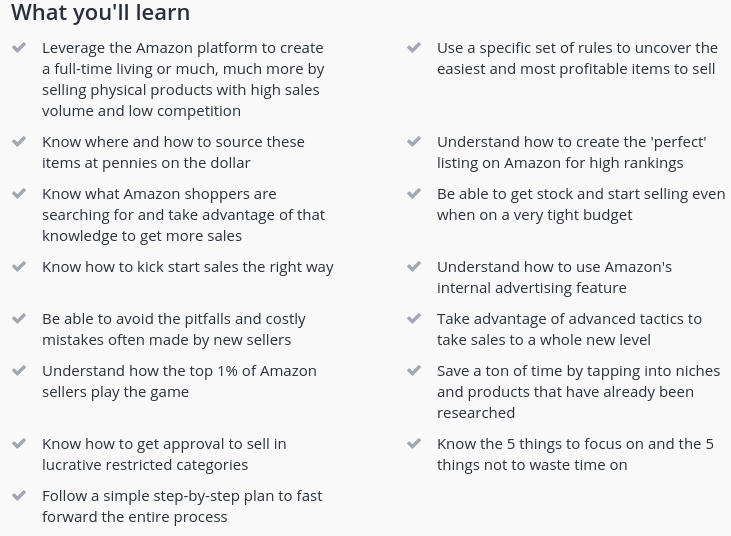 Theo McArthur's How to Start an Amazon FBA Store on a Tight Budget Amazon FBA course is a bestseller on Udemy.
Over 53,000 students have enrolled in the course, and it has over 14,000 reviews, with an average star rating of 4.6.
The course is in English, but closed captions are available in Italian.
If you are looking for a crash course in Amazon FBA, this is the place to go.
Not everyone has time to go through dozens of hours of videos, and not everyone has the money to pay hundreds or even thousands of dollars for an online course.
This Udemy course has only 8.5 hours of video content, but it is jam-packed with information.
The videos themselves are bite-sized and are usually between three and 15 minutes long.
This makes the course easy to complete, even if you have only limited free time here and there.
There are 40 video lessons altogether.
In addition to the video course, it comes with 34 articles and 61 downloadable resources.
The course goes in-depth into how to start an Amazon FBA business on a low budget.
You will learn how to scale your business quickly using seven tried-and-tested techniques.
You will learn how to find profitable products to sell, where to source them from, and how to create listings that convert.
You will get insights into what Amazon customers are looking for so that you can meet their demands.
This course will teach you tactics such as the five things you should pay attention to and the five things you should avoid wasting time on, how to create the perfect listing, how to find stock and start selling even on a very tight budget, how to get approval to sell products in lucrative but restricted niches, and more.
You will also get access to 24 pages of done-for-you product and niche research.
This will save you the time, effort, and trial and error that is usually involved in finding a good niche to work in.
This course costs only $179.99, which is a fraction of the price of most other Amazon FBA courses on the internet.


However, if you have ever used Udemy before, you might be aware that they often hold promotions where you can purchase courses at prices that are a fraction of the original cost.
If your timing is right, you can pick up this valuable course for as low as $11.99.
McArthur's Udemy course offers nearly everything that best Amazon FBA training courses do, so it's worth investing in.
Also Read: The Selling Family Coupon Code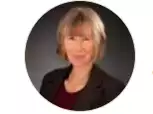 We earn a commission if you click this link and make a purchase at no additional cost to you.
4. The Complete Amazon FBA A-Z Bundle


The Complete Amazon FBA A-Z Bundle is a selection of 13 courses, containing 368 lessons altogether. Over 1,000 students have already enrolled in these courses.
Here are the courses you will have access to:
A Beginner's Guide to Merch By Amazon
Work From Home: Amazon FBA MasterPlan
Build a Profitable Amazon FBA Store Without Private Labeling
Amazon Traffic, Sales, and Marketing for Sellers and Affiliates
Amazon FBA: From No Experience to Launching Your First Product
Merch Micro Niche Blueprint
How to Create a Word Cloud T-Shirt Design
How to Create a Shape-Based T-Shirt Design
How to Create a Text-Based T-Shirt Design
Merch By Amazon T-Shirt Design for Non Designers
T-Shirt Business and Design Strategies
The Merch Motivated Masterclass
How to Generate Income With an Amazon Affiliate Store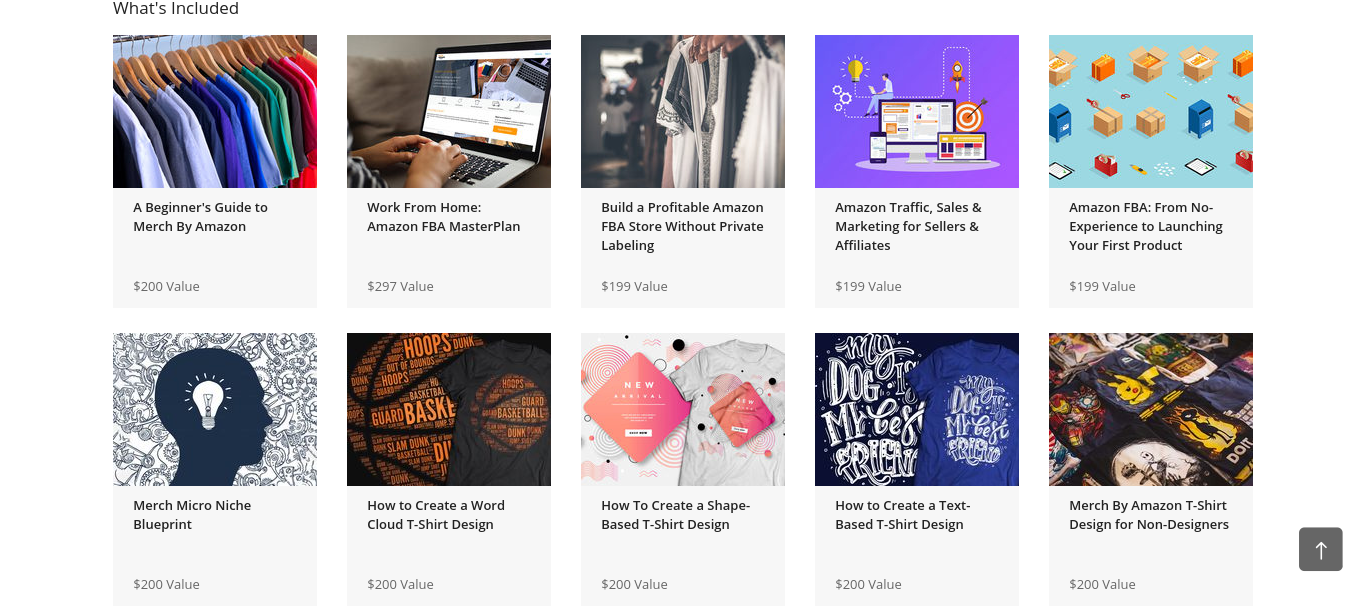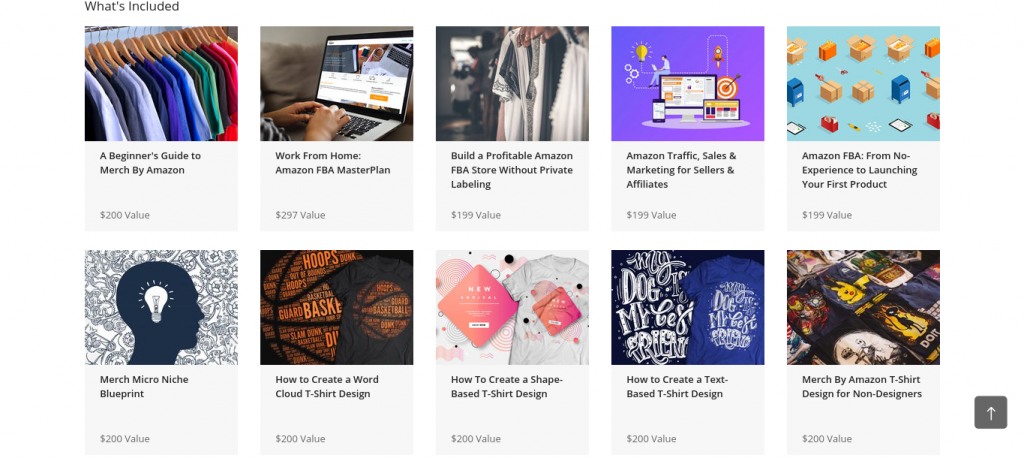 What's great about this bundle is that it teaches you Amazon FBA but doesn't stop there.
For example, the last course will teach you how to set up an Amazon Affiliate store and start earning money without the hassle of selling products or dealing with retailers.
Affiliate marketing allows you to earn commissions by selling other people's products, and Amazon offers decent commissions in certain niches.
There are also quite a few courses about Amazon Merch.
If selling t-shirts is something that you are interested in, this bundle might be for you.
You will learn how to get started with making money with Amazon Merch, as well as how to create different kinds of t-shirt designs, even if you have no experience with designing clothing.
Most of the courses in this bundle have an individual value of around $200.
Some of the courses are short, with only half an hour of length, but they are jam-packed with information.
Other courses can be up to seven hours long and go in-depth into what is being covered.
Some courses have only five lessons, while others have as much as 110.
The courses are taught by a variety of teachers. Remember Theo McArthur, creator of the best-selling Amazon FBA Udemy Beginner Course?
That wasn't the only course that he created. Indeed, two of his courses on Amazon FBA are included in the bundle (Build a Profitable Amazon FBA Store Without Private Labeling and Amazon Traffic, Sales, & Marketing for Sellers & Affiliates).
The bundle usually costs $2,691. However, you can now get all of these courses for only $29, a massive discount (prices subject to change at any time).
All in all, if you can snag this bundle for $29, you will be getting a pretty good deal and a lot of useful information.
It's difficult to leave this course out when talking about the best Amazon FBA courses
5. The Ultimate Amazon Seller Course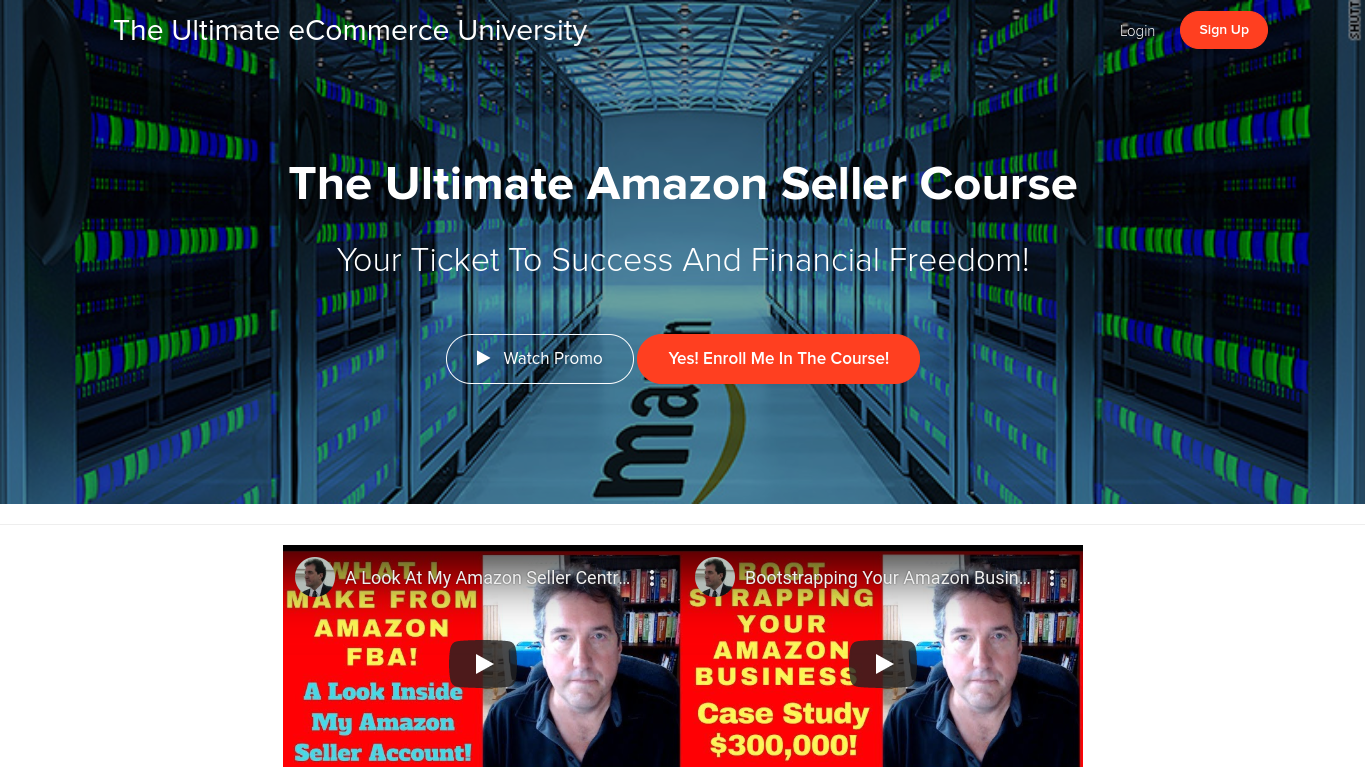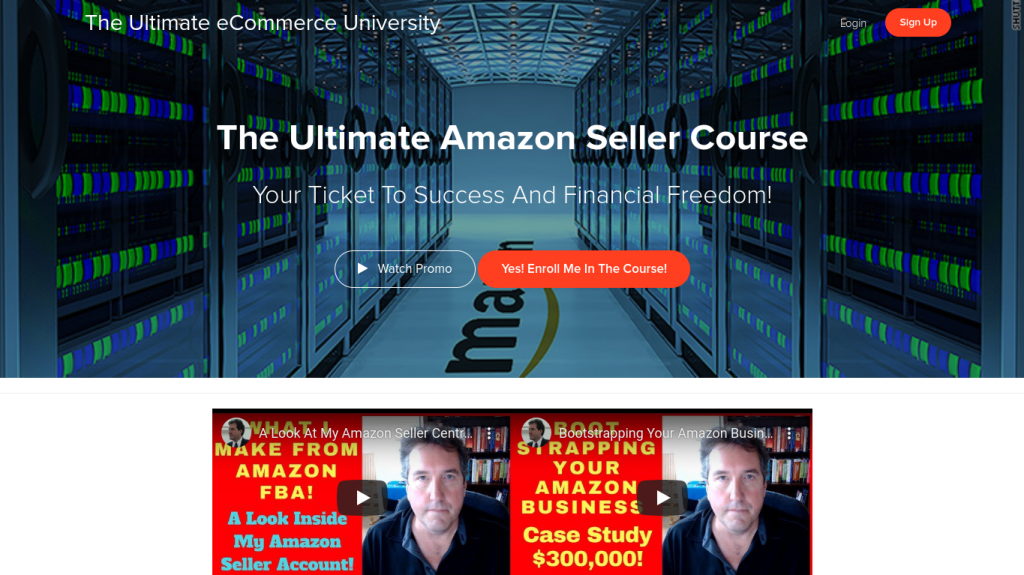 Another best Amazon course that enjoys vast popularity is the Ultimate Amazon Seller Course, by Philip Covington. It is offered on Teachable.
Included in the video course are Hot Product Picks – products that are currently trending or popular on Amazon.
You can take advantage of these Hot Product Picks to find profitable products without any effort.
This course takes you step-by-step through the processes required to set up a successful Amazon business.
You will learn everything from how to find profitable products (with some chosen for you already) to how to create Amazon listings with consumer psychology and SEO in mind.
However, finding the right products is just one part of the picture – the other one is actually launching your product.
This is covered in the course as well.
The course is very detailed – it goes into a lot of technical details that you may not learn about in other courses.
It even goes into how to use PPC advertising to get more traffic to your listings.
Also Read: Best Seller Training Courses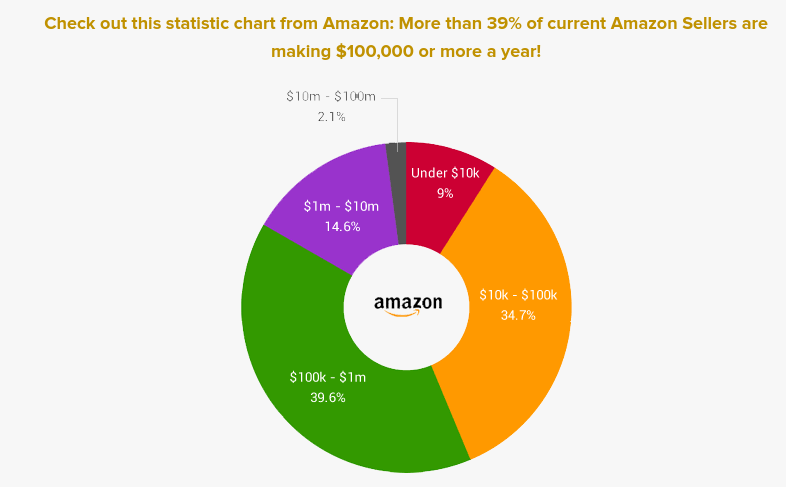 Philip goes beyond actually teaching you how to make money with Amazon.
You'll also learn how to legally structure your business and take care of your taxes so that the IRS doesn't come knocking on your door.
He also goes into troubleshooting your business when problems arise and how to structure your business with long term profitability in mind.
He will also teach you secret tactics, such as how to save $149 in processing fees when registering your business.
Philip has a rather refreshing attitude – he keeps things real.
He doesn't make extravagant promises of how much money you will be able to make.
Instead, he lets you know what to expect – basically, that setting up an Amazon business requires hard work and a lot of dedication and commitment, despite all odds.
There is another thing that is not included in other Amazon FBA courses on the internet – personal mentoring.
Philip will personally help out his students and mentor them on their Amazon FBA journey.
The extent of this mentoring is not laid out, and since there are many students, this support might be limited.
However, it is a lot more than what is offered by other Amazon FBA course sellers.
Having an expert who can answer your most important questions is always useful. This arguably makes it the best Amazon course.
There is also lifetime access to the Ultimate Amazon Selling Course forums.
On these forums, you can help out and be helped out by other students.
If you refer a friend or colleague to the course, you will earn a 20 percent commission.
By referring just five friends or acquaintances, you can earn back what you spent on purchasing the course.
As mentioned, there are Hot Product Picks to use for yourself.
A common problem that arises with these kinds of things, one which you may have thought of yourself, is that if all the students are using the same product picks, it defeats their purpose.
However, Philip's course is paced in such a way so that students are looking at different techniques and products at different times.
This way, competition between students is reduced.
They also try to limit each product pick to as few students as possible.
All product picks are live and not based on outdated research.
To be clear, this course covers wholesaling and private labeling on Amazon FBA.
It does not go into online arbitrage, retail arbitrage, Amazon Merch, and affiliate marketing.
Retail arbitrage, in particular, might not be sustainable in the long-term, but if you are intent on doing it you can learn about it from one of the courses above.
This course costs $497.
There are higher-priced plans if you want Hot Product Picks, depending on how many you want.
This helps reduce the competition, as mentioned above.
This is the goto training for all sellers looking for a feature rich, comprehensive Amazon FBA training course
Check Out: Ways To Find Best Selling Products on Amazon
Wrapping It Up
Amazon FBA allows you to start a successful online business from home.
Though it's easy to find an Amazon FBA course review online but not quite easy to find the best Amazon FBA course review , especially when there are so many expert voices around.
With these five best Amazon FBA training courses, you will have all the guidance you need to be profitable.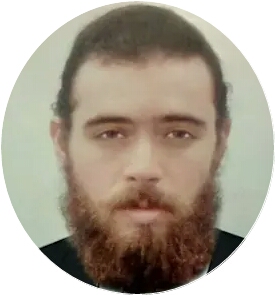 Author: Benjamin Levin
Benjamin Levin is a digital marketing professional with 4+ years of experience with inbound and outbound marketing. He helps small businesses reach their content creation, social media marketing, email marketing, and paid advertising goals. His hobbies include reading and traveling.