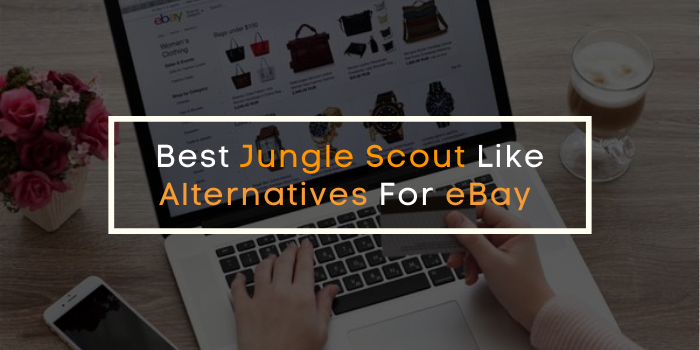 Since 1995, eBay has grown to be one of the leading online marketplaces for buyers to get goods and sellers to market and sell their wares.
Not only that, but eBay is also an attractive and good eCommerce option for anyone looking for somewhere to begin their eCommerce venture.
In fact, statistics show that last year, eBay had 182 million users worldwide scattered across 190 different markets.
The company attributes this huge user base to its efforts in improving the experience for buyers and sellers on the platform.
Clearly, eBay is one of the biggest platforms with traffic from large markets such as the US, China, Canada, Russia, and the United Kingdom.
Before launching and promoting products on eBay, sellers essentially need to know what items sell faster or slower on the platform, the competition, pricing details, trends, and much more.
However, without a good Product Research tool, they may struggle to check for such information manually because of the sheer amount of data to analyze.
While Amazon sellers do have such a tool in Jungle Scout at their disposal, eBay sellers often find it difficult.
So in order to address this concern, we did a quick research and found some of the best Jungle Scout-like alternative tools that eBay sellers can use with equal confidence.
Read on.
Jungle Scout Overview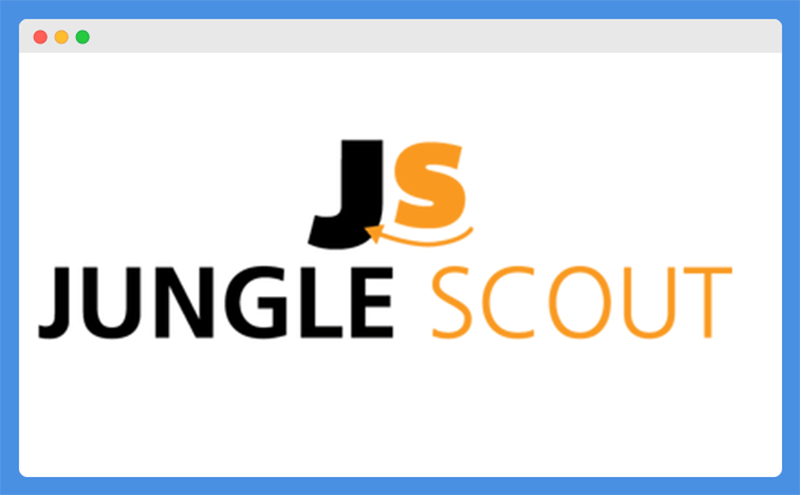 Before we get down to the list, here's a small brief on Jungle Scout for all those who are not acquainted with this brilliant tool and what it does for Amazon sellers.
Jungle Scout is a web-based product research tool created in 2015 to guide Amazon sellers through the platform and help them grow their businesses on the platform.
The mission is to offer powerful resources and data to help the sellers and brands thrive on Amazon.
As the leading all-in-one platform for product research on Amazon, Jungle Scout helps sellers narrow down what to sell through filters that pinpoint products in the Amazon catalog that match their criteria.
Jungle Scout is also a data hub as it can be used for more than just product research.
It offers several powerful tools including product alerts, listing builders, sales analytics, keyword research, automatic email campaigns, supplier research, and many more.
While Jungle Scout is a great tool to use, it caters specifically to Amazon sellers. This leaves sellers on other marketplaces such as Walmart and eBay wondering which product research tool caters to their needs.
The good news is that there are Jungle Scout-like alternatives for eBay that offer the same high-quality business intelligence as Jungle Scout does for Amazon sellers.
Our Pick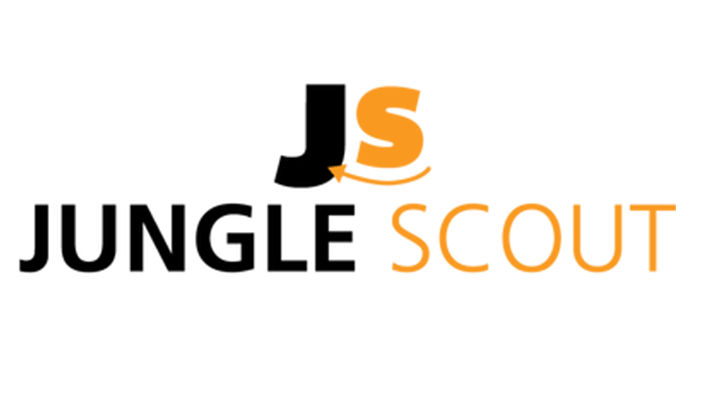 We earn a commission when you click this link and make a purchase.
Best Jungle Scout-Like Alternatives For eBay
If you're looking for a Jungle Scout-like alternative for eBay, here are the five best product research and analytics tools to get you started.

Algopix is a product research tool that offers access to all the valuable data you need for making critical decisions in your business. This data includes automatic insights for large marketplaces such as Amazon, Walmart, and eBay.
The tool offers 360-degree market research and empowers eCommerce store owners to source and sell their products online confidently based on:
What they should sell and whether it's sensible or not to sell
Where to sell the items, including channels and geographies with the best profits
The price to sell their products for
Price points that keep the sellers' items and business competitive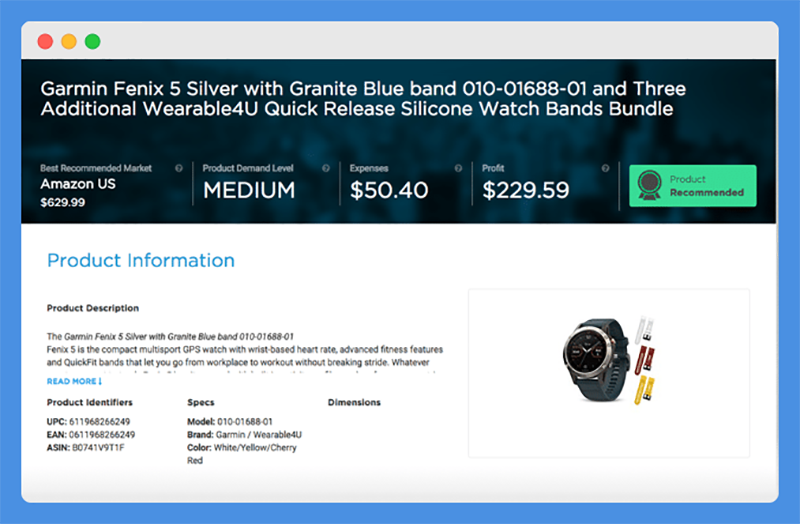 Algopix can also help sellers minimize risk and find global opportunities. Plus, sellers can get help with sales logistics once they identify the sourcing or supplier of the products they want.
While Jungle Scout specifically monitors Amazon, Algopix monitors 17 marketplaces including Amazon, eBay, and Walmart.
You can identify products, costs of shipping and other expenses, and average pricing for products (individual/bulk) on the market.
eBay charges insertion fees, PayPal fees, Final Value Fees (FVF), subscription fees, and more, all of which can confuse any seller.
Algopix resolves this by offering a detailed analysis of the expenses that come with selling products on eBay so you can get a clear view of them.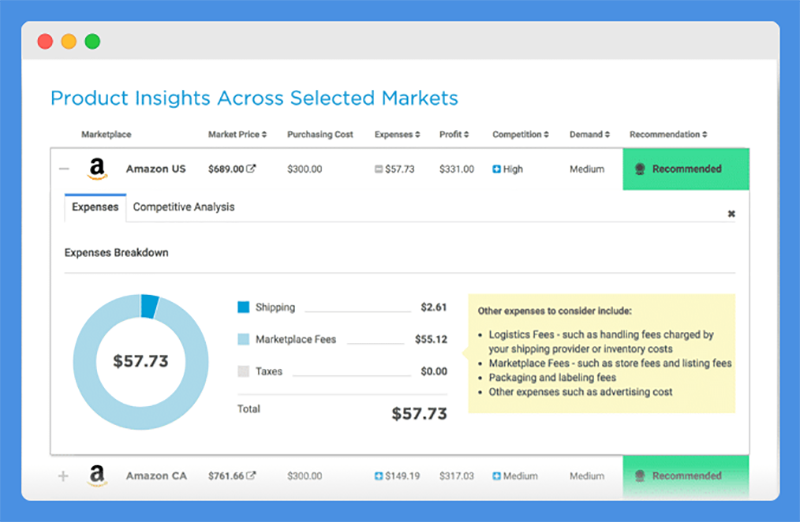 Algopix also offers an eBay Sales Estimator. This feature shows you the sales or gross merchandise volumes in a matter of seconds so you can estimate the actual market size for new or existing products, see your market share, and determine whether to expand your business or not.
The competitor research feature on Algopix helps you navigate the competitive environment on eBay where there are many sellers offering the same products and competing for similar customers.
You can either optimize your eBay listings for them to rank higher on eBay, or run ads directly on eBay using Promoted Listings to increase the exposure of your product.
Algopix also offers Google AdWords Insights to give you recommended search phrases, CPC, estimated CPAs, bidding competition, and search volume per month.
With such information, you can easily start an AdWords campaign and increase traffic to your listings, thereby increasing sales volume.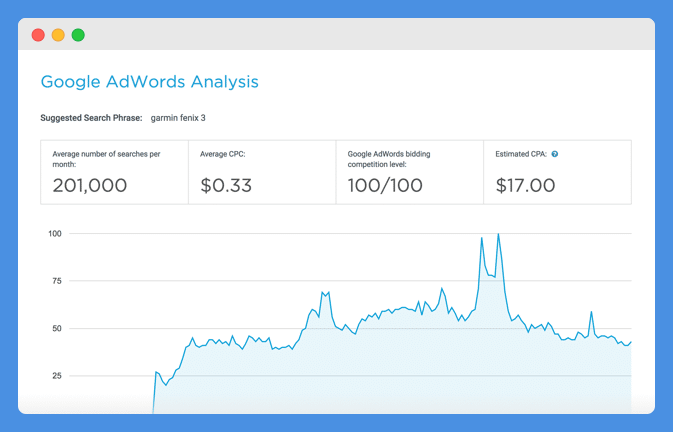 Algopix also lets you upload a CSV file with up to 200 products for bulk analysis purposes.
Within a few minutes, the product research results will be displayed, and you can continue with other business-related functions faster instead of searching manually for each product.
Algopix is cheaper than Jungle Scout. If your priority is cost, Algopix offers an unlimited plan so you can analyze many products without restrictions.
This makes it affordable and saves you money that you can channel into business growth.
Algopix gives you accurate shipping fees, tax liability estimates, and other features you won't find with Jungle Scout.
It also offers more accurate and exact data insights for eBay sellers.
Like Jungle Scout, Algopix offers product history and valuable market insights for niche product research.
Algopix's unlimited plan allows you to analyze many products, even up to 3,000 at a go, using the bulk analysis tool (refer to Algopix pricing page for more).
This saves you time and money that you'd otherwise have spent in tedious research.
Worth Reading: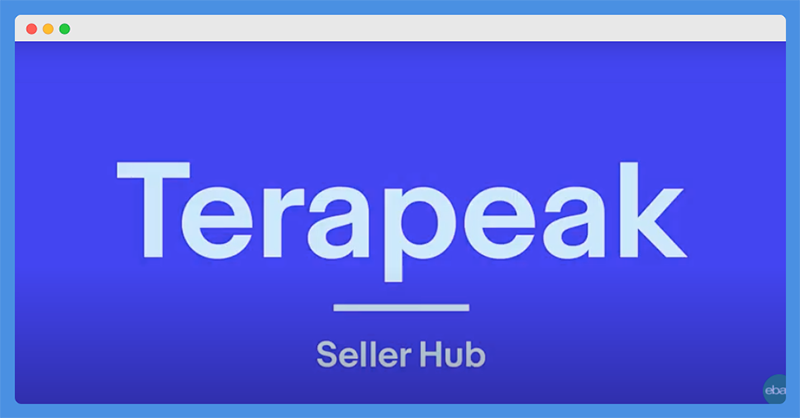 Terapeak is another Jungle Scout-like alternative for eBay that offers excellent information for sellers to understand what they should sell, when to sell the product, and at what price.
This product research and marketing tool analyzes demand, supply, and pricing data from the market, using data from eBay and 22 other marketplaces.
It also scans top competitors to compose product identifiers and sales predictions through its eBay analytics tool.
If you want the best products for your business, Terapeak helps you examine the performance of rival brands or companies, their average pricing, market share, and shipping options.
Terapeak also offers advanced research tools for identifying product availability, sales volume, and shopper engagement.
You can also plot these research results using the market trends feature to stay on top and ahead of the market demand.

You can also see how categories and products perform across eBay and all its marketplaces.
With Terapeak's easy to understand reports, you can see an overview of the popular products and categories, and the successful strategies that attract buyers.
If you want targeted or more tailored insights about the marketplaces you want, Terapeak lets you search by product or keyword, and filter the results down to Buyer Country, Start Price and Time of Day.
To use Terapeak though, you need a Shop subscription on eBay. Once you have this, you can access data from millions of online sales and identify the best strategies to optimize your listings and see the top-performing products.
Other types of data you can access with Terapeak include average sales price, the number of listings or sales for specific products, conditions of sold items, sell-through rates, unsold inventory, sales trends over time, seller and buyer locations, listing formats used by sellers, and more.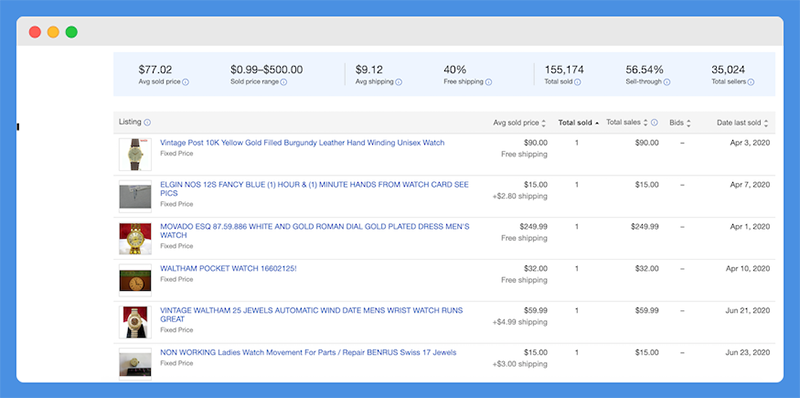 Terapeak offers different results from eBay's completed listings results. Terapeak offers more complete data with active listings, listings with and without sales.
It also offers a wide range of calculated metrics including postage costs and terms, upward/downward trends, and more.
If you want to search time periods of any length, you can do that with Terapeak and you can search highly specific results that match your keywords and parameters.
These search results can be refined using date ranges, search filters by UPC, ISBN codes, item conditions, and more.
You can also search by a particular eBay category, or use advanced search exclusions or logic such as multiple words, exclude words by adding 'and not' in front of keywords or add 'or' between keywords.
Like Jungle Scout, you can source single items, do market research, and optimize your listings with Terapeak.
Terapeak also helps you improve retail standards, and research in other eBay locations across 22 global marketplaces and domains to make better decisions based on geographical expansion.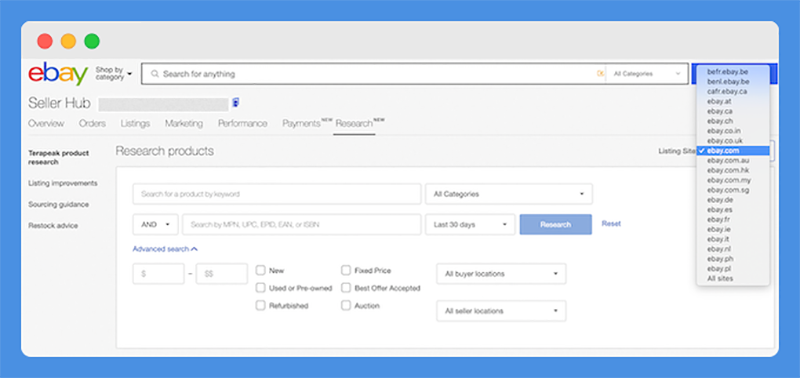 You can also research Terapeak to identify best practices for pricing, photos, item specifics, and competitive listings for underperforming listings.
If you're a non-shop seller, check out Terapeak's research subscription costs. Business sellers will get the tool for free as long as they have an eBay business Shop subscription.
This is different from Jungle Scout which is a separate tool from the Amazon marketplace.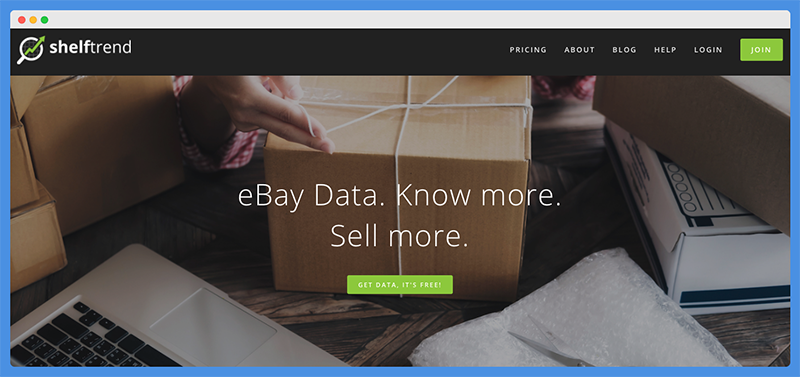 ShelfTrend is a product research tool that uses inventory and product listings to provide easy-to-use and insightful data analytics reports from thousands of product categories.
This way, sellers can get information from eBay's massive inventory and sales to identify products that sell, the keywords to use, best-performing categories, and competitor analysis.
If you want notifications of marketplace trend movements or you want to benchmark your products against similar items on eBay, ShelfTrend offers all these and more.
It has a responsive interface that's easy to use and displays a comprehensive analysis of the data that's easy to follow.
ShelfTrend shows you inventory and sales data from more than a billion listings across more than 20 countries in thousands of categories, sold to hundreds of millions of consumers making 300 million product searches daily.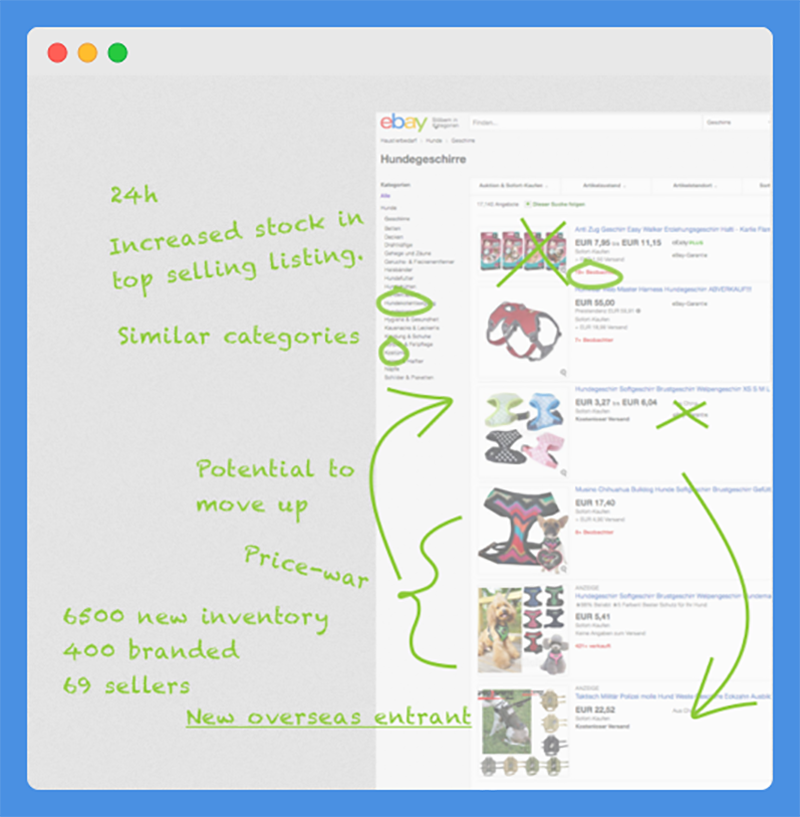 You can run reports for search terms, product identifiers, competitors, or categories and get the right data report to help you form critical actionable insights needed for decision making. This way, you gain a competitive edge to stay ahead of rival businesses.
Whether you're selling on eBay or not, ShelfTrend has lots of data on products or look-alike products, including what you or your competitors are selling.
ShelfTrend offers data reports for professional eBay sellers while monitoring the marketplace activity to protect from future threats. The tool also identifies product opportunities and sales trends for its users.
While Jungle Scout comprises pro-Amazon sellers who share their expertise and experience selling on the platform with success, ShelfTrend is made up of ex-eBayers who focus on providing access to data that will help small and medium-sized businesses drive eCommerce growth globally.
ShelfTrend offers a free plan with 250 queries per month, but also offers a Premium plan for only $14.99 offering 750 queries per month.
Check out their pricing page for further information.
Next, we have ZIK Analytics on our list of best Jungle Scout-like alternatives for eBay that helps sellers find products to sell on eBay.
It also shows sellers how to sell items quickly by making sure they rank high in search results.
Plus, you can find the best niches, products, categories, and keywords using other tools in ZIK Analytics that use analytics data to deliver such information.
Like Jungle Scout, ZIK Analytics also offers the ZIK Academy with educational content that teaches how to sell online.
With ZIK Analytics, sellers can find best selling items to sell in a matter of minutes and grow their businesses on eBay.
ZIK Analytics has a mobile and web platform, so no matter the type of eCommerce business you run, you can find everything you need to start selling on eBay.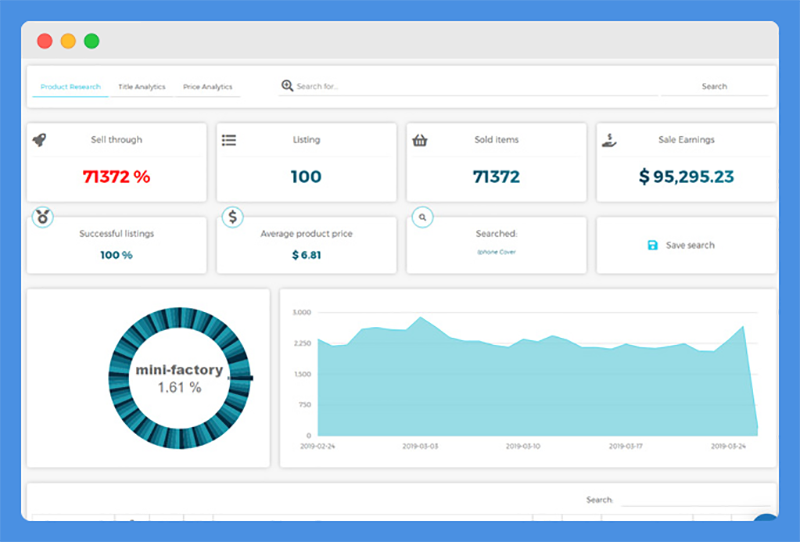 ZIK Analytics also helps you learn from sellers dominating the market by scanning eBay sellers using its Competitor Research Tool for product ideas and inspiration.
Like Jungle Scout, ZIK Analytics offers a Chrome browser extension called ZIK Booster extension. This allows you to check items to see how many competitors sell what you're researching on and check items for VeRO violations.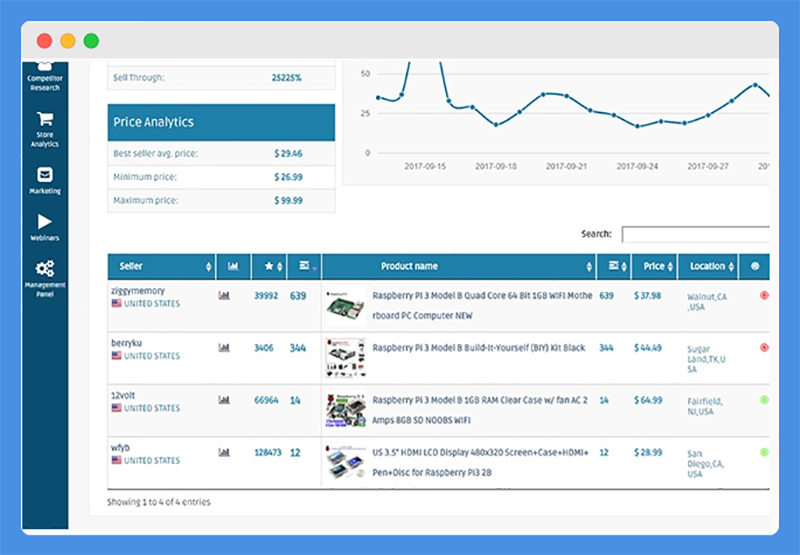 Other features you'll get with ZIK Analytics include Store and Price analytics, Item folders to help you save items and export to major eBay listing software, and a manual scanner to scan eBay products and source them from Walmart or Amazon.
Unlike Jungle Scout, ZIK Analytics supports all major eBay marketplaces such as Germany, the US, Italy, UK, Spain, France, and Australia.
In terms of pricing, ZIK Analytics is almost priced at the level of Jungle Scout, but has a cheaper Starter plan, Standard plan with more features, and an Enterprise plan. See the ZIK Analytics pricing page for details.
Support is available through the ZIK Academy, a free online course with 25 videos that show you how to start and grow your business on eBay from the ground up.
You can also live chat the support team, and/or watch 100+ hours of webinar training on different topics.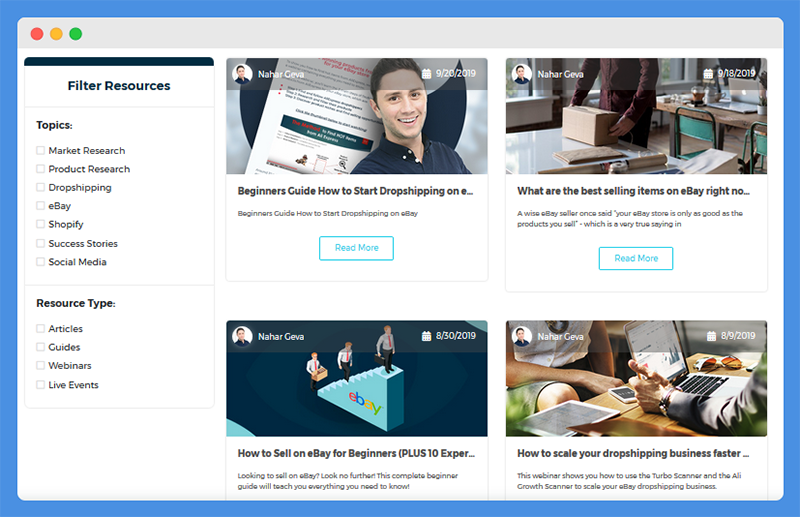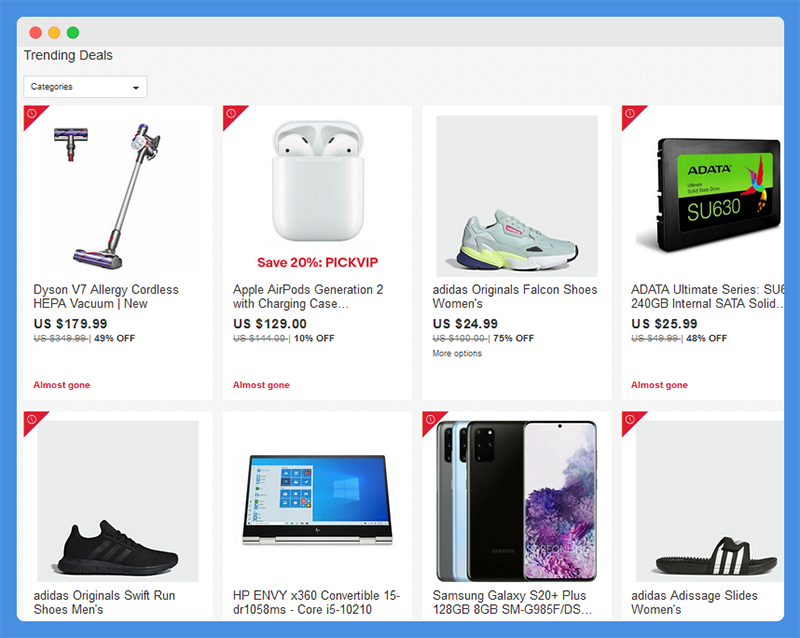 Trending on eBay simply shows you the items that are trending on eBay.
This is one of the easiest and fastest ways to get a feel of what is currently on demand, and also helps sellers set aside their seasonal products for what can get them sales instantly and any time all year round.
The site shows you random categories with the top-selling or performing items and regularly updates them so that you won't have to worry about viewing dated information.
Plus, finding items from such random categories also helps you determine whether they're selling fast or not.
Some may be expensive, heavy, or bulky for you to ship, while others give you great ideas on what to stock next.
The best part about using Trending on eBay is that you can quickly collect data and make business decisions.
Unlike Jungle Scout, which you have to pay for to use either the web or Chrome extension, Trending on eBay is free to use, and it's part of eBay so it collects data based on what buyers purchase more and fast.
You don't need an extra tool to help you figure out what you can sell next when you have Trending on eBay.
Wrapping Up
Any of these five Jungle Scout-like alternatives for eBay will help you get the information you need as you do your product research on the platform.
We recommend using Algopix as the best Jungle Scout-like alternative for product research on eBay.
Not only is it cheaper and operates in more marketplaces including Amazon, but it also offers great features.
Using Algopix, you can analyze over 3000 products at a go.
It uses intelligent algorithms to search the volumes of data from eBay and delivers it in a simple, easy-to-understand, and accurate way for decision making.
If you're looking for a tool that is as good as Jungle Scout but helps you with eBay selling, Algopix is the one to go with.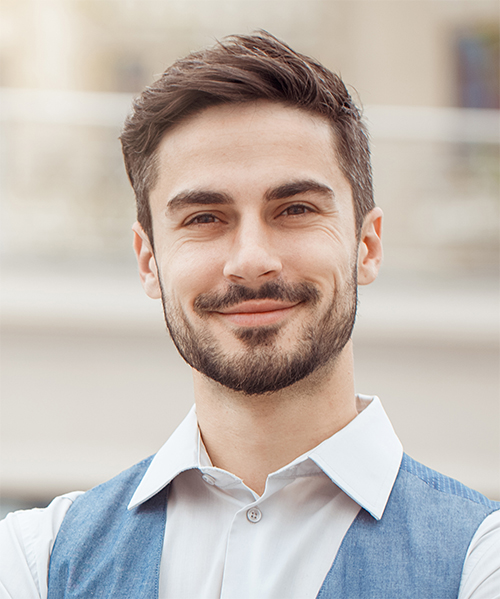 Scott L. Macarthur is a marketing consultant and an online author. He is mostly engaged in providing his expertise to startups and SMBs. He is also an author on TheNextWeb.