There are around 1.3 billion listings on eBay. This means that there is a lot of competition for eBay sellers.
If you want to be successful on eBay, you will need to stand out from the crowd and choose the right products. Look for products that are in high demand and which are not flooded with competition.
Using an eBay research tool can help you discover profitable products to sell on eBay. eBay is often overlooked by online sellers, and there aren't that many product research tools for eBay when compared to Amazon.
However, today we will be showing you the top 10 free and paid product research tools for eBay.
Let's get into it.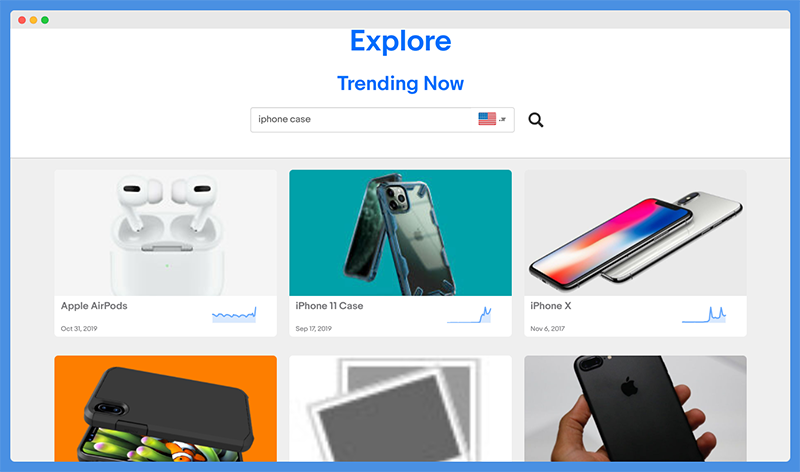 You can get started with your product research for free on eBay itself. Go to the eBay Explore page to search for product trends.
The page will give you a list of trending products, but you can also enter any keyword or product idea to see its popularity trend over time. For example, if you enter "iPhone case," results that show as of the time of this writing include:
Apple AirPods
iPhone 11 case
iPhone X
Click on any of the results and you will see data such as how many searches it got recently, a graph showing interest leading up to when it became officially trending, average trending prices on eBay, the most relevant listings for this product, and related and other recent trends.
Of course, the data here is incomplete, but it will give you a good foundation to start from in terms of figuring out what is trending on eBay now.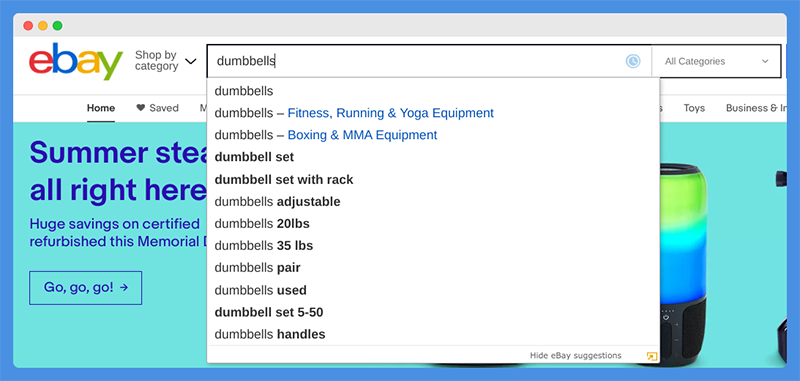 Another idea, which many people overlook, is to type anything into the eBay search bar on the buyer marketplace and wait for the auto-suggestions to appear. For example, when typing "dumbbells" into the search bar, the following search suggestions appear:
Dumbbell set
Dumbbell set with rack
Dumbbells adjustable
Dumbbells 20lb
Dumbbells 35lb
Dumbbells pair
Dumbbells used
Dumbbell set 5-50
Dumbbells handles
These suggestions are based on what consumers are typing into the eBay search bar right now. They may not yet be trending, but you will be able to get product ideas this way.
Of course, what's missing here is accurate data on how many people are actually entering each of those search suggestions. However, it again gives you somewhere to start your research and allows you to get an idea of what people are searching for and buying.
Also Read: Best eBay Dropshipping Courses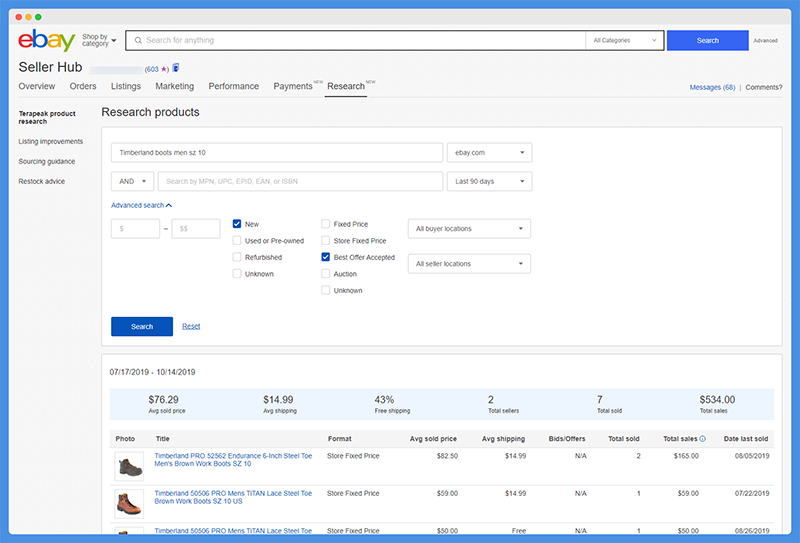 TeraPeak is another tool from eBay, but this one requires you to have a Basic, Premium, Anchor, or Enterprise eBay Store subscription. If you don't have a Store subscription or only have a Starter Store subscription, you can still subscribe to TeraPeak for a small monthly fee.
It goes a lot deeper than the eBay Explore tool as it is designed specifically for eBay sellers.
You can enter a keyword or product and you will get product ideas, along with data such as average selling price, average shipping rate, total sellers, total sold, total sales in dollars, date last sold, and more.
You can filter your results based on category, product condition, listing type, and more. You can also filter based on stock to search for low-stock items.
There will be in-depth charts and graphs to help you track a product's performance over time and see its history.
You can search for the top listings for any product to get an idea of what is working and what isn't. Analyze those top listings to get keyword ideas, see what kinds of images are being used, and see what the top sellers are writing in their descriptions.
Interesting Read: Best Dropshipping Software For eBay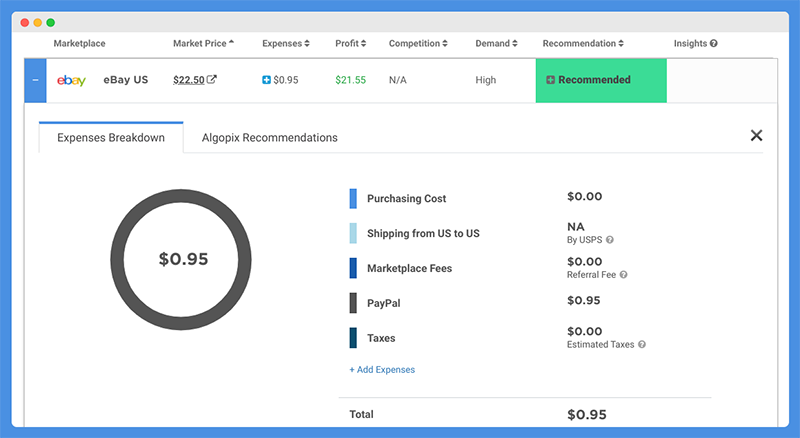 AlgoPix actually has a number of tools you can use to find profitable products.
For example, you can conduct category research, product analysis, multi-product analysis, store analysis, market research, bestseller research, keyword research, and more.
For example, by entering a keyword or product UPC/ASIN, you will get data such as sales prices, sales trends, product details, and performance for various markets around the world.
You can use the multi-product analysis tool to research up to 3,000 products in bulk.
Alternatively, you can enter your competitor's eBay store to get a full analysis of all products sold in their store and their performance.
To get product ideas, enter any keyword and the tool will bring up a list of current related products being sold on eBay. Then, click on the Analyze button to see in-depth data about that product, including:
Estimated expenses breakdown for the seller
Sales performance over the past 30 days
Estimated profit
Estimated demand
Competition
Recommendation score
You can also search for the best products by category or just search for the best sellers across eBay.
Remember that you can choose which marketplace you want to research (eBay US vs. eBay UK, for example).
In addition to being an eBay tool, you can also conduct research for Amazon and Walmart.
Explore: Best Amazon Product Finder & Research Tools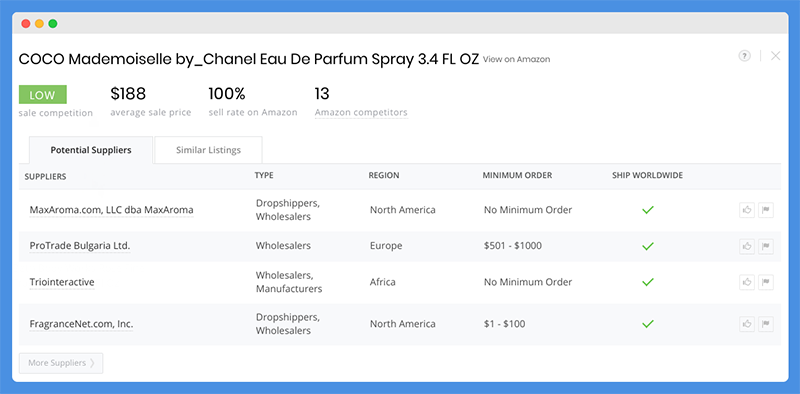 Salehoo is a supplier directory that you can use to find products for dropshipping, private labeling, and wholesale. It's a good product directory to have access to instead of just using Alibaba, as you can find high-quality products at good prices that you may not be able to find easily elsewhere.
Salehoo vets all of the wholesalers and dropshipping suppliers in its directory, so you can be sure that you will be working with reliable merchants.
Salehoo also has a suite of tools called Seller Labs.
The Discover Products tool lets you find Amazon and eBay products that will be profitable. You can sort by category, sell rate, average price, and competition.
For each product, you will see the competition (low, medium, or high), average price, sell rate, and the number of competitors. You will also see a list of potential suppliers you can use to source that product yourself.
There is also a Compare Products tool.
Then, there is the Trends tool. This tool analyzes 5,000 new products each week to help you identify trending products that you can sell.
You will see a list of product categories and niches, alongside information such as how many specific products are available in that niche, the average price, and the sell rate.
For example, at the time of this writing, one of the trending items is "Women's Fragrance," which has five products, a price range between $13-$188, and a sell rate of between 52-100 percent.
If you click on it, you will see the specific products. For example, one of those products is "COCO Mademoiselle by_Chanel Eau De Parfum Spray 3.4 FL OZ," which has low competition, an average sales price of $188, 13 competitors, and a selling rate of 100 percent, meaning you are likely to sell out all of your stock and not be left with unsold stock.
Related: Salehoo Review
We earn a commission if you click this link and make a purchase at no additional cost to you.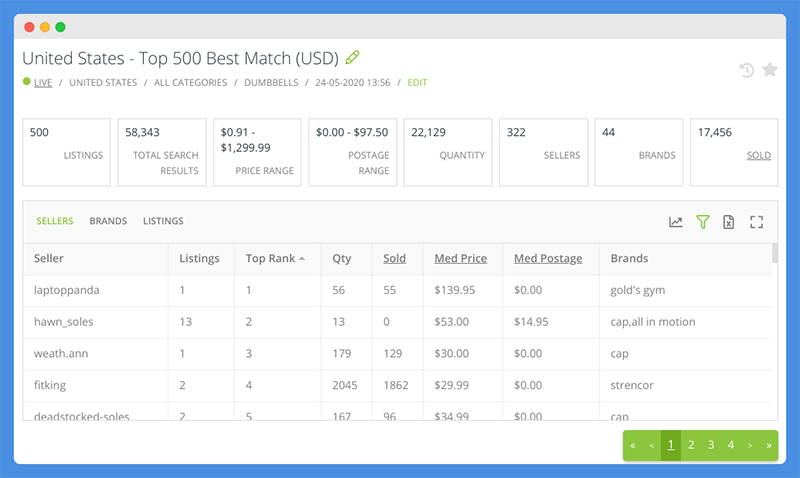 ShelfTrend is an eBay product research app that has both a free and a paid version. You can sign up with your email address or by linking the app to your eBay account.
In your dashboard, you will see your favorite reports and your report history. If you just signed up, you can get started by clicking on Create Report.
You have four types of report options to choose from:
Top 500 live listings
Average weekly sales
New listings
Supply and demand
Let's say you want to discover the top 500 active listings. Start by entering a keyword and then choose the countries you want data for, the condition of the product (new vs. used), and any particular sellers you want to find data on.
You will see a list of the top sellers, their rank, the number of listings they have for that product, the quantity they have available, the number of sales they have made, the average product and shipping prices, and the brands they are using.
You will also see these data points for the keyword in general, such as how many search results there are and the price range for that product on eBay.
Once you have your results, you can further narrow them down by using price and listing format filters.
The Average Weekly Sales report will give you information about the weekly sales of all sellers who are selling the product you entered into the search bar.
You will see additional information such as how many brands and units are being sold as well.
The New Listings report shows you new listings for the product or keyword you entered, along with information such as price, shipping cost, and brand.
Finally, the Supplier and Demand report gives you an overview of the current market's supply and demand.
Data points you will see on the report include how many listings are active, how many units are sold per week, and the total number of sales per week in dollars.
You will also see a list of sellers, along with the number of listings and available stock they have, how many units they have sold, the price they are selling for, and sales they are making per week in dollars.
In addition, the premium plan gives you access to saved reports, deeper competitor analysis, and report scheduling.
Also Read: Salehoo Vs Doba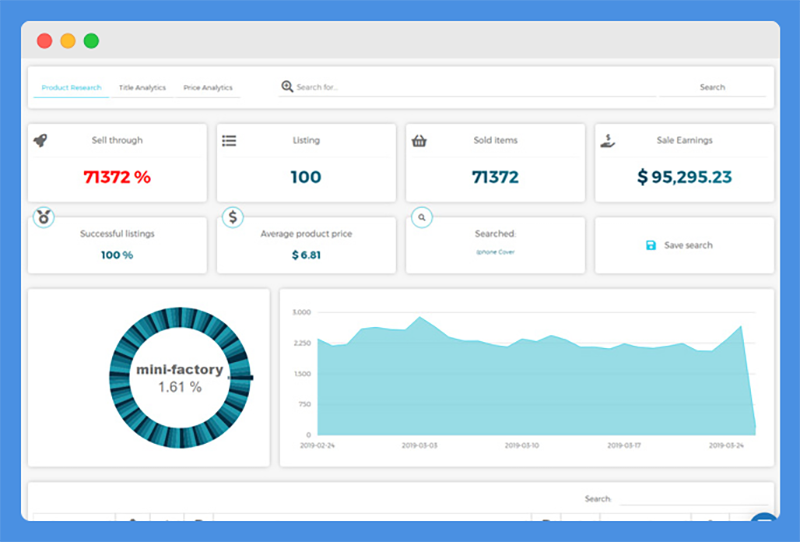 Zik contains a suite of tools. They don't just have an eBay product research tool but also an AliExpress research tool, a supplier database, and more.
Of course, today we will be focusing on the eBay market research tool.
Using Zik Analytics, you can get a snapshot of what the current market looks like for any specific product.
You can see how many listings there are, how many products have been sold, the total sales earnings in dollars, the average product price, and historical graphs.
What you might find interesting is the percentage of listings that have been successful, which is provided. This score will help you figure out your own chances for success.
You'll be able to find the best-selling products in any niche, along with selling trends and product data.
You will also be able to analyze the highest-ranking listings to see what they are doing to be successful in terms of keywords, images, descriptions, price, and so on.
The Competitor Research Tool will help you see who your competitors are, what they are like, and whether they are experiencing success.
You'll see their sell-through rates, active listings, sold items, sale earnings, average prices, successful listing percentage, and more — both for the market in general and for each product listing in particular.
You can scan eBay products and find them on Amazon and Walmart for sourcing.
A quick note: Although using Amazon and Walmart as sources for selling on eBay is something that some sellers do and is known as retail arbitrage, it is not a recommended or sustainable strategy.
Some problems can include the product being delivered in an Amazon or Walmart package, along with a receipt displaying the original, lower price. This can lead to negative reviews.
Instead, it is better to use dropshipping or wholesale suppliers so you can find better wholesale prices and increase your profits.

All in all, Zik Analytics is a solid tool with various pricing options available. Although it is not free, there is a free trial available.
Explore: Best Dropshipping Companies & Sites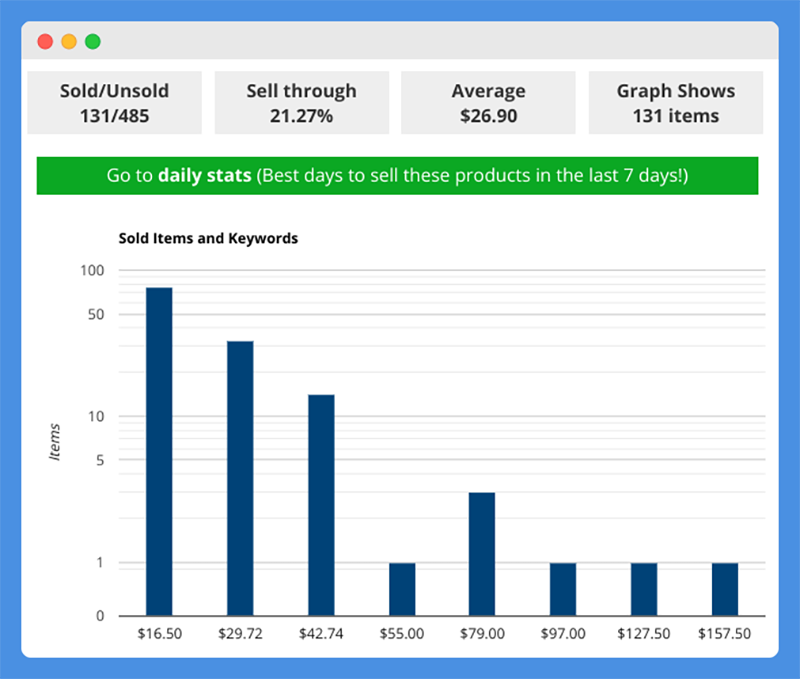 Mark Sight has a suite of free and paid eBay research and analytics tools.
Start by entering any keyword into the free tool. You will see results including sold vs. unsold stats, sell-through rates, the average price, and charts displaying various keyword ideas.
These results will be based on the past seven days. You can see stats for each day's sell-through rate, price, and total sales as well.
You can set a minimum price for products that appear in your results, and you can also choose between results showing the average price and results showing the median price.
The paid Market Reader tool will help you learn more about the niche you are researching, check profitability, track your competition, and more. The Gold plan includes a tool that will help you find the top 10,000 best-selling products to sell on eBay.
There is also a free eBay fee calculator tool that helps you calculate your income based on Paypal fees, eBay fees, and shipping costs. There is also a blog with tips and resources for eBay sellers.
Worth Reading: AutoDS Vs DSMTool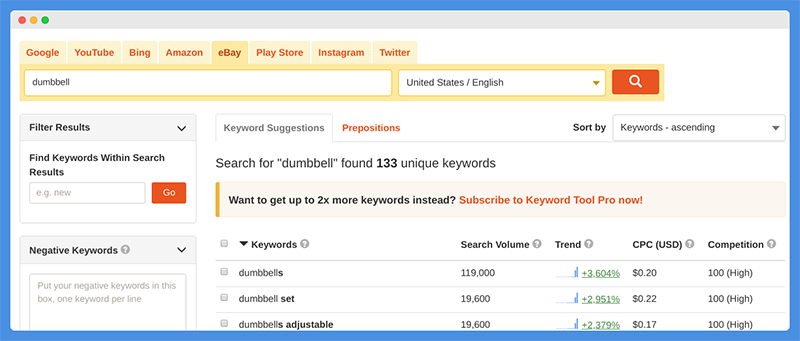 Keywordtool.io is a keyword research tool for various search engines, social media sites, and eCommerce platforms, including eBay.
It's a very simple tool, and while it won't give you a list of actual products to sell or data on product listings that are currently active on eBay, it will give you a list of keyword ideas to use as inspiration for products to sell.
These keyword ideas will be displayed alongside search volume data to help you determine what is popular and what is not.
You can switch between regular keyword suggestions and keyword suggestions with prepositions in the front.
Both will give you search volume and trend data, as well as CPC and competition data for Google Adwords (this is only relevant if you plan on using Google Adwords to promote your listings).
You can filter your results with specific words or add negative keywords that you don't want appearing in the search results; you can also choose between different countries and languages.
Some of the search results will be free, but you will need a Pro account to reveal the rest of the results.
Explore: Shopmaster Vs Oberlo
LimeStats is not that well-known, but it offers a free plan for a tool that can help you track eBay products and research your competitors.
You can search by keyword, item number, or SKU. You will get a list of related products with stats such as items sold, price, revenue, shipping cost, listing conversion rate, quantity, and more.
The listing conversion rate is important for figuring out whether a product would be worth selling or not.
The tool will group variations of a single listing together so you won't be flooded with duplicate results if a product has several variations (such as several colors or sizes).
You will also get an overall snapshot of the niche in general, including historic revenue, historic sales, quantity change, and more.
There will be daily, weekly, and monthly charts to help you monitor revenue, sales, promotions, and more. This will help you determine how profitable a product would be and what price you should be charging for it.
You can also see a list of the top-selling products. You can filter based on price, condition, category, buying format, and country.
You will be able to monitor your competitor's top listings and track their results.
The free plan only lets you track five product listings a month; you will have to upgrade if you want to track more listings.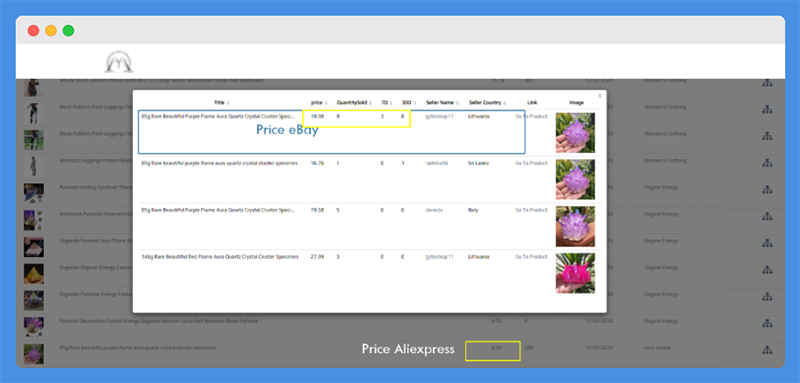 For dropshippers, eBay can be a bit tricky. This is because recently, eBay has been cracking down on dropshippers.
Why is this? It is because many sellers who dropship on eBay actually use other online marketplaces such as Amazon or Walmart as their "suppliers."
As referenced above in this article, this can lead to several problems. First of all, customer satisfaction can be lowered when they receive an Amazon box with a slip with the actual price (the eBay seller has to raise the price to make a profit); the customer will feel cheated of their money if they know they could have just bought the product on Amazon themselves.
In addition, if the product takes a long time to arrive, this can also decrease customer satisfaction.
However, it is still possible to dropship to eBay, as long as you are careful about what you are doing.
One option is to use actual dropshipping suppliers, which you can find on directories such as Salehoo. Another option is to avoid using the eBay API to upload your products.
This (not using the eBay API to upload your products) is what Megasaleboot and Dropeex do.
In addition, they let you find products from sites other than Amazon, including DHGate, CJDropshipping, and ChinaBrands; these are all sites where you can both buy wholesale and find dropshipping suppliers.
The first step is searching for products. This is pretty simple; just search for products in the categories you want to sell.
Dropeex members get free access to a tool called Megasaleboot.
For each product, you will see where the seller is located, the seller name, the price, and more. You can also see the price on eBay and the quantity sold.
You can filter for products that have sold at least five times in the past month. You can also get a list of the top dropshippers in your country, their seller score, and how many products they have.
By only using suppliers in your country, you can speed up shipping times so that your customers are happy and you avoid negative reviews.
As mentioned, you can find products from a variety of suppliers on different marketplaces. With just a click, you will be shown many different products you can sell.
Uploading the products to your eBay store is also easy and only takes a few clicks. The tool works with various different language-specific eBay marketplaces.
There is an automatic order fulfillment tool that will fulfill orders placed on eBay automatically from AliExpress. This way, you avoid having orders go unnoticed and unfulfilled and you increase customer satisfaction by reducing turnaround times.
Dropeex also helps you build your listings and send SMS updates to your customers.
Still, it's always better to go wholesale when selling on eBay instead of trying to find workarounds for using the dropshipping model.
Also Read: AutoDS Review
Wrapping It Up — Which Is The Best eBay Tool?
After all is said and done, I don't think eBay's own tools can be beat.
TeraPeak, especially when used along with eBay Explore and the auto-suggestion method, is the perfect tool to use when starting out, and you probably won't get much out of the other tools if you are already using TeraPeak.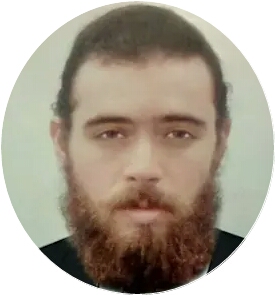 Author: Benjamin Levin
Benjamin Levin is a digital marketing professional with 4+ years of experience with inbound and outbound marketing. He helps small businesses reach their content creation, social media marketing, email marketing, and paid advertising goals. His hobbies include reading and traveling.