Online businesses are the rave of the moment, but let's be honest, selling online is no easy task.
The gurus make it seem so easy, but it involves a lot of hard work, capital, and plenty of luck.
Dropshipping is one of the most recommended forms of selling online because it takes away the need for much of your startup costs, but it has become more competitive with thousands of people becoming more involved every day.
There are many methods of dropshipping, and selling on eBay is one of them.
To get the best out of the system, you will need to learn from those who really know their stuff.
You might be thinking – are dropshipping courses worth it? The short answer is Yes. They definitely are. In fact, it makes a lot of sense to hear and learn from people who have done it all.
So keeping this in mind, today, we will take a trip through seven of the best eBay dropshipping courses to get you started.
Related: Best Dropshipping Companies & Sites


If we are being honest, dropshipping on eBay is a lot more difficult than it is made to seem.
There are thousands of people who claim to be eBay dropshipping experts so that they can sell their courses and sadly, many of these 'experts' do not deserve the title.
One person that is a true eBay dropshipping expert is David Vu. Therefore, we have kept this course at number one. If you're looking for the best eBay dropshipping course, this might be it.
David had mastered the art of dropshipping on eBay before deciding to become a teacher in the niche.
He has successfully mentored thousands of students, some of who have become teachers themselves.
David Vu does not claim to be a Jack of all trades, and everything that he does centers around dropshipping on eBay.
His course has become incredibly popular over the years and it has attracted a lot of new sellers.
Because of the success that many of his past students have seen after the completion of this course, it is widely recommended as one of the best courses for potential eBay dropshippers
David Vu summarizes his process into 3 simple steps: Find a good product that will sell well on eBay, list the product on eBay, and start raking in the profits.
This is basically what almost any other dropshipping coach will tell you, but David Vu takes all the parts and explains them in detail.
He claims to have raked in around $100,000 in his first year of dropshipping, which is an impressive figure, especially for a beginner.
Although David is heavily invested in teaching dropshipping on eBay, he is a serial entrepreneur, which means that he has other ventures that earn him good money, so I believe him when he says that he is not in eBay dropshipping coaching for the money.
The first thing the course teaches is how to find cheap products on Amazon, Home Base, and a lot of other online stores, then how to place these products on eBay as your own.
The idea is to subtly increase the price of the product on eBay, just enough to make a good profit margin.
Once your customer makes their order on eBay, you will in turn order the product from Amazon or wherever you got it from, only that you will make your order as a gift so that the merchant does not ship the product with a receipt, otherwise, your buyer will know its true price.
You will make some profit from this transaction and however small it may be, you will be getting paid for doing basically nothing.
This process is similar to what the other tutors are selling, but what makes David's method different is that he targets international buyers.
He does that because most of these eCommerce stores do not normally ship to faraway locations, so potential buyers who are living outside the US, UK, and Canada are completely cut off.
For David, his method attracts overseas buyers and since not many shops ship their way, the market will not be as saturated as selling locally.
David's method is simple, but it works since it allows you to target buyers that are in constant need of the products you sell.
This is a great eBay dropshipping course free option to consider.
Also Read: Best Dropshipping Niches


This is another solid eBay course to try.
This course will teach you how to list your products on eBay, get buyers to bid on them, and the highest bidder eventually becomes the buyer.
However, you can also set a fixed price on eBay.
That will require you to set a 'buy it now', button whereby buyers on click on it will not be required to participate in any auction.
In this course, Jack Pitman uses 13 hours of lectures to show how to source for products on cashback websites and resell them for a profit margin on eBay.
Given its nominal pricing, the course can easily attract people searching for a good eBay dropshipping free course.
Also Read: Best Dropshipping Softwares For Ebay
Jack's eBay Drop Shipping Companion Course
Learn A to Z of eBay dropshipping. Understand how to grow eBay account limits. Increase profitability using gift cards, cashback, sales tax exemption. Find footage of hundreds of Jack's sales from eBay dropshipping.
We earn a commission when you click this link and make a purchase.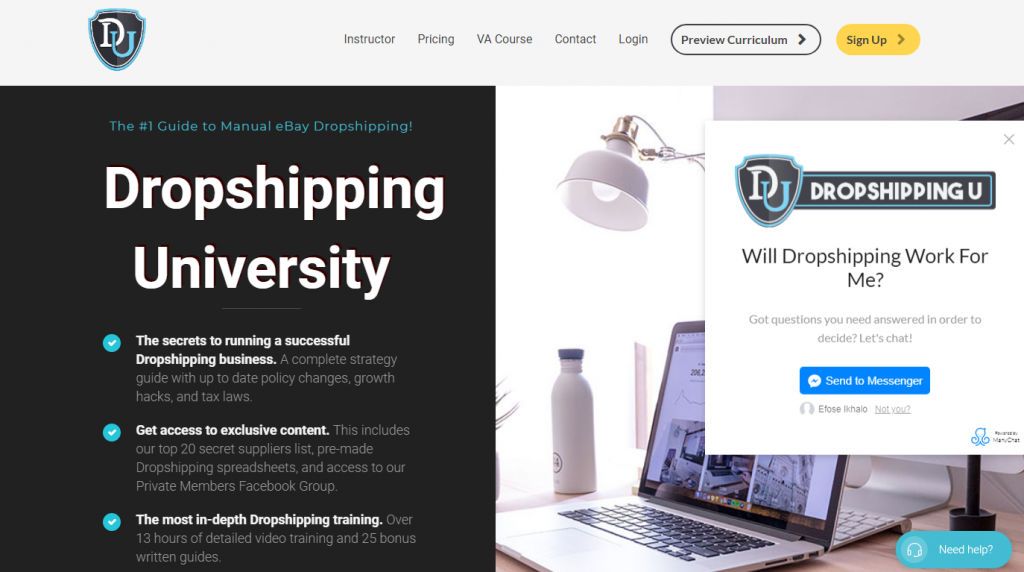 Tom Cormier, also known as eCom Tom is one of the most popular eBay dropshipping evangelists on YouTube.
He is the author of Dropshipping University, which is a course that teaches you how to source for suppliers that sell products at cheap rates and put them up on eBay at a more expensive price.
This is perhaps the best eBay course in the market.
Once you purchase this course, you will be granted lifetime access to all of its content, including competent support and a private Facebook group.
Tom claims to have earned over $1.4 million on eBay and runs a chain of stores that generate more than $200,000 every month.
He is quite famous on YouTube for his eBay videos and has more than 11,000 subscribers with more than 400,000 views on his videos.
One thing that makes Tom stand out is his transparency. In the process of teaching, he provides a view of his accounts as motivation for his students.
In one of his videos, you will see that his eBay seller account has about $18,000, but keep in mind that that is not necessarily his profit.
eBay usually takes a certain percentage of the money, and that is after you have taken product costs and shipping fees from it.
Tom obviously understands the power of social media, which is why he is heavily invested in different platforms.
His Instagram page has more than 33,000 followers and he consistently posts graphics that contain tips on how to build your eBay dropshipping business.
Dropshipping University is hosted on the course's website, which is powered by one of the most secure platforms, Kartra.
The course is broken down into 14 modules and 67 videos that are tailored to ensure that you move at your own pace from basic eBay dropshipping tips to advanced strategies.
You will see what to expect when you take up the task of starting a dropshipping business and learn the industry's best practices.
Sourcing for highly profitable products is one of the most crucial parts of any dropshipping business and the course has dedicated 2 modules to teach you how to do just that.
To make things easy on you as a beginner, Tom has recommended 10 top suppliers that you will get good deals from when you are just getting started.
Later on, you can source for your suppliers on your own and vet them to make sure that they can ship and deliver when they are supposed to.
You will also learn the most effective way to list your products on eBay and how to manage your inventory so that your products do not go out of stock.
Tom reveals some of the best tools that you can use to process your orders, including how to choose the best cashback apps and upload tracking numbers for your customers to easily monitor the movement of their products.
As important as the process is, the primary aim of dropshipping is to make reasonable profits and to do that, you must maximize your margins.
This course will teach you how to do that. You will learn how to get your products shipped to your customers sooner with 'the Expedited Shipping Loophole'.
Dropshipping on eBay requires a lot of knowledge to be successful and there are only a few courses that are more comprehensive than the Dropshipping University course.
This is arguably the best eBay dropshipping course to consider.
Manual eBay Dropshipping University
The step-by-step course on how to succeed at eBay Dropshipping. Includes over 13 hours of comprehensive video training, strategy guide, supply list, pre-made dropshipping spreadsheets & more.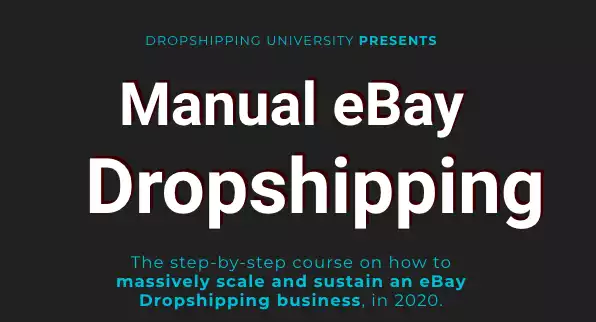 We earn a commission when you click this link and make a purchase.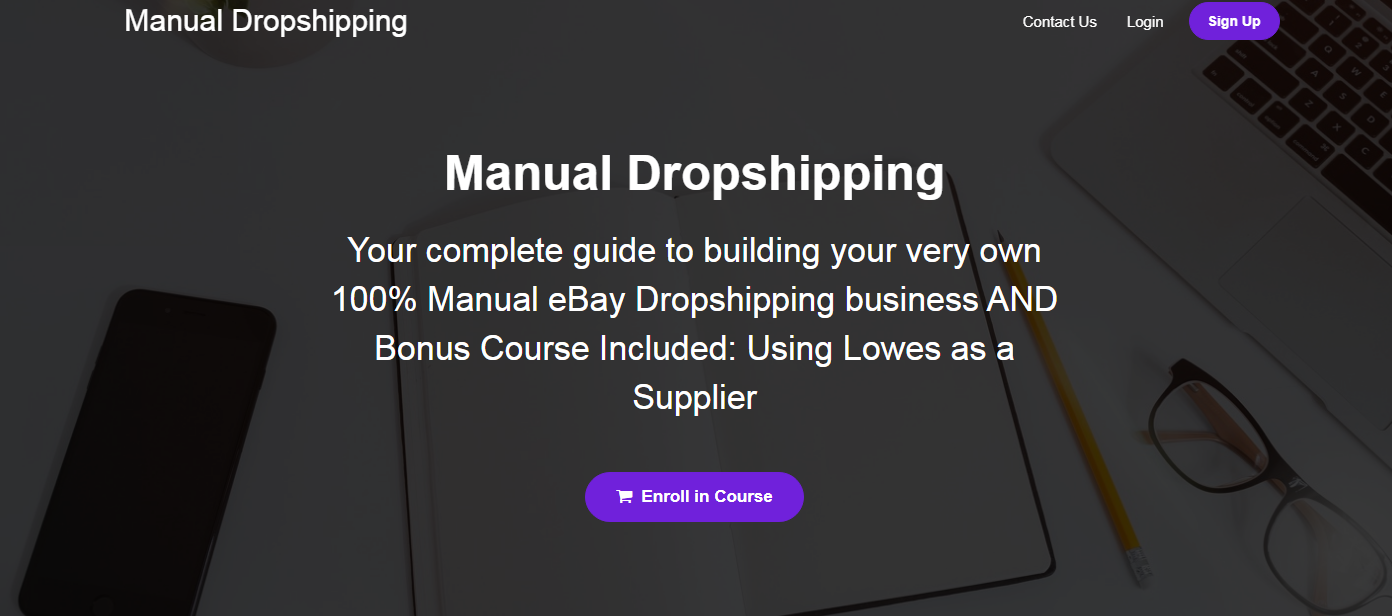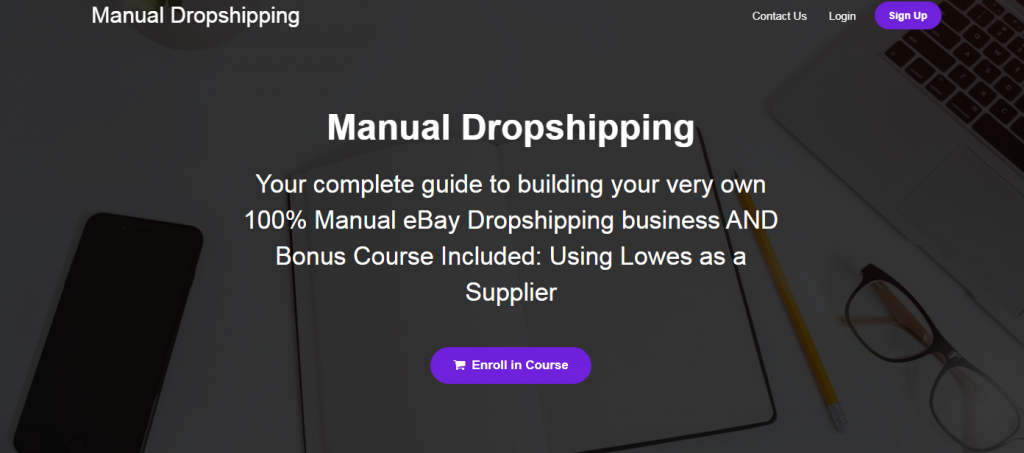 If you have been searching the internet for a good eBay dropshipping course, then you might have come across Manual Dropshipping by Suliman Farooq.
The course centers around how to make as much as 7-figures from dropshipping a few hundred products on eBay.
The author of this course, Suliman, is very famous on YouTube for his videos on eBay dropshipping tips and strategies.
His channel 'Success with Sully' has over 13,000 followers and has generated more than 300,000 views.
Suliman claims to have started dropshipping after he dropped out of college.
He has tried his hands on a couple of other dropshipping ventures, including an Amazon FBA business.
From his YouTube videos, Suliman obviously knows what he's talking about and can show you a couple of great dropshipping tips that will take you a long way, especially if you are dropshipping via eBay.
Manual Dropshipping essentially involves dropshippers hiring virtual assistants to help check the prices of products on the suppliers' websites rather than using automated software.
However, one issue with using this technique is that the prices of these products are subject to change and this can cause serious losses.
The eBay lessons are delivered in videos.
They are split into 12 modules and each module introduces a new tip.
On the first module, Suliman introduces his students to the world of eBay dropshipping.
The first lessons dwell on dropshipping basics, including how to switch the manual method rather than use software.
You will learn how to set up a business email, a PayPal account, and an eBay store.
The course will also teach you how to use a supplier.
Suliman talks about sticking with one supplier to make the entire process easier for you.
He also explains that it is not the brightest idea to set profit minimums or daily listing standards.
He teaches about a brilliant 2-step process for product research for about 40 minutes.
In his product research frames, he uses some real-life examples to show how to find good products.
Suliman addresses one main issue that bothers a lot of eBay dropshippers.
It shows dropshippers how to choose their products and calculate potential profits.
This is particularly good for new sellers who want to know how much profit or loss that they make from their sales, especially because eBay does not allow sellers to see how much profit they will make from selling retail products on their own store website.
Since the whole idea of the course is to teach sellers the manual way of handling dropshipping, Suliman shows how to handle price changes and out of stock products with the same method.
It revolves around sellers paying a virtual assistant to check the price of the products on the suppliers' websites after a few days.
In this course, you will also learn how to handle different scenarios that have to do with the payment process, such as PayPal verification, as well as how to process your orders on eBay.
One of the modules is dedicated to teaching dropshippers how to dropship using Lowes.
Lowes is an ideal alternative to Amazon and Walmart if you want to dropship products to eBay customers.
Also Read: Best Amazon Dropshipping Courses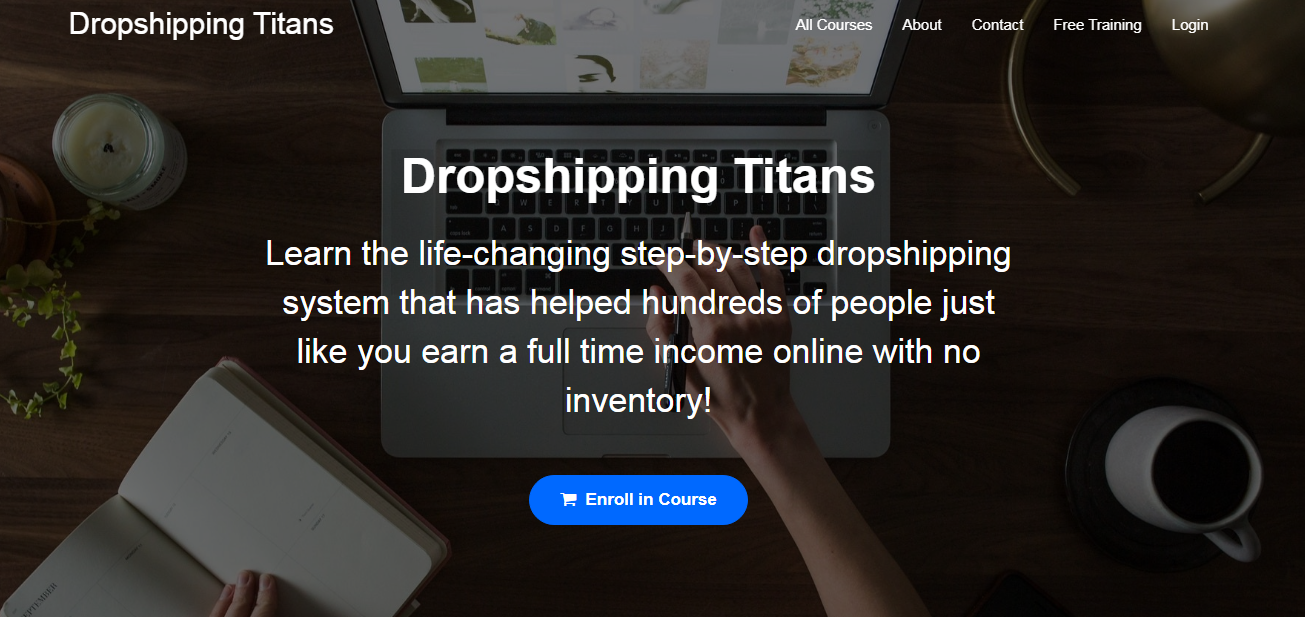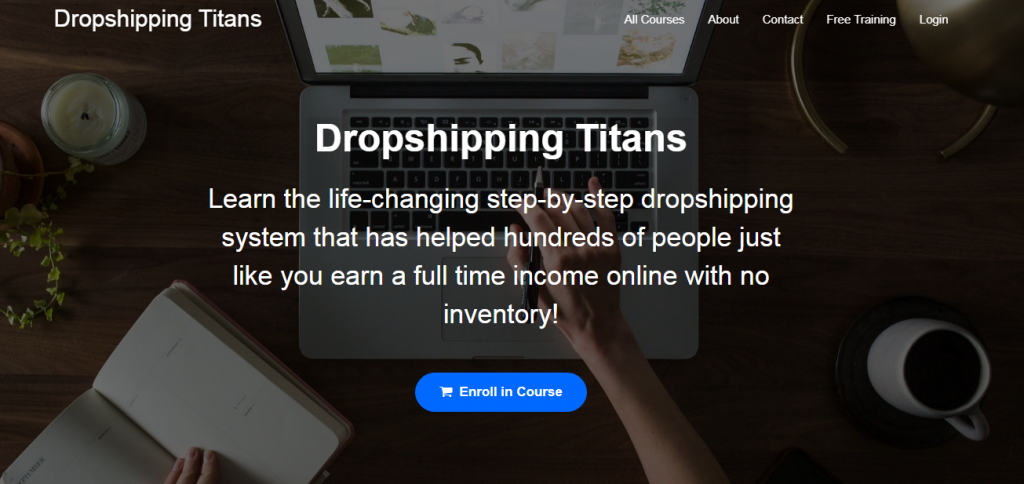 This course by Paul Joseph is one of the best dropshipping courses with a focus on eBay that I have seen.
It isn't just any random course that claims to be able to teach people how to make money from dropshipping.
In fact, you will easily find verifiable alumni that will attest to how Paul's methods paved the way for their successful Dropshipping careers.
When you first land on the course's sales page, you will see the 'standard' dropshipping copy that promises to teach you how to escape your 9-5 job through dropshipping.
There's a promotional video that helps to drive home the point further and the video may give you a few hints about the author's ability.
In the video, Paul claimed to make $10,000 per month previously, although that has changed now.
In fact, he now claims that one of his students makes as much as $100,000 in sales every month.
Once you subscribe to the course, you get to its complete content that is separated into modules.
In the first module, you will see how Paul made his first $150,000 within 30 days.
However, some critics are skeptical about these earnings because Paul claims to have made that much between December 2017 and January 2018, but in the video, he does not reload the page to verify that it's not just another screenshot.
After that, he gives a brief lecture about dropshipping.
If you have already done your homework on dropshipping, this part will be more of a waste of your time since Paul mostly talks about what you likely already know.
Then the next module focuses on PayPal and how to set up a new account. Mind you, PayPal works differently in different locations.
For example, the way you will set up your PayPal account in the US is different from how you will set it up in Australia.
The next module covers how to set up your eBay store.
This section is one of the best eBay setup tutorials you will see.
It spells out the entire process in the most basic way possible that even a child who can read will easily understand.
Again, setting up eBay in America may be different from other countries, and the module focuses on America, so you will have to look up how to set up an eBay account in your country.
After several videos showing the entire setup process on eBay, Paul finally jumps into how to dropship.
He emphasizes using HomeDepot to find products that you can dropship from Walmart to eBay.
My major concerns with this course are that Paul waits until the 20th module before he actually talks about dropshipping and also dropshipping from Walmart has strict limitations for international businesses.
Interesting Read: AutoDS Vs DSM Tool for eBay Dropshipping Automation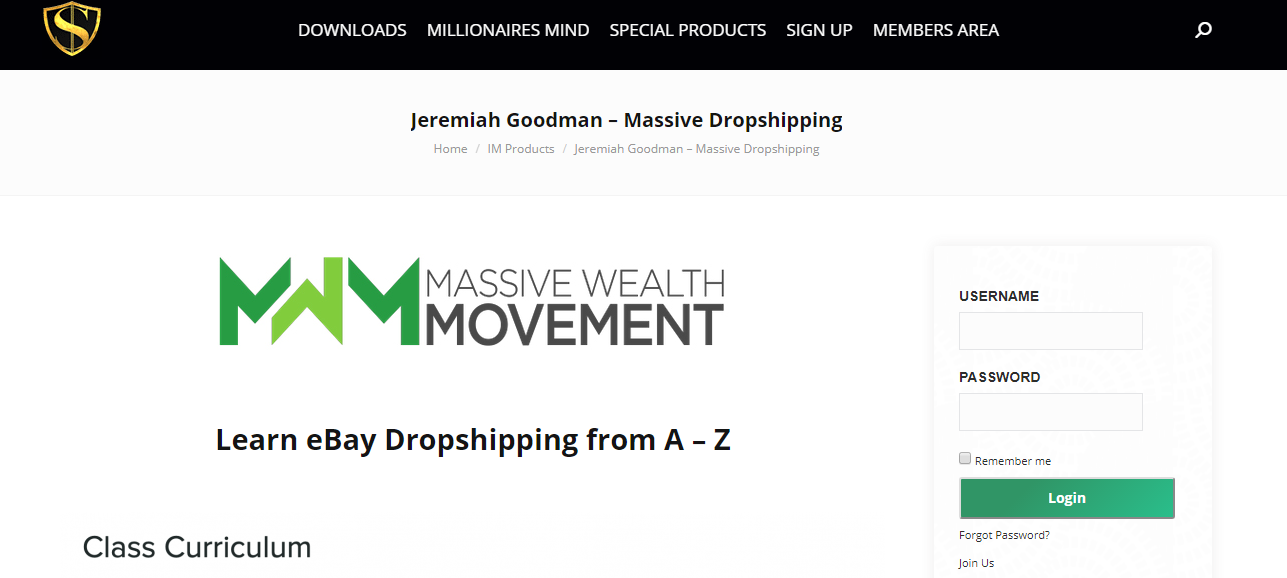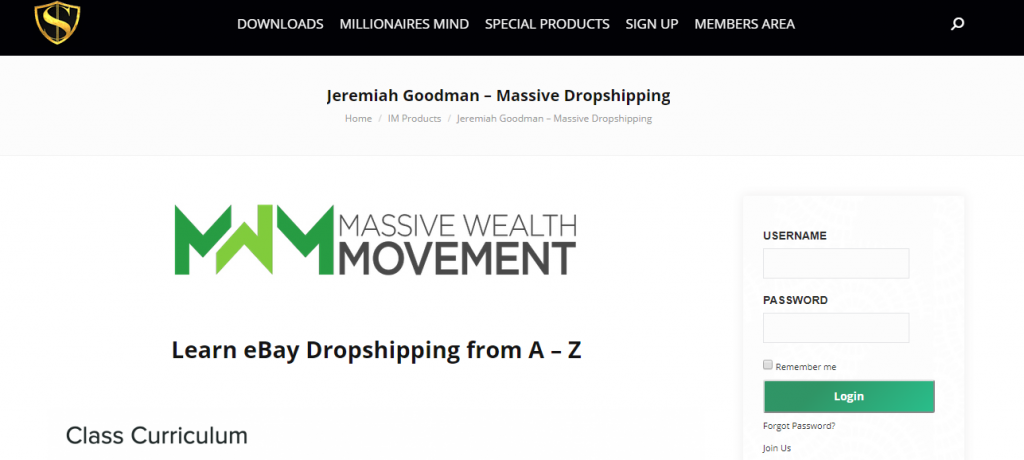 Jerimiah Goodman's Massive Dropshipping course is the sequel to a free webinar that shows potential dropshippers how to start making money online with dropshipping products on eBay
The course teaches you how to find cheap Chinese sellers and make a good profit margin when you claim the product as your own.
Goodman uses the exclusive training to upsell his subscribers on his new premium course, which is Massive Dropshipping.
Selling products on your own Shopify website and selling on eBay has several distinctions, but the major one is that when you sell on your website, you can add value to your products because you own everything on the store.
That way, there can't be two of the same product for different prices.
On eBay, you cannot add as much value because most of the customers are looking for the cheapest sellers irrespective of who is selling it.
In this course, Goodman claims to have found a way to help you balance between setting a reasonable value on your products to get a good profit margin, without losing out to the competition.
Amongst other things, Goodman is a YouTuber with more than 3000 subscribers and 70+ videos. In his profile, he claims to be an affiliate, entrepreneur, and investor.
The Massive Dropshipping course is about an hour-long, which is quite small for a dropshipping course, especially one that teaches dropshipping on a not-too-popular platform.
One thing I like about the course is that it is hosted on a teachable platform, which means that you will get to enjoy high-quality videos that will give you the best teaching experience whether you are using a mobile device or a computer.
Inside the course, you will spend a few minutes learning how to set up a PayPal account to process your payments and an eBay account to sell on.
If you have looked up dropshipping online, you may have heard about AliExpress.
AliExpress is one of the most popular platforms where dropshippers buy their products from, but this course uses a different platform, DH Gate.
You will learn how to find good products that will be profitable on eBay, get the right pictures to use for the products, and write great descriptions that will drive more conversions.
Goodman also tries to explain how the fulfillment and shipping process works and offers to help you set everything up.
It's a great program for those looking for a free eBay dropshipping course. Not saying that it's free but you can get lifetime access to all courses just by paying a small amount.
Explore: Salehoo Vs Doba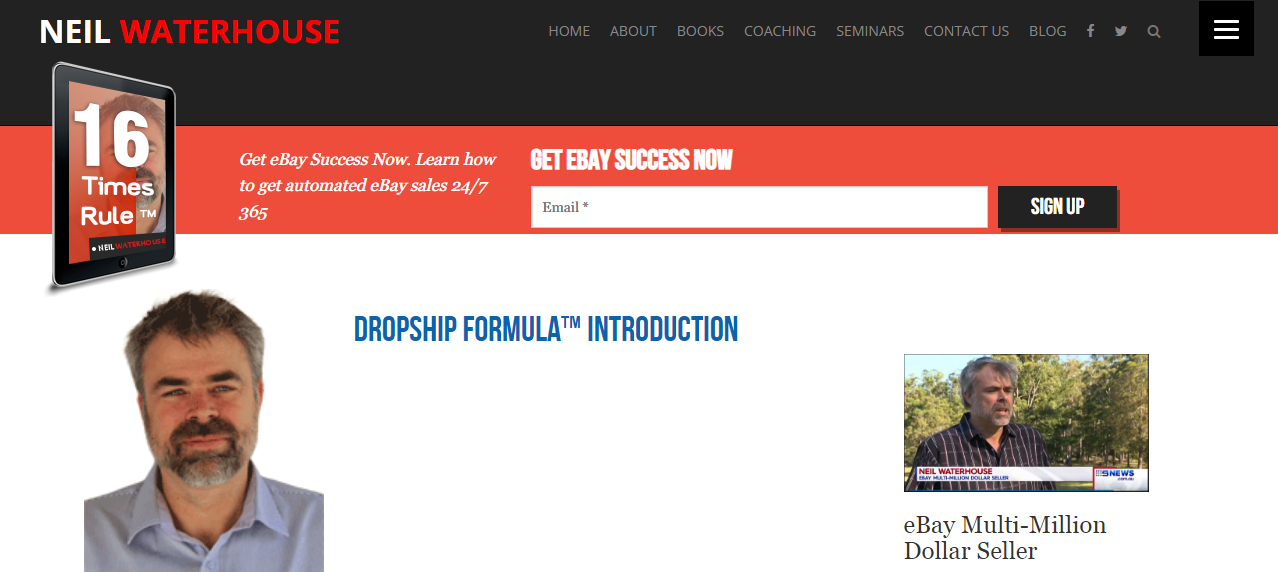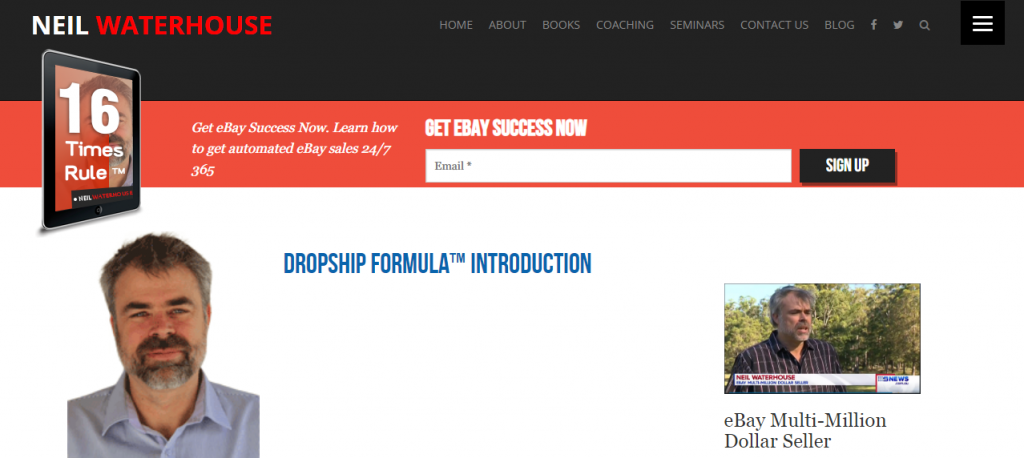 Interesting Read: Modalyst Vs Oberlo
The last dropshipping eBay course in our list is by Neil Waterhouse.
In case you are wondering who Neil Waterhouse is, he is one of the most popular Amazon and eBay teachers around, and has more than 20 years of online selling experience to his name.
He authored a book titled 'Million Dollar eBay Business From Home', which infers that he has raked in millions from selling products on eBay and Amazon.
His book has been read and praised by thousands of people worldwide, including critics.
He is also known for hosting several eBay meetup groups across Australia and has been invited to talk shows by some eCommerce bigwigs like Alibaba and eBay.
Neil understands that dropshipping is an alternative eCommerce model for people who do not have huge capital, so he models his courses to suit complete beginners.
The content of the course is presented in video format, with slides and handouts as extra materials.
Neil has trained a lot of successful students, many of whom are raking in 6-figure profits annually.
Since dropshipping success is typically dependent on getting your products seen by potential consumers, you will have to spend a couple of dollars on adverts.
The course will teach you how to use PPC ads, as well as SEO, to drive more sales for your products.
SEO almost always pays better than PPC because, with PPC, your net profit margin will have to be fixed around 10%, which will not be sustainable in the long run.
However, using SEO lets you set your margin for as high as 30%.
Before you subscribe to the course, I will recommend that you get one of his books on eBay or attend one of his free webinars to get a jump start on what dropshipping on eBay entails.
Certainly, all online courses have their own downside, but there are not many such reviews online to go by.
Although the lack of online reviews for this particular course is puzzling, Neil is known to have hosted many successful courses in the past and I believe that this one will be no different.
The thing I like the most about Neil is that he offers some free content, so you will have an idea of what to expect upfront before you make any financial commitment towards it.
Selling online can be one of the most life-changing things you will ever do and Neil's course is a good platform to equip you with the knowledge that will help you succeed.
Check Out: Shopmaster Vs Oberlo
Wrapping Up – Best eBay Dropshipping Courses
Dropshipping on eBay isn't easy.
In fact, dropshipping isn't generally easy, but you stand a better chance of succeeding using the conventional dropshipping models than selling on eBay.
That being said, testimonials from students of these courses have shown that it is possible to succeed on eBay, but you will need all the knowledge you can get, so signing up for any of the above courses will get you the much-needed boost.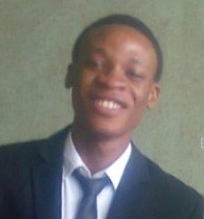 Author: Efose Ikhalo
Efose says he is a polymath, which reflects in his work. He excels at inbound marketing, tech, and business. He has a rich experience of working with renowned digital marketing agencies in the past. Often writes for top blogs.