eBay is a leading eCommerce platform. With over 182 million active buyers from 190 marketplaces, it's become the toast of dropshippers.
However, running a dropshipping business is not a walk in the park. You will have to deal with finding and listing products and monitoring your price and stock changes.
Here's the good news. Having the right tools can help merchants put their business on autopilot. More so, they can automate critical processes, maximize sales, and stay ahead of the competition.
In this article, we will compare two platforms that will help dropshippers automate their businesses. Auto DS vs DSM Tool – both tools are great and give a tough fight to each other.
Let's get started.
Overview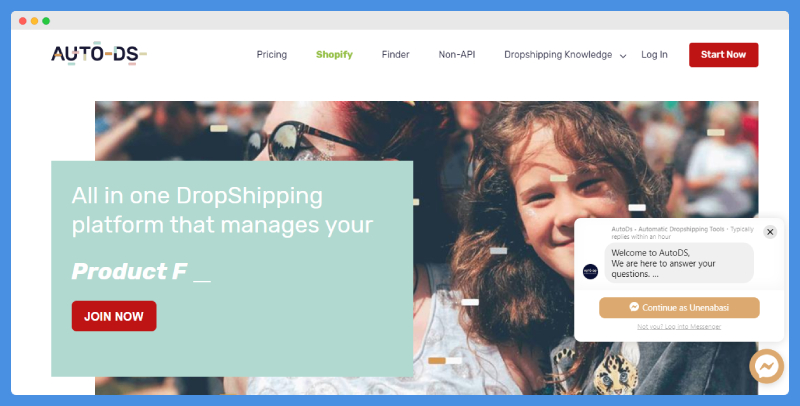 AutoDS is a complete and robust dropshipping platform that helps merchants manage vital tasks. With this tool, dropshippers can find and list best-selling products, monitor and optimize prices, stock, etc.
Furthermore, merchants can automate and fulfill orders, track number updates, analyze performance, and much more, using the platform.
AutoDS even provides a complete customer support system to help you manage your customers. The support system includes returns, cases, and messages.
AutoDS was created in 2016 by Lior Pozin, the founder and CEO. Currently, AutoDS manages over 3,000 customers and over five million active products.

We earn a commission when you click this link and make a purchase.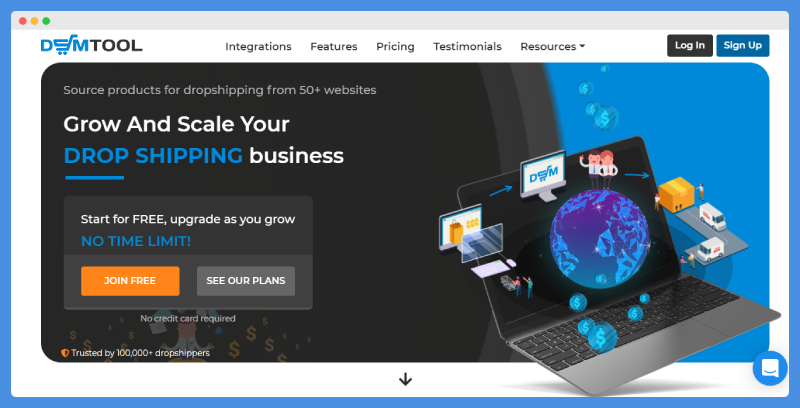 DSMTool is an all-in-one dropshipping tool that allows retailers to automate their eCommerce businesses. This platform provides everything you need to run a successful dropshipping venture.
You can source and market products from multiple marketplaces, including Amazon, AliExpress, and eBay. Likewise, DMSTool allows you to access over 50 dropshipping suppliers.
Some of the other features you will enjoy include:
Product listing and optimization
Order processing and fulfillment
Customer support management system.
The company was created in 2016 by Kfir Shapira and Ofer Shapira and allows you to market products online. DSMTool has more than 6,000 active sellers and has sold more than three million products in two years.
DSM dropshipping has become popular with more and more sellers using this powerful tool to improve their business.
Also Read: Best Dropshipping Companies & Sites
Product Finder
AutoDS
The Auto DS product finder lets you find the best dropshipping products to sell on eBay. With the click of the button, you can search for products across multiple marketplaces.
Just choose your preferred supplier. You can select between AliExpress, Amazon, Walmart, HomeDepot, ChinaBrands, Costway, and Bangood. Then go ahead to select your product category you will prefer to upload your products.
You may find products based on the coupon finder category. This category will show you products with a high potential for coupon, that's a potential 50 percent increase in profit.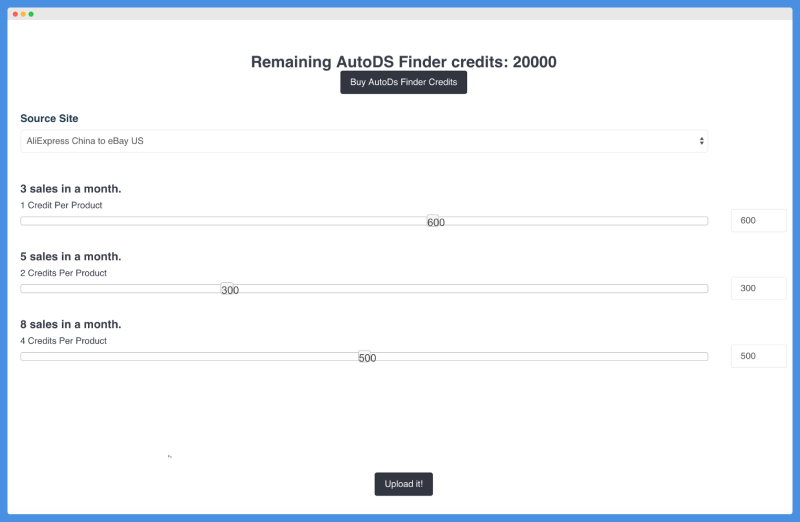 More so, you may find products based on the sales amount of the previous month. This option will show your products that have sold more than three to five times in the last month.
This feature holds so many benefits for dropshippers. It saves time and thus allows you to list thousands of items in a few seconds.
The AutoDS finder scans more than one million products daily from over 40,000 dropshippers to help you find the best products. You can list products from multiple marketplaces.
The AutoDS finder supports more than five dropshipping suppliers.
DSM Tool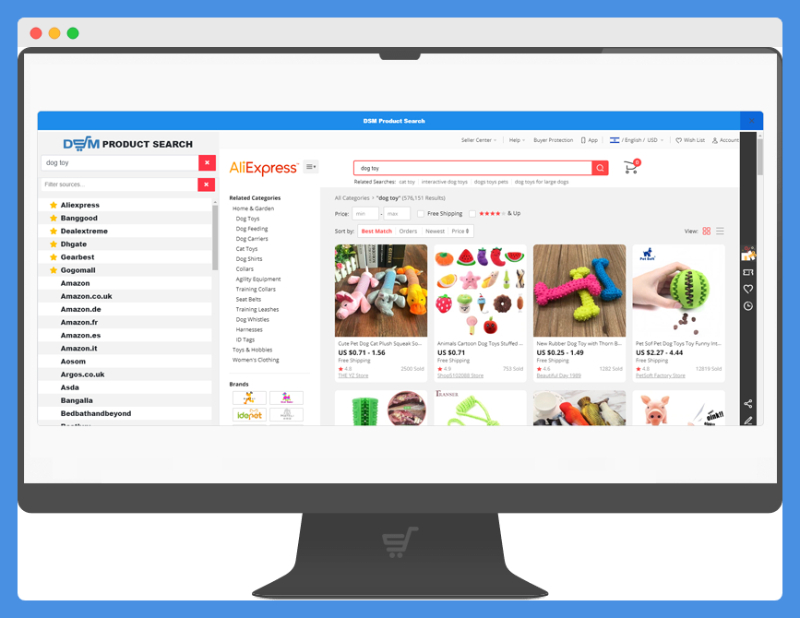 The product search feature allows you to search for products between multiple suppliers and supply search engines. Merchants can search from supply engines such as Google shopping and over 50 suppliers. The Product Search is a key feature of the Auto Paste chrome extension.
Therefore, you need to install the DSM Auto Paste Chrome Extension from the Google web store.
After installation, you need to select the suppliers and search engines from which you may like to search for products. Next, you need to research products and analyze the demand for products.
No, this tool doesn't help you achieve that.
But you can use Google trends or visit the DSM Tool Facebook group to find the best selling or trending products.
The DSM Tool team frequently posts trending products and niches. When you have found the right product, write the title or keyword in the DSM Auto Paste tool to find a supplier, and in a few seconds, you will find the cheapest product price.
You can find lower prices, and amongst your suppliers, for a product you have sold. Also, you can raise your profit in a few seconds. Click on the sales and order page, locate a product you just sold, and compare prices between suppliers. You will find the supplier with the lowest price.
You can use the DSM product search to locate similar items, get the lowest prices, and list them on your store.
Verdict
DSM Tool has a slight edge in this category. With access to 50 suppliers, you will not run out of product ideas and options.
Auto DS vs DSM Tool – Product Listing
Auto DS
After finding your products and niches, you can go ahead and upload products to your store. You can list single items or multiple items in bulk. More so, the tool lets you configure your settings for product uploads by selecting your quantity, profit, and breakeven.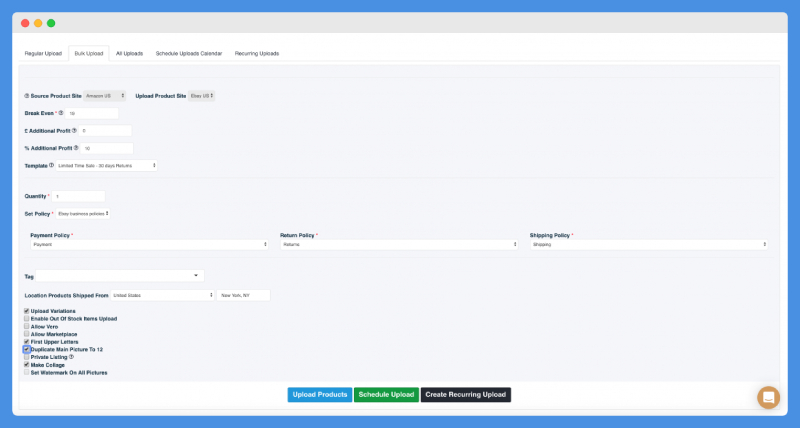 Choose your eBay business policies, including your payment, returns, and shipping policies, and then proceed to other settings. Merchants may choose to
Enable or disable upload variations
Allow upload of out of stock items
Set watermark on all images
Enable private listings and more

We earn a commission when you click this link and make a purchase.
You can schedule and automate your product uploads using the recurrent upload feature. Just set the upload time, and your listing will take place automatically.
While uploading products, you can create new or choose from existing templates to optimize your listings.
DSM Tool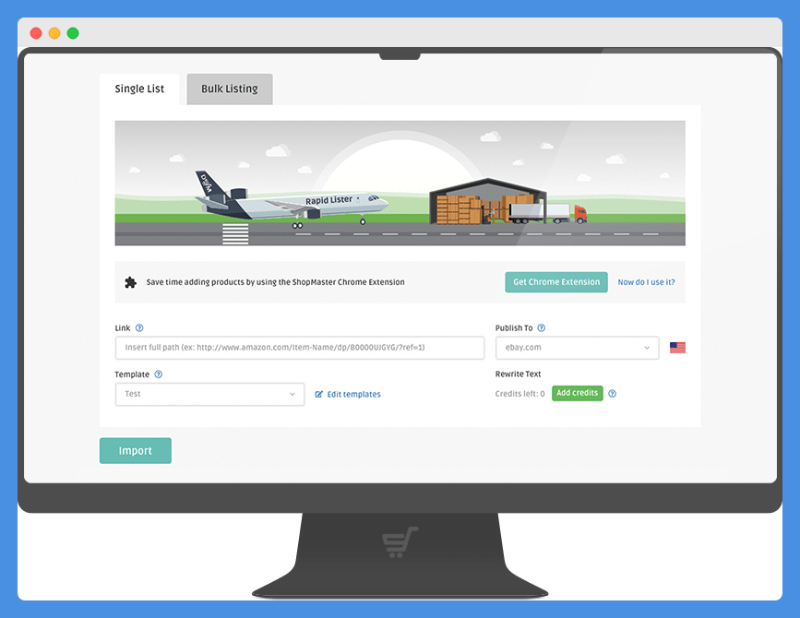 The DSM Tool Rapid Lister lets you add products to your eBay dropshipping store.
Before you list your items, you need to prepare your account. You need to set-up the calculations for your final price. You have to define your breakeven and profit margins, and then the Rapid Lister will calculate the final price based on
Cost price from the supplier website
Breakeven – all fees related to sales of the product
Desired profit margins
You must set up your business policies, which include your return policy, shipping policies, and payment policies. eBay monitors these documents for performance.
With the Rapid Lister, you can use a template for product description. The DSMTool offers elegant templates both for free and paid users. Plus, you can include your business policies in your templates. Merchants can also automatically generate feedback using Auto Messages.
To upload products, find the products on the supplier website, click on List in DSM, and your product will be imported.
After product import, you can edit and optimize your title, description, specifications, images, and price. With the DSM Bulk Lister, you can automate your product uploads and publish items in bulk.
Verdict
Both tools have similar product listing features. But the DSM Tool has more beautiful templates. More so, you can add your business policies to your templates. Most DSM Tool reviews on the internet will agree to this verdict. DSM Tool wins again.
Interesting Read: Best Dropshipping Software For eBay
DSM Tool vs AutoDS – Price Monitoring
AutoDS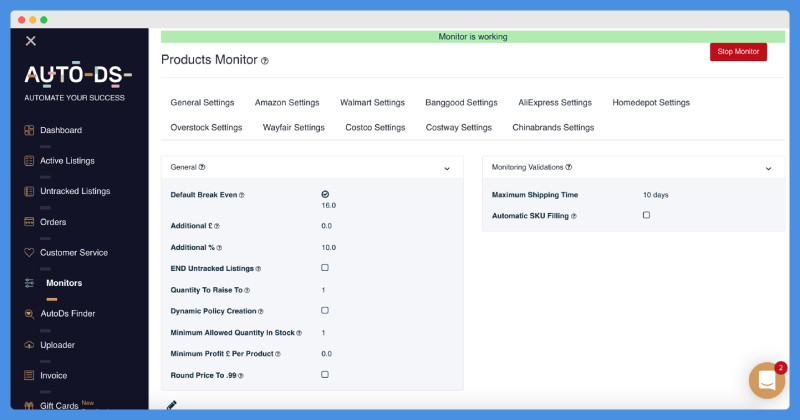 The price monitoring software helps you track price adjustments from your supplier's website. It automatically updates your product pricing so that you don't operate at a loss.
AutoDS adapts your breakeven to any applicable tax, and if your items have an additional shipping cost, AutoDS automatically adds it to the total price.
AutoDS your products frequently to ensure that the prices tally with your listing price. The monitoring uptime is more than 99 percent.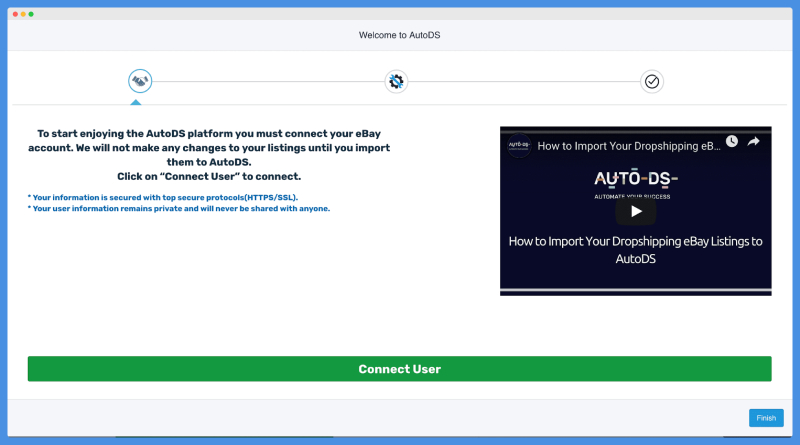 Just link your store to AutoDS and configure the price monitor. You can also use the AutoDS recommended settings or set your breakeven and profit and AutoDS will take care of the rest.
Furthermore, AutoDS will automatically round off your prices to the nearest 0.99 cents to maximize sales.
DSMTool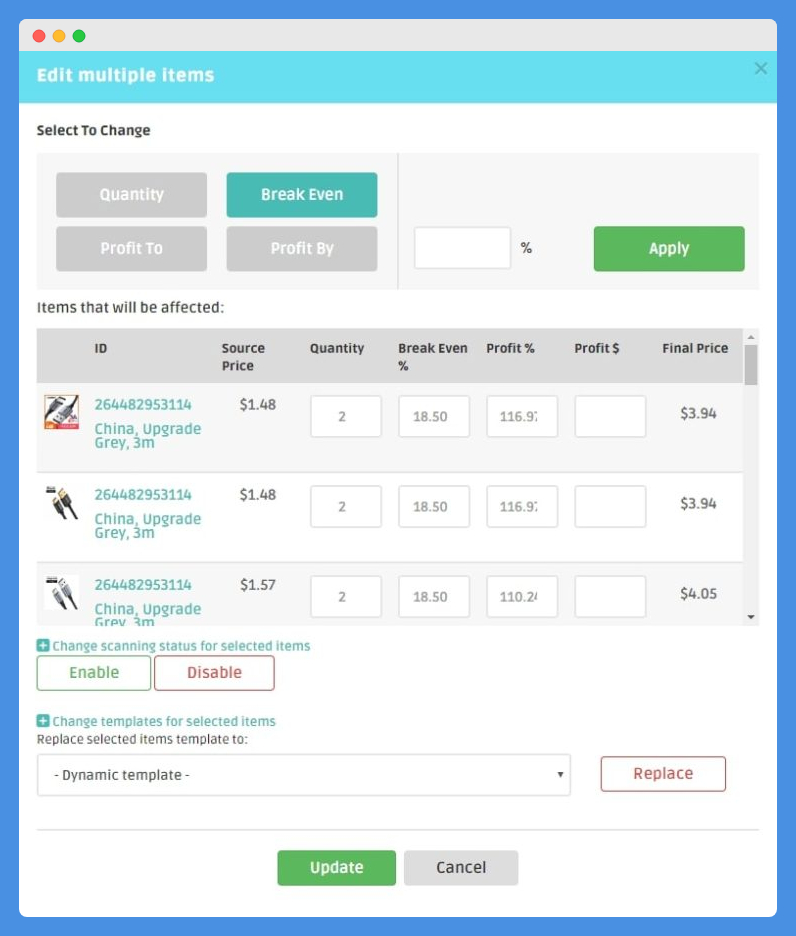 The price monitor tracks your products and if there are any changes in price, quantity, or the supplier store, it automatically reprices them.
With the price monitor, you can manage your store and edit single and bulk items. The price monitor displays the price of the supplier and your store price. Every 60 minutes, the price automatically updates the product price for all suppliers.
The price monitor also displays the number of views on your product and the selling ratio. This information will give you an insight into your product performance. The price monitor is essential and helps dropshippers prevent losses in sales.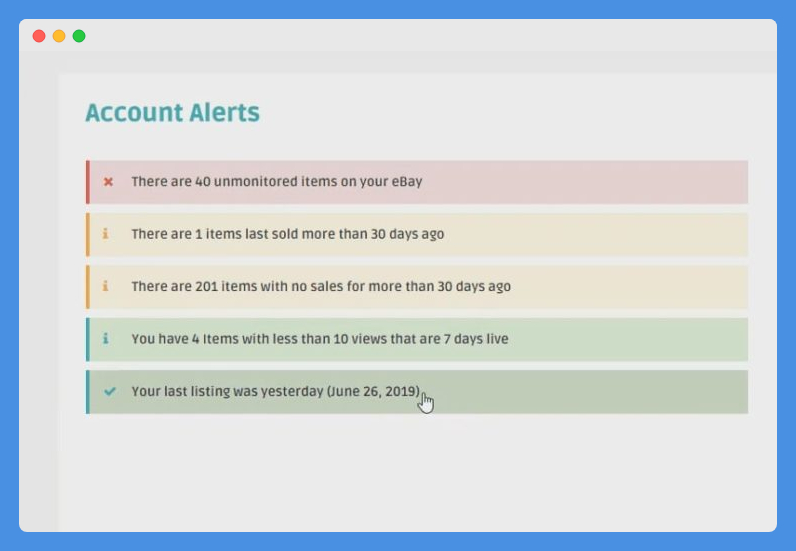 From the dashboard, you will find products that require urgent attention so that you can optimize them. This tool will identify
Product listings that are unmonitored
Items last sold more for a period
Items with no sales for a specified period
Date of the last listing
Items with less than ten views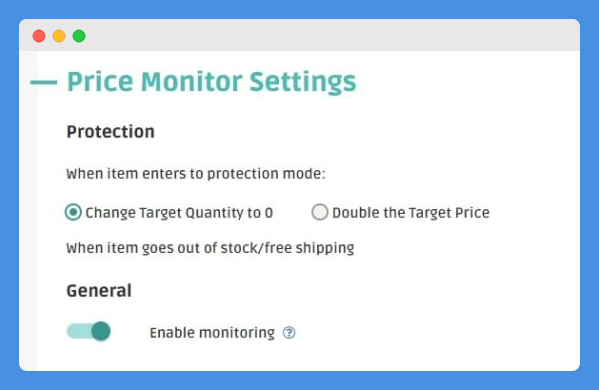 You can stop the tool from monitoring your listings. DSM Price Monitor has a protection feature. When your product is excluded from specific parameters like free shipping or sales by a preferred supplier, the price monitor will either double the target price or set the quantity to zero or out of stock.
Verdict
DMS Price Monitor is more sophisticated. Plus, it has more features to help you optimize your store. Therefore DMSTool wins again.
Stock Monitoring
AutoDS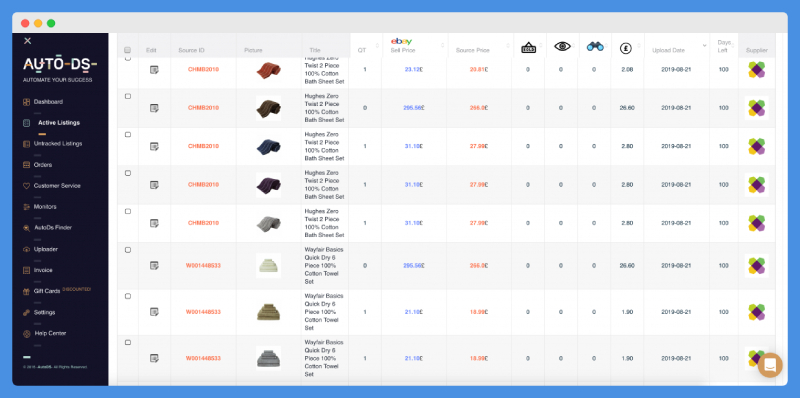 AutoDS monitors your stock to ensure you don't list or sell items that are out of stock. When your suppliers adjust their stock quantity, AutoDS will automatically adjust your stock.
And when the supplier is out of stock, AutoDS will remove the product from your store.

We earn a commission when you click this link and make a purchase.
You can set a minimum quantity in stock, and when the volume gets low, the product will be recorded as being out of stock.
DSMTool
The DMS price monitor also helps you to monitor your stock. This tool automatically restocks your items as long as your supplier has it in stock.
Verdict
Both AutoDS and DSM Tool have tools to help dropshippers monitor stock. So they are both winners for this category.
Worth Reading: Best Dropshipping Niches
Suppliers
AutoDS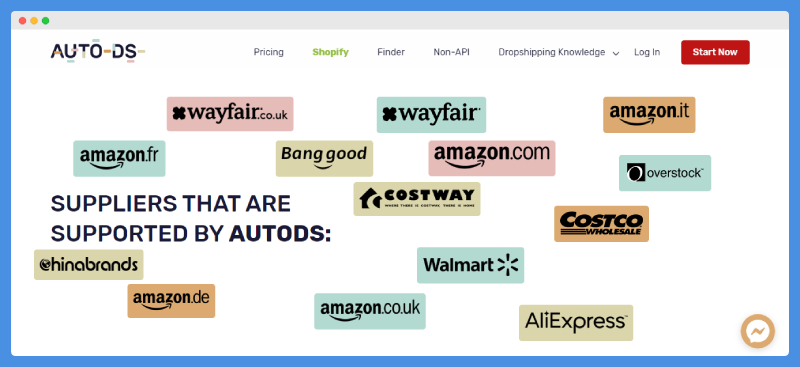 AutoDS supports 14 suppliers. Some of them include Chinabrands, Amazon, Wayfair, AliExpress, Walmart, Bang good, Costway, etc.
DSMTool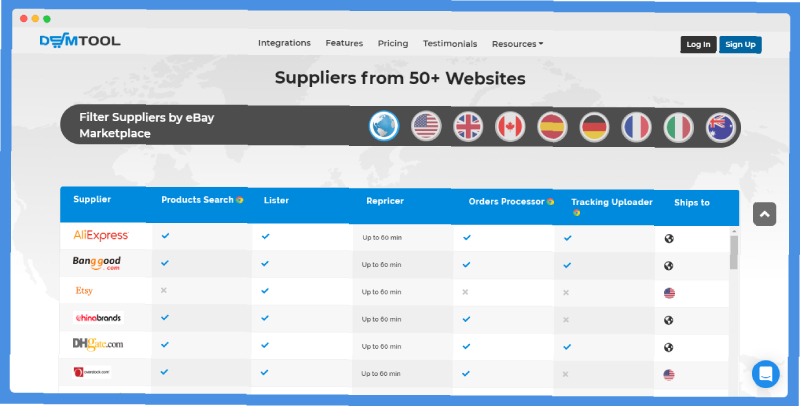 DSMTool supports suppliers from more than 50 websites, some of them include Sears, Amazon, ASDA, Best Buy, Target, TMARt.com, Costway, Overstock, Argos, etc.
Verdict
DSMTool is the clear winner. Dropshippers can access and sell products from more suppliers.
Order Automation, Processing, And Fulfillment
AutoDS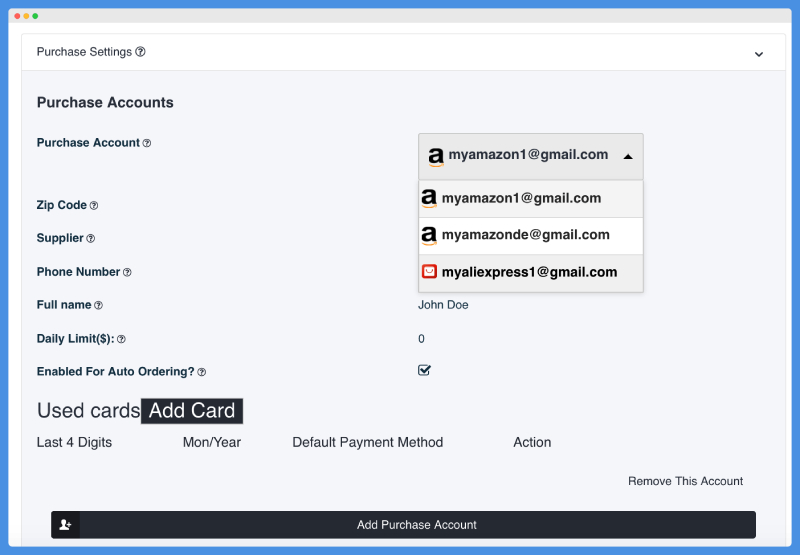 Order processing and fulfillment are some of the critical issues dropshippers face. This tool automates your order fulfillment process, just connect your eBay store to AutoDS, configure your auto-ordering account, and enable auto-order.
When you receive an order, the automatic ordering system will buy the purchased product from the supplier and then, the system will further add the buyer's details and send it.
When the item has a discount coupon, the system will automatically apply the discount during the auto ordering process to increase your profit.
DSMTool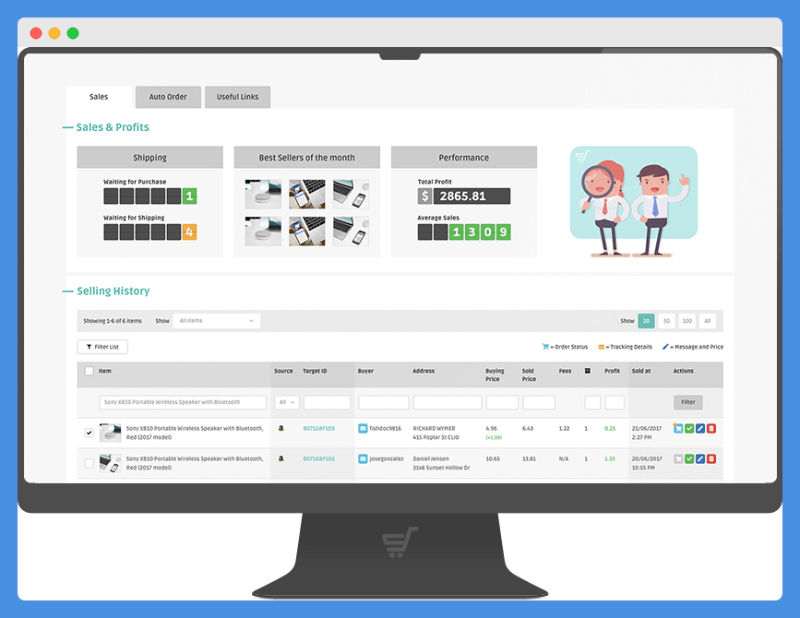 The Order Automation Tool puts your dropshipping business on autopilot, just enable the auto-order feature, buy auto-order credits, and the auto-ordering system will process customer orders.
Every time you sell an item, the auto-ordering system processes the order and ships it to your customer. You can monitor the order status for your sold items. The order status includes
Waiting to be ordered
Order in progress
Auto order successful
The auto order failed
Verdict
AutoDS and DSMTool have an auto-ordering and processing system.
Therefore, they are both winners.
Useful Post: Top Dropship Suppliers To Boost Sales During The Holiday Season
Tracking Numbers Auto-Update
AutoDS
When there is an order, AutoDS will search and automatically update with the tracking number. Even if it's not available at the time, the tracking tool will scan until it's available and updates it.
AutoDS will also convert AMZL tracking numbers to Bluecare Express.

We earn a commission when you click this link and make a purchase.
DSM Tool
The Auto-Ordering system also updates the tracking number. After a customer orders an item, the Auto-Order system scans the source website after 24 hours for tracking information. The system will automatically update the order with the tracking info.
If it doesn't find the information, the system searches for it every 4 hours for the next seven days until it finds it.
Even if your auto order fails and you manually order the item, update the order number, and DSM Auto-Order will automatically update the tracking information.
Verdict
Both tools win. They offer auto-updates for tracking numbers.
Customer Service Management
AutoDS
With AutoDS, you will serve your customers better. The customer support system lets you manage messages, returns, and cancellations. You will also view cases that are yet to be resolved and closed cases.
DSMTool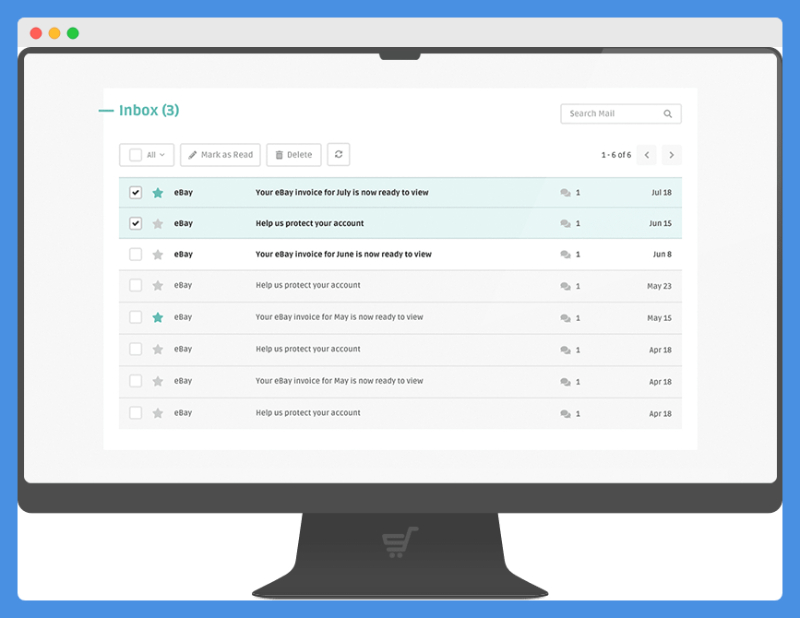 Customer service and support are very important. It boosts customer trust and sales. From the message center, you can receive customer messages. Plus, you can even send messages to your buyers.
The Auto Message feature automatically sends a message to your buyers after they have placed an order. You can use templates to create quick and canned responses to customer messages.
Verdict
AutoDS records a win here. The customer service system provides more advanced options, including resolution and closed cases.
You Might Find It Useful: Best eBay Dropshipping Courses
Performance Statistics And Analytics
AutoDS
The performance statistics and analysis tool offers a complete overview of your business. With advanced metrics and informative dashboards, filters, and bulk systems, you can gain valuable insights to help make data-driven decisions.
DSMTool
DSMTool does not offer a performance statistics and analytics tool.
Verdict
AutoDS is a clear winner. The analysis tool is essential to help merchants measure and improve business performance.
Integration
AutoDS
AutoDS supports integration with eBay & now with Shopify as well.
The following eBay marketplaces are covered.
eBay.com (US)
eBay UK (United Kingdom)
eBay DE (Germany)
eBay IT (Italy)
eBay FR (France)
DSMTool

DSMTool supports integration with eBay and Shopify too. The supported eBay marketplaces include:
eBay.com (US)
eBay UK (United Kingdom)
eBay DE (Germany)
eBay IT (Italy)
eBay FR (France)
eBay ES (Spain)
eBay CA (Canada)
eBay AU (Australia)
Shopify integration has global support.
Verdict
With AutoDS including Shopify now, both tools look good.
Interesting Read: Best T-shirt Dropshipping Companies
Chrome Extension
AutoDS Chrome Extension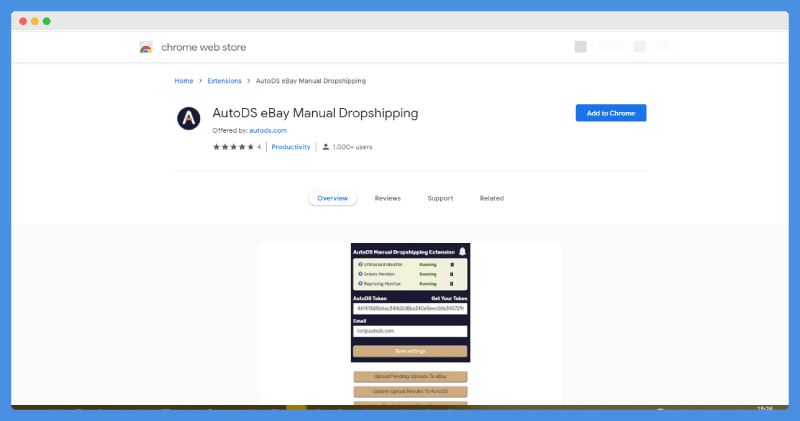 Auto DS Chrome extension comes in two forms, the AutoDS Helper – Dropshipping Extension and the AutoDS eBay Manual Dropshipping.
The AutoDS helper extension will help you
Copy addresses from supported suppliers
Extract product IDs from specific pages on the supplier site
Delete Amazon addresses

We earn a commission when you click this link and make a purchase.
For merchants using the Non-API AutoDS solution, the AutoDS extension will automate
Price and inventory monitoring
Product listings
Orders and price optimization
DSMTool Extension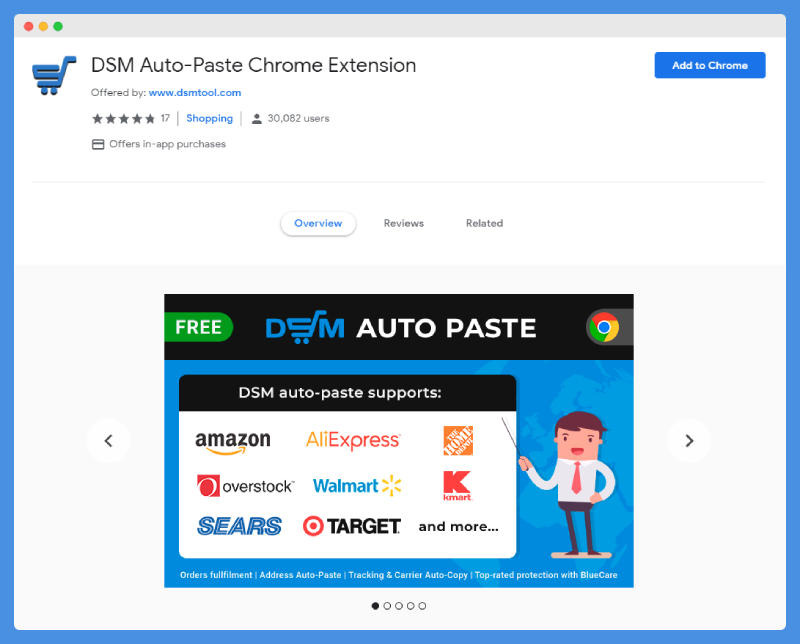 The DSM Auto-Paste Chrome Extension helps merchants automate
Product sourcing
Order fulfillment
Product monitoring and more
Verdict
AutoDS offers an extra extension to help merchants grab items and copy addresses. AutoDS wins for this category.
Non-API
AutoDS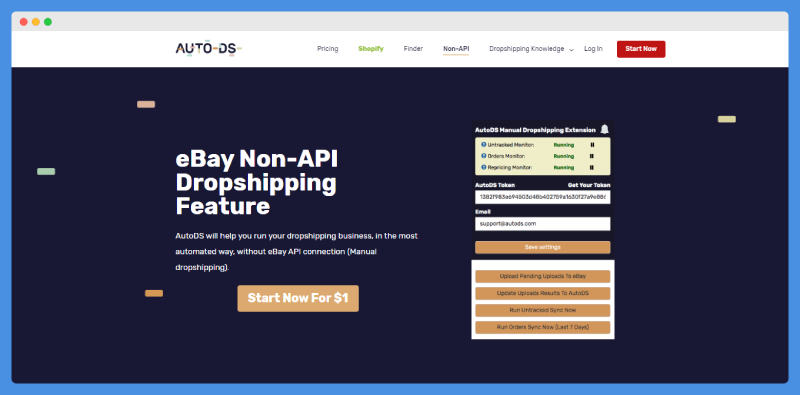 This feature lets you automate your business without using an eBay API connection. With this manual dropshipping feature, retailers can
Find the best selling products
List products (using the regular or bulk uploader)
Monitor price and stock, and more
DSMTool non api
DSMTool doesn't provide the manual dropshipping (Non- API) feature.
Verdict
AutoDS wins here. This feature provides new and existing dropshippers with more options.
Customer Support
AutoDS
AutoDS offers a Messenger chat and support seven days a week. They also have an extensive knowledge base, including FAQs and articles in English, Hebrew, Greek, and Spanish.
AutoDS also offers mentorship programs, webinars, dropshipping videos, and content-rich blogs.
DSMTool
The DSM offers customer support through the options below:
Business messenger and chat support
Comprehensive knowledge base via Blog articles and FAQs
The dropshipping academy
DSMTool – Drop Shipping Community
Verdict
Both teams have similar support options, but AutoDS records a slight win. They offer their knowledge base in four languages.
Also Read: How To Launch Alibaba Dropship Business With Alidropship
Let's now talk about AutoDS vs DSMTool pricing.
Pricing
AutoDS pricing
AutoDS has different pricing for eBay and Shopify.
eBay
Plans start from $7.99/month to $151.99/month. The custom plan for Junior dropshipper starts at $23.99/week.
You can try each of these plans for 7 days at $1.
Shopify
For Shopify, they have a free plan, $47, $97 & $197 per month plans. Each plan comes with a trial of 7 days for free. Annual payment can save you upto 20%.
Auto-ordering and Product finding plugins are also available.

We earn a commission when you click this link and make a purchase.
DSM Tool Pricing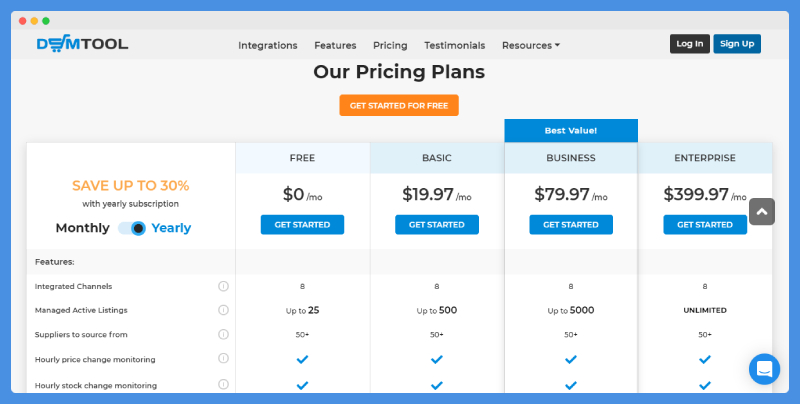 DSMTool pricing includes four plans:
Free – $0 per month
Basic – $19.97 per month
Business – $79.97 monthly
Enterprise – $399.97 per month
These plans are billed annually.
Monthly payment plans are expensive. You need to pay 30% more.
Verdict
DSMTool wins. They offer a free plan and allow you to save up to 30 percent on a yearly subscription. Plus, all their features are bundled into a single pricing plan.
Similarities
Both tools offer
Product finders
Product listing and uploaders
Order automation, processing, and fulfillment
Price and stock monitoring
Differences
Here are the differences
Advantages
AutoDS
Here's why this tool stands out
Customer support and management system
Has a manual (Non-API) feature
Supports multiple eBay marketplaces supported
Excellent customer service
Offers a mentorship program
Provides a performance analytics tool
Has an extensive knowledge base also written in other languages
DSMTool
Here's why this tool has some positive reviews
Supports eBay and Shopify integration
Offers a free plan and allows up to 25 free listings
Excellent customer support
Allows access to over 50 suppliers
DSM tool supports multiple eBay marketplaces
Offers a customer service management feature
This tool has a comprehensive resource and knowledge base
Disadvantages
AutoDS
The trial is not free. You need to pay $1
Doesn't offer a free plan for eBay
No phone support
DSMTool
Here are some of the issues with this solution
It does not offer phone support
No performance analytics tool
Worth Reading: Best Amazon Dropshipping Courses
Final Verdict: AutoDS vs DSMTool
So here we come to the end of DSM tool vs AutoDS comparison. We'll tell you our overall verdict.
Automating your business processes will help to improve performance and efficiency. AutoDS and DSMTool provide these automation features.
They will help you
Find and list product
Process and fulfill orders
Monitor price and stock
However, DSMTool offers more value and is the overall winner.
Here's why:
DSMTool bundles its features so that merchants can access them with single pricing. They also offer a free forever plan and a 30 percent discount for annual payments. The free plan allows you to access the product and stock monitoring feature.
Additionally, with AutoDS, you need to pay $1 for trial. There is no free plan in eBay pricing either.
Using DSMTool, you can source items from more than 50 suppliers.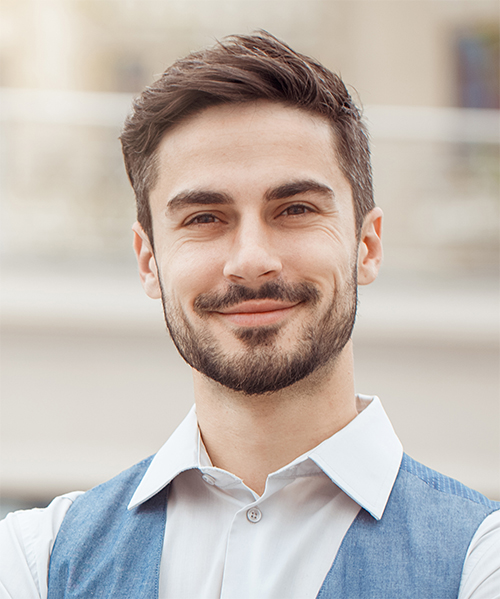 Author: Scott Macarthur
Scott L. Macarthur is a marketing consultant and an online author. He is mostly engaged in providing his expertise to startups and SMBs. He is also an author on TheNextWeb.