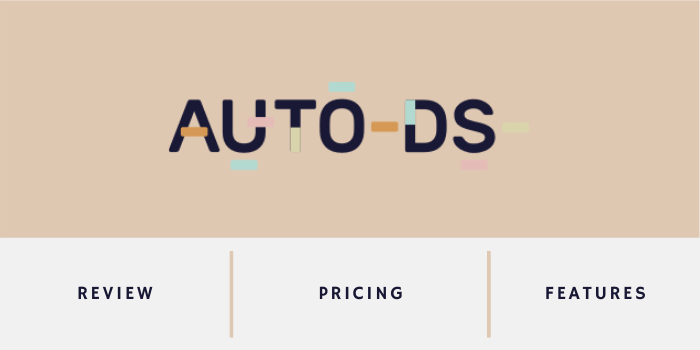 AutoDS is a dropshipping automation system that lets you streamline your dropshipping business so that orders are fulfilled in time and your store is updated as necessary.

Dropshipping is an eCommerce business model where you act as the middleman between the supplier and the customer.
This way, you don't have to deal with producing, storing, and handling products, and the supplier doesn't have to deal with the selling process.

All you have to do is sell the products on an online marketplace such as eBay, Shopify or your own store.
Once you make a sale, you forward it to your supplier so that they can fulfill and ship the order.

Let's take a look at Auto DS review and see whether it can help you in your eCommerce business.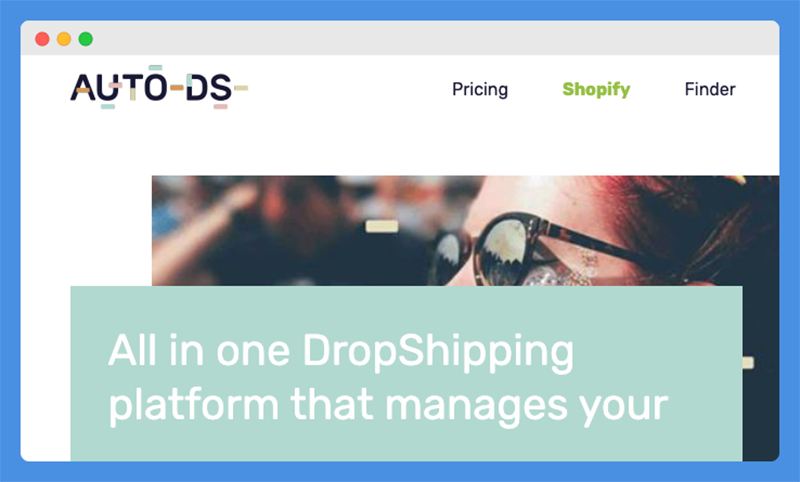 Who Is AutoDS For?
AutoDS is for people with dropshipping businesses who want to make their businesses more efficient. It's for people who:

Sell on eBay and Shopify
Want to ensure that they don't sell products that have gone out of stock
Are looking for hot, profitable products to sell
Want to provide a good customer support system to their customers
Want to get detailed analytics about their store's performance
Are trying to build positive and long-lasting relationships with their customers
Worth Reading: Best Dropshipping Companies

We earn a commission when you click this link and make a purchase.
AutoDS Features

Most AutoDS reviews online talk about the tool briefly but we'll be doing a comprehensive Auto DS review today.
Not only we will talk about its features and pricing but also its pros and cons. In the end, we will also rate the tool on four important parameters.
Let's begin with Auto DS features.
The Product Finder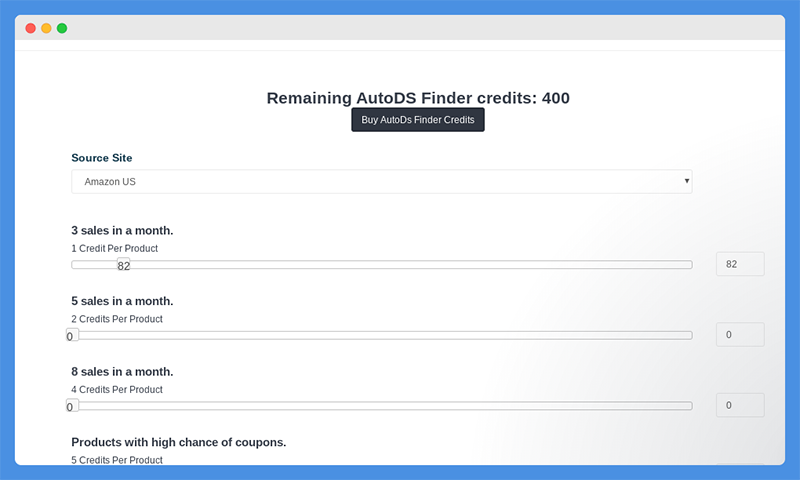 AutoDS's Product Finder tool makes it easy to sift through hundreds of thousands of products and find the best ones to list on your store.

In order to be successful at dropshipping, it is important to sell products that are popular, unique, and which will sell well.
The Product Finder tool searches through over 40,000 dropshippers and over one million products every day to find the most profitable ones for your store.

First, choose which suppliers you want to search through, such as Amazon, Walmart, HomeDepot, Costway, Chinabrands, and Banggood.
Then, choose the category you are selling in (you will see information about which categories are getting a lot of sales); you can also choose the Coupons Finder category.

The Coupons Finder category searches for products that have a high chance of having coupon discounts. This way, you can save money on the base price of the product (which you pay to the supplier) and earn more profit.

The next step is choosing your filters. For example, you can search for products that have a certain quantity, products will bring you a certain base amount of profit, and more.

Finally, you can choose the settings for the products to be uploaded to your store.
For example, you can choose whether to use the main image as your own product image and whether to upload product variations as well.

You can upload thousands of products that fit your criteria at once using this tool.

Not only that, but you can schedule the tool to search for products (using your pre-set criteria) and upload them to your store automatically every day.
This way, new products will be added to your store without you having to do any manual work.

You can add products from more than one supplier.
Automatic Order Fulfillment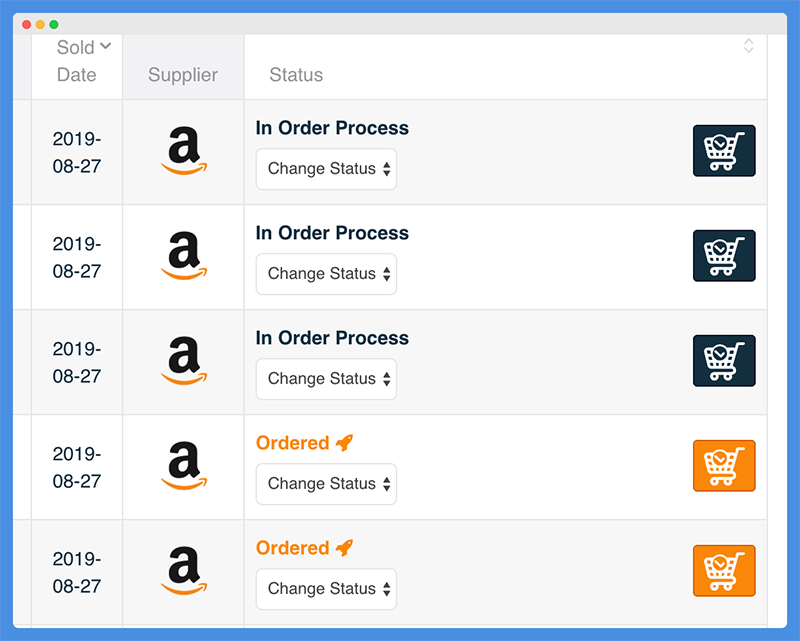 The Automatic Order Fulfillment tool fulfills orders automatically after they are placed by a customer. This has a number of benefits:

You can spend your time doing things that are more important to you, such as spending the weekend with your family
Orders will be shipped to customers quicker, leading to greater customer satisfaction and more repeat customers
You'll save money – sometimes, prices are raised after a customer made a purchase and before you had a chance to fulfill the order, which would wipe out your profits
Orders will be fulfilled within a few minutes. If a coupon is available, it will automatically be applied to maximize your profits.

We earn a commission when you click this link and make a purchase.
Not only that, but customers will be sent emails with tracking updates.

Three order confirmation emails will be sent to customers:

Order received confirmation
Shipping confirmation and tracking
Delivery confirmation and link to leave a review
This feature is only available if you are using Amazon US, Amazon UK, Amazon DE, Amazon FR, or AliExpress as your dropshipping source.

Price and Stock Monitoring

If you have thousands of products in your store, or even only one hundred, it can be difficult to keep track of all of them.

What if the price rises on a product, and then a customer makes an order, leaving you no profit? Or what if a product goes out of stock, and you are forced to disappoint a loyal customer who just placed a purchase?

The Monitoring tool makes sure that this doesn't happen. It scans all of your products every 30-60 minutes.

If a product goes out of stock, it will be discontinued in your store until it is restocked by the supplier.
If the price goes up, the price in your store will go up as well (this will depend on the pricing and margin rules you have set).

When calculating the price, there are a lot of factors AutoDS's tool takes into account, including if there are any additional shipping fees and taxes.
If there are, prices will be adjusted in your store based on your break-even pricing rules.

You can even set it so that prices are displayed as $XX.99 (one cent lower than the real price) to increase conversion rates.

Also Read: Best Dropshipping Software For eBay

Customer Relationship Management Software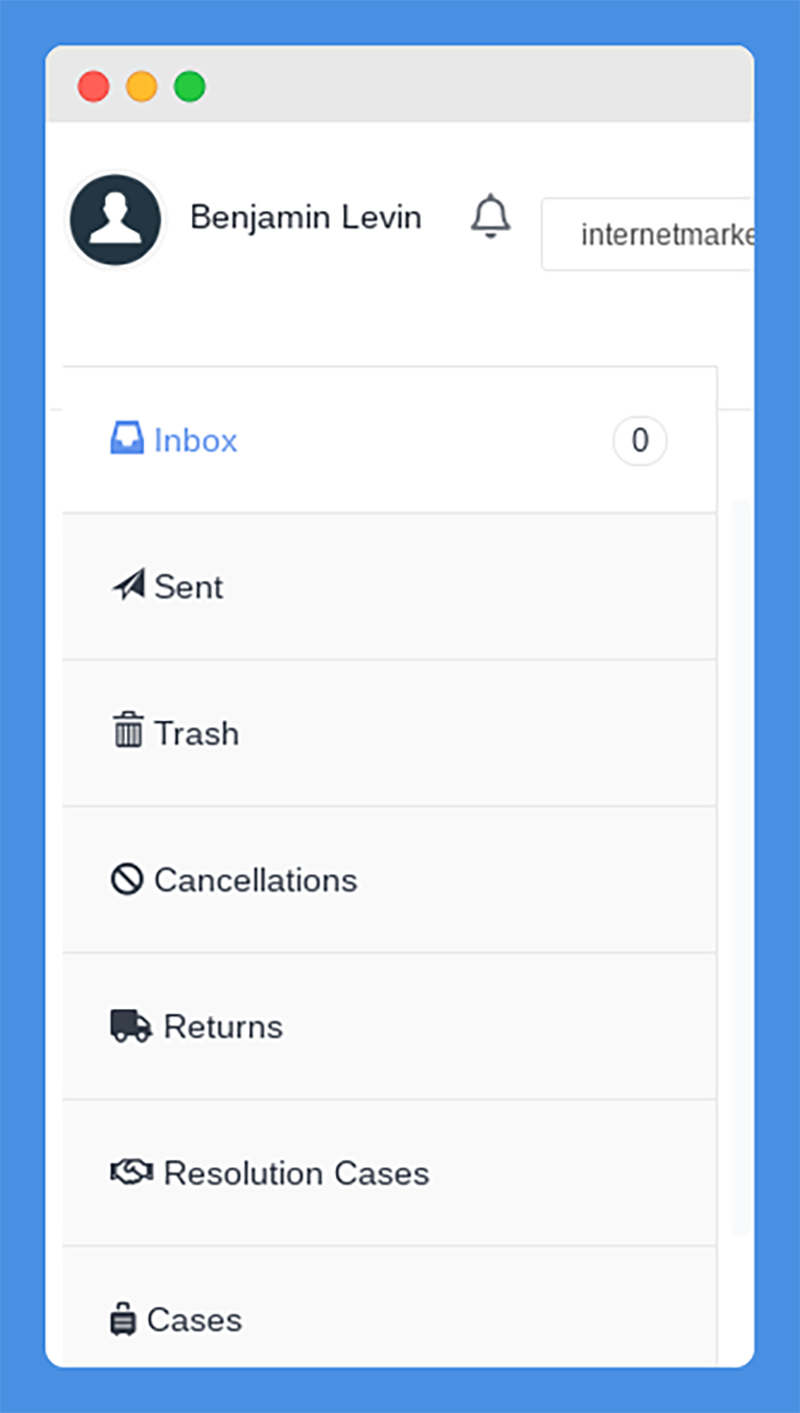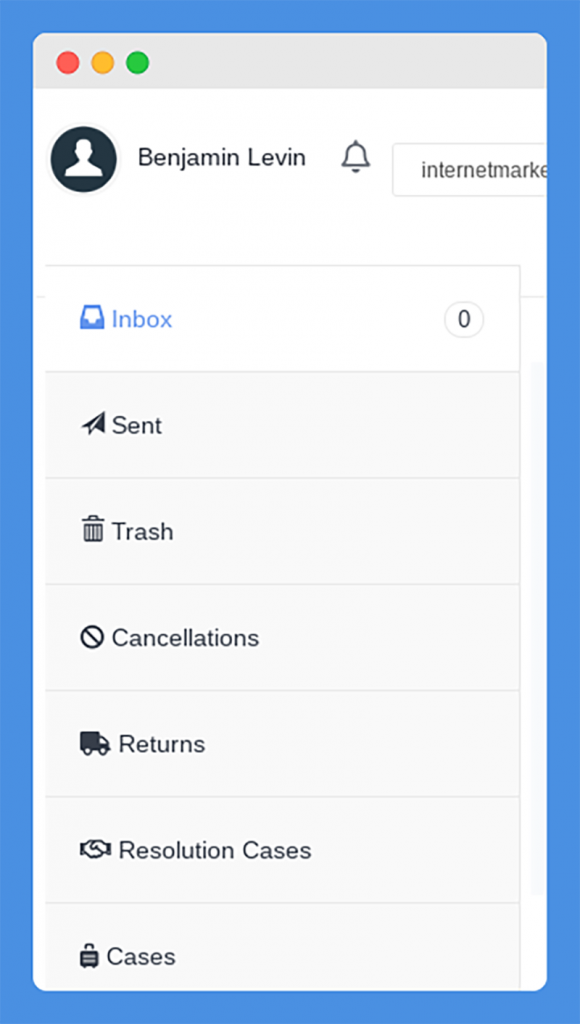 The key to any successful business is high-quality customer support and care. AutoDS's customer support software makes it easy to keep in touch with your customers and help them solve any problems.

Everything can be managed from one dashboard, including messages, cancellations, and returns.
To save time, you can even create pre-written message templates so you can quickly respond to common problems, questions, and complaints.

This way, you don't have to keep going back to manage your messages.

Automatic Pricing Updates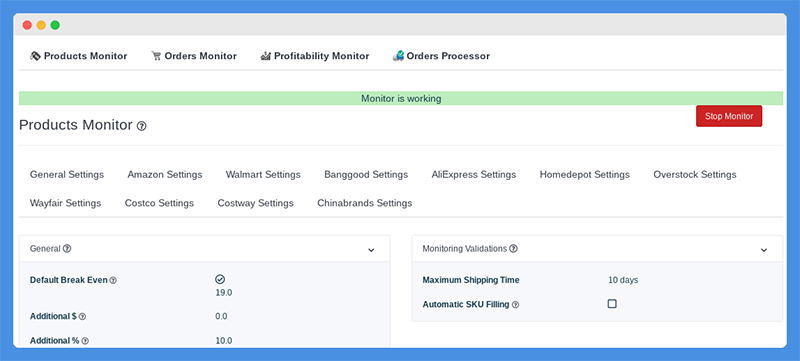 AutoDS also automatically changes your prices to help you get more sales.

For example, if a product has not been getting any sales, they can decrease the price automatically to help entice customers to buy. If a product is in high demand, they can increase the price to boost your revenue.

We earn a commission when you click this link and make a purchase.
If a product has not gotten any sales at all after a long period of time, they can automatically discontinue the listing so you don't clutter up your dropshipping store with products that are not profitable.

Get More Reviews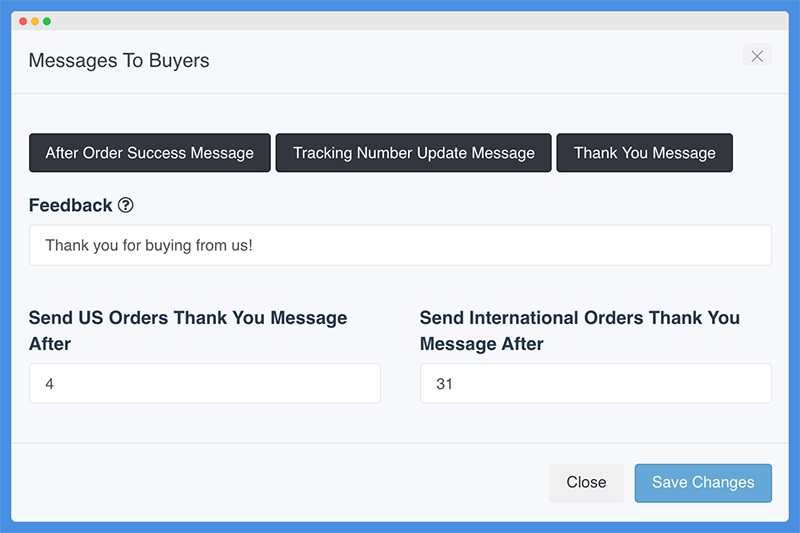 As mentioned, AutoDS automatically sends customers a series of emails after they make a purchase. Once they have received the product, they will get an email with a link to leave a product review.

Getting more reviews is important both for SEO and for increasing sales – social proof plays an important role in increasing sales.

All the messages sent to your customers can be personalized based on dynamic personalization.
If you are sending these messages to international customers, you can have them sent based on the time zones your customers are in; otherwise, you might end up confusing buyers by sending confirmation messages at the wrong time.

The Chrome Extension/Non-API AutoDS Feature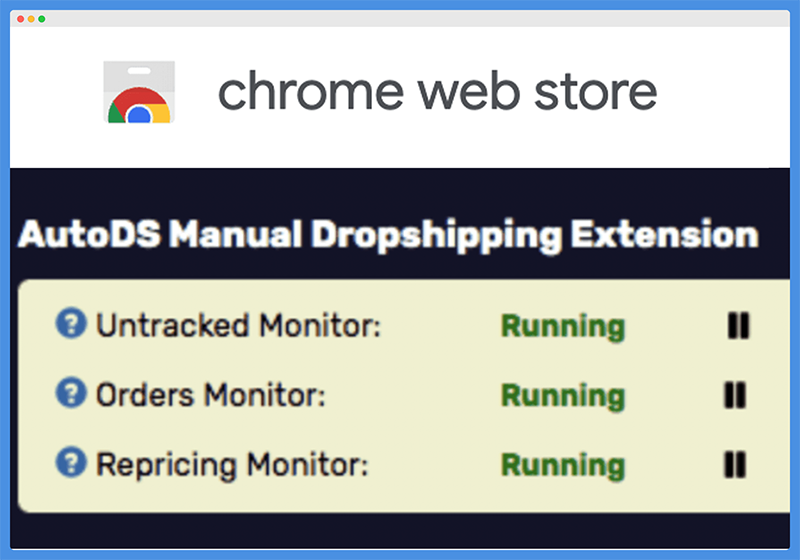 The Chrome Extension lets you use AutoDS even with stores that do not have the API set up.
As long as you have the Chrome extension open, everything will work the same way as if the API was set up – you can upload products, pricing will sync automatically, and so on.

You can have products monitored automatically as well. However, for all of this to work, you need to have your browser open and be logged into the Chrome extension.

AutoDS Shopify
AutoDS Shopify dropshipping is now a possibility.
AutoDS does everything from automating product listing to stock monitoring.
AutoDS Knowledge Base & Education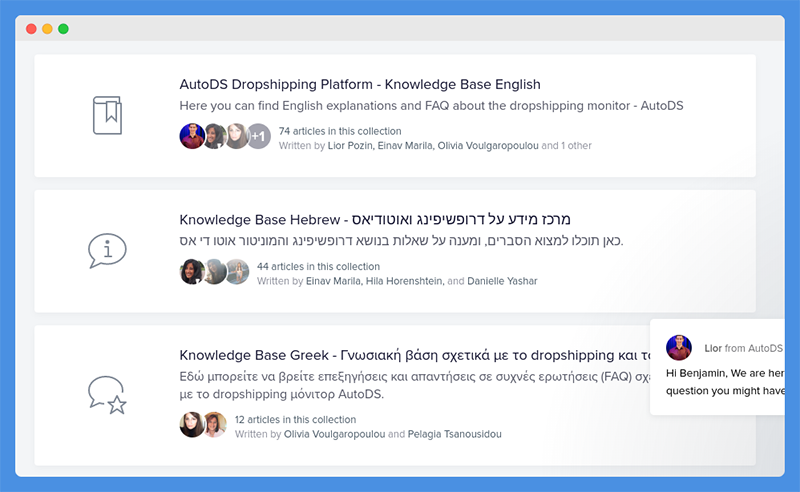 AutoDS has a number of educational resources to help its customers succeed in their dropshipping businesses.
Besides their blog, they have a knowledge base with frequently asked questions about how to use the AutoDS system.

There are also pre-recorded videos and webinars you can watch to expand your knowledge.

You Might Find It Useful: Best Dropshipping Niches

AutoDS Mentorship Program
The Mentorship Program is a free program that is offered to qualified customers. It does not cost any money; you just have to fill out a form and see if you qualify.

If you are able to get into the program, you will be able to join a WhatsApp group where you can ask questions and get help. You will also get one-on-one help from your mentor over WhatsApp.

Your mentor will guide you as you set up your store and give you the advice to help you reach your goals.

We earn a commission when you click this link and make a purchase.
Setting up a dropshipping business can be confusing to beginners, especially if you are using an advanced tool such as AutoDS.
Having a mentor to help you along with the process can make it much smoother and easier.

This can help you get more done quicker and boost your overall ROI.
Moving on, we will focus on how much is Auto DS for?

AutoDS Pricing
Let's now talk about AutoDS pricing.
There are a number of plans available. Auto DS pricing differ based on the service you are signing up for.
eBay
Just Started – $7.99/month
New Dropshipper + – $16.79/month
Professional – $151.99/month
Choose you plan – starts $23.99/week
All plans have a 7-day trial at $1.
For Shopify, Auto DS pricing has the following plans.
Shopify
Free
Starter – $47/month
Warrior – $97/month
King – $197/month
All plans can be tried for free for 7 days.
You can also go for AutoDS add-ons for Auto-ordering and Product finding.
AutoDS Affiliate Program
The affiliate program lets you earn money by referring friends. You will get a special link you can send to your friends or promote online.

Your commission will start at 20 percent for the first three months.
AutoDS Customer Support
As mentioned, AutoDS has a mentorship program, as well as a knowledge base, which has articles in English, Hebrew, Spanish, and Greek.
In addition, they can be contacted via live chat (which usually takes up to a day to get a reply) or Facebook Messenger (where they usually reply within an hour).
There are also Facebook, Twitter, YouTube, Instagram, WhatsApp, and Telegram groups/channels/profiles.
Interesting Read: Salehoo Review – Retailers Guide To Finding Verified Wholesalers

How Does AutoDS Measure Up?
Let's have a look and see how AutoDS measures up in the following four aspects:
Ease-of-use
Features
Customer Service
Value for Money
Ease of Use – ⭐⭐⭐⭐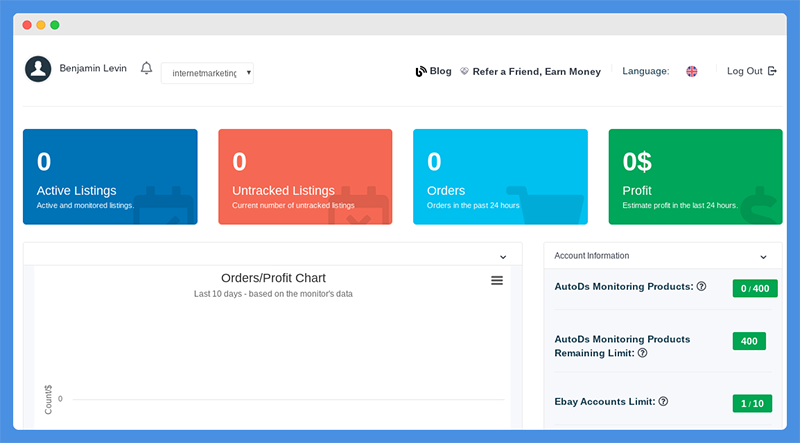 AutoDS is pretty easy to use.
However, the user interface feels a bit outdated, which is why we deducted half a star. In addition, things can load a bit slow at times, which is why another half star was deducted from the score.
In the dashboard, you will see stats for your active listings, untracked listings, total orders from the past 24 hours, and total profit in the past 24 hours.
You will also get your account information, including how many credits you have left, how many pending orders you need to fulfill, how many out of stock products you have, and so on.

We earn a commission when you click this link and make a purchase.
A quick order and profit chart will help you see whether your business is progressing or whether you are seeing a decline in your performance.
On the left-hand side, you will see a menu with the following options:
Active Listings – Here is where you can see all of your active listings alongside information such as the source price, your selling price, how many views and sales the product got, your total profit from that listing, and more.
Untracked Listings – Here is where you can see listings that are not currently being tracked via API
Orders – This is where you can buy more automatic order fulfillment credits. You can also see all orders that have been fulfilled, alongside information such as your total profit, buyer name, taxes and fees, quantity sold, and more.
Customer Service – This section is where you can manage your messages. There are further subsections:

Inbox
Sent messages
Trashed messages
Cancellations
Returns
Cases going through the resolution process
And more

Monitor – Here is where you can manage the settings for the Price Monitor tool. For example, you can set default break-even points for automatic pricing, decide whether a listing should be ended automatically if no sales are made, decide whether prices should be rounded to $XX.99, and so on. You can manage settings separately for each of the supplier sources you are working with (Amazon, Walmart, Banggood, etc).
Auto DS Finder – Here is where you can search through thousands of products to get the best ones. The first step is choosing your supplier (Amazon, Banggood, etc). Then, set your filters, such as products with a certain amount of sales per month. If you are searching for products with a higher sales volume per month or products with a high chance of having coupons, it will cost you more credits.
Upload Products – Here, you can enter a product ID to upload products to your store. You can also set the filters for the bulk upload tool and schedule your automatic upload calendar.
Invoice – Your invoices for your AutoDS monthly plans and credit purchases
Gift Cards – Find links to directories with gift cards. I tried this, but it took me to broken links.
Overall, the interface is very easy to use. It's not hard to navigate, and there aren't many bells and whistles.
However, some things can definitely be improved.
Useful Post: Best eBay Dropshipping Courses

2. Features – ⭐⭐⭐⭐⭐
We already went over all of AutoDS's features above, and it has features for almost everything you will need in a dropshipping automation service.
As such, AutoDS gets five stars in terms of features.
3. Customer Service – ⭐⭐⭐⭐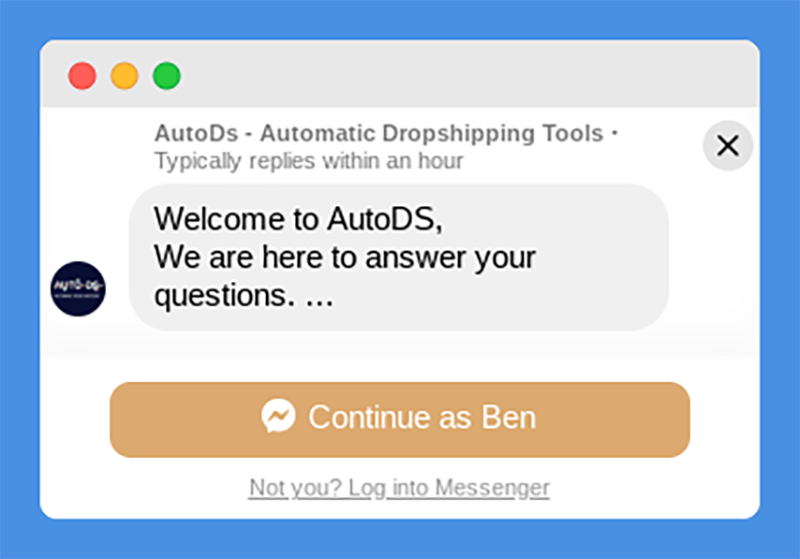 Customer service is pretty good, as they have a live chat option. Although their mentorship program and educational resources are great, they don't give you the ability to call them.
Being able to call an agent 24/7 is important, especially if you are selling to customers from around the world who may live in different time zones.
You may need to resolve an issue quickly, and waiting to get back to your customer can lead to lower customer satisfaction rates.
Phone calls are superior to Facebook Messenger chatting in many ways.
Next we rate AutoDS price and value for money.

4. Value for Money – ⭐⭐⭐

It is hard to rate AutoDS on "Value for Money," as they have different pricing systems for their different tools and services.
However, it only gets 3 stars, because if you start adding a lot of products to your store, Auto DS price can really be on a higher side.
AutoDS Pros & Cons
Let's end with some pros and cons:
Pros
You can sit back and have orders fulfilled automatically, freeing up your time and allowing you to scale up much more effectively
You can use the Chrome extension even if you don't connect your store via API
You can instantly find thousands of profitable products and upload them to your store in bulk
A free trial is available for only $0.99
There is a free mentorship program for qualified customers
There is an extensive knowledge base
Cons
The interface is a bit outdated
It can be hard to calculate your expenses since there is no monthly fee that includes all features
Buying credits can add up
There is no phone support

We earn a commission when you click this link and make a purchase.
Wrapping It Up
We finally come to the conclusion of our AutoDS review.
All in all, AutoDS is a great tool with excellent features.
If you stick to the product monitoring and product finder tools, it's affordable otherwise there are other AutoDS alternatives you can explore.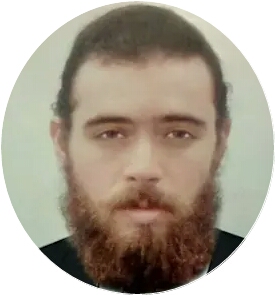 Benjamin Levin is a digital marketing professional with 4+ years of experience with inbound and outbound marketing. He helps small businesses reach their content creation, social media marketing, email marketing, and paid advertising goals. His hobbies include reading and traveling.