As a digital marketer, you're probably overwhelmed with all the tools available to help you sell your products, and if you're inexperienced, you may need to hire a developer to help you manage.
You can get overwhelmed by the ton of tools available, the work needed to ensure the tool delivers as you want it to, and the costs of maintaining a developer.
While running an effective online business requires the best and right tools out there, it's not every tool that'll help you with conversions and in turn making profits.
You need tools that are simple, easy to use, and won't burden you with technicalities and jargon so you can focus on business growth.
A HubSpot study found that only about 22 percent of businesses are happy with the conversion rates they're getting. For any business owner, this is where you want to be, but there are many hats you have to wear to get to that point if you're doing everything by yourself.
From content creation, to building your website, marketing your offerings, copywriting, driving traffic to your site, and closing sales, all these require new strategies, software, and integrations to help you get everything done.
However, if you need to save time and eliminate all the technical stress while making more money, you can opt to optimize your sales process by using a checkout page tool.
This will help you tweak a few things instead of creating new things every time you have a new offering, and ease the buyer's journey for your customers.
In this post, we're going to compare two of checkout page software tools: SamCart and Kartra, which you can use to optimize your checkout pages, as this is where most customers drop off and never return to make purchases.
SamCart vs Kartra – Overview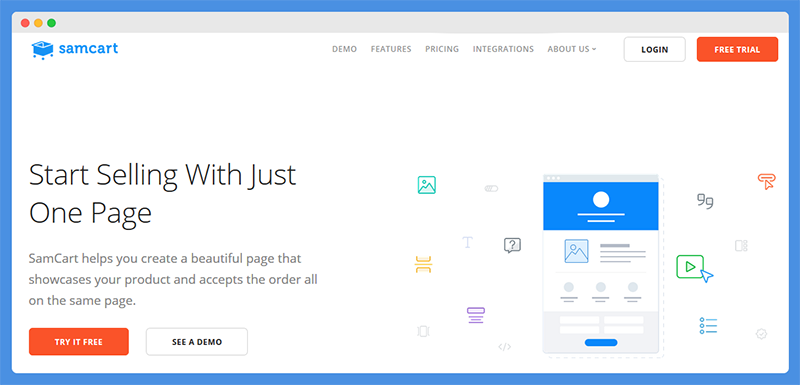 SamCart is a web-based checkout platform designed to help non-tech savvy business owners and startup entrepreneurs to maximize profits from every sale.
It does this through conversion-optimized checkout templates, order bump, one-click upsell, and payment plan capabilities that allow online sites or store owners to sell their products online easily.
You need not know how to code or even write a single line of code to implement anything using SamCart because it does everything for you. All you'll do is plug in the tool and start using it.
It takes out the stress that other similar software and products out there have in their user experience, so that you can create amazing yet optimized shopping carts or eCommerce checkout pages. This way, you can improve your conversions, sales, and boost revenue.
SamCart - Check Special Pricing
Everything you need to make your business running easier. Showcase your products, promote your pages and increase your sales. Get started with Samcart, today!
Get Special Pricing for Samcart =>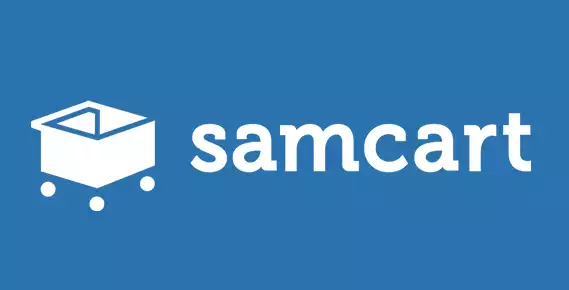 We earn a commission when you click this link and make a purchase.
The third-party tool is the brainchild of Brian Moran and Scott Moran and it's packed with features that will help you increase your sales, figure out how sales and page funnels work, and optimize the checkout experience for your customers. In turn, you'll get a higher conversion rate from the sales pages.
To use it, simply register by creating an account, edit your settings, connect a payment processor, and create your product page.
Also Read: SamCart Review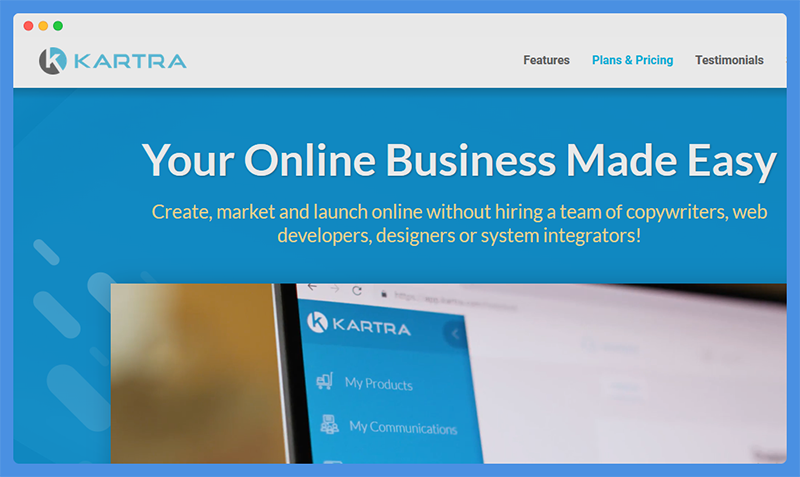 Kartra is an all-in-one checkout software solution that helps you manage your checkout, email campaigns, membership portals, site builder, and other aspects of your online business.
It combines several tools that serve as an email marketing campaign platform, marketing page builders like landing pages, sales pages, squeeze pages, etc., marketing automation platform to build and automate sales funnels, shopping carts, membership portal builders, and affiliate management system among others.
Kartra eliminates the hassles of having multiple subscriptions with different other tools, which all require you to log in and use them separately. All that can be time consuming and stressful, which is why Kartra has everything you need under one roof.
It was founded by the team at Genesis Digital, who also founded WebinarJam and Everwebinar, which are leading webinar and webinar automation solutions respectively.
The team collaborated with a renowned advertising expert, Frank Kern, to come up with critical tools for sales conversions.
SamCart vs Kartra – Who Are They Built For?
SamCart
SamCart is designed for anyone who has something to sell online, whether they're physical goods or digital products, events, and seminars among other things.
It's easy to set up, which makes it suitable for newbies and SMEs looking for a way of streamlining their checkout processes while increasing conversions and boosting their top-line revenues.
If you have a wide range of products to sell, SamCart lets you upsell and cross-sell across the range, and move your customers to new funnels while optimizing the experience for them right from the start.
Kartra
Kartra, on the other hand, is best for online store or site owners who want to automate their online sales, increase conversion rates for their digital products, and sell digital products but lack an eCommerce tool.
Plus, if you need marketing page builders like email marketing, landing pages, and more, or you're looking for alternative software to help them with all this and more, Kartra is the tool for you.
Check Out: SamCart vs ThriveCart
Features
SamCart
One-click upsells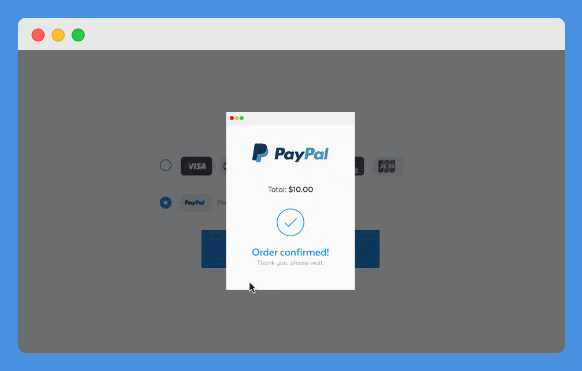 SamCart claims to help you make three times more on each sale by using upsells to offer your customers an upgrade, or an option to buy another more expensive product.
A/B Testing
Split testing is a foolproof feature that helps you identify and quickly roll out the most profitable upsells.
Order bumps
This feature allows your customers to add another product at checkout in turn increasing your average order value significantly.
Payment plans
These plans allow your customers to pay over time and are designed to convert about 17.8 percent of customers.
With SamCart's email feature, you can use tools like Aweber, MailChimp, and Convertkit among others to manage customer email communications.
SamCart - Check Special Pricing
Everything you need to make your business running easier. Showcase your products, promote your pages and increase your sales. Get started with Samcart, today!
Get Special Pricing for Samcart =>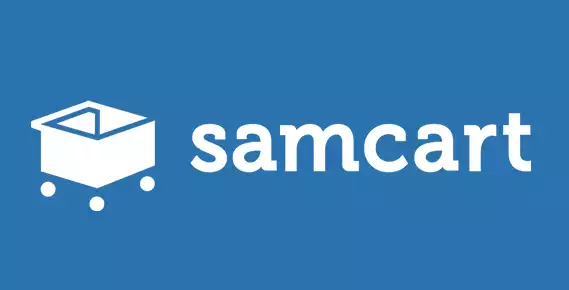 We earn a commission when you click this link and make a purchase.
Membership
SamCart's membership feature lets you create membership access automatically through Zapier inside platforms like OPMember, WishList Member, Kajabi, and MemberMouse among others.
Marketing automation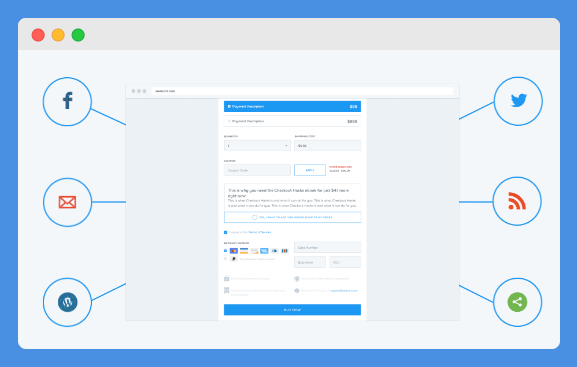 Through integrations with tools like ActiveCampaign, Hubspot, Ontraport, Infusionsoft, and others, you can send tags and customer data whenever key actions are performed.
Payment processing
SamCart lets you connect with payment processors like Stripe and get payments from all major credit cards while syncing to take payments via PayPal.
Trial Offers
This feature is designed to help you increase your conversion rates dramatically by offering easy-to-implement free and paid trials.
Coupons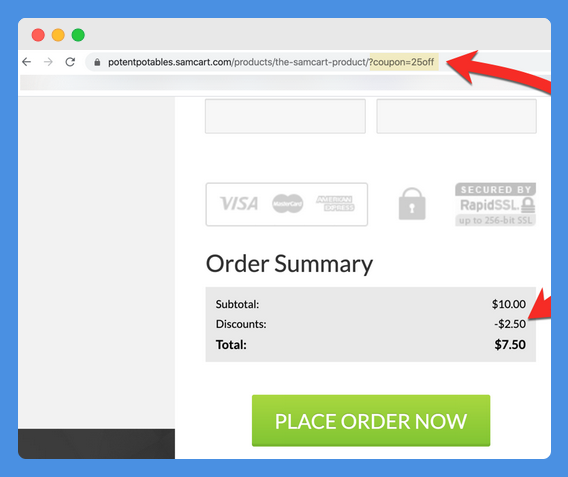 Coupons are designed to help you incentivize your sales using discount codes that help customers finalize their buying decisions.
Subscriptions
These are meant to deliver recurring revenue by offering subscription products that are easy to manage.
Explore: Best SamCart Alternatives
Subscription Saver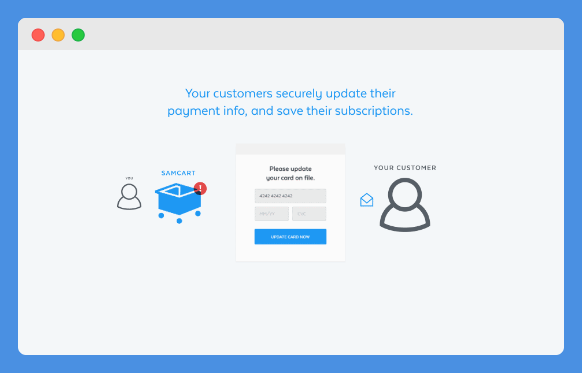 With this feature, you can recover failed subscription payments automatically as it provides your subscribers with an easy way to update their credit card details.
Custom Closers
This feature helps you boost your conversions by allowing you to add product photos, trust-building testimonials, benefit bullets, and guarantees.
Fast Setup
SamCart allows you to create market-tested and proven effective product checkout pages in less than three minutes.
Checkout popups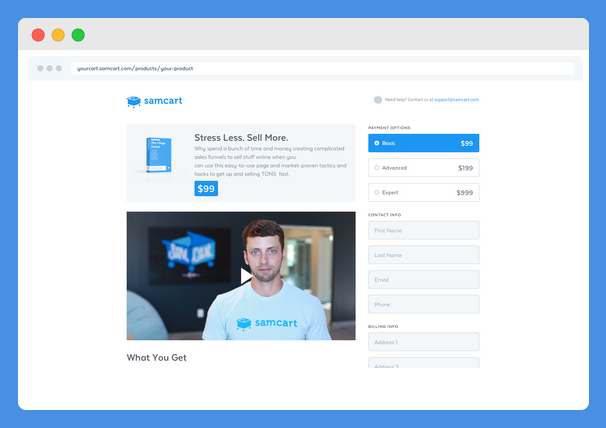 With this feature, you can give your customers an easier way to pay from your website's product page.
SSL certificate
SSL certificates help show that your site is secure and trustworthy. SamCart offers you one for free so you can create confidence with your checkout pages that are served via HTTPS and are completely SSL-certified.
SamCart - Check Special Pricing
Everything you need to make your business running easier. Showcase your products, promote your pages and increase your sales. Get started with Samcart, today!
Get Special Pricing for Samcart =>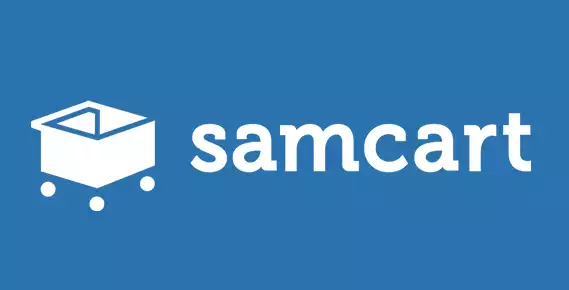 We earn a commission when you click this link and make a purchase.
Affiliate center
Create and manage your private team of salespeople who can sell your product for you and earn more money.
Check Out: SamCart vs WooCommerce
In-depth dashboard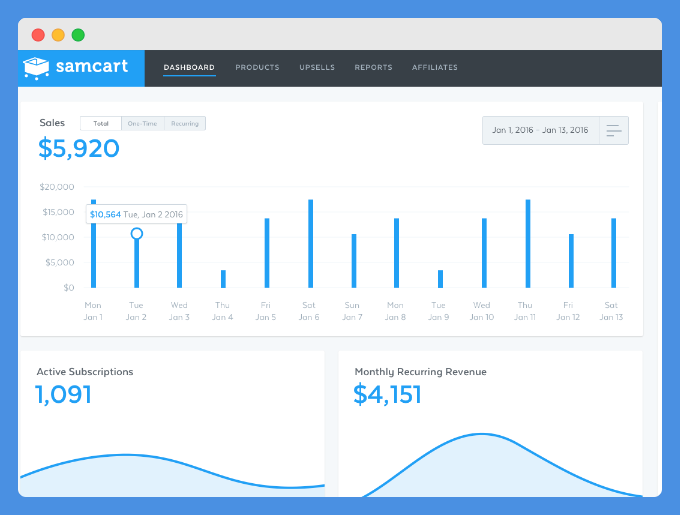 From this dashboard, you can track analytics and run custom reports on your orders, sales, profits, refunds, conversion rates, and page views, among other metrics.
Customer support
SamCart's support team is available through in-app responses, email, and you can also use their helpful knowledge base that provides tutorials, product info library, training webinars, and a lot more.
Integrations
SamCart lets you seamlessly sync up and integrate with your favorite apps and software including 750 more through Zapier to make it easier to run your business. It can sync with a bunch of tools including marketing automation, email, payment processing, and membership so it's easier to integrate your entire system using SamCart.
Kartra
Pages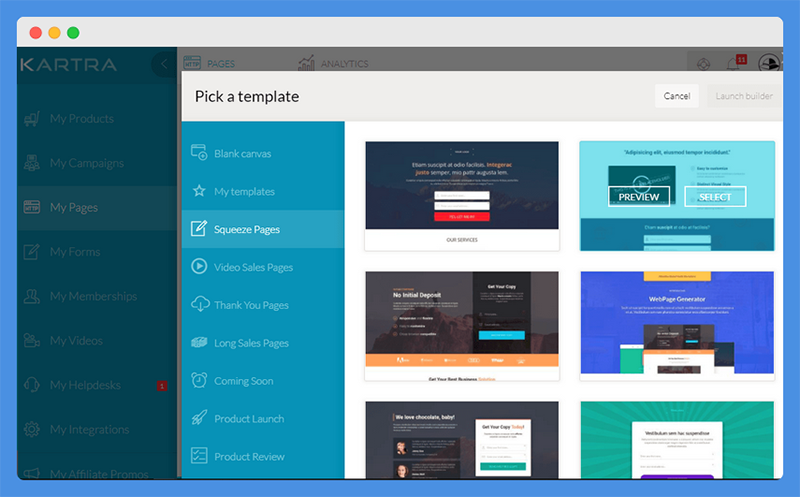 Kartra's drag and drop page builder offers hundreds of professionally designed templates that are flexible and 100 percent mobile optimized.
Mail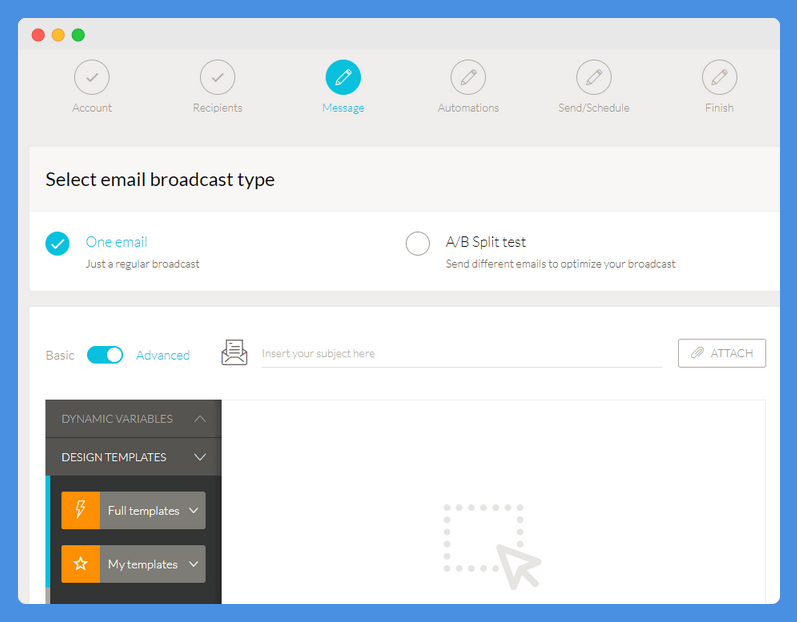 You can create automated or live email/SMS marketing campaigns and communicate/engage with your customer base.
Leads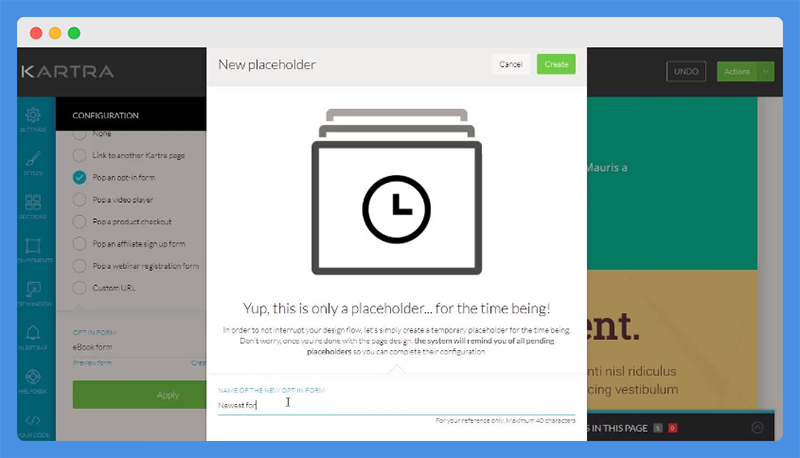 This helps you build your database of leads, prospects and customers, and use lists and custom tags to organize them in theme groups.
Funnels and campaigns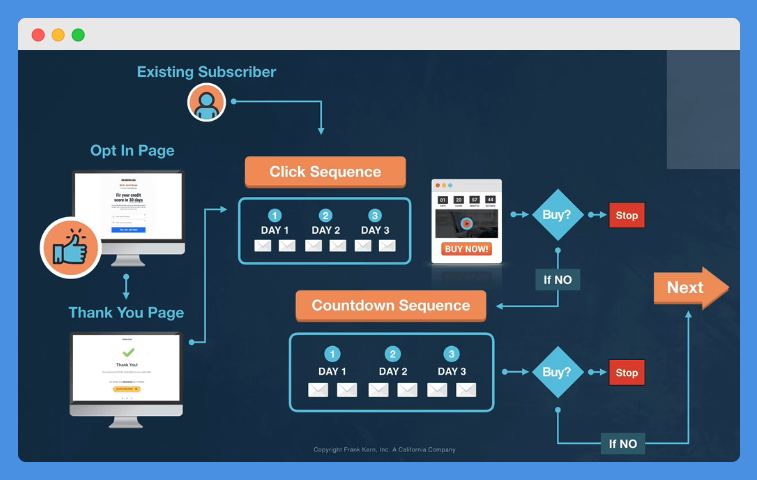 To convert visitors to leads, customers, and eventually to recurrent clients, the Kartra funnels and campaigns help you engineer a multi-page funnel flow to achieve this.
Videos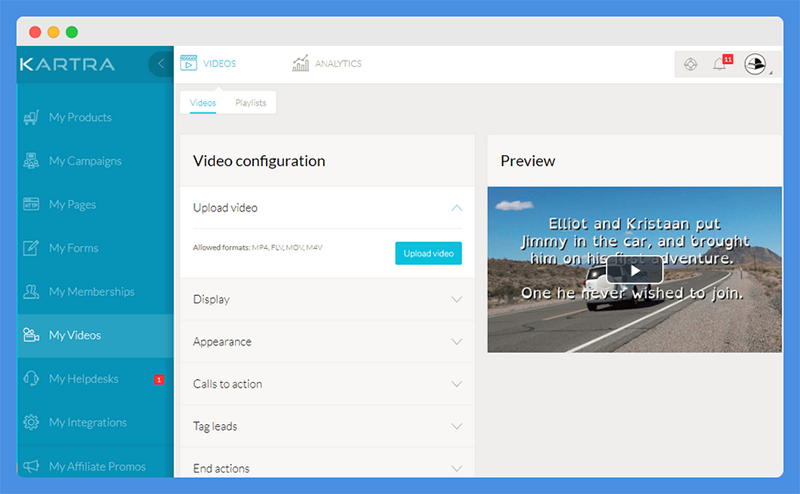 If you're a video marketer, you can pop offers midway, as users view your videos and inject marketing tools like lead capture forms, multi-video playlists, and a lot more.
Explore: SamCart vs Gumroad
Checkouts
This feature helps you sell your offerings online with secure and beautiful forms for PayPal and credit card payments.
Calendars and forms
Kartra offers a calendar through which you can register and organize your scheduled sessions with your user base from one dashboard, and use gorgeous lead capture forms or create your own with custom fields complete with powerful tagging and automation rules.
Memberships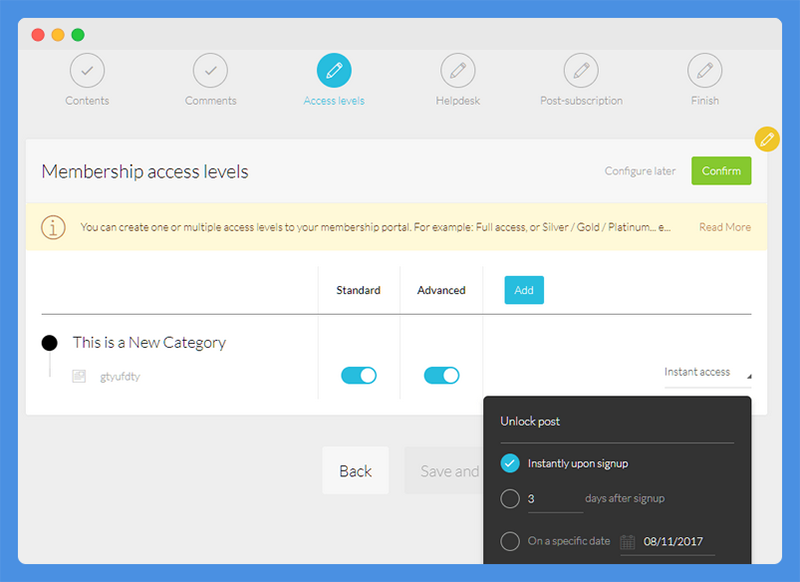 Kartra also provides a professionally designed drag/drop membership portal builder so you can deliver your content, courses, or training materials.
Helpdesks
This feature integrates with Kartra's Checkouts for live chat and support ticketing, plus offers billing support.
Affiliates
You can recruit, manage, and track your own sales army of affiliates to promote your own products and deliver flexible commissions, payment milestones, and more.
Check Out: SamCart vs ClickFunnels
Agency
If you're a digital agency, you can use Kartra's agency feature to service and manage customer accounts from a centralized console.
Marketplace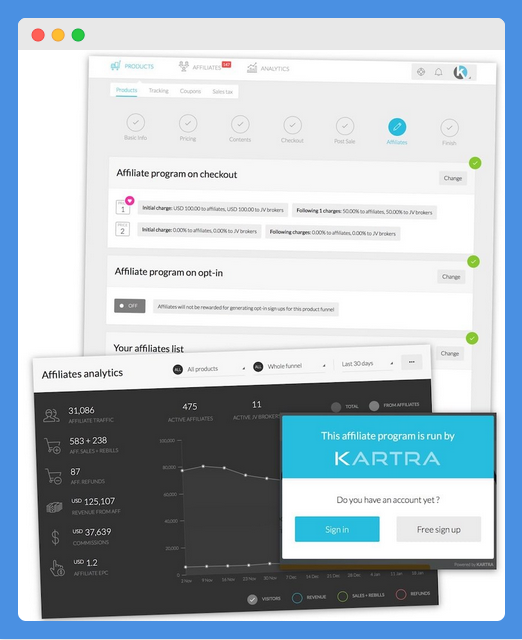 From this platform, you can discover other users' resources and sell your marketing funnels or expert services.
Integrations and API
If you're tech or code-savvy, you can use Kartra's comprehensive API to program custom add-ons.
Kartra integrates with payment gateways, email gateways, SMS gateways, membership integration including Wishlist, aMember, S2Member and others, Zapier, Kajabi, calendar integrations, and help desk integrations.
Kartra Support
Kartra's support team offers world-class responses through an online support ticket, social media pages, FAQs, and you can visit the Kartranaut Training page to find out more about how Kartra works and its features.
You can also join the Facebook community and get more help, strategies and marketing ideas from other users, or even request a feature from its development team.
Pricing
Note: These are the prices as at the time of writing, and may vary over time as adjusted by the software companies' policies.
SamCart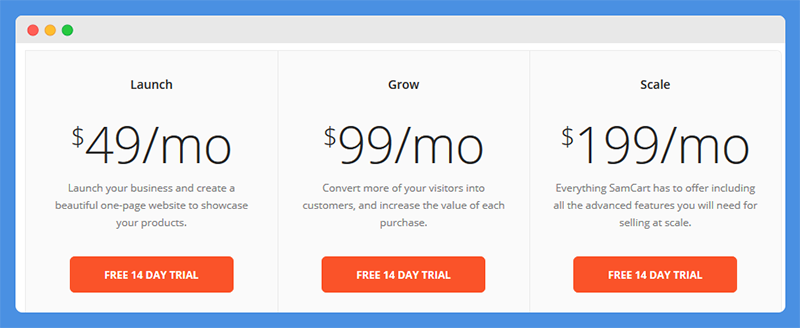 SamCart offers four pricing plans: Launch, Grow, Scale, and Enterprise.
Launch costs $49 per month for 1 admin user, and is designed to help you launch your business and create an amazing one-page site for showcasing your products. It has SamCart's branding on it, and lacks features such as custom checkout fields, pre-purchase add-ons, post-purchase upsells, and multiple payment options. Instead of UTM tracking and market reporting, this plan offers a dashboard & sales report, but other than that, there's no reporting function.
Grow costs $99 per month for 3 admin users, and is tailored for more conversions of visitors to customers, while increasing purchase value.
Scale costs $199 per month for 10 admin users, and offers everything SamCart provides including advanced features for selling at a larger scale.
For each plan, you get 99.98 percent industry-leading uptime, but in terms of customer support, the Launch plan offers KnowledgeBase+ Email (2 Day SLA), Grow offers KnowledgeBase + Email (1 Day SLA), while Scale offers KnowledgeBase + Email (Priority).
SamCart - Check Special Pricing
Everything you need to make your business running easier. Showcase your products, promote your pages and increase your sales. Get started with Samcart, today!
Get Special Pricing for Samcart =>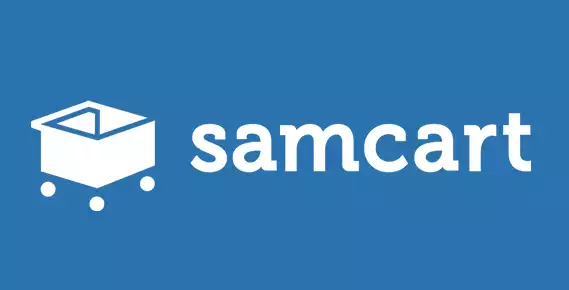 We earn a commission when you click this link and make a purchase.
All plans also include checkout templates, integrations with your favorite apps and tools, payment processing with Stripe or PayPal, coupons, checkout popups, and a free SSL certificate.
An Enterprise plan is also available at $399.99 per month value that blends SamCart's advanced features with white glove services.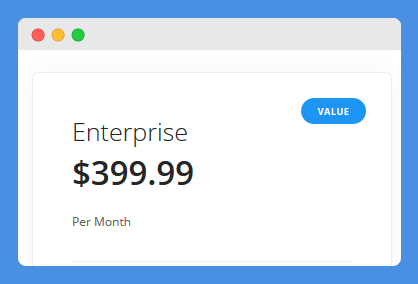 These include a dedicated account manager, subscription migration support, product roadmap prioritization, launch reviews, custom reporting and exports, technical setup support, and multiple sub-accounts.
Kartra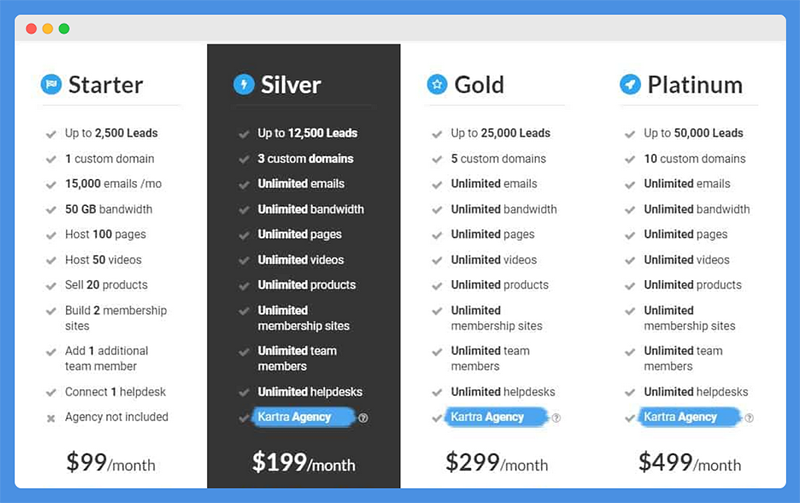 Kartra also has four pricing plans: Starter, Silver, Gold, and Platinum.
Starter costs $99 per month and allows you to send up to 15,000 emails per month, sell 20 products, host 100 pages and 50 videos, and reach up to 2,500 leads on 1 custom domain.
Silver costs $199 per month and allows you to send unlimited emails per month, sell unlimited products, host unlimited pages and videos, and reach up to 12,500 leads with 3 custom domains.
Gold costs $299 per month and allows you to send unlimited emails per month, sell unlimited products, host unlimited pages and videos, and reach up to 25,000 leads with 5 custom domains.
Platinum costs $499 per month and allows you to send unlimited emails per month, sell unlimited products, host unlimited pages and videos, and reach up to 50,000 leads with 10 custom domains.
Kartra Agency is included in the Silver, Gold, and Platinum plans as a bonus. However, all Kartra plans include Kartra checkouts, pages, leads, forms, funnels, and campaigns, memberships, affiliate management, mail, marketplace, calendars, helpdesks, and videos.
Additional domains can be added to your account when needed, plus email sends and/or bandwidth without upgrading to a higher plan. You can also add the comprehensive API if you want to program your own custom add-ons.
Kartra also offers a 30-day money-back guarantee if you're not satisfied with the product, but you'll get a full refund when requested within 30 days after you purchase the software. You can reach the customer support via email or use the help desk to send a message for your refund.
Explore: SamCart vs Shopify
Similarities & Differences
Pros & Cons
SamCart
Pros
Simple and easy to use interface
Robust split testing built into the cart
Supports order bumps and one-click upsells
Good reporting dashboard
Flexible subscription payment plans
Free trials available
Integrates with Zapier and other common tools and services
Thorough live chat, documentation and engaged Facebook group
Feature-rich affiliate management
Granular control over discounts and coupons
Supports popular payment platforms
Provides subscription saver feature
Offers free SSL certificate
Fast setup without charging any fees
Has a sandbox mode you can test before going live
Single page product and checkout reduces cart abandonment rates
Cons
Only two payment processors supported
Limited design template options for checkout pages
No native digital sales tax calculator
Subscription saver, one-click upsells, split testing, and affiliate center only in the premium plan
Free trial too short
SamCart - Check Special Pricing
Everything you need to make your business running easier. Showcase your products, promote your pages and increase your sales. Get started with Samcart, today!
Get Special Pricing for Samcart =>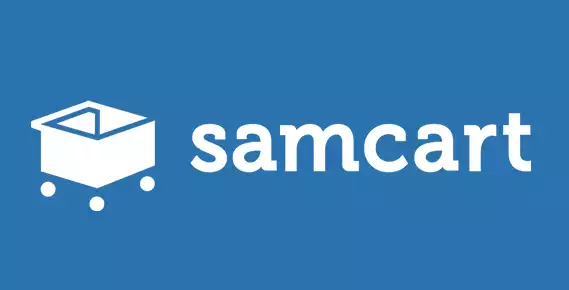 We earn a commission when you click this link and make a purchase.
Kartra
Pros
Combines several software features in one platform
Offers Kartranaut training to help you use the software
Facebook community helps you get more ideas and strategies
Easy to use software
Offers split testing and sales funnels
Better value than other tools
Helpful customer support
Cons
Fairly new compared to SamCart
Pricing is higher for newbies or SMEs
May not be as good as email marketing platforms it aims to replace
Isn't all-in-one as some users may still prefer using separate tools for some functions
Interesting Comparison: ThriveCart vs Shopify
SamCart vs Kartra – Which One Is Best?
SamCart and Kartra are all-powerful checkout software tools you can use for your online business to sell physical goods or digital products including events, seminars, and much more.
They all have unique features that help you reduce cart abandonment and get buyers to make the purchase ultimately, but there are some subtle yet unique differences that appeal to different users.
For instance, SamCart has the one-click upsells feature that lets you offer another product for sale to the customers, while Kartra has the funnels, videos, and a marketplace where you can sell to other users.
However, there's a major difference in pricing, where Katra seems to be higher priced compared to SamCart, and it's perceived to lean more towards intermediate to advanced businesses, which usually make about $2,000 or more in revenue.
For beginners, such prices may not be appealing, even though the features are attractive enough for their needs.
Plus, Kartra is also fairly new compared to SamCart, which has been on the market for a while now and its users can attest to the benefits they derive from using it.
Although Kartra's team comprises some of the best experts in the industry and the tool is designed to be an all-in-one platform, it still falls short in some areas like email marketing, where tools like ConstantContact and GetResponse among others that have been used for years beat it hands down.
Both tools also have simple and easy to use interfaces, in-depth dashboards that offer the analytics you need to know to see how your leads are converting to customers and finally to repeat buyers.
While the two are great tools and have lots to offer, we can only have one winner for this round. In this case, we recommend using SamCart.
It's a tried and tested tool and offers all the basic and advanced tools beginners and professional users alike will find handy for their online store businesses. Plus, its prices are fair whether you're just starting out with your online business or are established.

Author: Sam Zaman
Sam loves to write on technology & related stuff. Ecommerce, mobile and internet marketing equally drive her interest. Likes gardening and experimenting with new recipes. An avid reader and absolutely mad @bout donuts :)