Since its inception, eCommerce has become one of the most lucrative businesses on the internet.
Judging by statistics, experts believe that about 95 percent of all shopping activities will be through eCommerce by the year 2040.
As the usage of eCommerce increases, so does competition for merchants in the industry.
Now, eCommerce marketing automation is needed more than ever, as all online retailers are seeking means to make the most out of their online stores.
One aspect of eCommerce where this is advantageous is in facilitating the sales funnel process.
When talking about sales funnel, it merely implies the processes or steps people follow to become your customers.
It is a multi-process that involves quite a lot, from buyer awareness to buyer interest, decision making, and taking purchase actions.
If done correctly, a sales funnel can take a new eCommerce business from being unknown to a renowned one, which generates revenue in millions.
The sales funnel process can be done manually, but such a method in this digital age would fall back for any business.
Thankfully, several sales funnel tools are available for facilitating the process, making it more streamlined with less time and effort.
Samcart and Gumroad are two popularly used tools for such purpose.
Hence, we will put Samcart against Gumroad, and in the end, you'll be able to select the better tool to use.
What Is Samcart?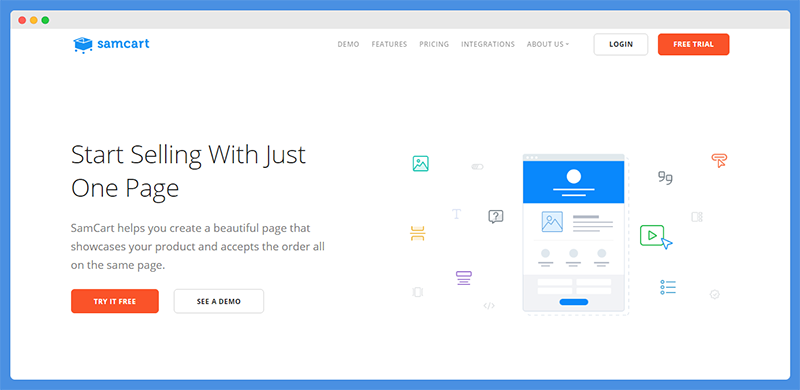 Samcart is a full-featured platform that allows you to carry out multiple eCommerce functions.
The platform was founded by two individuals, Brian Moran, a buzz ambassador, and Scott Moran, a mechanical pencil wrangler.
It was founded in 2014 and has its headquarters in New York.
It allows you to create your online store in no time, sell your products, and attract customers on the web. Also, it helps in boosting eCommerce sales.
Thousands of eCommerce merchants make use of Samcart to streamline their sales funnel process.
SamCart - Check Special Pricing
Everything you need to make your business running easier. Showcase your products, promote your pages and increase your sales. Get started with Samcart, today!
Get Special Pricing for Samcart =>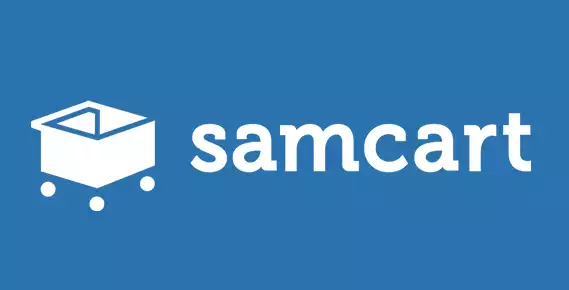 We earn a commission when you click this link and make a purchase.
Likewise, the platform has been used to sell more than 4 million products accumulating up to $750 million in worth.
Interestingly, the Samcart platform incorporates exciting features such as one-click upsells, A/B testing, checkout pages, cross-selling, etc.
This makes Samcart ideal for both small and medium eCommerce businesses. Plus, there are advanced features for large enterprises.
Related: SamCart Review
What Is Gumroad?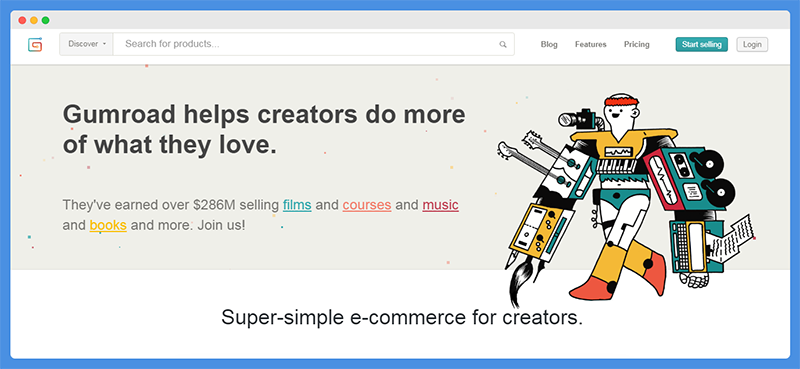 Gumroad is a super-simple eCommerce automation platform that can help eCommerce merchants achieve their business objectives.
It was founded in 2011 by Sahil Lavingia, a designer and writer.
The company's headquarters can be found in San Francisco, California, United States.
Apart from being a super-simple platform, you can quickly set it up for as little as a few seconds.
Over 40,000 eCommerce merchants currently use the Gumroad platform, which has generated combined revenue of more than $286 million in this cause.
Interestingly, Gumroad is ideal for anyone who wishes to attract a paying audience on the internet. This includes musicians, movie makers, comedians, and the likes.
With its multiple features, you can build an online selling platform, build an audience, sell products/services, collect subscriptions and memberships, and it is accessible globally.
The platform boasts several celebrity users, with Eminem worthy of mention.
Let's look at their features.
Set Up
Samcart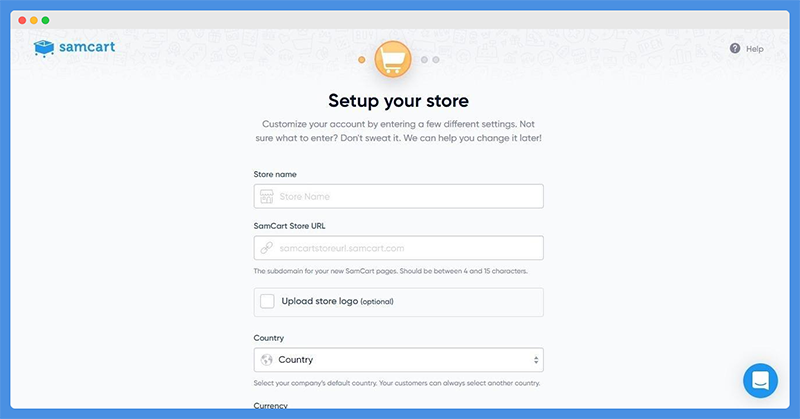 It is quite easy to set up a Samcart account. Upon registration, you should provide payment details as all of Samcart's features are premium.
You set up your store by merely filling out details such as your store name, store URL, country, currency, timezone, and contact email.
On the next page, you select your business description, type of product you intend to sell, and your monthly sales volume.
You then need to choose a payment method and you'll be directed to your account dashboard.
It's easy to add products by clicking on the Products menu and selecting New Product. Creating a product requires entering the product name, price, description, and payment frequency.
On the product details page, you can further customize by uploading images, files, assigning tags, etc.
Explore: ThriveCart vs Shopify
Gumroad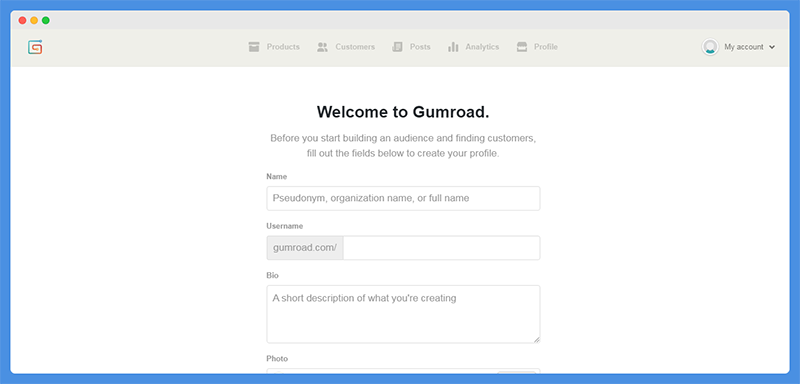 Gumroad takes seconds to set up. All you need to do is to create an account on the platform and complete your profile with your business details.
You should set a username, which will be your Gumroad store domain.
Next, you upload your store logo, select your product community/niche, residential country, and you can add products and begin selling.
To publish your products, you can either select classic sales, pre-orders, or subscriptions.
Once you enter the product name and cost, you can proceed to customize it before publishing it in your store.
You can add a product description, image, CTA button, and more on the customized page.
There is also a tab for checkout where you can set up your payment settings and maybe add discounts.
Verdict
Both Samcart and Gumroad are easy to set up platforms so both win.
Visual Editor
Samcart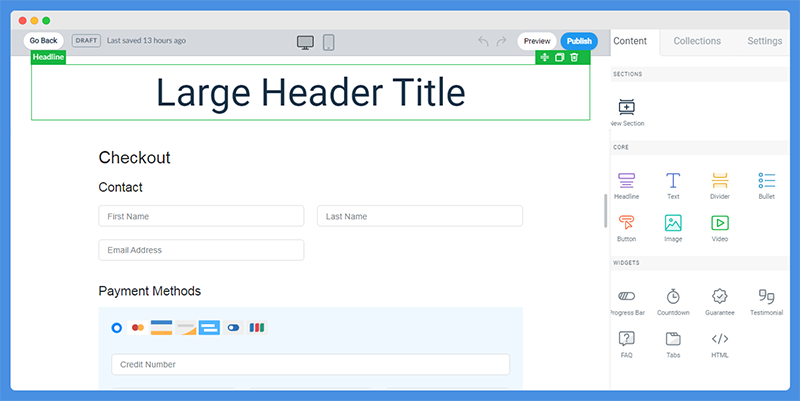 Samcart features a drag-and-drop content builder for creating converting product pages.
This drag-and-drop builder can be accessed from the Checkout Design tab after creating your product. Scroll down to edit your page and select 'Launch Drag & Drop Builder.'
On the right panel, you'll find content blocks with several cores and widgets.
This includes headline, text, image, divider, tabs, progress bar, countdown, guarantee, etc.
You can design by dragging any of them to your desired position on the page layout at the left. Other design modules can be accessed from the Collections and Settings tabs also featured on the right panel.
The builder features options to preview your page before publishing, and it can be previewed in mobile or desktop appearances.
Also Read: ThriveCart vs SamCart
SamCart - Check Special Pricing
Everything you need to make your business running easier. Showcase your products, promote your pages and increase your sales. Get started with Samcart, today!
Get Special Pricing for Samcart =>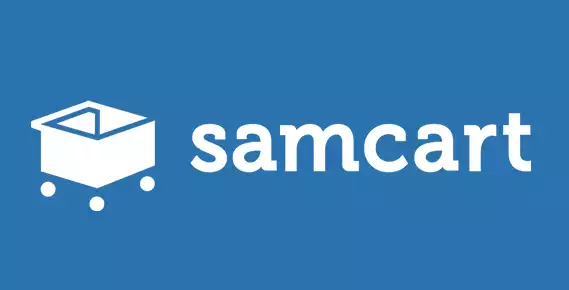 We earn a commission when you click this link and make a purchase.
Gumroad
Gumroad does not feature a visual builder for creating product pages. As you enter your product description and the remaining required details, they are auto designed so you cannot edit the designs yourself.
The same goes for payment pages as all you need to do is to enter the required details while the design process is automated.
You can edit some elements of product pages like colors and opacity by going to your profile page.
An editor is featured for editing and publishing profile posts for your customers; however, it is not a visual editor.
You can only add post titles and content and set up your desired CTA button with a destination URL. You can attach files like images and videos before you publish while the design is auto-generated. 
Verdict
The crown goes to Samcart thanks to its rich drag-and-drop visual builder as opposed to Gumroad, which features none.
Funnel/Page Templates
Samcart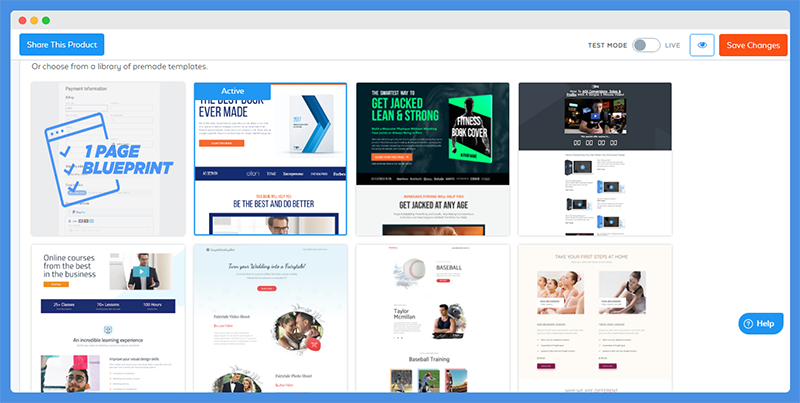 When designing your product pages, Samcart offers several premade page templates you can use instead of designing from scratch.
The template library contains templates for product pages and checkout pages. They are in two categories, the first consists of empty layout templates while the second consists of more professional designs.
Before applying any of the page templates to your design, a preview option is available to see how it looks like.
You apply a template by clicking on the tick sign on the bottom right of the template.
To start a funnel, click on Upsells from the menu tab and then select Funnel. On the next page, select create a new funnel and enter the funnel name and description.
Samcart sales funnel features offer upsells and downsells; you can set up up to 5 upsell and downsell offers.
Gumroad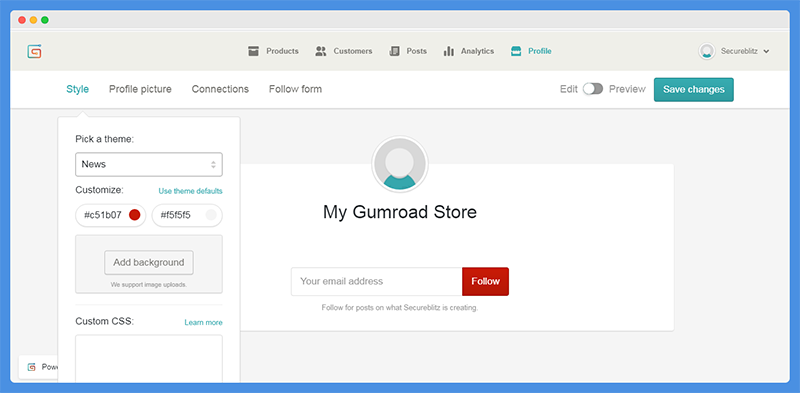 Gumroad offers various templates for your profile page, follower page, and product pages. The template you choose for your account affects all of these pages.
To access the templates, you go to your profile and select Style from the menu tab. A drop-down tab appears where you can pick various available themes and customize them.
As mentioned earlier, the pages are auto-designed, so there's no room to customize these pages fully.
The customization options available allows you to change colors, add a background image, and add custom CSS codes.
At the right-hand corner of the page menu tab, you have the option to preview the template before saving changes.
Gumroad sales funnel can be accessed from the workflows section. This can be accessed by clicking on Customers from the menu tab and selecting Workflows.
These workflows enable you to select your audience, whether customers or just followers. You can set the duration of the triggered action for the workflow.
Check Out: 3dCart vs Shopify
Verdict
While Samcart and Gumroad both have premade page templates, Samcart templates are more customizable. Also, Samcart has more sales funnel options with upsells and downsells.
A/B Testing Tool
Samcart
Samcart features a split-testing tool known as the 'Checkout Page Split-Testing.' This tool allows you to split test your product pages and premade templates to understand how they will perform to increase conversions. Likewise, the Samcart A/B testing tool can be used to test payment options as well.
Additionally, you can quickly set up the tool as it takes just a few minutes.
After creating your product, click on the upsells tab from the product customization page and scroll down to the Upsell Funnel section.
Select an upsell funnel for the product and click on +Split Test to add another funnel with which you will test against.
SamCart - Check Special Pricing
Everything you need to make your business running easier. Showcase your products, promote your pages and increase your sales. Get started with Samcart, today!
Get Special Pricing for Samcart =>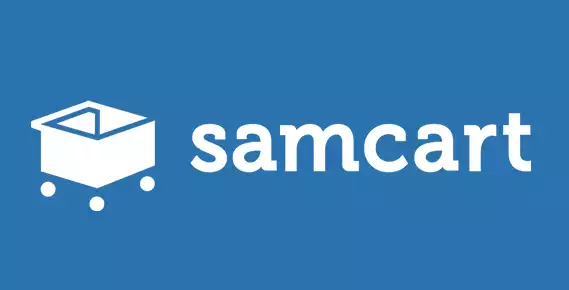 We earn a commission when you click this link and make a purchase.
Gumroad
Gumroad does not feature any A/B testing tool. However, the Gumroad administrators can carry out rigorous A/B testing by themselves on behalf of their users.
Thankfully, Gumroad users can test their customer purchase experience by using the Test Purchase option.
After creating your products, Gumroad allows you to carry out a test purchase. Also, you won't be paying any money so long as you are logged in.
You can access the arrow button next to the product name, which takes you to the test purchase page.
Verdict
Samcart features an A/B testing tool, so it wins here, although the Test Purchase option on Gumroad is also worthwhile.
Customer Management
Samcart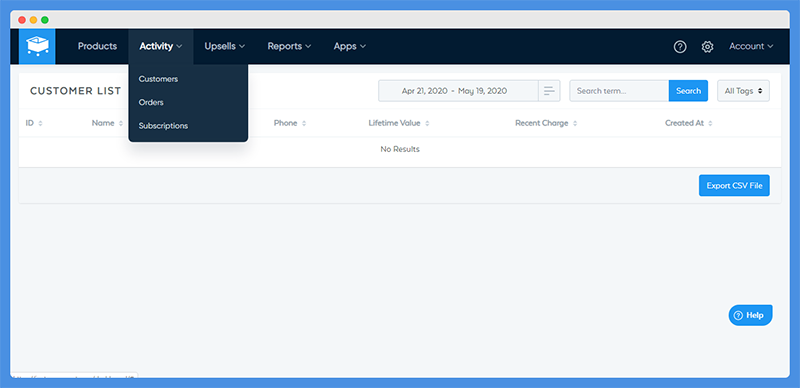 From the activity option on the dashboard menu, you can access the customer management page.
On this page, all your customers are listed along with their details such as email, phone numbers, lifetime value of items they've purchased, their most recent purchase, and their first purchase date.
Additionally, you can filter and categorize customers by tags. Also, you can search and sort the customer's list by date or keywords.
Samcart supports exporting customer lists as CSV files; this option can be found at the bottom-left of the page.
All you need to do is to enter a filename, recipient email address, and set the export time range. However, list import is not supported.
Explore: Best SamCart Alternatives
Gumroad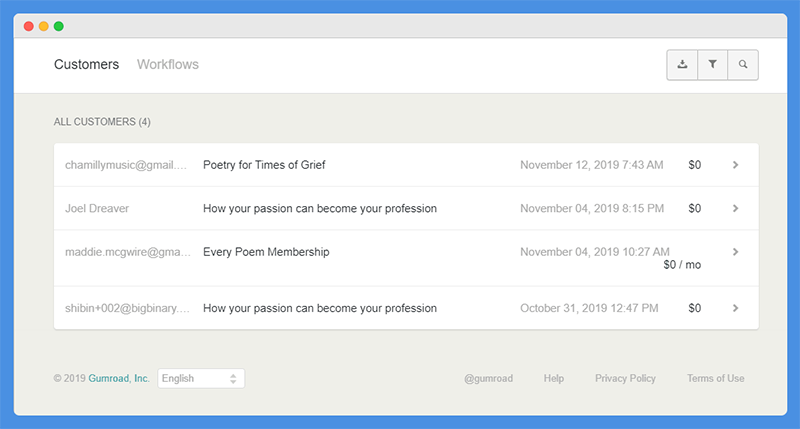 Gumroad features a customer management dashboard that can be accessed from the Customers option on the menu bar.
The dashboard displays your customer list along with some relevant details.
You can sort customers by items they have bought, items they have not purchased, the amount they have paid, and their residential country.
You can also sort customers based on their activity and you can search for customers using keywords.
Gumroad allows you to download your customer list directly from the dashboard in CSV file format.
The list can be sorted by date range with options like the last 30 days, last month, last three months, etc.
Verdict
Customer management is more comfortable on Gumroad than Samcart.
Unlike Samcart, Gumroad allows you to conveniently download your contact list directly without having to access your email box.
Analytics & Reports
Samcart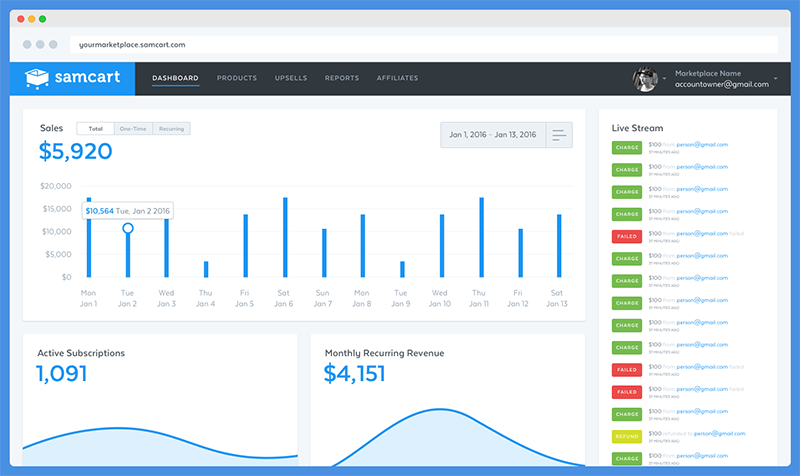 Samcart has a vibrant reports dashboard that can be accessed from the Reports option on the menu tab.
Interestingly, you can view reports of sales by product and date. Also, you can view refunded products, subscriptions, charges, upsell funnels, and web traffic.
Different details are provided in each category in user-friendly layouts, so they are easy to understand.
The sales reports provide insight into your daily sales revenue with details like views, orders, conversions, payment channels, and more.
Conversely, the traffic section provides details on how your customers get to your store in the Referrer and UTMS categories.
Every report provided by Samcart can be exported in a CSV file just as the customer's list.
Gumroad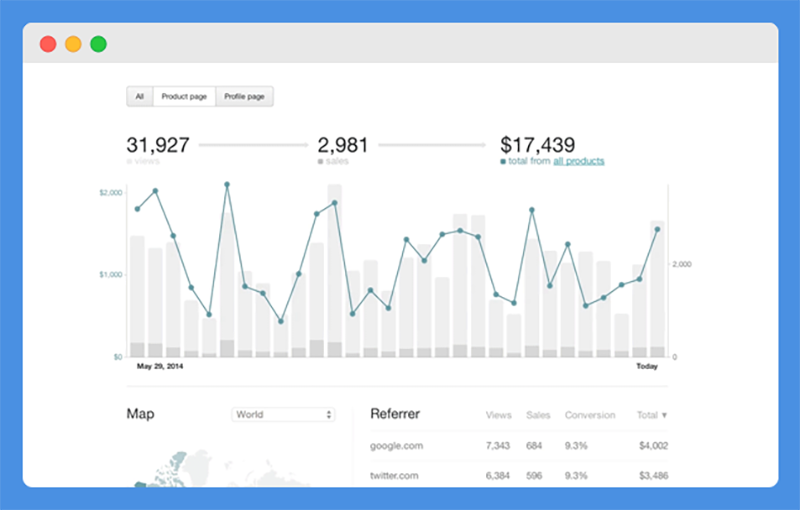 Gumroad incorporates analytics functionality on its dashboard menu. The analytics dashboard is divided into two categories which include Following and Sales.
In the 'Following' section, you can view your audience analytics while the 'Sales' section provides analytics on your store and product revenue.
Gumroad delivers analytics in a more understandable format using graphs and percentages.
No detail about your audience or sales is missed. You can get reports on audience referrals, conversion rates, and you can sort the analytics reports by date.
Check Out: SamCart vs WooCommerce
Verdict
Whereas Samcart has more options and reports categories, Gumroad analytics is also detailed, transparent, and easy to comprehend. It's a draw for both.
Third-Party Integrations & API
Samcart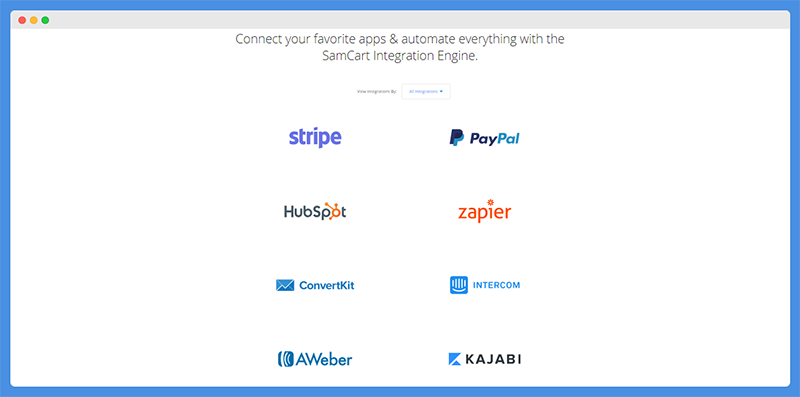 Several third-party integrations are available on Samcart, including email, marketing automation, membership, page builders, payment providers, and others.
For email marketing, Samcart integrates with platforms like Convertkit, AWeber, Drip, GetResponse, Mailchimp, etc. Marketing automation integrations available include Hubspot, Intercom, ActiveCampaign, etc.
SamCart - Check Special Pricing
Everything you need to make your business running easier. Showcase your products, promote your pages and increase your sales. Get started with Samcart, today!
Get Special Pricing for Samcart =>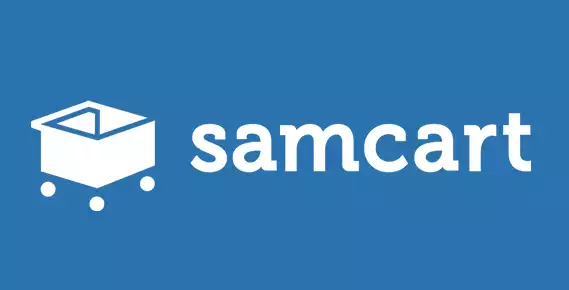 We earn a commission when you click this link and make a purchase.
Fortunately, Samcart also integrates with page builders like WordPress, and Optimizepress, and even membership platforms like Memberpress, WishList Member, and Digital Access Pass.
Plus, it integrates with payment platforms like Stripe and Paypal.
However, Samcart does not feature an API tool though they support HTTP POST.
Gumroad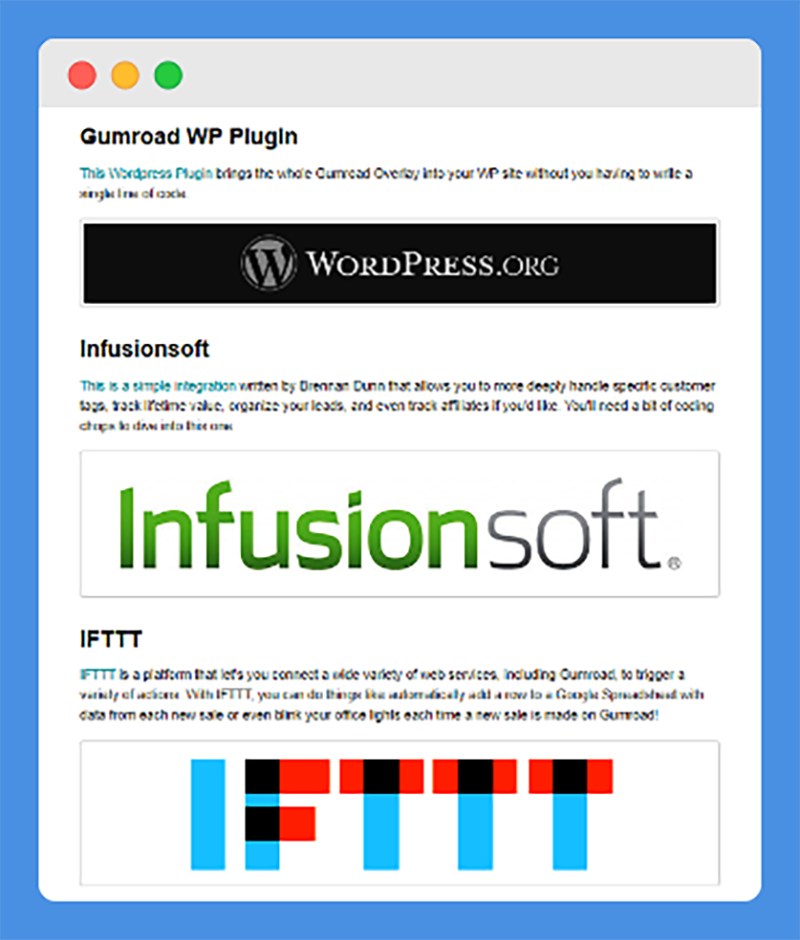 Gumroad facilitates third-party integrations for robust functionality. The platform integrates with Zapier from which you can further connect it to more than 250 web platforms.
From Zapier, you can connect Gumroad to platforms like MailChimp, Infusionsoft, and Aweber.
Integration with ConvertKit and Drip is supported for email automation. Also, it integrates with Booklaunch to help create useful book pages if you sell such products.
If you run a WordPress website, Gumroad features a WordPress plugin for easy integration.
Notably, Gumroad is featured in Youtube Annotations; hence, it'll be easy to direct viewers from your Youtube channel to your Gumroad store.
Other Gumroad integrations include SketchFab, Dropr, and Order Desk. Thankfully, Gumroad features an OAuth API tool.
Verdict
Both Samcart and Gumroad have useful third-party integrations, but integration with Zapier and API tool gives Gumroad the win in this round.
Also Read: ThriveCart Review
Gumroad vs Samcart – Customer Support
Samcart
Customer support on Samcart is provided via various channels.
There is a live chat feature on the website for quick support, while queries can be sent via email with two email addresses for different query types provided.
Samcart customer support is available from 9 am – 5 pm ET on weekdays alone, no support is offered on weekends.
All queries received by the customer support team are replied to in less than 24 hours.
If you happen to reside close to any of their offices in New York, you can walk in and get your queries answered. Samcart has offices in Austin and Maryland, and they are open from 9 am – 5 pm ET as well.
A customer support group on Facebook provides a platform for users to interact and get answers.
Gumroad
You can contact the Gumroad customer care team by sending your queries via a contact form.
Likewise, subsequent solutions or answers are sent to your entered email. You can as well contact them by sending a direct email.
However, the principal medium of support on Gumroad is the Knowledge Base.
The Knowledge Base contains articles and guides on vast subjects involving using the platform and common questions customers may have about their policies.
There are about 156 written help articles in the Gumroad Knowledge Base.
Verdict
Samcart and Gumroad have a significant similarity when it comes to customer support – none offers phone support.
However, Samcart takes a slight edge over Gumroad as it provides live chat, which is one of the quickest support mediums. Samcart's customer support availability is also more transparent than that of Gumroad.
Gumroad vs Samcart – Pricing
Samcart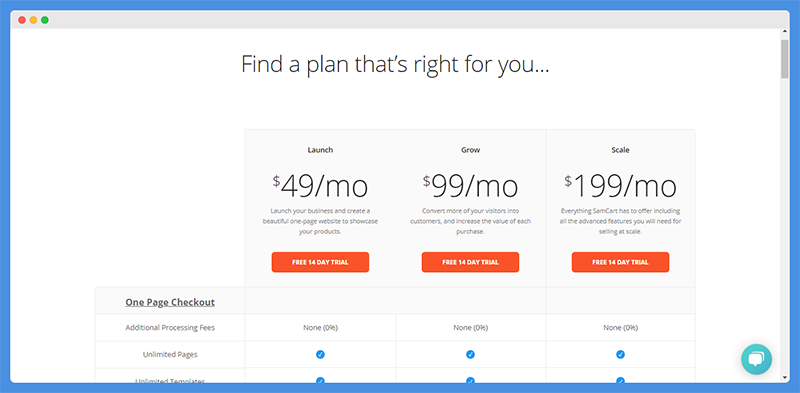 Samcart offers various pricing plans differentiated by available features and resource limits. These pricing plans include:
Launch Plan – $49 per month
Grow Plan – $99 per month
Scale Plan – $199 per month
Enterprise Plan – $399.99 per month
Note: Samcart offers a 14-day free trial period granted for all plans except the 'Enterprise Plan.'
SamCart - Check Special Pricing
Everything you need to make your business running easier. Showcase your products, promote your pages and increase your sales. Get started with Samcart, today!
Get Special Pricing for Samcart =>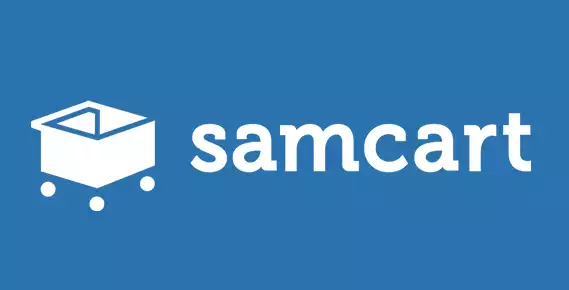 We earn a commission when you click this link and make a purchase.
Gumroad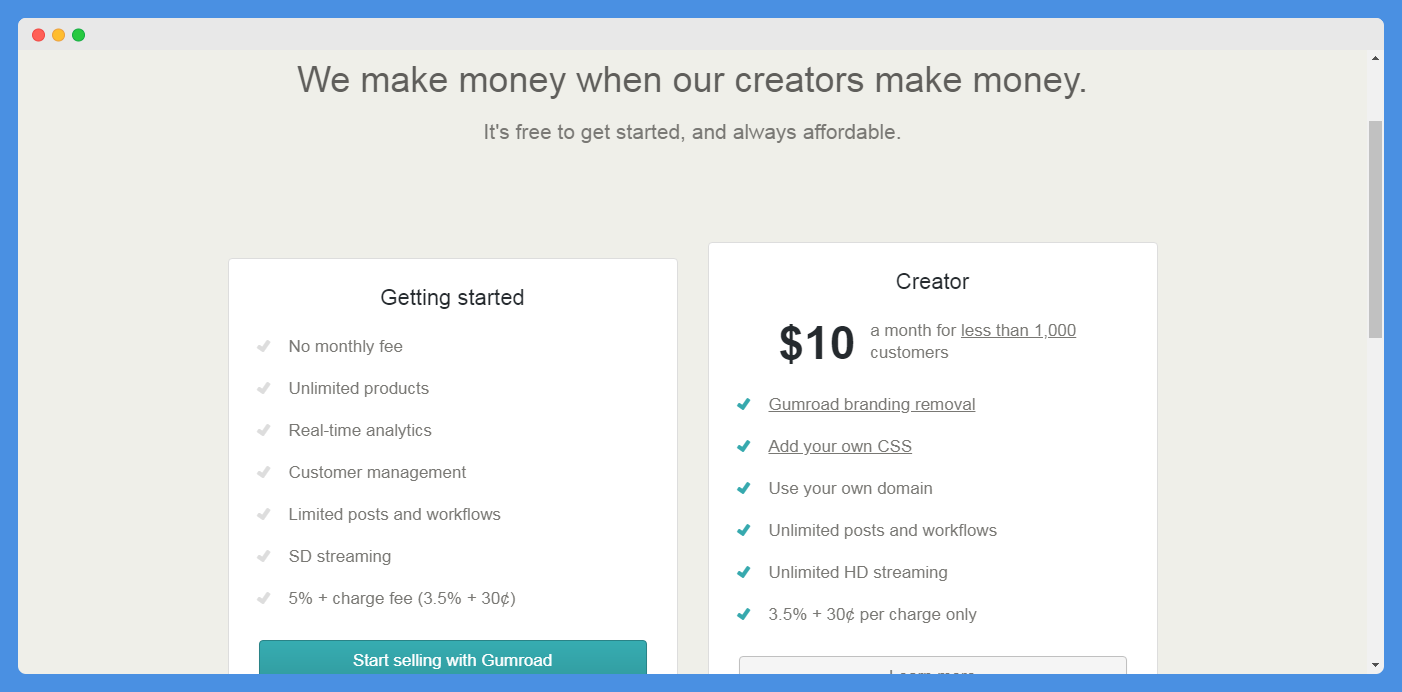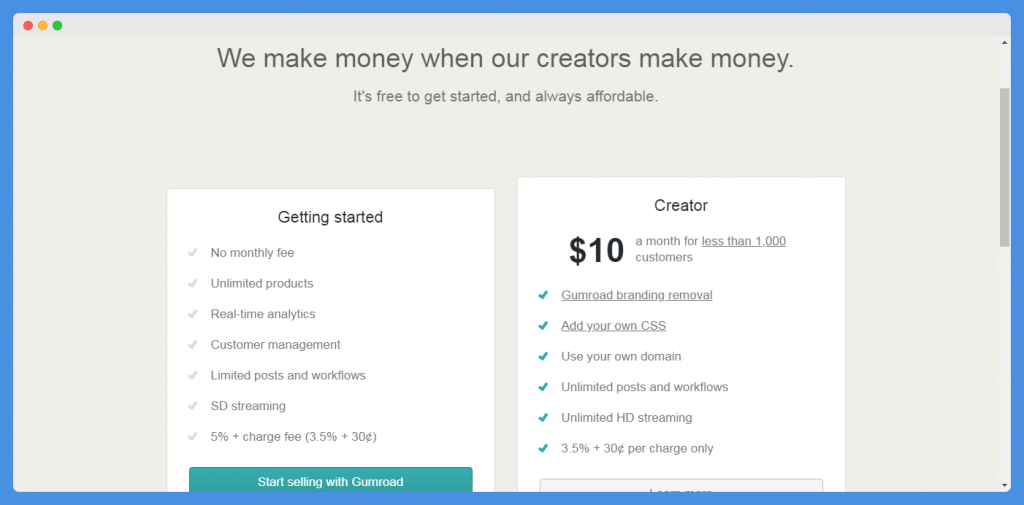 Gumroad offers only two pricing plans, which include:
Free Plan – $0 per month
Creator Plan – $10 per month for 1,000 customers maximum
Note: This implies that you can use Gumroad for free without any cost, but it comes with various feature limitations.
At the same time, the most significant limitation is the inability to use a custom domain.
Samcart vs Gumroad – Similarities & Differences
Pros & Cons
Samcart
Pros
Easy to set up
Visual builder
Premade templates
A/B testing
Reports
Third-party integrations
Good customer support
Cons
No API tool
No phone support
Gumroad
Pros
Easy to set up
Free account
Analytics
Premade templates
API tool
Third-party integrations
Allows test purchase
Cons
No visual editor
No phone support
Less customization options
No A/B testing
Explore: ThriveCart vs WooCommerce
Samcart vs Gumroad – Which Is Better?
From the verdict, you'll agree that both Samcart and Gumroad each pose as a strong competitor to the other.
For the sales funnel process, Samcart would perform better than Gumroad.
The platform offers useful features like upsells, downsells, and A/B testing, which is absent on the Gumroad platform.
The cost for Samcart is high, unlike Gumroad, which is affordable and even offers a free account; however, Samcart provides different pricing plans to meet any business scale.
Finally, Samcart allows you to build better and more converting product pages with its visual builder.

Author: Sam Zaman
Sam loves to write on technology & related stuff. Ecommerce, mobile and internet marketing equally drive her interest. Likes gardening and experimenting with new recipes. An avid reader and absolutely mad @bout donuts :)