Editor's note: Both Thrivecart and Shopify are equally popular ecommerce solutions. Depending on your requirements and choice, you can pick one of the two. Take a look at what these platforms offer and whom they serve the best. And in case you're already on one of them and looking to switch, take the services of a good software development company that offers Thrivecart to Shopify migration services and vica versa. They will assist you do it quickly and safely.
Online product and service vendors need more than just a high ranking website with lots of traffic.
High search engine ranking ensures that lots of people see your products and services, but it doesn't mean that they will actually buy your products too.
In order to get real business from customers, you need a shopping cart and a payment system.
You need a digital transaction mechanism that collects payment from customers safely and securely and also gives them access to whatever the business is selling.
Shopping carts are also one of the most important features of an online business.
However, very few businesses understand how to choose a shopping cart for themselves, or what these carts even have to offer.
Benefits of Shopping Carts
There are a lot of good things that digital technology can do for you.
Online shopping carts are an important tool for eCommerce stores.
You can use it not just for charging a credit card but do a lot more thanks to massive improvements in shopping carts over the years.
Of course, a shopping cart should be able to perform its core function but any shopping cart worth its price should have some extra features that help online businesses sell their products or services more effectively.
Some of the major benefits offered by shopping carts include the following.
Accept Customer Payments:The shopping cart platform is the underlying software that enables different digital payment models. Most online retailers accept payments through PayPal, wire transfers, credit/debit cards, Apple Pay, Amazon Pay, etc. Advanced carts also accept payments as a one-time transaction, subscription with recurring monthly payments and long-term payment plans.
Convert Prospects Into Customers:Many shopping carts adhere to a tried and tested layout or design. These carts give people the choice of using either a single or a multi-step checkout.  They also allow support through additional conversion elements like testimonials and ratings.
Generate Higher Sales:Shopping carts allow you to create new affiliates and manage them on your website. You can create discounts, coupons and other incentives such as one-click upsells and bumper offers.
Greater Integration:Shopping carts can be integrated with the existing business technology to improve the marketing and sales effort. They can be linked to CRM and email marketing tools, connected to a membership plugin or your preferred payment processing platform.
Active Support:Shopping carts are run by digital firms that offer a variety of support options including thorough documentation and an active community that offers help and support. You can also get in touch with the developer quickly through phone or live chat.
How Are Shopping Carts Used
Businesses can sell all kinds of products and services through a shopping cart platform.
If you are looking to sell your products online through your own website, you can install the cart software and link it to the products to make the process easier for customers.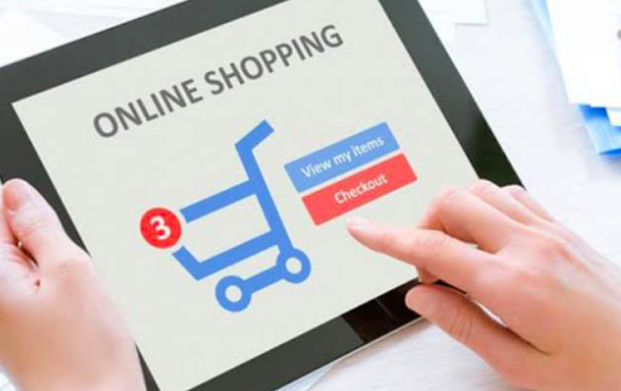 Although some shopping carts have their limitations, you can sell almost anything you want as long as the required integrations are put in place.
The type of products you can sell through a shopping cart can be put into three categories:
Services:You can sell contractual recurring services such as transportation, gym membership, and insurance. You can also sell one-off services or freelance work online like writing, accounting, web design, and programming.
Physical Products:Physical products are quite popular at online stores. There is no limit to how many products you can sell or what industry they are from. You can sell everything from stationary and greeting cards to electronics, apparel, beauty products, and even furniture.
Digital products:These are a special category of products. Digital products include software and code files such as ebooks, design templates, audio clips, and videos.
As you can integrate all kinds of products and services on your web store, you can sell pretty much anything you want on your eCommerce site.
An online shopping cart will make it easier for you to keep track of your inventory and also make it more convenient for your visitors to browse through your products and services.
Related : How To Optimize Your Product Pages To Improve Conversions
Options for Shopping Carts
If you are seriously considering the idea of promoting your business through a digital platform, you should know the shopping cart options that are available to you.
You can choose one of the two options: a hosted shopping cart or a licensed shopping cart.
Hosted shopping carts
Hosted by a third-party firm that runs the platform, the server maintenance, backups, and upgrades for these shopping carts are the responsibility of the host.
The good thing about hosted shopping carts is that hosting generally comes free or at a very low fee which relieves your business from the headache of managing the platform yourself.
The main problem of hosted carts is that customers will be directed to a third party domain for processing payments.
Licensed shopping carts
Licensed shopping carts give business owners better control and allow them to build their own specific carts. Businesses are able to customize them to their specific needs.
There is greater flexibility for changing platform features and functionality. They can also add third-party tools if needed.
The downside is that businesses will need to invest a large sum of money into the shopping cart. They will also need to train specialized IT experts and technical support staff to get the job done.
Hosted solutions are usually good for new businesses that are just starting out their own venture.
They do not require technical expertise and investment. Initially, a business needs to focus on its core operations rather than trying to build efficiencies so they can make do with hosted shopping carts.
Once a business gets off the ground and starts generating regular sales however, it will be better to switch to a licensed shopping cart.
Businesses have more control and are able to offer customers better shopping experience with a licensed shopping cart.
ThriveCart Shopping Cart

ThriveCart is a shopping cart app that helps businesses in promoting their products online.
It can be used to receive payments for services, physical products, subscriptions, and digital products from customers.
Apart from its core function of receiving payments, the cart offers additional features for businesses.
Our Pick

We earn a commission if you click this link and make a purchase at no additional cost to you.
It is an easy-to-use app that allows customers to create checkout pages that convert clicks into sales.
It has a marketing element to it that can dramatically increase business profits by creating up-sells, down-sells, and bumps for the business.
The team behind ThriveCart has been very clever in designing this shopping cart.
They have ensured that it can be integrated into a third-party email marketing software, other payment processors, webinar software, and membership subscription tools. You can use it together with just about anything you can think of.
Whether you promote your business products on your own website, Facebook page or through email marketing, ThriveCart will easily link to all kinds of popular apps and business platforms.
It makes the task of promoting products to your customer much easier.
Our Pick

We earn a commission if you click this link and make a purchase at no additional cost to you.
ThriveCart Features

The main selling point for ThriveCart platform is how it can integrate with a large number of third-party marketing and transaction platforms.
Some of the top features offered by the software include the following.
ThriveCart Click Upsell
An up-sell is a marketing strategy where you offer additional products to your customers immediately after they have made a purchase.
The idea is that a customer who has bought something from your store is more likely to purchase again if they get enough incentive.
A 1-click upsell allows your customers to add the offered item to their order under process without needing to input their card details again.
They can simply click a button and add the item on the upsell page.
The upsell feature makes it very easy for customers to buy an additional offer from you.
The marketing tactic helps build loyalty, increases your sales, and gives customers an opportunity to discover amazing discounts on other products at your store.
ThriveCart allows you to choose specific products and services to add to your offering.
ThriveCart Bump Offer
This is a cool feature that enables your business to increase the profit per order. It allows you to boost sales by offering add-ons at the time of checkout.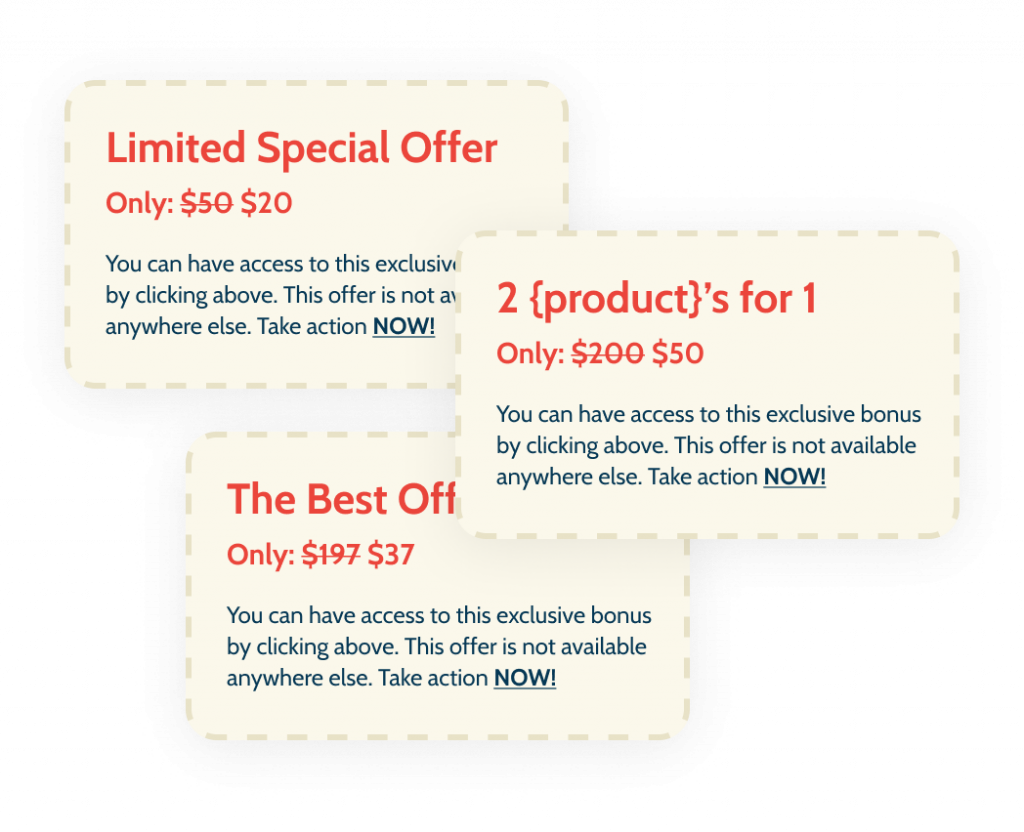 The bump lets you present your customers with a product related to their current cart order. For example, suppose a customer is purchasing a fitness punching bag from your store.
You can add a pair of boxing gloves or a 2-week training session as a bump that can improve your total sales.
ThriveCart lets you place the bump offer as a checkbox on the checkout page and it is highly visible to your customers.
Visitors don't need to use the check out twice as they can simply tick the box to add the item and proceed.
Related : How To Improve Magento Checkout Process
ThriveCart Design Templates
ThriveCart comes with a large number of built-in design templates that make it easier to customize your checkout process.
It has hundreds of checkout templates with unique colors, buttons, and themes that give you plenty of options for personalization.
You can choose to implement checkout forms in a one-step or two-step process and add a good variety of styles.
The right checkout template based on your industry and products will give you high levels of customization depending on your business needs.
ThriveCart Cross-Platform Integration
This is the main area where ThriveCart shines. The software allows you to integrate the shopping cart with a large number of third-party programs to give you better marketing and sales options.
It can be linked with email software such as infusionsoft to automatically send your customer an email when they confirm a purchase with your store.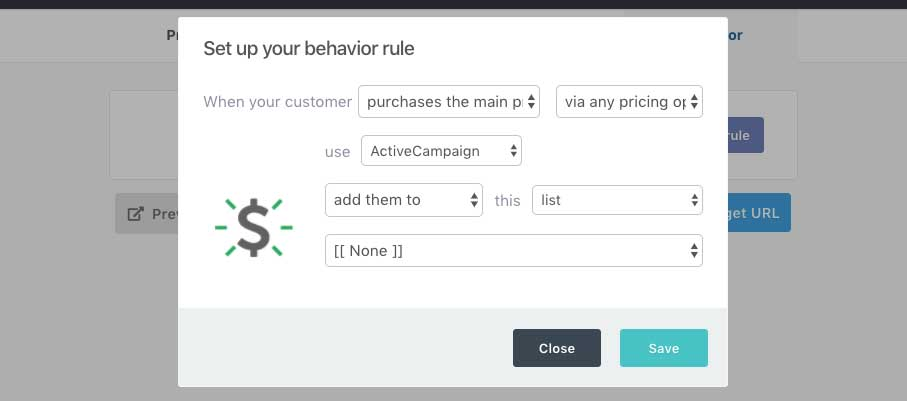 ThriveCart can also work with social media platforms like Facebook, Instagram, and Twitter to promote your products and services. You can also use Zapier to link it with just about any software in the market.
Additional Features offered by ThriveCart include,
1-Click popup carts
1-Click upsells
Associate center
Embedded carts
Funnel builders
Promo codes
Recurring subscription payments
Single one-time payments
Split testing
Straight and easy checkout pages
Webhooks
The ThriveCart shopping cart offers a large number of platforms that can be integrated with its service
Active Campaign
AWeber
Clickbank
Convertkit
Ever Webinar
GetResponse
GoTo Webinar
Drip
Stripe
Paypal
Hubspot
Zapier (allows the shopping cart to work with all other auto-responder services)
Shopify
Sendlane
OntraPort
Infusionsoft
The software has good support from developers. New integration options are being added all the time making ThriveCart one of the most widely integrated platforms out there.
Our Pick

We earn a commission if you click this link and make a purchase at no additional cost to you.
Related : ConvertKit vs Aweber
Who is ThriveCart For?
ThriveCart easily integrates with almost every popular email auto-responder in the market.
This means your customers can be quickly notified about their purchase in real time in just a matter of seconds.
If you sell physical products, ThriveCart will give you complete options for selling and recording your sales.
It can take full shipping information from clients and pass on the shipping address to your delivery service provider.
It includes options for listing t-shirts, membership box services, electronics, toys, and even food products.
Businesses that sell digital products such as e-books, courses, music, and other digital media can also use the shopping cart to sell their offerings flawlessly.
It allows you to offer customers the option to pay through a variety of EFT platforms and you can take as much information about a purchase as you want.
Businesses that offer services will also find ThriveCart to be a useful shopping cart. It can take both one-off and recurring payments and deal with all subscription settlements easily.
If you sell membership items or subscriptions with ThriveCart it gives you the ability to automate and tag calls based on settlement occasions.
Finally, the cart can be used by technical experts and professionals in the market who offer specialized services to customers.
The software allows them to send automated digital invoices and payment receipts and allows much better customer service.
Shopify Shopping Cart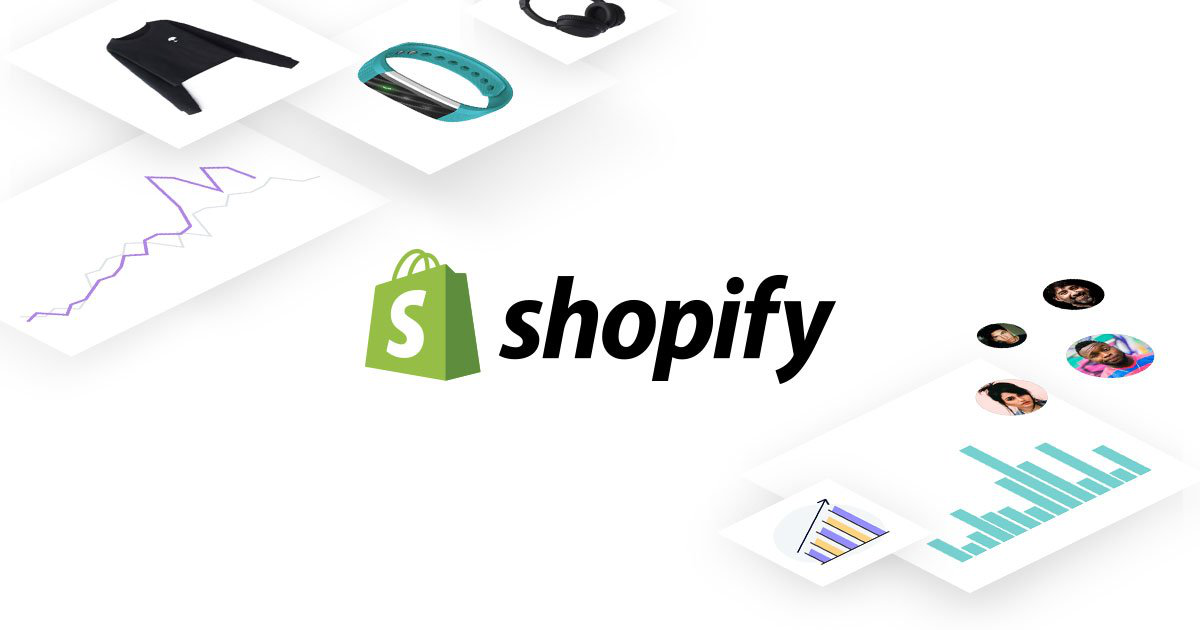 Shopify is an eCommerce payment software that is based on the cloud. It lets businesses and entrepreneurs set up online stores for their products and services.
Online stores can sell almost anything with this shopping cart program.
The platform is built on the open-source programming language liquid and operated from Ottawa, Canada.
Shopify is very easy to implement, which is one of its major selling points. The company offers a 14-day free trial period to let merchants test out the program before they buy it.
It comes with a large number of customizable templates and online vendors can choose the complete theme of the program for their needs.
It allows massive integration with a large number of payment platforms in over 50 languages around the world.
Additional features include abandoned cart recovery and product or service add-ons for customers.
Shopify Features
Shopify comes with a large number of useful features for clients.
Shopify Unlimited Product Listing
Businesses that use the Shopify cart will be able to list as many products on their store as possible.
Some online retailers still put restrictions on the number of products that can be shown to customers but Shopify gives customers complete power for listings.
Related : Best Paid Shopify Apps
Shopify Bandwidth & Storage
The shopping cart does not charge customers extra based on the number of online customers visit the store or the number of files or photos they upload for the products.
However, videos are not supported for products.
Shopify POS Transactions
Businesses can sell their products directly through the listings on the website or add a pop-up window that allows them to process orders.
The app also allows businesses to accept bank transfers or receive cash on delivery.
Shopify Sales Channels
Shopify can be used to sell products online through the business eCommerce store or a variety of online marketing channels.
For example, a business can use Facebook, Instagram, and Pinterest to list their products and sell them to customers.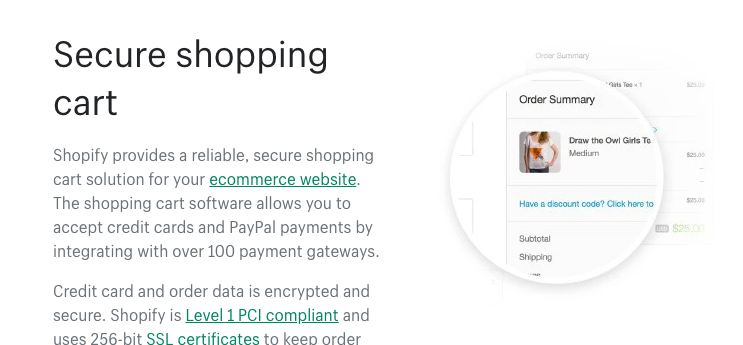 Each sales platform connects to Shopify and allows businesses to keep track of their products, customers and active orders across different channels.
Related : Best Shopify Free Apps To Boost Your Sales
Shopify Fraud Prevention
The Shopify cart markets as a safe and secure shopping cart platform.
It has a built-in fraud analysis feature that flags customer orders that appear to be potentially fraudulent.
The orders highlighted by the cart are brought the vendors attention and they can take steps to make further inquiries, cancel the order or accept it based on client understanding.
Shopify Order Placement
Sales agents can also create and submit customer orders on their behalf. For example, if a customer gets in touch with the customer support rep through a call, they can ask the agent to complete the order for them.
The agent can fill out the order and send a receipt to the customer with complete order details.
Shopify Discount Codes
You can also use the shopping cart to generate and send discount codes to customers.
These codes help incentivize customers to buy products and services from your store.
You can use codes to welcome new customers, offer exclusive seasonal discounts and rewards customers for referring your products to others.
Related : Best Shopify Apps
Shopify Integration
Shopify can be integrated with hundreds of third-party software and you can migrate data from one platform to another with ease.
Popular platforms that work well with Shopify include,
Lucky Orange
MailChimp
Springbot
io
LoyaltyLion
Digital Downloads
Zapier
HubSpot
Transporter
Wholesale Club
Shippit
Weglot Translate
Koongo
Ecomdash
Saguno
Who Is Shopify For?
Shopify is used by tens of thousands of retailers all around the globe.
Its easy-to-implement interface, powerful integration options, and design customization make it a powerful contender in the digital shopping cart domain.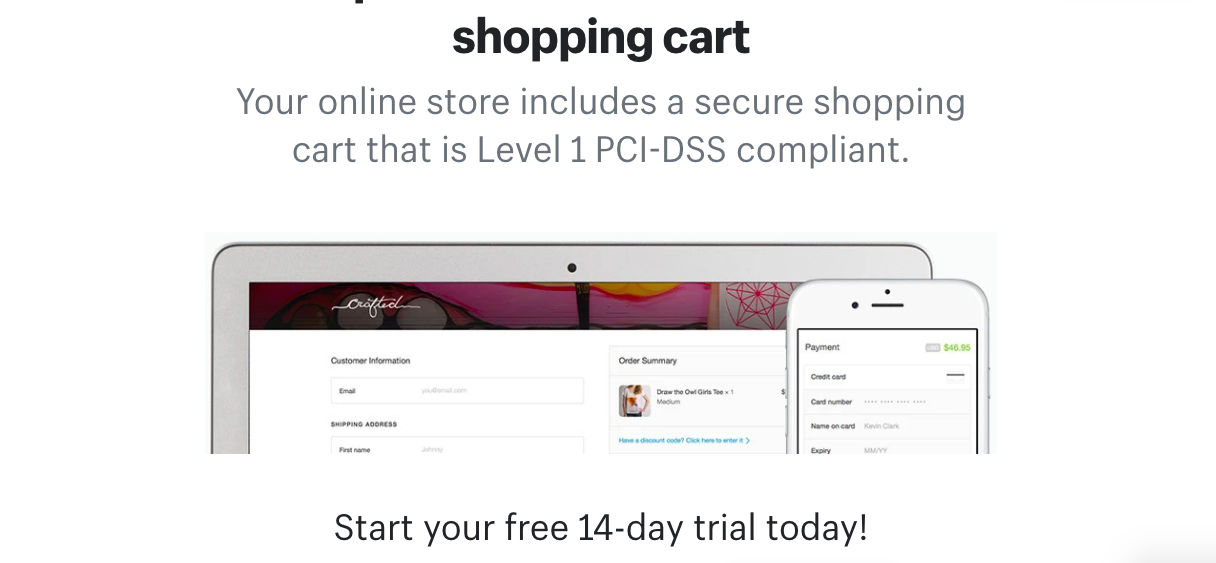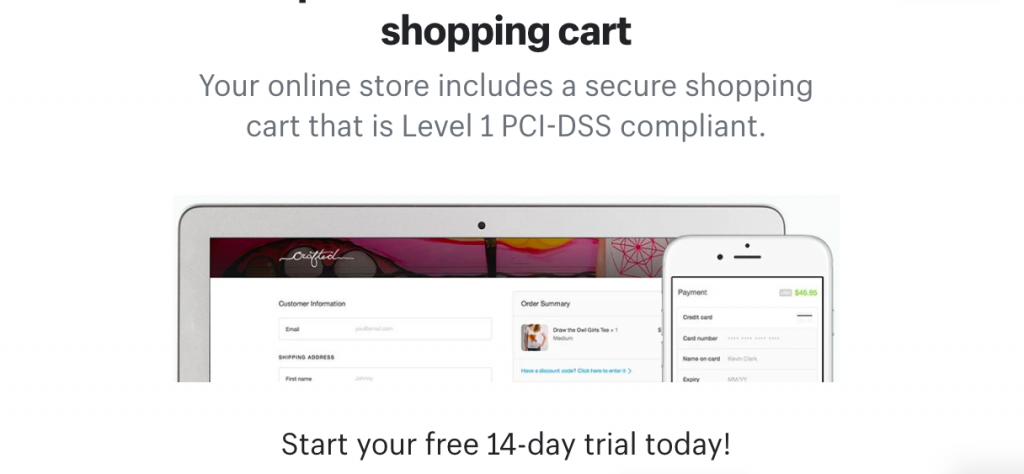 To start selling, all you need is a Shopify plan and products or services that you actually want to sell.
Signing up to the Shopify store takes less than a few minutes and you can start selling right after confirmation.
You can choose the target location where you will sell your products or services.
If you want to stay within a geographic location, such as your home town or city, you can set up that option. This is ideal if you will be delivering products to your destination by yourself.
On the other hand, if you want to use a third party shipping services such as USPS or FedEx, you may be able to sell products in a much larger geographic area.
If you process at least 30 orders every month for online sales and don't want the headache of securing or working on those orders yourself, then you should consider Shopify as your shopping cart program.
Related : WooCommerce vs Shopify vs BigCommerce
Conclusion – Thrivecart vs Shopify
Both Thrivecart and Shopify reduce the workload for online stores by giving an automated order and payment system for their products.
ThriveCart offers greater integration with third-party software but has a higher learning curve and beginners will find it more difficult to work with it.
It has upsell and bump features that you won't find with Shopify that incentivize customers to buy more.
Shopify is easier to operate and understand for new business entrepreneurs but doesn't offer the higher integration.
It has good fraud prevention and you can list unlimited products on the platform.
Both carting software give you plenty of customization options and are excellent for digital marketing.
New entrepreneurs find Shopify a good pick for their needs while more seasoned digital businesses will prefer Thrivecart the better option.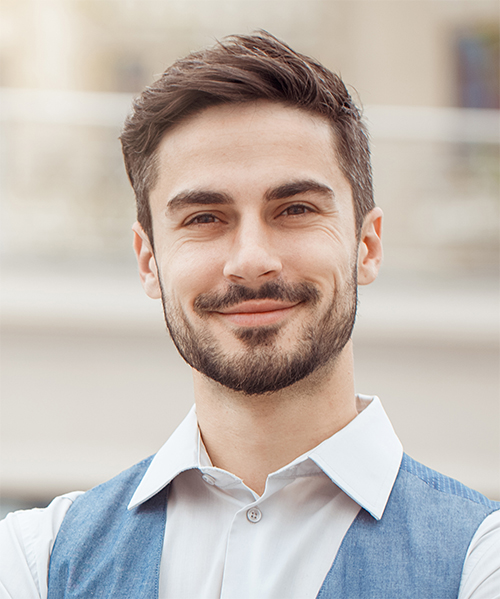 Author: Scott Macarthur
Scott L. Macarthur is a marketing consultant and an online author. He is mostly engaged in providing his expertise to startups and SMBs. He is also an author on TheNextWeb.