One of the most important rules in business has been to always learn from your competitors.
It is a necessary evil that you must recognize who your rivals are and see how they are going about their business.
Maybe you will find that a part of their strategy is that missing piece which your business badly needs, or that you are doing twice as much as they are. But one thing is certain: you will never know until you take a peek.
Since Facebook is one of the places where you will find that your competitors invest heavily in terms of their ad campaigns, it will only make sense to check out what strategies they are using there.
That being said, there are several Facebook ad spy tools that can help facilitate this process, but for the purpose of this article, we will be looking at two of the most important ones: AdSector Vs AdSpy.
What Is AdSpy


AdSpy is one of the most affordable spy tools in the market, charging $149 per month.
As far as I know, the platform also has the largest database of ads with as much as 38 million ads and more than 12 million customers from 180 countries around the globe.
As a ">">new subscriber, AdSpy wants you to first get comfortable with its features and their functions before they begin to charge you for usage, so they offer a trial period by setting you up with free ad credits.
With these ad credits, you can put up new searches and scroll through the suggestions that AdSpy shows.
These ad credits tend to run out quickly, so rather than scrolling endlessly in a bid to get your preferred results, you can simply change your search query to something different.
AdSpy - Get $50 OFF & a FREE Trial
Uncover the competitor ads you want to see. Largest searchable Facebook & Instagram Database. Unparalleled search functionality & more.
Special: Get $50 OFF Adspy & a FREE Trial ==>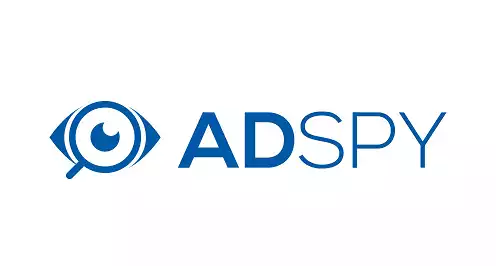 We earn a commission if you click this link and make a purchase.
How AdSpy Works
When you ">log in to your AdSpy account, the first thing you will see is its search feature.


This is one of the most impressive search functions you will see in any Facebook ad spy tool, as it lets you search for just about anything that you can think of.
Its advanced filters let you get as specific as you can be. You can specify your query to see ads based on gender, age range, country, number of likes, and even date.
You will find the country and network tags helpful if you are into affiliate marketing.
AdSpy tells you the advertiser's name and allows you to see the ad copy, URL, and the landing page itself.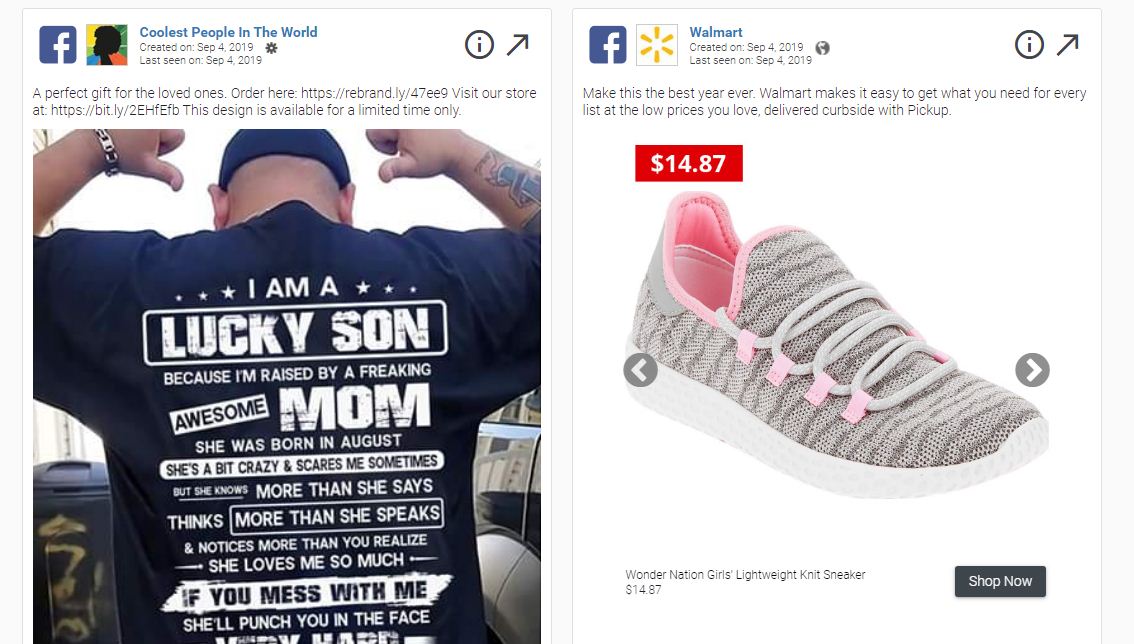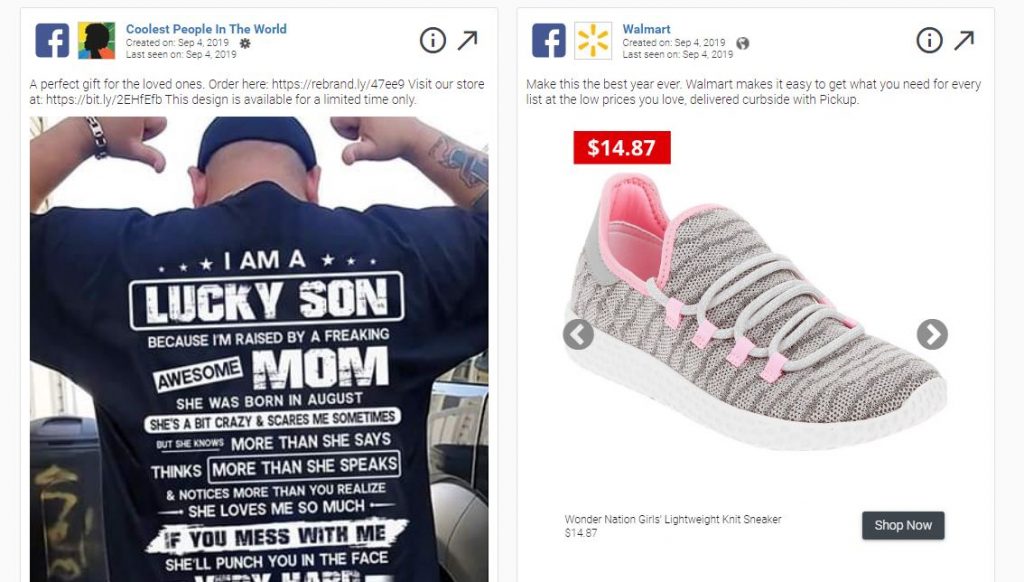 It gives you access to all the information that you will find on the actual ad itself; Information that includes the number of likes and comments that the ad has garnered, and its target group.
From your AdSpy account, you can click on the ad to be redirected to its actual page on Facebook.
AdSpy is a very powerful tool for dropshipping and affiliate platforms, especially because it gives these website owners better ways to find new and profitable niches and offers.
Its interface is nice and clean and does not require any technical knowledge to implement a search, but if for some reason you are finding it difficult to do what you want to do, you can go through their example page for help or get their support team to bail you out.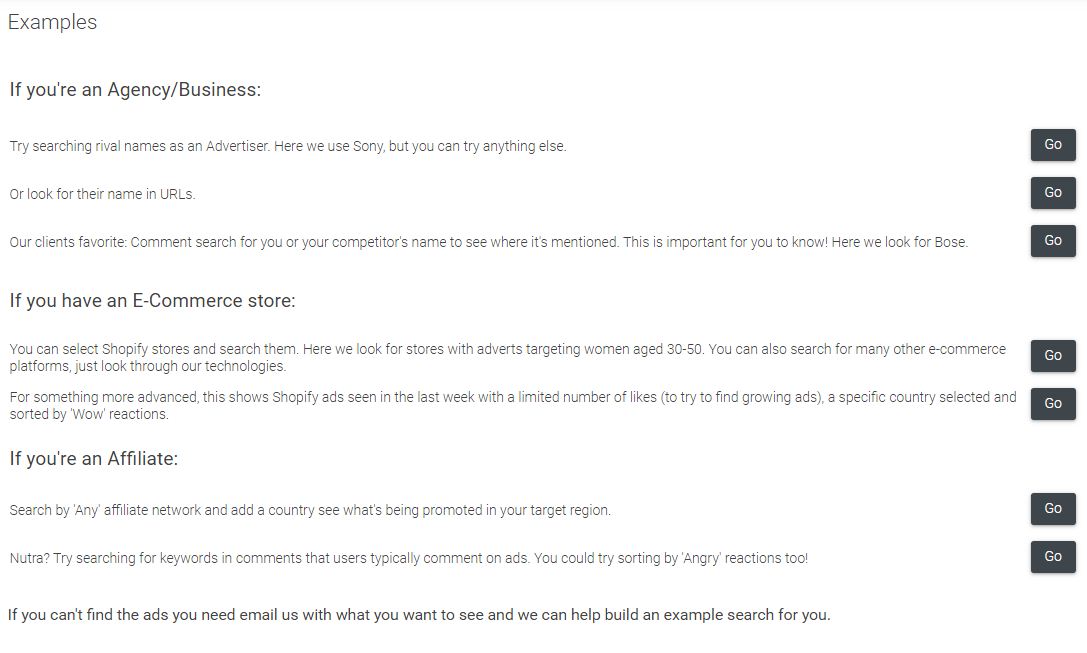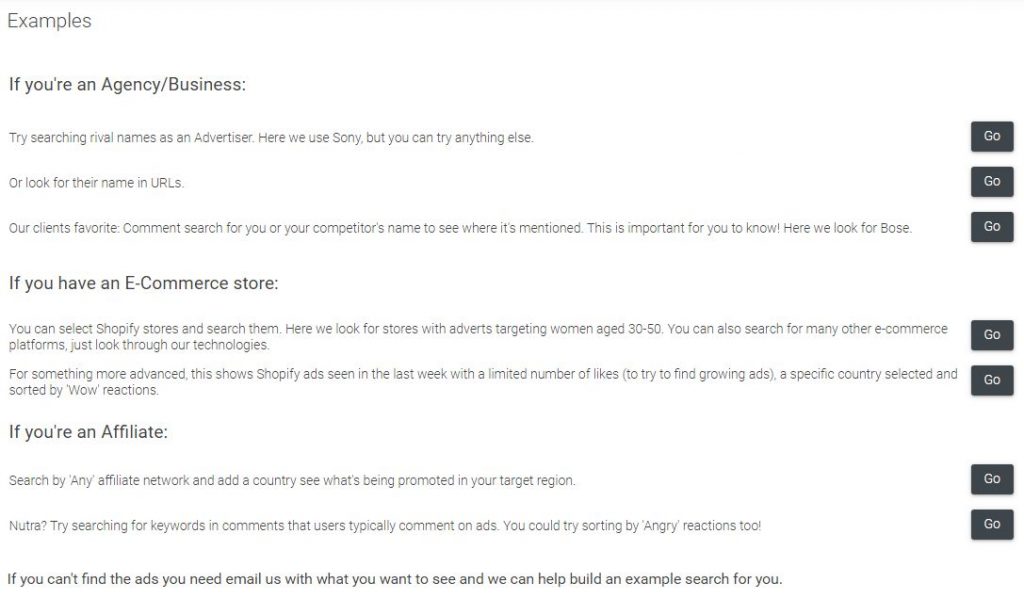 AdSpy is really what a cheat sheet should look like. What you mostly need to do to have a successful ad campaign is to spend a couple of minutes or hours loading ads and then copying their success with a few adjustments and you are set.
For example, if you run a big ecommerce business and consider Amazon as your competitor, you can look at all Amazon's ads and copy them to suit your own campaign.
Also Read : Best Facebook Ads Spy Tools
AdSpy - Get $50 OFF & a FREE Trial
Uncover the competitor ads you want to see. Largest searchable Facebook & Instagram Database. Unparalleled search functionality & more.
Special: Get $50 OFF Adspy & a FREE Trial ==>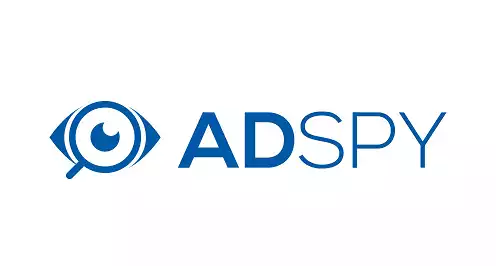 We earn a commission if you click this link and make a purchase.
AdSpy Features
We now talk about AdSpy features.
AdSpy Enhanced Search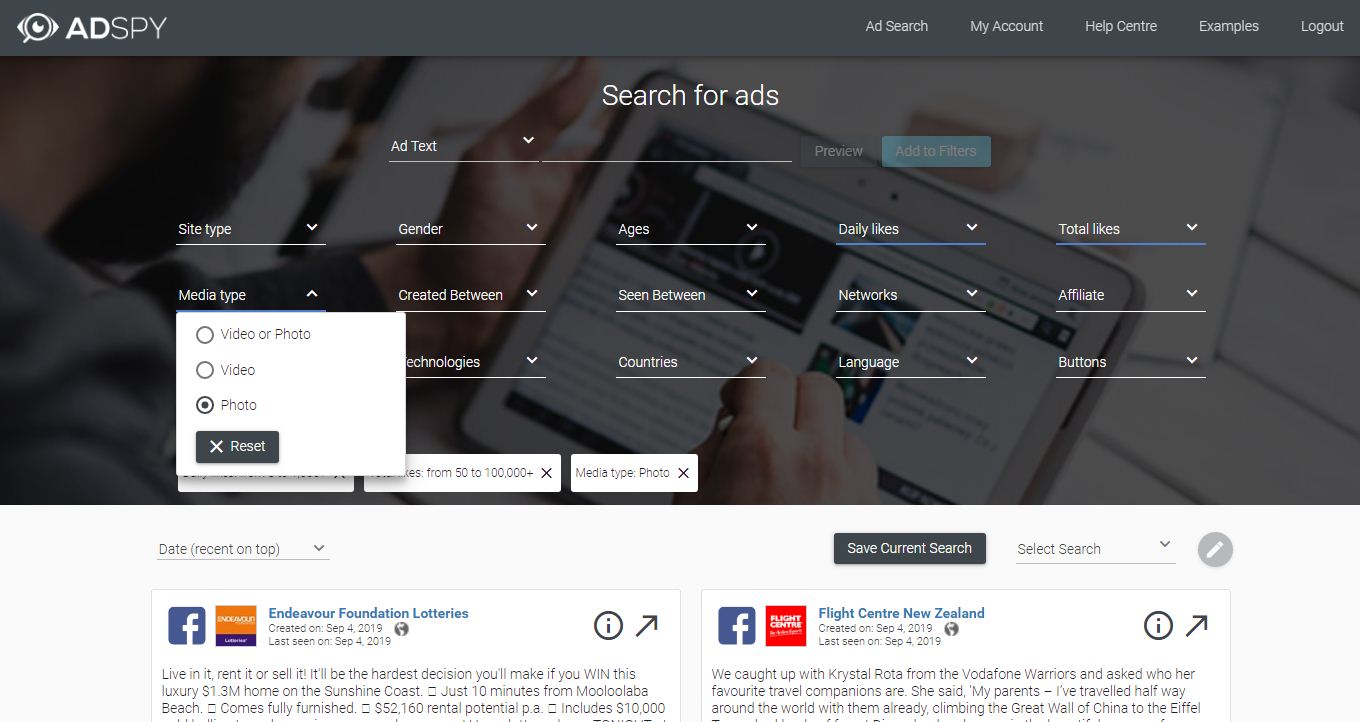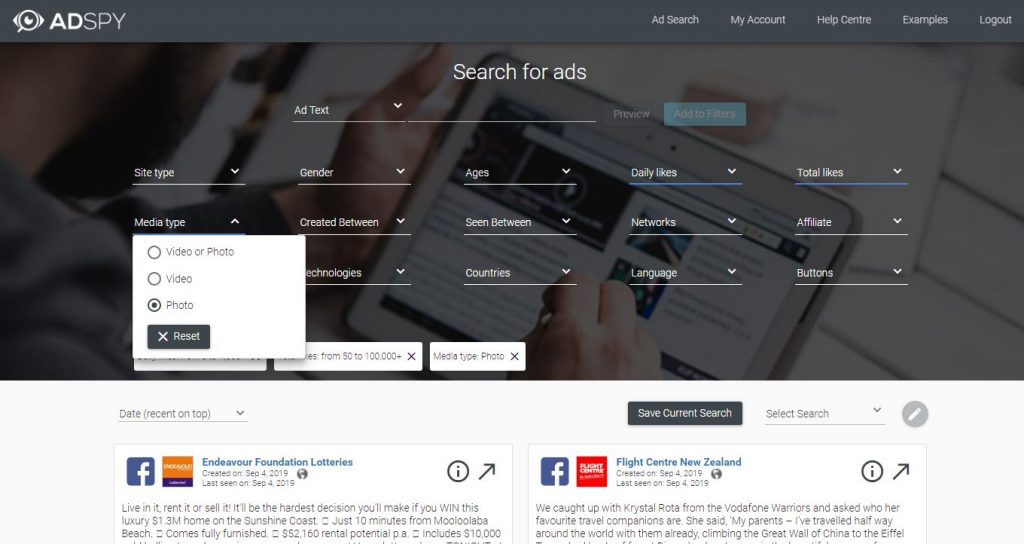 A crude way to track down competitors' ads would be to search them out on Google or Bing search engines or use the search feature of the platform you want to find them on.
For example, if you want to find ads by XYZ company, a quick search for the XYZ Facebook ad on Google or just XYZ on the Facebook search box will likely give you what you are looking for.
But the major downside of this kind of search is that you will be unable to go deeper into the results because there's only so much that you can specify.
While many ad spying platforms have a higher level search feature than going through search engines, you will find it really difficult to see one that matches AdSpy's enhanced search function.
AdSpy lets you narrow down your search to the smallest detail. You can set your criteria to include searches based on a specific age range, gender, affiliate ID, technology, etc.
AdSpy Data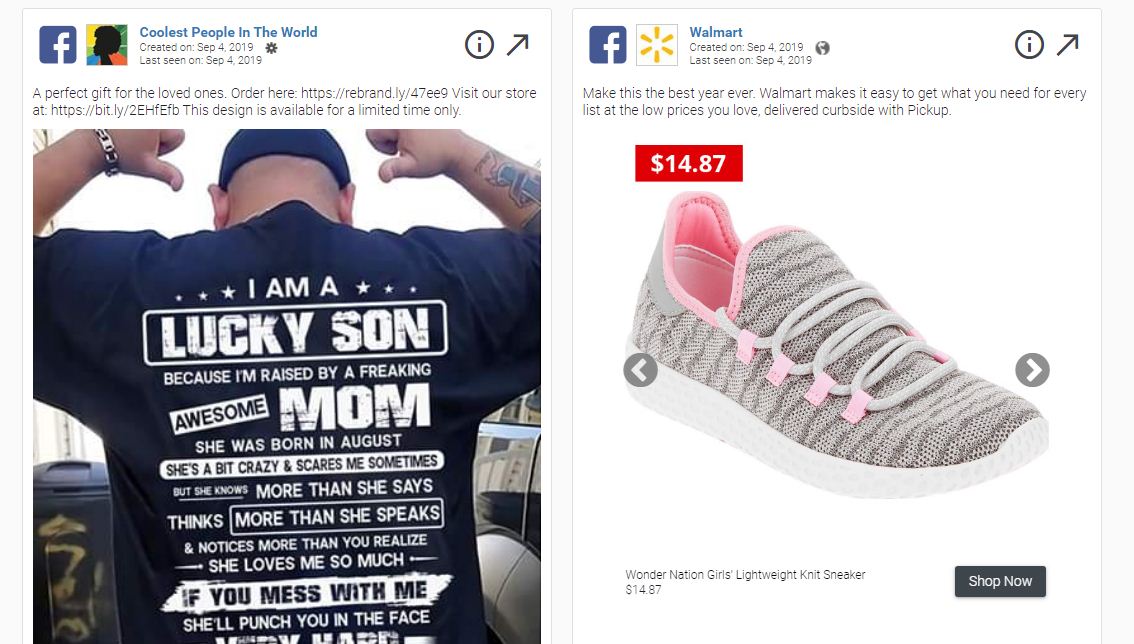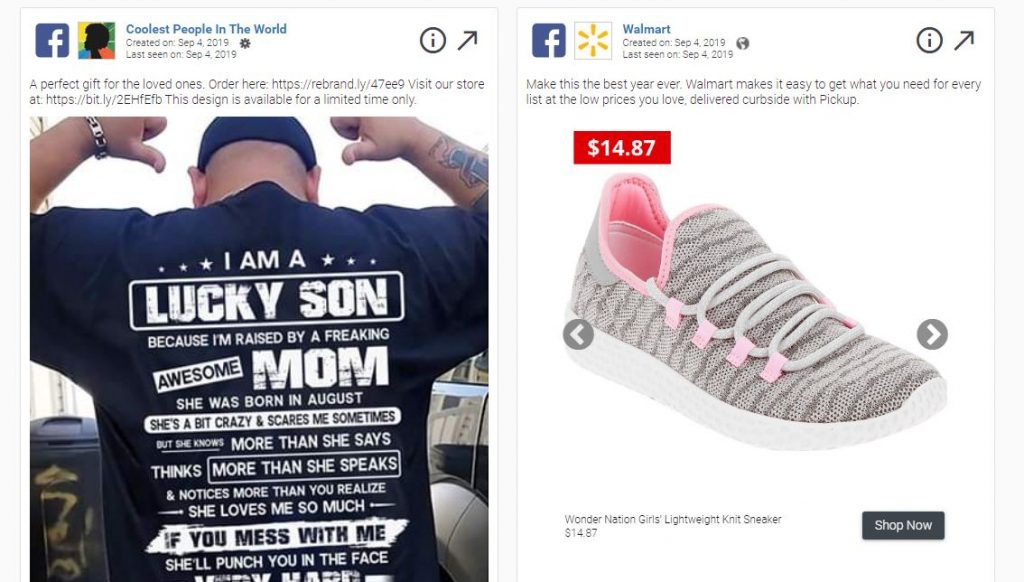 AdSpy boasts of the largest database of ads in the world, which is very crucial to any campaign.
With several millions of ads in more than 80 different languages from across the world, it will be difficult to miss out on any data that you require.
And data are the tiny bits that make one business thrive over another.
With AdSpy, not only do you gain access to data for businesses around you, you can see data from anywhere, which is key if you want your business to compete at international levels.
For example, if you run a software business that already caters for the foreign market, or you plan to, local ads alone will hardly do any justice to your marketing campaign.
You will want to track down ads of companies that are already leaders on the global stage to see how it is done, so AdSpy invariably takes out the need for unnecessary trial and error.
Also Read : PowerAdSpy Review
AdSpy Comment Search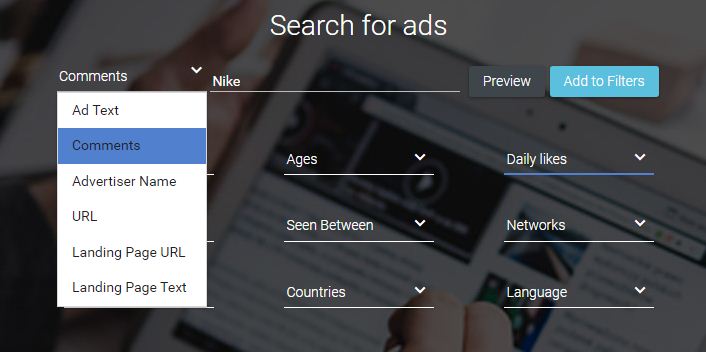 The best ads are the ones that say exactly what the customers want to hear and where better to get this information than from the customers themselves?
One of the best things about ads on Facebook is that customers can actually give feedback on the same thread.
This does a lot of good for the businesses that run the ad as they can quickly access their audience's needs and respond quickly, but it is even better for competitors who can pick on it quickly and ensure that they present the customers with exactly what they want.
As a marketer, scrolling through thousands of pages to know the mind of potential customers will be a strenuous task and an unstrategic one for that matter.
But with AdSpy's comment search features, you can track down what the people are saying about your competitor's brand, or your own, with a few keywords.
This feature also helps your decision on what to stock your store with if you run an ecommerce business.
For example, if you sell shoes on your website and you are lost on which brands to stock your catalogs with, this tool will come in handy.
Chances are that there is a similar store that already has an ad (or more) running for the type of product you want to sell.
Customers will likely make a demand for the brands of shoes that they want to see, so you can quickly pick up on this and stock your shop with them.
Worth Reading : AdSector Review
Accurate Demographic



Demographics help advertisers to adequately segment their target audience in the right place.
The commonly used demographics in AdSpy include age range, gender, location, annual income, etc. This sort of grouping makes for more accurate and precise targeting.
Ads are all about impressions, and since they don't run infinitely, you will want to target the right group to avoid wasting your budget.
For example, an alcohol company has no business showing ads to people who are not of age, so it will be best to leave out audiences below the age of 18 from seeing such ads.
The same thing goes for products that are targeted at females showing to male audiences.
Using AdSpy's demographic feature, advertisers can easily identify potential audiences that share common traits and position their campaigns to serve only that group to maximize their profits.
With this function, AdSpy will show you which particular region, age group, and other areas that your competitors are dominating, thereby giving you a clue on who your potential buyers are.
AdSpy - Get $50 OFF & a FREE Trial
Uncover the competitor ads you want to see. Largest searchable Facebook & Instagram Database. Unparalleled search functionality & more.
Special: Get $50 OFF Adspy & a FREE Trial ==>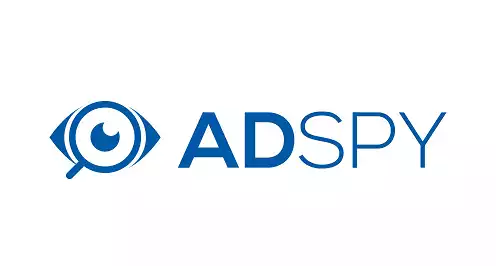 We earn a commission if you click this link and make a purchase.
Find Affiliate Ads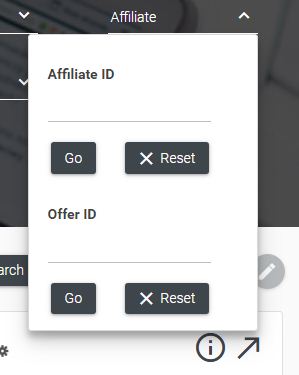 Affiliate marketing is one of the most subtle ways to make money. Many people click on affiliate links and buy from the resulting pages without fully knowing that they have provided some with an additional profit, at no extra cost to them of course.
But that's why there's so must jostling to get into affiliate marketing.
Mind you, if you do not know how to promote your affiliate products, you may not realize just how pervasive affiliate marketing can be.
AdSpy affiliate search is very useful. With AdSpy, you can find affiliate ads in two possible ways: by the network and by the offer itself.
This means that if you have a juicy offer from a network that you want to promote, but don't know how to go about it, you can search the internet with AdSpy to see how other affiliate marketers are promoting the same product.
And you don't have to worry about cloakers preventing you from getting all the information you need. AdSpy's system bypasses those hindrances and gives you all the data straight from the landing pages.
Related : PowerAdSpy vs AdSpy
AdSpy Interface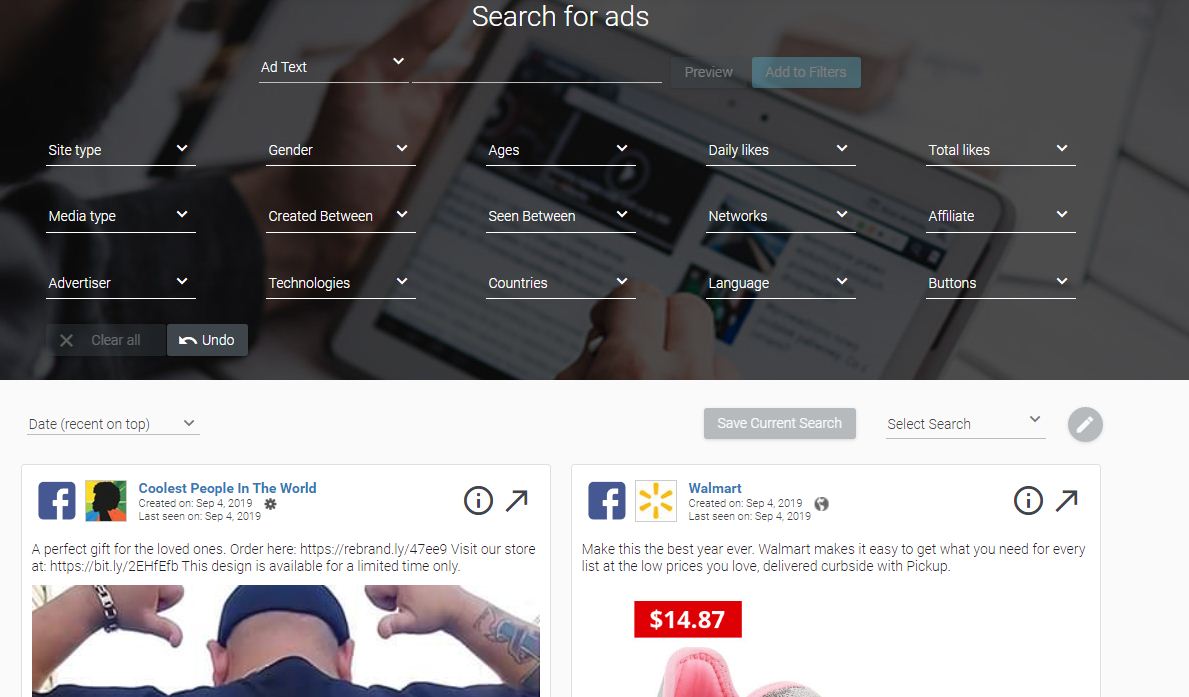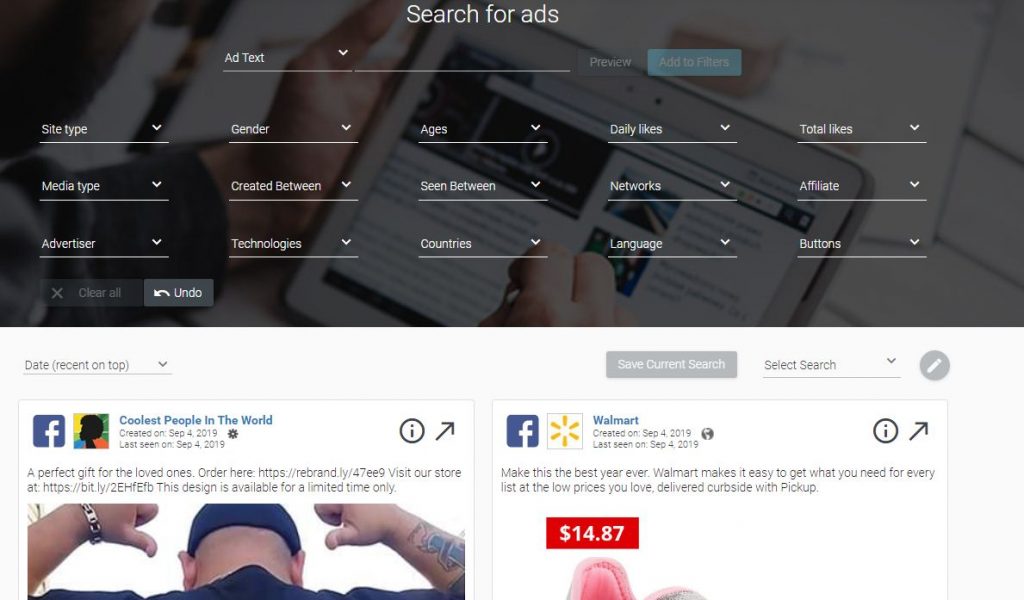 AdSpy has many features, yet it still manages a nice, easy interface.
Its fast servers and well-presented data ensures that you can go through its database as smoothly as possible. I'm talking about surfing through millions of data in a matter of seconds.
AdSpy Pricing

AdSpy has one of the simplest and fairest pricing plans that you will ever find for a tool of its caliber.
AdSpy - Get $50 OFF & a FREE Trial
Uncover the competitor ads you want to see. Largest searchable Facebook & Instagram Database. Unparalleled search functionality & more.
Special: Get $50 OFF Adspy & a FREE Trial ==>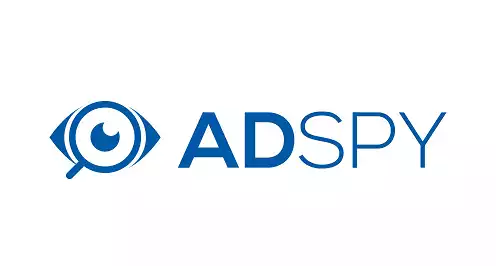 We earn a commission if you click this link and make a purchase.
For $149 per month, you will have unlimited access to all its features, although we don't know how long it will remain so because apparently, it is their introductory offer.
What Is AdSector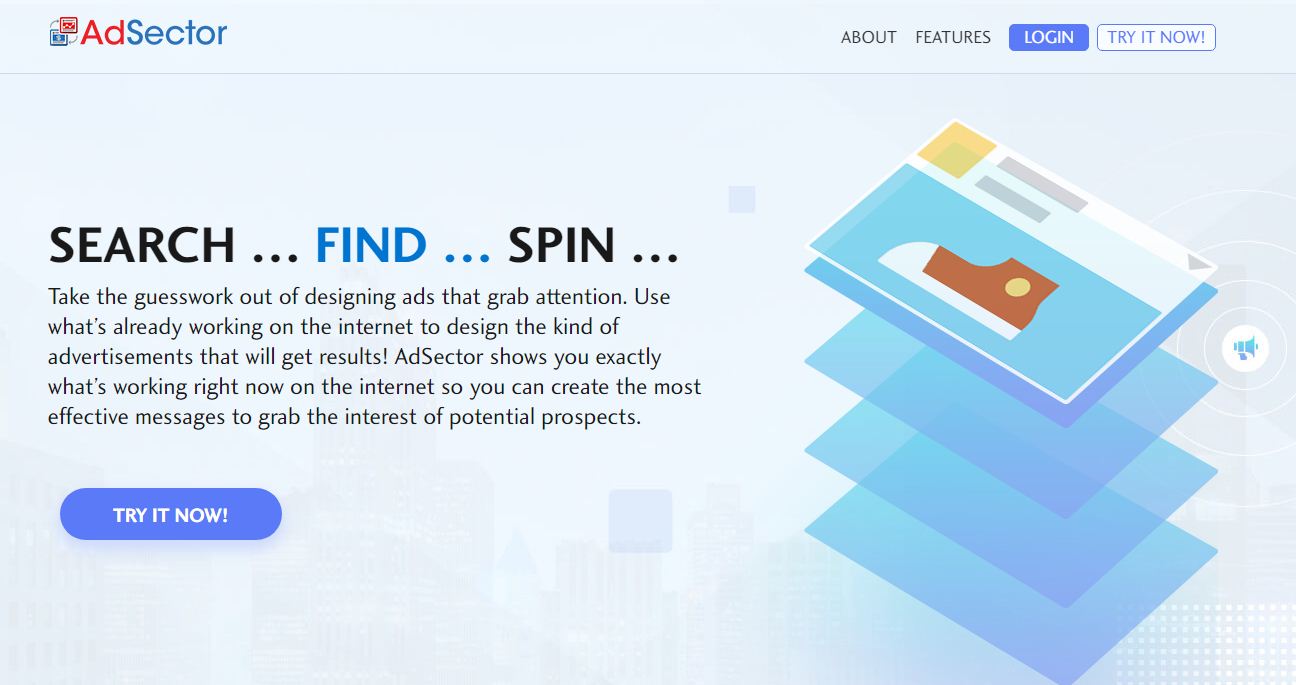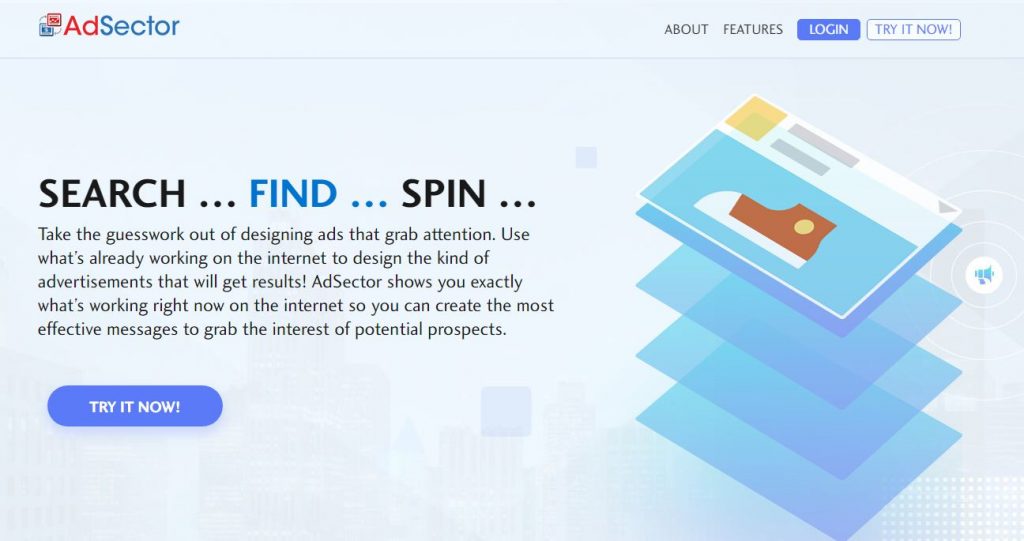 AdSector is a Facebook ad spy tool that is designed to allow you to see inside the minds of your competitors and analyze your target market.
With AdSector, you can design ads that will work on your first attempt without having to go through the process of testing out different campaigns to see the ones that will work and which ones won't.
Once you sign up on the platform, AdSector grants you access to millions of adverts and advertisers that will help you create a successful campaign.
Its search option is split into three different modules: the search mode, filter, and lander props.
In the search mode, you can perform a range of search actions. For example, you can sort by date range, so that
you can know when an ad was last seen.
This will be helpful to show you the most relevant ads if you are looking for ads from the last few days.
You can specify your search by adding the keyword or the name of the advertiser or publisher that you want to find their affiliates.
This will give you data about your competitors in a given category. For example, if you want to create ads for a clothing store, you can search for specific keywords in the clothing niche to see who you are up against in the same niche.
With the advertiser search mode, you will know more about your competitors by entering their URLs, and the publisher mode will help you analyze their ad strategies.
AdSector also has filters that allow you to perform more detailed searches.
You can set your search results to show based on country, format, gender, age, and relationship status. These filters will help you find ads that are already being shown to your target audience.
In the lander prop section, you can search by specific platforms such as affiliate networks, tracking systems, and ecommerce platforms.
Related : Best AdSector Alternatives
How AdSector Works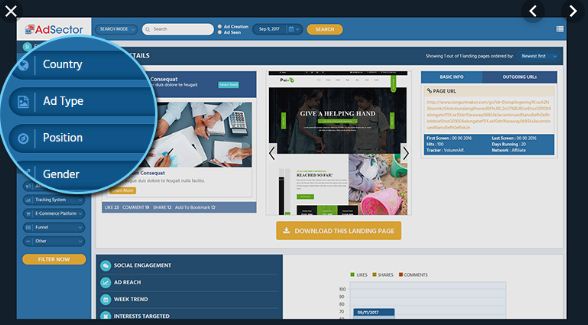 AdSector gives you organized data to help you create your campaigns in three simple steps:
First, it completely removes any need to guess which landing pages will work and which ones won't.
How does it do this? By showing you those who are already doing it, so that you can tap into their strategy and bring your own campaign to life in a few seconds.
AdSector will also show you a comprehensive report of what your competitors are doing on one page, as well as provide you with in-depth data to explore further.
This in-depth data usually include social engagements, trends, and other demographic data.
AdSector's data are usually easy to understand and useful for users that have never done any sort of social campaign.
The second step helps you improve on the data you have obtained about your competitors.
Using AdSector's advanced filtering system, you can easily discover what you need to do to make your campaign even better than the already successful campaign that you are copying.
It will tell you which images generate the best response and guide you on what ads will be most captivating.
This process makes sure that you do not have to spend any extra effort to try and reinvent the wheel. All you have to do is initiate what already exists, and you are good.
Finally, AdSector lets you grow as no other ad spying tool does. The platform has an array of features that you can use to search the internet for the best landing pages and advertisements for your affiliate marketing or ecommerce business.
Basically, this app saves you from:
Guessing what type of content you need to create a successful campaign.
Struggling to come up with the best advertisement and landing page ideas.
Spending tons of money and time trying several methods that may or may not work.
When you sign up for AdSector, you get access to loads of features that will make building a successful marketing campaign a lot easier.
AdSector Features
Here's a rundown of AdSector features:
AdSector Advanced Search & Filtering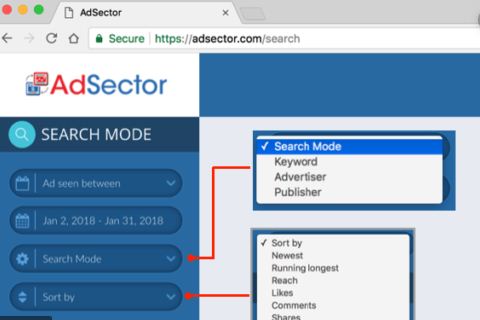 AdSector lets you filter your search results by a number of criteria, including affiliate networks, which you will hardly find with any other ad spying tool.
The platform also helps you analyze these results for better insights into your leads.
The platform has millions of data that it will display when you run a search, but you do not really need all these data at once. You only need the most relevant ones, so they make it easy for you to find.
Firstly, you get to choose the data range that you want the ads to show from.
Ideally, you will want the most recent ads, because ads from months ago may no longer be available, so you set your filter to the last 7 or 30 days.
You can get your results faster if you type in a keyword related to what you want, the advertiser's URL, or the affiliate network you want to find.
AdSector's search and filtering feature saves you the stress of restructuring the data yourself to reveal the most relevant pieces.
With a single click, you can know the longest-running ads, the ones with the most engagements, and much more.
You can even go a bit further to cut down on the data excesses by specifying the country you want to see the ads from, the ad format (image or video), the position of the ads on the platform that they are running on, gender, age, and relationship status.
Images That Resonate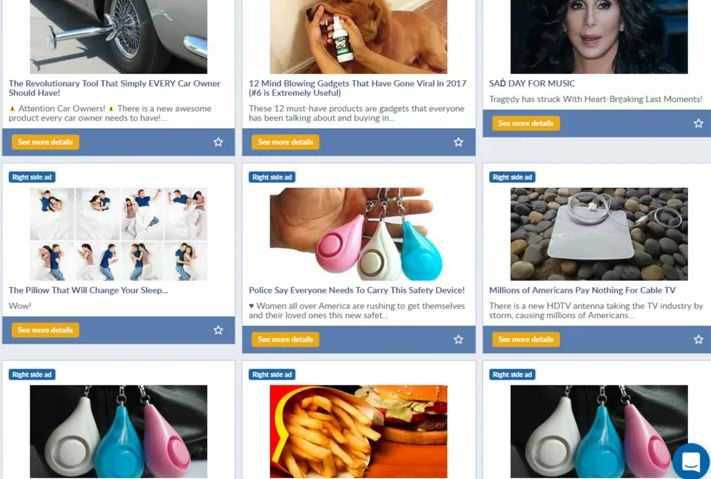 Marketers are always talking about how to find the best hooks and headlines to create the perfect ad, but your ad is never complete without the right image.
Finding images for your ads can be tricky because all markets are not the same. There's no need for showing a bunch of high-quality images to people that they won't attract. Talk about putting round pegs in square holes.
For example, an ad with an image showing an elderly woman 'peeling' off her old skin to reveal a new look will attract a lot of elderly people, but will hardly move the younger generation.
This is just one example, but there are a lot of things that you have to consider before you can get the perfect image. This will probably require a lot of time and research, right?
Well, not with AdSector. AdSector will let you see images that are specifically tailored for the kind of ad that you want to run.
You can view and download hundreds of images from its library and send them to your buyers for inspiration.
Also Read : Social Ad Scout Review
AdSector Detailed Analytics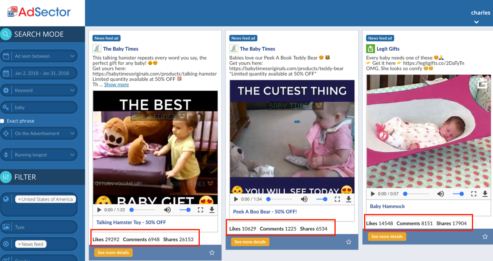 You will likely get a lot of data from your search for ad samples, but all these data will be nearly impossible to put together without analytics.
AdSector lets you see the entire funnel on one page.
The platform will let you see which part of the funnel you can imitate or cut out. And you can download their landing pages with a single click, which will be especially useful to affiliate marketers.
From AdSector, you can navigate directly to Facebook to see the original ad and read its comments to gain some perspective.
That way you won't miss anything, so even if the early indicators from your AdSector dashboard show that the ad is ideal for your campaign, but you find a lot of distasteful comments on Facebook, you will have dodged a bullet.
AdSector's comprehensive analytics will show you more valuable data, including ad reach, social engagement, trends, and many more.
Landing Pages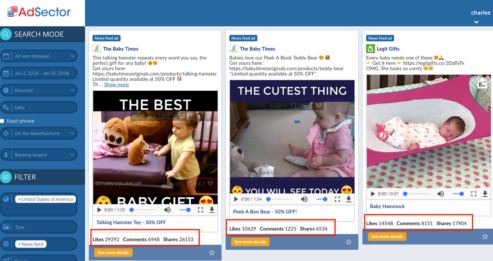 Landing pages are key to your campaigns and it can be a bit tough trying to find the right one that will suit you.
AdSector will take you directly to thousands of your favorite ones with a single click, so you no longer have to waste valuable time looking for the right ones to emulate.
AdSector Pricing
AdSector charges a premium price of $249 per month.

Worth Reading : AdSpy Review
Verdict – AdSpy vs AdSector
We come to the verdict of our AdSector vs AdSpy review.
Both AdSpy and AdSector share some similar features.
They offer affiliate filters that allow you to see ads for your affiliate offers, although some large affiliate networks are missing out.
They differ in other aspects, too.
Where AdSpy provides data for only mobile ads and also runs on Instagram, AdSector provides only data for desktop ads and does not include Instagram advertisements.
That being said, AdSpy carries the day with the most dependable tools to utilize and create a winning ad copy.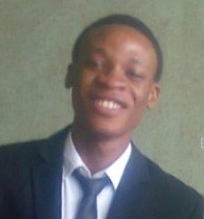 Author: Efose Ikhalo
Efose says he is a polymath, which reflects in his work. He excels at inbound marketing, tech, and business. He has a rich experience of working with renowned digital marketing agencies in the past. Often writes for top blogs.