Every marketer and business owner knows the importance of staying on top and ahead of current trends in their niche or industry.
For marketers, creating the right ad copy, creative design and powerful campaigns means good traffic and conversion results.
For business owners, it means more sales and higher revenues, and ultimately business growth.
But the challenge lies with the increasing competition, especially with online business, whether you're an affiliate marketer or online store owner.
However, by using ad spying tools, you can easily know what the competition is up to, what their strategies are, and how they're creating their ads.
With such information in your hands, you can create and launch the best performing and profitable ads for your campaign. The tool that can help you with that is an ad spying tool.
There are several good tools you can use to spy on your competitors' ads online, which includes social media and native ads, and AdSector is just one of the many.
AdSector is a Facebook ads spying tool that serves up millions of ads from competing brands on the social platform, based on your niche or industry, so you can find what you want.
Worth Reading : Adspy Vs AdSector


Its powerful search mechanism offers comprehensive data that you can filter by publisher, advertiser, or even keywords, and sort them by age, country, gender, relationship status, features, and more.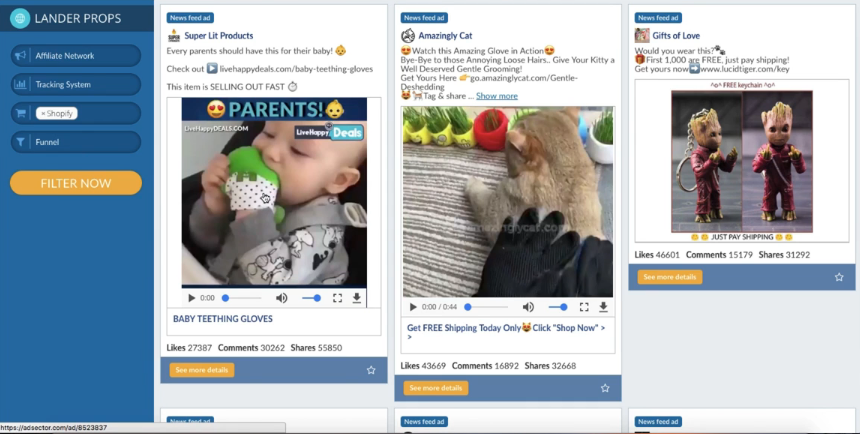 With this tool, you don't need to use traditional methods to test multiple versions of one message just to find out which one works and which one doesn't.
It cuts down on learning and campaign times, while giving you competitive intelligence to create winning campaigns.
However, AdSector is quite expensive, especially for beginners, and isn't as feature-packed as other tools available for less and that can do a lot more than just search, filter, and save on time.
Obviously, you can use the free Info and ads tool by Facebook, which shows the active ads your competition is running with the click of a button.
But, while this is great for beginners and offers geographical filters for location-based ad searches, it doesn't show the consumers' reactions or engagement (likes, shares, comments).
Thankfully, there are other AdSector alternatives available that you can use to spy on your competitors' ads. We'll look at each alternative below, exploring how they work, their features, pros, and cons.
Also Read : Best Facebook Ads Spy Tools
Best AdSector Alternatives
In no particular order, here are the five best AdSector alternatives.
1. AdSpy


">AdSpy is yet another Facebook ads spying tool, though it also offers the same for Instagram ads, but you can use it to search for competitive intelligence data on what your rivals are doing online.
It's simple and easy to use, and you can draw a lot of inspiration for your own campaigns from a wealth of more than 77 million ads from 198 countries, compared to the other tools here.
It's actually one of the largest and oldest in this list, with information on more than 13 million advertisers.
You can assess global trends without slacking on data, and its powerful search and filtering features show you all the ads you need to know about so you can launch successful and profitable campaigns.
The tool offers a host of search options to display what you're looking for, from ad text, to URLs, page names, user reactions, and a lot more.
You can control its intelligent interface and use what works, or eliminate what doesn't work from your own campaign based on what you find.
Its advantages are many, but the main ones include saving money on campaign testing, scouting for the best global markets, and uncovering thriving new products.
AdSpy's search function may be basic, but it has extensive search criterion such as site type, media type, seen after, ad text, affiliate ID and networks, offer ID, daily or total likes, and much more.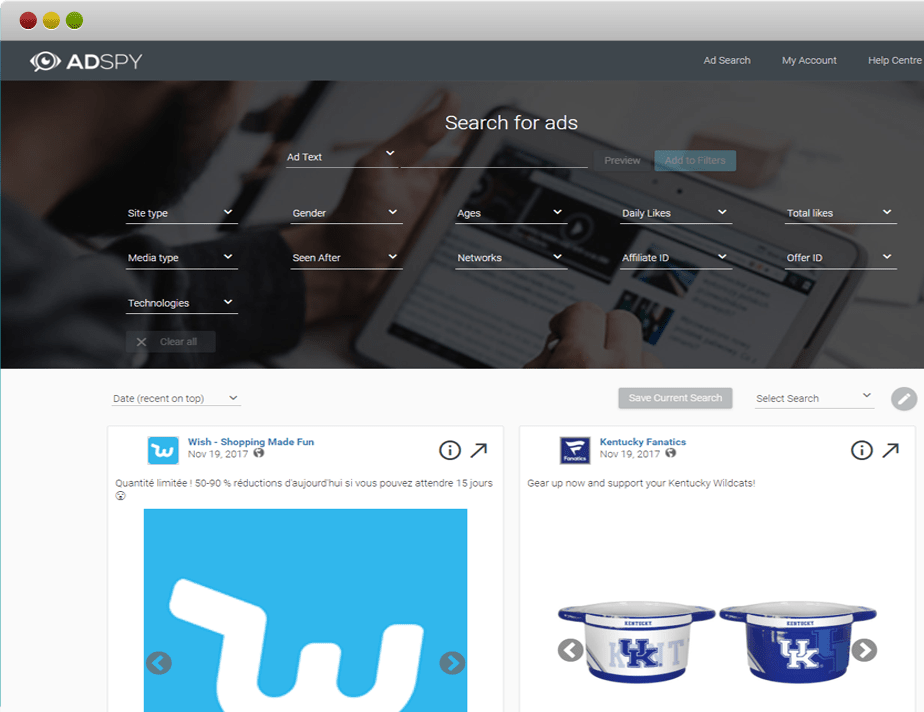 You can get so much data on your niche Facebook ads to find everything you need to know, including affiliate offers currently being run by the competition.
It also bypasses cloakers so you can see actual landing pages and how your rivals are promoting them.
AdSpy - Get $50 OFF & a FREE Trial
Uncover the competitor ads you want to see. Largest searchable Facebook & Instagram Database. Unparalleled search functionality & more.
Special: Get $50 OFF Adspy & a FREE Trial ==>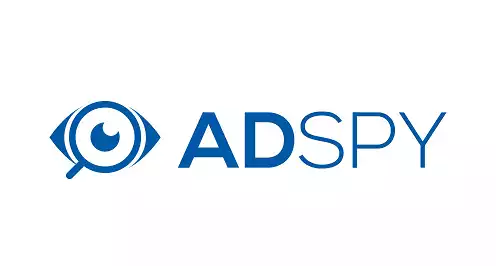 We earn a commission if you click this link and make a purchase.
The rapid user interface searches from the millions of ad records, thanks to its fast servers that work in just seconds so you don't have to wait long to get the data you need.
It also serves up accurate target audience demographics including age, gender and location, plus regions and markets that you may want to consider.
AdSpy doesn't have different ">pricing plans, so you can get it for $149 per month. It offers virtually unlimited usage so you can enjoy all its features in one package.
However, that is the current introductory offer price, so it may change in time.
You can get a full refund within 24 hours if you don't like it by contacting support via email or phone call, and give your reasons for cancellation.
The downside with this tool is its search tends to time out due to the massive data, and it's also pricey as it offers only one package, for one user per account, with 100k ad views per month.
AdSpy's search functionality also tends to time out, which is probably due to the volumes of information the platform holds, and possibly the number of searches happening simultaneously around the world.
 This is a minimal drawback though, considering the kind of valuable information you can draw from this tool any time you're planning a social media ad campaign.
It also doesn't offer a free plan or a tiered pricing system. For newbies or marketers starting out with ad spying, this could prove costly. 
However, in the end, it may be a better value for your money because you can access all its powerful features.
Worth Reading : AdSpy Review
2. Social Ad Scout


Social Ad Scout is a relatively new tool designed to help affiliate and social media marketers save on time and cost.
It's used as a Facebook ads spying tool and delivers millions of social ads globally so you can get up-to-the-minute information on what the competition is running online.
With this tool, you can target a specific audience segment and eliminate whatever is irrelevant or not useful to your marketing strategy, saving you money and time.
It'll also boost your ad conversions as you only use effective and working strategies with your audience.
Among its key features is an interface that displays instant and real-time updates so you can see what's new by the minute from 21 countries that your competitors may be covered.
It also offers data on desktop and mobile devices and every ad format available.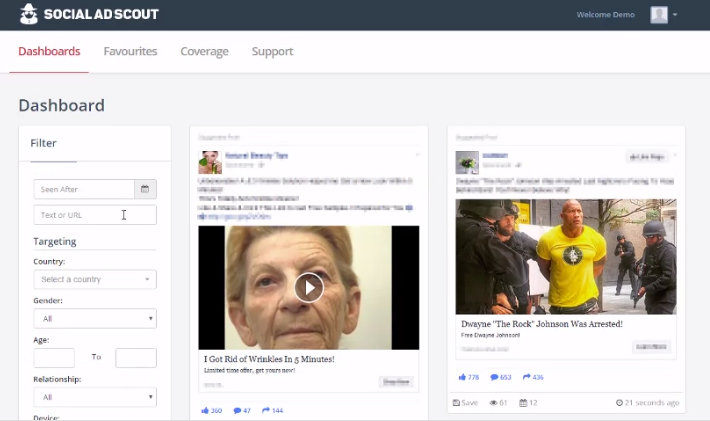 Other features include detailed search filters using variables like location, demographics, URLs, text, performance indicators, redirects, ad or device type, last seen, and more.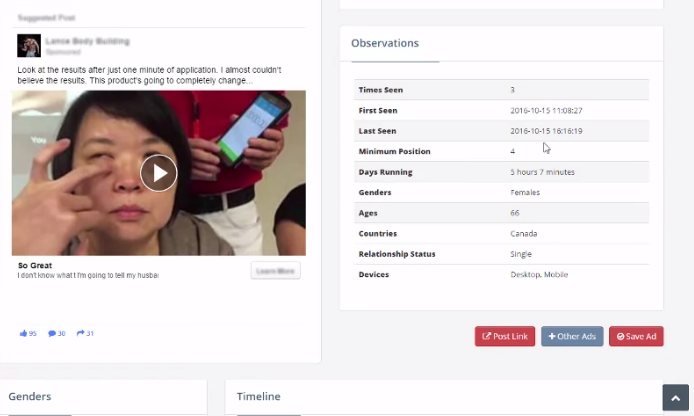 It also offers exact targeting so you can know exactly who to reach with your ads, regardless of who else saw it.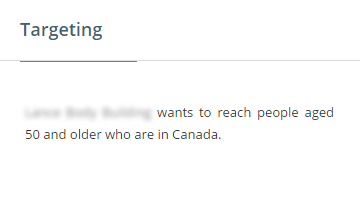 If you want to download your competitors' landing pages, you can do so, just as with AdPlexity, and see detailed insights into ad analytics like impressions, rankings, devices used, last seen/posted timings, and who saw it.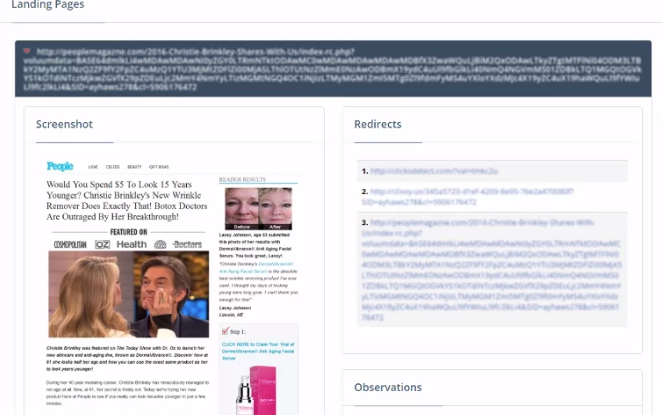 Live Ad analytics with interactions and screenshots are also available, from different social platforms like YouTube, Instagram, and Yahoo, among others.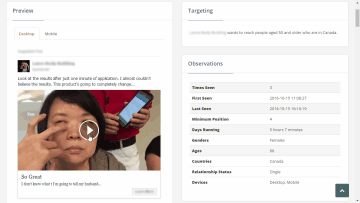 If you want an extensive breakdown of each ad, with detailed competitive intelligence, Social Ad Scout offers detailed observations drilled down to each ad format like images, videos, and even content.
It also goes into the destination link through residential IP or carrier addresses, bypassing any cloakers to show you the current and actual landing pages the competition is running online.
The tool has a fast interface that processes and delivers search requests within milliseconds, plus you can see both desktop and mobile ads, targeting overviews, and receive alerts based on your searches.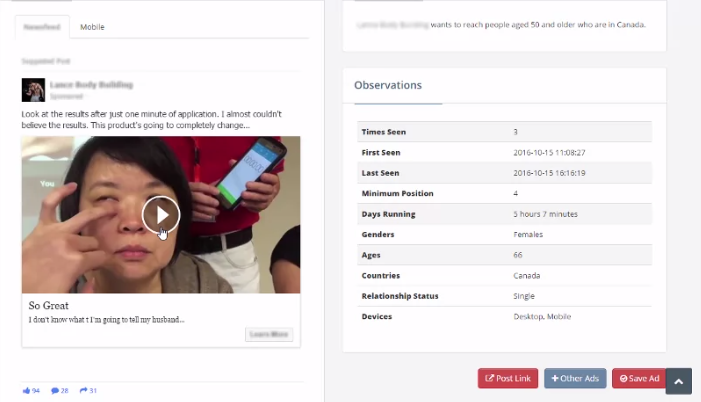 Social Ad Scout offers two pricing plans: Premium is $147 per month for one user only, and Agency runs $127 per user per month for up to two users.
A customized plan is available for $97 per user per month.
The downside with this tool is that it's pricier than AdSector and others on this list, plus it's limited in the number of countries you can track ads from.
Also Read : Social Ad Scout Review
3. PowerAdspy

PowerAdSpy is another Facebook ads spying tool that collects Facebook ads from a wide range of sources to show you the top performing ones that are currently running or have run on the platform.
It updates each ad example and sends it to its processing servers, where it is converted into insightful data you can use to create and launch your own campaigns.
The competitive intelligence data includes information about your target audience's age, interests, geographical location, and social interactions per ad.
You can search based on keywords, advertisers, landers, competitor domains and trackers, and even spy live ads or bookmark them if you want to view later.
PowerAdspy is an intelligent tool with many benefits including easy ad filtering, domain or niche-based searches, tracking competitors' ad copy, and creatives or angles, plus it's time savvy too.
Its powerful features include advanced search and filtering like what AdSector offers, except you get more variables to work with including competitor niche and domain, and social interactions.
Also included is data from over 15 countries so you can find the newest ads and successful or profitable ones, with in-depth analytics in a single click.
Data collected includes information on weekly trends, ad reach, social engagement stats, and target market segments among others.
You can sort all these ads by date, shares, likes, or comments and use what you want for your own campaigns.
Geo-targeting helps you draw precise information on the strategies your competitors are using with each location, and the PowerAdspy Chrome extension is available for free to see all ads on your newsfeed.
This is a feature other tools in this list don't offer.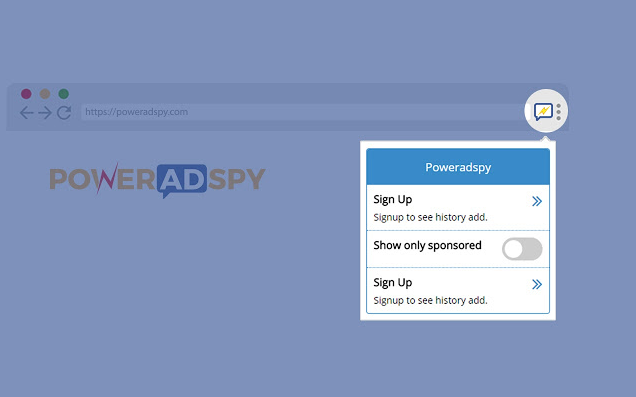 Other great extras in PowerAdspy are live ads, which make it easy to monitor what your rivals are running in real-time and Shopify ads so you can see what other online store owners are doing.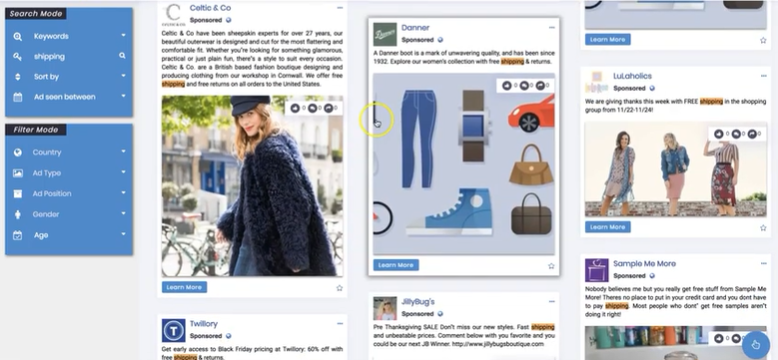 But it doesn't just stop at Facebook; it also displays ads from competitors' Instagram and YouTube campaigns.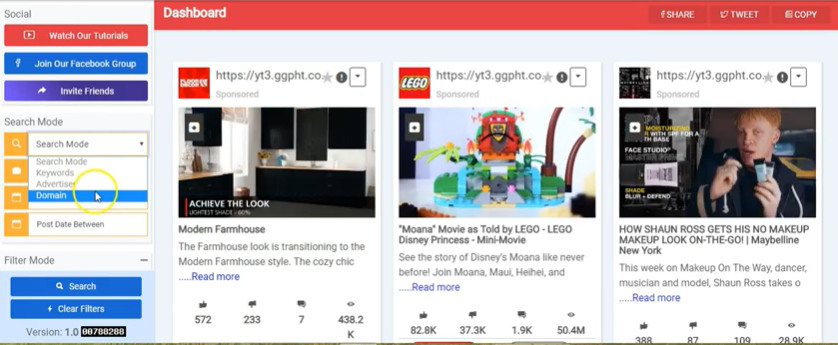 You can also search by mobile devices like smartphones and desktop platforms.
Data is also available in different content formats like images, videos, graphic displays, and much more, with the most efficient calls to action (CTAs) you can apply in your own ad campaigns.
PowerAdspy's pricing comes in Basic, Standard, Premium and Platinum packages from $49 to $249.
It may be a little pricey, but there's a free plan you can use to get started with up to 20 searches per month.
The paid plans offer a trial, but you'll have to pay $1 to try the Basic plan, and $7 to try the other three paid plans.
Its main drawbacks are the learning curve, as you need tech and analytical skills to use it properly, plus its basic plan lacks many features, so you'd have to upgrade to a higher plan to get more.
Related : PowerAdSpy Review

We earn a commission if you click this link and make a purchase at no additional cost to you.
4. AdSova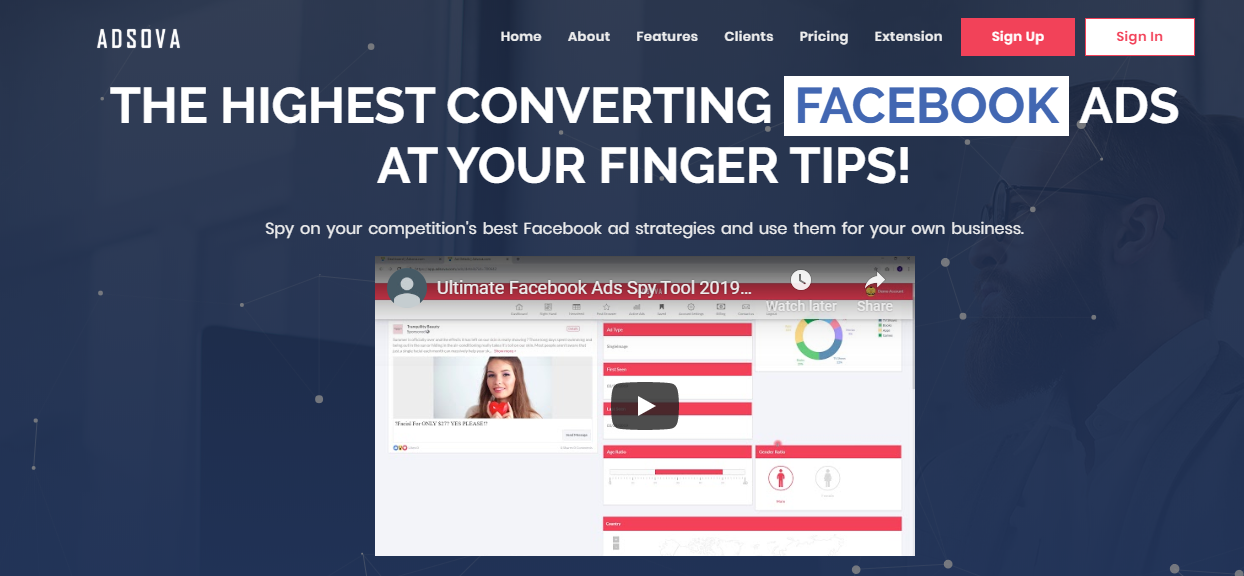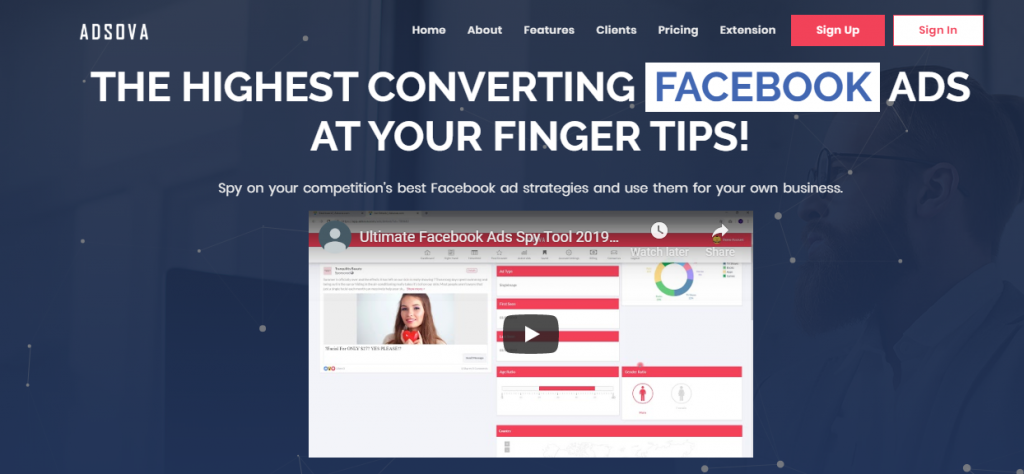 AdSova is another excellent tool you can use to spy on your competitors' Facebook ads.
It has a huge collection of ads, which are refreshed every day, so you can see the latest ads other businesses are using.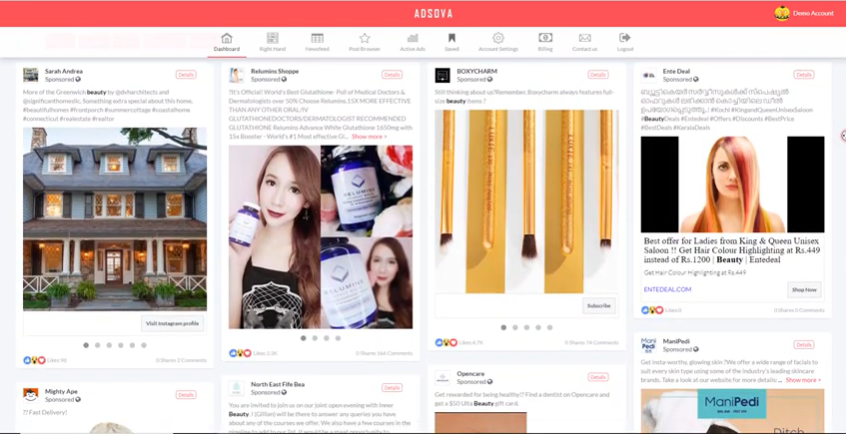 Besides regular text ads, you can also see visual ads on AdSova, plus it covers ads from several sources including the News Feed on mobile and desktop platforms, and more.

Among its powerful features are the desktop and mobile news feed ads, which you can use to spread the word about your latest product or service.
You can also find virally spreading ad ideas and leverage the results to create your own successful ads.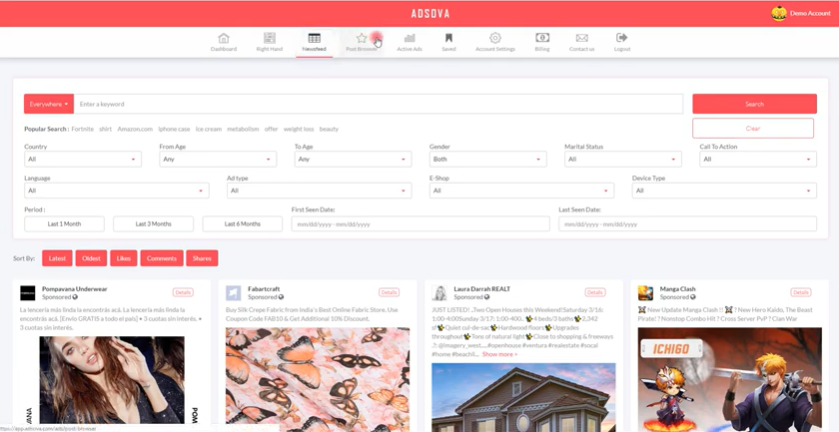 Also included are the right hand side ads you can use for retargeting and creating awareness about your brand.
In just a few clicks, you can also discover the most profitable retargeting campaigns.
The post browser is another unique feature you can use to spot ongoing and rising trends in your niche or industry.
Once you type the keyword you want, AdSova will generate all the trending ads and posts on Facebook.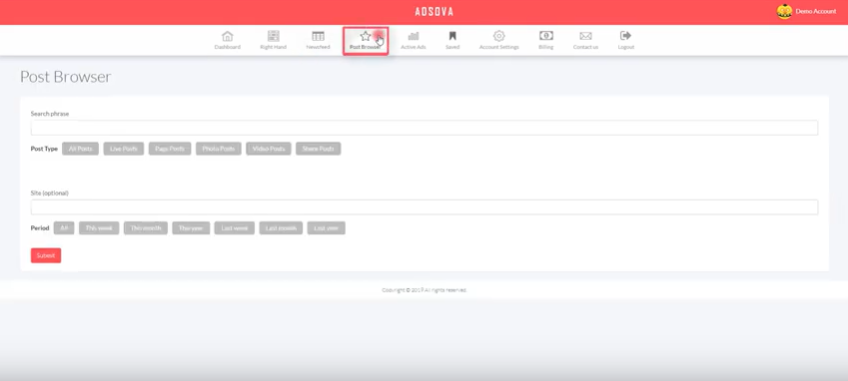 AdSova also has an Active Ads feature, which is relatively new from Facebook, and that shows all the ads you're currently running on Facebook.
It saves all the currently running ads and also shows you a history of previously-ran ads so you can learn from the competitors' past mistakes.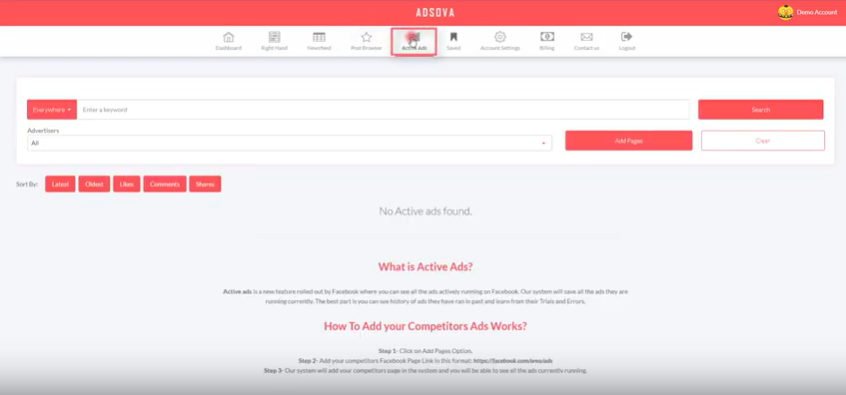 Ad tracking is also included so you can see how the different ads have changed or continue changing over time, and learn from them so you know what to add or remove from your own ads.
AdSova has a fast, easy to use and high-performing interface that makes it fun to spy on your rivals' Facebook ads.
It also has a browser extension you can use to browse countless ads in a few clicks.
Once you download the AdSova add-on, you can participate in digital ad spying, as long as you give the tool access to capture anonymized clickstream data.
This can include your popular social networking and other sites you like, plus your ad browsing history.
In return, you'll get tons of analytic data such as demographics, popularity, clicks, and a lot more.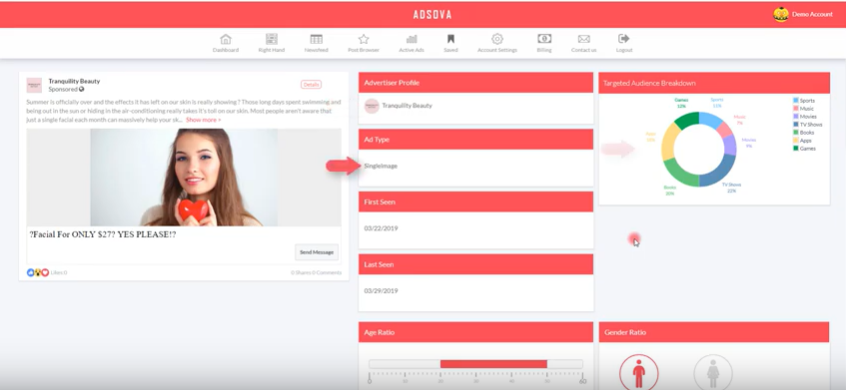 AdSova doesn't have a free trial or version, but you can pay $1 to try the service.  It also doesn't have a demo to show you how it works.
Its paid pricing plans include Smart, Wise, and Sova. The Smart plan costs $69 per month, with a free trial that lasts up to five days and access to sidebar ads.
The Wise plan costs $99 and the Sova plan costs $129 per month, both offering a five-day trial, access to sidebar ads, newsfeed, and post browser features.
An extra feature in the Sova plan is the Active Ads, which the other two plans don't offer.
With AdSova, you can explore and search for ads from more than 500,000 ads in its huge database, which gives you an edge over the competition as you get to know their strengths and weaknesses.
Related : PowerAdSpy Vs AdSpy
5. AdEspresso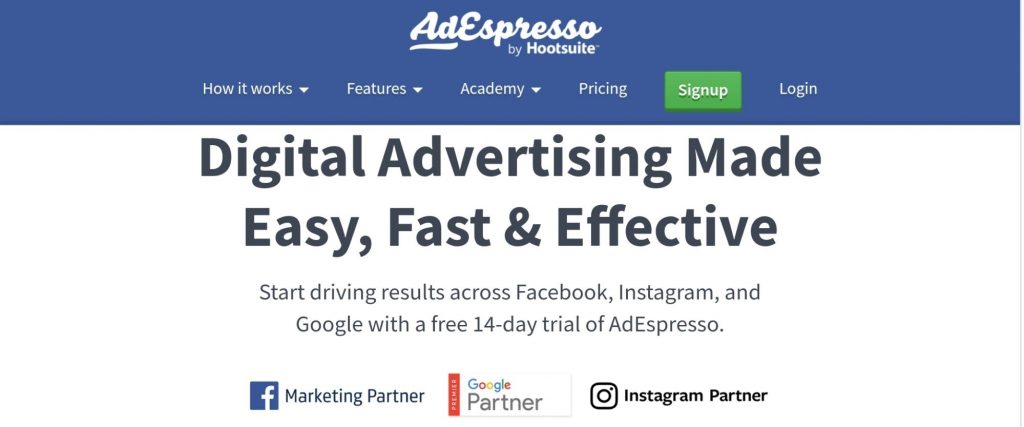 AdEspresso is a smart and powerful tool that marketers and online store owners can use to spy on their competitors' Facebook ads from 25 major industries.
You can get information on engagement for each ad thanks to its vast library from businesses operating worldwide.
Besides making ad creation easier, you can design and optimize your own campaigns that actually work, as you get to see and test different ad variations with copy, images, and more.
The tool is available for free and offers a wide array of resources marketers at every level can use to create successful campaigns. So it's not just a spying tool. It can do a lot more for your business.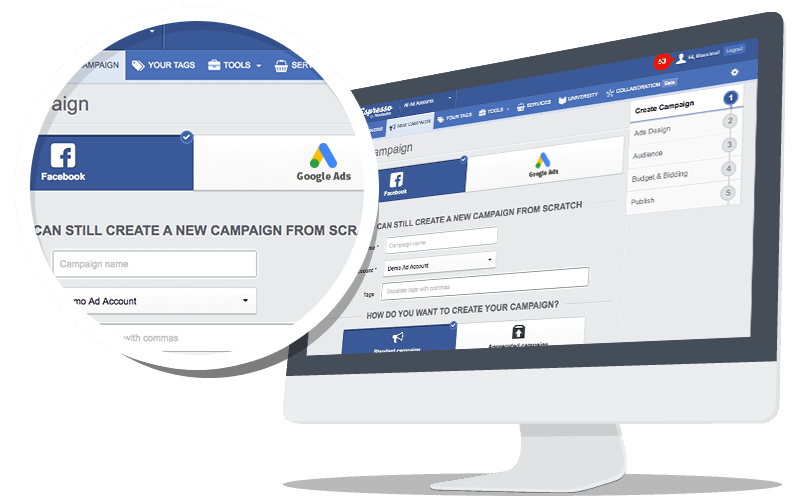 Previously, Facebook had an Adboard that churned dozens of ads based on your profile, making it easy for marketers to spy on rival brands.
However, this was discontinued. Thankfully, tools like AdEspresso emerged to help marketers see and get inspired by ads from different types of businesses.
It also acts as a database from which you can learn the strategies of your competitors so as to design your own multiple variations before launching them.
The ad repository can be filtered by industry, keyword, objective, category, and other variables.
Once you identify the right Facebook ad strategy by observing your competitors' visuals and ad copy, you can make yours look different from theirs.
This is possible thanks to AdEspresso's ads gallery, which has more than 15,000 ads you can search from.
For instance, if your company makes custom winter boots, and you want to advertise a huge sale to kick off the winter period, you'll obviously want to show off your products.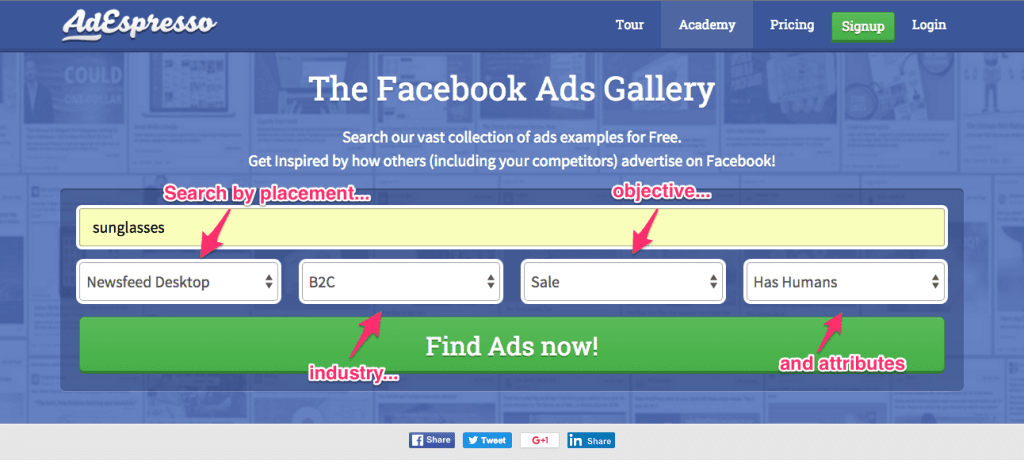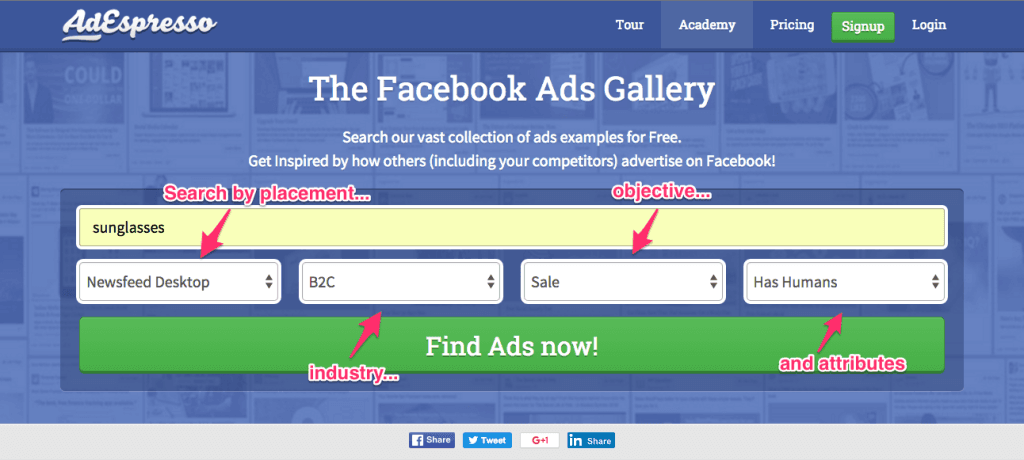 Before you do that though, you may want to see how the competition is doing it, so you find the big names in your niche and see the images, videos, and/or copy they use.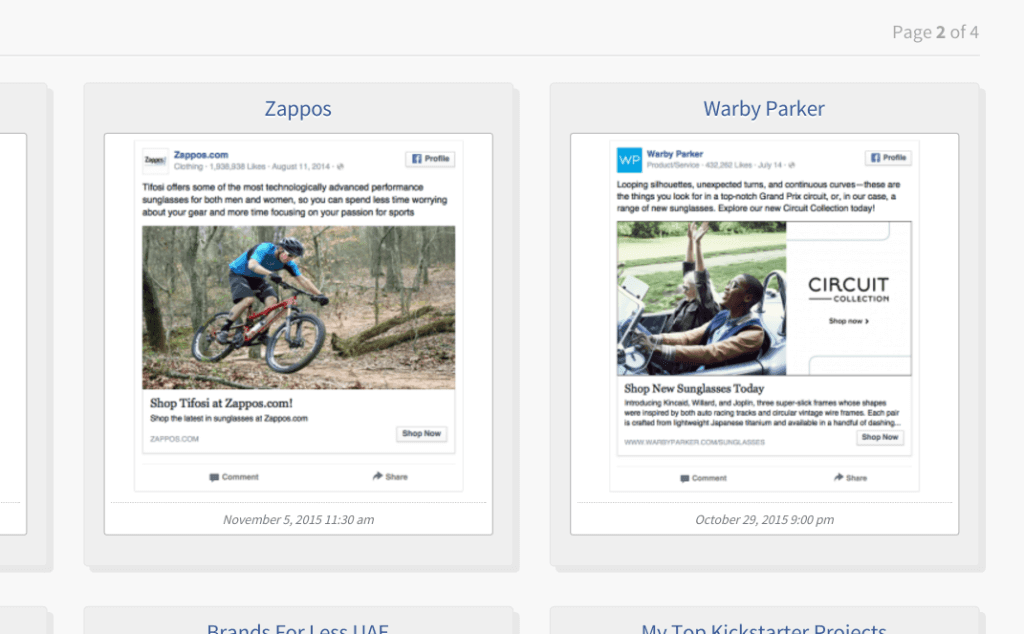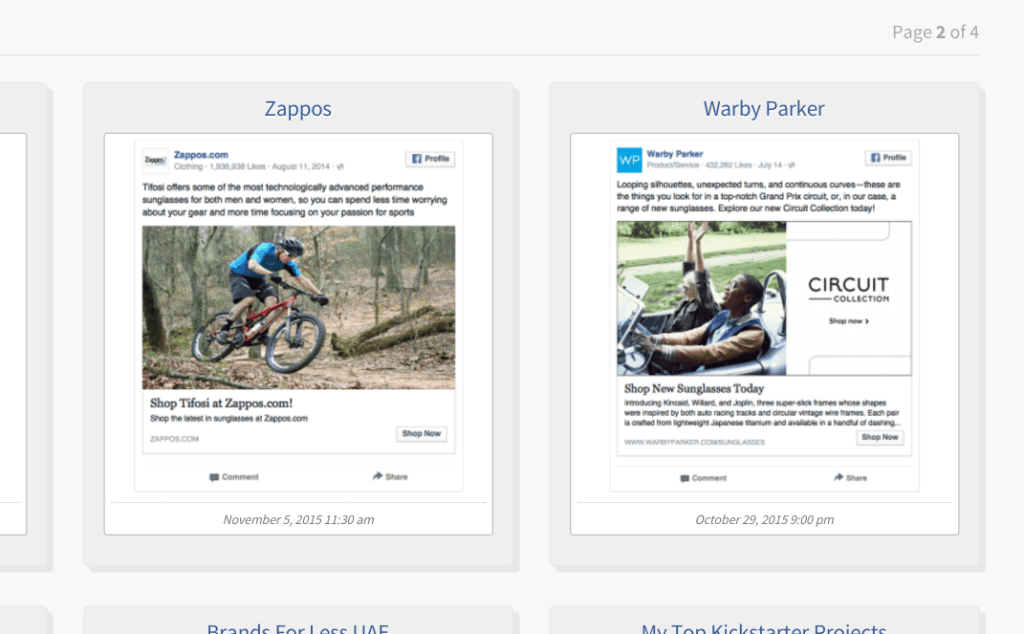 Once you know your rivals' strategies, you can build ads around people looking chic while wearing your winter boots.
Alternatively, you can use the opportunity to stand out by promoting your boots with close up shots of legs and feet that display their distinctive style.
This way, you can build new and different ads that appeal to your target audience's desires for unique items.
With AdEspresso University's ad gallery, there are more than 250,000 ad examples to search from, with examples on ad designs from many businesses, including 95 percent of your rivals.
Subscribing to the University gives you full access to courses, case studies (monthly), and live webinars so you can become a Facebook ads expert.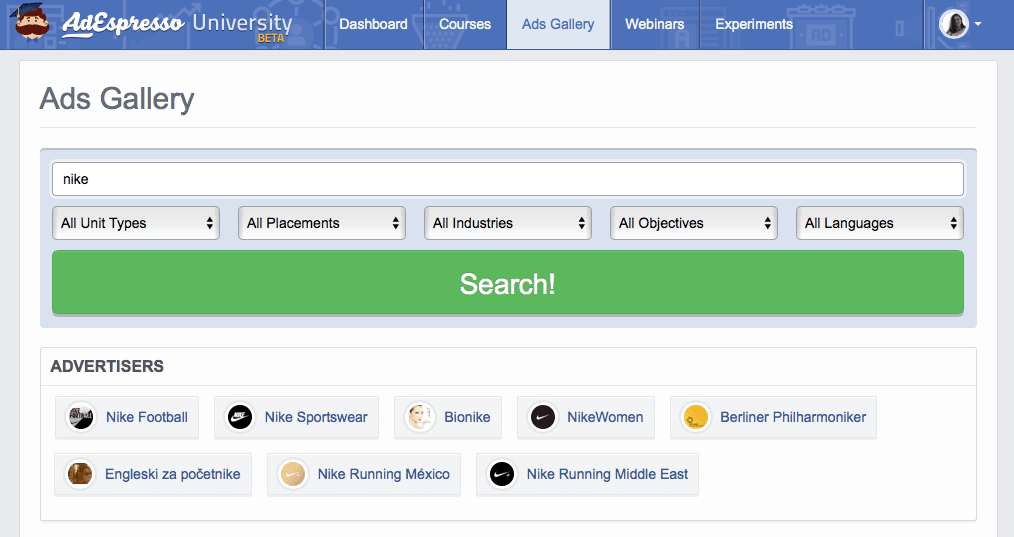 AdEspresso's ads gallery is constantly updated with new Facebook and Twitter ads and landing page examples, to get ideas for your social media campaigns and add value to your own ads.
You'll also get deeper insights into how other companies advertise and guide their customers through the sales funnel.

AdEspresso is a free tool, so there are no costs involved or pricing plans. The main benefits, besides being a free tool, are its simplicity and its powerful search and filtering features.
Further, you can see ads from every industry or category type, regardless of the business you're in.
Its main drawback though, is it has limited features, doesn't give statistics or analytics information, and has very little data available for you to work with.
Worth Reading : AdSector Review
Final Thoughts
Spying tools are really helpful for online store owners and marketers today.
Unlike the traditional methods of having to do in-depth research online and trying to figure out through campaign testing what the competition is doing, spying tools literally do everything for you.
Besides keeping you updated on ideas you can use and the latest marketing trends, they can also reverse engineer campaigns for your rivals, so you don't have to work too hard to create your own.
All the tools listed here have their own unique features, but they make for great alternatives to AdSector, which lacks in many ways, though it still has the basic features of an ad spying tool.
However, with AdSector, you don't get as many features like the affiliate offer wall that Anstrex provides, or the huge database with AdSpy, or even the native ads spying capability in AdPlexity.
AdSpy is the largest platform in the world among all these alternatives, AdSector included, as it offers information from millions of ads across 198 countries. 
With such volumes of data to work with, you can be sure you'll not only find what you're looking for, but also get valuable insights into the competition and what's happening across the globe for better decision making.
It beats AdSector and other tools listed here not just in its huge database, but also in the wide range of search and filtering variables, plus its simple interface. It's been tried and tested over the years.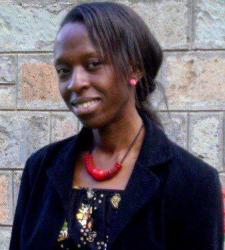 Author: Elsie Biage
Elsie started off as a freelance business and tech journalist. Having written for publications like Lifewire, and WindowsReport, she has garnered immense exposure over the years. She is a certified social media expert with deep interest in internet marketing, ecommerce and information technology.