PowerAdSpy is a powerful Facebook ad research tool. It's built for regular advertisers, ecommerce businesses, and affiliate marketers.
If you have been looking for a way to boost the performance of your Facebook campaigns or get ahead of your competition, this tool is for you.
Today, we'll do a PowerAdSpy review and show you how you can sign up for a PowerAdSpy free trial and/or get a discount with our promo code.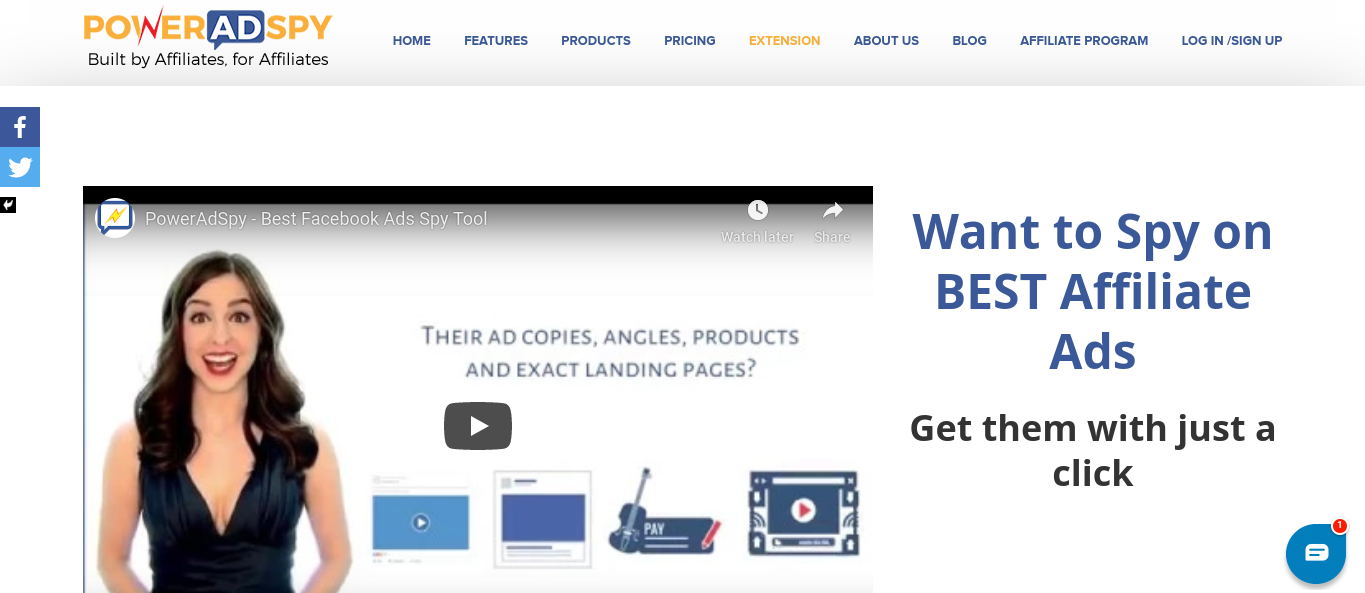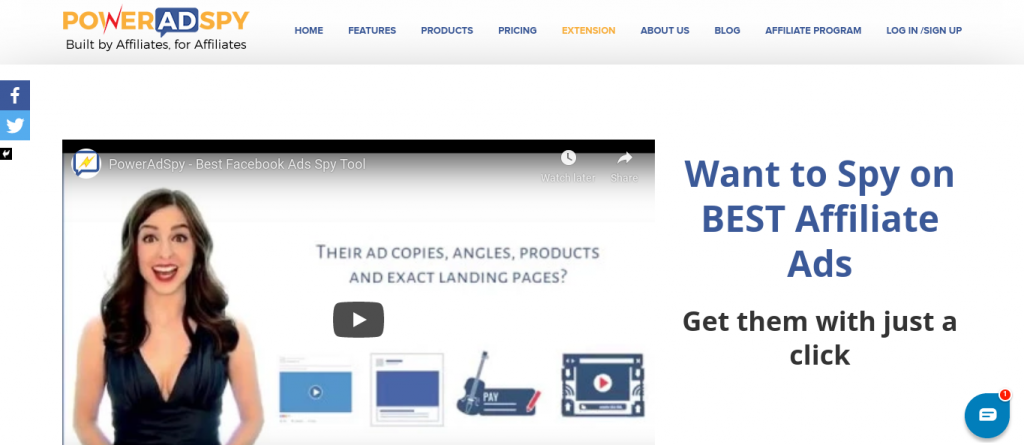 Why Use a Facebook Research Tool?
Facebook is the third most visited website in the world (after Google and Youtube).
Sixty-eight percent of all Americans are using Facebook, so regardless of what your target audience is, Facebook is a great way to reach them.
However, it's important to note that Facebook's popularity is global – in fact, Americans only make up 10 percent of Facebook users.
On the other hand, you're up against fierce competition.
There are already 80 million Facebook pages belonging to small and medium-sized businesses alone, and it's the most popular platform for both B2B and B2C businesses.
In addition, the costs of advertising on Facebook have been going up due to the competition, which makes achieving a satisfactory ROI more difficult.
That's why it is so important to use a tool to help you optimize your Facebook campaigns and get detailed stats that will help you fine-tune your campaigns.
Related : AdSpy Vs AdSector
PowerAdSpy allows you to search for and filter through ads on Facebook to find ads with good engagement rates.

We earn a commission if you click this link and make a purchase at no additional cost to you.
PowerAdSpy Features
Let's take a look at what it offers.
PowerAdSpy Ad Data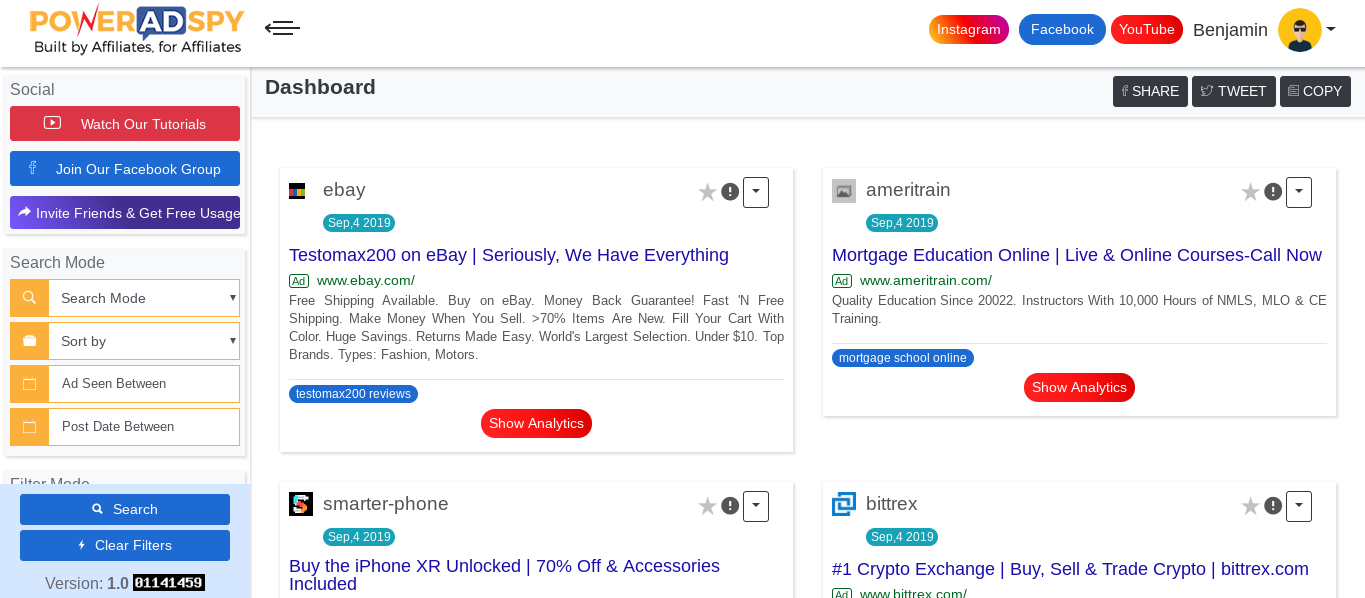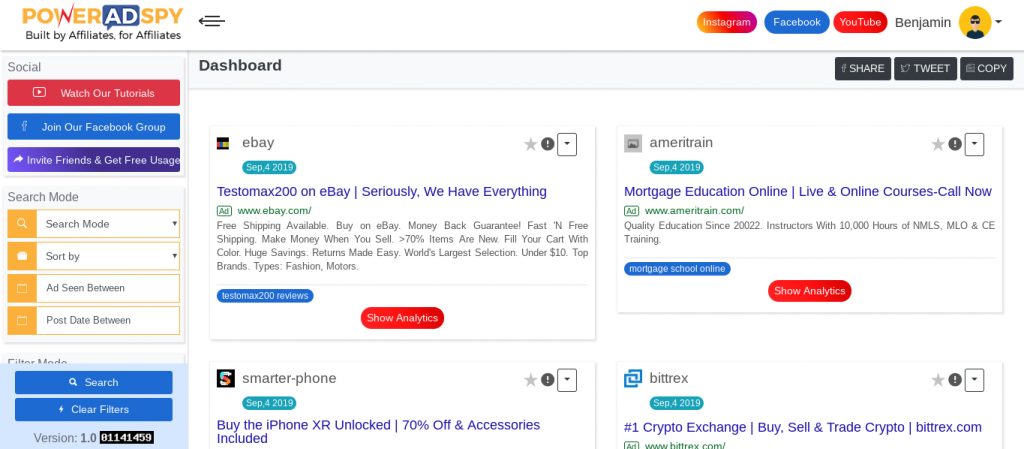 For every ad you find on PowerAdSpy, you will get important data. This includes the reach of the ad and its engagement metrics.
There will be information such as how many times the ad was shared, how many comments were left on it, and how many likes it received.
You can also see demographic data, such as which age group or country was being targeted.
By seeing which ads have been performing well and which haven't, you will be able to determine what works on Facebook, such as which images, ad copy, keywords, topics, and tone of voice get the best results.
PowerAdSpy has over six million ads in its database from 15 different countries. This gives you a wide range of data to learn from.
PowerAdSpy Filtering Ads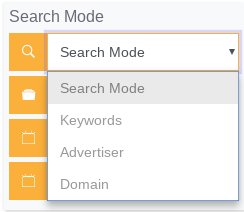 PowerAdsSpy has a lot of filter options that allow you to find the ads you are looking for. Let's go through some of the different criteria you can set for finding ads:
Position: If you've been doing Facebook advertising, you probably know that you can have your ad shown as a post in the newsfeed or on the sidebar. Different businesses might find different results; there's no clear rule as to what works better. With PowerAdSpy, you can compare ads that are displayed in different places to discover which ad positions work best in your niche or industry.
Keyword: Using keywords to narrow down your searches is a great way to find ads about specific products or services and see which tactics are bringing in good results. When searching for keywords, you can choose between broad or exact results. Searching for broad results can help you discover more relevant ads, even if they don't contain the exact long-tail keyword you type in.
Country: If you want to run ads in a specific country, you can filter your results so that you are only shown ads for that country.
Language: You can filter for ads in a specific language.
Niche: Niche filters make it easier to find ads that are specific to your industry or niche.
Age: Age and age group filters let you see ads that are targeting the same age group you are targeting.
Device: You can filter to see ads displayed on desktop or mobile devices. Furthermore, mobile ads can be filtered based on whether they are being displayed on Android or iOS devices. This is important. An ad that is doing well on desktop devices may not do well on mobile devices and vice versa. For example, creatives and calls-to-action that work well on desktops may not work on phones.
Call-to-action: Having a good call-to-action is essential for improving your conversion rates. With PowerAdSpy, you can filter based on CTA. You can discover which calls-to-action are working well in your niche and use that information to collect more leads or get more sales. Some calls-to-action you can use as filters include Shop Now, Watch More, Learn More, Like Page, Save, Donate, and Play. These are all default CTA options provided by Facebook.
There are more advanced filters that you can use to find the exact ads that are relevant to your business.
PowerAdSpy Ad Sorting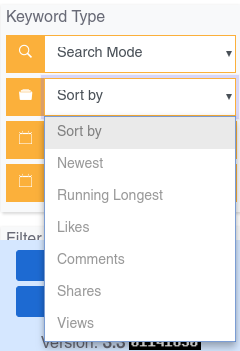 After using filters to find ads, you can sort your results to see which ads are getting the most engagement. Here are some criteria you can use for filtering your ad search results:
Date: You can choose to see ads from any time period, such as a week or month.
Newest: You might not want to see older ads. By sorting by Newest, you can see the most recent ads first.
Longest Running: One of the downsides of searching for the most recent ads is that new ads don't necessarily have a track record.
However, by filtering for the longest-running ads, you can find ads that have withstood the test of time. If the advertisers kept this ad up for a long time, you can be sure that whatever they are doing is working and bringing them results.
Views: If you want to see which content got the most views, use this filter. However, keep in mind that views don't necessarily equal engagement.
Likes: Which ads are getting the most likes? Sort by likes to find what kind of content is the most popular.
Shares: If you want to broaden your reach, you have to share content that is worthy of being shared and going viral. Sort by shares to find content that people want their friends to see.
Comments: If you want to increase organic engagement, sort by comments. This allows you to find the kind of content that causes people to speak up and which people have opinions about.
Also Read : Best Facebook Ads Spy Tools
Save Your Ads
The bookmark feature is a lifesaver, as it allows you to bookmark ads that you found interesting or wish to study.

We earn a commission if you click this link and make a purchase at no additional cost to you.
You can go through your results and bookmark many ads at first glance and come back later to review them more thoroughly.
PowerAdSpy Competitor Spy


This is big. Spying on your competitors can give you an advantage in your industry.
"Why would I want to spy on my competitors? Why not just do my own thing and, since I have a good product, I am sure to get results?"
If you find yourself asking yourself that, here are some reasons to spy on your competition:
Improve: Competition forces you to evolve, adapt, and improve. By recognizing your competition and staying on top of what they are up to, you can take a better look at yourself and how you can improve your products or services.
Discover trends: Are there any trends in your industry that you missed out on? Spying on your competitors can also allow you to detect emerging trends so that you can get in on them early on.
Target the right people: By looking at the target audience your successful competitors are focusing on, you might discover that you have been targeting the wrong people until now.
Optimize your campaigns: Look at your competitors' ads to discover what kind of content works, what tone of voice appeals to consumers, and what kind of marketing strategy is bringing them results. Obviously, don't copy or plagiarize their strategy. Rather, use what you discovered as inspiration to come up with your own unique ideas.
When filtering your results in your ad searches, there are two ways to find competitor ads: You can filter based on brand name or domain name.
Either way, PowerAdSpy will show you your competitors' most successful ads.
You can learn a lot about them, such as their ad types, ad positions, the creatives they use, their ad copy, and much more. You can even find out which geo-locations they are targeting.
PowerAdSpy Video Ads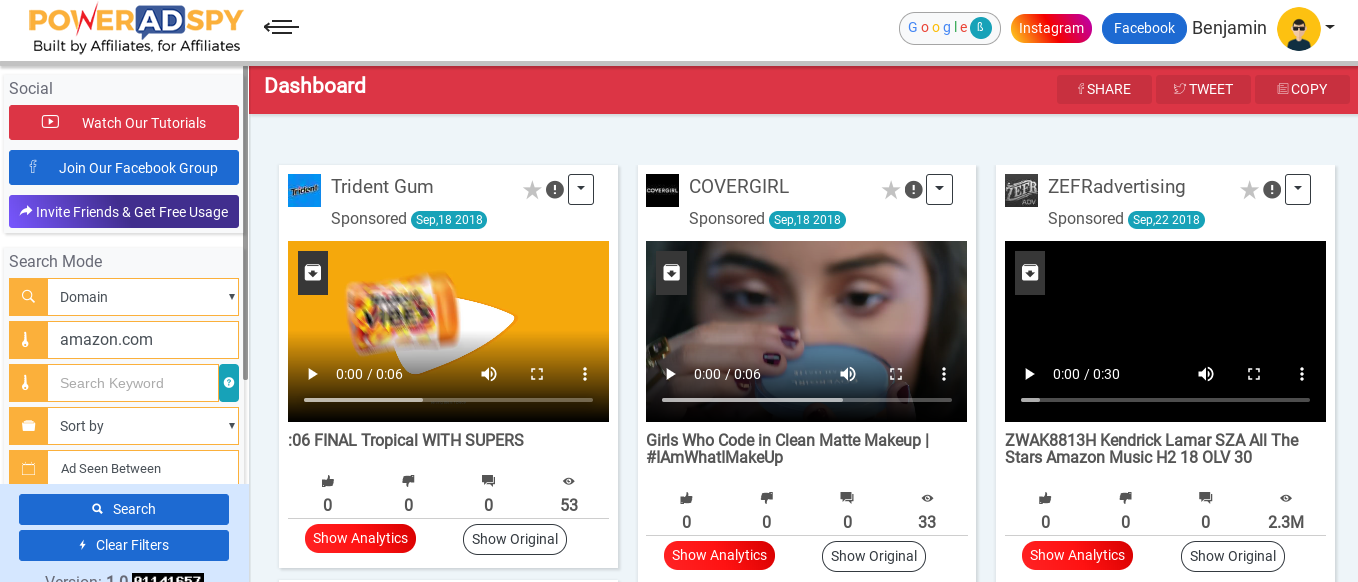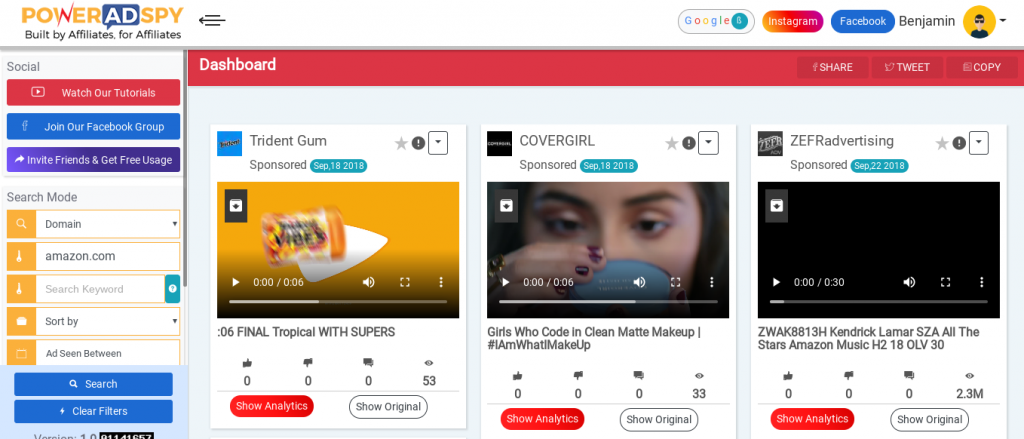 With PowerAdSpy, you can discover not just regular Facebook ads, but video ads as well.
Why is video important? Here are some stats that will show you why it is crucial to start placing a greater focus on video ads on social media.
Facebook videos get eight billion views a day, and videos remain one of the most engaging content types on Facebook
Native videos on Facebook get a 10x higher reach than Youtube links
Forty-six percent of users take action after seeing a video
PowerAdSpy has a large database of Facebook video ads with detailed statistics on all of them.
Live Results
PowerAdSpy gives you live results – all data is updated in real-time. In fact, you can visit the live ads directly from the platform and cross-check engagement.
Worth Reading : AdSector Review
PowerAdSpy For Affiliate Marketers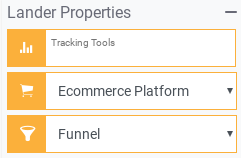 We mentioned at the beginning that PowerAdSpy is a great tool for affiliate marketers.
This is because it has special filters that affiliate marketers will find helpful; these filters are called Lander Properties.
Here are some of the filters affiliate marketers can use:
Tracking tool: You can choose to see ads that are using a certain tracking tool or pixel, such as Adsbridge.
Funnel: Digital marketers often use funnels to collect and convert leads when running Facebook ads. You can sort for ads that are using funnels such as Leadpages or Clickfunnels.
Ecommerce platform: This can be useful if you are promoting ecommerce products as an affiliate. It can also be useful for ecommerce businesses. Available filters are Shopify, Woocommerce, and Magento.
PowerAdSpy Shopify Filter
If you run an ecommerce business, you will find the Shopify filter very useful. You can filter for ads that your competitors are running for their Shopify products.
Another way to search for ecommerce ads is to filter results based on a keyword such as "shipping." This will bring up mostly ecommerce ads.
Other Platforms


The focus of PowerAdSpy is on Facebook ads. However, they have recently introduced analytics and ad research features for other platforms, including Instagram, Youtube, and Google.
These work pretty much as described for Facebook.
You can see statistics for each ad, such as social engagement, outgoing URLs, and geo-targets, and you can also use filters to narrow down your searches.
The PowerAdSpy Extension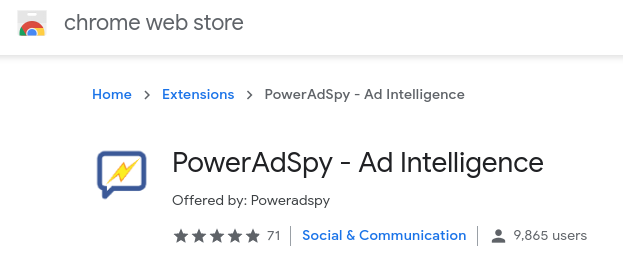 PowerAdSpy has never been easier to use with their Chrome extension. Simply install the extension on your browser – it's free for PowerAdSpy members.
With the extension installed, you can log onto Facebook at any time and see insights and data about the ads that show up in your newsfeed.
The extension can be uninstalled or disabled at any time.
PowerAdSpy Support
PowerAdSpy has a Facebook group where members can ask questions and help each other out. There is also a Youtube channel that is full of tutorials to help beginners use the platform.

We earn a commission if you click this link and make a purchase at no additional cost to you.
To contact the customer support team, fill out the form on this page. You can also add them on Skype – their username is sumit_898.
PowerAdSpy Affiliate Program
PowerAdSpy has an affiliate program that is free to join. Both members and non-members can earn extra money by promoting PowerAdSpy and sharing it on social media.
You will get a 30 percent lifetime commission on all sales and recurring membership fees. In your affiliate dashboard, you will be able to track your stats and progress in real-time.
There is also an invite-a-friend program. When you invite a friend and they sign up with your link, they will get five days of free access to the platform and you will get one day of free access (for each referral).
Related : PowerAdSpy Vs AdSpy
MailGaze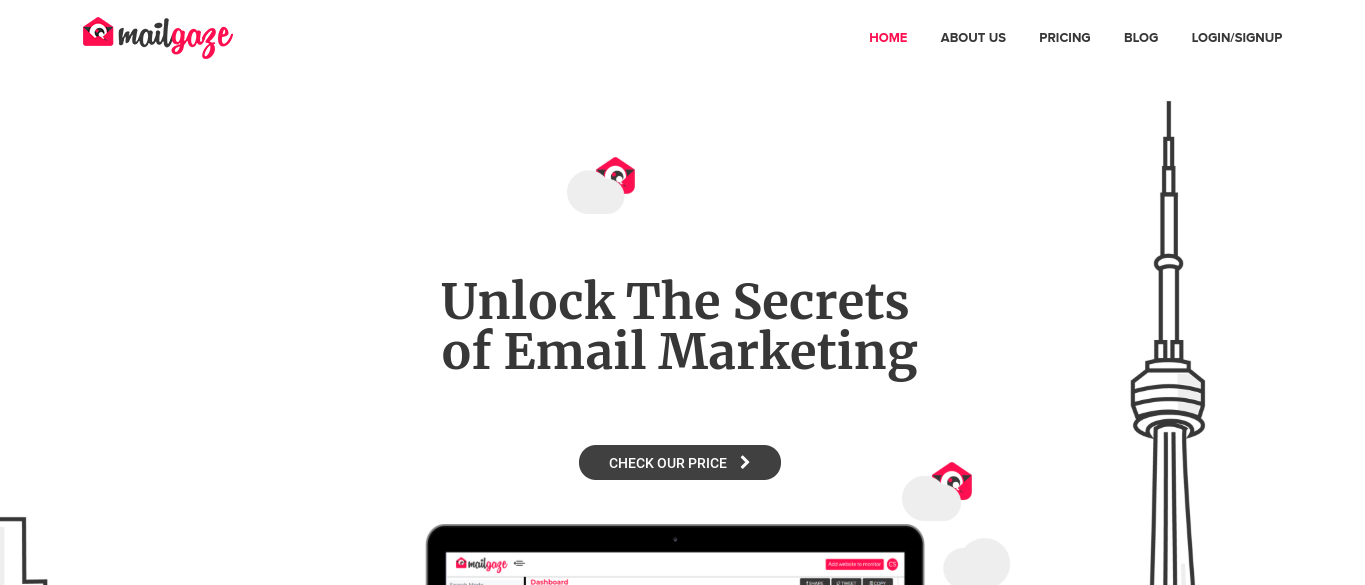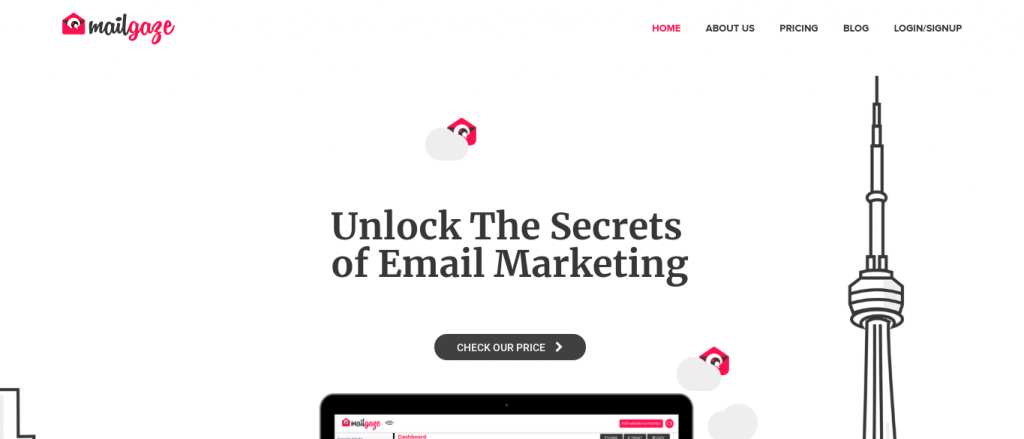 The makers of PowerAdSpy are also the makers of MailGaze.
It has a similar purpose to PowerAdSpy – it allows you to spy on and track your competitors' email campaigns so that you can create a successful one yourself.
With MailGaze, you can:
Get detailed reports about emails
Automate competition tracking
Create lists of websites to monitor
Get lists of top emails, keywords, and advertisers
There are three MailGaze plans, starting at $9.99/month and going up to $29.99/month.
PowerAdSpy Cons
No platform comes without negatives. Although PowerAdSpy is a great tool for discovering currently running ads on Facebook and other platforms, there are some cons.
For one, the interface isn't very slick or modern. This can be a turn-off for some.
Another thing that can be annoying is that when you sign up for an account, PowerAdSpy pretty much forces you to download their extension in order to use the platform.
This might irk some new users.
Finally, it is a bit expensive. As we will see below, the lowest-priced paid plan costs $49/month, and that doesn't even give you access to most features.
In fact, you will only be able to search for Facebook ads, and you won't be able to use most of the search filters other than keywords.

We earn a commission if you click this link and make a purchase at no additional cost to you.
To get access to all of the features, you will need to pay $149 (without Google) or $249 (with Google) a month.
For those prices, you can get access to other spying and ad research tools that give you access to a much wider range of data and information, such as SEMrush, Ahrefs, and SpyFu.
Also Read : Social Ad Scout Review
PowerAdSpy Pricing & Free Trial


There are five PowerAdSpy plans. Let's go through them, one by one.
Free: The free plan costs $0 and doesn't require a credit card. It gives you access to the platform (Facebook, Google, Instagram, and Youtube), ALL the features, and the ability to conduct up to 20 searches. You will only have access to the platform for 10 days.
Basic: The Basic plan costs $49/month and has a $1 three-day PowerAdSpy trial. As mentioned, you will only be able to access Facebook ads and filter your searches by keyword. You also will only get basic ad data.
Standard: The Standard plan costs $99/month and comes with a $7 five-day trial. All subsequent plans also come with the same trial option. It adds Instagram ad search access and the ability to filter based on CTA, ad type, ad placement, gender, age, etc.
Premium: This plan costs $149/month. It adds access to Youtube ads and gives you access to all features, including the ability to filter based on ecommerce platform, device, niche, tracking system, and funnel.
Platinum: This plan costs $249/month. It has all the features of the Premium plan, plus access to Google ads data.
Related : Best AdSector Alternatives
PowerAdSpy Coupon Code
The company often runs discounts and promotions. There are two PowerAdSpy discount codes currently verified to be working:
Discount code MEGPIXEL25 for 25 percent off
Discount code MEGAPIXEL10 for 10 percent off
Obviously, you should try the 25 percent off discount code first. Keep in mind that sometimes, these promo codes have usage limits, and once enough users use a code it may expire.

We earn a commission if you click this link and make a purchase at no additional cost to you.
PowerAdSpy Alternatives
Of course, PowerAdSpy is not the only tool you can use to spy on your competitors and discover their winning Facebook ad strategies.
Following are some other tools that you can use to conduct social media ad research or boost your social ad campaigns.
1. AdSpy


AdSpy is the world's largest searchable, social media ads database that uncovers the ads you want to see using its innovative search functionality, and unparalleled array of data. 
With this tool, you can assess the world's trends using comprehensive data from social media sites, and easily uncover the ads your business needs to know about.
The ad intelligence tool offers a wide range of search options to help you find whichever data you want, and however you want it, through several variables including URL, ad text, page name and more. 
You can also search using user reactions, affiliate or offer ID, affiliate network, landing pages or any other variables you need to find useful information you can work with.
AdSpy's ever-expanding database offers you more than 77 million ads from 198 countries and 82 different languages, so you can get just the right data for your own campaigns. 
This comes in handy if your business provides a product or service that caters to international markets like export business, or SaaS and software, among others.
If you're looking to uncover all the ads you want to see in one platform and using one tool, AdSpy will get the job done. Plus, it'll give you instant access to the social media ads your competition is using across the globe.
Worth Reading : AdSpy Review
AdSpy - Get $50 OFF & a FREE Trial
Uncover the competitor ads you want to see. Largest searchable Facebook & Instagram Database. Unparalleled search functionality & more.
Special: Get $50 OFF Adspy & a FREE Trial ==>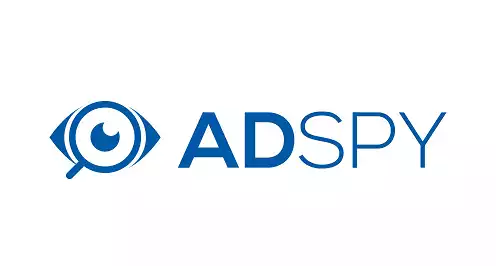 We earn a commission if you click this link and make a purchase.
2. Facebook Info & Ads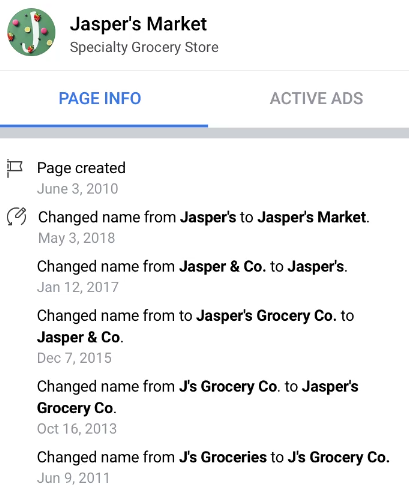 Facebook itself has a free tool to help you spy on your competitors! It's part of Facebook's campaign to promote transparency.
The Info and Ads section can be found under Page Transparency whenever you visit a competitor's Facebook page.
You will be able to see all ads that your competitor is currently running on Facebook, Instagram, Facebook Messenger, or the Facebook display network.
You will not be able to see engagement statistics, such as likes or comments. However, you will be able to see the creatives that they are using.
While this doesn't give you a lot of information, it lets you get a basic picture of your competitors' campaigns.
3. HootSuite Insights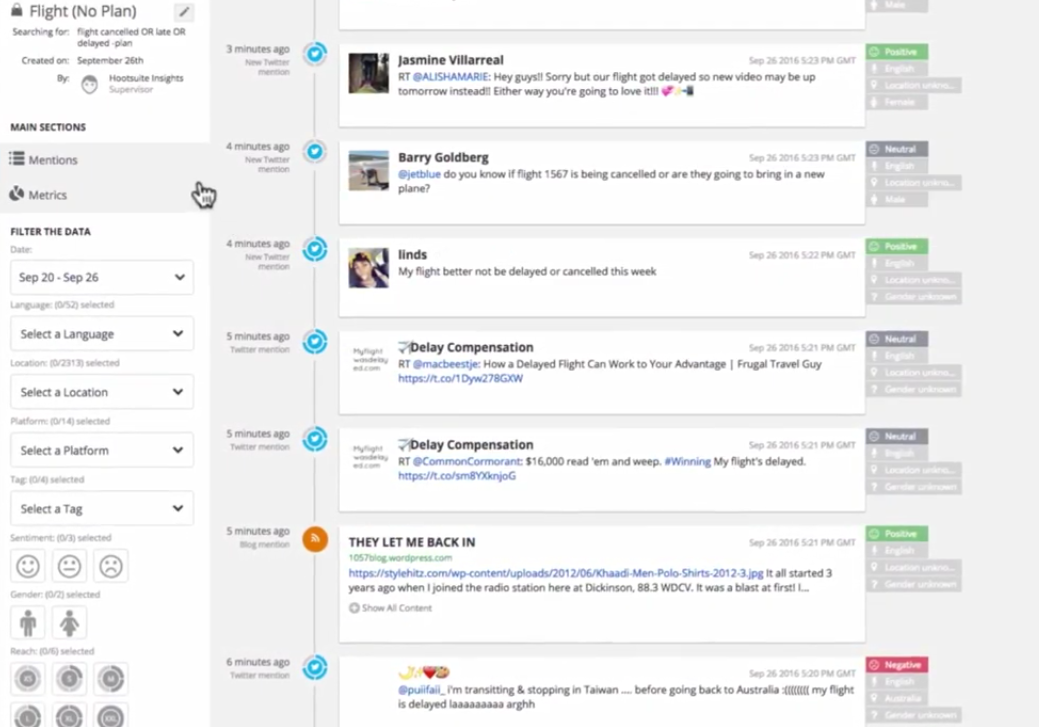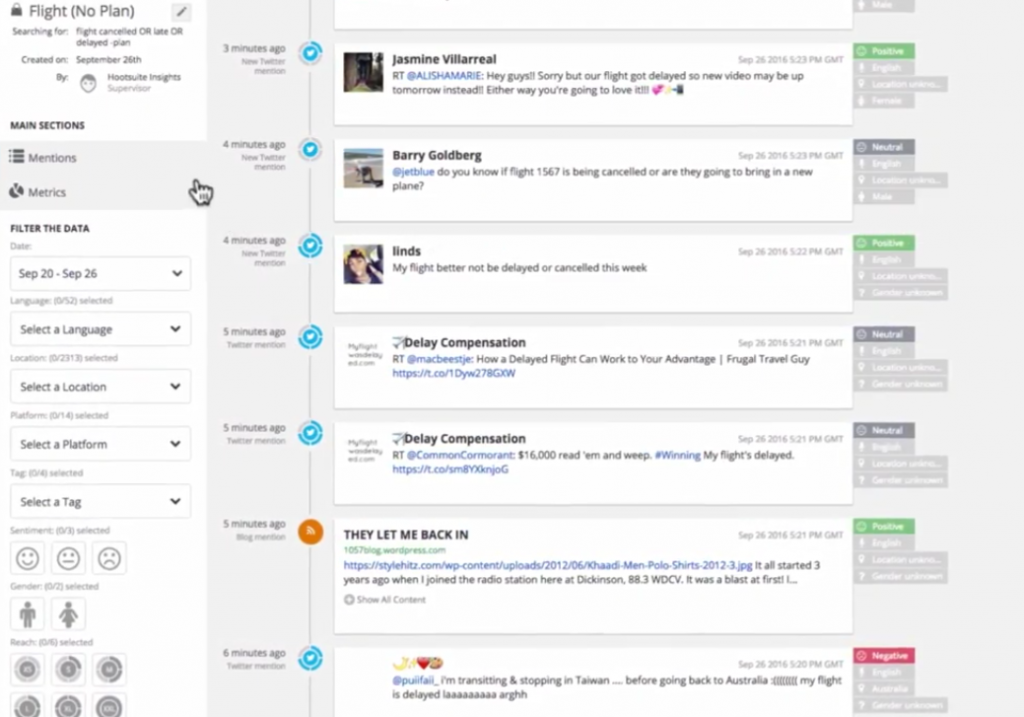 Hootsuite Insights is a tool that allows you to gain insights into what is happening in your niche. Here are some things you can learn:
The social sentiment around your brand – what people from different demographics feel about you
Conversations that are happening – social media posts about matters pertaining to your industry that are getting a lot of engagement
Alerts about complaints or other trends
4. SocialAdScout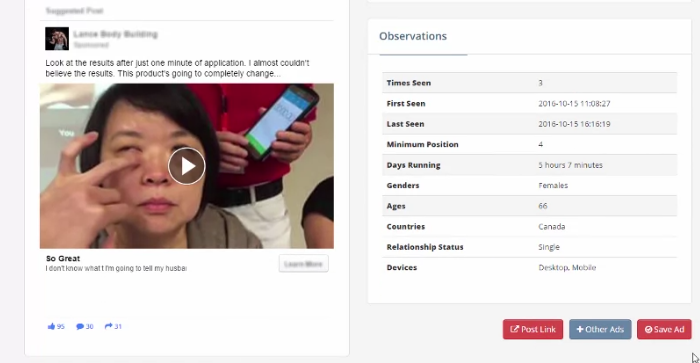 SocialAdScout is a tool that is very similar to PowerAdSpy. It gives you access to millions of ads from 21 countries, six countries more than PowerAdSpy.
Their filtering features are a bit more advanced than PowerAdSpy's. For example, you can filter the search results based on minimum redirects.
As with PowerAdSpy, you can see details about each ad, including their target audience.
An additional feature is the ability to get data about the landing pages those ads are sending people to; you can even download those landing pages for further research.
SocialAdScout costs $147/month.
5. AdEspresso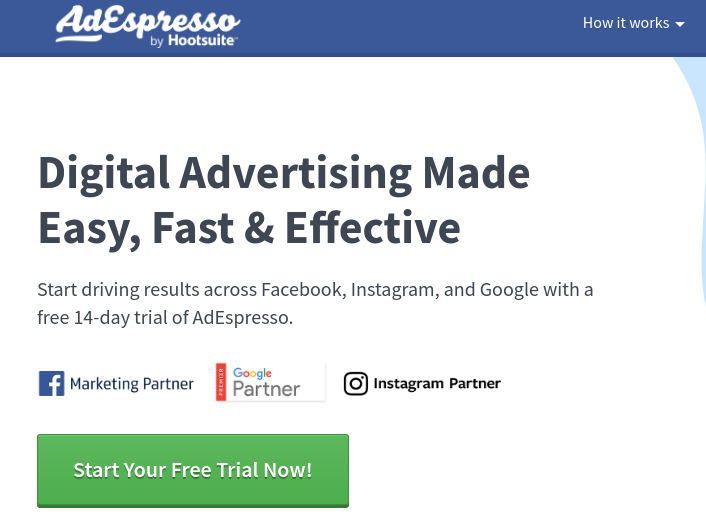 AdEspresso by Hootsuite is like feeding your ad campaigns an espresso coffee – they are sure to get a boost. The platform has a number of tools and features, including:
Ad creation: An easy-to-use tool that lets you create and test ads across Facebook, Instagram, and Google within minutes.
Ad tracking: Get updated reports in real-time about the performance of your campaigns.
Ad optimization: Get expert tips on how your ads can be improved. You can also let AdEspresso automatically optimize your campaigns by choosing your best-performing ads and running them at the right times.
Synchronization: Create a target audience by uploading a list from Google Sheets or 11 other platforms. Sync the leads you collect through Facebook Ads to any CRM.
Client collaboration: You can send ads to clients and have them approve them even if they do not have AdEspresso account.
AdEspresso plans start at $69/month.
Wrapping It Up
PowerAdSpy is a great tool for marketers.
If you want to improve your social media marketing results, you need to open your eyes and take a look at what is actually working for others, and PowerAdSpy lets you do that.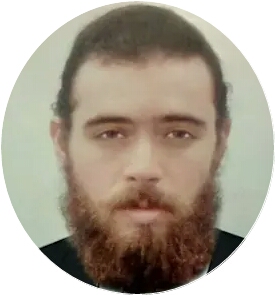 Author: Benjamin Levin
Benjamin Levin is a digital marketing professional with 4+ years of experience with inbound and outbound marketing. He helps small businesses reach their content creation, social media marketing, email marketing, and paid advertising goals. His hobbies include reading and traveling.