Last Updated on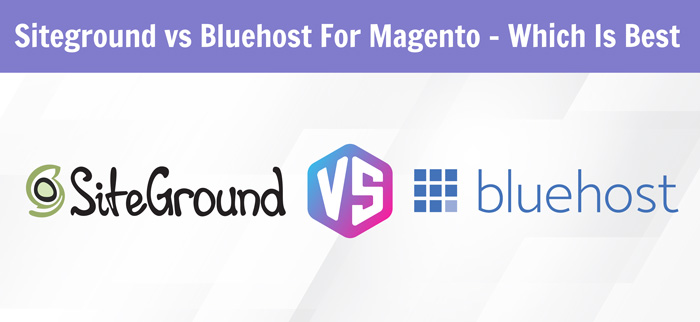 Magento is one of the leading e-commerce platforms in the market today.
If you have an e-commerce store yourself or are thinking about using Magento to open your store, having a robust and powerful hosting company is vital.
The hosting company you choose needs to handle a wide variety of tasks and be able to store the data you need for your store.
Because of Magento's large size, you should probably try and skip the budget-friendly options, unless you absolutely have to, and find the hosting company that can handle Magento's platform in full.
Today, what I want to do is share with you the differences between Siteground and Bluehost and find out which one is best for hosting Magento's e-commerce platform.
What Are Magento's Hosting Requirements?
There will always be certain requirements for e-commerce platforms.  With Magento, it is no different. Usually, the hosting providers for Magento will offer a one-click installation wizard which makes it quite easy to set up.
But if you want to install Magento yourself, you need to make sure that the hosting provider has the following required elements:
| | |
| --- | --- |
| Requirement | Version |
| Linux | x86-64 |
| Apache | 2.x |
| Nginx (alternative to Apache) | 1.7x |
| MySQL | 5.6+ |
| PHP | 5.4+ |
You will also need a valid SSL certificate for your HTTPS. Self-signed certificates won't be accepted.
How To Compare Magento Hosting Providers
Beyond type, here are some other quick things you should be considering when choosing your Magento hosting company.
Price – Prices will vary with providers.  Cheapest isn't always better, especially in this case.  Make sure to do your due diligence when shopping around.
Support – Support is huge.  There will be many times you are going to need some help with your e-commerce site.  Make sure the hosting company you choose offers 24/7 support, ideally live chat is best.
Magento Experience – Magento is a big piece of software that can be customized a million different ways. You need to find a hosting provider that has experience in every aspect of Magento.  This way, when you do run into issues, you know you will be working with the best to make sure your e-commerce site runs smoothly and efficiently.
PCI Compliance – Make sure your hosting provider is PCI compliant. This sometimes gets overlooked and is very important.
Managed vs. Unmanaged – You will hear this a lot when deciding which hosting company to use. Unmanaged hosting plans come with the basics with no additional features.
Managed hosting plans, on the other hand, come with any number of extra services such as automated backups, malware scanning, status monitoring, and more.
When reviewing providers, take a careful look at what management services they provide and what they don't.  Much of it depends on your experience level as well.
Choose what you are comfortable with.
Siteground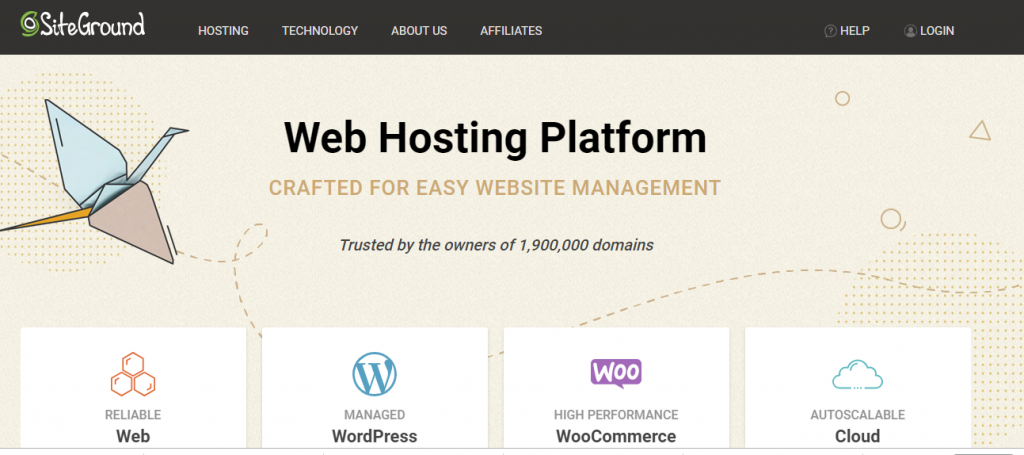 Siteground is a popular web hosting platform and is crafted for easy website management. With proprietary speed technology and three-continent data center locations, they make a powerful solution for your Magento e-commerce website.
Features
Page Speed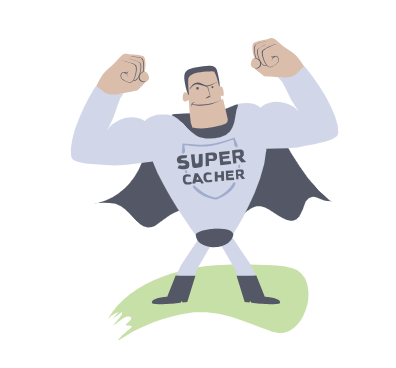 One of the first things you want to make sure your host provides is page loading speed. Siteground is known for its quick loading speed.
If you are trying to speed up your site, and have done everything you can think of technically, then you should find a fast hosting provider.
The hosting plans come with SSD storage as well as proprietary Super Cacher speed technology.
Here's a quick look at some of their speed technology that makes them a fantastic choice for your Magento site:
SSD Drives–  In order to increase the input and output operations, Siteground will store all of your files and databases using Solid State Drive technology.  All of their plans include this.
NGINX Server Speed – Siteground uses NGINX web server technology to speed up the load of the static content of all the websites they host. NGINX setup is included in all shared and cloud plans.
Super Cacher – This was primarily built for popular platforms like WordPress and Joomla, but it still applies to Magento as well.
They built their own caching mechanism based on NGINX reverse proxy. It speeds up the serving of the dynamic content of theie sites too.
Free CDN Available – Siteground offers free Cloudflare CDN that makes your website load faster in any part of the world by caching its content and distributing it over multiple data centers.
HTTP/2 enabled servers – HTTP/2 is the newest network protocol, which significantly speeds up loading of websites in the browser. Siteground is one of the first hosts to support it on all their servers. HTTP/2 requires encrypted connection.
PHP7 – PHP7 is designed to speed up execution so that whenever there is a technology update, it makes php executions faster.
Web Hosting Security Solutions
Security is one of the most important things to think about when running your Magento website.  You can't ignore it and if you don't have the appropriate technology in place, you could find yourself in some hot water.
Luckily for you, Siteground has fantastic security technology that you can trust.  Below are some of the features that they include:
Linux Containers (LXC) – Their platform is built on Linux Container technology.
Proactive Server Monitoring – Siteground has great server monitoring for your Magento site that was built in-house by their own team.
Automatic Backup Systems –  Siteground's backup system allows you to quickly browse and restore data from their automatic system backups.
Unique Anti-bot AI – Attacks by botnets are a serious problem and you may not know how to handle the issue. Siteground will make sure to take care of this for you.
You can read how they handle these attacks here.
Secure Account Isolation – Siteground was one of the first to come out with secure account isolation technology in 2008. They were the first to come up with the CHROOT account isolation of accounts on shared servers
Pricing
Siteground has three different hosting plans you can choose from. The plan you choose will depend on how big your e-commerce store is for the most part.
$3.95/month
$5.95/month
11.95/month
To see the full details on what is offered in each plan, click here.
Also, you can see in the image below the unique features offered for Magento hosting plans.

Server-level security patches
Custom in-house hack protection
Git integration for easy Magento version control
Free Magento 2 installation
Support
Siteground has 24/7 support via phone, chat, and email. If you have the "Grow Big" or "Go Geek" packages, you can get premium support, which offers free site transfers and it will make any issues you are having a priority.
Bluehost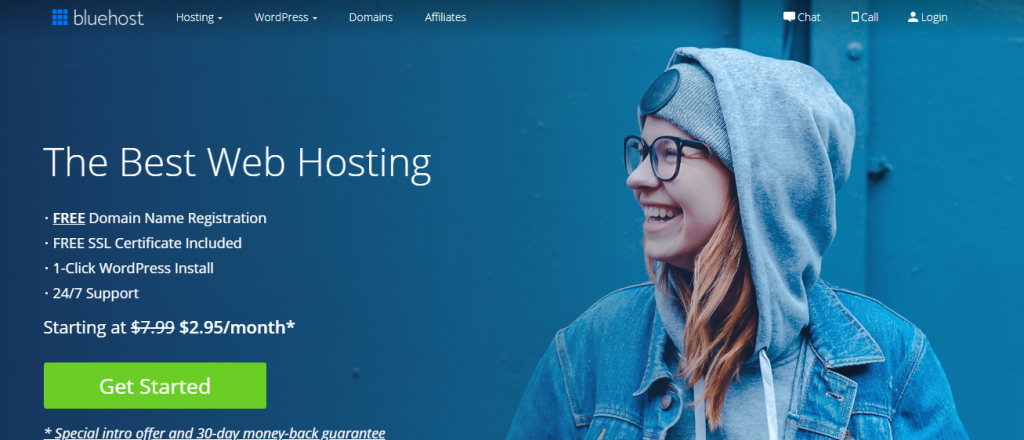 If you want a more budget-friendly option, you can use Bluehost. It's not as fast as Siteground, but Bluehost is one of the oldest web hosting companies, having been in operation since 1996.
Bluehost has grown quite a bit over the years due to their excellent customer service and high-quality range of hosting services and technology.
Whether yours is a small or a large Magento e-commerce, Bluehost can handle everything that you will need.
Hosting Packages
Bluehost has three different hosting options for you to choose from which are the shared hosting, the VPS hosting, and dedicated hosting plans.
Each plan comes with a variety of options within each plan. All of their hosting plans include domains, backups, resource protection, scalability, and SSL certification.
The nice thing is that even if you have the basic sharing hosting plan, you can add on the below-featured items to your plan.
Or, your other option is to choose one of the more advanced hosting plans such as the VPS or Dedicated hosting and it will include the following as well:
Access Control – This is a nice feature because it allows you to create different passwords to different parts of your account. In this way, you can restrict certain parts of your account from other users.
Content Delivery Network – CloudFlare is built directly into your account. This will help give you the maximum performance for your Magento site.
Advanced Capabilities – This is where you can have capabilities like Secure Shell (SSH) access, server-side includes, log file access and web-based managers for files, databases, and email.
Sitelock – this will help protect against malware and cyber attacks.
Code Guard – This is an awesome feature that you can't live without. It a program that will backup your files daily so you don't have to worry about anything happening to your e-commerce site.
Package Plans and Pricing
Shared Hosting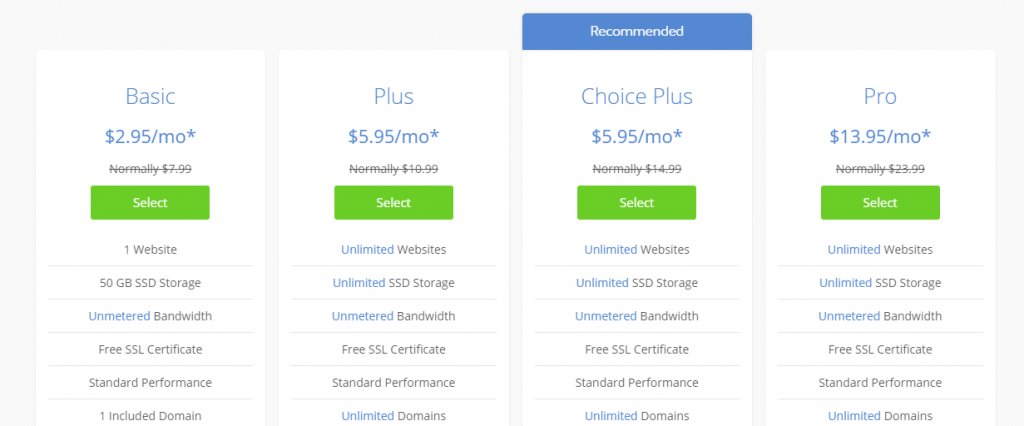 There are four different shared hosting packages you can choose from.  Each has different features attached to it. Every package has different features, so make sure to view them carefully.
Basic Plan ($2.95/month)
Plus Plan ($5.95/month)
Choice Plus ($5.95/month)
Pro ($13.95/month)
The basic plan might be all that you need if you are only running one Magento e-commerce site. But if you are running more than two e-commerce sites, that will immediately put you into the Plus Plan.
The other three plans come with unlimited websites, SSD storage, bandwidth, domains, packet domains, and subdomains.
What separates the biggest plans is whether or not you want a dedicated IP and site backup.
VPS Hosting
The Virtual Private Server hosting plan is ideal for hosting Magento large e-commerce businesses. Here, you get your own private server.
With that said, there are three different VPS hosting plans to choose from:  You can view the features here.
Standard ($19.99/month)
Enhanced ($29.99/month)
Ultimate ($59.99/month)
In regards to the VPS plans, you will need to choose a plan based on Cores, SSD storage, RAM, Bandwidth, and IP Addresses.  This will all be up to you.
Dedicated Server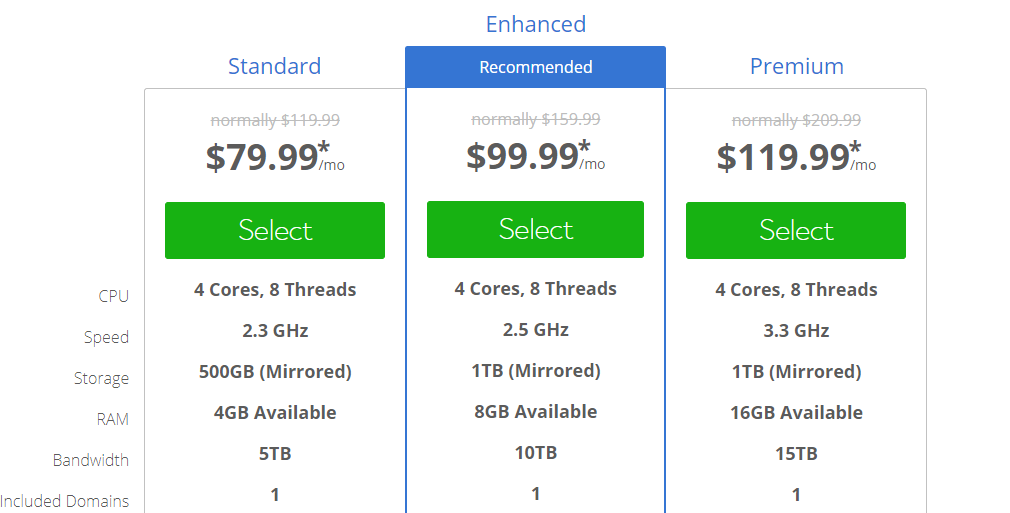 Dedicated server hosting is also great for growing and fast expanding businesses, and it allows you a private server. There are three different dedicated hosting plans to choose from.
You can view all of their features by clicking here.
Standard ($79.99/month)
Enhanced ($99.99/month)
Premium ($119.99/month)
The main factors in these plans will depend on the amount of storage, RAM, Bandwidth, speed, and CPU that you need.
Support
As mentioned above, Bluehost has amazing support! You can contact them at anytime 24/7 using email, chat, or phone.  This is a vital component of a good hosting company and Bluehost is second to none in this area.
They also have a ton of video tutorials you can view on their site which makes it super convenient.
Conclusion
If you are serious about building a successful e-commerce system on Magento, it is probably best to use a scalable VPS (Virtual Private Server) hosting solution rather than a shared hosting plan.
This will allow you to expand over time and only pay more as you generate more traffic.
If you are on a budget, I would use Bluehost.  If you want more speed, I would use Siteground.  Either way, both are very good options for your Magento e-commerce site.