Editor's note: Wondering which is more suitable for your ecommerce needs? Magento Community or Enterprise? Check out this post by Martin. He wonderfully explains what each version offers, the main differences, pros and cons. More importantly, you get to learn whether it's the right choice for your business or not. Once you've decided, you might want to explore the best Magento web development company in the town. EbizON is one such company you can trust on. It's known for its excellent Magento services for almost a decade now. 
Should you use Magento Community or Enterprise Edition?
This is one of the biggest questions that eCommerce owners face when deciding to go with the platform.
In this post, we're going to cover the differences and we're going to cover the pros and cons of each version.
Explore : What Makes Magento The Best Ecommerce Platform
What is Magento Community Edition?
Magento Community edition is a free, open-source eCommerce platform that anyone can download and use to build an online store.
It is perfect for small businesses that want to experiment and learn how to build an eCommerce site.
Because it's open source anyone can modify it in a way to meet his own needs. Additionally, you can take advantage of the Magento extension marketplace to enhance your functionality.
What is Magento Enterprise Edition?
Magento Enterprise edition is the premium paid version of Magento. It is designed for those that believe the Community edition is not enough.
It is mostly used by bigger online stores that need advanced features and more customizable options.
The Enterprise edition is completely backed by the Magento team. Subscribers get full support by phone and email. Pricing also includes security updates, special features and exclusive product enhancements.
The cost is $15,550/year.
Related : Mofluid 2.0 – Complete Magento Mobile Solution
Similarities Between Magento Community and Enterprise Edition
Talking about Magento Enterprise vs Community,  both Magento platforms are open source, has the same core features and are part of the same Magento ecosystem.
In other words, both can take advantage of Magento Connect – the Magento Extension marketplace and use apps to enhance functionality.
Related : Best Magento Cart Abandonment Extensions
Both Magento Community and Enterprise edition allow you to use webservers API to integrate with different databases.
The Differences Between Magento Community and Enterprise Edition
Cost 
I hear this question often. Is Magento free? Yes, Magento community is free. Enterprise is paid (you pay for advanced features). Magento enterprise pricing is $22,000/year. Not to mention that you will pay more for implementation.
The higher cost comes with additional functionality that might make sense for your business depending on your stage.
Read further to learn more about the differences and decide for yourself on what you need.
Security
Magento Community edition doesn't have credit card tokenization or highly secured payment bridges. Which might be a problem because these features are required by the banks and credit card companies.
The biggest problem with the free version is that it is "Not PCI compliant".
Magento Enterprise deals with that by providing you with more powerful security features (PA-DSS).
The biggest scare tactic that I've seen is that Community is "Not PCI compliant". This is a long-winded topic, and can be very complex. If you're doing the following, then you'll be ok:
Filling out your PCI paperwork
Implementing PCI policies
Documenting your PCI technical policies (mostly for your host)
Using a payment gateway that you redirect to (PayPal) or HTTPS to communicate with an API
You'll be ok. Once you start doing more than 20,000 transactions per year, there will be more paperwork – but this shouldn't scare you.
Your provider will be happy to work with you to not only fill out the documentation, but answer any questions you may have.
Useful Post : How Healthy Is Your Magento Store
Performance
As far as the performance of Magento Enterprise vs Community is concerned, the Community edition is faster. However, the businesses that need more modules might need to purchase the Enterprise edition. Some features might be added to the free version by using extensions.
Although this is true, it is not recommended. The performance is much better with the paid edition.
Functionality 
Magento Community and Enterprise edition have the same core but the paid version offers more advanced features.
These include things like advanced segmentation with targeted offerings, minimum advertised price, return management authorization, price and promotion permission, an Enhanced Catalog and Content Management System, call center software with assisted shopping and staged merging and rollback of content.
Interesting Read : Why Magento 2 Is Going To Boost Mobile Marketing
Magento 2 enterprise features: (All community +)
Advanced ACL
Content staging and merging
Private sales, events and invitations
Customer segmentation
Loyalty system
CMS+
Automated email marketing reminders
Assisted shopping
Full page caching
Recurring payments
Customer attributes
SOLR search
RMA functionality
Persistent shopping cart
Minimum advertised price
Magento 2 enterprise features: CMS Functionality: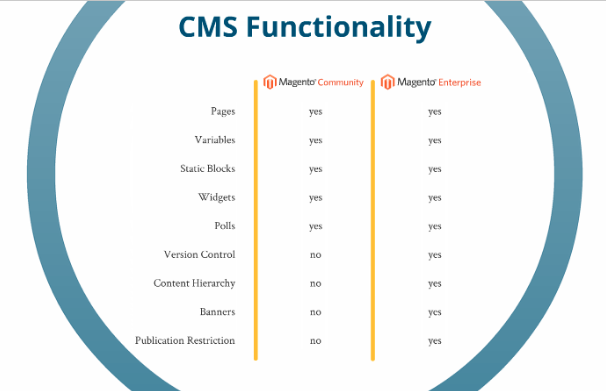 Everything in community edition +
Version control
Content hierarchy
Banners
Publication restrictions
Worth Reading : Best Abandoned Cart Email Templates For Magento
Which One To Choose?
So your question "Is Magento free?" has been answered. The free version is the most practical choice.
While Magento EE does have some great additional functionality, if you're not using it then it may not worth it.
However, if businesses that are planning to take operations to the next level should invest in premium platforms like the Magento Enterprise Edition. In such a case, Magento Enterprise pricing is worth its price.
Opting for this software can provide the necessary features needed to grow the business. It is crucial to take the business requirements and future plans into account.
Useful Read : Siteground vs Bluehost – What To Choose For Magento Hosting
For some sites, Enterprise makes sense. There is a marketing team, internal or external that will help plan usage for the marketing suite.
They might have a team in place to analyze usage and to constantly maintain these features. If not, then start with Community.
Magento Community is a free open source solution, meaning, it should be enough if your store or brand doesn't have very huge requirements in terms of sales volume.
However, if you are dealing with 6-figure revenue (such as millions of dollars in revenue per year), it is highly recommended to use Magento Enterprise, based mostly on its "out of the box" functionality that cannot be enjoyed in Community.
To make things clear for you, these are the numbers for the average Magento project for each version:
Magento Community:
Unique visitors/month > 1,000
Orders/month > 100
Turnover > 100,000 euro
Shop management FTE 0.5 – 2.0
Implementation time 6-8 weeks
Implementation cost 10,000 – 60,000 euro
Hosting costs 150 – 300 euro
License cost – 0
Magento Enterprise:
Unique visitors/month > 50,000
Orders/month > 500
Turnover > 1,000,000 euro
Shop management FTE > 5.0
Implementation time 14-16 weeks
Implementation cost > 50,000 euro
Hosting costs 600 – 2,000 euro
License cost – $14,420
In Summary
Magento Community is a good starting point that doesn't require a big investment right of the bat.
By choosing Magento Community you'll generally spend less than the yearly fee of Magento Enterprise, provided that you have found a company who knows how to configure Magento for your products and style the design to match your brand.
Related : How To Hire A Good Magento Developer
For companies that have a big volume of online sales, but don't have an experienced and reliable Magento company to work with, choosing Magento Enterprise that comes with full support from the Magento team, is the right way to go.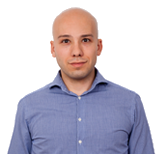 Author: Martin Zhel
Martin Zhel is an inbound marketing expert and Founder of Orior Creative. He specializes in SEO, content marketing & conversion rate optimization.