Running a business on Amazon is an interesting experience.
With millions of competitors from every nook and cranny of the world, you are not only expected to be as innovative as possible with your services, but should also keep on the lookout for tools and software that can give you the competitive advantage.
Fortunately for Amazon sellers, plenty of tools for product research are commercially available.
These tools do not only make it possible for sellers to gather insights, but also allow them to get a better idea of how they can optimize their strategies for increased sales.
What's more, with the help of product research tools, Amazon sellers can also get a better picture of the Amazon marketplace by tracking products and understanding metrics that are used to measure success.
By leveraging product research tools like AMZScout, you can not only get the upper hand in sales, but also continue making informed decisions with regards to your sales strategy to reign supreme.
Still not sure why product research tools like AMZScout are such a big deal and how they can actually help your business?
Here, we're telling you everything you need to know about using product research tools to build a lucrative business on the Amazon marketplace.
Why Are Amazon Product Research Tools Important
While millions of new sellers join Amazon every single year, countless more are eyeing the marketplace to make a living online.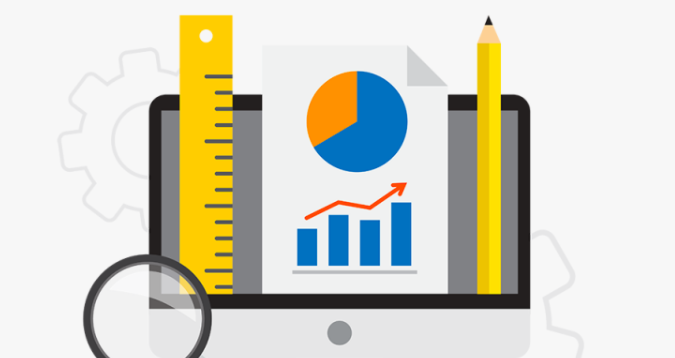 After all, people will always need goods and products, and it doesn't get much easier than ordering what you need online and having your product of choice delivered right to your doorstep.
But there's a catch.
Even though millions of sellers have started conducting business on Amazon, only a small percentage of these people are able to make a sustainable income and continue growing on the Amazon marketplace.
The reason behind this is simple.
The more the Amazon marketplace becomes saturated, the more effort you'll have to put in to continue luring customers in.
With that said, however, not a lot of people are ready to go the extra mile to attract or retain prospects, resulting in stagnant sales figures.
Since there are already countless people that are probably selling the same products as yourself, the only way that you can truly stand out is by having more information than your competitors – information that you can only get from Amazon-specific tools and software such as AMZScout.
Even if you don't have a product that's remarkably different from that of your competitors, you can still make your way to the top of the Amazon results page by leveraging insights and additional information that product research tools make accessible.
With competition on Amazon and other online marketplaces of the likes becoming increasingly fierce, conducting market research and making it show through the effort you put into your online business will essentially be what distinguishes you from your competitors.
As long as you have more information than the majority of your competitors, you'll always be able to have the upper hand and capitalize on the millions of prospects that frequent the website every year.
AMZScout Review
Today, we are going to do a detailed AMZScout review. We'll talk about its features, pricing, add-ons and other things. Stick with us.
What Is AMZScout?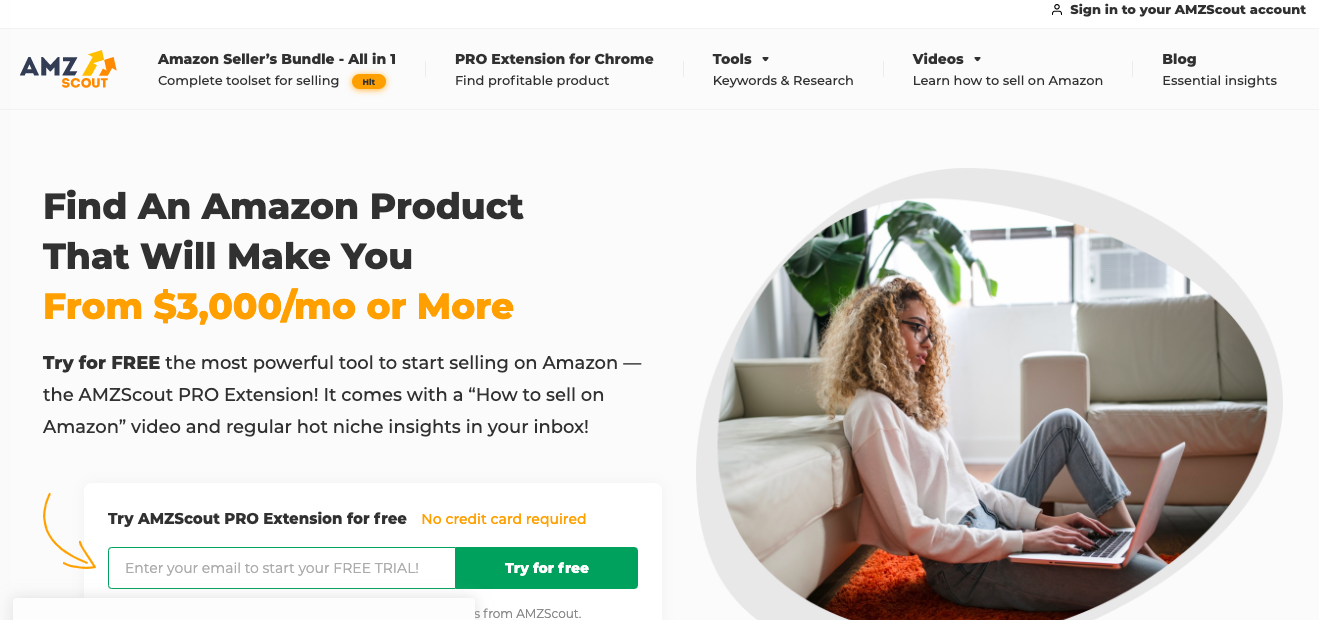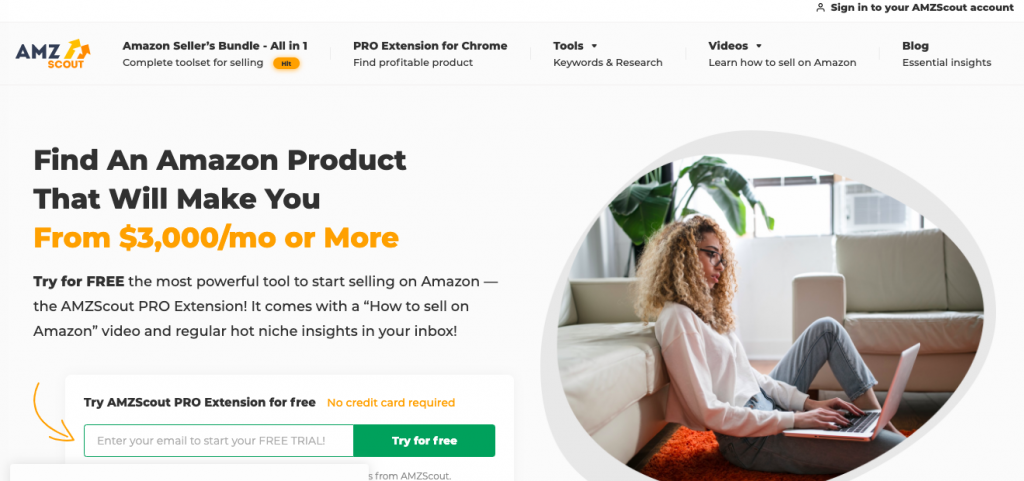 AMZScout is one of the most promising tools that provide you with additional market and product information for your business on Amazon.
In addition to helping you helping you gain insights about product searches, the tool also allows Amazon sellers to calculate their estimated income to gain greater visibility about how conducting business on the online marketplace will help them.
With the help of AMZScout, Amazon sellers will also have access to historical pricing data and how the rank of millions of products on the Amazon marketplace has changed over time.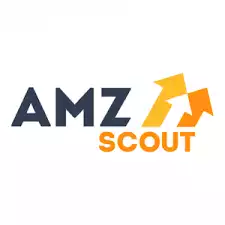 We earn a commission if you click this link and make a purchase at no additional cost to you.
Since the primary motive behind using AMZScout and other tools of the likes is to increase your sales figures, the tool also gives Amazon sellers the chance to analyze the quality of their product listings to help them get an idea of how many sales they will be able to make each month.
As a comprehensive tool designed to help Amazon sellers make the most of their online business on the marketplace, AMZScout can also be used to get information on all Fulfillment by Amazon fees and details about ratings.
Now that you know what AMZScout is all about and what it offers, we'll let you in on some more details that can help you understand just why the tool is such a big deal.
Related : Best Amazon FBA Calculators Review
AMZScout as Chrome Extension & Web Application
AMZScout is available as both a Chrome extension and an independent web application that can help you gain insights and leverage information that will allow you to increase sales figures and boost revenue.
While the Chrome extension for AMZScout pulls data out in real time and offers basic functionality, the web applications is a lot more comprehensive and offers a whole range of features and functionalities that are difficult to find elsewhere.
What's more, unlike the Chrome extension, Amazon sellers are not obligated to open up the Amazon website when they are using the web application.
This is because the web app is embedded with the technology that gives it access to the information you need on your very own website.
But that doesn't mean that the Chrome extension is in any way less efficient.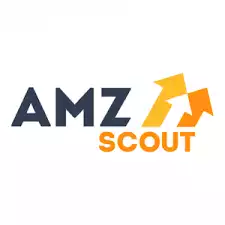 We earn a commission if you click this link and make a purchase at no additional cost to you.
In addition to offering a real-time profit calculator, the Chrome extension for AMZScout is extremely user friendly and gives sellers the chance to conduct niche-specific research from the page of a seller, a product, or Amazon's search page itself.
The Chrome extension of AMZScout also gives Amazon sellers the chance to understand how they can optimize their business by functionalities such as Get Niche Idea.
What's more, with the help of additional features such as Potential Score and Product Score, Amazon sellers can make informed decisions when expanding their online business on the Amazon marketplace.
Even though it adds immense value and can be used for a variety of purposes, one major drawback of the extension is that it can only be used with Google Chrome.
Fortunately, the web application does not have any such limitations, and can be used perfectly with any browser.
The best part about the AMZScout web application is that it does not only provide users with all of the features and functionalities of the Chrome extension, but also allows Amazon sellers to track as many as 80 different products and see how their numbers are changing.
The web application also comes complete with a keyword explorer that can be used to search volume and use data and insights to expand the range of products available on your online store.
AMZScout Product Searches
With the help of product searches on AMZScout, sellers can know which products are in the most demand on Amazon marketplace.
For added convenience of sellers, AMZScout also gives users the chance to get details according to the day, week, month, or year.
Additionally, AMZScout can also help users understand how product searches change during holiday seasons, and get information regarding the latest trends in product searches for better results.
Since the AMZScout application features a database of millions of products over numerous categories, you can to find detailed information about any product that you are looking for and understand how you can use it to increase your sales figures.
The Product Search tool also provides a detailed breakdown with numerous metrics.
With the help of AMZScout, you can not only get the total number of results, but also see the average monthly sales, the sales rank, the price, number of reviews, and the margin to help you understand just how well you can perform.
Users can also find out the potential score of each product to get a better understanding of the marketplace and what they should focus on if they wish to build a lucrative business.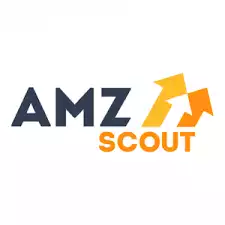 We earn a commission if you click this link and make a purchase at no additional cost to you.
AMZScout Estimated Sales
The Estimated Sales feature on AMZScout is certainly extremely helpful.
As a comprehensive tool with incredible amounts of data, AMZScout comes with an Estimated Sales feature that predicts the number of sales of a certain product over a certain time duration.
With the help of this information, you will not only be able to understand whether trying your luck at selling that product is a good idea, but you'll also get an idea of just how fruitful your efforts with the product in question will be.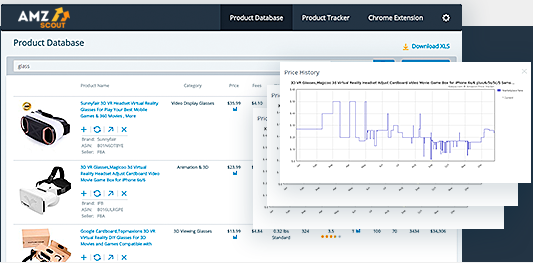 The best part about the sales estimator available on AMZScout is that it gives users the chance to get information for as many as 30 different categories, and provides users with accurate data that can be leveraged to improve results.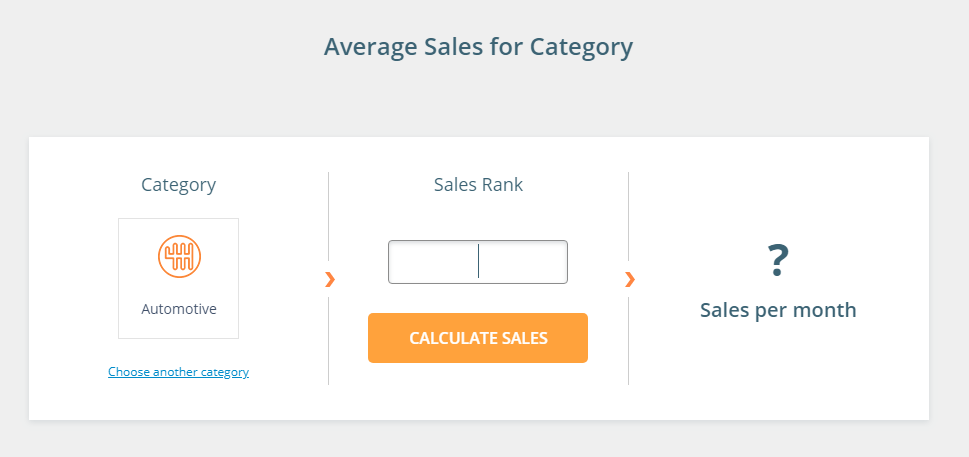 In addition to being highly beneficial for sellers who are just starting off with selling on Amazon, the feature is also very user-friendly and can be used efficiently even by sellers who do not have a lot of technical knowledge.
Even though quite a number of people are confused about the process that AMZScout follows to estimate sales, it's actually quite straightforward and simple.
Once AMZScout checks the rank of products in various categories, it tracks the inventory levels of the product and leverages the information to get an estimate of just how popular the product in question is among audiences at any given time.
Fulfilment by Amazon Fees
Most Amazon sellers do not realize just how much FBA fees can affect them. Fortunately for many, AMZScout allows users to get an idea of how much they might be expected to pay in fees so that they can have a clear picture of how their finances will work.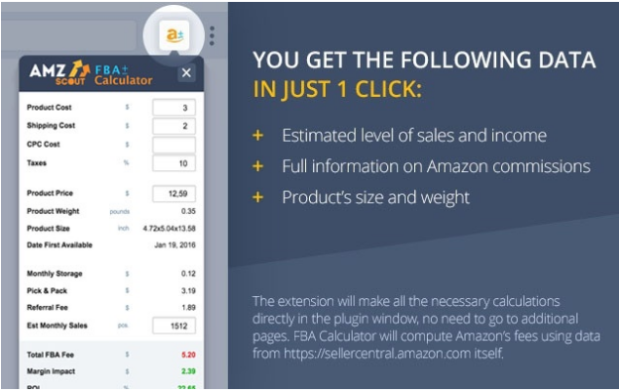 In addition to providing users with details about the size and weight of their products, this tool can also help sellers on Amazon complete information regarding the commissions that they will be charged by Amazon.
With the help of this information, users will not only be able to make informed decisions about the type and number of products they would like to sell to meet their minimum income goals, but they can also get an idea of which countries and regions they should target to make the most of their online business.
AMZScout Product Tracker
As an Amazon seller, one of your primary goals is probably to get better than your competitors – and the team behind AMZScout understands that.
This is exactly why AMZScout comes with a product tracker that can be used to track the products and sales of your competitors.
Providing users with detailed information about their competitors' sales, AMZScout helps sellers understand the best performing categories and products.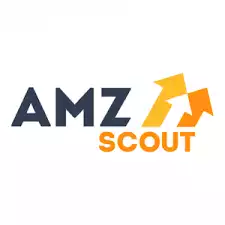 We earn a commission if you click this link and make a purchase at no additional cost to you.
Additionally, sellers can also leverage information regarding sales and pricing to develop strategies to attract their competitors' customers by providing unique incentives.
The tracking feature can also be used to keep an eye on the inventory of your competitors and get insight into their revenues to make informed decisions and revamp their own targets and objectives.
AMZScout Keyword Research Tool
Keywords are everything when it comes to online searches.
As a seller trying to make it big on Amazon, your primary aim will be to ensure that your product ranks high on the list of searches.
The AMZScout Keyword Research Tool can help with just that.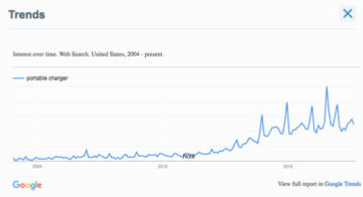 By providing you with information regarding the most highly ranking keywords, the Keyword Research Tool gives sellers the chance to restructure the descriptions of the products available on their online store to maximize their chances of being spotted – and bought – by prospects.
By displaying detailed graphs of how the search frequency and ranking of a particular keyword has changed overtime, the tool offers just the right amount of insight to help you know just which terms and phrases you'll have to focus on if you're interested in seeing a hike in sales.
Supplier Information
Millions of sellers on Amazon have different versions of the same product in their inventory.
As you might have guessed, it's usually the quality of the product that sets one seller apart from the rest.
Since buyers on Amazon and other online marketplaces today are a lot more cautious and informed, your best bet is to provide only high quality products that will really be sought by prospects.
While getting information about the quality of products and the supplier was generally very difficult in the past, this has changed considerably thanks to tools such as AMZScout.
Once you have figured out the products and niches that you would like to concentrate on, you can use AMZScout to search for details on suppliers and understand just where you'll have the highest chance of landing a good bargain.
What's more, since you'll also have access to reviews and other details about the supplier, you can also make an informed decision about the quality of the product given that you're exercising due diligence.
AMZScout Pricing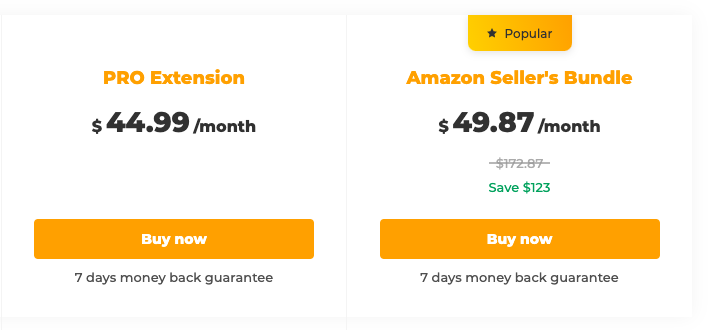 Let's talk about AMZScout price.
As with every tool or product, pricing for AMZScout depends on the amount of functionalities and features that you'll be using.
Additionally, while certain packages might work better for some sellers, they might not offer the same value for others, which is why it's imperative to go through the details.
Users who are still not sure about the product and what it can do for them can start off with the PRO extension monthly package which is priced at just $44.99 a month.
Offering complete functionality and the extensive list of features that the tool is known for, this monthly package is ideal for anyone who wishes to try their hand at the tool and see whether or not it's their cup of tea.
If you wish to buy the bundle plan, you need to shell out $49.87/month.
Like AMZScout Pro, the web application for AMZ Scout also comes with a free trial for anyone who wishes to see what the tool is all about.
Option to pay annually is also available beside the lifetime account.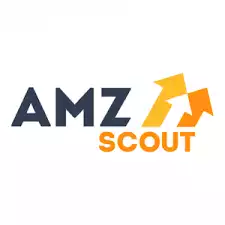 We earn a commission if you click this link and make a purchase at no additional cost to you.
AMZScout Add-ons
The best part about AMZScout is that it comes with several free downloadable add-ons.
Users of AMZScout can not only gain greater visibility of the inventory of competitors with Amazon Stock Level Spy, but the Amazon Smart Shopper add-on also gives them the chance to compare prices with eBay to help you save money.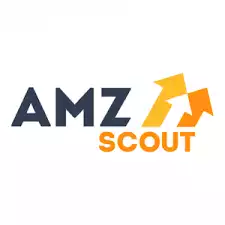 We earn a commission if you click this link and make a purchase at no additional cost to you.
Final Verdict
AMZScout has over 100,000 users worldwide, and it's really no surprise why.
The tool is not only extremely comprehensive, but also offers just the right amount of functionality that one could need to boost their Amazon business.
In addition to having a user-friendly interface and simplistic design, AMZScout also offers a wide range of features that can not only help users understand the marketplace, but also gain increased visibility of the inventory and sales figures of their competitors.
With the help of insights and relevant data, AMZScout also helps Amazon sellers understand which products and niches are promising, along with information regarding keywords that can help you rank higher up in the search results.
All in all, AMZScout is a great tool for product research and can help you realign and meet any goals and objectives that you might have as a seller on Amazon.
Related : AMZScout Vs Jungle Scout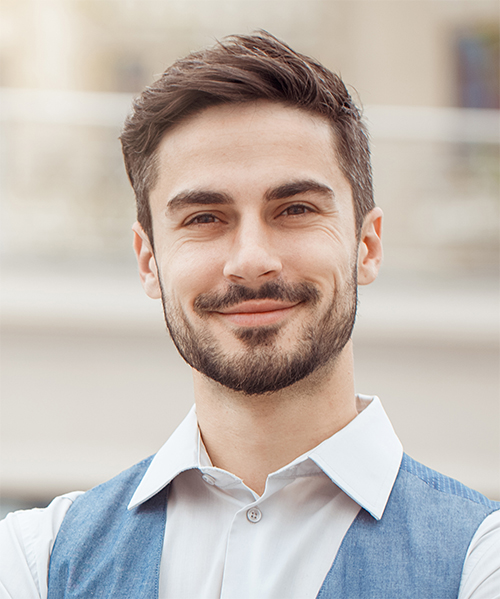 Author: Scott Macarthur
Scott L. Macarthur is a marketing consultant and an online author. He is mostly engaged in providing his expertise to startups and SMBs. He is also an author on TheNextWeb.