Every Amazon FBA seller definitely wants to get every bit of help available and at their disposal so as to streamline his or her business.
This can be made easier through simplified searches, product identification, updates, notifications, and tips.
There are many useful Amazon seller tools available online, so picking out the best from these can be tricky, especially when they have similar features.
Here's our guide on the best 10 Amazon product finder tools you can use to get started.
This is the number one Amazon product finder tool used worldwide by entrepreneurs in FBA business. It truly is one of its kind Amazon gold miner software.
It helps them find opportunities online, thereby reducing risk and maximizing profit.
It is available in both web app and Chrome extension, and you can fulfil these tasks with it:
Find lucrative niches and products on Amazon's entire catalogue
Filter Amazon product database by category, price, or even sales to find untapped opportunities
Track competitor activities over time
Explore and validate product ideas while browsing
Get instant product insights on any web page
See product prices, estimated sales, review count and accurate comparisons
Calculate Opportunity Scores of any niche to find the metrics of the top 10 sellers and lists of quality scores for different keywords
Our Pick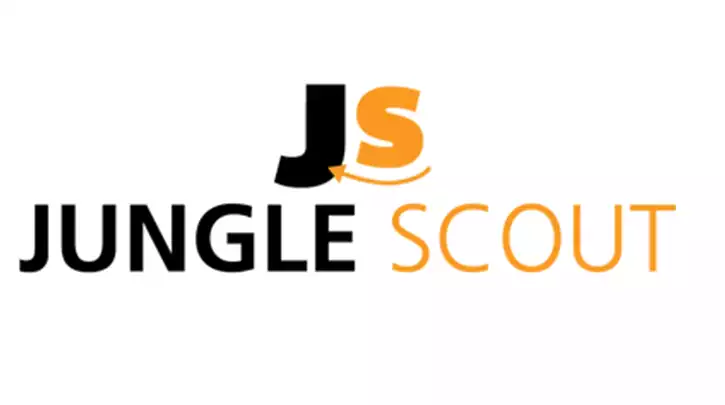 We earn a commission when you click this link and make a purchase.
The Jungle Scout web app is useful when you need to find profitable products from Amazon product database, research product data, and spy on your competition.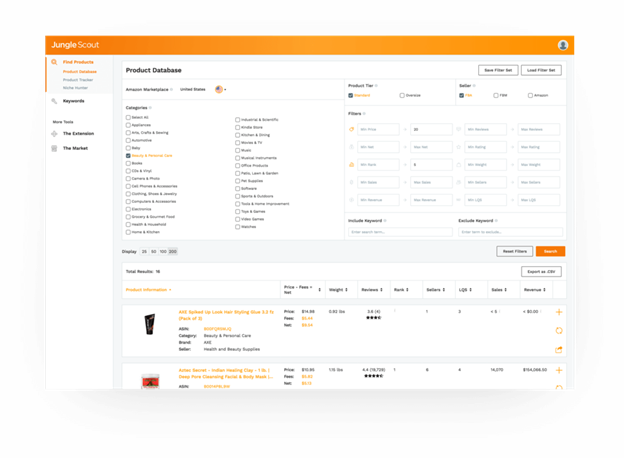 On the other hand, the Chrome extension – offered as Pro or Lite – is useful when you need to get instant sales estimates, verify product ideas, or find a product's Opportunity Score.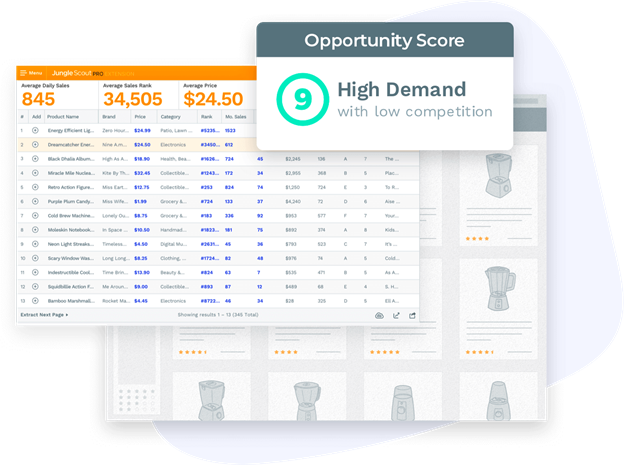 It has the same user interface as that of the web app, and was updated to give it a better look, and features that are easier to understand and work with.
The software update of the Jungle Scout Chrome extension also got minor but mandatory additions in terms of better data history, besides the user interface.
Jungle Scout offers a vast product history and shows Amazon sellers the price history of different products that they may be interested in.
It also distinguishes between the price of the product on Amazon, and the price on the Marketplace.
In terms of Sales data, Jungle Scout offers accurate maintenance of such information based on products that sell all over Amazon.
This data includes basics such as Amazon seller rankings i.e. best seller ranks (BSR), units of products sold, product pricings, product history, and available stock inventory among other details.
With this data, you also get to know how a product has sold over time while tracking its performance. Additionally, top ranked products on the list are rated using the pay-per-click (PPC) publishing method which helps you track the competition better.
Another Jungle Scout feature is the Listing Quality Score (LQS), which allows sellers on Amazon to track product ratings on a pointer system with a scale of 1 to 5.
With LQS, sellers get to make comparisons thus allowing them to improvise their products.
Jungle Scout supports marketplaces in countries including United Kingdom, United States of America, Canada, Germany, India, France, Italy, Mexico, and Spain.
Jungle Scout also introduced some new features including:
Opportunity Finder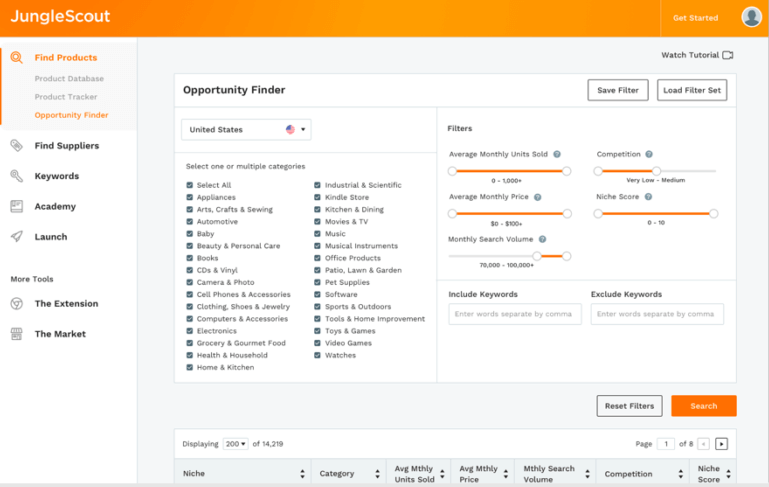 The Opportunity Finder acts as an Amazon niche finder. It helps you find profitable product niches by narrowing down on trending keywords with low competition and high demand to build your business around.
With it, you can also analyze niche sales over time and how they trended displayed in graphs or charts.
Plus, it gives you the Niche Score on opportunities graded based on product demand, listing quality, and niche competition on a scale of 1 to 10, with 10 being the best opportunity.
Supplier Database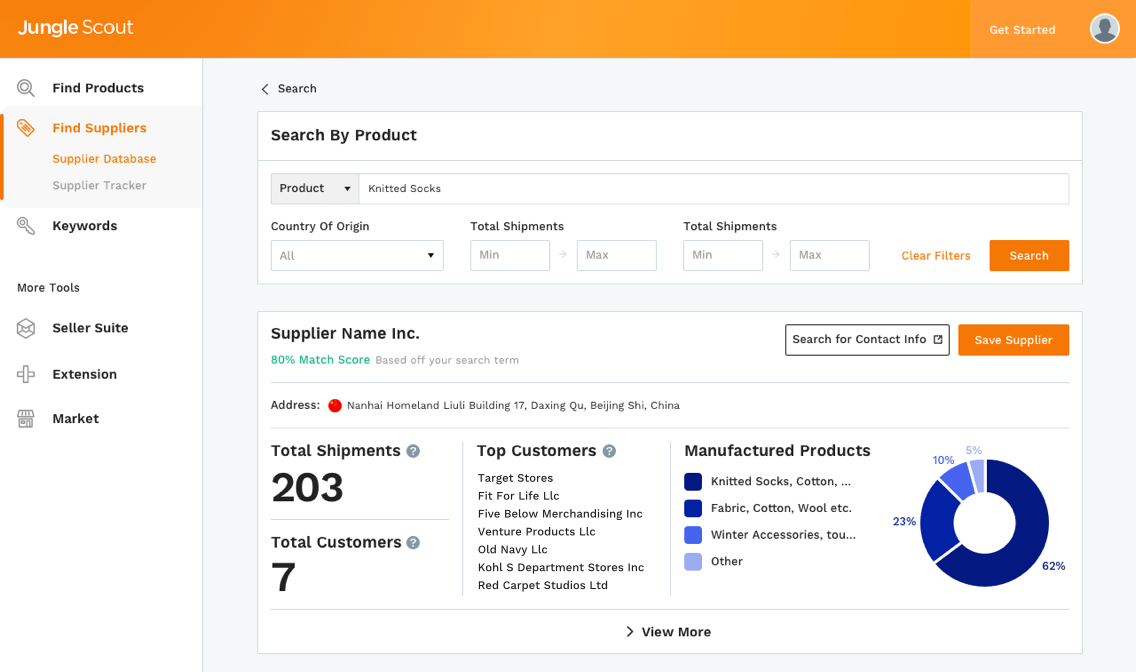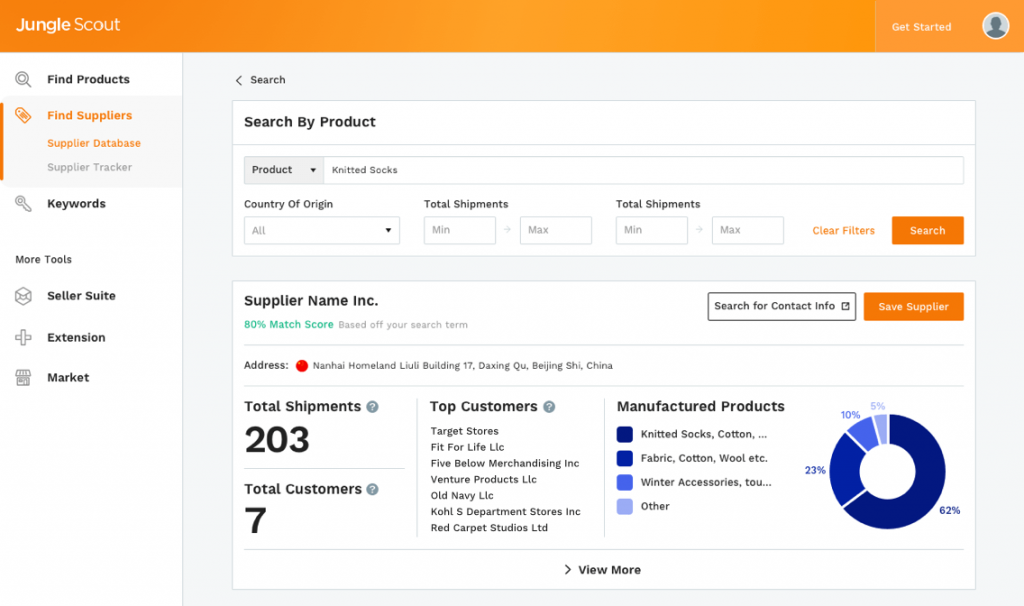 From the Jungle Scout Supplier database, you can find legitimate suppliers and high-quality manufacturers verified worldwide, and whom the world's best brands use.
It helps you make your product idea a reality, find suppliers of certain products that you want on Amazon, find niche suppliers, and search with Amazon's ASIN to save time looking for a particular supplier.
Our Pick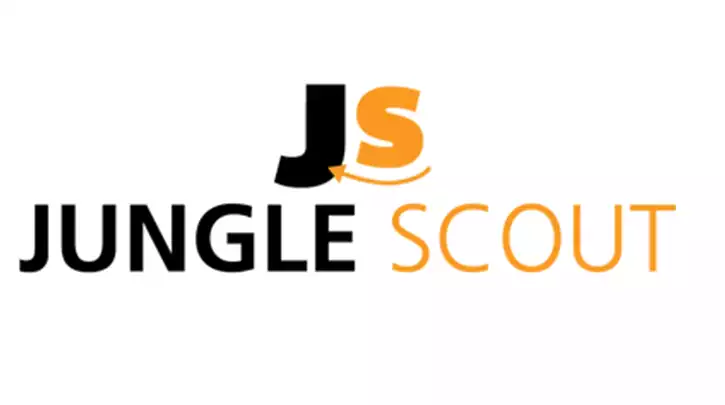 We earn a commission when you click this link and make a purchase.
It also helps you manage your orders and track supplier information on one platform, plus you can generate purchase orders from Amazon once order details are agreed upon with your supplier.
Keyword Scout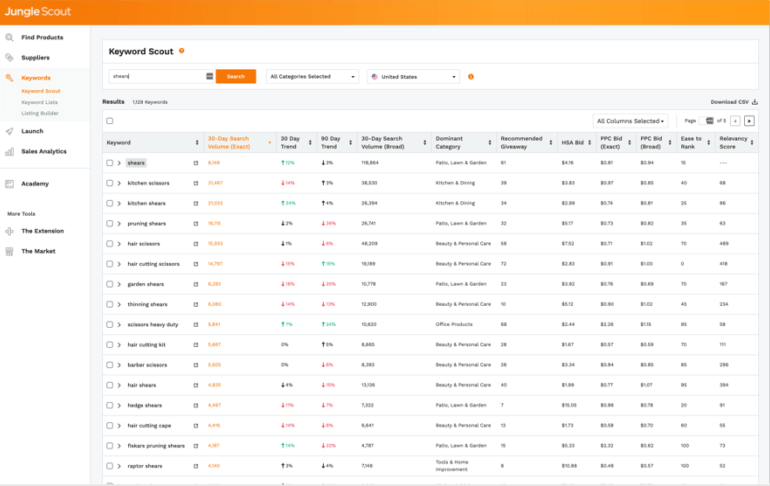 The Keyword Scout is a highly accurate and comprehensive tool that helps you do among other things find broad and exact keyword search volumes, search by ASIN, competing products, and explore keywords that products rank for from millions of data points.
You can also research global marketplaces to get an idea of product popularity and seasonality, get product intelligence to know how your listings are performing over the competition, and craft better listings with top keywords from your own research.
Launch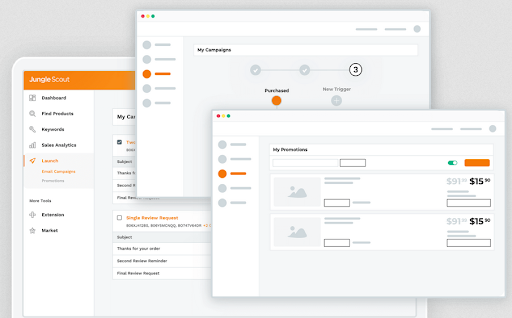 The Launch tool was added to help you launch and promote your business on Amazon, so as to drive sales through targeted email campaigns and promotions.
With it, you can make your product launches better, and increase sales by tapping into a ready market, connect with and encourage customer reviews through communication, minimize negative feedback, and go global in eight different marketplaces through automated emails.
Sales Analytics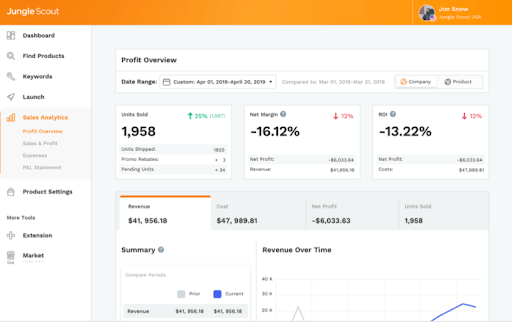 The Sales Analytics tool is a financial command center from where you can track fees, see profits and understand the financial health of your business.
The tool organizes and tracks sales data in real time for you to take charge of your finances, and make comparisons over time, so as to see the cost-saving and profit-building strategies that earn you more.
Inventory Manager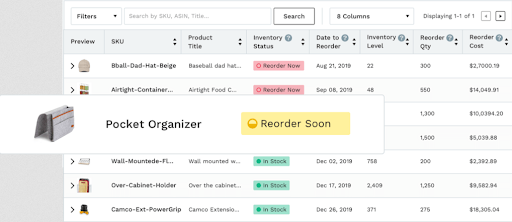 With the Inventory Manager, you can automate your inventory planning in order to know when you need stock, how much is needed, and when to order it.
This tool uses a data-driven approach to help you know your inventory needs and monitoring their status in real time.
You can mark products using different labels like Reorder Now, Reorder Soon, In Stock, Overstock, and then calculates the date and amount you should order, plus how much it'll cost and profits you can make.
It also helps you predict sales and profits, reduce or avoid storage fees for returns and inventory disposal, and ensure you order stock on time, and keep enough stock to prevent stockouts.
Alerts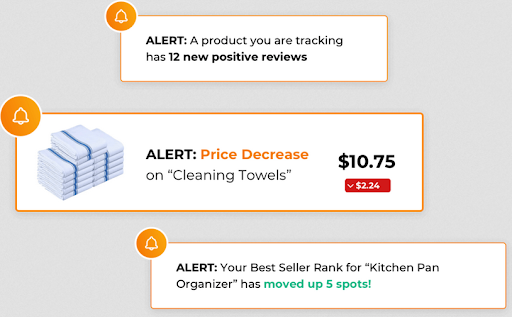 Alerts helps you track the products for any changes in pricing or reviews and more.
You can stay updated on critical product changes, and the alerts are customizable so you can monitor key metrics and changes such as titles, images, new sellers, categories, and a lot more.
You can also set custom alert thresholds that show you changes in ratings or pricing, and Best Seller Rankings, and monitor product listings with review alerts.
Our Pick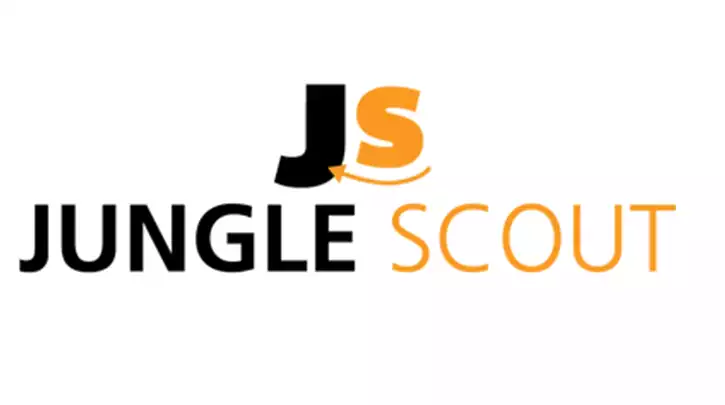 We earn a commission when you click this link and make a purchase.
Notifications will be sent to you whenever there's a drop below your set threshold, new reviews, deleted or unavailable reviews, or Buy Box ownership losses or gains.
Regular performance snapshots are available daily or weekly with a summary of all alerts to help you review and track changes over a period of time.
This gives you a bigger picture of your performance with updates on sales and profits, plus inventory so you can act on stock reorder needs.
Academy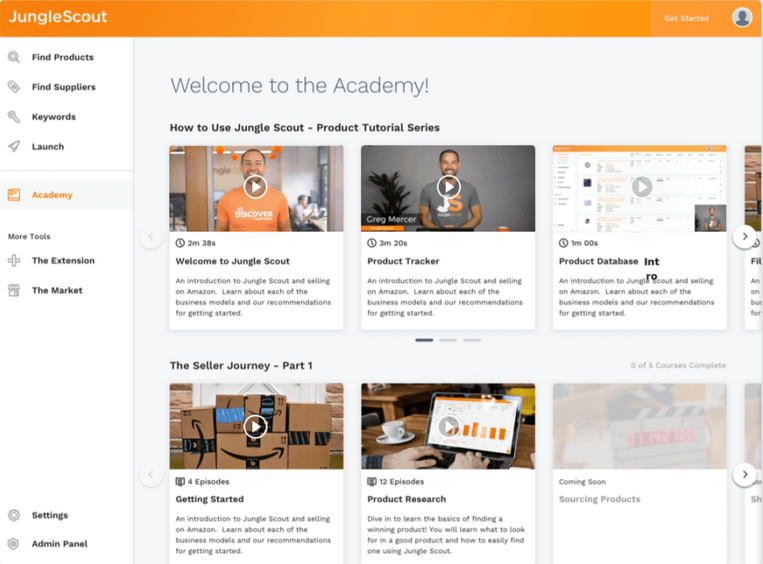 Jungle Scout Academy is your platform to learn how to be an Amazon seller for newbies, or to perfect the art as an intermediate seller, and grow your business by selling more volumes.
Founder and CEO Greg Mercer is among the real sellers and experts who will teach you everything you need to know, plus you can engage in live Q&A sessions to get answers to your toughest questions.
There are bite-sized tutorials plus a collection of educational resources and videos to help you get started or continue on the path to success selling on the platform.
Community forums and monthly livestream trainings are also available if you want to hone your skills, and you can learn at your own pace and learn how to launch your first products and grow your business.
This tool is available in three different pricing plan options payable monthly or annually.
Basic – $39/month
Suite – $69/month
Professional – $129/month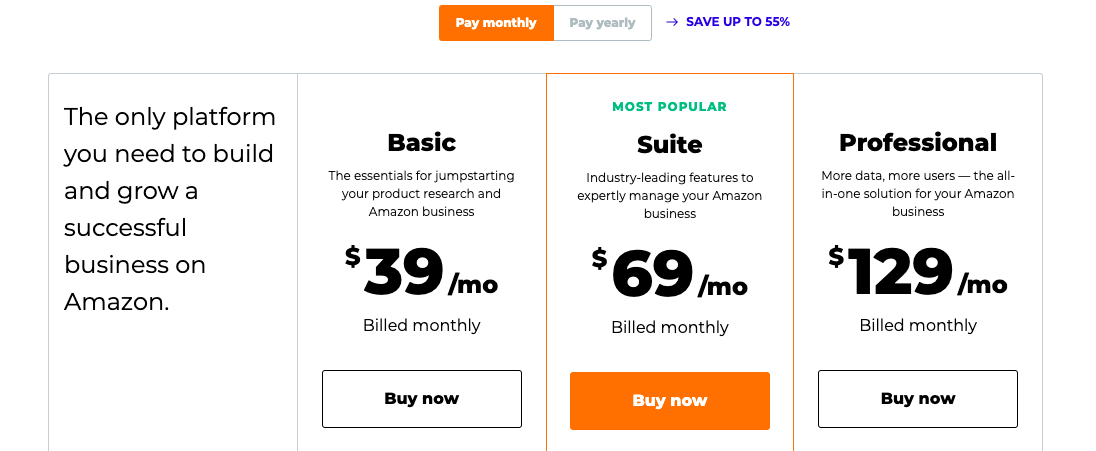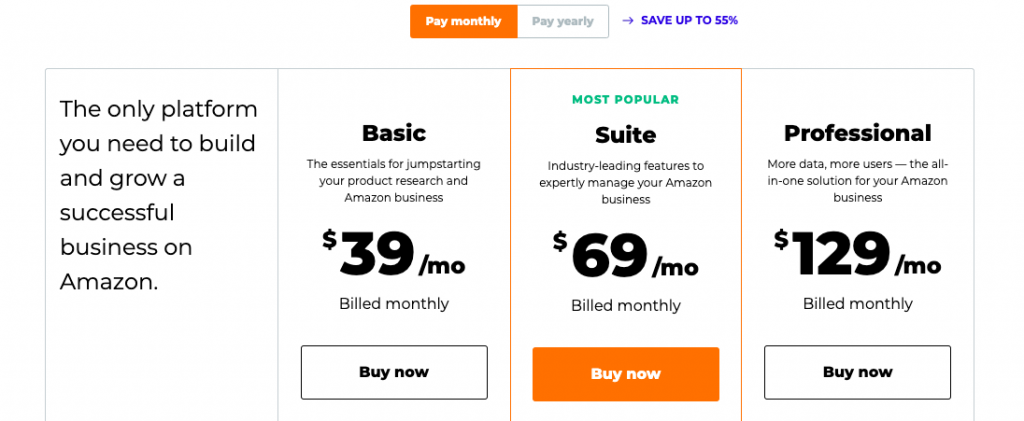 The thing to note here is that Chrome extension is now a feature and available with all plans.
They offer a 14 day trial that comes with money back guarantee if you don't like the tool.
Get Special Pricing For Jungle Scout
Related:  AMZScout vs. Jungle Scout – Which Wins?
Our Pick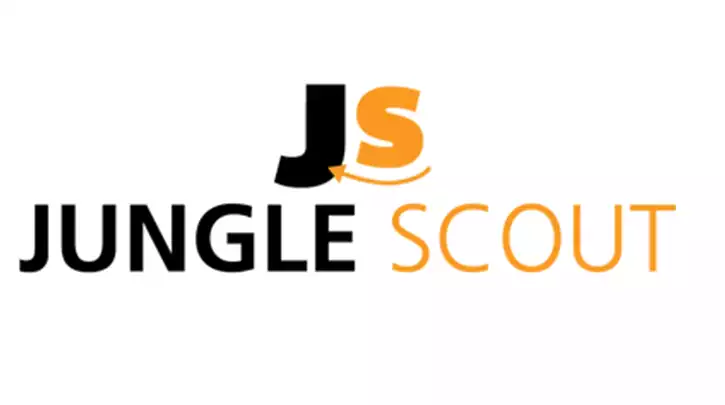 We earn a commission when you click this link and make a purchase.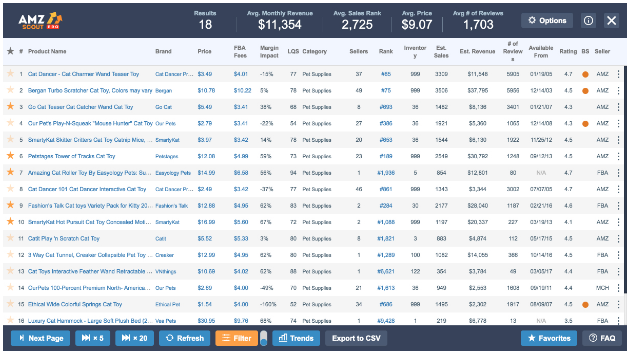 This tool gives you instant access to full sales data, but more specifically you can:
Find and evaluate your own niche without wasting time collecting data from different sources
Get instant statistics on products
Stay aware of your rivals using the web app tracking mechanism to track their list of products, inventory, pricing and revenues among other details
Track sales history like seasonal fluctuations, estimated sales and revenue, most popular keywords for products, data on FBA fees, Google trends analytics on each product, relevant information on Bestsellers ranking, estimated income, and potential suppliers
Use Chrome extension to get all sales data in one click without needing an Amazon seller account
Get actual data on over 20 million products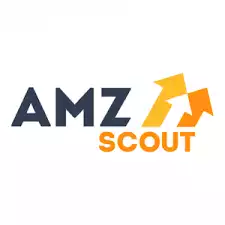 We earn a commission if you click this link and make a purchase at no additional cost to you.
AMZ Scout maintains product data accurately, only its product history is not so vast like that of Jungle Scout.
It also comes with a web app that's frequently updated, and a Chrome extension, just like Jungle Scout.
Both offer sales data though AMZ Scout still lags in terms of speed and levels of accuracy. Either way, it manages to maintain sales contents at the best possible levels.
The tool works on any Amazon page, so you can do analyses using the extension, unlike Jungle Scout, so you can get a bucket load of ideas for your business.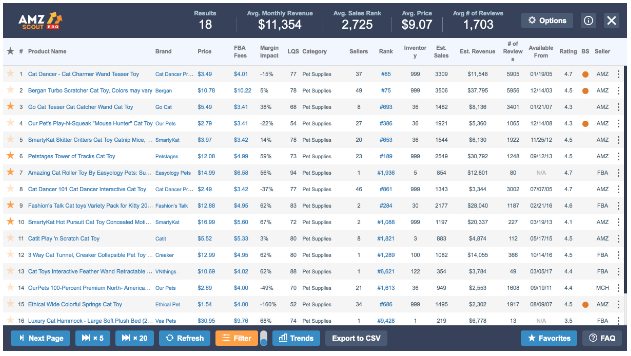 Its Listing Quality Score (LQS) feature scales product ratings on a higher pointer system of 1 to 100 points.
AMZ Scout's LQS covers product aspects including ratings, name length, bullets count, brand, product images count, product description, number of reviews, and information about the seller, among many other details.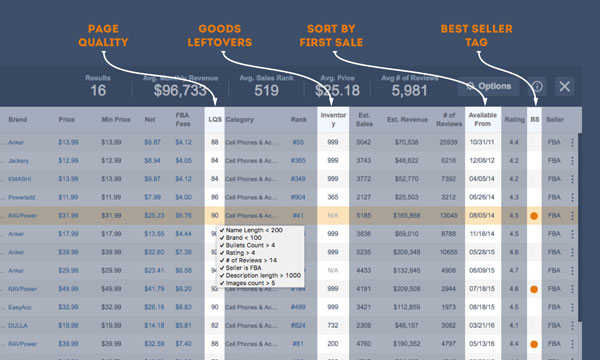 In terms of sales estimations, AMZ Scout doesn't overestimate sales. What this means for sellers is they don't have to purchase too much of products thus avoid possible losses where demand may not be so high.
AMZ Scout also offers useful yet unique indicators like inventory of products in stock for easier tracking of sales for competitors, Date First Available to see how new products are, Favorites (star) icon to save products and track their data, Net Margin, and RPR (revenue per number of reviews).
Other useful and time-saving features include bestseller tags, Alibaba search button to find Chinese suppliers or check wholesale pricing, Next 5 button that gives data from the next five pages, and keywords to check keyword ideas for products.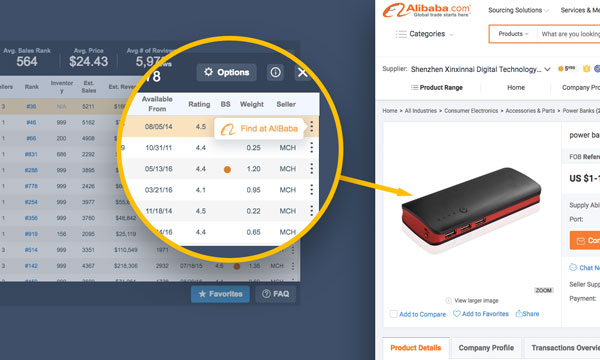 The tool supports marketplaces in 9 different countries including the US, Mexico, Canada, UK, Spain, Germany, France, India, Italy, and Japan. The tool is more accurate in the US marketplace compared to other marketplaces.
It's also available in seven different languages: English, French, German, Russian, Chinese, Vietnamese, and Japanese, with excellent customer support in these languages.
If you prefer quality that's reasonably priced, or need accurate estimations, and a tool that helps you perform comprehensive product research, AMZ Scout is your best bet.
AMZ Scout offers two pricing plans. AMZScout Pro extension – priced at at $44.99/month. Bundle plan – priced at $49.87/month.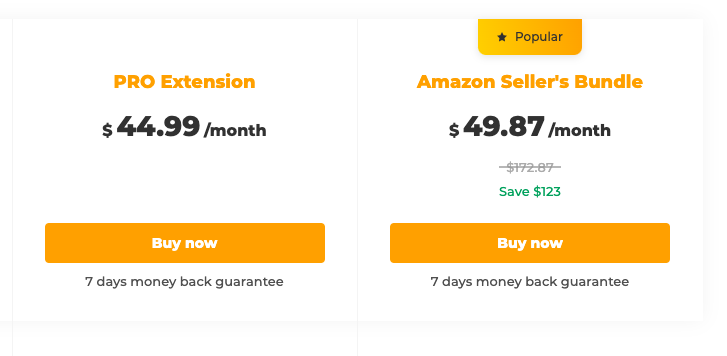 AMZ Scout also offers a 7-day trial period on all its pricing plans, plus a 100 percent money-back guarantee.
Get Special Pricing For AMZScout
Interesting Comparison: AMZScout Vs Jungle Scout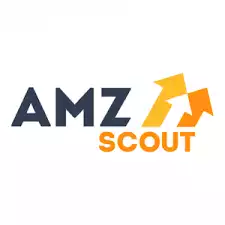 We earn a commission if you click this link and make a purchase at no additional cost to you.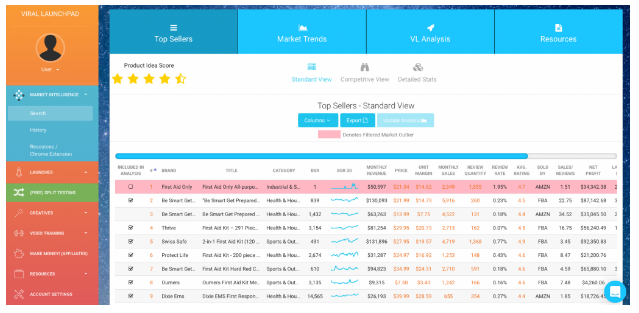 Viral Launch is another Amazon gold miner software for the sellers. It is the go-to Amazon growth platform that ensures you get the most accurate product finder services in just one click. With it, you can:
Filter for a personalized list of high potential products matching your business goals
Find opportunities that you missed by inputting specific criteria and see the products, keywords, brands and categories matching your standards
Find opportunities quickly with all the information you need for an informed sourcing decision
Get better estimates and suggestions for better products, with the most accurate data
Do all your research in one place and use the Tracker to reevaluate your searches
Get market intelligence and an accurate list of the most relevant keywords for your product
Launch products to success by running promotional giveaways to increase keyword ranking on Amazon
Get more impressions, clicks and sales to beat your competitors
Consult trained Amazon coaches to set up your launch or strategize for your business
Get professional product photography to showcase your product
Maximize keyword ranking potential and increase conversions with Amazon listing optimization, infused with sales-inducing copy
Get Special Pricing For Viral Launch
Also Read : Viral Launch Vs AMZScout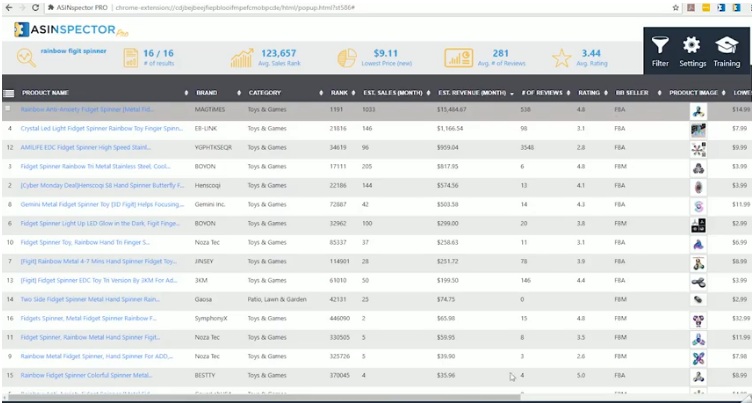 ASINspector is great for new and/or experienced sellers as it works more like a listing detective.
It features an open in store feature that lets you seek out listings on eBay, Alibaba, AliExpress, and Walmart too, with several features that aren't available with top Amazon product finder tools like Jungle Scout.
The standard version of ASINspector features bestseller rank, brand, category, estimated monthly sales and revenues, review ratings, and price/rank history, among other details.
Being a Chrome extension, you'll find it helpful in the way it lets you carry out product and market research, which sets it apart from competing tools in this niche.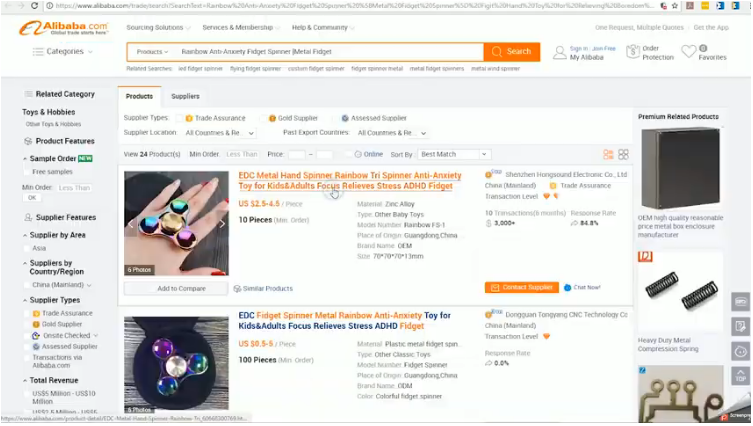 Other unique information you will get with ASINspector includes unique product ideas and sales trend data, plus intel on products that make top-seller categories and those that don't.
The mobile scan feature in ASINspector, also known as the Scanner, helps sellers who like rummaging through stuff to sell. Simply take pictures of the barcodes for the products, upload to ASINspector, and get instant data on those products.
Related : Amazon Seller Scanning Apps To Increase Profits
With the ASIN Import feature, you can upload an unlimited number of ASINs and check the results for instantaneous product research.
ASINspector also allows you to compare product prices on other ecommerce sites to get an idea of the market value of the specific product you're looking for.
Other useful product finding features this tool offers includes intelligent filters so you can drill down to the exact parameters you want, reverse search, child/variations research, listing assister, on-page quick view, and inventory remaining for all sellers.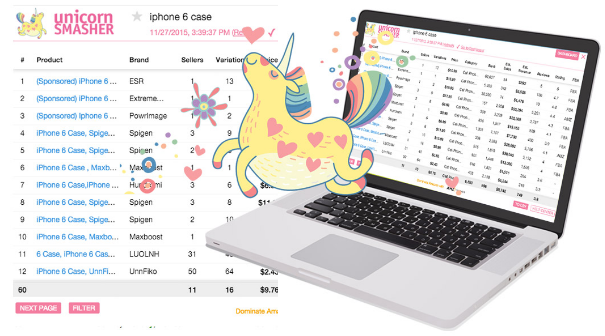 This tool allows you to find products on Amazon via its search pages using the Chrome browser extension. Some powerful features that make it great include:
Full dashboard to manage your research in one place and with all the information you need
Comprehensive data with insights on prices, bestseller ranks, reviews, ratings, estimated sales and other details
Accurate sales estimates based on real figures of thousands of products so you can project profitability in any niche
Seamless integration with AMZ Tracker to gain an edge on other sellers
Canonical URLs and product child variation statistics
Saving for favorite searches hence easy access
Discreet sharing and exporting tool
In-browser analysis with sales and PPC metrics as you search
Revenue estimates and quick links to any product listing from your dashboard
Details of fulfillment including FBA, FBM or AMZ
An account for each product's sellers
Related : Unicorn Smasher Vs Jungle Scout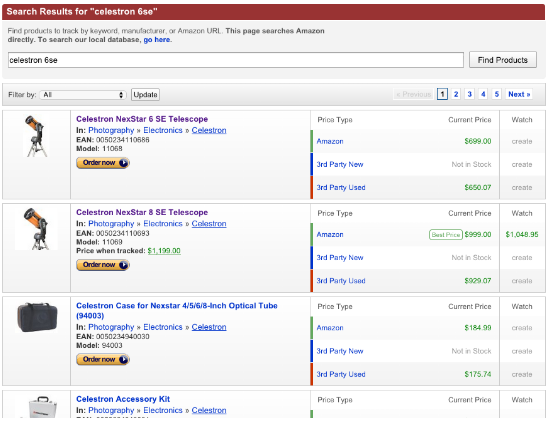 This is a treasure chest of information for any Amazon FBA seller, and is free to access upon a short registration process, with features like:
Useful Post : Best Amazon FBA Calculators Review
Price drop and availability alerts
Price history charts with graphs of price variations over time for three price types, updated constantly to ensure accuracy
Amazon Product search by clicking Products in the menu with results displayed in tables detailing prices, links to price history, RSS feeds for price types, and other information
Camelizer tool is a browser add-on for Firefox, Chrome and Safari and gives you price history charts with product pages making it easy to create price watches on retailer sites
Support for Amazon locales including Canada, France, UK, Italy, US, Japan, Germany and Spain
Price watch management interface to track price type, Amazon category finder, product name, artist (for music fans), and status of your price watch
Import Amazon Wishlists
Twitter notifications besides email and RSS feeds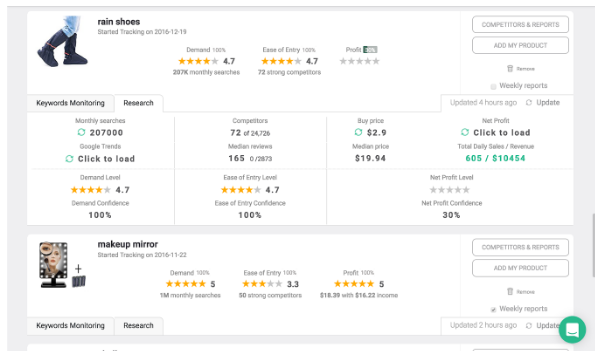 If you want to find promising products very fast, what's selling and what offers affordable shipping or what has low competition, AmazeOwl will do all this and more for you, including:
Keeping an eye on your competitors – their active listing, inventory, price changes, new entrants
Find products quickly with the dedicated desktop app so you can quickly comb through Amazon listings and find those that fit your price, BSR score, reviews and other requirements
Save listings directly from Amazon
Deep insight into your product's demand and competition with sources like Google Trends, FBA cost calculator and others, while building your list of competitors
Stay connected while you find a supplier
Get the details and history of a particular competitor's listing, like pricing movements, photo updates, rating shifts and review count changes.
Interesting Comparison : AmazeOwl Vs Viral Launch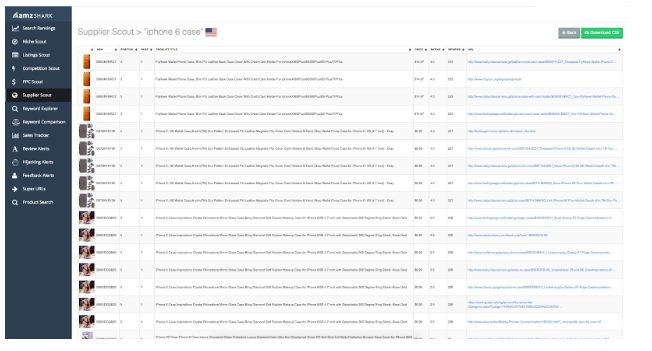 With this tool, you can sell more on Amazon and make more money as a retailer and/or brand owner by using its powerful features such as:
Sales tracker to discover accurate sales, price history and sales rank for any product on Amazon
Amazon niche finder to investigate potential niches with statistics at a glance
Search rankings tracker to track any products' rankings for any marketplace with regular, daily updates on your searches
Keyword explorer to find related terms to use in PPC campaigns, SEO and in-depth research on keywords
Listings scout to compare listings in your specific niche and find weak areas in your listing
Keyword comparison of up to 20 keywords at once to identify profitable sub-niches
Other useful features include Hijacking alerts, super URLs, feedback and review alerts, and the competition/PPC/Supplier scout tools.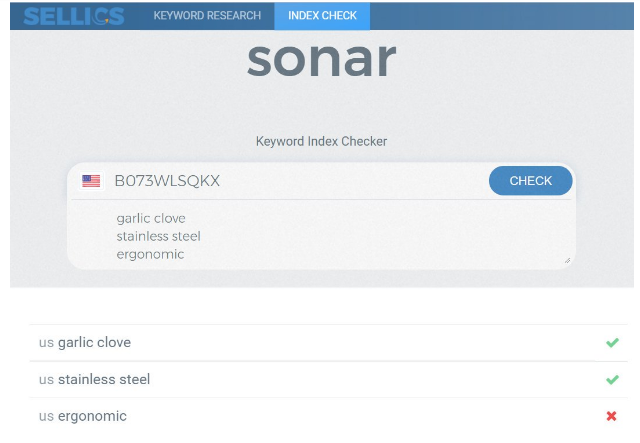 This tool is developed by Sellics and lets you search a database of more than 74 million keywords to improve your organic rank for specific keywords or optimize your PPC campaigns.
Other tasks you can fulfil with this tool include:
Finding short tail keywords
Researching long tail keywords
Build PPC keyword lists
Maximize visibility of all your ads
Minimize the risk of bidding on potentially irrelevant keywords
Export list of results for analysis
The tool is available internationally and can be used for Amazon US, EU (DE, UK, FR, IT, ES) and India marketplaces, so you can overcome the language barrier when launching new PPC campaigns for overseas Amazon markets.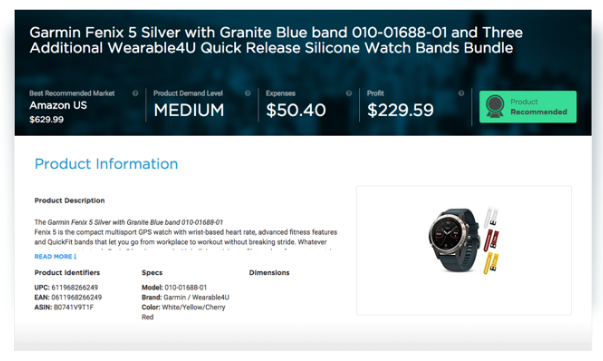 This is a comprehensive product research tool that gives you the data you need to make informed business decisions through the following features:
Data drive insights for Amazon sellers
Full analysis of expenses
Sales estimator
Insights on Google AdWords
Bulk analysis that analyzes market demand, possible margins and shipping costs for current and future inventory
Through its actionable and automatic product insights, Algopix helps you save time, increase sales and reduce risks.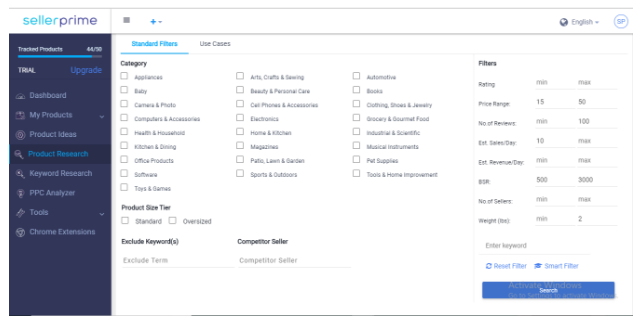 This tool is touted as a powerful alternative to Jungle Scout and rightfully so as it caters to all of your Amazon requirements for combing through more than 500 million products, even with the extreme competition on Amazon.
Among its benefits as an Amazon Product Finder tool include:
Product research as it tracks the best niche, with low competition and good profit margins

Eases analysis of your searches with dedicated features from the web app and Chrome extension

Discover the most profitable products

Find and analyze the profitable products to get the right fit for your launch

Choose the right keywords and know where your listing ranks

Discover real time performance of your keywords

Optimize your Amazon listing quality

Analyze the competitors' strengths and weaknesses

Decipher the Search Term Report and get insights to increase productivity, and decrease PPC spends

Track Amazon business, sales, revenues and orders
It comes with a 7-day free trial, but the Chrome app is available for free.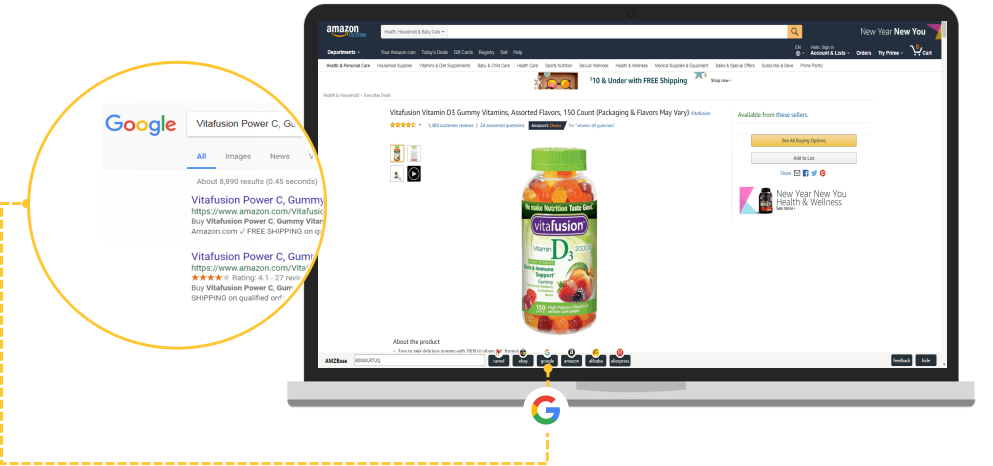 This is a useful Amazon product finder free extension that helps FBA sellers find products to sell on Amazon.
Sellers can quickly get the title description of listings and the ASIN number on Amazon, while getting access to Alibaba, CamelCamelCamel, eBay, AliExpress, and Google search engines.
It also calculates FBA fees so you can get potential profit estimates.
If you're looking for best amazon product research tool free software, AMZBase is for you. It will help you find products with ease and calculate your FBA profits fast, plus view historical product prices in just a single click.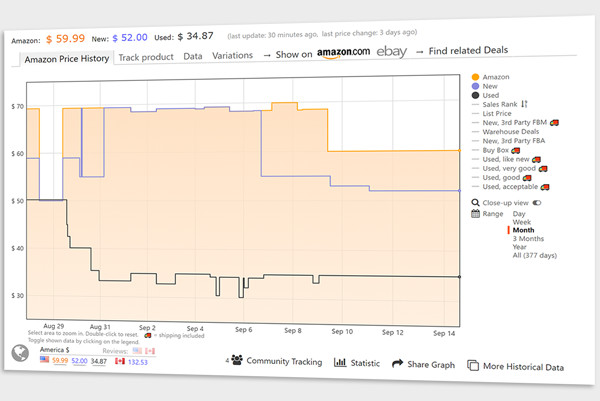 Keepa is a comprehensive Amazon price tracker that offers product price drop alerts and history graphs for the needs of your business.
Once installed, this product finder Amazon tool displays a price history graph on each product page you visit on Amazon, plus an overview of all recent drops in prices.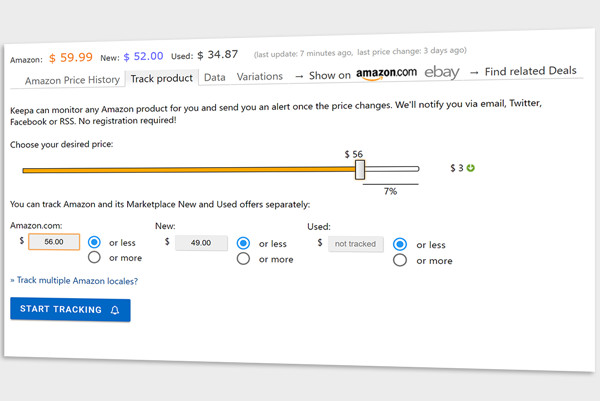 The tool features a product finder, product viewer, bestseller and top seller product lists, and a category tree with deep links to related bestseller lists.
Its database is constantly updated and optimized for use with Google Chrome.
Although you can keep track of your own products and those of the competition, you cannot track shipping costs.
It is a free to use tool that you can use without registering, and comes with in-app purchases. You also get international support with Keepa.
Interesting Comparison : Keepa Vs Jungle Scout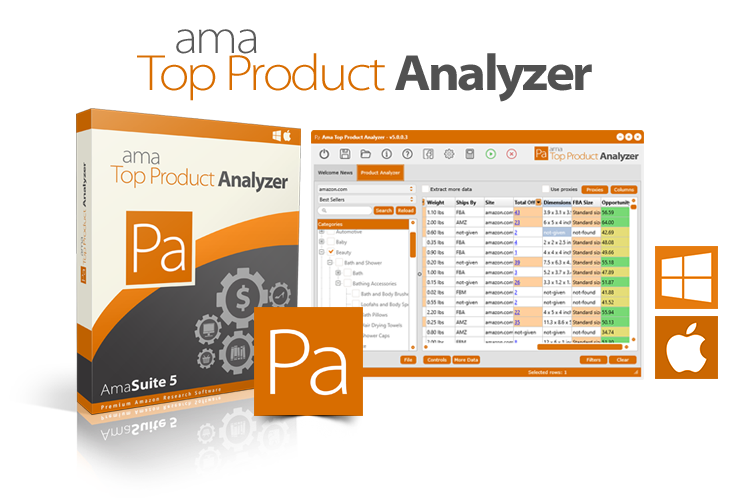 Amasuite's latest version is the Amasuite 5, which uncovers keywords and products that will deliver profitable returns on Amazon.
This re-invented version of the tool has more powerful features than its predecessors, and newly designed research desktop apps that work on PC and Mac.
Amasuite can't only be used as an Amazon category finder but you can also extract and analyze from the top 100 categories on both UK and US Amazon sites.
Among its main features is the product analyzer that uncovers top-performing products down to sub-category with blazing fast filter technology.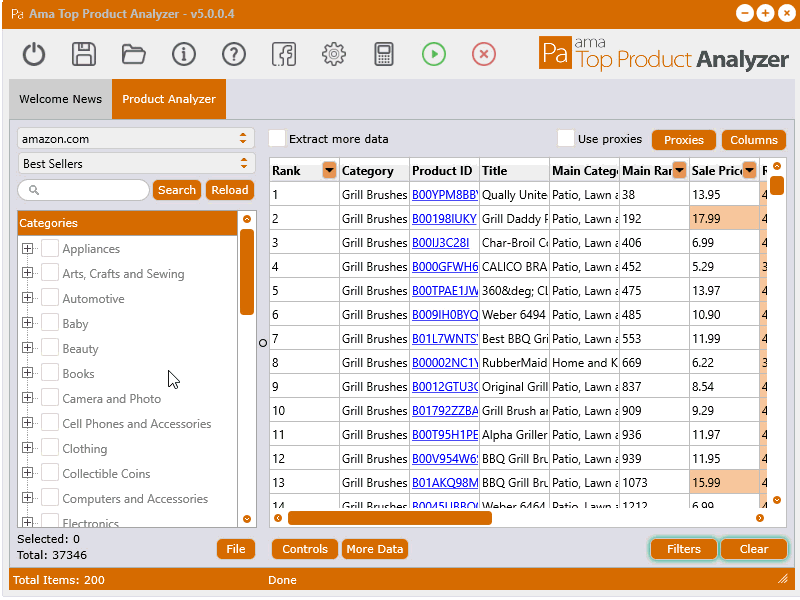 It also lets you export data to interactive HTML reports in a single web file so you can sort, view, and search from the report directly, and even sell the reports to your clients who need such data.
The Search Analyzer feature also helps you uncover hidden secrets of similar products on Amazon based on the main product keyword you searched for.
Additionally, you get 200-300 fresh proxies every day built into its new Proxy feature, and its beautiful layout gives you a simple interface to work with when doing product research.
Upon subscription, Amasuite Version 5 gives you access to five powerful Amazon software tools, a brand new Review Analyzer, bonus Ali Inspector software, new Amazon Sellers and Affiliate course, and you get to uncover hidden product opportunities.
It also offers additional unadvertised bonuses and includes all major and minor version 5 updates with a 30-day, no questions guarantee.

We earn a commission when you click this link and make a purchase.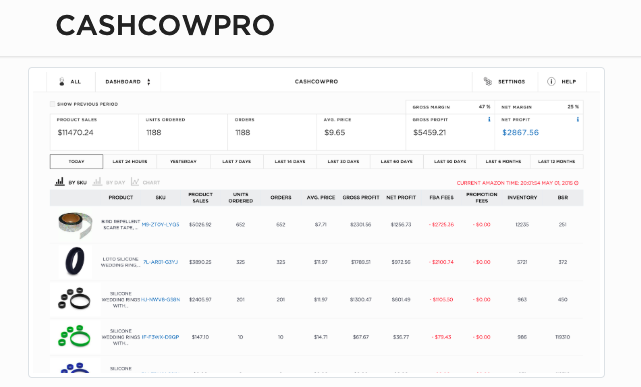 This is a fairly basic, reasonably priced, and useful Amazon product finder tool with several helpful features.
Among these features is an advanced Top 20 million bestseller option to search by number of sellers or by keyword and a free Chrome extension download.
However, it doesn't filter product lists but it has the important filters for Amazon product search, plus you cannot delete products from lists that aren't helpful.
Its salient features include keyword tracking, sales process data analysis, global bestsellers analysis so you can shortlist products, inventory monitoring, A/B split testing, page views, and conversion data.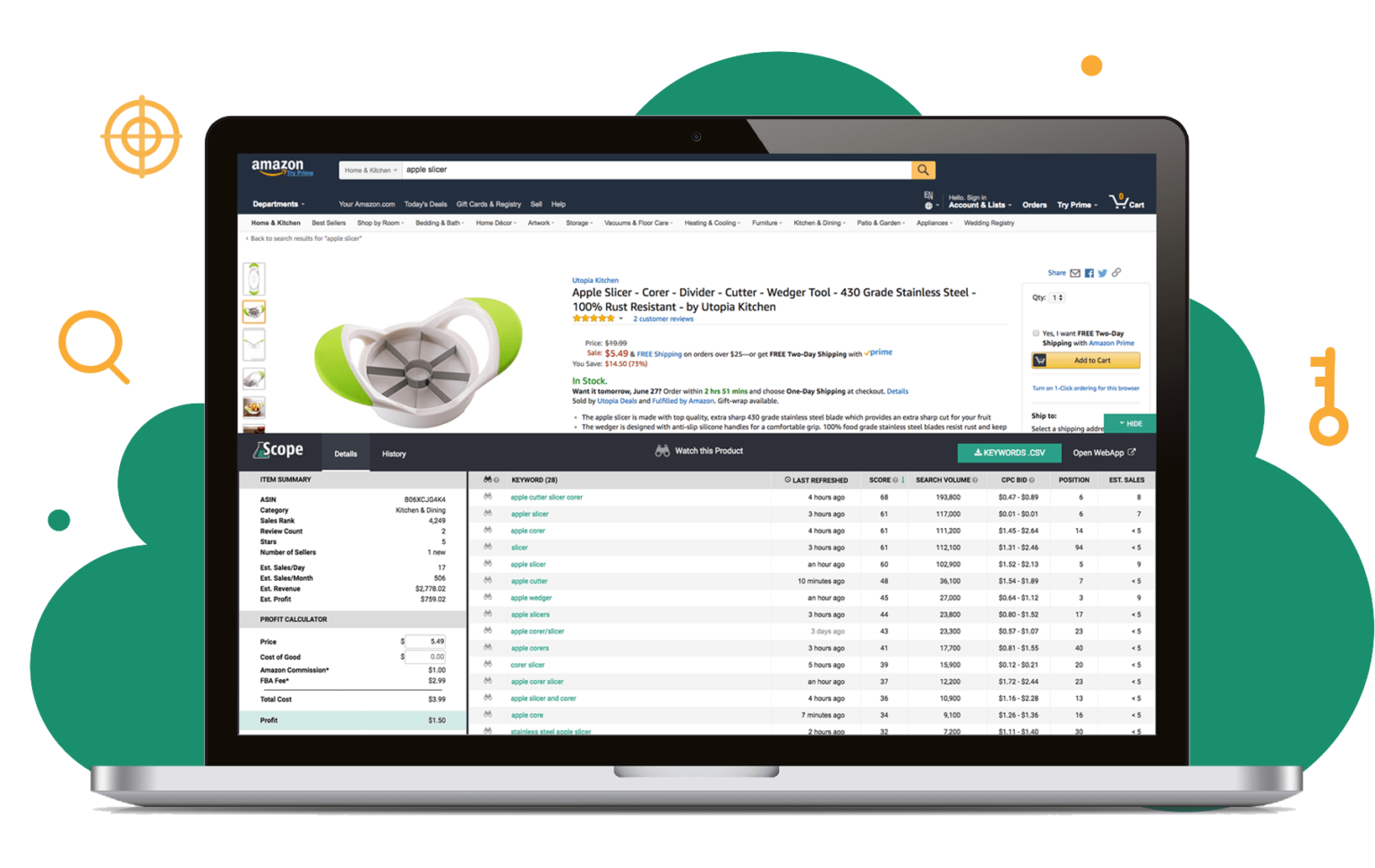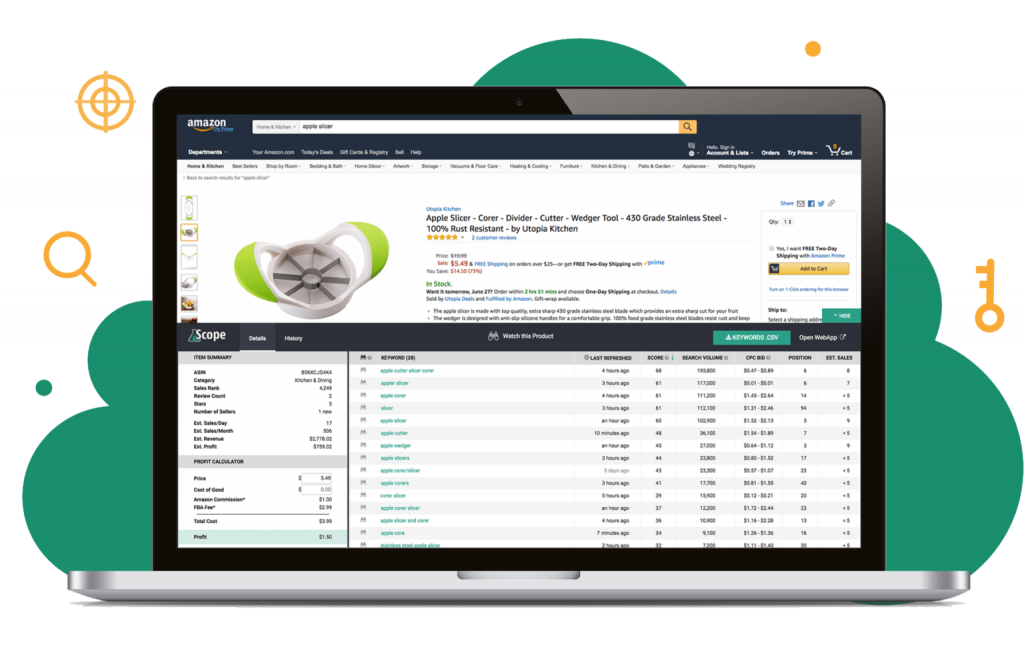 Scope by Seller Labs is 100 percent free to use and a handy alternative to Jungle Scout as an Amazon product finder free tool.
You can carry out product research and analytics, with everything you need to get started offered in Scope.
Despite being a bit more basic than the competition, especially paid versions, Scope is great for beginners to use with its handy features such as the reverse ASIN lookups on specific products. This helps you discover the keywords that successful products use.
Scope allows you to uncover hidden gems by doing a reverse ASIN lookup to see what drives competitor's sales. You can export keyword search volume for a product, its estimated sales per keyword, average CPC bid, and more data to sell more and supercharge your listings.
The tool can also help you identify new products and understand their potential profits. You get pricing, fees, sales estimates, and more for any Amazon.com product.
Use reviews, categories, star rating, price, sales rank, and number of sellers to narrow your search and find the perfect products to sell.
Finally, Scope lets you research with confidence as you track search rank performance for any product or keyword. Save keywords and products to your custom list to help with tracking, and for further analysis, export these findings to a .csv file.
In order to use Scope's Google Chrome extension, you have to create a Seller Labs account and subscription.
You'll get a 7-day, no questions asked, money-back guarantee with your new paid subscription.
However, Scope is currently available only for the US Amazon marketplace.
Also Read : Scope Vs Jungle Scout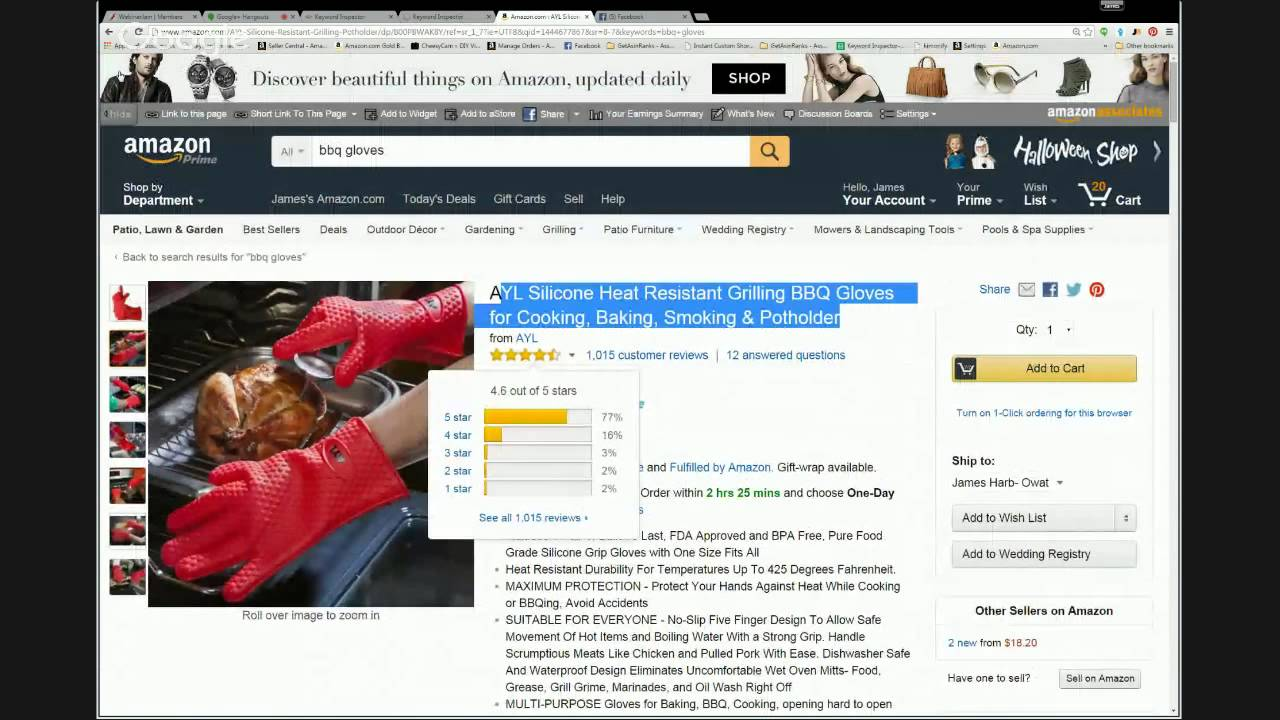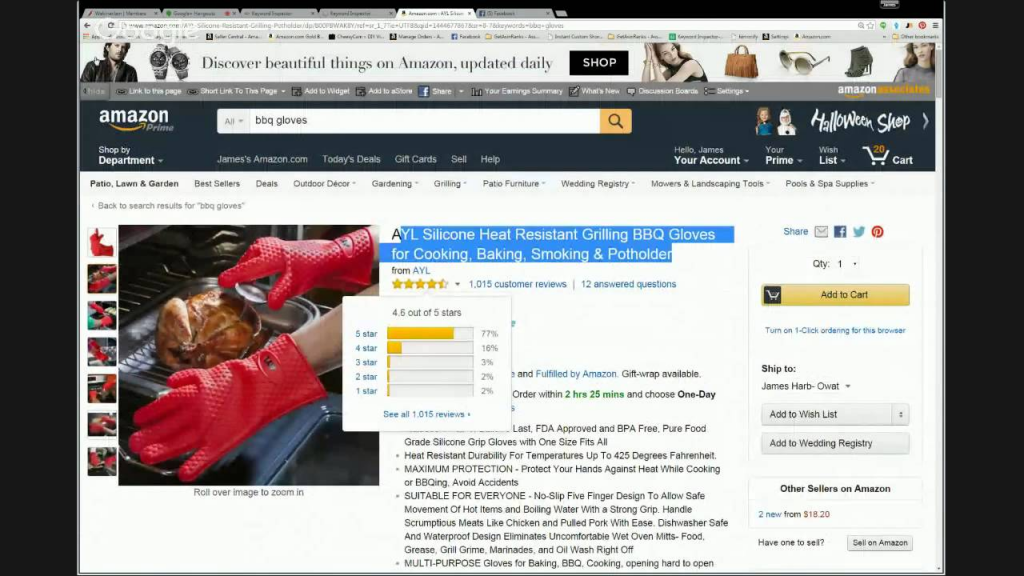 Kiprt (Keyword Inspectors Product Research Tool) is an Amazon product finder tool associated with ASINspector, but it gives you results at a glance.
It features graphs that are easy to read and that display monthly sales, plus a number of reviews added every day, and the option to view negative keywords, sellers, and reverse ASIN keywords per listing.
Most users find it somewhat overpriced because it is slightly different than other tools in the product finder category, as its pricing works through buying credits based on specific features.
Once these credits are used up, they're renewable.
Some users have decried its frustratingly slow pace, so if you want quick results ASAP, it may not be the ideal tool for you.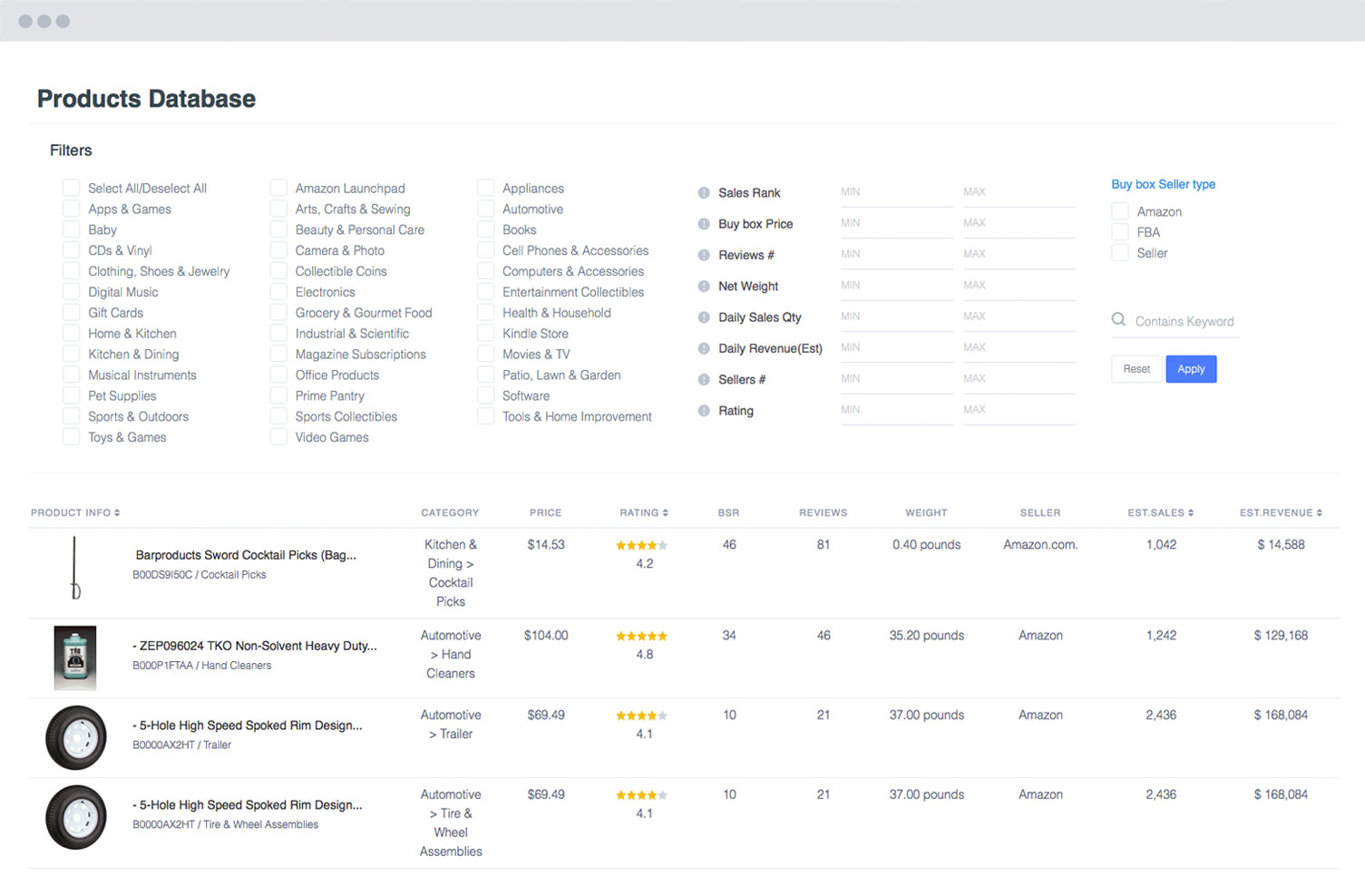 AMZ Insight is a web-based Amazon product finder and research tool designed for Amazon sellers.
This intelligent market research tool is ideal for you if you desire profitable selling, as it aims to empower sellers to make decisions driven by data, through real-time tracking.
It also offers keyword and product tracking, competitive data analysis, latest Amazon keyword trends, keyword and product discovery, bestseller rank tracking, collated review and ranking data, automated regional data, organic data tracking, and so much more.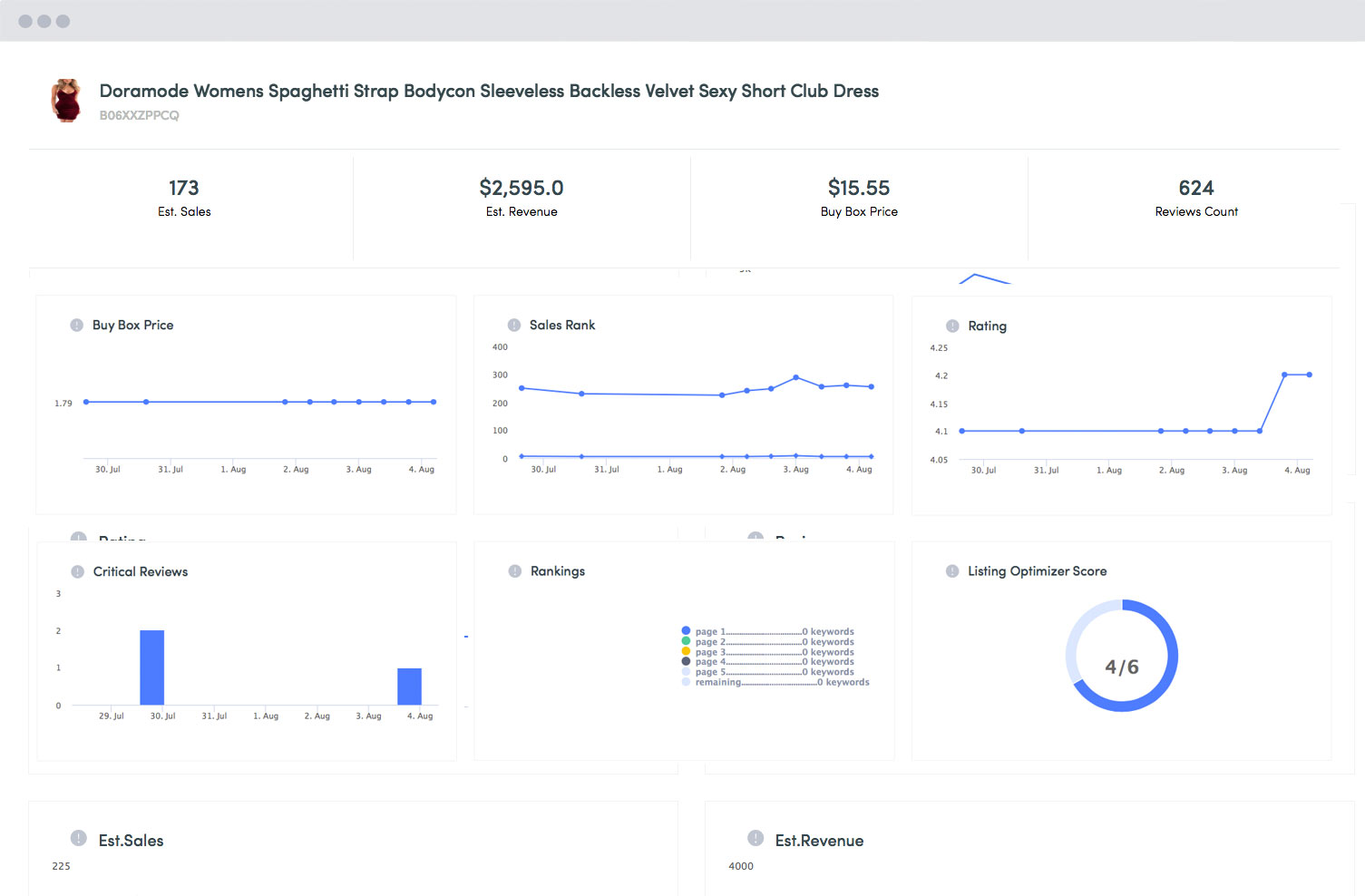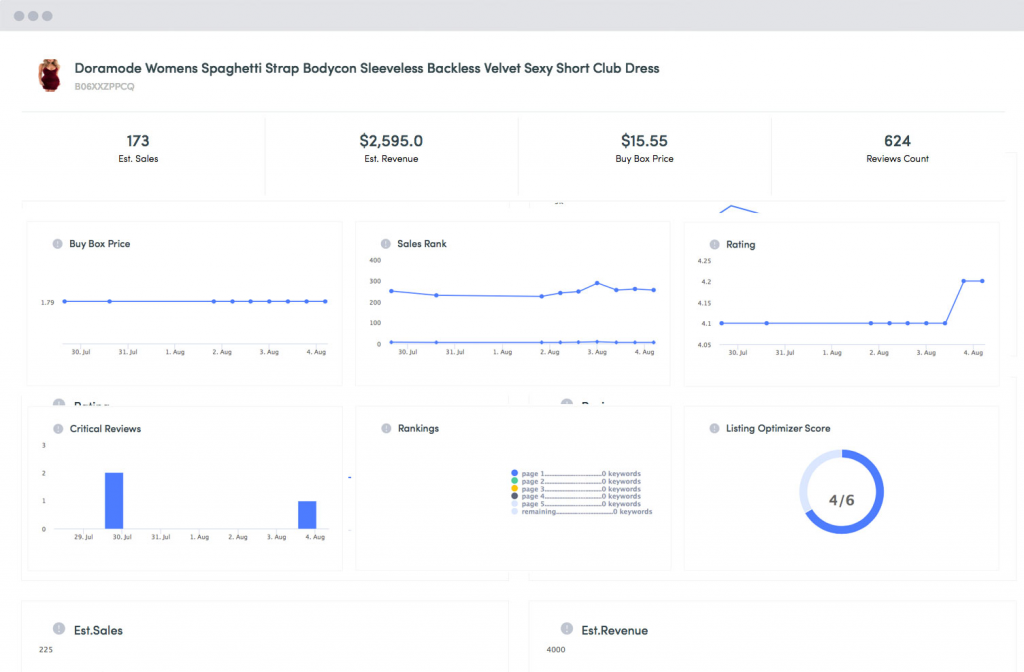 AMZ Insight offers four different plans, including the Warrior plan at $129 per month, the Specialist plan for $79 per month, Professional plan – the most popular – for $59 with 250 credits, access to all features and 3 marketplaces.
Finally, the Researcher plan offers 100 credits, and access to all features but for one marketplace only at $39.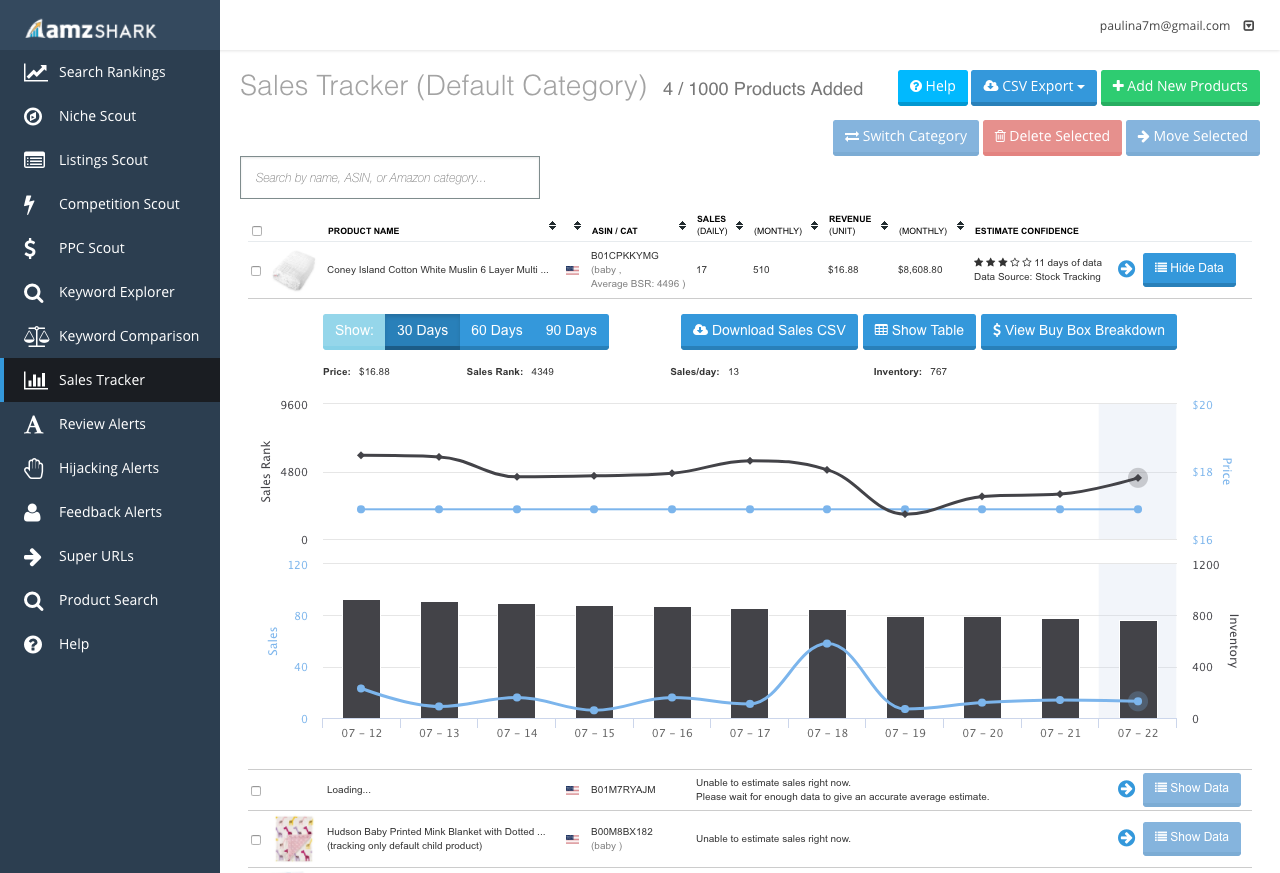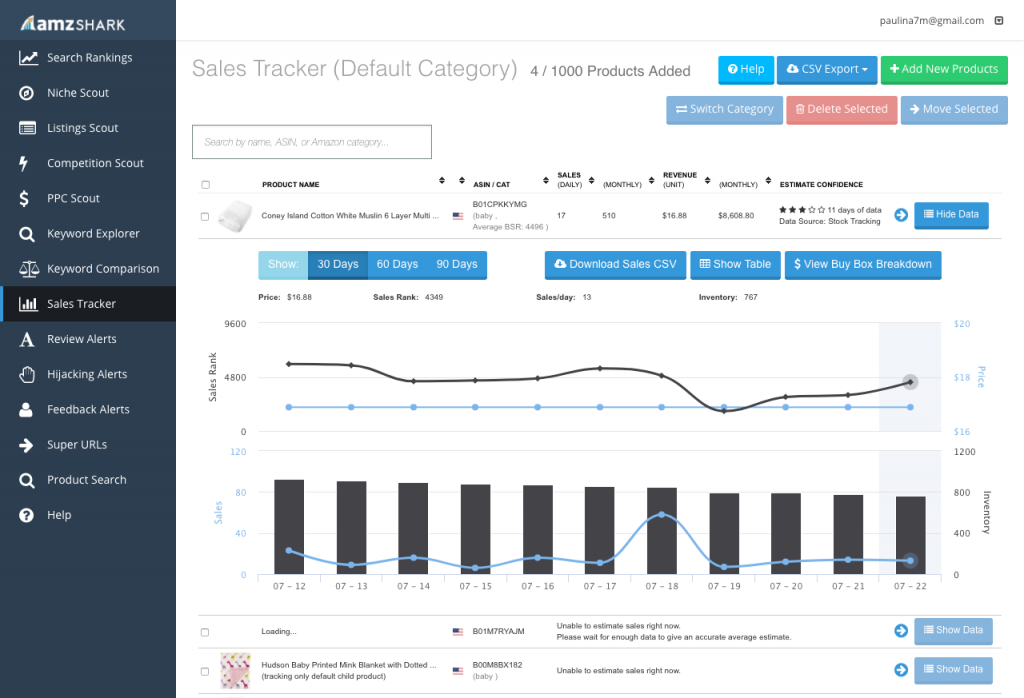 AMZ Shark is a great tool to help sellers navigate the murky waters of Amazon, using the variety of features the tool offers.
Among these powerful features is the Shark Score, a competitiveness score for different product niches. The tool also supports Amazon China and Japan, which gives it leverage over its rival Jungle Scout that is yet to include these locations.
However, its filtering is inferior, which is where Jungle Scout beats AMZ Shark.
For a free first month, you can use this tool, but it gets a bit pricey once you start paying monthly subscriptions – though this comes with a variety of features like sales tracker products and 1500 keywords.
Either way, for any Amazon seller, a good product finder tool for Amazon is worth the investment for your trade because nothing is more important than product.
You can start with the free option and upgrade to the premium one for more reliability and extended features.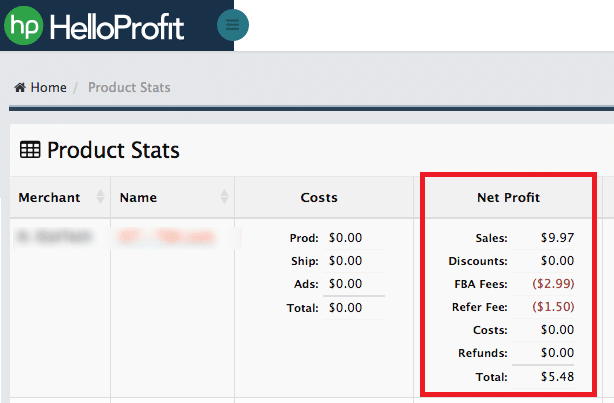 A good Amazon product finder tool will give you an overview of daily business, plus an ASIN-by-ASIN detailed analysis, which eases tough decision making.
Hello Profit's strength is in helping you make those tough decisions as to whether to kill a non-performing product or not.
This product finder Amazon tool shows considerably more detail than others, like Sellics, with dashboards on three levels so you can always have an overview of the bigger picture.
Among the individual ASINs, you can drill down using Hello Profit to include merchant statistics, merchant dashboard, and product dashboard.
Specifically, Hello Profit lets you calculate return on investment (ROI), view orders by organic vs. PPC, and download it in a memory-friendly format for easier comparison with past performances.
The tool also allows you to see unit refunds, units sold on promotion with coupon codes, intuitive data displays (can also be viewed on mobile devices), and automatic calculation of profits.
Product costs on Amazon can be bulk uploaded through a .csv spreadsheet, and Hello Profit will separate the inbound shipping and product costs for you.
Although it doesn't offer inventory management, Hello Profit drills down on single ASINs, with each individual product listed on its own tile on merchant dashboards, plus product statistics.
You also get to filter by individual products and see information like keyword ranking, sessions, page views, sales by PPC vs. organic, Amazon payouts, net profit, and much more.
The Product Genie is Hello Profit's built-in tool. It is the best amazon product research tool free software that offers several advantages for your research process.
The tool is free, so it is included in your monthly subscription, unlike others that charge extra for their extensions.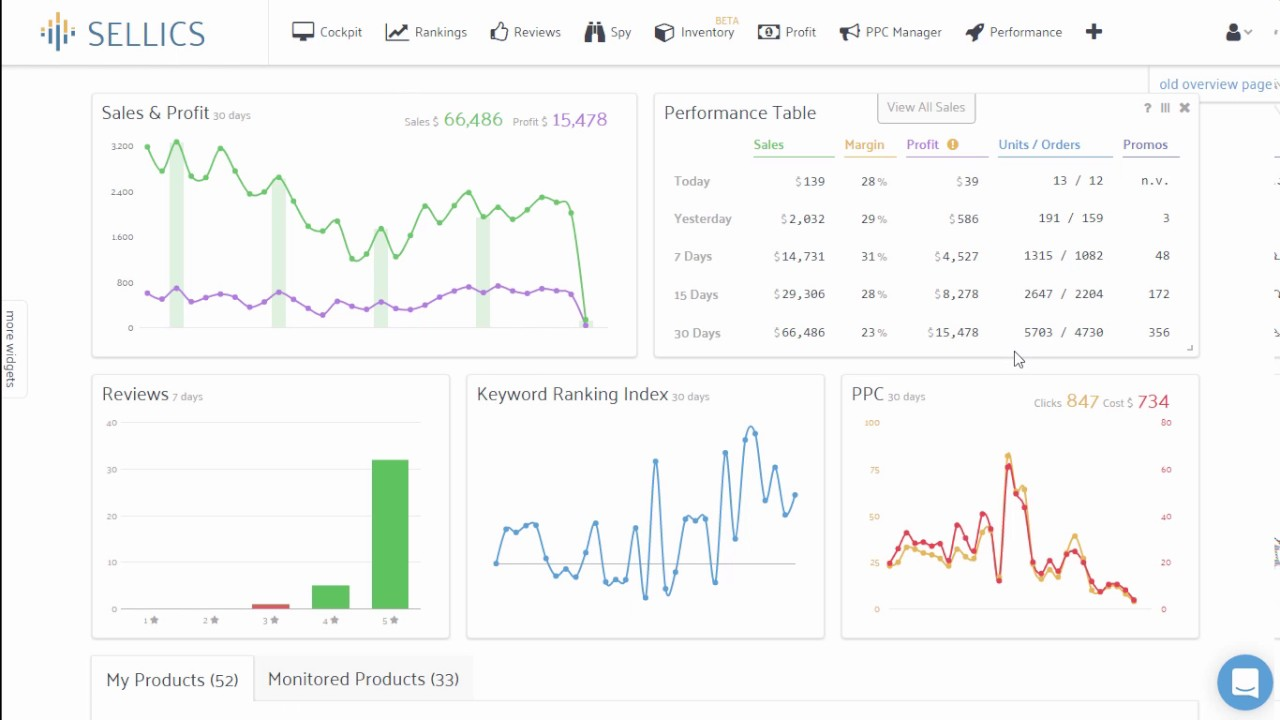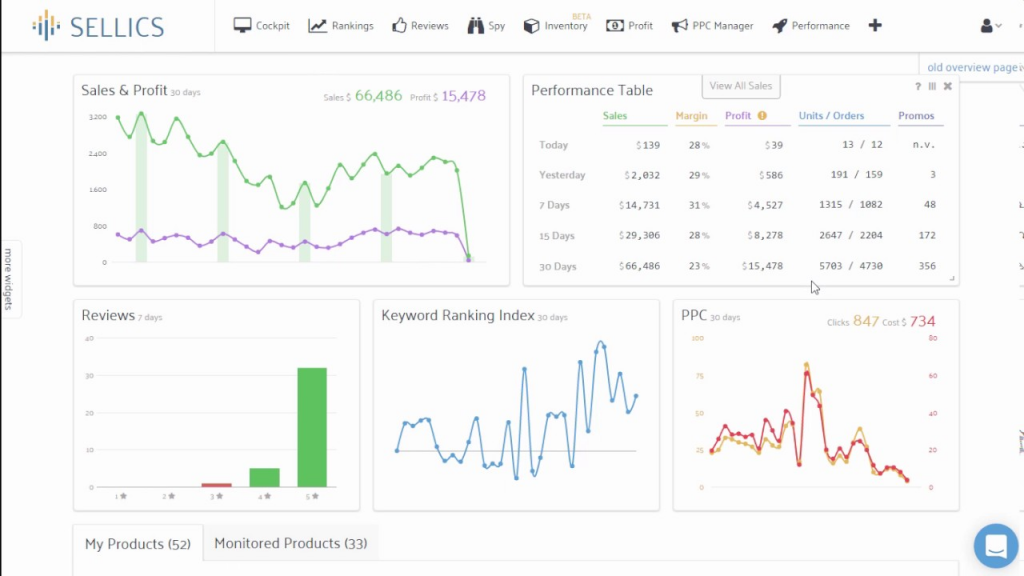 This well-known, all-in-one Amazon product finder tool combines 7 major areas of your FBA business including SEO, Research, PPC, Reviews, inventory management, and competitor monitoring.
It translates metrics and data from Amazon into actionable steps that can help you improve your business practices.
The tool is used by many brands to power their Amazon sales, and offers two versions: the Seller Edition and Vendor Edition.
The latter is specially designed for businesses selling through Amazon's Vendor Central Interface, directly.
Sellics makes your product research experience a whole lot easier with features such as sales data that covers promos, profits, PPC costs, refunds, BSR, sales velocity, and competitive comparisons.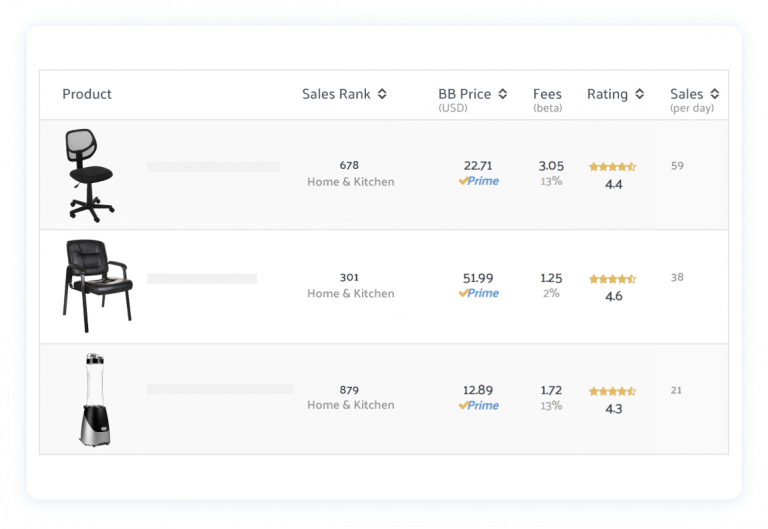 The Amazon Sales Rank tool in Sellics covers sales rank, product tracking, sales volumes, and pricing history.
It also offers keywords and analytics, a PPC management suite with control of your PPC, and analytics by campaign, ad group and keyword, plus A/B split testing.
Sellics' interface is easy to understand, and the information you get is simple and easy to use and act upon.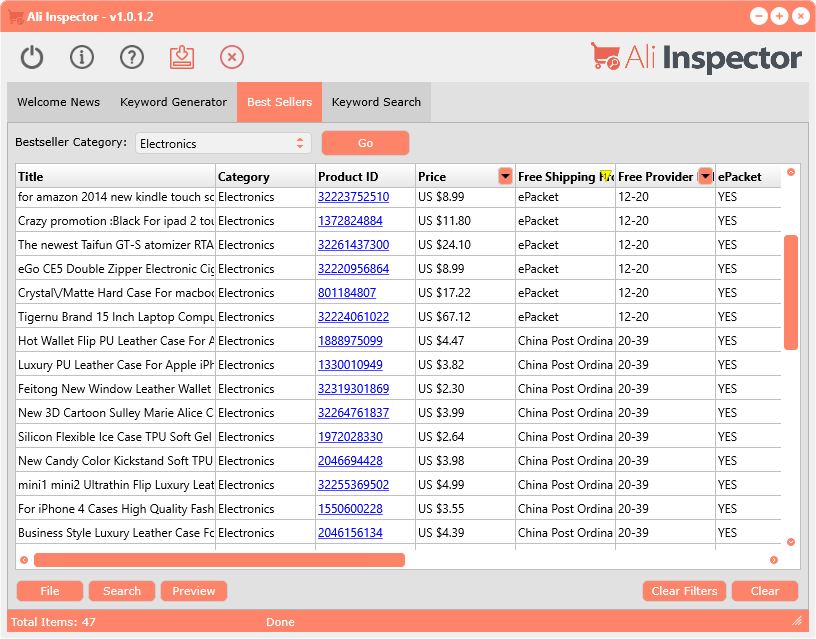 This tool helps you find products on Amazon easily and quickly, without doing the page search manually.
The powerful three-in-one product research software for AliExpress generates niche keywords, while analyzing bestseller products and uncovering top performing dropship products in minutes.
Its features include a keyword generator tool and a bestsellers tool that allows you to analyze bestsellers within AliExpress no matter the category.
In this way, you get to uncover top selling products for your own online store.
You can also use the Download Assets window in Ali Inspector to download product images, details and description HTML content in a single click, in convenient easy-to-access files.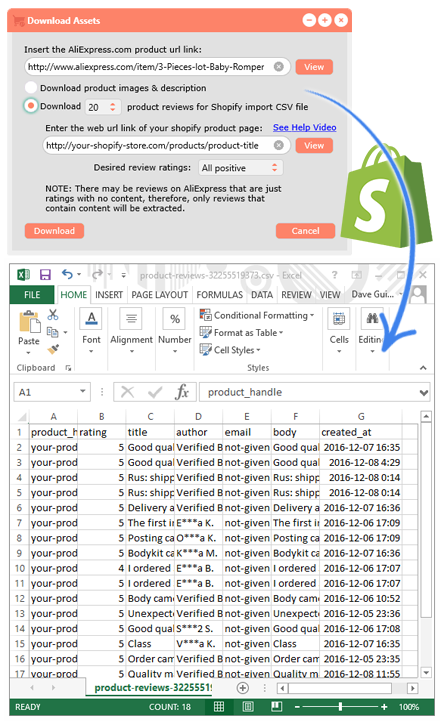 Also available in this window is Download Reviews for any given product on AliExpress product into special import files for stores on Shopify.
You get to choose which reviews you want to download, and any other ratings.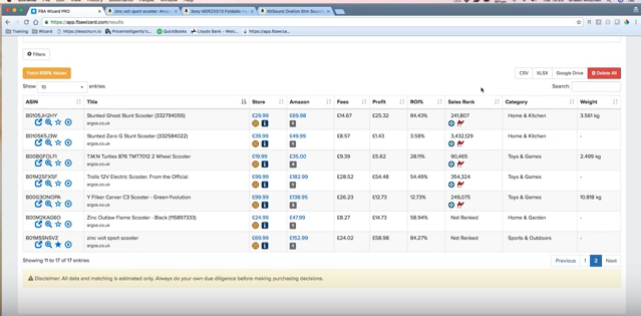 This online arbitrage software scans websites of online retailers for pricing, and then sends users emails once it finds items that meet their criteria.
Related : Retail Arbitrage With Amazon FBA
FBA Wizard Pro also analyzes wholesale product lists to find items that are profitable, and lets you do Amazon to Amazon flips or 'Euro' flips, and textbook arbitrage plus much more.
Each product's data points, which include sales ranking, European pricing, sales rank, ROI, profit, and more, are provided.
The tool helps you find winning products easily from Amazon or eBay, for wholesale, arbitrage, or private label, and works in UK, US, and Canada.
You can set filters for your search from a specific store, or add filters and drill down further to look at sales history, among other details then add your desired products to your shortlist.
The tool also scans categories or URLs for any retailer, giving you even more results from your product search. These scans include the wholesale, Euro, merchant, eBay, and reverse scans.
Scans run in the cloud so your computer doesn't necessarily have to be turned on. Just set up the scans and let FBA Wizard Pro do the work while you wait.


This Chrome extension helps you get Amazon marketplace insights and find new products to sell.
It gives an inside look at product prices, ratings, bestseller ranks, estimated sales, reviews, and much more, for any Amazon listing.
Worth Reading : How To Remove Bad Reviews On Amazon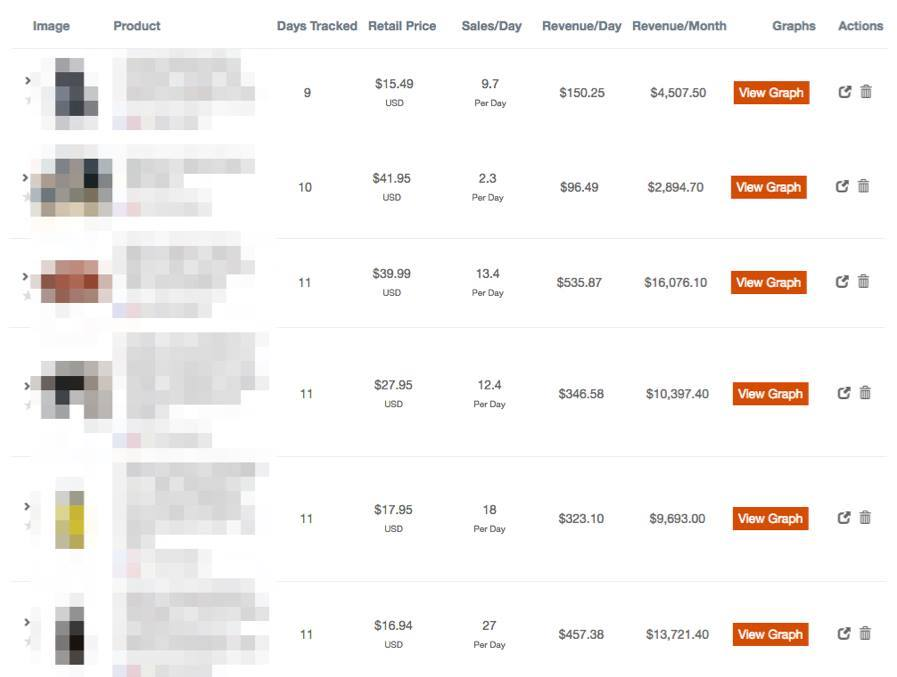 Product research becomes intuitive and you get tools that give you the confidence when deciding what new product to invest in.
The tool features a slick and easy to use interface, plus filters that show best performing products per category, price ranges, and other data, while eliminating underperforming listings you won't need.
It is available in Europe, Australia, UK and the North America including US.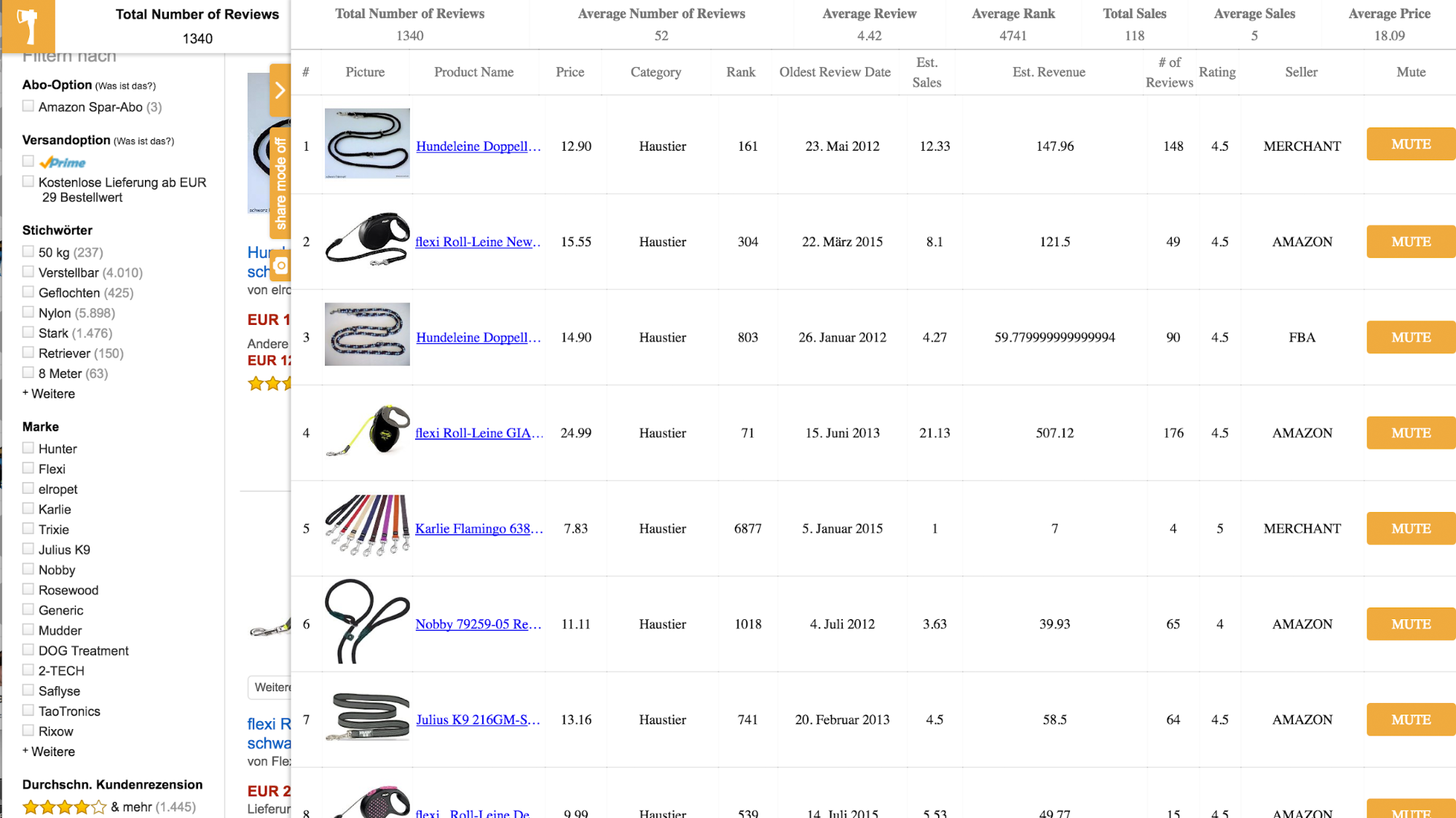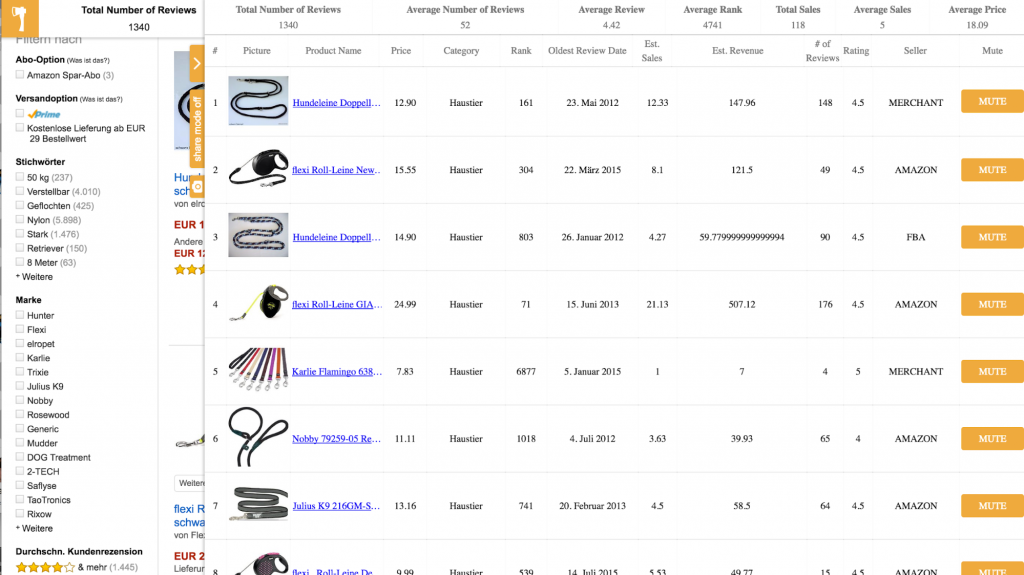 This tool was created to help any type of seller on Amazon achieve success in their FBA business.
It is conveniently available as a Chrome extension, and offers profit estimators, competition analytics, and inventory and rank trackers.
One of its unique and useful features is the Hijack Monitor, which is claimed to constantly monitor listings such that once a hijacker is detected; the tool contacts you right away and shuts down the hijacker before they gain your rightful sales.
Amachete is cited by many of its users as more reliable than some other tools what with its ease of switching plans, ease of use, and proactive customer service.
Summary
Every goldminer has his tools that are right for the job, but these don't make the business, instead, they build the opportunity.
These 25 tools will definitely point you towards the untapped opportunities for your online store, and set you on the path to more profitability with minimized risk and costs.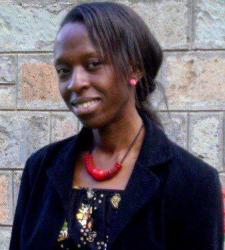 Author: Elsie Biage
Elsie started off as a freelance business and tech journalist. Having written for publications like Lifewire, and WindowsReport, she has garnered immense exposure over the years. She is a certified social media expert with deep interest in internet marketing, ecommerce and information technology.