Last Updated on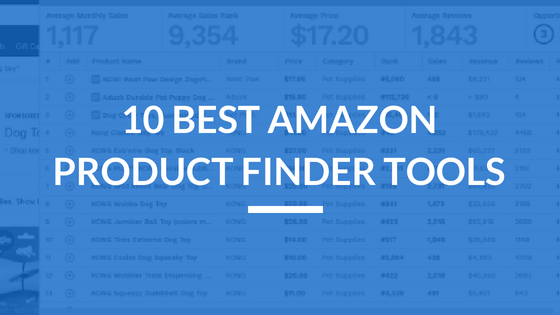 Every Amazon FBA seller definitely wants to get every bit of help available and at their disposal so as to streamline his or her business. This can be made easier through simplified searches, product identification, updates, notifications, and tips.
There are many Amazon product finder tools available online, so picking out the best from these can be tricky, especially when they have similar features.
Here's our guide on the best 10 Amazon product finder tools you can use to get started.
This is the number one Amazon product finder tool used worldwide by entrepreneurs in FBA business. It helps them find opportunities online, thereby reducing risk and maximizing profit.
It is available in both web app and Chrome extension, and you can fulfil these tasks with it:
Find lucrative niches and products on Amazon's entire catalogue
Filter Amazon's database by category, price, or even sales to find untapped opportunities
Track competitor activities over time
Explore and validate product ideas while browsing
Get instant product insights on any web page
See product prices, estimated sales, review count and accurate comparisons
Calculate Opportunity Scores of any niche to find the metrics of the top 10 sellers and lists of quality scores for different keywords
Get Special Pricing For Jungle Scout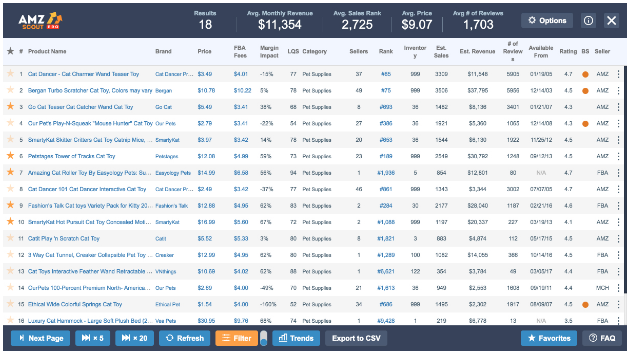 This tool gives you instant access to full sales data, but more specifically you can:
Find and evaluate your own niche without wasting time collecting data from different sources
Get instant statistics on products
Stay aware of your rivals using the web app tracking mechanism to track their list of products, inventory, pricing and revenues among other details
Track sales history like seasonal fluctuations, estimated sales and revenue, most popular keywords for products, data on FBA fees, Google trends analytics on each product, relevant information on Bestsellers ranking, estimated income, and potential suppliers
Use Chrome extension to get all sales data in one click without needing an Amazon seller account
Get actual data on over 20 million products
Get Special Pricing For AMZScout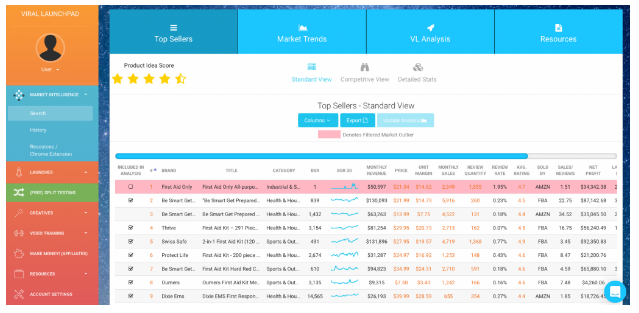 This is the go-to Amazon growth platform that ensures you get the most accurate product finder services in just one click.  With it, you can:
Filter for a personalized list of high potential products matching your business goals
Find opportunities that you missed by inputting specific criteria and see the products, keywords, brands and categories matching your standards
Find opportunities quickly with all the information you need for an informed sourcing decision
Get better estimates and suggestions for better products, with the most accurate data
Do all your research in one place and use the Tracker to reevaluate your searches
Get market intelligence and an accurate list of the most relevant keywords for your product
Launch products to success by running promotional giveaways to increase keyword ranking on Amazon
Get more impressions, clicks and sales to beat your competitors
Consult trained Amazon coaches to set up your launch or strategize for your business
Get professional product photography to showcase your product
Maximize keyword ranking potential and increase conversions with Amazon listing optimization, infused with sales-inducing copy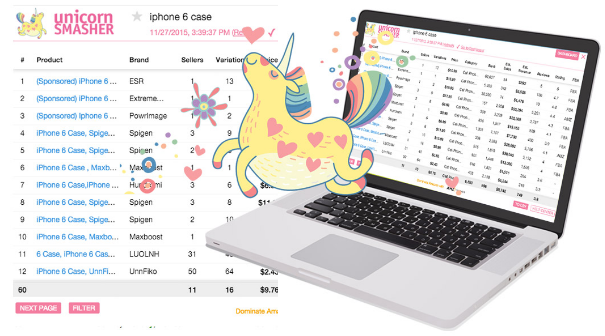 This tool allows you to find products on Amazon via its search pages using the Chrome browser extension. Some powerful features that make it great include:
Full dashboard to manage your research in one place and with all the information you need
Comprehensive data with insights on prices, bestseller ranks, reviews, ratings, estimated sales and other details
Accurate sales estimates based on real figures of thousands of products so you can project profitability in any niche
Seamless integration with AMZ Tracker to gain an edge on other sellers
Canonical URLs and product child variation statistics
Saving for favorite searches hence easy access
Discreet sharing and exporting tool
In-browser analysis with sales and PPC metrics as you search
Revenue estimates and quick links to any product listing from your dashboard
Details of fulfilment including FBA, FBM or AMZ
An account for each product's sellers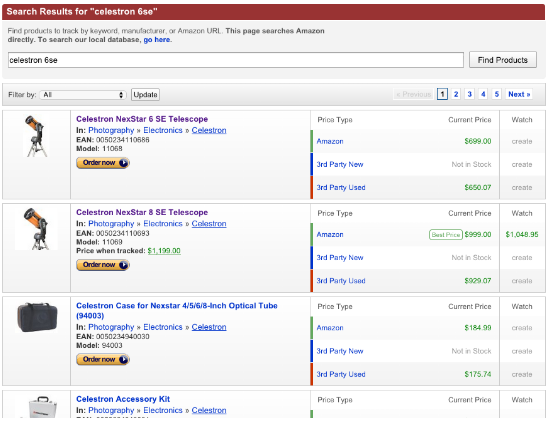 This is a treasure chest of information for any Amazon FBA seller, and is free to access upon a short registration process, with features like:
Price drop and availability alerts
Price history charts with graphs of price variations over time for three price types, updated constantly to ensure accuracy
Product search by clicking Amazon Products in the menu with results displayed in tables detailing prices, links to price history, RSS feeds for price types, and other information
Camelizer tool is a browser add-on for Firefox, Chrome and Safari and gives you price history charts with product pages making it easy to create price watches on retailer sites
Support for Amazon locales including Canada, France, UK, Italy, US, Japan, Germany and Spain
Price watch management interface to track price type, product category, product name, artist (for music fans), and status of your price watch
Import Amazon Wishlists
Twitter notifications besides email and RSS feeds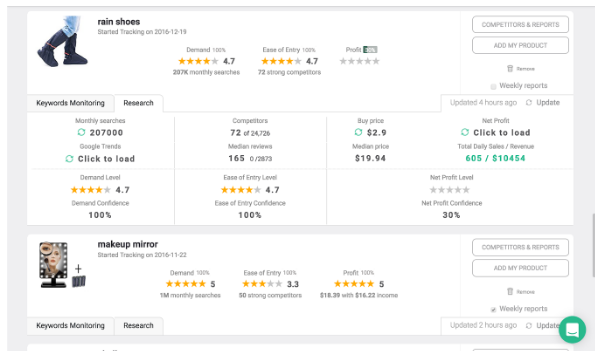 If you want to find promising products very fast, what's selling and what offers affordable shipping or what has low competition, AmazeOwl will do all this and more for you, including:
Keeping an eye on your competitors – their active listing, inventory, price changes, new entrants
Find products quickly with the dedicated desktop app so you can quickly comb through Amazon listings and find those that fit your price, BSR score, reviews and other requirements
Save listings directly from Amazon
Deep insight into your product's demand and competition with sources like Google Trends, FBA cost calculator and others, while building your list of competitors
Stay connected while you find a supplier
Get the details and history of a particular competitor's listing, like pricing movements, photo updates, rating shifts and review count changes.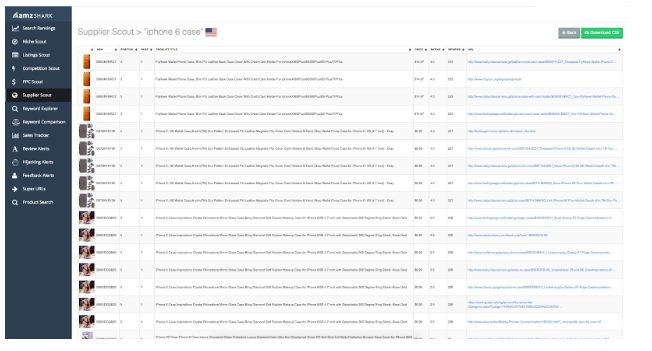 With this tool, you can sell more on Amazon and make more money as a retailer and/or brand owner by using its powerful features such as:
Sales tracker to discover accurate sales, price history and sales rank for any product on Amazon
Niche scout to investigate potential niches with statistics at a glance
Search rankings tracker to track any products' rankings for any marketplace with regular, daily updates on your searches
Keyword explorer to find related terms to use in PPC campaigns, SEO and in-depth research on keywords
Listings scout to compare listings in your specific niche and find weak areas in your listing
Keyword comparison of up to 20 keywords at once to identify profitable sub-niches
Other useful features include Hijacking alerts, super URLs, feedback and review alerts, and the competition/PPC/Supplier scout tools.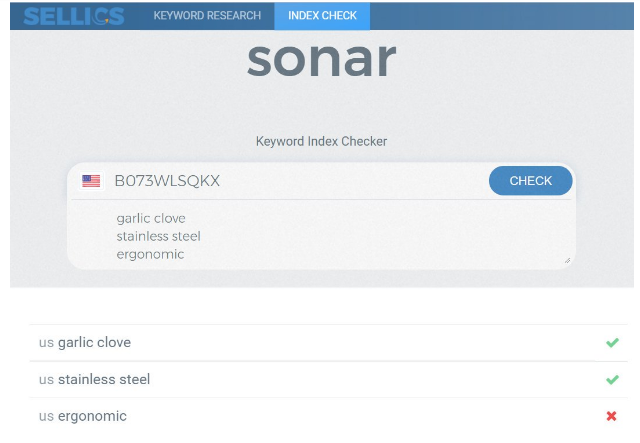 This tool is developed by Sellics and lets you search a database of more than 74 million keywords to improve your organic rank for specific keywords or optimize your PPC campaigns.
Other tasks you can fulfil with this tool include:
Finding short tail keywords
Researching long tail keywords
Build PPC keyword lists
Maximize visibility of all your ads
Minimize the risk of bidding on potentially irrelevant keywords
Export list of results for analysis
The tool is available internationally and can be used for Amazon US, EU (DE, UK, FR, IT, ES) and India marketplaces, so you can overcome the language barrier when launching new PPC campaigns for overseas Amazon markets.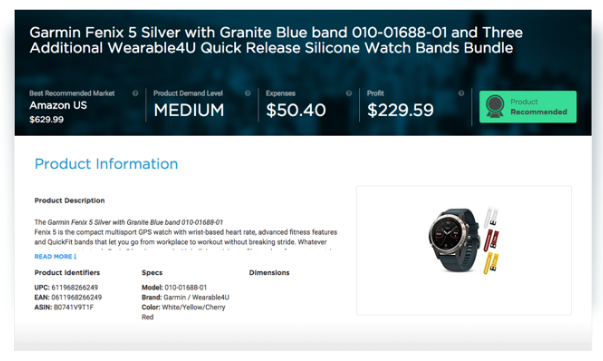 This is a comprehensive product research tool that gives you the data you need to make informed business decisions through the following features:
Data drive insights for Amazon sellers
Full analysis of expenses
Competition analysis
Sales estimator
Insights on Google AdWords
Bulk analysis that analyzes market demand, possible margins and shipping costs for current and future inventory
Through its actionable and automatic product insights, Algopix helps you save time, increase sales and reduce risks.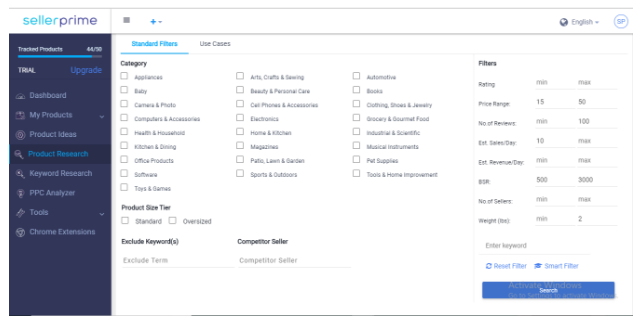 This tool is touted as a powerful alternative to Jungle Scout and rightfully so as it caters to all of your Amazon requirements for combing through more than 500 million products, even with the extreme competition on Amazon.
Among its benefits as an Amazon Product Finder tool include:
Product research as it tracks the best niche, with low competition and good profit margins
Eases analysis of your searches with dedicated features from the web app and Chrome extension
Discover the most profitable products
Find and analyze the profitable products to get the right fit for your launch
Choose the right keywords and know where your listing ranks
Discover real time performance of your keywords
Optimize your Amazon listing quality
Analyze the competitors' strengths and weaknesses
Decipher the Search Term Report and get insights to increase productivity, and decrease PPC spends
Track Amazon business, sales, revenues and orders
It comes with a 7-day free trial, but the Chrome app is available for free.
Summary
Every goldminer has his tools that are right for the job, but these don't make the business, instead, they build the opportunity. These 10 tools will definitely point you towards the untapped opportunities for your online store, and set you on the path to more profitability with minimized risk and costs.
Elsie Biage is a multi-topic writer, with a passion for technology and digital marketing. Her ultimate goal is to help people out through sharing valuable information in the simplest way possible. She loves cars, music, and chocolate.