An Amazon listing is your storefront on Amazon. Apart from containing the basic information about your product, it can also determine your competitive edge over other Amazon merchants that sell similar products.
To get your product noticed quickly, you should properly optimize your Amazon product listings.
For this purpose, we have compiled this list of the 12 best Amazon listing examples for your product listing inspiration.
12 Best Amazon Listing Examples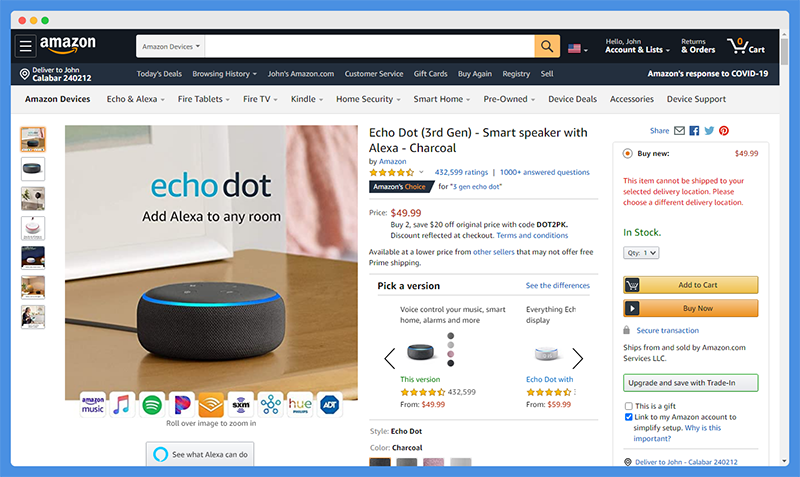 If anyone knows how to list a product on Amazon, it is the owners themselves.
First, on our list of the best Amazon listing examples, we have the Echo Dot (3rd Gen) product from Amazon.
The concerned product is Echo Dot – a speaker, and this is clear from its title. Also, the main keyword here is "Smart Speaker with Alexa", and it is added right after the title, separated with a dash.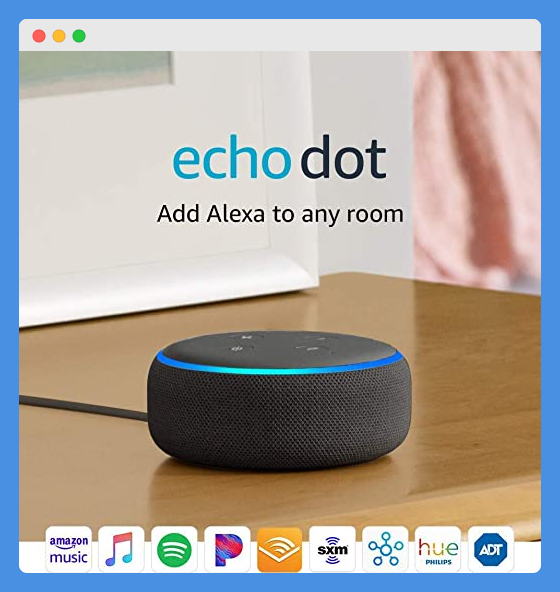 What makes this Amazon product listing noteworthy is the creativity with the main featured image.
At a glance, customers can identify all the platforms compatible with the speaker, including the likes of Amazon Music, Spotify, and iTunes.
Conversely, this product has varying configurations. Hence, buyers can opt for the device alone or with Echo Auto, a smart plug, or a smart bulb.
For the product description, they utilized high-quality images with a detailed overview of each feature.
Likewise, the technical details consist of both front and back images of the product, while its specifications were placed in a table.
Takeaway: The main featured image of the product is informative, thereby facilitating quick knowledge.
Also Read: Best Amazon Product Listing Software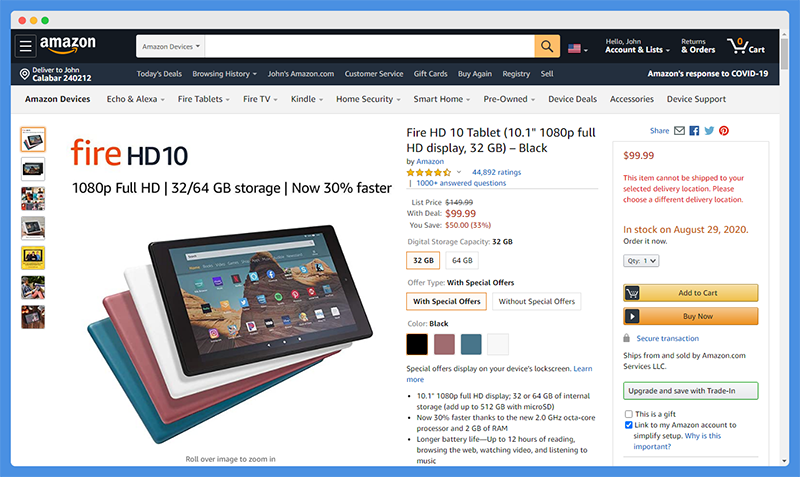 Here is another product listing example from Amazon on our list. However, the product here is the Fire HD Tablet
First of all, the key specs of the device are stated in the product title. It indicates that the device has a 10.1" screen, full HD display, and 32 GB storage.
Likewise, the device is available in four colors, which reflects in the main featured product image.
For the product description, large images with a straightforward overview for various use cases are applied to incite buyers' interest.
Nonetheless, customers can purchase this product with special offers, which results in a price discount. Interested buyers can also include a 15W charger and protective case when making a purchase.
Takeaway: High-quality product images help buyers to make a quick purchase decision.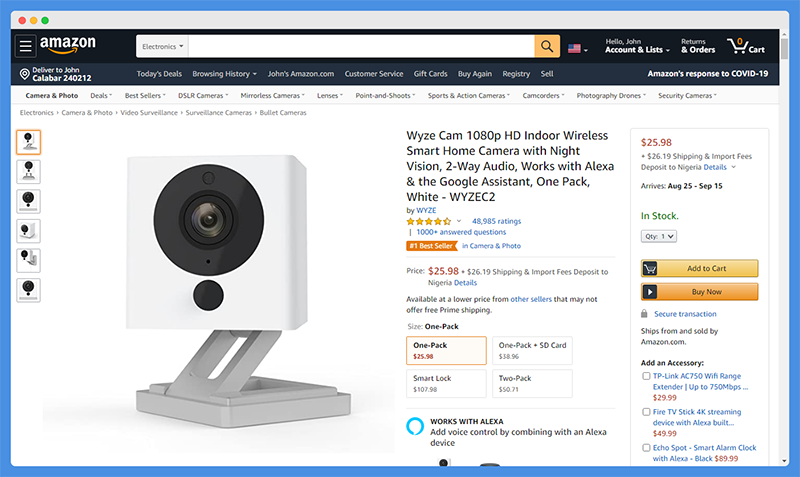 Just like the Amazon Fire HD tablet we mentioned earlier, the key specs of this product are featured in the title, and even though it's a bit lengthy, it's effortless to read.
From the main featured image, prospective buyers can see how the product appears. The other featured images show the device in different positions and from different angles.
The product size variations are featured, thereby giving customers different price choices.
As an Alexa compatible device, the seller did not leave this detail for later. It is featured in the title and beneath the size variations so customers can purchase it along with the Alexa device.
The first product description section has a lot of details; however, the seller stated all the essential product features that the prospective buyers should know.
Apart from including a video in their product listing, an infographic about their startup, which contains images of their co-founders, was also added.
Takeaway: This product listing example incorporates a unique 'about us' approach, which indicates their reliability.
Check Out: Ways To Find Best Selling Products On Amazon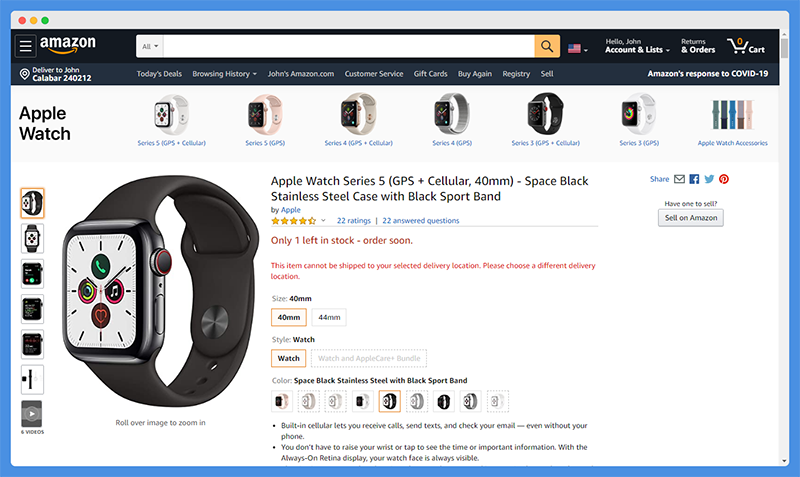 Here's an Amazon listing example from a renowned brand – Apple. Many would argue that the brand's popularity is enough to sell their products, but there's still much thought in their product listings.
This product is the Apple Watch Series 5, which is clear from the title. From the top of the product page, you can identify other Apple Watch products as well.
The Apple Watch Series 5 comes in multiple colors and designs, which can all be seen without scrolling.
The six featured images show that the watch can be used for calls, tracking exercises, monitoring heart rates, etc. Also, a promotional video is included in this listing.
There's much to learn from the way Apple utilizes infographics in this product listing.
The creative use of different watch colors and bold texts can draw the customer's attention. Also, the lighter texts contain a description of each feature explanation.
Next are the technical details, where the product comparison section compares the product with other Apple Watch series products.
Takeaway: Product infographics can help to quickly educate customers over descriptions.
Also Read: Best Amazon Feedback Tools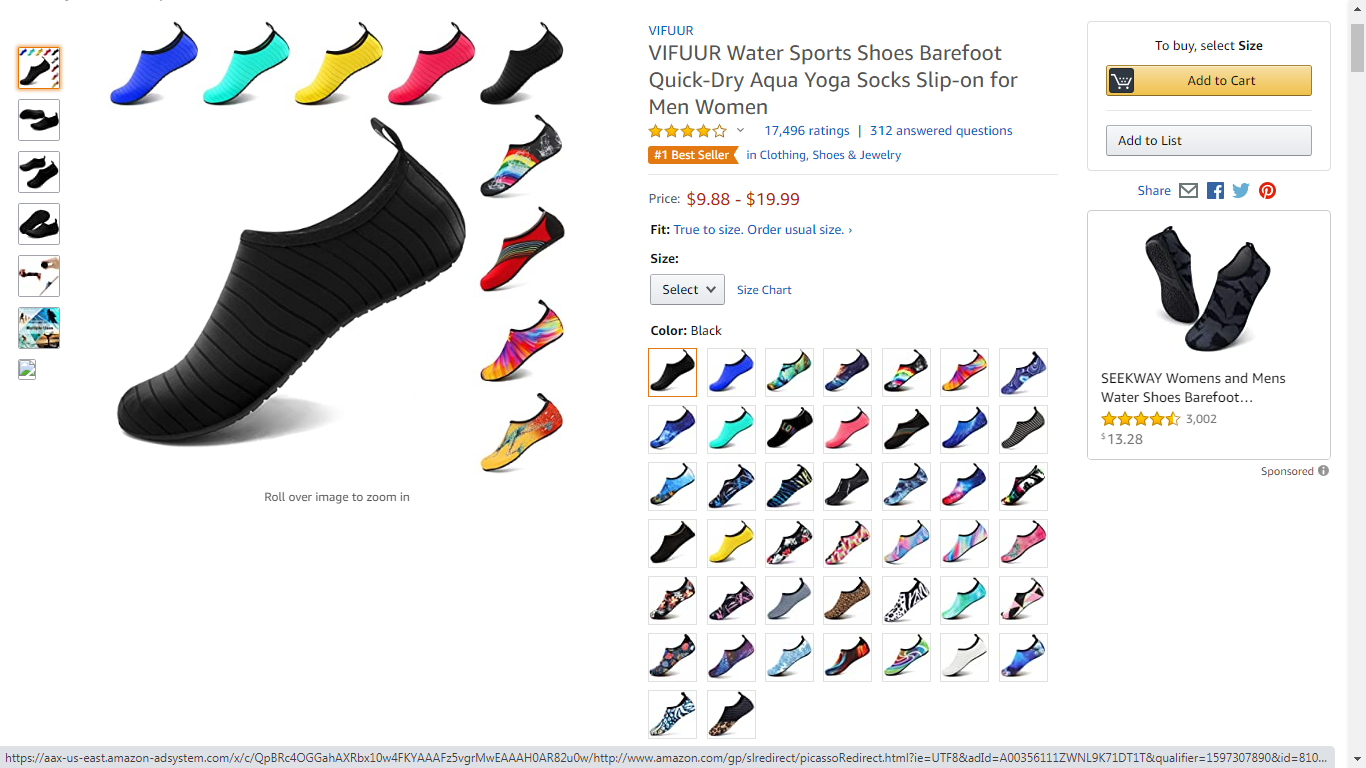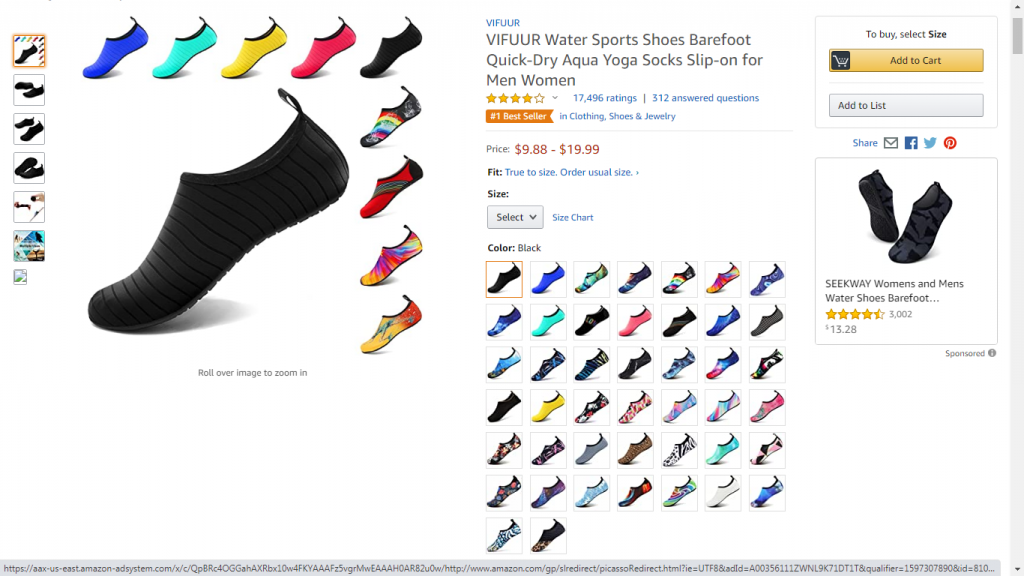 Here we have another product listing which has made it to our best Amazon listing examples list. VIFUUR listed this product using a straightforward approach.
The product here is the water sports shoes, and style is important whenever it comes to footwear. Hence, its selling point is the numerous colors which the shoe incorporates.
Interestingly, the main featured image has a large black color shoe and smaller shoes with various colors. Not to mention, a product video demonstrating its usage with different colors was also incorporated in this listing.
Another exciting perk about this listing is its informative size chart. Since the shoes come in different sizes, the prices are not the same. However, prospective buyers can get an insight into its cost when selecting their preferred shoe size.
Takeaway: For this product listing, its demonstrating product video with varying shoe colors is commendable.
Check Out: Best Amazon Inventory Tools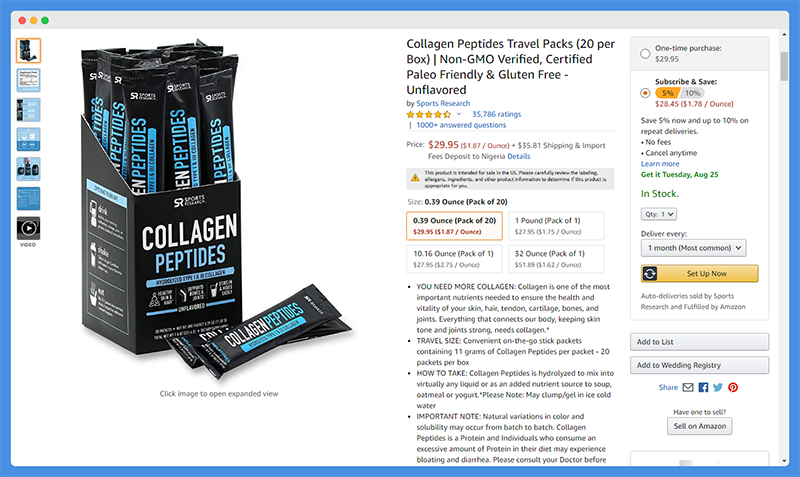 Unlike other Amazon listing examples on our list, this product listing is for a consumable product.
The question most customers will ask first is whether it is safe to consume or not. The seller – Sports Research – answers this question before anything else.
The product title shows that the collagen peptides are Non-GMO verified, paleo-friendly, gluten-free, and unflavored.
Another exciting perk in the title section is that this product listing has over 1000 answered questions. This imprints a positive perception in the prospective buyer's mind.
The product comes in different sizes, while the main featured images give customers a visual overview of each size. Other featured images reveal the product usage instructions, nutritional facts, quality certifications, ingredients, etc.
Every other detail that customers need is listed out in the product description section. The style used is the capitalized subtitle, followed by the descriptions separated with a colon. This is an ideal style to gain attention.
Takeaway: In this product listing, capitalized subtitles are used for the main product description to gain attention.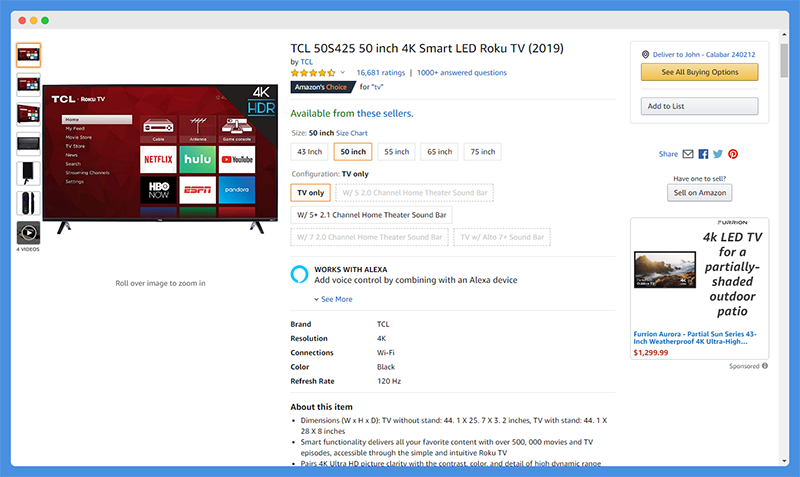 Here is a unique Amazon listing example from the TCL brand.
It is the Amazon Choice product for "TV". If you sell electronic products, you can imitate this product listing style.
The seller kept the description very simple but didn't miss out on the model year, which points to customers that it is a new product from 2019.
This product listing has a similarity with the previously mentioned Collagen Peptides travel Packs, as it features the "1000+ answered questions" tag in the title section.
This indicates that TCL has answered more than 1000 questions related to the product in question.
Thankfully, the main featured image illustrates that this smart TV works with streaming platforms, such as Netflix, Hulu, Youtube, Pandora, etc. The remaining featured images highlight the back of the TV, the remote control, and the stand.
This product listing has a size chart, which allows customers to select their ideal size. Besides, there's also the option to purchase the TV along with a theater soundbar. All these attribute to convenient buying.
To ensure a visual impression, the seller included alluring infographics and product videos in this listing.
Takeaway: A straightforward product title can capture prospective buyers' attention.
Explore: Best Amazon Product Finder & Research Tools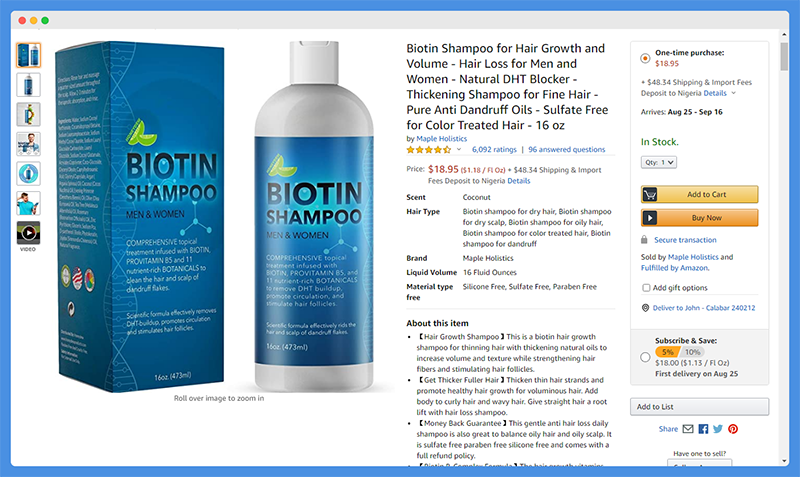 Here's an ideal product listing that Amazon sellers in the personal care niche can imitate. The product is a biotin shampoo from Maple Holistics.
In essence, this product listing has a unique title structure. The seller included four significant keywords in the title, and yet, it doesn't look complicated.
Another exciting perk is the main featured image. It displays the shampoo pack and the bottle in pure white background. In fact, the image is very sharp such that customers can read every detail imprinted on the pack and bottle.
The product description begins with important information such as the shampoo scent, what type of hair it is meant for, bottle quantity, and material type.
In the 'about' section, brackets are used to draw customers' attention to the shampoo's selling features. Also, each bullet point has relatively equal text content for uniformity.
The subsequent product description comes along with strategic images, including infographics, and the seller left no stone unturned while interpreting what the product can do.
Takeaway: To imitate this product listing, it is ideal to provide as much information as possible.
Explore: Best Amazon Sales Estimator Tools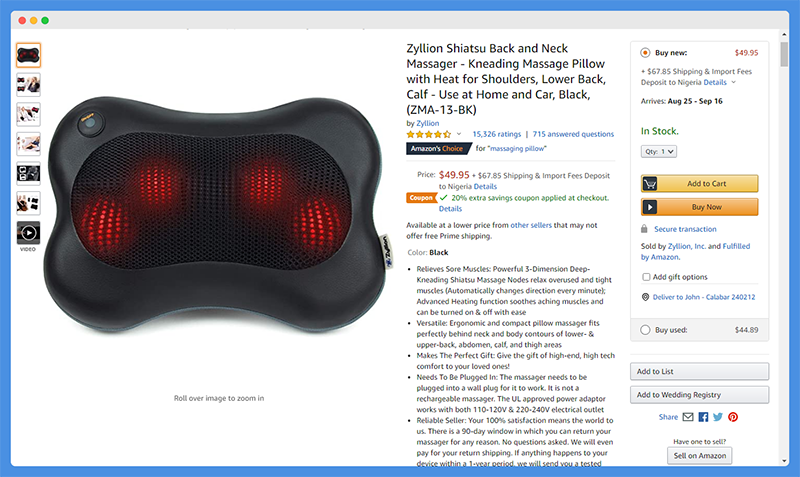 The Zyllion Shiatsu Back and Neck Massager is another best Amazon listing example on our list. The description may appear somewhat complicated, but the seller adopted a picturesque approach for this product listing.
The images featured in this product listing are all infographic images except for the main featured image. By scrolling through the pictures, customers can avoid reading a lengthy description.
Each image interprets a function or feature of the product, and a demonstration video is also included. The images in the product description sections are not much different.
Notably, the seller highlights renowned websites where the product has been mentioned, including Business Insider, Travel + Leisure, USA Today, and others.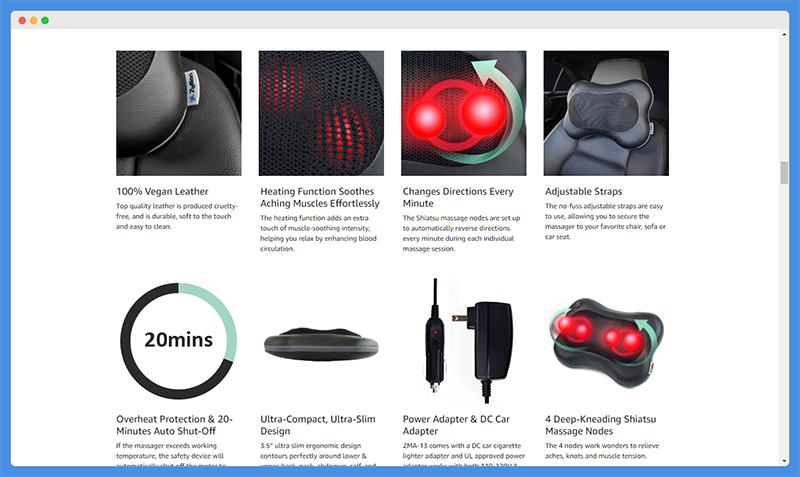 Not to mention, the product features are highlighted, each one with a featured image. This provides customers with a visual impression of all its features.
Takeaway: Visual representation of each product feature can help to further increase the buyers' intent.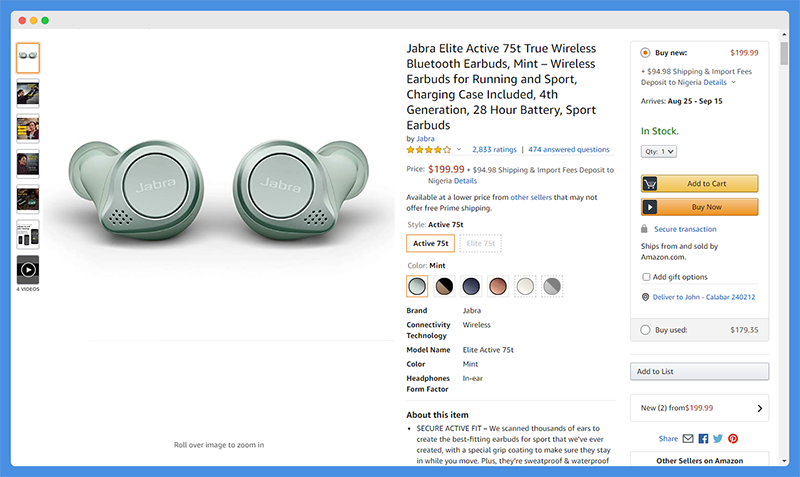 Here is another interesting Amazon listing example on our list.
In this product listing, the most exciting product features are instantly disclosed. From the title, the product is wireless Bluetooth earbuds with a charging case and a 28-hour battery.
This is enough information for a customer to consider before purchasing the product.
Clearly, the seller targeted two keywords with the title: "Wireless Earbuds for Running and Sport" and "Sport Earbuds." In fact, both keywords were carefully blended with the product name in the title.
Another exciting perk about this product listing that will draw customers' attention is the different color options displayed and the two style options.
There are images for each of these variations, so customers know what they are getting.
The 'about' section in this product listing is relatively easy to read. Moreover, the seller capitalized on the use of sub-titles and dashes.
Apart from the bold infographics detailing its features, about four helpful videos for using the product were also included.
Takeaway: It is imperative to utilize targeted keywords in an Amazon product listing, most especially in the title and product description.
Also Read: Best Amazon Keyword Research Tools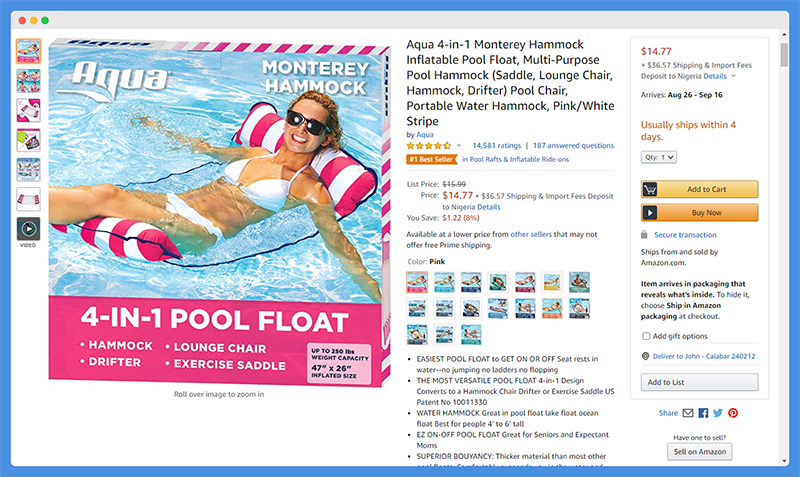 Just like other best Amazon listing examples on our list, this product is an Amazon bestseller. This product is listed in several color variations, about 17 colors in total.
The title is straightforward as it states the product name along with a few keywords. Also, the main featured image highlights the four main functions of the product.
Interestingly, the product description is quite catchy due to capital and sentence case letters, which point to its major features.
Notably, the seller included a customer comment that reads "Easiest pool float." This immediately gives prospective customers perception of what other customers who have bought and used the product think about it.
Likewise, the seller made use of quality and detailed infographic images to relate further product features.
Takeaway: To gain trust, previous customer' comments can also be added to the main product description.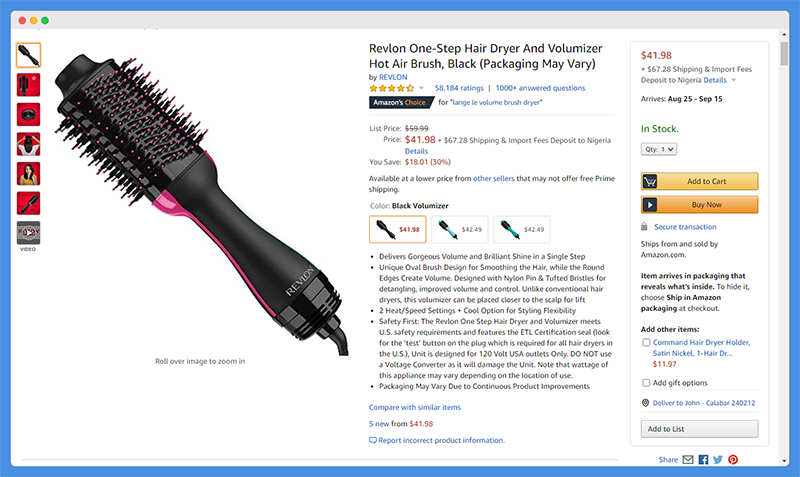 With a simple title and clear images, this product stands out as one of Amazon's best listing examples. Revlon lists this product in different colors and there's a slight price difference among each of them.
Notably, the seller stated in the title that packaging may vary instead of placing the notice only at the product description. This shows how valuable such detail is to the customers.
Although the product description is readable for most customers; however, the infographics highlight all the product features in style.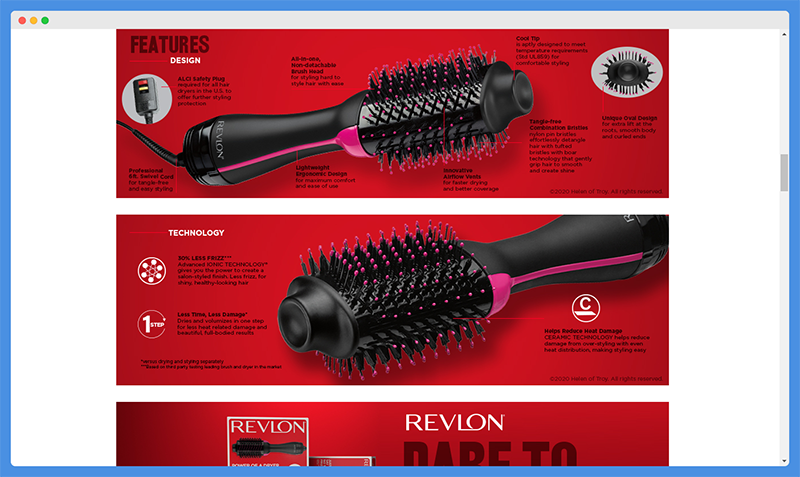 The pattern used for the infographics here is labeling. All parts of the brush are identified, and their functions explained, which includes product design and technology.
That's as much information as any customer would need before they make a buying decision.
Takeaway: As indicated in this product listing, it is imperative to highlight important information to inform the buyers before they make a purchase.
Explore: Ways To Remove Bad Reviews On Amazon
How To Optimize Your Amazon Product Listing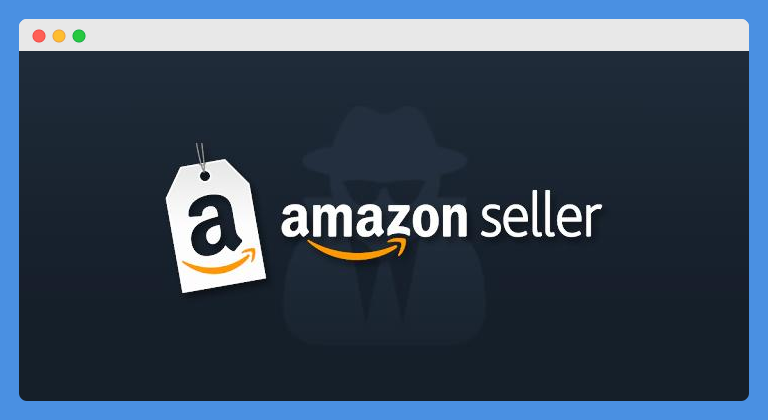 As an Amazon seller, you should optimize your product listing to increase your sales. Besides, a properly optimized product listing will rank higher on the Amazon search results.
Follow these steps to optimize your Amazon product listing:
1. Perform Keyword Research
The primary step for Amazon listing optimization is keyword research. You should first identify the keywords that you want your products to rank for.
For a hassle-free Amazon product keyword research, you can utilize Amazon seller tools. Some popular ones include AMZScout, Viral Launch, and Helium 10.
Most of these tools are premium as they are used for all-around Amazon selling business management, not just product research.
Nonetheless, you should opt for long-tail keywords related to your product/niche, which are relatively easy to rank. Apart from the low competition, long-tail keywords are ideal for higher conversion rates.
2. Create Your Title
The next thing to do is to create and optimize your product title using the keywords you have discovered from your research.
When customers search for your keywords and your product shows up, it is the title that they will see on Amazon search results pages. Hence, you should make them captivating to increase your products' click-through rates.
Put the product name first (this may include your brand) and then creatively add your target keywords using commas (,), pipes (|), or dashes (-).
However, keep the title within a 150-200 character range and don't stuff keywords. Also, avoid capitalizing all texts in the title. Instead, you should aim for a well-detailed title that won't be a hassle to read.
3. Provide Sufficient Product Description
The product description on your product listing should comprise all its features. It should answer the questions – what does the product do and why do people need it?
Thankfully, Amazon allows for multiple product descriptions. The first is the about section that comes right after the title, and the next comes after the product images.
However, the first product description should be concise. All you have to do is highlight only the most essential product details in 5 to 6 bullet points. You can use proper grammar in sentences to captivate the reader's attention.
Conversely, you can supply an in-depth description of your product (features and functionalities) in the subsequent product description section. Blend some of the keywords into the sentences to make them comprehensible when read.
There are also other Amazon product description sections you should consider if necessary. This includes color variations, size variations, purchased together, product model comparison, etc.
4. Use Quality & Detailed Images
The images you provide can make or break your Amazon product listing. Titles and descriptions are just texts, and no one will buy a product without seeing what they are paying for.
Ideally, the main featured image should contain only the product on a plain white background.
You can add 3 to 4 other featured images showing the product from different angles. Also, you can include text on the images as well.
In the product image gallery, a well-detailed product infographic image can be beneficial. Otherwise, you can display 4 to 6 images of your product.
Your images should be clear and of good quality. Moreover, most customers would want to zoom in and read the description of the images.
5. Sell Quality Products
Unfortunately, you cannot directly control product reviews on your Amazon listing. Besides, customers' comments about your product can either increase or decrease your sales.
So, it all comes down to selling quality products. Your product should be according to the product description.
Furthermore, many customers will have questions about your product before purchasing, so you should monitor your listings to answer new customer questions.
That way, you may also get the '1000+ answered questions' tag in your product title section.
Also Read: Ways To Get More Reviews On Your Products On Amazon
Wrapping Up
Although Amazon is a highly competitive online marketplace; however, a stunning product page can give you an edge over other merchants.
Any of the 12 best Amazon listing examples we mentioned above can inspire your next product listing.
To make more sales on Amazon as a merchant, it is best that you optimize your product listings by implementing the above-mentioned steps.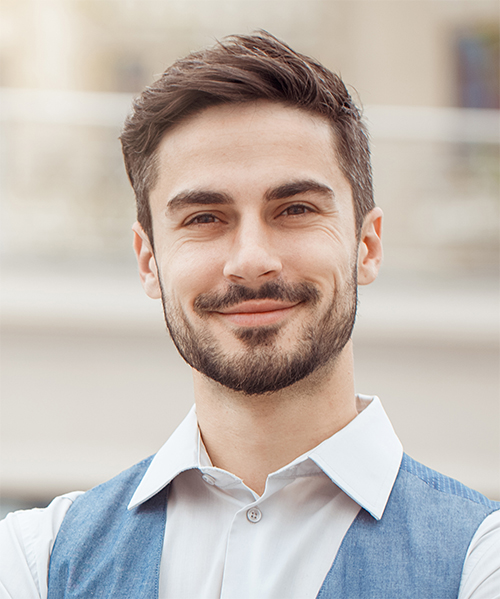 Author: Scott Macarthur
Scott L. Macarthur is a marketing consultant and an online author. He is mostly engaged in providing his expertise to startups and SMBs. He is also an author on TheNextWeb.