Amazon seller feedback can make or break your business.
A research survey reported that nearly 90 percent of online customers said that online reviews affected their purchase decision. This shows why it's important to monitor and respond to customer feedback.
You need to proactively manage customer feedback if you want your business to thrive in the Amazon marketplace.
With Amazon feedback and review tools, you can easily manage and monitor customer feedback and reviews. Using these tools, you can proactively respond to customer complaints in a timely manner.
You can send emails offering discounts or solutions offers to resolve customer complaints.
A good Amazon review tool lets you to instantly respond to incensed customers and convince them to change the reviews by resolving their issues.
But with so many feedback and review tools available in the market, selecting the best one can be challenging.
To make the task easier for you, we have scoured the net and reviewed seven tools that offer the best features at a reasonable price tag.
We have also listed additional tools that don't make the cut, but can be considered if none of the top seven feedback and review tools suit your requirements.
So let's get started and help you finding the best Amazon feedback tool.
1. Jungle Scout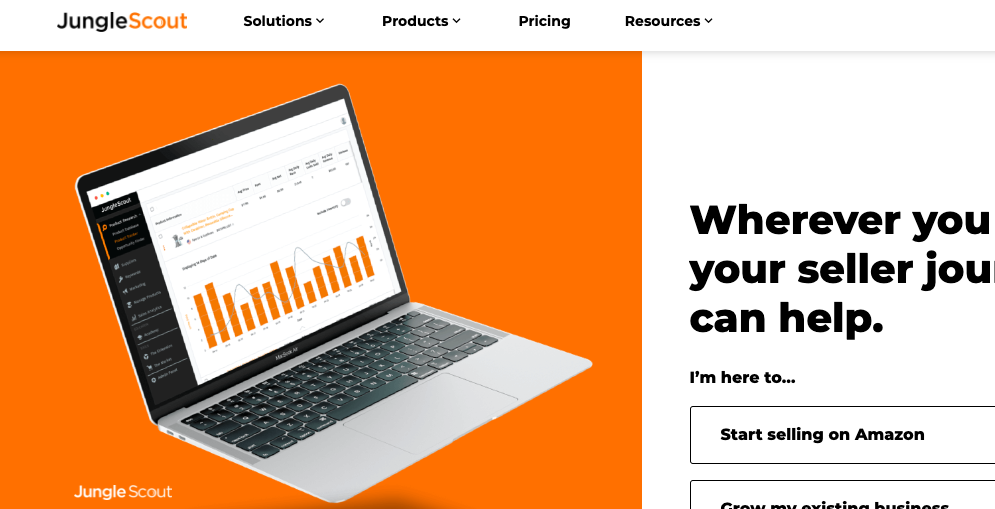 Jungle Scout will help you promote your website for improved feedback. The software will help in spruce up the promotional campaigns to solicit positive feedback from the customers.
You can include emojis and gifs to create a personal tone with the message. Before launching an email campaign to solicit feedback, you can also carry out A/B testing. You can fine-tune the message to ensure maximum feedback from customers.
The software also has presents a graph that lets you see feedback during the past month and week. This is a great way to know the feedback received during a particular period.
You will know the effectiveness of the program in improving the relationship with customers.
Jungle Scout is not only the best feedback software for Amazon but number one tool for FBA sellers in the market.
Jungle Scout: Quick Overview
Feedback overview
Generate keywords for listings
Track competitor products
Research Amazon product niche
Quality supplier search
Jungle Scout Pricing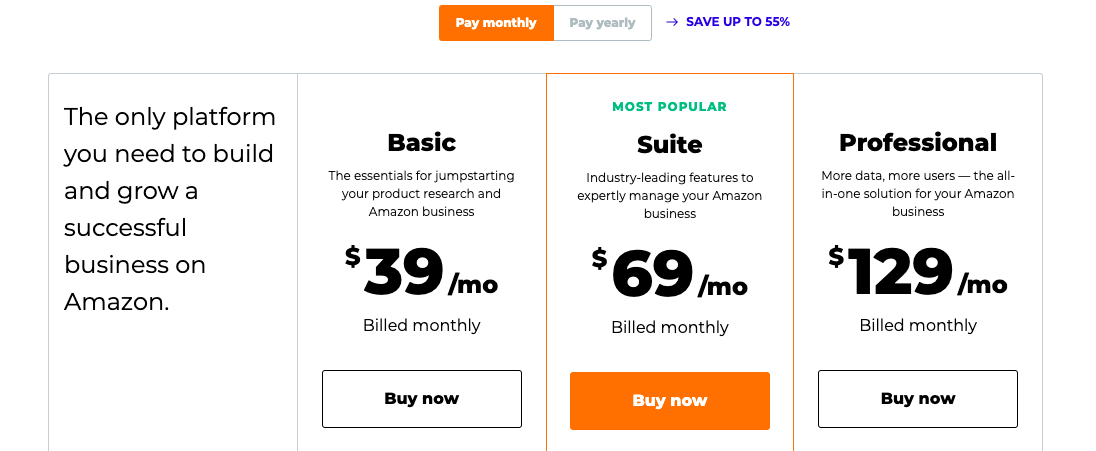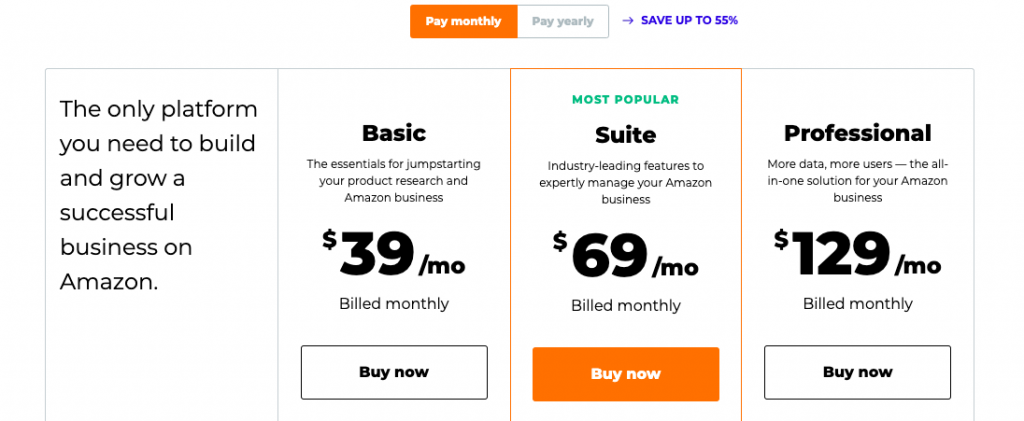 Jungle Scout Chrome extension is now a feature and all paid members can use it. Check Jungle Scout pricing page for latest plans.
2. FeedbackFive
FeedbackFive is another great Amazon Feedback tool. The software allows you to reach Amazon buyers and request them to share reviews.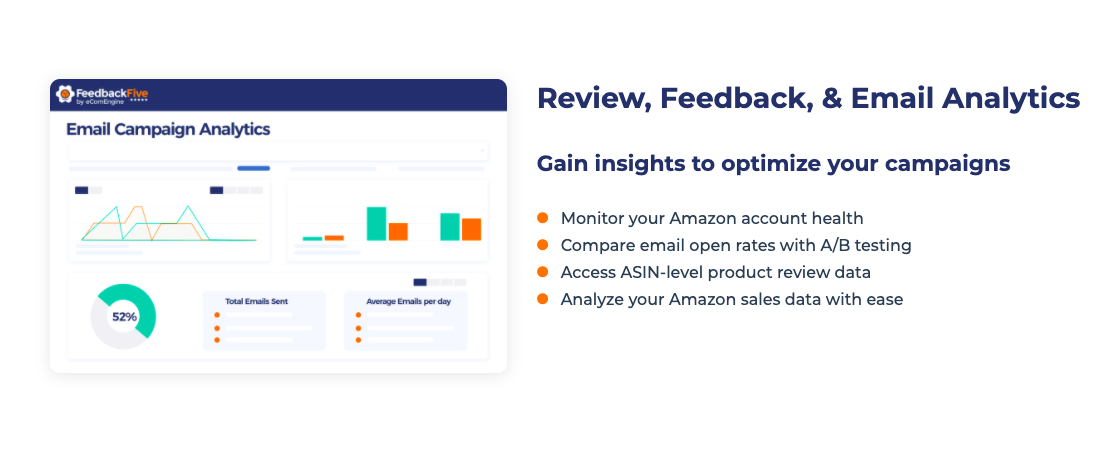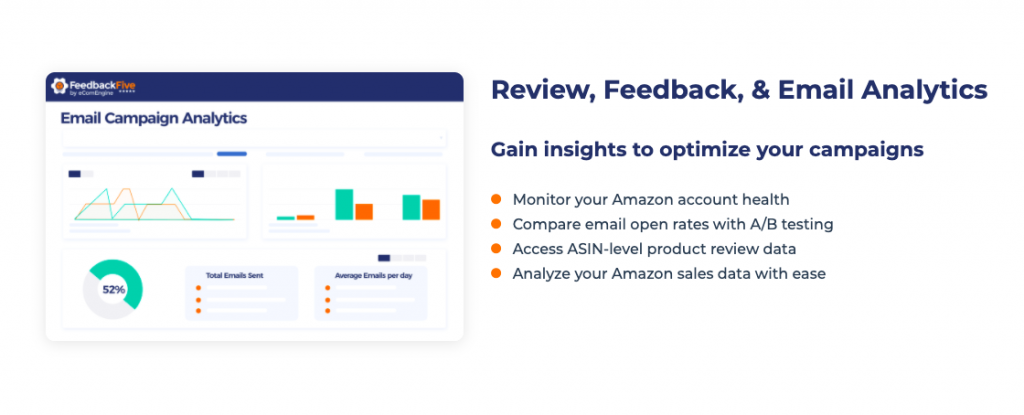 You can track the feedback of the clients and proactively respond to the emails. The software allows you to deal with negative feedback in multiple ways. You can set up alerts for negative feedback.
A great feature of the software is that it allows you to keep track of the activity of selected products.
You can monitor your top selling or high markup products sold on Amazon.
A standout feature of this software is the number of emails it can send to customers. The software can send 1 million emails.
No other software can match the offer. This makes it the ideal feedback monitoring app for large Amazon sellers with millions of sales each month.
The feedback and review of tool software are perfect for booming businesses. What's more, they can avail the feature for only $899.99 per month.
The fee is paltry compared to the millions made by large Amazon sellers. The software offers great value for money for big businesses in managing customer reviews and feedback.
The program can send automated emails to customers. This saves a great deal of hassle and time in managing a large number of customers.
Lite version of the software is free that supports up to 50 monthly emails and two campaigns.
This makes the software ideal for new Amazon sellers. Once the business starts to grow, business users can scale up according to their exact needs.
FeedbackFive: Quick Look
Reputation management
Supports FBA merchant account
Build templates using email wizard
Add targeted links for buyers to submit reviews and feedback
Support multi-country domains including Amazon.au, .uk, .de, .es, .mx., .in, .fr, and more.
Exclude orders
Send emails to unlimited users
Email analytics
FeedbackFive Pricing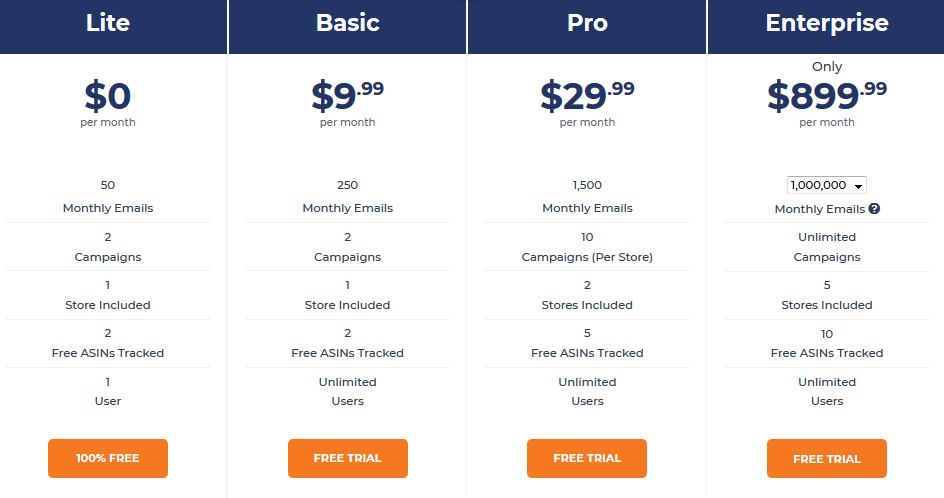 Check pricing page for latest plans.
3. FeedbackExpress
FeedbackExpress is also a top rated Amazon feedback and review tool. The program allows sellers to improve ratings by promptly responding to negative reviews.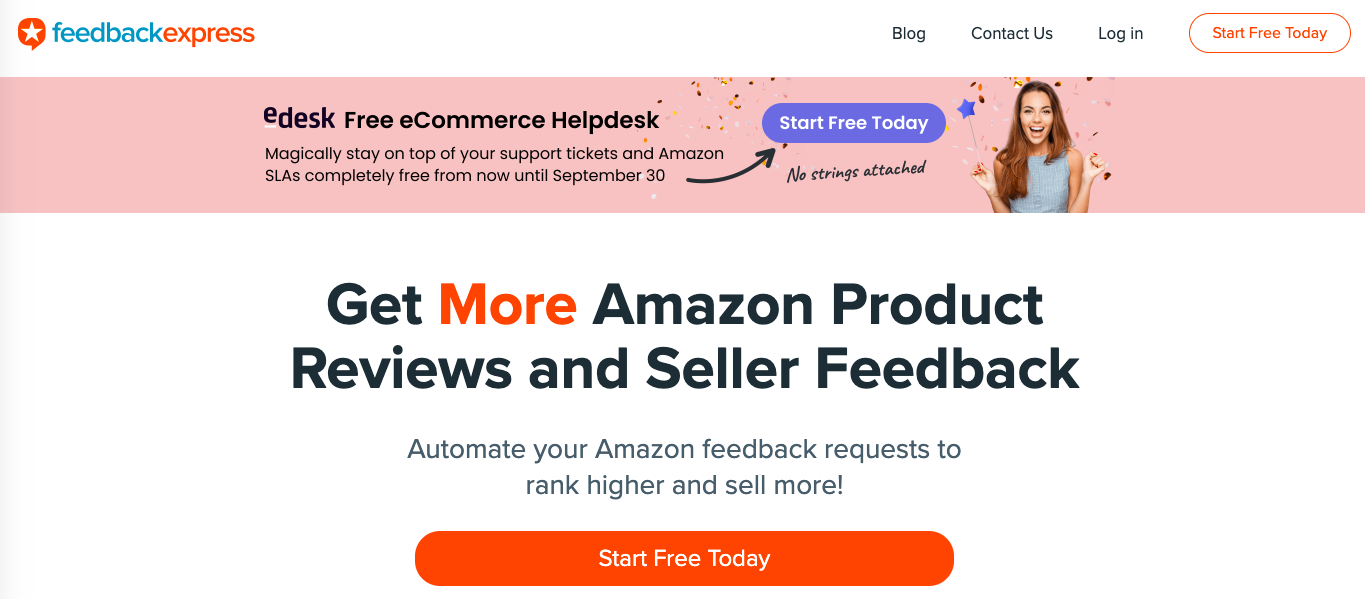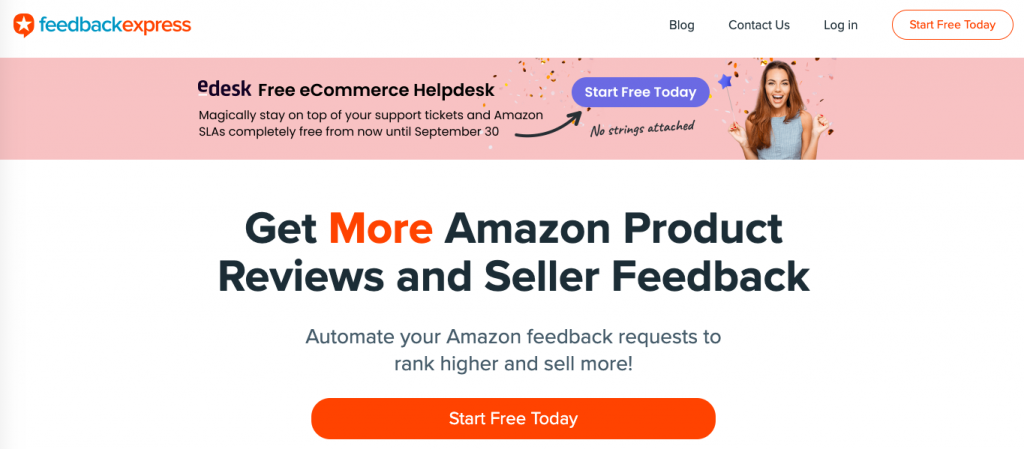 You can automate the email delivery using different filters. The software allows you to refine the campaign by adding certain conditions.
You can opt to include and exclude certain products and locations. Also, you can schedule the message to be sent after a specific number of days after confirmation of the order.
The software is ideal for you if you serve customers in non-English speaking EU regions. You can access templates in German, French, Italian, and Spanish.
You can have the software auto insert titles, images, order information, company logo, and links to writing a review.
A unique feature of this software is that it allows you to submit a request to Amazon to remove negative comments the moment they are posted.
The software will generate a message containing Order ID that you can send to the online retailer.
The dashboard of the software is clean and simple. You will find the right information quickly and easily. The campaign option allows you to receive instant feedback regarding the customers.
You can know the percentage of customers that are satisfied and dissatisfied with the services.
You can view not just statistics about negative and neutral feedback but also positive feedback. The software also allows you to set email campaigns.
You can send surveys asking the customers to share their experiences regarding the product or service.
The campaigns are focused on allowing you to achieve specific goals such as gaining feedback, customer service, and product reviews.
In short, FeedbackExpress is a wonderful Amazon feedback tool.
FeedbackExpress: A Quick Look
Default and customized templates
Automated feedback response
Instant alert notification on mobile
Multilingual personalized emails
FeedbackExpress Pricing

Check pricing page for latest plans.
4. BQool Feedback Central
BQool is one of the best feedback management tools with AI functionality. The feedback tool will recommend the optimal email schedule to respond to customer reviews.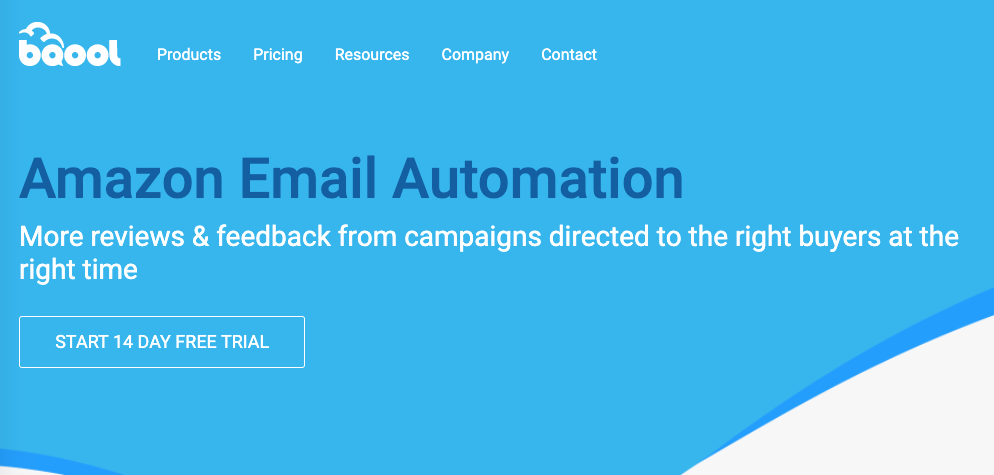 This Amazon feedback and review software allows you to receive notification about feedbacks and reviews, send automated replies, review overall customer feedback, and solicit feedback from customers.
Using the software, you can monitor all Amazon reviews and feedback effectively. The software can match the best delivery time for different feedback.
You can manage email campaigns easily from the Feedback Central dashboard. You can edit information about the store, set daily email limit, and copy email campaigns.

A great thing about the software is that you can filter feedback and reviews. The filters will allow you to target more specific customers.
You can target negative and neutral feedback using the filters. Also, you can send a late shipment notification in case a buyer does not receive the shipment by a specific day.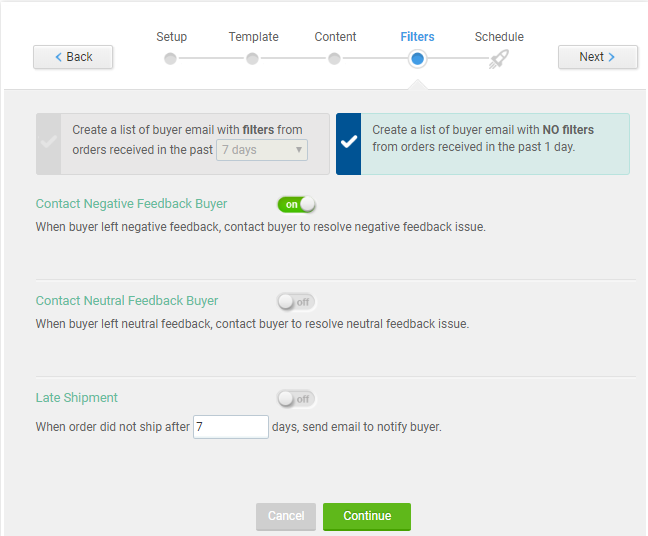 Another great feature of BQool Feedback Central is its ability to schedule deliveries. You can schedule emails for Fulfilled By Amazon (FBA) Orders and Fulfilled By Merchant (FBM) Orders.
You can also set email delivery time when scheduling the emails.
From the Emails menu, you can manage different emails including pending emails, blocked emails, sent emails, and opt-out-emails that contain emails that were not sent to customers due to any reason.
The record of blocked emails will be kept for 30 days while the sent emails will be kept for 60 days.
You can search for emails using the Campaign Email Filters option. This allows you to zero in on emails sent on a specific date or time and by a specific buyer.
For instance, you can view emails that were sent in the past week or month to a specific customer.
A unique feature available for Amazon sellers with EU customers having over $50 subscription is the VAT Invoice Management feature.
The feature allows you to automatically generate VAT invoices for customers in the EU.
BQool Feedback Central: A Quick Look
Feedback and review alert notification
Automatic Feedback and review request
Graphical Feedback performance dashboard
Customizable and default email templates
Buyer blacklist management
VAT Invoice generator
Flexible AI-powered email delivery scheduler
Email Filters
BQool Feedback Central Pricing Plans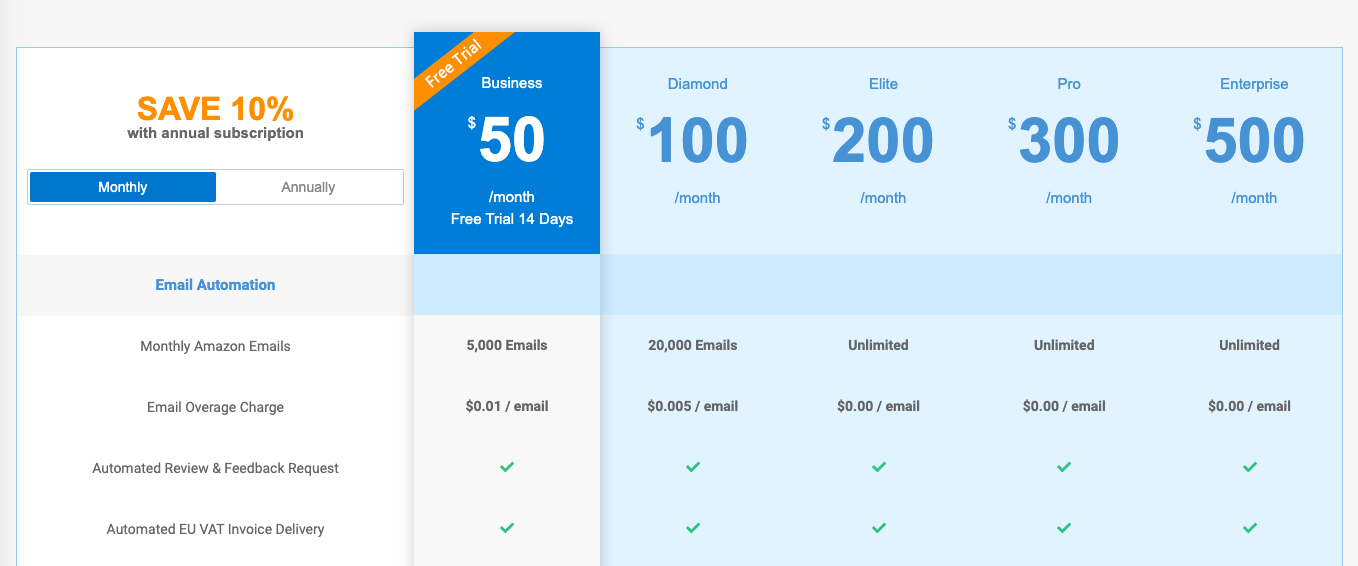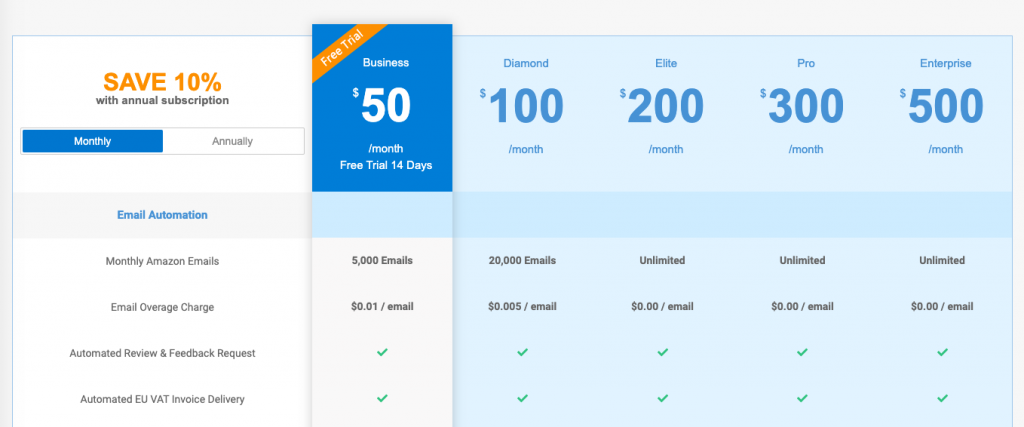 Check pricing page for latest plans.
5. AMZAlert
Next on our list of best Amazon feedback software is AMZAlert.
The highlight of the program is negative review monitoring. The software will alert you through an email or text whenever someone gives a negative review. In this way, you can appropriate action to respond to the reviews.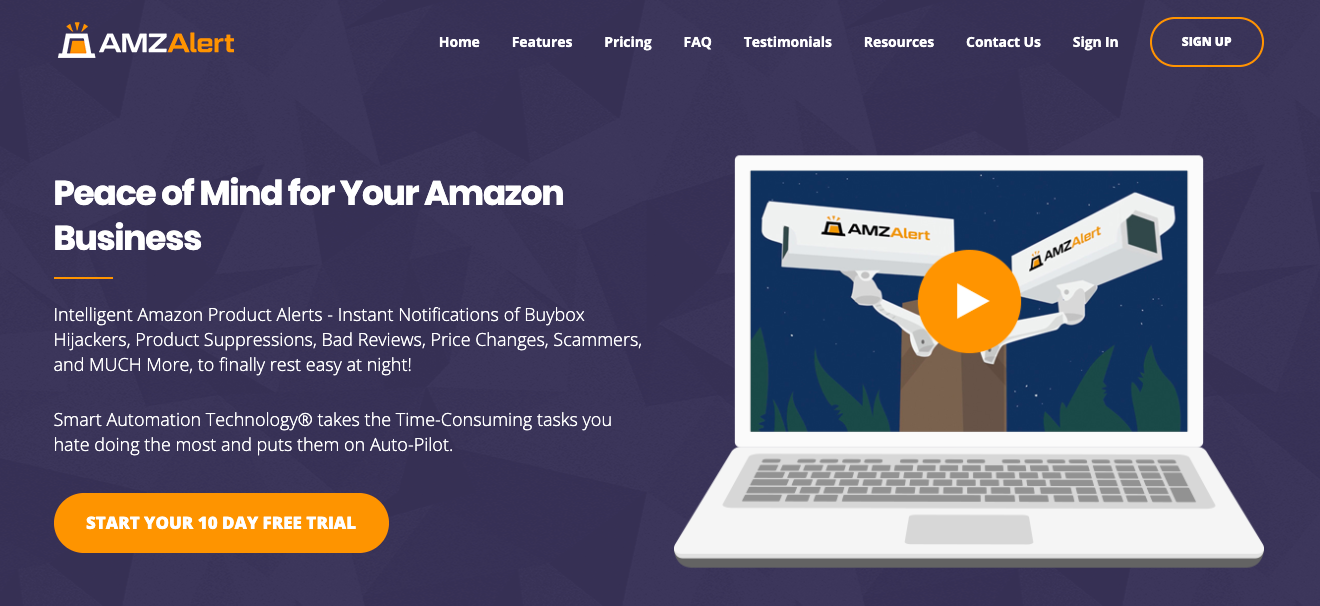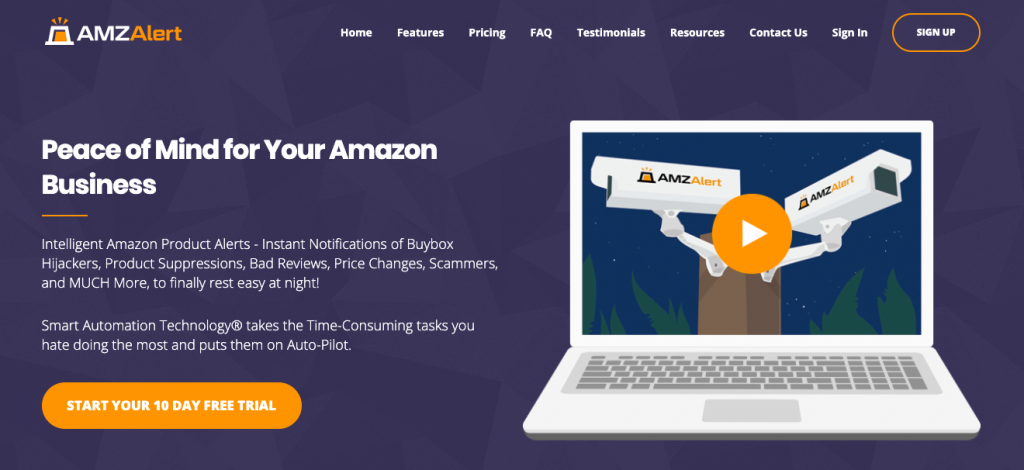 You can mark the review as unhelpful or respond to the customer. In this way, your online reputation won't be negatively affected.
You can view new and most recent reviews. Also, you can view negative reviews that are top rated by other users.
The program sends you updates about negative reviews and review rating change. You will be notified instantly when someone changes the rating or product star. Also, you will know when reviews are deleted.

A great value-added feature about the software is security against hijacking of Amazon listings. The software will alert you in case the authentic listings have been replaced with fake items.
The application can notify you about a hijacking incident and also sends a cease and desist letter automatically.

With this software, you can also monitor your top Amazon keywords. You can search the top keywords that buyers use to search for your products.
The software will notify you when the ranking of specific keywords has increased or decreased. You can then take action to boost the overall traffic to the store.
Amazon customers have a high purchase intent towards top product listings. By monitoring and optimizing the rank of Amazon listings, you can know when to take action to boost traffic to your store.
AMZAlert: A Quick Look
Amazon Negative Reviews alerts
Amazon Product Listing alerts
Amazon sales/marketing alerts
Automatic email response
Mobile alerts
AMZAlert Pricing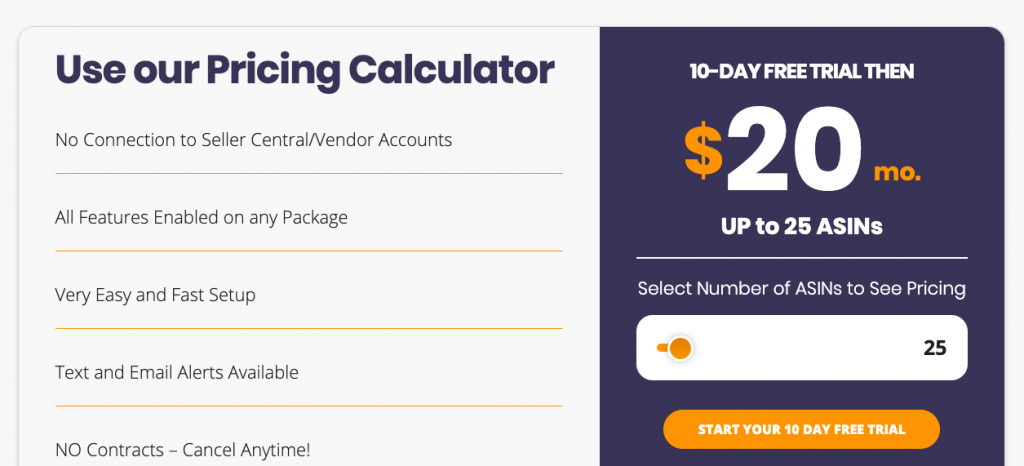 Check pricing page for latest on plans.
6. SellerLabs Feedback Genius
The best Amazon feedback software have a thing in common. Not only they are easy to use but they offer several useful features.
SellerLabs Feedback Genius can help you to easily manage and monitor all types of customer feedback. The software allows you to manage customer feedback and respond to them in a timely manner.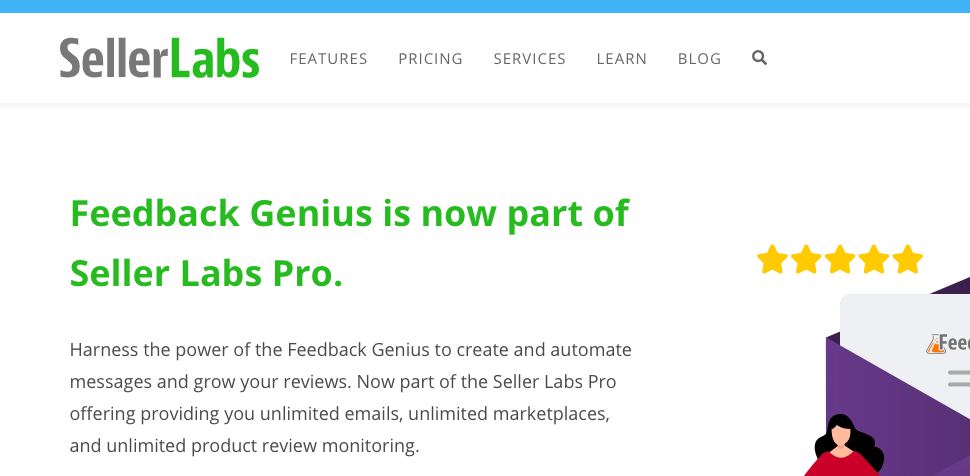 The software notifies you when someone gives a review on Amazon. It supports from 100 to 60,000 emails. With this software, you can ensure that communication with the clients is efficient.
A great feature of the program that you can benefit from is A/B testing. This feature allows you to create two templates and send them to different clients to see which ones result in the most response.
This is great in soliciting positive feedback from the clients.
You can use SellerLabs Feedback Genius with multiple Amazon marketplaces. The software allows you to select from eight different marketplaces.
You only have to pay a small additional fee to set up for each marketplace. This is something that is not offered by most other feedback and review software.
Yet another highlight of the software is the Actionable Message Analytics. This allows you to open and view feedback and rates for different messages. You can use the information to optimize customer feedback.
The message delivery filters is another highlight of the software. The program has more the 10 filters that let you pin down a specific message.
The granular filters allow you to send a message at the right time and to the right buyer.
SellerLabs Feedback Genius: A Quick Look
Automate buyer-seller emails
Request buyer feedback
Monitor feedback
Manage up to 8 Amazon marketplace
Feedback Genius Pricing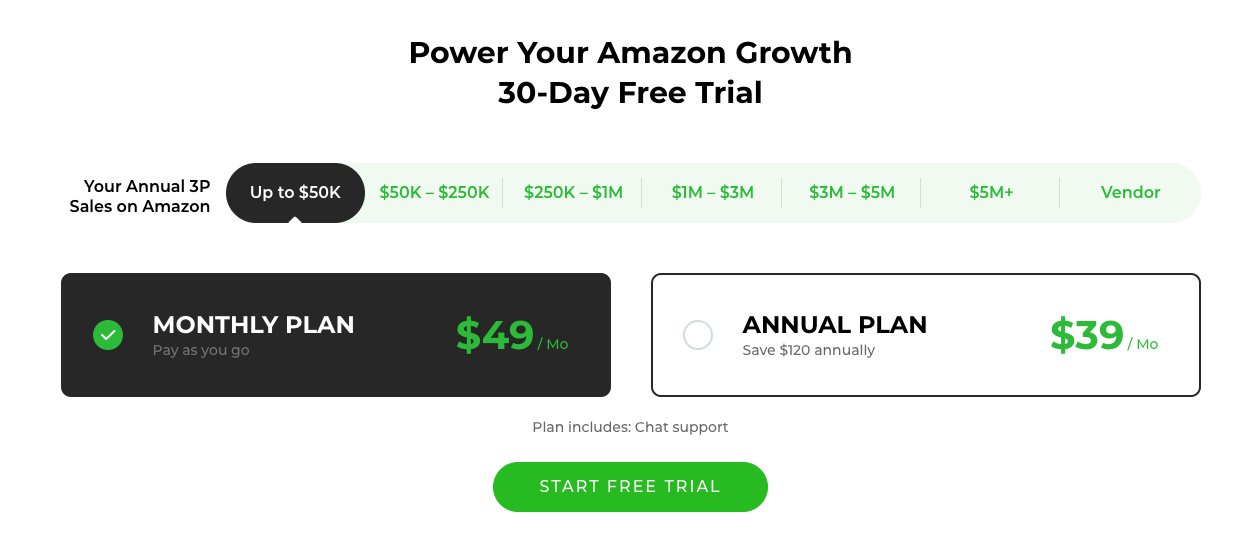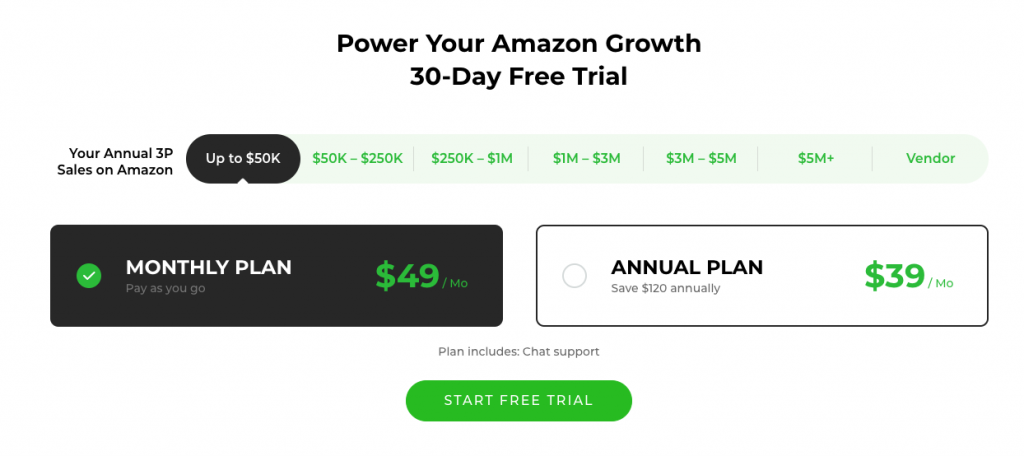 Check pricing page for latest on plans.
7. xSellco
xSellco is another Amazon review management software which is quite promising.
xSellco can help you easily monitor all types of customer feedback. You can use the software for reaching out to customers. The program works will all Amazon online marketplaces and domains.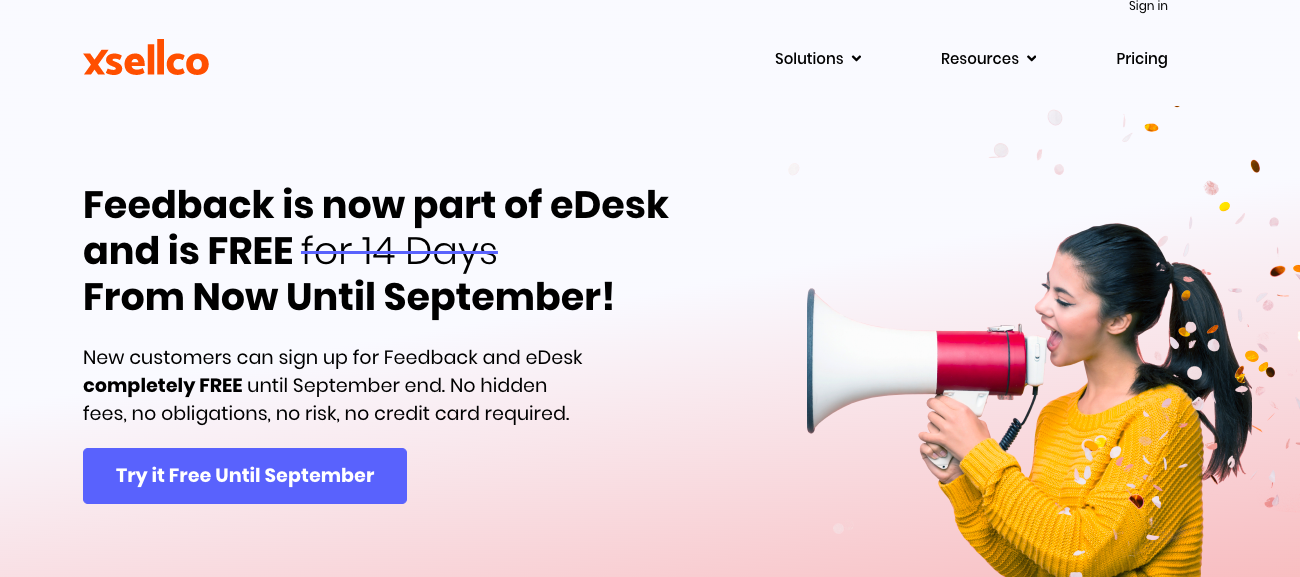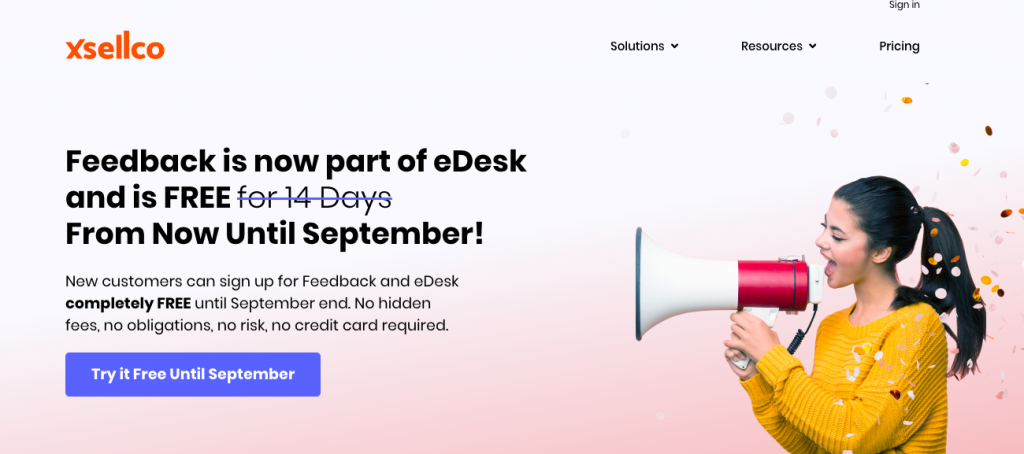 Apart from Amazon, the software can also integrate with Shopify, TrustPilot, eBay and many other online marketplaces.
No extra fees are charged for additional marketplaces. This makes it a cost-effective option for managing multiple marketplaces not just in Amazon but also elsewhere.
Yet another great feature of this software is A/B testing. Similar to the SellerLabs Feedback Genius, this software also allows you to test different email messages to find out which one gets the best response.
The software also allows email scheduling like other feedback and control software. You can schedule emails to be sent automatically to users once they purchase the product.
xSellco: A Quick Look
Manage feedback from Amazon, eBay, Shopify, Walmart, Facebook, Twitter and more
Respond using AI generated replies
Ensure timely response through automated replies
Send thousands of emails automatically
xSellco Pricing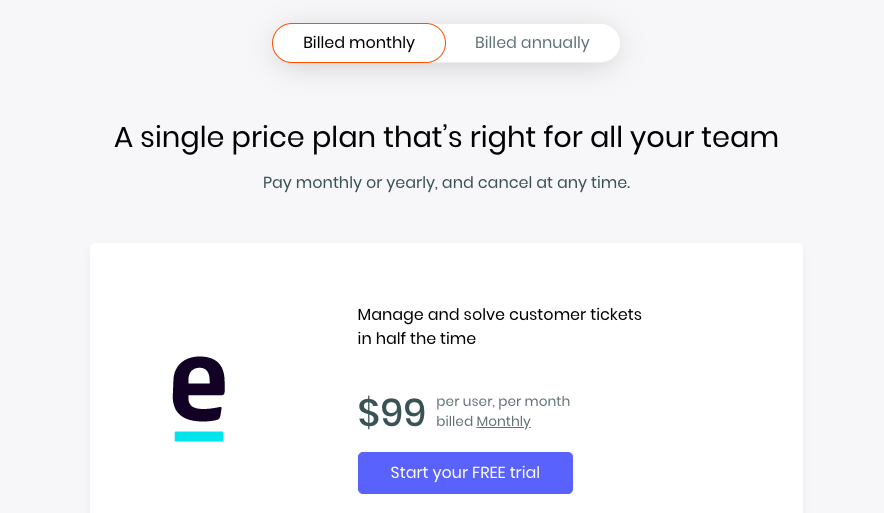 Check pricing page for latest on plans.
Notable Mentions
Feedbackwhiz
Another Amazon feedback monitoring tool that you should try is Feedbackwhiz. The software consists of a number of tools that can help in monitoring feedback and analyzing reviews.
With this software, you can build automated email campaigns for different items. The emails can be personalized by adding emojis and other features.
Give this software a go if you want a simple and easy to use feedback management tool without complex automated features.
Related:  Feedback Genius vs Feedback Whiz
CashCowPro
CashCowPro is an online tool that will appeal to you if you want a software that does more than Amazon review management.
While the software does support unlimited automated emails and feedback collection, you can also use the software for getting more insights about the sales.
The software can calculate net profit figures, ROIs, and track SKU data. This software can also monitor the ranking of different keywords.
Other things that you can do with this software include analysis of bestsellers, inventory monitoring, and A/B testing.
This software didn't make the list of best seven feedback monitoring tools because it's not a specialized tool for managing feedback.
However, if you contend with the basic feedback management features of the tool, you should give this a try.
SageMailer
SageMailer is a decent Amazon feedback management software. It allows you to connect to the seller account and manage negative reviews.
You can send customized emails to customers to resolve complaints and boost ratings. The software will notify you about the feedbacks given by the buyer. You can take appropriate action to respond to all customer queries.
The software makes it simple to manage all feedbacks from the dashboard. You can view the buyer's information that can be used to create an appropriate customized response.  You can respond using default templates.
With the tool, you can manage ASINs without having to log in to the account. The software allows you to respond to reviews about the best selling products.
With the custom filter option, you can respond to orders placed up to a month before signing up for an account. You can receive feedback from the first day of signing up for an account.
efficient Era
efficient Era is another Amazon feedback management software that you can consider. The tool can help you monitor and respond to customer queries and feedback automatically.
Apart from feedback monitoring, you can perform other functions with this software. The software features a range of other activities like buyer reviews, email automation, reviewer matching, and bulk order notification.
You can also view a sales chart that will help you get an overview of the performance during a period.
ZonMaster
ZonMaster is a feature-rich Amazon review management tool. The software allows sending of more than 200,000 emails in a day automatically.
The software supports Amazon marketplace in different regions in North America, Europe, Japan, Australia, and Japan.
With ZonMaster, you can track feedback, request for reviews, and manage customer concerns from the dashboard.
The easy to understand dashboard allows you to schedule email. You can set conditions for sending emails.
For instance, you can set a condition to send an email one day after being shipped to orders placed after 24th October at 12:00 pm on Amazon.co.au.
You can see a real view of the business from the dashboard including orders shipped, emails sent, and clickthrough rates.
Here is the list of features it offers:
Review matching of orders
Email alerts
Flexible scheduling system
Dozens of personalized variables
Negative feedback alerts
Email alerts
Sales rank monitoring
ZonMaster can't be ignored when talking about the best customer review software.
Final Remarks
In a marketplace with so many similar priced products, the only way you can differentiate your products is through high customer satisfaction.
Amazon feedback tools can help you to proactively respond to customer reviews and turn a negative interaction into a positive one.
The above feedback review tools will help you to manage queries in a timely manner.
You will be able to create customized messages for soliciting positive reviews.
Make sure that you properly review the features and select one that best meets your Amazon feedback monitoring and review management needs in your budget.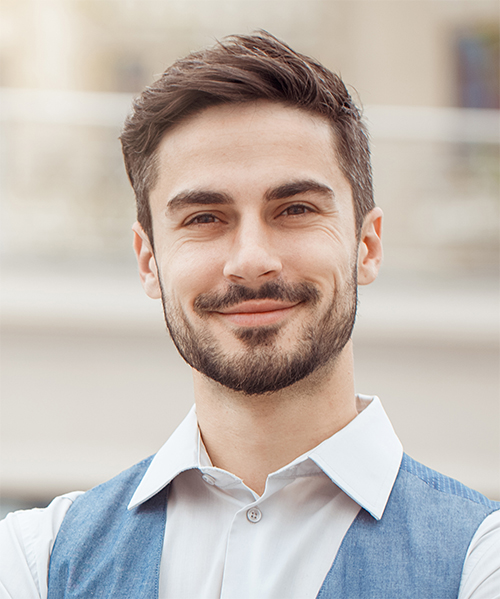 Author: Scott Macarthur
Scott L. Macarthur is a marketing consultant and an online author. He is mostly engaged in providing his expertise to startups and SMBs. He is also an author on TheNextWeb.