Editor's note: Be it keeping an eye on the traffic, measuring ad campaigns, or tracking store performance, Google Analytics is a must for online stores. If you have your shop on WooCommerce, you can use one of these plugins. For any other help related to WooCommerce plugin development, contact EbizON for a first-rate experience.
WooCommerce websites can benefit a lot from Google Analytics plugins.
Google Analytics can provide a lot of insight in to how products are trending on websites and which products are receiving the most traffic and why.
Basing your business decisions on empirical data is crucial to actually making a profit.
There are four main areas that you need to focus on including audience (the people visiting your site), acquisition (how they're making their way to your site), behavior (what they're doing on the site when they get there), and conversions (do they actually do any value added activity on your website while they are there).
These insights can help WooCommerce websites rake in more traffic and get a much more widespread audience.
More than increased traffic, the Google Analytics plugins for WooCommerce can help you find out what your niche is and how to tap it better.
With specific data and reports broken down by demographics and geographical location, you can find out where your products are trending and why.
Not only this, you can use this information to improve how your website functions, how you reach your customers and how they respond to your marketing campaigns.
You can also improve the usability of various features on your websites and add the ones that your audience is requesting.
That's a data gold mine for WooCommerce entrepreneurs and can help their platform grow better and faster.
Related : Best WooCommerce Dropshipping Plugins
Best Google Analytics Plugins For WooCommerce

MonsterInsights is one of the most popular Google Analytics tools.
It has nearly 2 million active installs and is one of the highest rated plugins on the site.
It has a free and premium plan as well as features that are distributed according to your needs and budget.
The plugin allows you to connect your Wordpress site to the Google Analytics platform.
Once it is installed and activated, it'll ask you to first enter the Google Analytics tracking code and then it will begin tracking all your visitors as well as the downloads and external links from your website.
MonsterInsights Features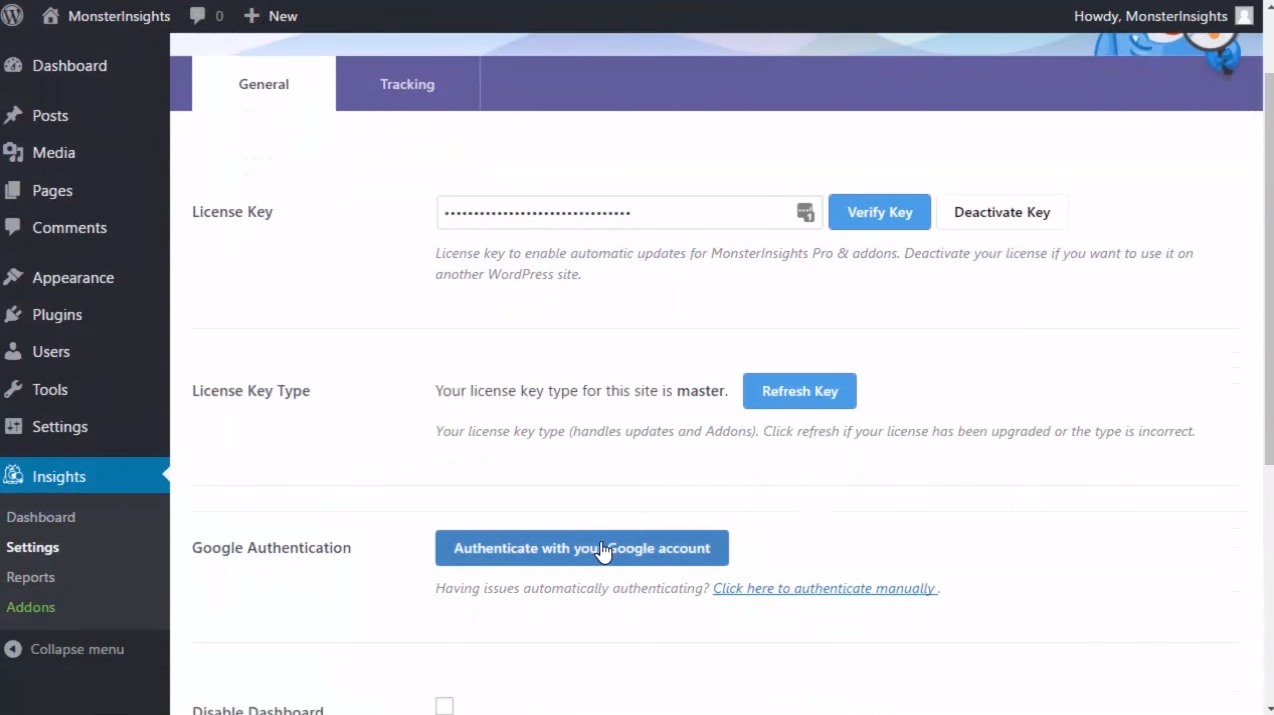 MonsterInsights has a lot of tracking features. It tracks all the downloads, visitors, searches, external links, and 404 page error hits on your website.
The plugin also preloads a lot of filters so that you can identify a lot of customers based on their demographics and their location.
This way you can better identify what your niche is and where you can most focus your marketing on.
Other features include the following:
Real time statistics
Universal tracking and ecommerce tracking
A quick setup process
Tracking for ads and file downloads and external links so that you can be sure which customers are interested in which features of your website the most
Enhanced link attribution
Related : How To Use Google Analytics To Increase Your Ecommerce Conversions
MonsterInsights Pricing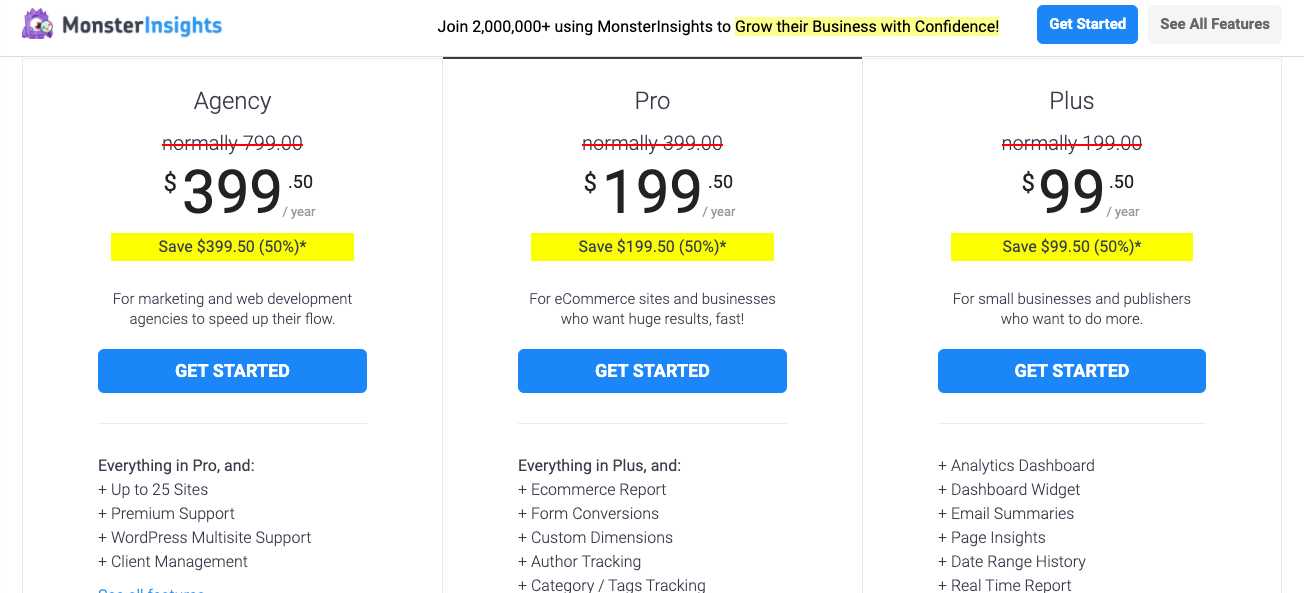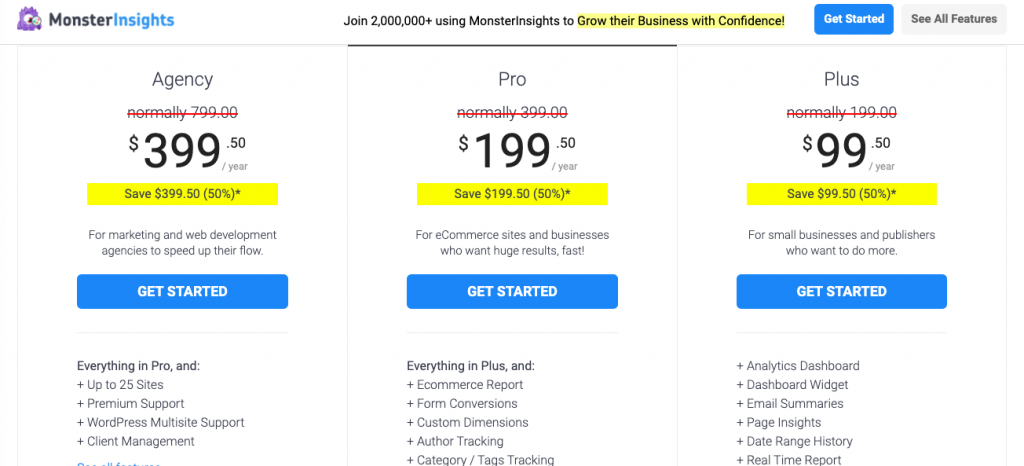 Depending on your plan, you can do a lot with MonsterInsights.
There is a free plan with very basic features but if you want the best analytics for yourself, you should get the paid plans.
The plans range from Plus ($99) to Pro ($199) and finally, Agency ($399).
The Plus plan which is the most basic, offers the fundamentals of website tracking and analytics and a standard license.
It only offers these perks for one site and is for publishers and business that want to do "more".
The Pro plan offers the same functionality for 5 sites and offers further tracking capabilities and SEO support.
This plan is much more comprehensive and offers the best value for money. However, the Agency Plan goes further and offers the same functionality for 25 sites.
The Agency plan is overkill to be honest. If you have basic needs and don't want to go overboard, you should stick with the Pro plan.
And if you want to try out the Google analytics platform for the first time, you should stick with the Plus plan.
The Google Analytics Dashboard for Wordpress is a great plugin. It targets those who have minimal budgets but need in depth reports about who visits their sites and when.
Google Analytics Dashboard Features
The data that you get with the plugin monitors page views, bounce rates (how many customers visit your site only to immediately leave), referrers traffic (how many of your visits are by referral links), 404 page errors and locations.
There are also customizable events and dimensions that you can add through the plugin.
It also monitors the downloads, the emails, the external links and the affiliate links that originate from the website.
Related : How To Create Links For Your Ecommerce Store
This helps you narrow down where your most valued customers are coming from and how to target more like them.
A number of other features include:
Real-time number of visitors
Real-time traffic source details
Overview of sessions and organic searches
Enhanced link attribution
Ecommerce support
Google Analytics Dashboard Pricing
Google Analytics Dashboard is free for Wordpress. However, there are caveats to this.
Due to this plugin being free, you don't get much customer support at all, and you also don't get features that you get with MonsterInsights like control of more than one website.
However, if you're looking to try something out and get a lot for free, Google Analytics Dashboard is definitely the one for you.

Analytify is easily the best Google Analytics plugin for Wordpress. It has nearly 230,000 downloads and has a reputation of making analytics simple.
Not only is it available for free for basic plans, but it also offers greatly priced plans for advanced analytics.
Related : Best Google Analytics Alternatives
Analytify Features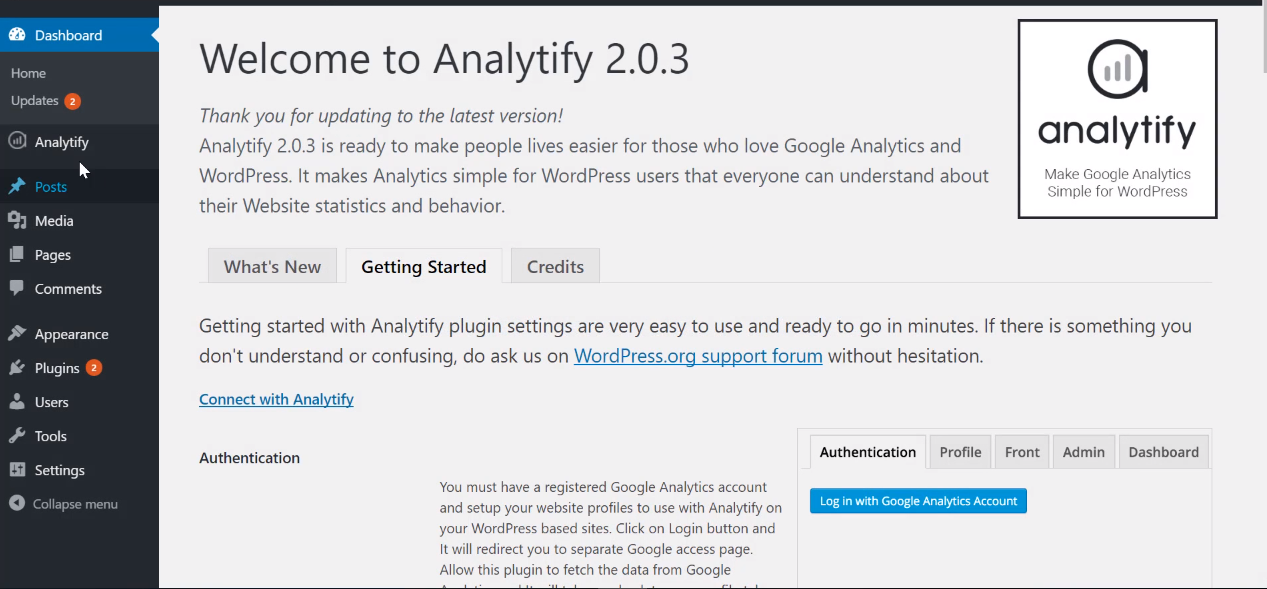 Analytify is another great plugin for ecommerce store owners using WooCommerce. Unlike other Google Analytics plugins, Analytify doesn't require you to copy any codes and go through a tedious authentication process.
It automatically adds a Google Analytics tracking code to your website. This is a great help, since it makes the process faster and makes for just one less thing to do.
The tracking features for Analytify include the usually suspects like page views, referral links, external links, downloads tracking, tracking email notifications, etc.
However, it also includes social media statistics and top referrers.
One of the best things about analytify is that it gives you an expanded view of what your major statistics are and what they were before and how they both compare.
This goes beyond the aesthetics and capabilities of many other plugins.
In the edit screen of a page or post, you can even see how that single post or page has been doing.
This type of detailed information can hardly be gotten in most other premium plugins, let alone free ones.
The pro version also adds some perks like real time statistics, campaign statistics and tracking etc. Other features include:
1-click authentication
Email notifications
Specific WooCommerce support and Easy Digital Downloads etc.
Analytify Pricing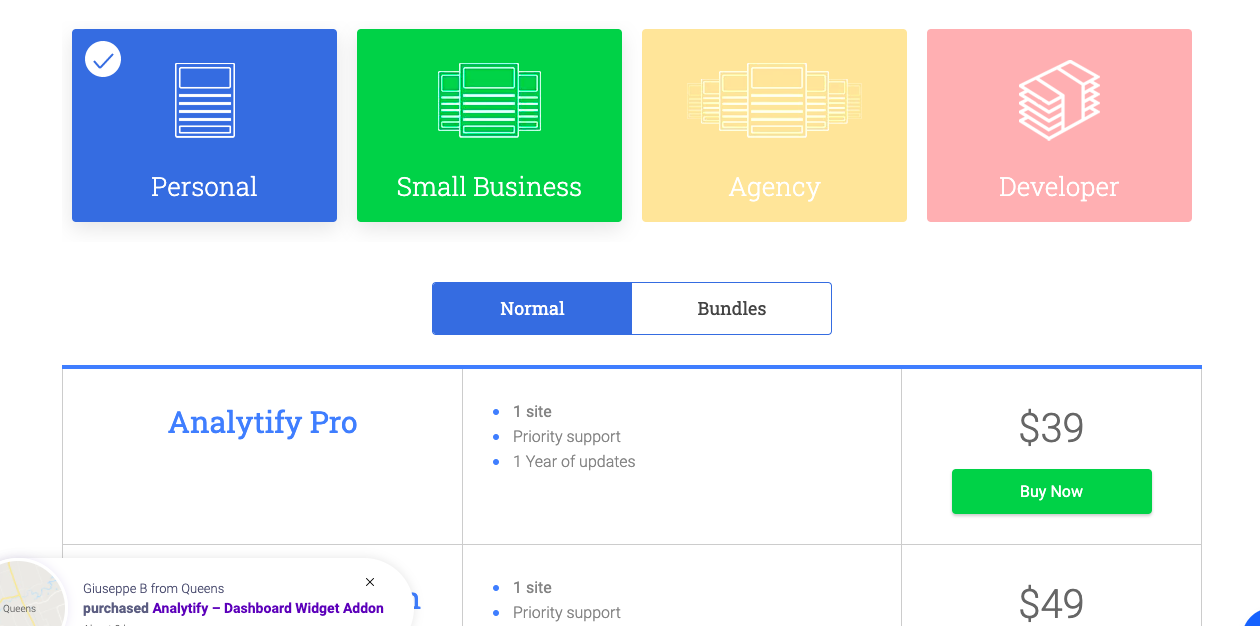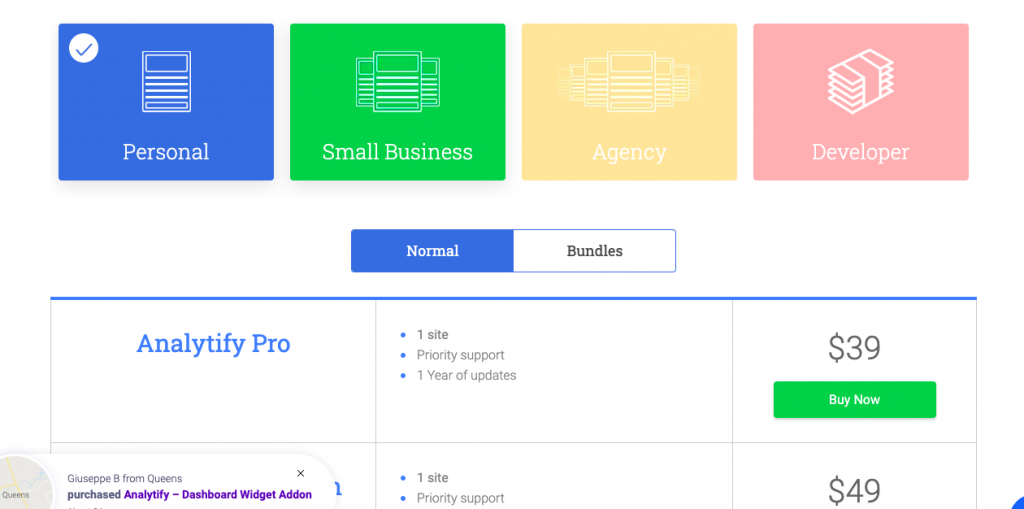 Analytify can be gotten for free, but it offers very basic features and if you want to get the best of what the plugin has to offer, you should go for one of the premium plans.
The plans are divided in to four categories; Personal, Small Business, Agency, and Developer.
The Personal plan offers a single license for one site and includes all the pro features.
The subsequent plans are $69 for 3 site licenses, $99 for 10 site licenses, and $199 for 100 site licenses.
If we compare and contrast with the options before us, Analytify is actually the best value for money so far on this list.
It offers all the perks of the pro features in every premium plan, but offers control over a greater number of sites.
You can also go with the bundle package in each plan which offers add-ons like WooCommerce, EDD, Campaigns and Email Notifications.
Analytify offers full refund within 14 days if you are not satisfied.
As for the Agency plan, it offers greater value for money than the one that MonsterInsights offers.
Hence, up till now, the clear choice is Analytify.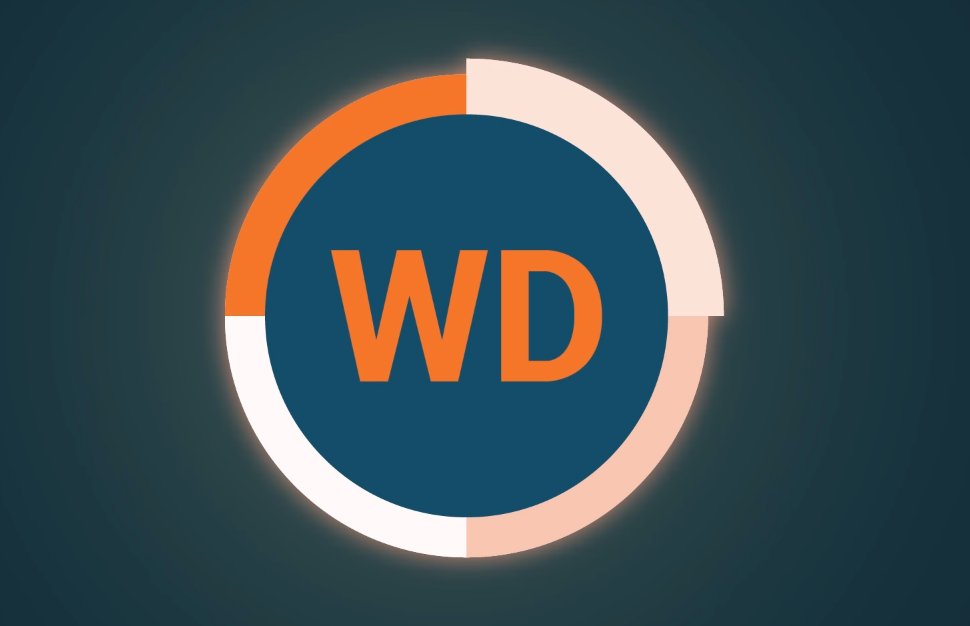 Another popular WooCommerce Google Analytics plugin is Google Analytics WD.
Google Analytics WD is a plugin that functions on the principles that both MonsterInsights and Google Analytics Dashboard for WP follow.
It's a free plugin with some premium features that you can add with a few bucks.
It has features like 1-click addition of a tracking code to Wordpress, as well as the reports that you need for your WooCommerce site.
There is also an option to see detailed information for specific pages and post reports. You can also track outbound link clicks as well as downloads.
Google Analytics WD Features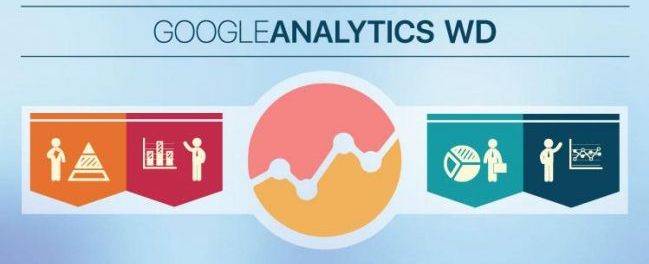 You get all the basic functionality that you've seen with other Google Analytics tools with WD.
You can track outbound links, you can view the top performing pages, and you can break down the visitors by geographic location and demographics.
You can also view the bounce rates, the comprehensive reports relating to your various posts and the referrals that you've gotten over the months.
The Pro version of the app has better options like unlocking data from AdSense, AdWords, and tracking exclusions.
You can also receive pushover notifications, site speed, ecommerce reports etc. with the Pro version.
You also get a beautiful user interface with Google analytics WD which you can customize the way you want.
Google Analytics WD Pricing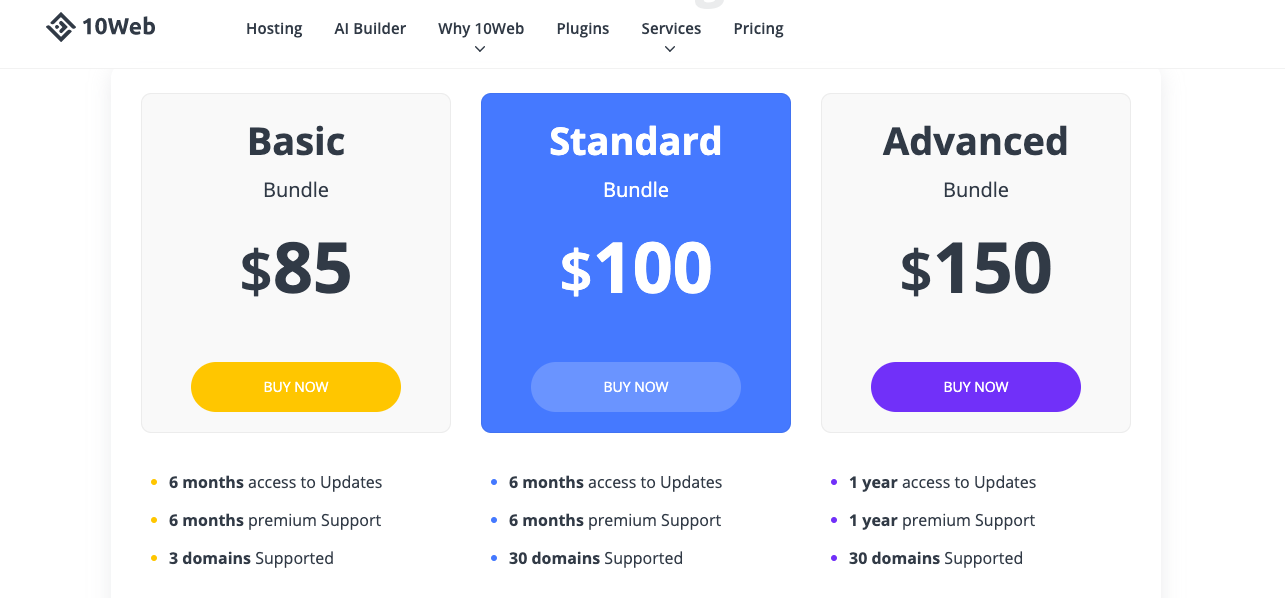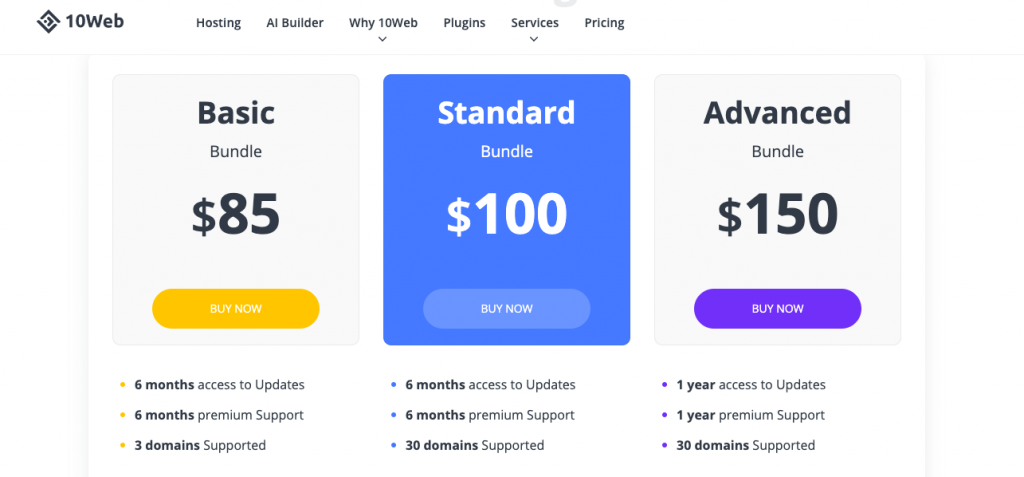 You can buy one of the plans at 10web. It gives you access to over 15 plugins which also includes Google Analytics WD. Prices start from $85.
Of course, this means that you won't get the most powerful features that fully featured premium plugins like MonsterInsights and Analytify offer.
However, if you want to find out what a basic plan can get you in terms of analytics and link tracking, you won't go wrong with Google Analytics WD.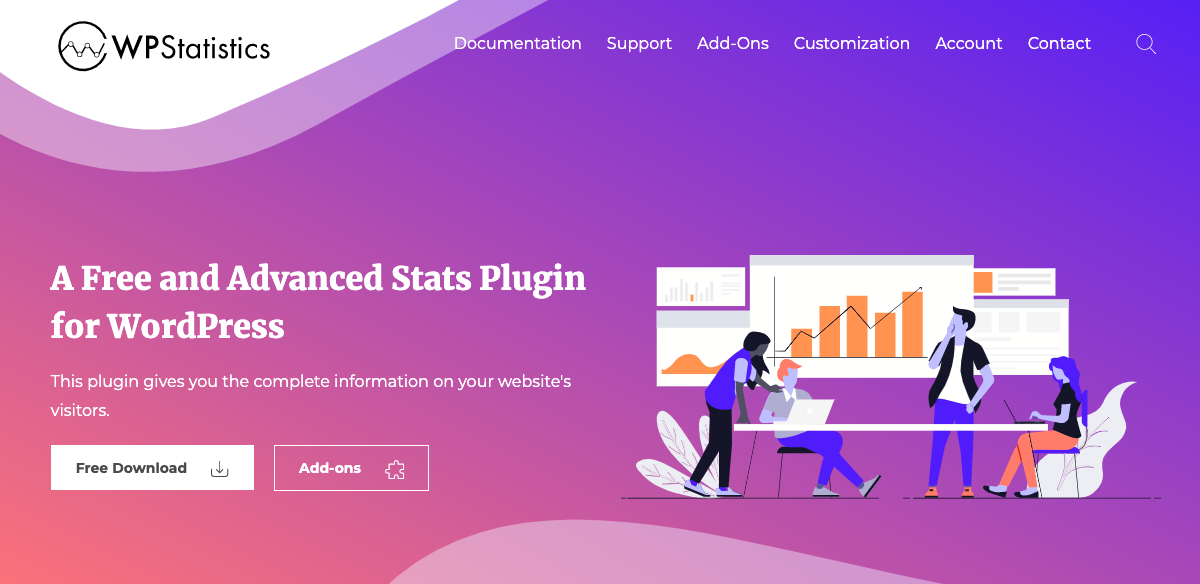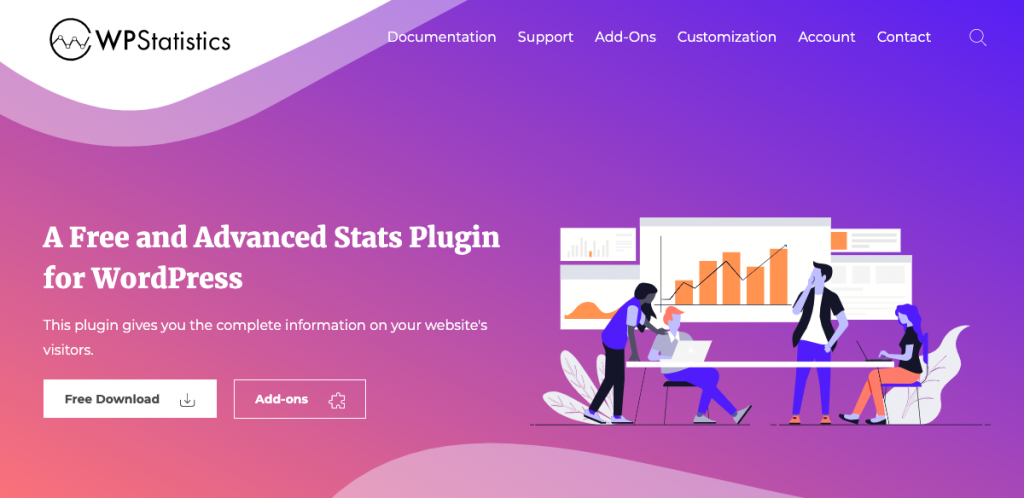 Finally, we have WP Statistics in the list of the best WooCommerce analytics.
WP statistics is a completely free Google Analytics plugin for Wordpress. It is very easy to utilize and is light weight.
It also provides compatibility and solutions which are associated with Google Analytics that link right to your Wordpress dashboard.
WP Statistics Features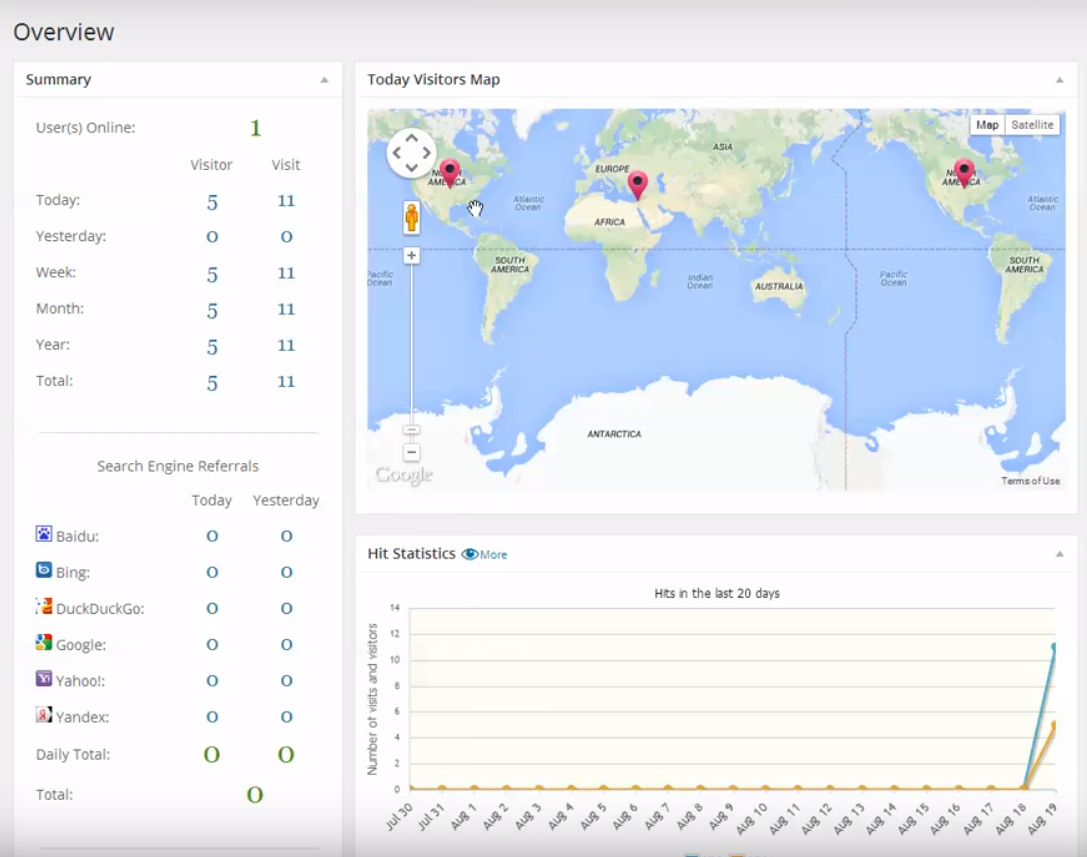 What's brilliant about WP Statistics is that it utilizes traffic coming from all the major search engines, and not just Google.
It takes in information from Yahoo, Bing, DuckDuckGo, and even Google's Chinese counterpart, Baidu.
The platform tracks users that are based on their Geographical IP address to determine which area of the world they're logging in to your Wordpress site from.
It provides support against the hashing of IP addresses in order to protect the user's privacy. It also tracks email stats and exports information through XML, CSV and TSV data.
Other features include:
Emailing statistical reports
Automatic pruning of database of old data
Exporting the data to XML, CSV or TSV files
Providing expanded details of pages with all kinds of data including browser versions
WP Statistics Pricing
The price of the plugin is completely free.
Final Words
While free and premium plans exist for most Google Analytics WooCommerce plugins, there is no denying that the paid plans just offer more.
In that regard, the best analytics for WooCommerce happen to be MonsterInsights and Analytify.
Not only do they provide the best value for money, but they also provide control over multiple websites, detailed reports, and information segmented in to various groups and demographics.
Out of the two, the best WooCommerce Analytics plugin is Analytify since it offers better value for money.
Not only does it give you a tier higher than that for MonsterInsights, but it also allows you to get the same amount of control over several websites at cheaper rate.
However, if you want to take advantage of a free plugin and reap the most benefits, then you would do well to go with the free version of Google Analytics WD.
WooCommerce websites can do a lot with the information at their disposal with Google Analytics plugins. If you also have a mobile app, here's how you can set up Google Analytics with it.
If the information is used wisely, then the reach and the authority of these websites can grow exponentially over time.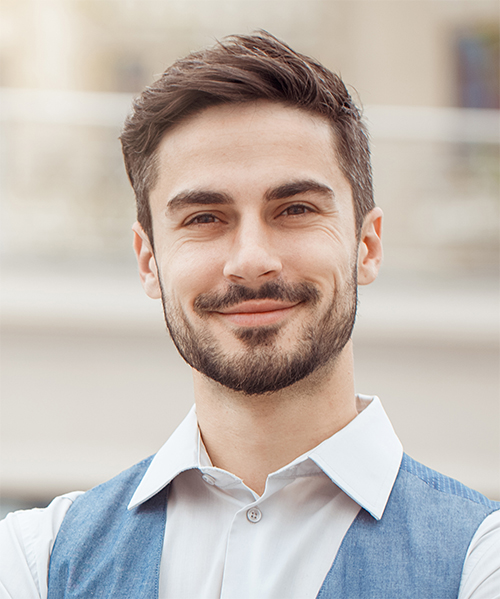 Author: Scott Macarthur
Scott L. Macarthur is a marketing consultant and an online author. He is mostly engaged in providing his expertise to startups and SMBs.