Editor's note: WooCommerce dropshipping is easy and simple, more so with so many dropshipping plugins at our disposal today. Here's a quick list of 21 WooCommerce dropshipping plugins to consider. It also mentions what each of these offers. Take a look and pick the one you like the most. Though most of these plugins do the job, it's always a good idea to hire a WooCommerce plugin developer if you have custom requirements.
The e-commerce industry is at its boom.
In fact, statistics show that it is likely to reach $1 trillion in revenue in the next couple of years, which places it as one of the most lucrative online hustles there is.
But it takes a lot of work, too.
If you want to escape the rat race, dropshipping is one way to go.
Dropshipping is one of the simplest and most profitable side hustles that is not dependent on any single platform.
In fact, dropshipping is the most popular way to build an e-commerce store according to BuiltWith.
Think about it:
Not everyone has the full resources to run a traditional e-commerce store.
You will need to stock your warehouse with thousands of products, create a standard website to showcase the products, assist your customers as they shop on your site, and mail the products to them.
Sounds like a lot of work and money.
But, dropshipping eliminates a lot of these processes.
Instead of concerning yourself with all the logistics, you only need to form an agreement with a third-party to handle all of that, while you accept orders from customers.
So bye-bye warehouse and bulk inventory purchase.
WooCommerce offers one of the best and simplest solutions in the form of Dropshipping WooCommerce plugins, making it simple to business.
In fact, more than 30% of marketers create their e-commerce store using WooCommerce.
But while there are a lot of benefits dropshipping has over the traditional e-commerce model, you will come across a lot of barriers whether you are just starting out or along the way.
You will need plugins to help you cross these barriers, and make the entire job a lot easier.
Thankfully, WooCommerce has a huge array of plugins that you can use to save a ton of time and boost sales, so in the article, we list out best plugins for dropshipping.
Here we go:
Best WooCommerce Dropshipping Plugins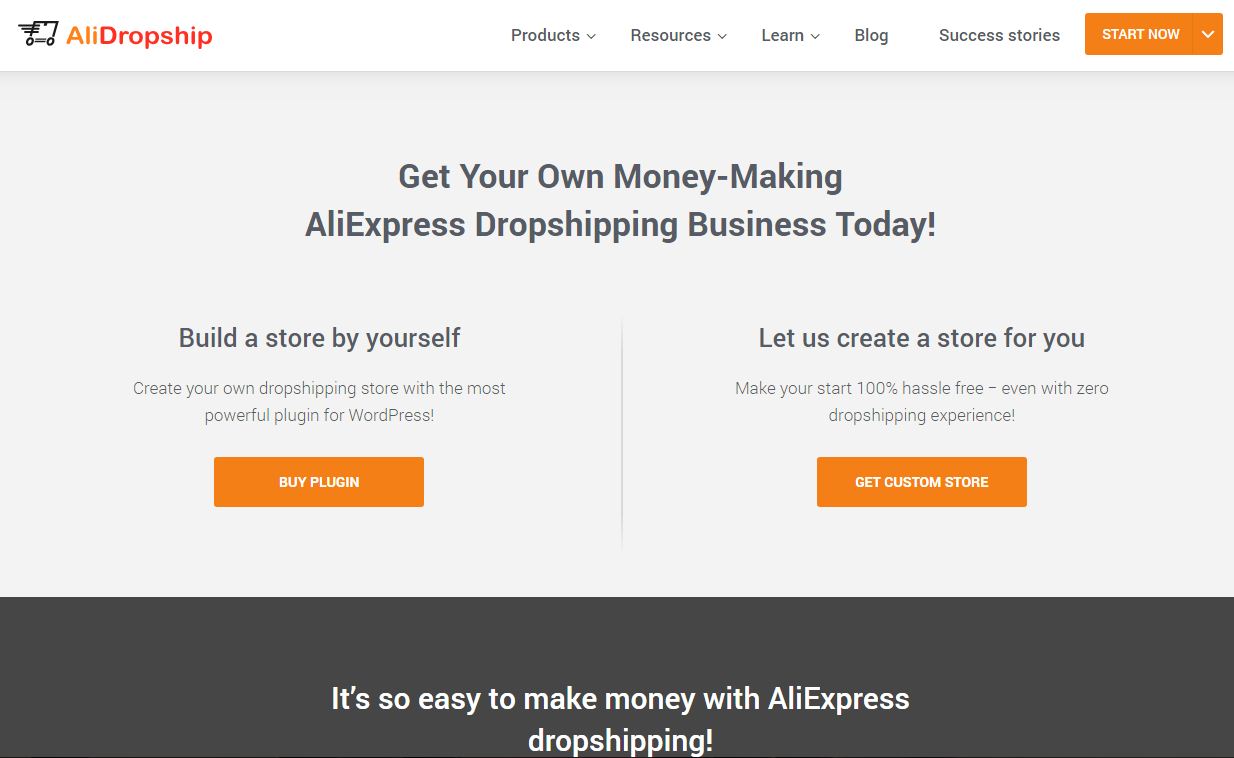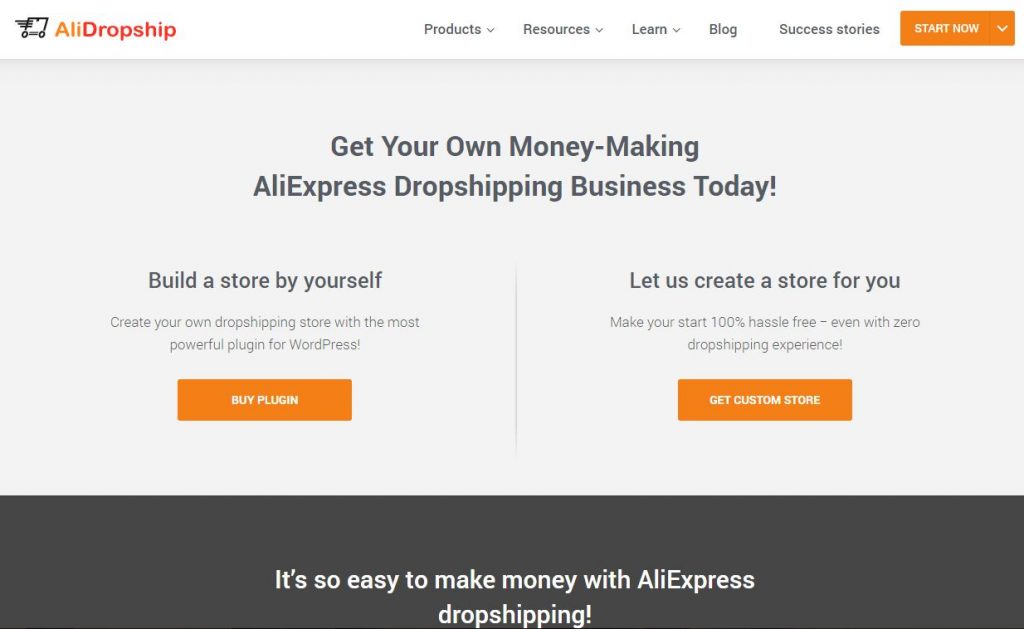 If you are an ardent user of AliExpress, then AliDropship is for you.
It is affordable and easy to use to import products from AliExpress to your WordPress website that has a WooCommerce optimized theme.
It is basically a WordPress dropshipping plugin that turns your website into a dropshipping store that works exclusively with AliExpress.
AliDropship doesn't cap you on how many products you can import or how many orders you can fulfill.
You can import an unlimited number of products, and they will automatically fulfill an unlimited amount of orders.
They also automatically update the inventory and pricing of all your products, and they do the automated ID tracking that is sent to your customers.
AliDropship allows you to earn with its cashback system.
This means that, for every product that sells in your store, you can earn up to 8% commission.
They also have a product review feature so you can actually import the product reviews for the products that you are importing into your store, which gives it a really nice and professional look.
And you get ongoing, free updates and support as long as you own the plugin.
The basic version of the plugin cost $89 for a lifetime and it is limited to one website per license.
Related : How To Launch Your Own Alibaba Dropship Business With Alidropship
Check Special Pricing for Alidropship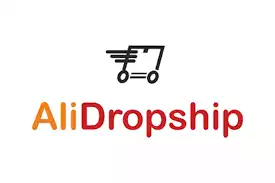 We earn a commission if you click this link and make a purchase at no additional cost to you.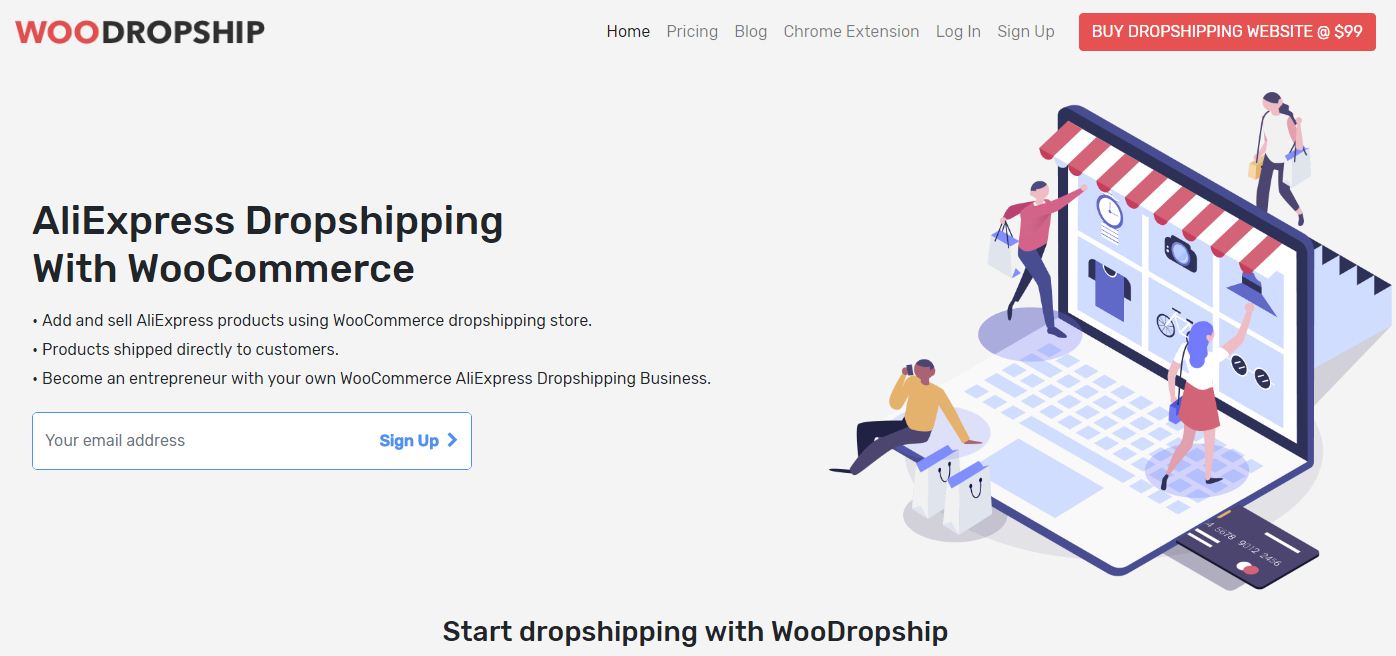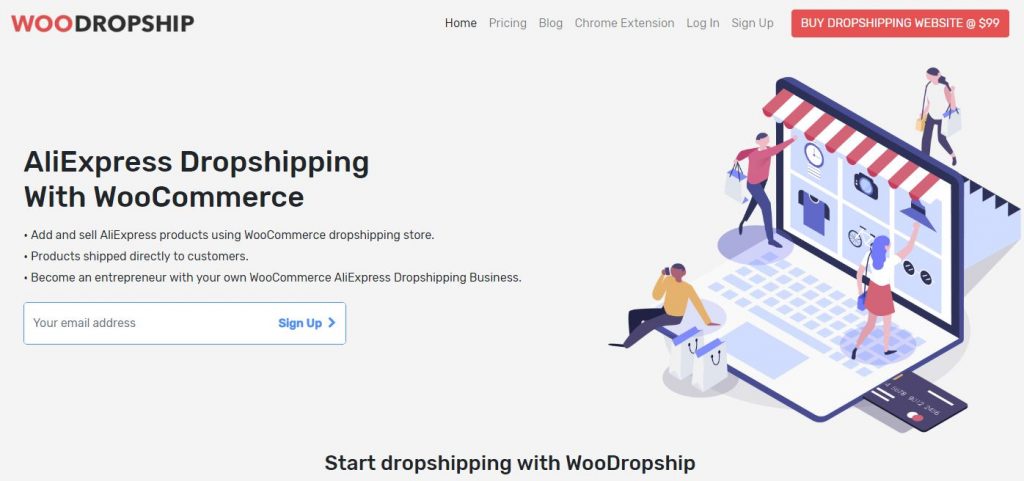 WooDropship is a great WooCommerce Aliexpress dropshipping plugin. It has a lot of automated features.
For one, it will automatically update your inventory and prices for all the products in your store.
You can obviously import products from AliExpress into your store with very few clicks, and it also automatically fulfills orders which will save a lot of time, plus it is easy to edit, update, and delete a product from your store.
It also has an ePacket shipping filter which is important because a lot of products on AliExpress are shipped from China, so having ePacket ensures that the package gets to wherever it is ordered from faster.
Its built-in image editor is another awesome feature that will come in handy.
If you visit the AliExpress site and you are trying to import a product, the software will easily do that for you, but some product images carry the watermark of their company.
With WooDropship image editor, you can easily erase that logo right there on the fly, which will save a lot of time.
WooDropship works similarly as the AliDropship plugin, but it has one big difference.
With WooDropship, they do have a monthly subscription.
They have a 7 day free trial.
You can import up to 3000 products and WooDropship will fulfill 100 orders a month.
And then, as you go up, it increases in how many products you can import and how many orders will be fulfilled.
The monthly plan is priced at $19.99 and lifetime plans comes at $97 one time payment.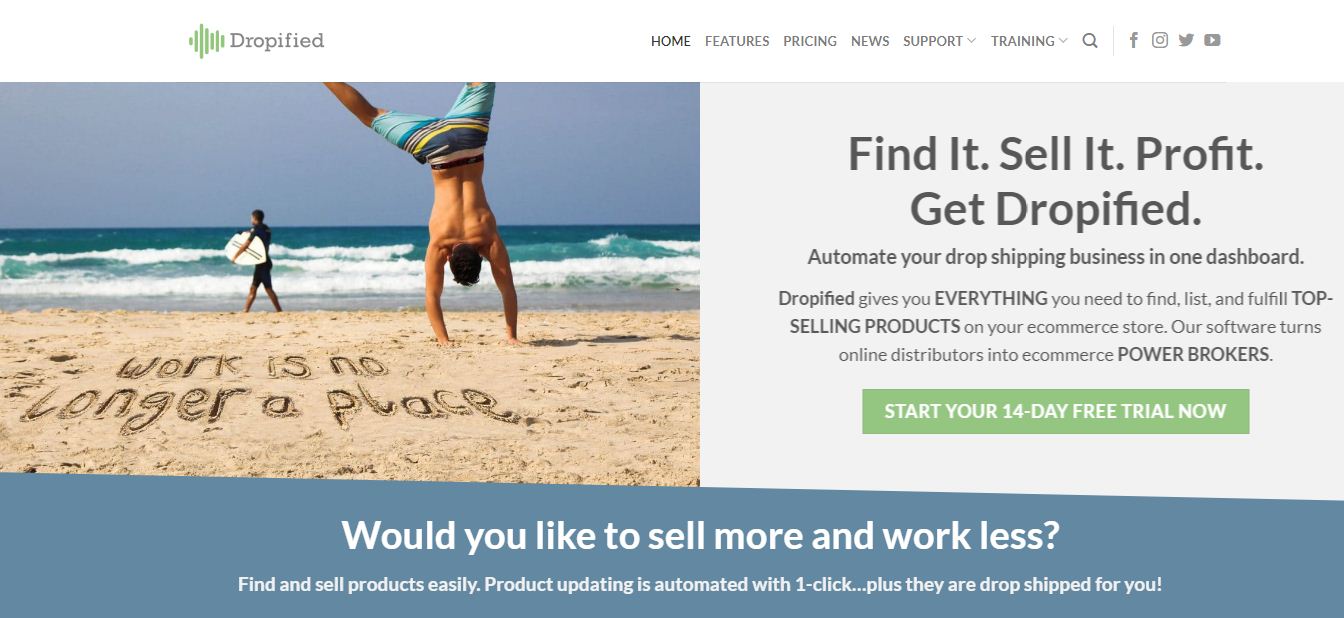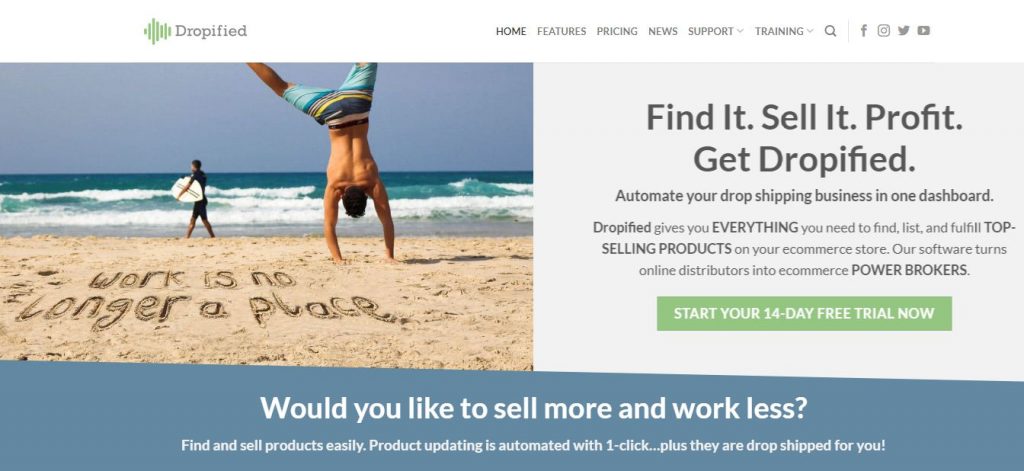 Dropified is one of the best best plugins for dropshipping.
It is an ideal dropshipping plugin if you have already started seeing sales.
It has a large collection of products and features along with a strong choice of integrations to choose from.
One of the perks of using this platform is that you can automatically tap into the AliExpress website.
This way, you can easily select products from the site and move them to your store.
Another benefit of using Dropified is that you can easily pull out statistics and reports to understand the performance of your products, and know where your money comes from.
Price and product updates will automatically reflect on your site whenever your supplier makes a change.
Dropified uses ePacket, so sending and tracking goods from abroad will be a lot faster and less expensive.
Dropified has two pricing tiers.
The builder plan cost $47 per month and the Premier plan is priced $127/month. You also have the annual option which is a little cheaper.
They also offer Dropified Black plan for CBD businesses at $197/month.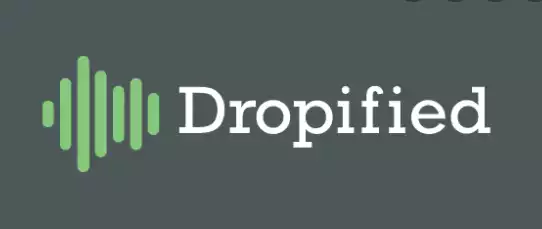 We earn a commission if you click this link and make a purchase at no additional cost to you.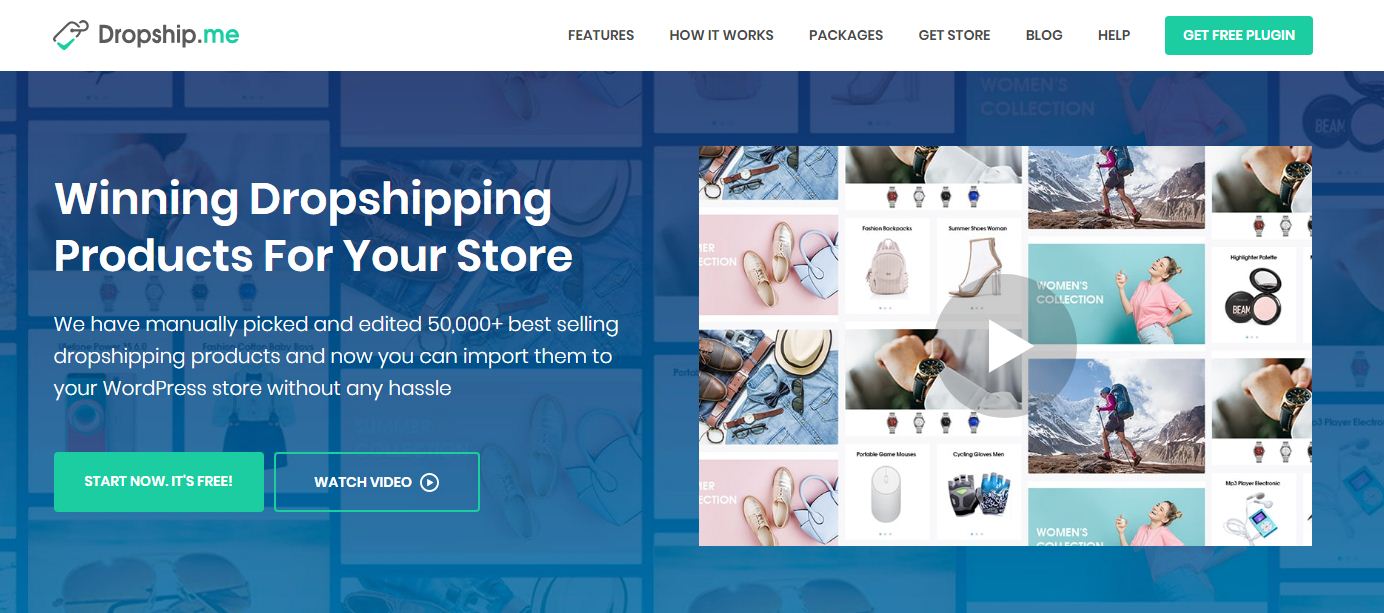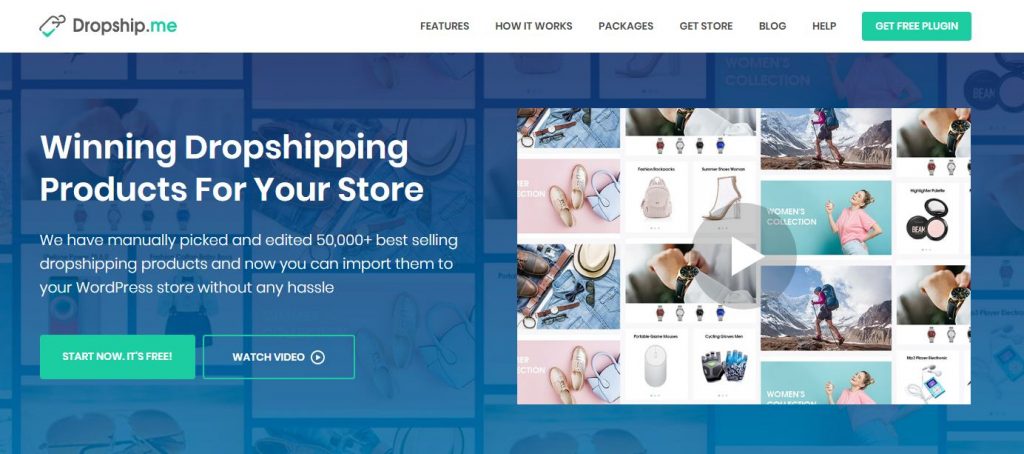 DropshipMe is a WordPress Dropshipping plugin by the creators of AliDropship.
What this plugin does is that it takes out all of the hassle of researching the product on AliExpress, because they have manually picked out and edited over fifty thousand of the best selling Dropshipping products there.
So all you have to do is do a search for all those products within related niches and simply click import, and have these bestselling products imported into your Dropshipping store.
One awesome thing about this plugin is that you can download it for free.
They give you 50 product imports for the free version, and as you need more, they have 3 different packages that you can choose from with no ongoing fee. ($29, $119, $199 one time payment plans)
They all come with a one-time payment, so you can upgrade at your convenience whenever you feel it is necessary to import more products to your store and you want to use this plugin to do so.
Best WooCommerce Store Improvement Plugins
So these were among the more popular WooCommerce dropshipping plugins. We now get down to plugins that help you to better organize your store functions.
Be it checkout, payments, managing deals, marketing, sending emails or notifications, everything looks simpler with these powerful apps.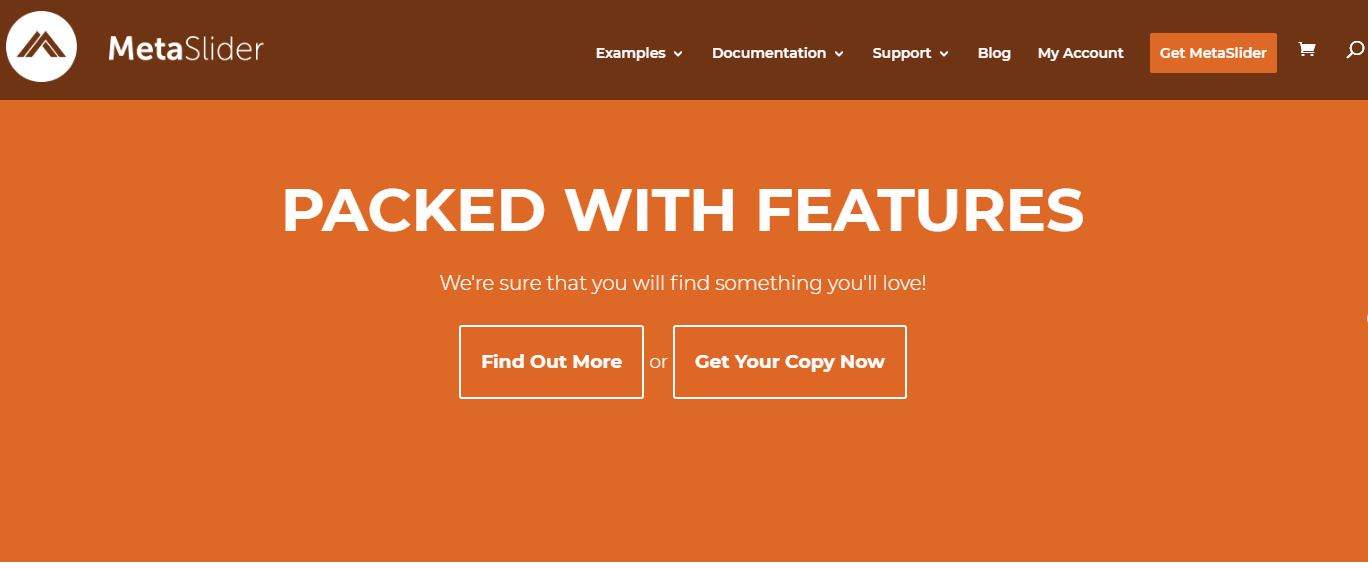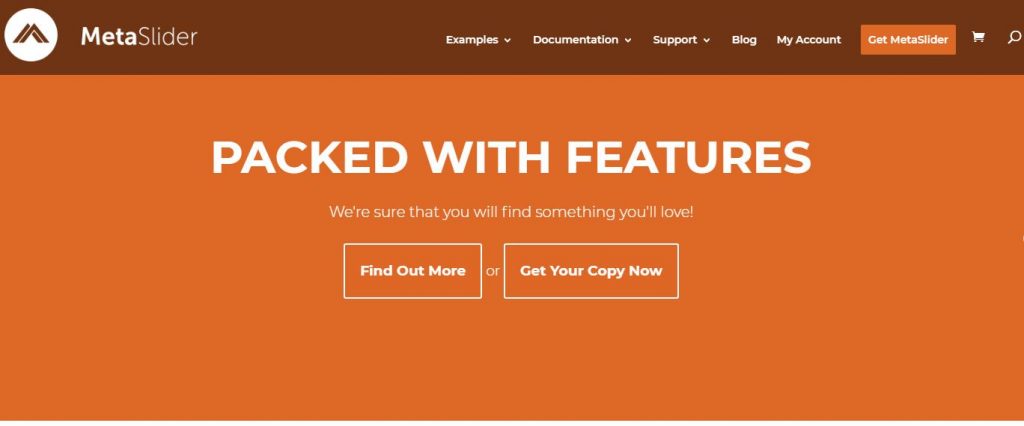 Image sliders are a great way to help make your store look more professional and also showcase to potential customers, products that you are selling in your store.
Unfortunately, image sliders are not included by default with WooCommerce.
But don't worry, Meta Slider gets you.
If you want to use a dynamic image slider to showcase your products, then Meta Slider is perfect for you.
All you need to do is go into the plugin page on your admin dashboard, upload the images you want for your slider, set the measurements, and then generate your slider.
You will then be given a shortcode, which you can add to any page on your website like your homepage, and then your image slider will appear there.
This is a quick and easy plugin to install.
Usually, when you have an item on sale on a WooCommerce store, you have a little sale badge that will appear next to your item.
And while this is nice, the smart sale badge is better.
It replaces the default sale badge with a nicer badge that shows how much your customers will save in whatever currency you use.
It is a lot more exciting for the customers to see that they are saving $10 for an item that normally costs $20 than to just see a generic sales badge.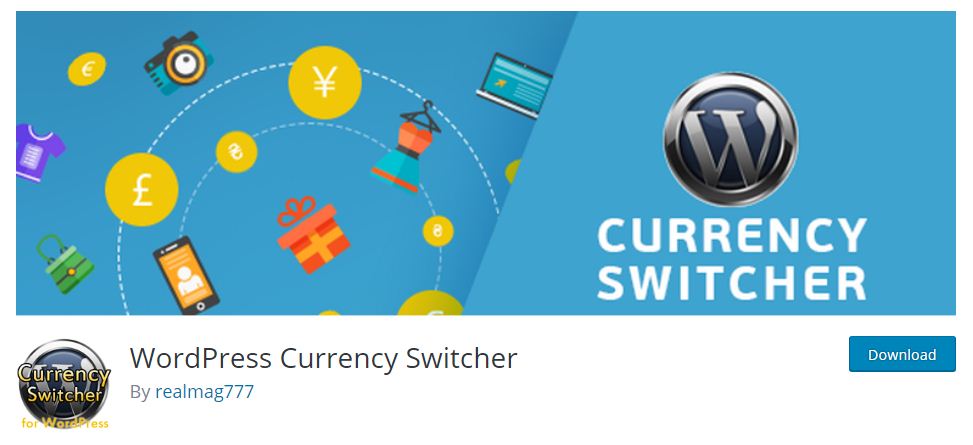 Let's say that you are based in Sweden, and we know that Sweden has her own currency.
As someone who is based outside of the United States, it can be a little bit frustrating sometimes to always see items priced in US dollars.
Luckily, there is a solution to this, and that is the WordPress currency switcher.
What this plugin does is that it lets you add shortcodes to your product pages that will enable your customers to switch currencies in real time so that they can see how much it actually costs them.
Unfortunately, the free version of this plugin only lets you switch between two currencies.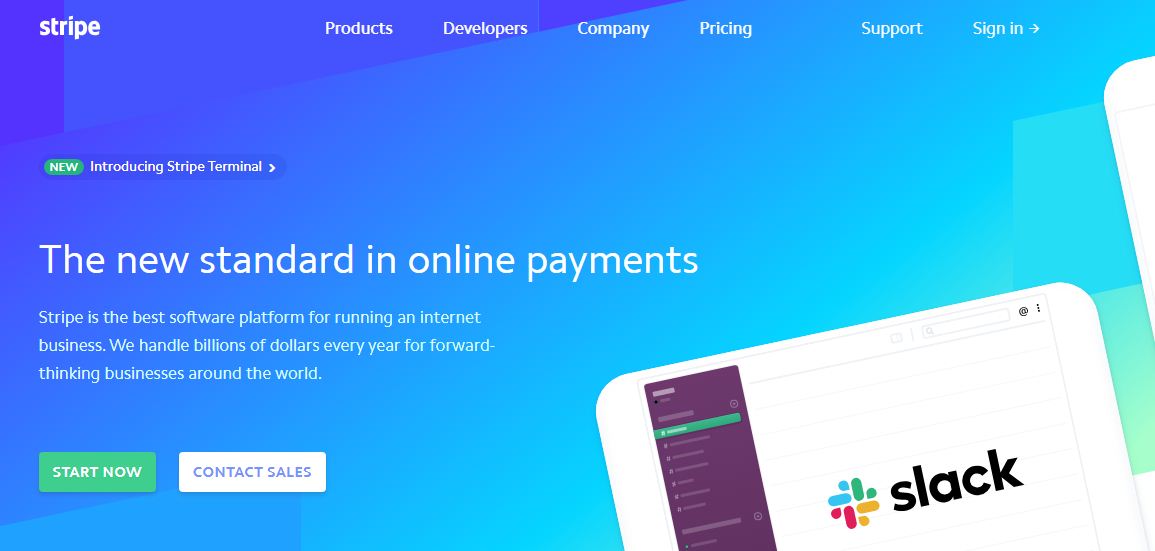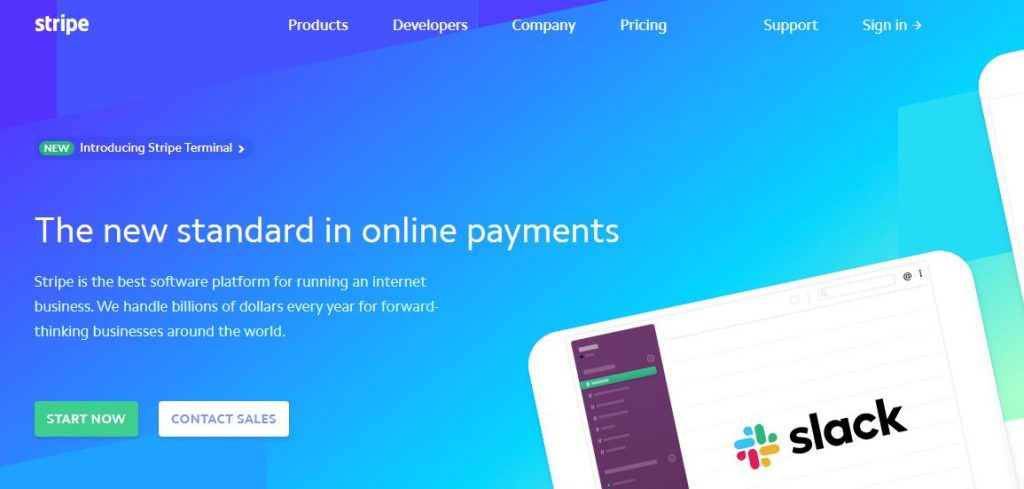 Stripe is a free WooCommerce Dropshipping plugin that lets you accept credit card payments on your WooCommerce Dropship site without having to go through a third-party service like PayPal.
By having this option, it keeps people within your store year-in, year-out.
You will increase your sales conversion, which means that you will make more money.
While this plugin is free, there are still transaction fees. No matter how you slice it, if you are accepting credit card payments, there are going to be transaction fees.
Stripe fees are extremely reasonable. They only charge you 2.9% plus a 30 cent transaction fee.
Stripe will transfer the money to your bank account once it receives it.
So if you are Dropshipping, be prepared to have software to manage your cash flow.
Another thing to keep in mind is that you will need an SSL certificate to accept credit card payments on your store to assure users that it is safe to enter their details on your site.
In fact, this is not unique to Stripe.
If there's any website out there that wants to accept credit card payments, then they are going to need an SSL certificate.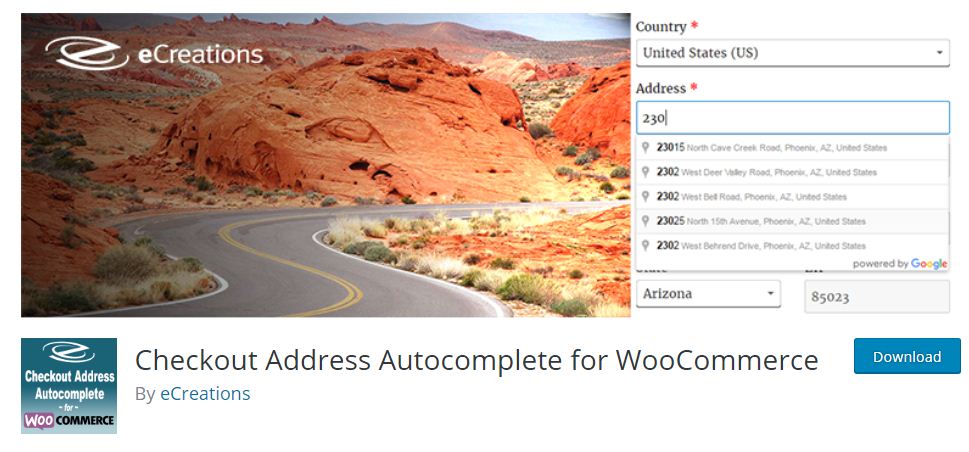 When you install the checkout address suggestion plugin, as the customer is typing their address details on the checkout page, it uses Google places to suggest potential addresses.
If the customer selects an option, it will then auto-complete their address fields for them.
And there are two great benefits to using this plugin:
First, it reduces typing errors, which reduces the chances that the item will be delivered to the wrong address.
And second, it reduces the cart abandonment rate since you are speeding up the checkout process.
This is why large retailing sites like Amazon use address suggestions on their checkout pages.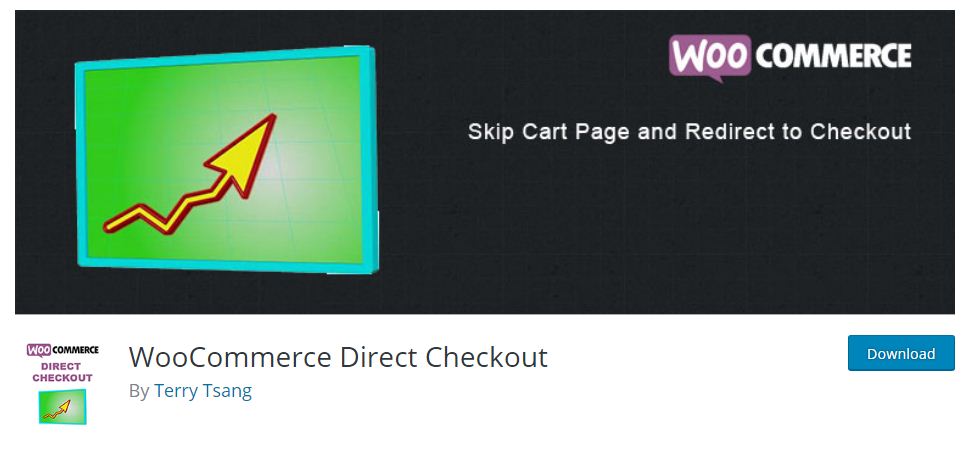 WooCommerce Direct Checkout is a notable mention in WooCommerce dropship plugin list. It simplifies the checkout process.
Normally, when a customer purchases an item from you using your WooCommerce store, WooCommerce will send them to the cart page, and from there they can go to the checkout page.
This is good for large e-commerce sites that are expecting their customers to purchase lots of items.
However, the reality is, for many WooCommerce stores, especially WooCommerce dropshipping stores, they will usually be expecting a customer to purchase only one item at a time.
Because of this, sending them to the cart page just adds an additional step to the checkout process, which will decrease sales conversions.
The WooCommerce direct checkout adds additional checkout options to your WordPress dashboard that changes the 'add to cart' button sent to your customer.
Instead of sending them to a cart page, it sends them directly to a checkout page.
It also has an additional bonus feature that lets you add a 'continue shopping' button to your product page.
This will add the item to the cart, and send the customer back to your product page so that they can continue shopping.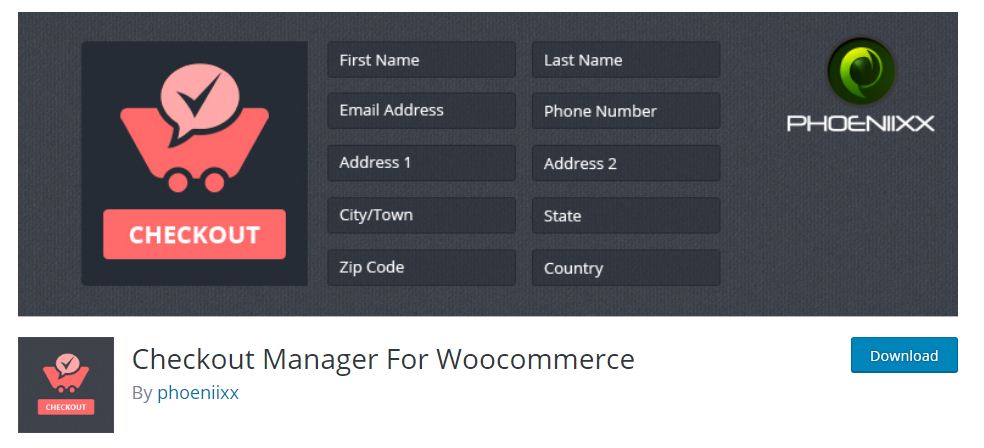 The WooCommerce checkout manager plugin lets you add additional options to your checkout page such as a calendar date selection.
This won't be relevant to all WooCommerce stores out there, but there are some people who will find this very useful.
For instance, if you are one of those busy or arguably lazy entrepreneurs that don't have time to cook, and therefore purchase pre-packaged dinners, you will need to make sure that you are at home at the right time so that you can refrigerate them.
For businesses like this, adding a calendar date selection is invaluable.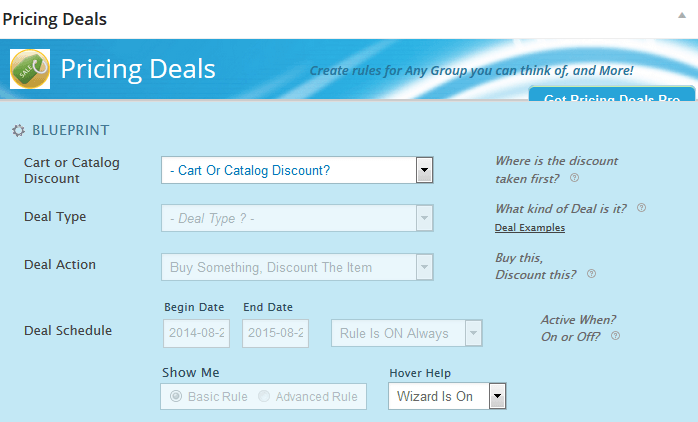 This quick and easy plugin lets you add two types of pricing deals to your store.
The first one is called BOGO deals. As in, buy one, get one deal. So for example, this could be a buy one, get one free type of deal, or it could be a buy one, get 50% off type of deal.
Secondly, it lets you add a special type of discount to people that order items in bulk or that spend a certain amount.
For example, you could add a pricing deal where if the customer spends $100, they will get a $10 discount.
BOGO deals, where the customer gets an item at a reduced price are powerful, especially for AliExpress dropshippers.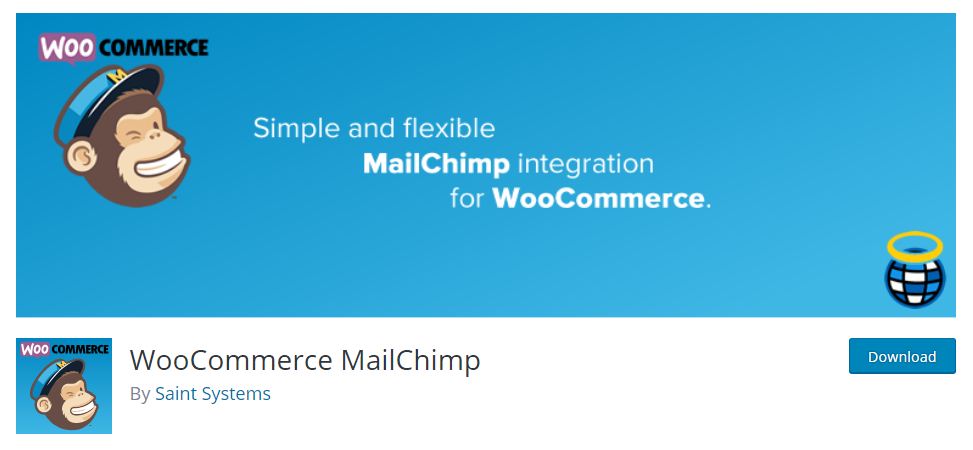 Email marketing is one of the most powerful methods that you can use to get existing customers to come back and get more sales.
For most businesses, about 50% of their sales are going to come from existing customers, so you cannot afford to ignore them.
Email marketing is very powerful in this regard.
Luckily MailChimp, an email service provider, has made this super easy with their free WooCommerce plugin.
This plugin will automatically add a subscribe checkbox at the end of the checkout page, so if the user leaves this ticked, they will be added to your email list.
As long as you have less than 2000 email subscribers and send less than 12000 emails a month, then it is free to send emails with MailChimp.
Related : Best Mailchimp Alternatives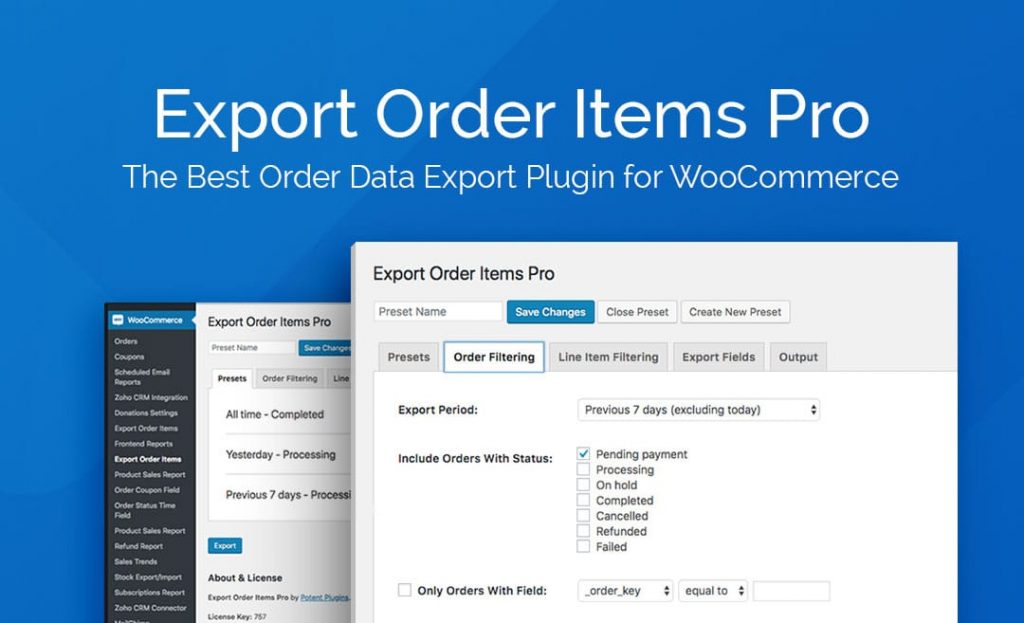 The WooCommerce email exporter plugin is a fast and easy plugin to pair with your MailChimp plugin.
It helps you export all of your emails into a nice, simple spreadsheet.
This is a nice plugin to have if you want to segment your email list into the different types of buyers.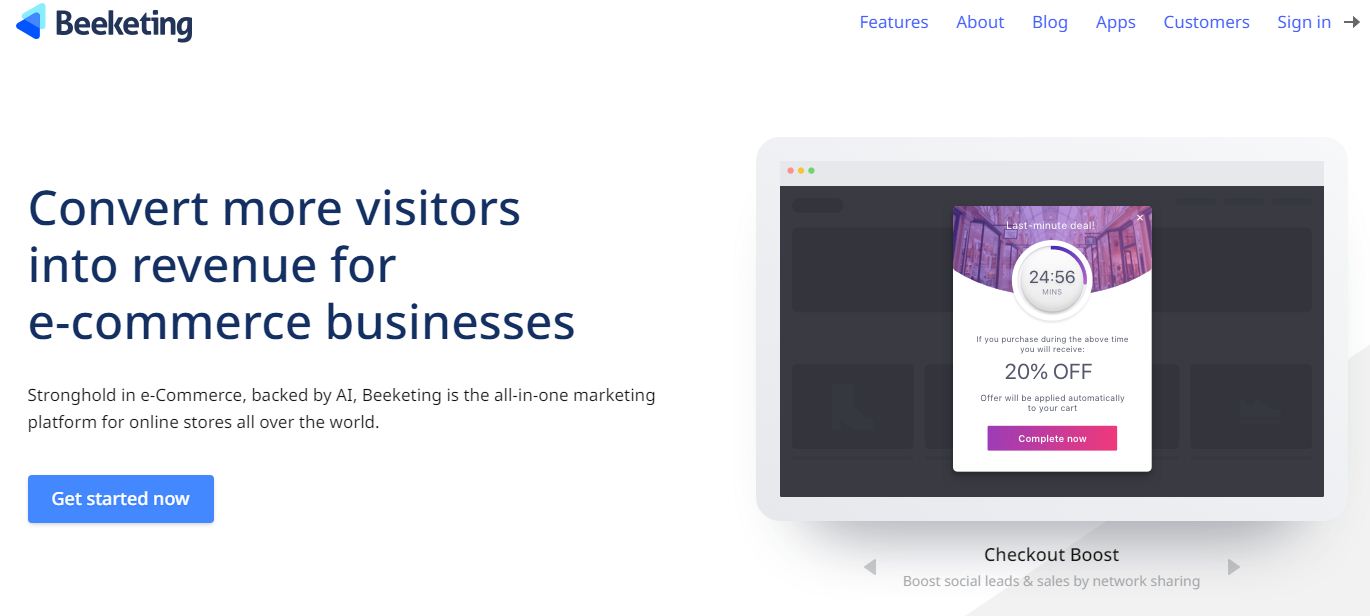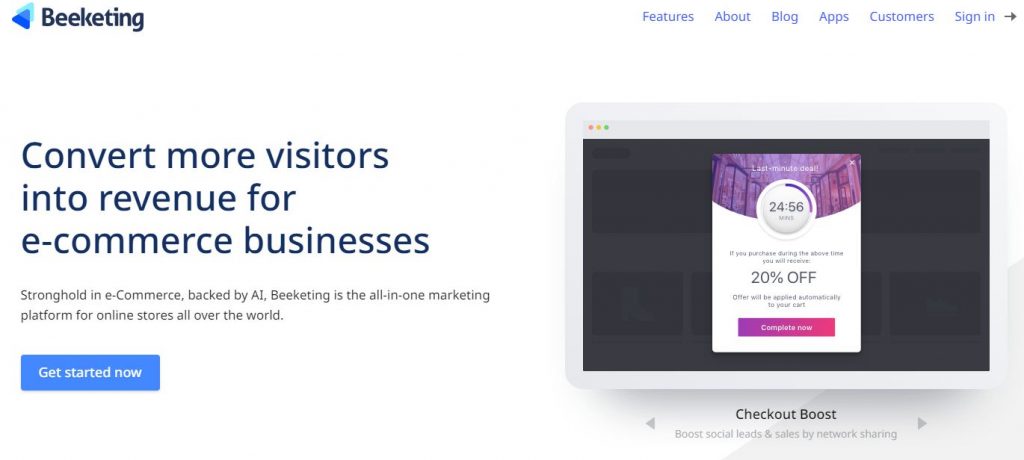 Beeketing does a great job to understand buyers' psychology, customers credential, and demography.
Have you ever been browsing and you see a little popup at the corner that says something like "Kelvin in Brazil just bought the Azure widget"?
That's what Beeketing does.
It gives people the idea that other people are buying as well, since nobody likes to be the first one to review on Amazon, or like a Facebook page, and so on.
They like to see that other people are doing it.
It's just like walking down the street and seeing a bunch of people looking at something.
You are probably likely to look at it too.
It appears beautifully both on desktop and mobile, and it makes a huge difference.
Sales Pop Beeketing is a useful tool in WooCommerce dropshipping plugin free category.


Yotpo helps you politely ask your customers to drop reviews for your products.
When we compare it to other products that share a low percentage of the standard features listed across the customer support category, most notably, we can mention how easy they make the review writing and user-generated content creation processes.
Yotpo has average mobile access by providing no mobile app, but they do have a responsive website.
Related : How To Launch Mobile App of Your Ecommerce Store & Make Sales
With integrations like Shopify, Zendesk, and Magneto, they are very likely to have the integrations you need right now. It is an outstanding customer support app for companies that are looking for a solution to capture reviews and customer-generated content.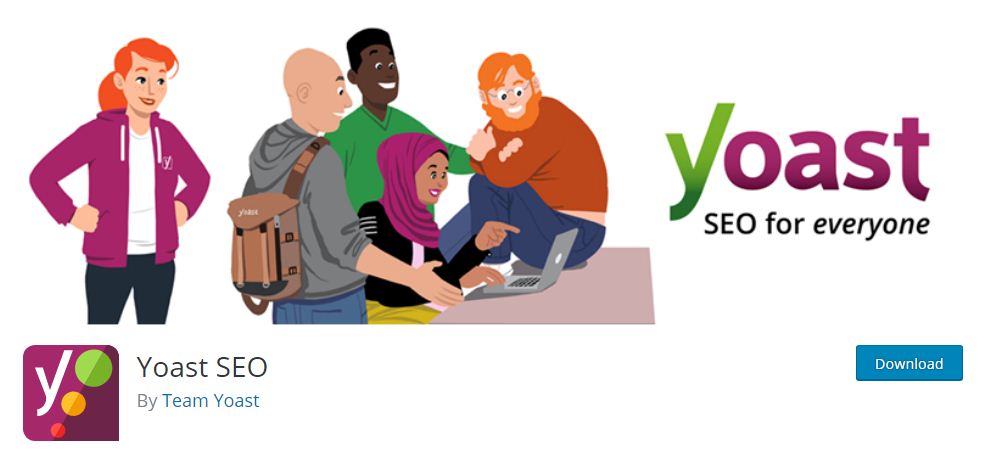 Yoast is another useful Wordpress dropship plugin which helps getting you search engine exposure and ranks.
Whether you are starting a blog or an e-commerce store, SEO is always important, and Yoast is one of the most popular SEO plugins to use with WordPress.
For one, it is mostly free, which means that just about anyone can have access to an SEO software, and a good one at that.
It's simple user interface makes it easy for beginners to use, so even if you have no knowledge of programming, you can still easily set up a sitemap and add some basic schema on your dropshipping store.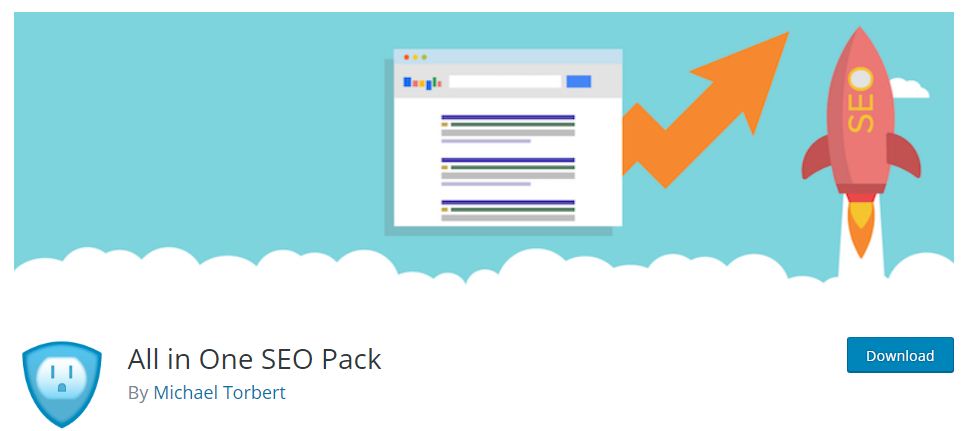 If you want some more advanced SEO activities, you can use the All In One SEO Pack.
The free version has all the necessary bits like canonical UL support, XML sitemap support, and so on.
The good stuff hides behind the pro version, so if you want to take your search engine optimization up a notch by using a video SEO model or taxonomies, you'll have to pay a little extra.
Cart abandonment is a serious pain in e-commerce.
However, with a solution like Jilt, you can get more customers to come back and complete their orders by sending them smart and well timed emails.
It lets you set up cart abandonment campaigns, create dynamic emails on its WYSIWYG Editor, and track your progress, therefore, helping you see how effective your methods are and if it needs adjusting.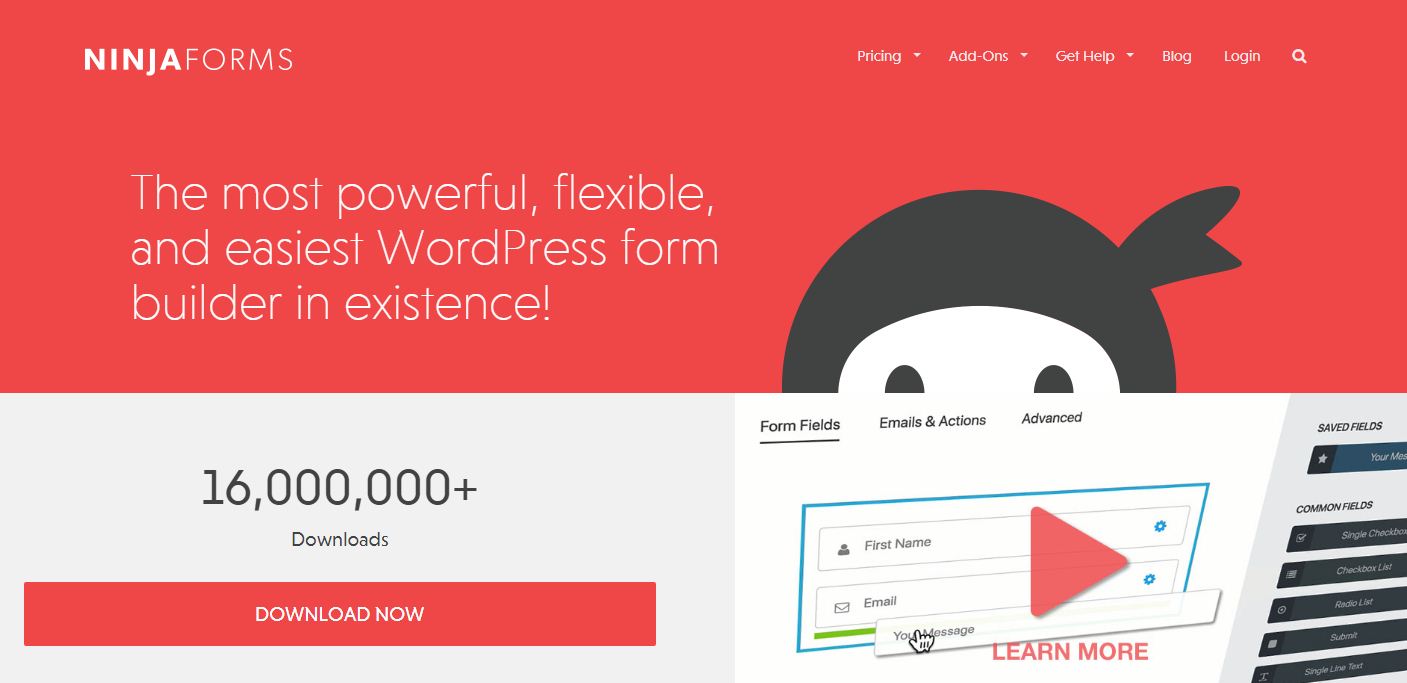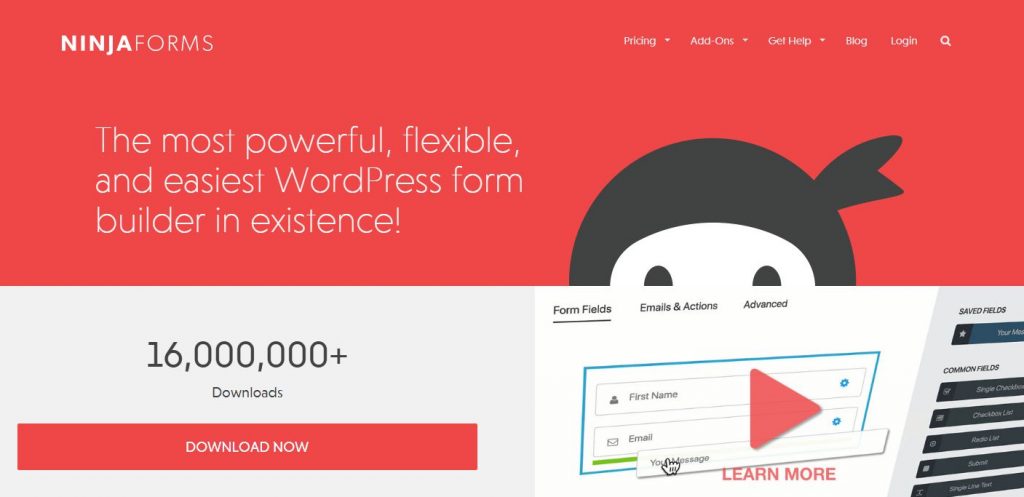 Every e-commerce site needs forms to succeed, whether it is to receive payments, accept messages from visitors, or set up appointments.
Ninja Forms let you create these forms for free.
And, there's a lot you can do with it like create unlimited forms with unlimited fields, add CAPTCHA to reduce spam, get email notification for every submission, and so on.
Conclusion
And that wraps up our list of the best WooCommerce dropshipping plugins you will need to create a profitable online store.
Related : Best WooCommerce Themes
Remember that it is important to drive massive sales among the high competition in the dropshipping space, while spending as little as possible.
Unless you have a team of engineers at your beck and call, or you can create your own plugin yourself, your best bet is to use the third-party plugins mentioned above.
Make use of the plugins above to dropship with WooCommerce. These will give you a lot of confidence.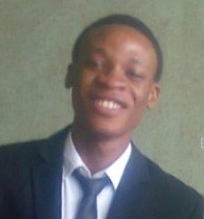 Author: Efose Ikhalo
Efose says he is a polymath, which reflects in his work. He excels at inbound marketing, tech, and business. He has a rich experience of working with renowned digital marketing agencies in the past. Often writes for top blogs.