Google Analytics by far has been the top most web analytic tool for a long time. It's difficult to find a tool that's better than Google analytics.
The efficient web analytic solutions and features offered by Google, already has over ten million websites using its tool for monitoring and evaluating their traffic all across the world.
However, some people cite the tool to be a bit more complex in design & usage, while others aren't totally satisfied with the limited features it offers in the free version.
And most of the websites are forced to use the free version of Google Analytics since the premium version comes at an exorbitant price of $150,000 USD per year.
This makes it inevitable for the site owners to look beyond Google and opt for Google analytics alternatives that offer more cooler or customizable features at a reasonable price for their site analysis.
Best Google Analytics Alternatives
Following is a list of 6 best alternatives for Google Analytics.
1. Clicky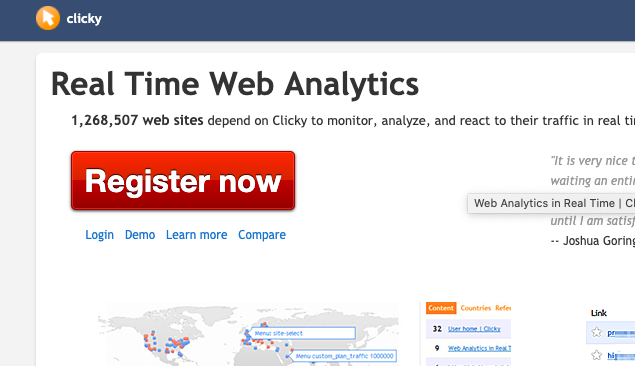 Clicky Analytics is one of the most powerful alternatives to Google Analytics, as it lets you completely evaluate the traffic on your website in 'real-time'.
Get Started For Free
The popular tool enables you to track the total number of visitors currently on your page, along with their session details and behaviour.
It also offers several unique features like heatmap, uptime monitoring, video and twitter monitoring (to work on your social presence), email alerts, split testing and much more.
As compared to Google, Clicky has a user friendly interface, easy labeling and cohesive dashboards for homepage as well as site pages.
It provides high level filtering for quick and relevant data viewing that you may want to use to create conversions goals and profits.
Clicky offers a free premium trial version that lasts for 21 days, while the annual subscriptions range from $79.99 (Pro), $119.99 (Pro Plus) to $159.99 (Pro Platinum).
This is arguably the best Google analytics alternative in the market.
Related:  The Ultimate Guide to Setting up Google Analytics for Your Mobile App
2. AFS Analytics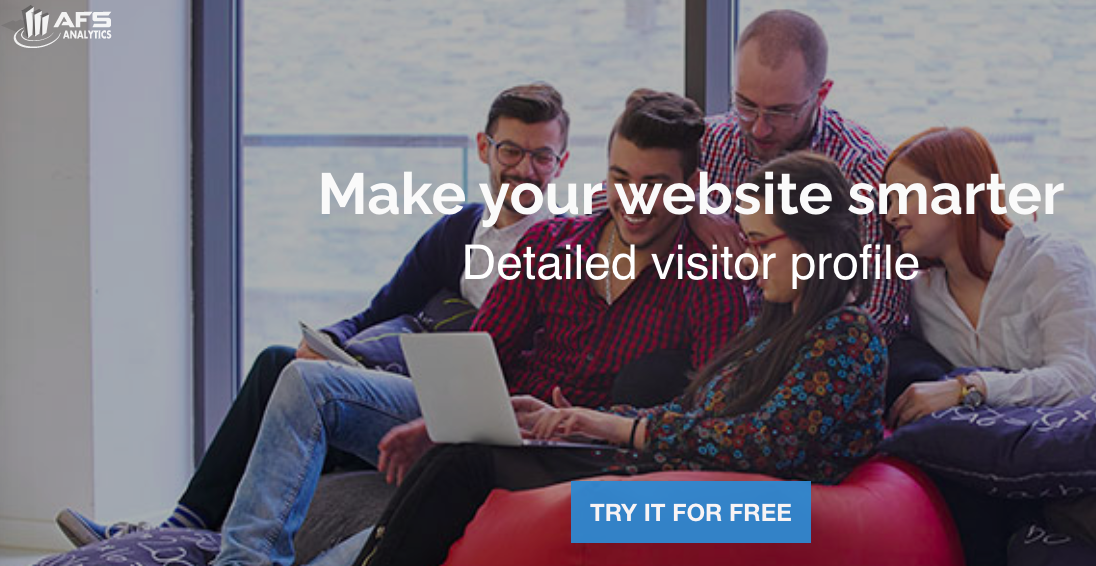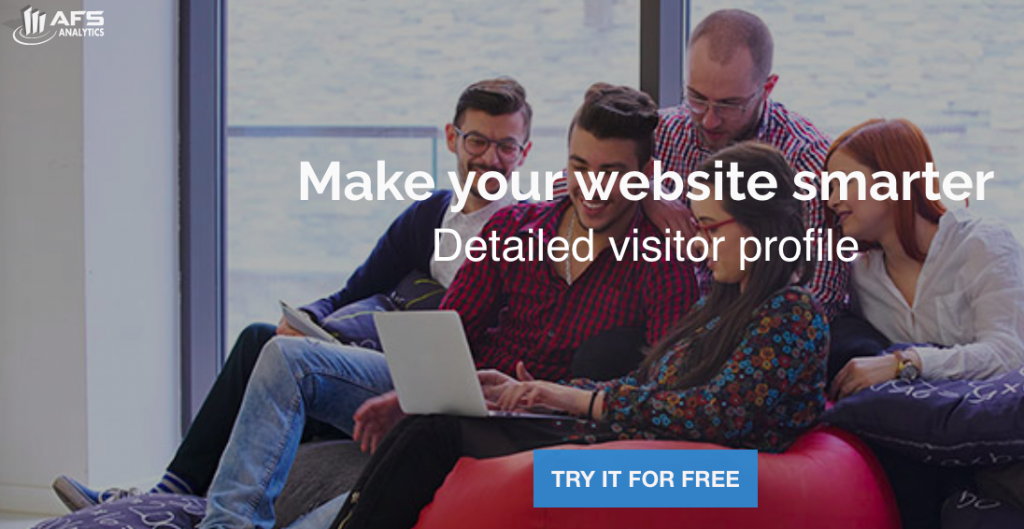 AFS Analytics is a good Google analytics alternative. It offers an All-in-One web analytics solution, including metrics, user behavior analysis and SEO tools.
All reports are available through an user friendly dashboard updated every few seconds.
Get Started For Free
And, as in Google Analytics, a special "Right Now" report is available for monitoring in real time visitors activity on your website.
The AFS Analytics platform provides many advanced features, including an Ad blocking detector, detailed Zombie traffic statistics, automated event tracking (clicks, downloads, form submissions, etc.)
Among other helpful tools are heatmaps, scrolling tracking, Ecommerce analytics and customizable visitor profiles.
One of the priceless features specific to AFS is the use of artificial intelligence to recover the "not provided" keywords from Google.
That's how you will be able to know in real-time which term a visitor used to find a specific web page. You can also monitor keyword positioning in Google search engine results.
Installation is easy. There is a free WordPress plugin allowing to implement in a convenient way the full analytics solution.
For advanced users, the possibility is offered to add a small piece of customizable JavaScript code to any website page.
As an effective and accurate web analytics solution, AFS Analytics is a serious alternative to Google Analytics. And it will certainly be a great addition to your current analytics tools.
Related:
3. Matomo (earlier Piwik)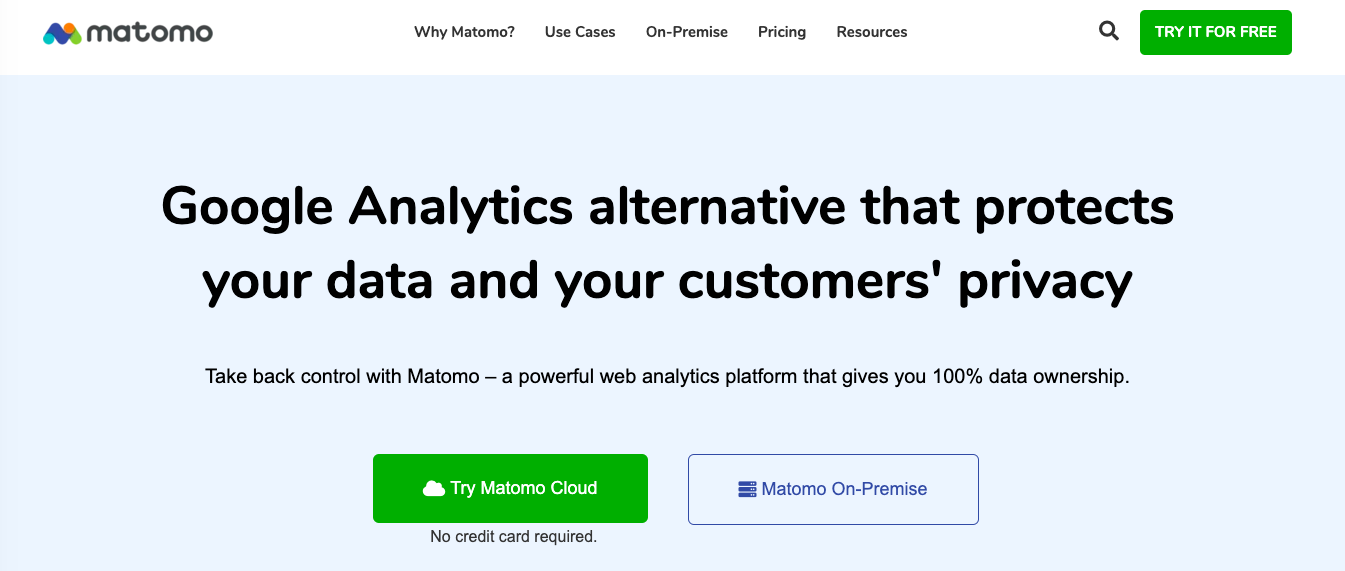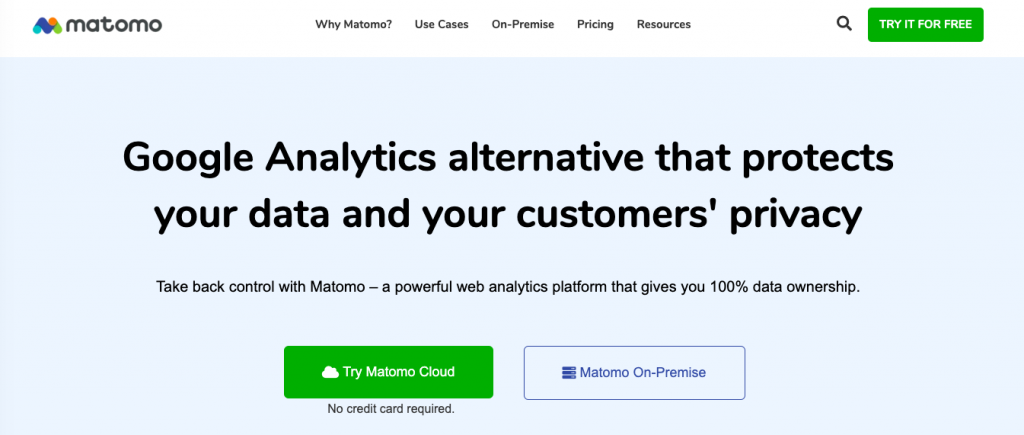 Matomo is another alternative to Google analytics.
Matomo was called Piwik earlier. It is a GPL licensed open-source web software, that enables you to customize your analytics solutions according to your needs, and on any web host of your choice.
It has a simple interface and a fully customizable dashboard that lets you monitor multiple sites simultaneously from the same screen.
It also offers unlimited page viewing and endless number of websites to be tracked, along with real time reports of visitors and their searches.
The features are similar to Google, but unlike Google Analytics, Matomo is free of cost and self hosted web analytics. However, you may go for hosting options for a premium. This ways you get a complete control over your website data since it isn't shared by third party.
It offers three plans – Essential – 19 EUR/month, Business – 29 EUR/month and Custom.
4. Open Web Analytics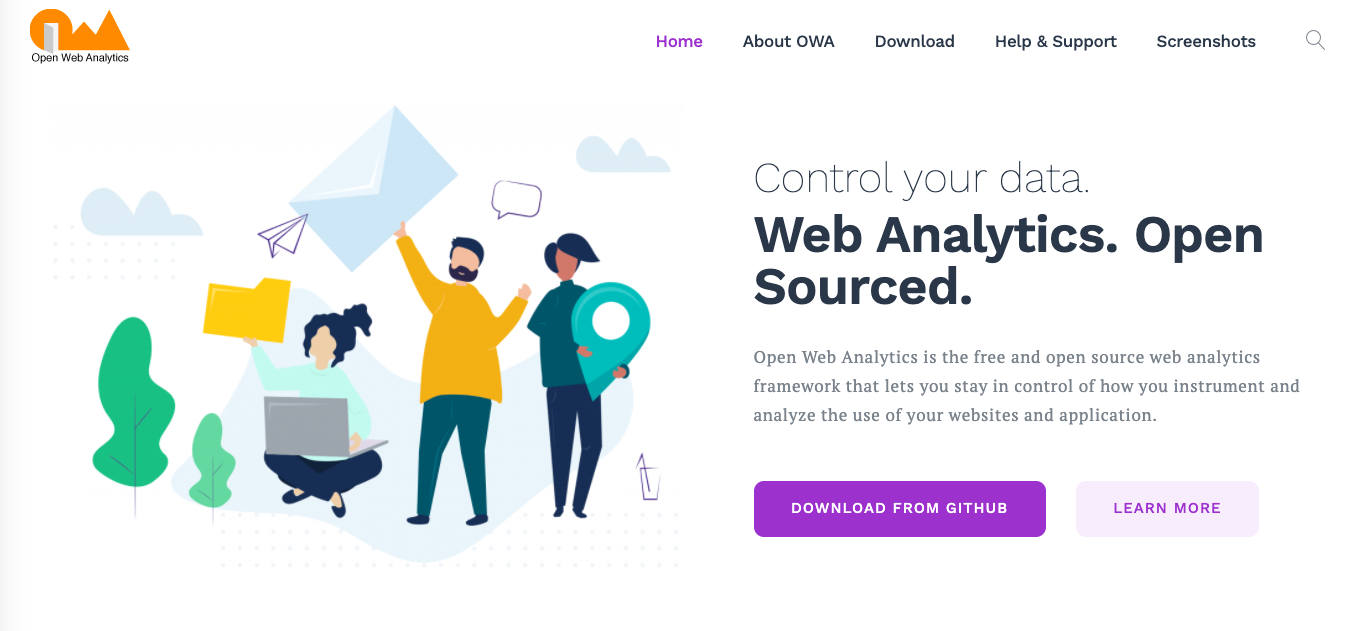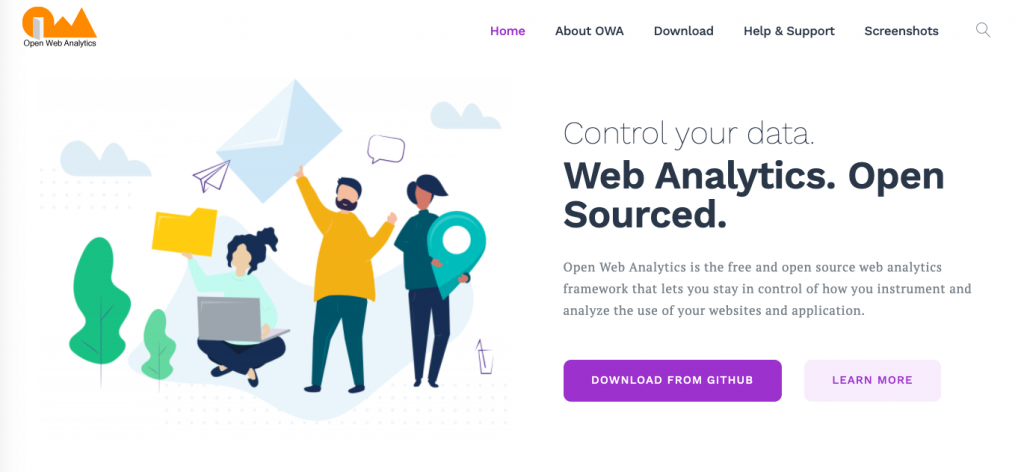 Open Web Analytics is also a GPL licensed open-source web software, that is self hosted and free of cost.
It allows easy installation of web analytics to the sites using simple Javascript, PHP, or REST based APIs; enabling the web owners to evaluate the traffic and visitors on their respective websites for quick reaction time and higher conversions.
It offers no pageview restrictions, and tracks unlimited number of websites along with site usage and conversion statistics. It even has built-in plugins for Wordpress and MediaWiki. It however, doesn't get an upgrade on a regular basis.
Open Web Analytics ranks over Google due its self hosting property and additional features like Heatmap, DOM clicks tracking and mouse movement (recording and playback) tracking.
If you're looking for the best Google analytics alternative, Open Web Analytics is a good option.
Related: How To Use Google Analytics To Increase Your Ecommerce Conversion Rates
5. Mint
Mint web analytics has a simple layout and interface as compared to other analytics. It is self-hosted web analytics, customizable and extremely cost effective.
It offers some basic features like total page views, most recently visited pages or content, unique visitors, recent and repeat referrers, search filters etc. However, you may have to add plugins or 'Peppers' to keep up with the latest.
Mint also has additional features like Bird feeder, that tracks subscription progression for a period; Real Estate, that identifies the type & size of a visitor's browser for better placement of content; User Agent 007, that scans the browser or flash plugin versions, etc.
The fact that Mint is basic enough to let you install whatever you really need makes it straightforward and less cluttered, unlike the intimidating Google.
Mint charges a one-time fee of $30 per installation for the current version. However, licensed users may install the upgrades (as and when available) at a reduced price.
The tool is not expensive so it can very well serve those who want a Google analytics alternative free option.
Related: The Ultimate Guide to Setting up Google Analytics for Your Mobile App
6. Chartbeat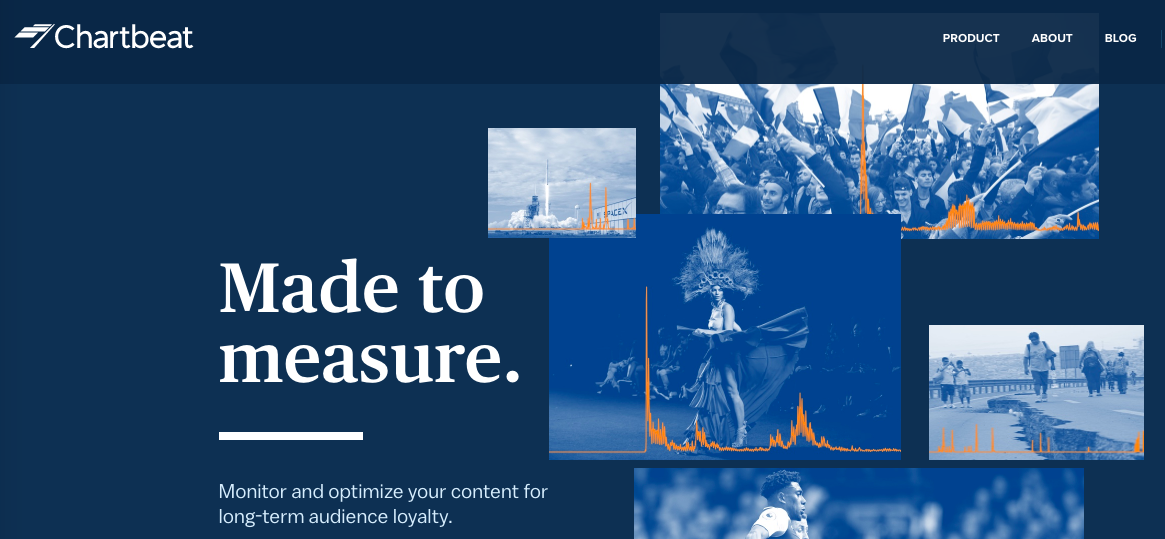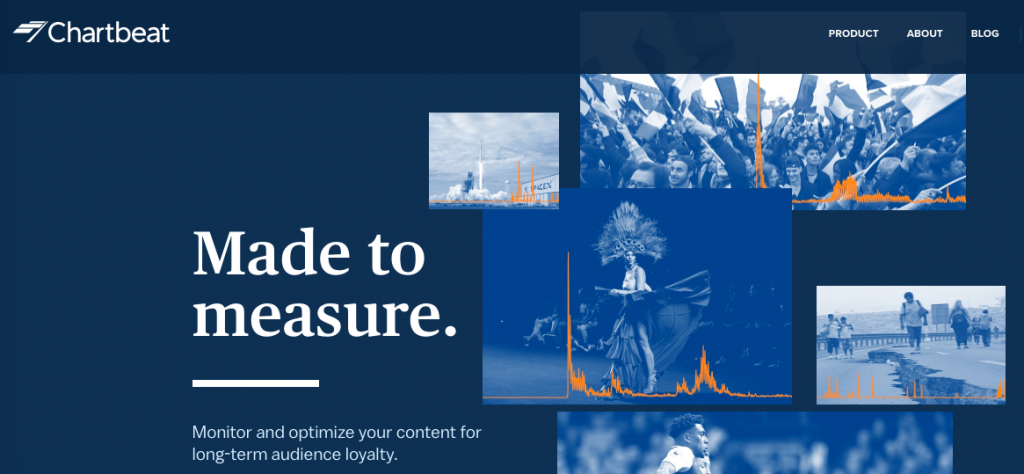 Chartbeat analytics is known for its unique metrics that go beyond just clicks and pageviews.
Apart from website monitoring, it uses the Instant Audience Analysis to focus more on the reader's interaction with the content.
The Real Time dashboard displays how your customers are connecting to your content across all platforms and devices, while the Video dashboard focuses on how your videos are capturing the viewer's attention.
It even lets you integrate itself onto Social Media so that you can track and target maximum audience engagements, thereby increasing your social presence.
You can make real-time editorial changes and optimize your content & layout, by analyzing metrics like In-page analytics and Narrative-form feedback.
The Robust Historical Reporting tools enable you to track specific performance goals for a date range, while the auto-generated Insight Badges are used to understand the trends and opportunities.
Chartbeat analytics offers free trials. The subscription prices are available upon request. They also have core and bundle offers that depend upon the number of audience views.
You Might Want To Read : Best Tools For Your Ecommerce Business
Conclusion
Though there are several tools to measure the performance of your site but according to us, these are some of the best alternatives to Google analytics.
The names listed here may vary according to your business need and budget constraints.
Whatever alternative you choose, don't just restrict yourself to functionalities of the BI and Analytic softwares.
The tool should also offer varied subscription plans catering to individual and enterprise requirements, various integrations and customizations, quality customer support as well as mobile compatibility.
Identify the key performance indicator for your business before researching and implementing the best suited analytic platform, for maximum benefits and higher conversions.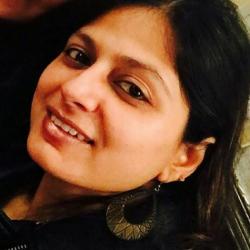 Author: Divya Dube
Divya Dube is an e-commerce subject writer at
Mofluid
. She loves to research and is an avid reader of technology, psychology and fiction. She is also a gadget freak, a traveller, loves chocolates & music and has an immense passion for writing.