Ecommerce link building is a challenge. In fact, this is the case for the majority of online stores.
Most store owners have no idea how to build backlinks for ecommerce sites.
So, how do you do it? This can be especially hard if you don't have a blog on your site.
In this post, we'll tell you about strategies to acquire backlinks for ecommerce site.
Related : Ways To Improve Your Ecommerce SEO

Strategy 1: The Moving Man Method
90% of businesses fail. And what do you think usually happens with the links to their websites?
That's right.
Other websites still link to them because they have no way of knowing that these websites are no longer updated or relevant. The pages are still working, and broken link checkers can't find them.
With the Moving Man method, you can use this phenomenon to your advantage in order to find dead websites, as well as the people that link to them. Then, you just ask these people to link back to your website instead.
This link-building strategy was created and popularized by Brian Dean, the founder of Backlinko.
It turned out to work incredibly well for ecommerce websites. The founder of JustBuyIt used it to outrank websites like Amazon, eBay and Best Buy, and this is no joke!
So, here's how to do it yourself:
Explore : Ultimate Guide To Ecommerce SEO – Part 1
Step 1: Find Websites That Are No Longer Relevant
You're looking for websites that were shut down, changed names, moved URLs or are no longer updated. You can easily find them using the following tools:
Google News
Search for news about business closings, rebrands or mergers.
Go to Google News and use the following searches:
Out of business + your keywords
Has closed + your keywords
Business closes + your keywords
Bankruptcy + your keywords
Rebrands + your keywords
So, let's say you're selling shoes. In this case, you would just type "Out of business" + "shoes store".
Bingo! It looks like Roberts Shoes went out of business after 77 successful years.
Domain Aftermarket Sites (ExpiredDomains.net)
When authority domains expire, they are usually picked up by big domain name auction sites like GoDaddy auctions, NameJet or Flippa domain search.
These websites know that people will be ready to pay really good money for good expired domains, so they do an incredibly good job of finding outdated resources.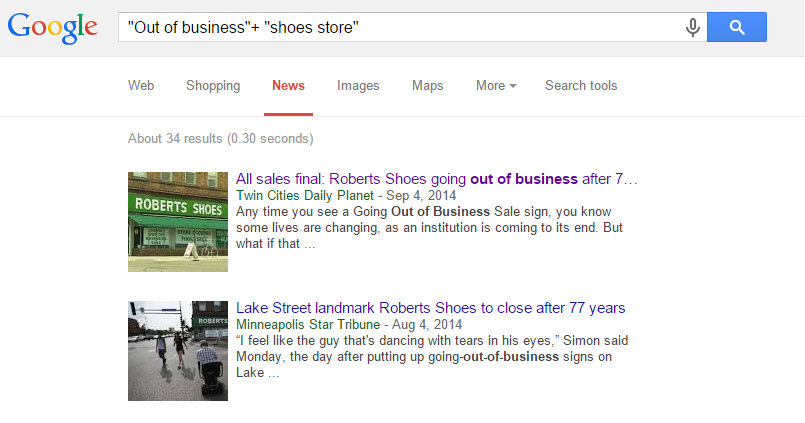 Your best option is to go to Expired Domains.net, where you'd be able to see expired domains from several different places. Also, you'll have important statistics like PageRank, DMOZ listing and the number of referring domains.
Now, let's say that you're selling shoes.
Just go and type "shoes" in the search bar: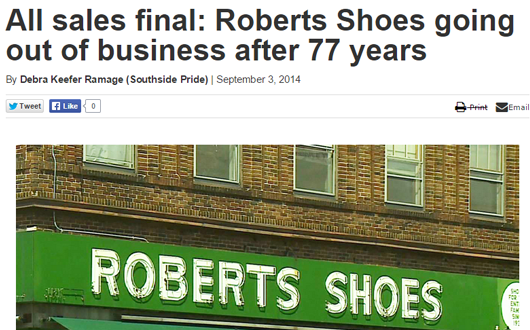 Look for websites with high PR (Page Rank) and DP (Domain Popularity) scores. This will show you the websites with the most backlinks from different domains that used to rank well.
Websites such as wherearemyshoes.com and JordanShoes-Mall.com have a PR of 4 and numerous backlinks. That's what you're looking for.
Explore : Ultimate Guide To Ecommerce SEO – Part 2
Yelp
When a local business closes, Yelp keeps the page, but adds "Yelpers report this location has closed."
To find a closed store, just go to Google and type site:yelp.com + closed [city] [business type].
If you're selling shoes, just search for site:yelp.com closed san francisco shoes store.
As you can see, the only results presented are for closed stores. When you visit the Ecco store page, you can clearly see that it's out of business, as well as a link to its website.
Find Parked Pages
Simply go to Google and type "This page is parked FREE, courtesy of GoDaddy.com" + "domain is for sale".
You can perform niche-specific searches by typing "domain is for sale" + inurl:keyword.
For example:
Step 2: Find Out Who Is Linking To Them
When you find an outdated resource, it's time to find out who actually links to that website.
To do that, you can use link analysis tools like Open Site explorer, MajesticSEO or Ahrefs.
In this case, we're going to use Ahrefs and the website that previously belonged to Ecco, a shoe retailer that web bankrupt.
Type their URL in the Site Explorer box.
Now you'll see how many backlinks and referring domains they have. Not bad!
Click on Backlinks and you'll see all the pages pointing to that domain.
Step 3: Reach Out To People & Pitch Your Website
The last step is to simply reach out to people and let them know that the website they're linking to is no longer relevant (out of business, rebranded, etc.).
You can use a pitch similar to the one Chris Laursen used for JustBuyIt (he outranked Amazon, remember?).
Just let them know about the broken link and pitch your replacement resource from your website.
As a result, a lot of people actually decide to update their website.
You Might Want To Read : SpyFu Vs Moz Pro Vs Semrush – Best SEO Tool
Strategy 2: Brand Mention Link-building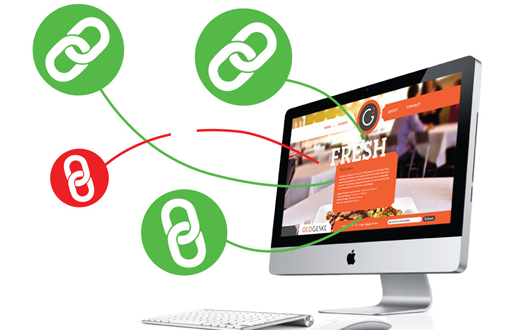 This is one of the simplest ecommerce link building strategies. Just find out which websites are already mentioning your brand and the products you sell, and then ask them to link back to your site.
Let's go over this in more detail:
Step 1: Find A Website With An Unlinked Mention Of Your Brand
To do that, simply use Mention.com. Just log in and type the name of your company.
For example: Amazon
Then, click "Next" and select only "News," "Blogs" and "Web." Mentions on Facebook, Twitter and Forums are great, but they don't give you any search engine juice.
Also, select English as your main language.
In this case, we can instantly see 85 mentions of the brand.
Step 2: Determine If The Mention Is A Good Fit
Not all mentions will be a great link-building opportunity.
First, you need to ensure that people are actually mentioning your brand or a product you sell.
For example:
When people mention JustBuyIt, they might be referring to the online store or it might just be a simple call to action.
Second, you need to be sure that the mention is unlinked.
The good thing about mention.net is that you can preview the websites straight from the platform and easily see that whether the mention is linked or not.
Worth Reading : The Ultimate Guide To Ecommerce On-page SEO – Part 1
Step 3: Ask For Links
Here's a simple pitch that you can modify and use for your brand or product:
Subject: Thank you for mentioning [Brand or Product]
Body:
Hi [Name],
I found your blog post about [Topic] today on [place]. Great stuff!
I just wanted to reach out and say "thanks" for mentioning [Your brand or product you sell] in the post.
I noticed that you hadn't included a link and was hoping you'd be kind enough to include a link to the product to help your readers find it after reading article. Here's the page:
[URL of Product or Category page]
Thanks in advance and have a nice week!
[Your name]  
Strategy 3: Get Product Reviews From Bloggers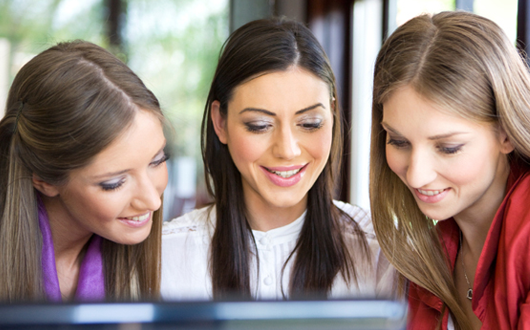 Link building for ecommerce requires a lot of networking and communication.
Another strategy is to simply reach out to bloggers and let them review your products.
To make this strategy work, you need to follow these steps:
Step 1: Find The Right Blogs
Not all blogs will be a great fit for you. You want to:
Build relevant links to your site only on websites that write about similar topics.
Get links from high-quality sites only. Bad links do more harm than good.
Pitch only relevant products to bloggers. Otherwise, you'll generate negative responses.
The big questions is – how do you find the right blogs for you?
Simply identify which blogs have already written about products you're selling.
Let's say that you're offering the new Canon EOS 7D Mark II Digital SLR Camera. In this case, you know that every blog that has reviewed previous models will be interested.
Go to Ahrefs and click on the Content Explorer.
Type "Canon 7D" and hit search.
In the results, you'll see a list of all the websites that have mentioned the product.
Pick websites with a high RD (Referring Domains) score.
Also Read : The Ultimate Guide To Ecommerce On-page SEO – Part 2
Step 2: Find A Way To Contact The Blogger
Many websites openly share the post author's contact info.  Simply click on his/her name and go to the author page.
Then you'll clearly see his contact details – emails and social media accounts.
If the author's email is not listed, you can try to finding him/her on LinkedIn.
Step 3: Pitch Your Product
The last step is simple, but really important. You need to correctly pitch your product in order to maximize your chances of getting reviews.
Take some time to review previous posts by all the authors you're about to contact. Pay attention to what interests them and what they're passionate about.
Once you have done that, you can send them an email. You can use something like the following template.
Dear [Blogger's name],
My name is [your name] and I am a [your info] who also sells [your product]. I'm a fan of your blog on [topic of the blog], and especially enjoyed a recent post on [name of the blog post].
I just wanted to let you know that we've recently opened an online store to sell [your product]. Our products are special for the following reasons: [list two or three reasons why they're special].
I've sent a sample of [your product] to the address listed on your contact page. If you love it as much as I do, perhaps you'll consider sharing with your audience? Please let me know if you're interested in learning anything at all about what I'm selling. My direct number is: [your number].
[your name]
[yoursite.com]
Strategy 4: Write A Guest Post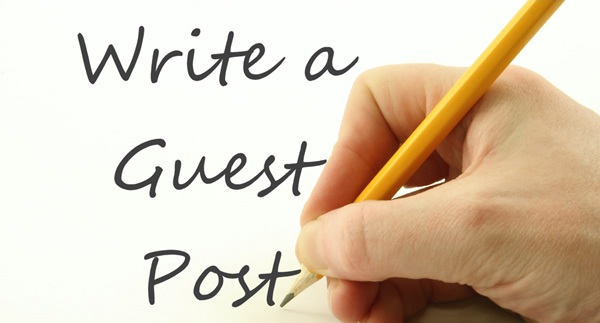 Another backlink strategy for ecommerce involves doing guest posts.
This approach is very similar to pitching your products for reviews. The only difference is that, instead of having the blogger write an article, you do that part yourself.
When you decide to guest post, don't just aim to get backlinks. Instead, focus on delivering great value to the blog's audience.
Follow these steps to maximize your chances for getting links from guest posts:
Step 1: Find Blogs To Write On
Use the same method mentioned in Get product reviews from bloggers to identify blogs. Pick ones that have written about the products you sell and are interested in your niche.
If you're selling DLSR cameras, for example, you'd be interested in websites such as:
Step 2: Identify Which Topics You Should Cover
Review previous posts on the blog you'd like to pitch. Identify which topics get the most social network shares and comments.
On some websites, you can clearly see those numbers next to the social media icons.
7.2k shares on Facebook and 175 on Twitter. Not bad!
You can also enter one of your keywords into Buzzsumo to identify which topics tend to perform best.
Obviously, posts about Canon SX400 and Canon EOS 1100D performed really well.
To learn more about how to identify the right topics for your guest posts, read the guide by Groove on the topic.
Worth Reading : Moz Analytics Vs Semrush Review – Best KW & Competitor Research Tool For SEO
Step 3: Pitch Your Guest Posts
When pitching to blogs and websites, keep the following in mind:
Always try to pitch via email.
Keep your emails short and to the point.
Tell them why you like their blog and point to specific posts you read and liked.
State that you want to guest post and offer them a few topic ideas.
Provide links to other posts you have written.
Strategy 5: Get A Link From Your Manufacturer
This one is an easy ploy when it comes to link building for ecommerce website. The manufacturer wants people to be able to find you because this means higher revenue for him, as well.
To get a link from your manufacturer, do the following:
Step 1: Identify Which Manufacturers List Their Retailers On The Site
Simply browse through their websites and search for a supplier's page or "where to buy" page.
You can clearly see this on Canon USA's homepage.
Step 2: Ask Them To List You
This is pretty simple. Most of the time, they understand that you are providing them with a mutual benefit. If more customers come to buy from you, the manufacturer will generate more revenue, as well.
You can send them the following pitch:
Hello [name],
I just saw that you have a "Where to buy" page on your main website. Unfortunately, I couldn't find our website listed there.
Can you add it, as well? I'm sure that people who live in [your area] will be glad to know they can easily buy [their product] from [your store].
I'm sure this will be beneficial for both of us.
Best,
[your name]
Step 3: Pitch Manufacturers Who Don't Have A Listing Page For Retailers
Some manufacturers might not have a "where to buy" page. In this case, you can simply pitch them the idea and the benefits of having one.
Hello [name],
I just saw that you don't have a "Where to buy" page on your main website.
There are many people that might want buy your products, but aren't able to find which stores actually sell them.
I'm sure you'll benefit a lot if you add a "where to buy" page on your site listing all the retailers who sell your products. This is likely to increase your revenue.
Best,
[your name]
Explore : Complete Review on Semrush
In Conclusion
Earning ecommerce backlinks might be a challenge, but it's not impossible.
Link building for ecommerce websites requires patience, persistence and implementing the right strategies.
If you correctly follow the strategies listed in this post, you're likely to see a huge increase the quality and quantity of the links that you generate.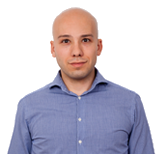 Author: Martin Zhel
Martin Zhel is an inbound marketing expert and Founder of Orior Creative. He specializes in SEO, content marketing & conversion rate optimization.