For Amazon sellers, determining the best selling products is a crucial success factor. While Amazon sales are increasing, a large proportion of the sales are going to relatively few sellers.
Although Amazon has over a million sellers in the US marketplace, only 2% are able to run a lucrative business. Amazon announced that 20,000 Amazon marketplace sellers were able to achieve a revenue of $1,000,000 last year.
This means that an extremely small fraction of sellers earned high revenues at the Amazon marketplaces.
Just 140,000 Amazon marketplace sellers in the US were able to reach a moderate revenue of $100,000.
If you factor in the expenses then the net profit will be much smaller. This is simply not enough to sustain even a small household according to middle-class standards.
So only a small proportion of sellers are making moderate sales. Therefore, an overwhelming majority face low revenues.
The revenue figures for worldwide Amazon marketplaces are even more troubling. Out of millions of sellers, only 15,000 could exceed the million dollar revenue mark annually.
Therefore, it is necessary for Amazon sellers to use tools that will pinpoint the right mix of products so that they can sell at high volumes.
Jungle Scout and BigTracker are leading research tools, which are becoming increasingly popular. These tools can provide you crucial data which can help you to make the right business decisions.
The features of the two research tools will be discussed and then compared to help you decide which one is the most suitable for you.
With Jungle Scout, you can make use of the web app and the Chrome extension. Both have their own tools and features, which can offer you a host of advantages.
Since Jungle Scout offers several useful tools at the user's disposal, the number of customers has grown to more than 100,000 since 2014 when the software was launched.
Our Pick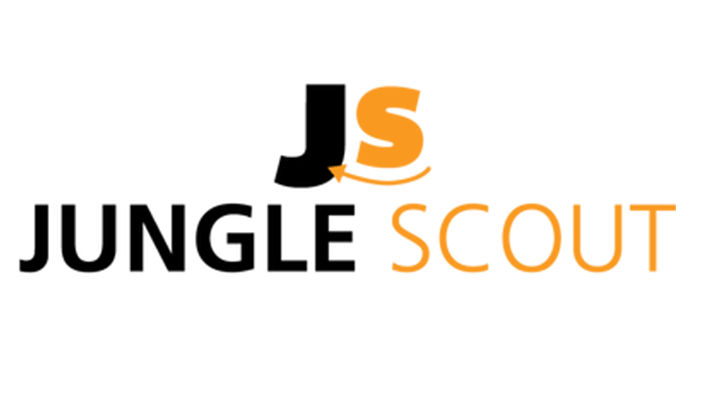 We earn a commission when you click this link and make a purchase.
Jungle Scout Chrome Extension
Chrome extension works in the background when you browse Amazon. You can search for different categories and then let Jungle Scout do the rest.
This extension has been designed to quickly gather data from a specific webpage, process it and then give you insights about the estimated sales, average price, review count, ratings and more.
You can compare data for different products to determine which ones will be more profitable.
For instance, if you are searching for men's shoes, then Jungle Scout will be able to automatically retrieve data about different shoes listed on the search page.
Jungle Scout will then create a list of the shoes and show relevant data.
Chrome extension allows you to discover and validate your product ideas. Jungle Scout promises to offer accurate sales estimates through its Chrome extension.
Rather than relying on guess work, which can be very risky and inaccurate, you can leverage the power of historical data to make informed decisions.
You can find important product data at a glance. You will be able to see product specifications, Google trend analysis, sales data and the best sellers rank.
This data can indicate the sales potential for your product idea.
Chrome extension seamlessly integrates with the Amazon database. As you browse Amazon website and conduct searches for products, the extension will populate a list and gather information from the search results to provide useful summarized data.
You will be able to see information on profit estimates, average price, average sales price and more in real time.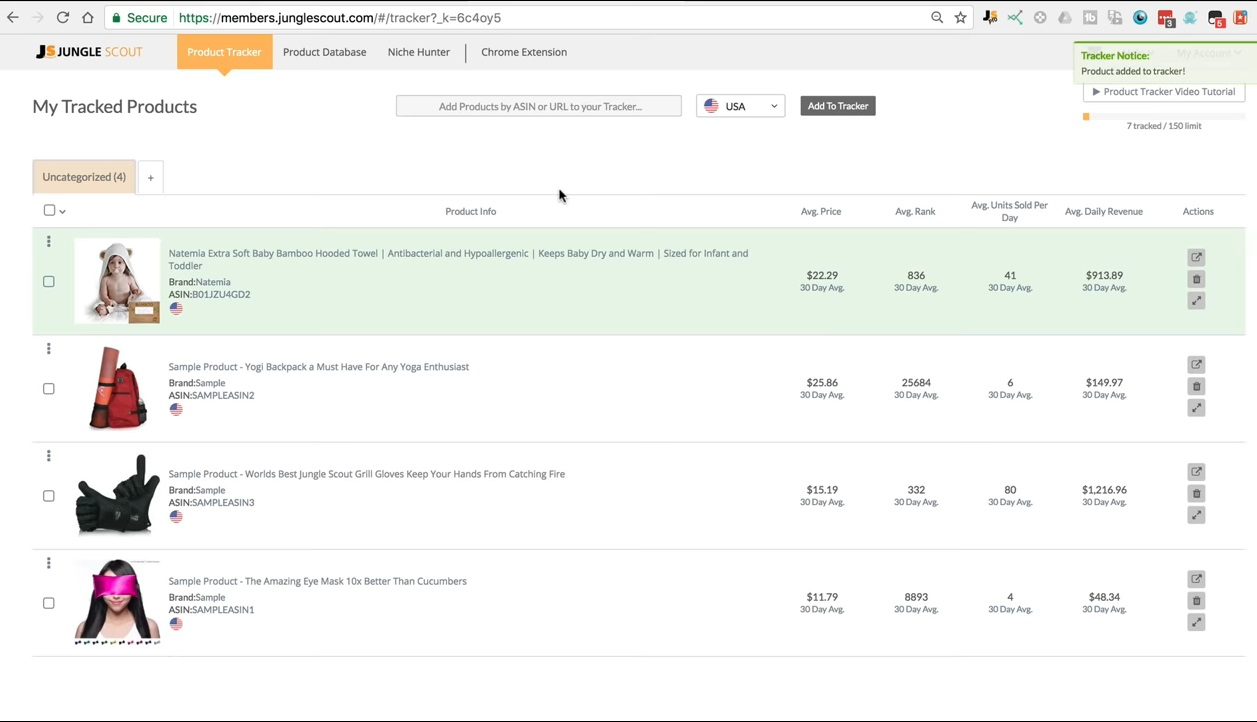 Jungle Scout Web App
You can also make use of the web app which can scour through the Amazon database to retrieve the most relevant results.
You can filter your search according to different criteria like category, price, sales and more. This will help you to identify promising products that have high sales potential.
Our Pick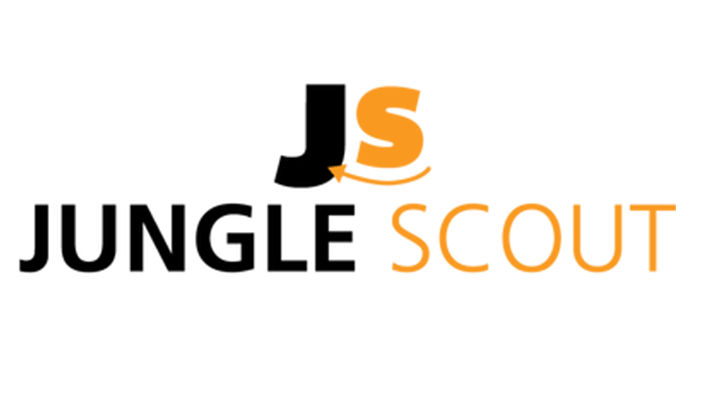 We earn a commission when you click this link and make a purchase.
You can also use the web app to locate products, which have relatively low competition.
This may be better than the best selling products, which have very high competition and are therefore not profitable. You may be able to sell more of those products. which have relatively few competitors.
You must specify a set of criteria when you are using the web app. If you specify the right criteria, you may find products & niches with low competition and high margins.
You can also use this feature to gain an understanding about the tactics used by top sellers to generate high revenue.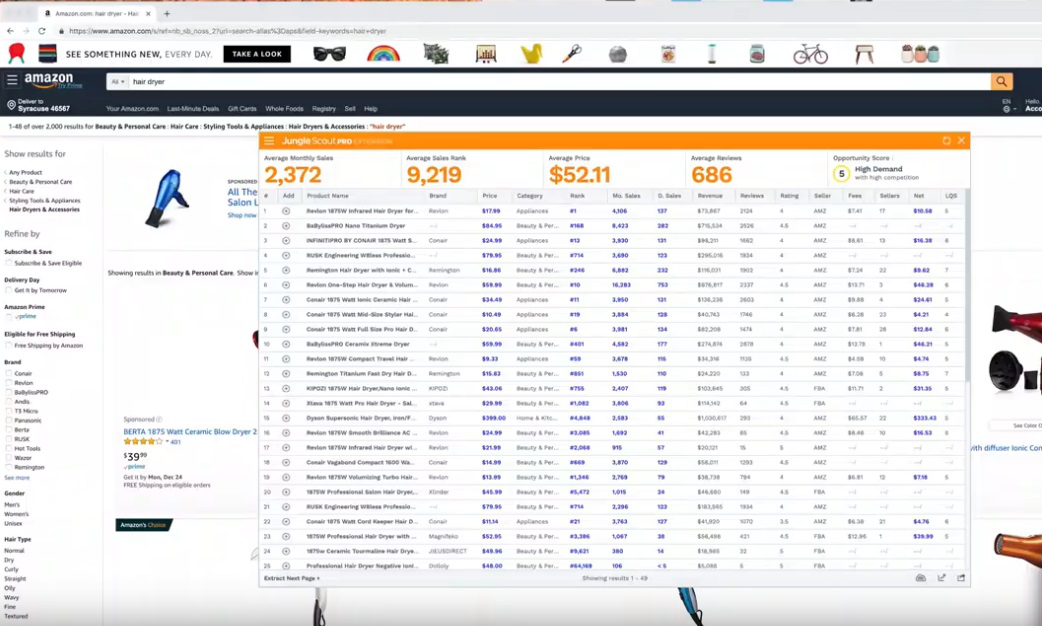 You can gain access to the following tools with the Jungle Scout web app:
Jungle Scout Product Database
You can filter out irrelevant results by making use of several criteria, which you can define according to your choice.
You can filter your results based on sales, ratings, product category, product weight, rank and more.
The AccuSales algorithm will give you relevant information pertaining to consumer trends and competitor tactics.
This information will make it easier for you to invest in the right product portfolio for minimum risk and high profit margins.
Jungle Scout Product Tracker
You can monitor and validate different product ideas by assigning them to the product tracker, which will show how well your potential products are performing over time.
With this information, you can discover fluctuations in demand for the products and also ascertain if they are seasonal products.
With a deep knowledge of the demand cycle, you can build a stock of the product when the price is low and sell it at a premium price when the demand rises.
With the product tracker, you will have a better idea of predicting surges in demand.
Jungle Scout Keywords & Listings
Jungle Scout allows users to follow trending keywords, which can be used to build the most effective product listings.
With keyword research and high quality listings, you can drive sales and increase brand exposure.
Our Pick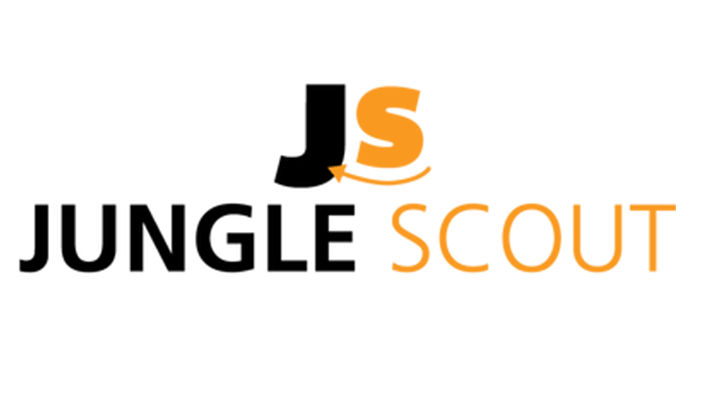 We earn a commission when you click this link and make a purchase.
Jungle Scout Supplier Database
The supplier database aims to turn your product ideas into a feasible reality.
You can skim through the in-depth database that lists suppliers with a proven track record of supplying the products that you need at the right price.
You can check the leading suppliers, find out who their top customers are and check verified shipping records from different parts of the world.
You will also see details about their production capacity and other factory features to help you determine if they are capable of meeting your demands.
You can also locate suppliers of niche products, especially those that are willing to fulfil the smaller orders.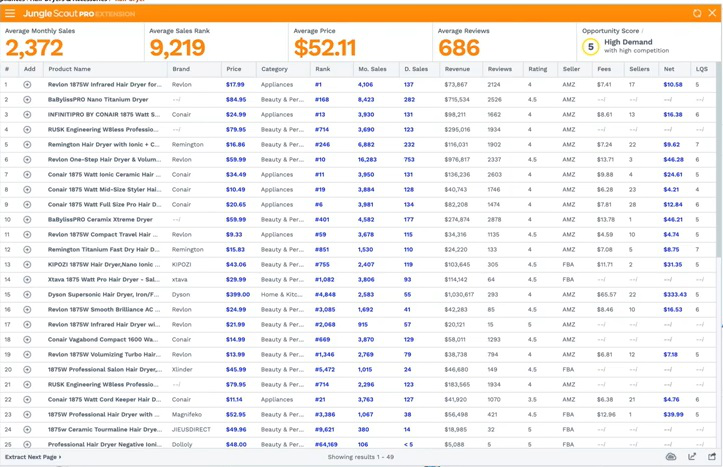 Although there are a fair amount of tools, certain drawbacks must also be considered.
Jungle Scout Cons
The biggest drawback is that Jungle Scout shows items that are already being sold at the Amazon marketplace.
These products often face stiff competition and as a result they have thin profit margins. So with Jungle Scout, you are stuck only with those products that are already available at Amazon. You will have no idea about how the new products will perform.
This is a major disadvantage because new products are your best chance for making an early entry into a promising new category.
This increases your likelihood of establishing a big market share.
There are also errors with the sales forecast. As with any forecast tool, Jungle Scout forecast feature must be used with care.
You may find that for certain a product, there is a significant discrepancy between sales estimate provided by Jungle Scout and the actual sales that you have achieved.
On the other hand, you can use the product tracker feature of Jungle Scout to monitor how well a particular product is performing.
This tool is obviously far more precise and it will help you to understand the product's sales potential and make a decision accordingly.
Related : Best Jungle Scout Alternatives
Jungle Scout Pricing
Jungle Scout pricing has 3 plans, starting from $39 to $129 a month. You can try the tool for 14 days with 100% refund guarantee.
Our Pick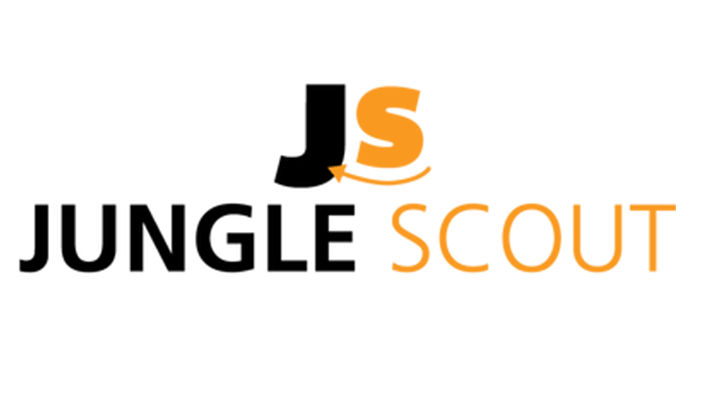 We earn a commission when you click this link and make a purchase.
BigTracker is a relatively new entrant to the market research segment that has become quite popular with Amazon sellers in a small time period.
BigTracker offers a number of features, which can help users find profitable niches and analyze the competition.
BigTracker is challenging Jungle Scout with respect to data accuracy, product database and sales analysis.
Take a look at the product tracker feature, for example. Jungle Scout monitors daily sales of products and displays the results in the form of columns, which show relevant sales information along with a graph.
But BigTracker goes further and provides revenue insights for multiple items and also sets up email alerts based on 20 different settings.
BigTracker also focuses on additional parameters and based on this data, it performs a comprehensive competitor analysis.
This will help you to make informed decisions to gain an edge over the competition and to ascertain which products will sell well.
There is also a specialized calculator that allows you to make profit estimates.
Big Tracker Data Accuracy
Data accuracy is very important since it influences your purchase decisions. In fact, data accuracy is the leading factor which motivates sellers to purchase a research tool.
This is the fundamental feature of market research tools since accurate forecasts can help you to buy the best products that will sell quickly on the marketplace.
On the other hand, with inaccurate forecasts, you will miss out on lucrative products or purchase low performing products. This can reduce your profits and even result in losses.
As far as data accuracy is concerned, Jungle Scout performs its analysis on the basis of stock numbers. With this method, Jungle Scout is able to provide fairly accurate numbers most of the times.
However, there is a range of problems which can lead to inaccuracies with this method.
For instance, inaccuracies will arise when products go out of stock, inventory amounts go beyond 999 or when major fluctuations in inventory occur. As a result, there may be errors with respect to sales estimates.
BigTracker, on the other hand, monitors 5 listings for every product and then evaluates them on an aggregate basis.
In addition, every 15 to 20 minutes, it also includes the effects of buy box rotation parameters. This requires 5 times more engineering resources compared to other tools.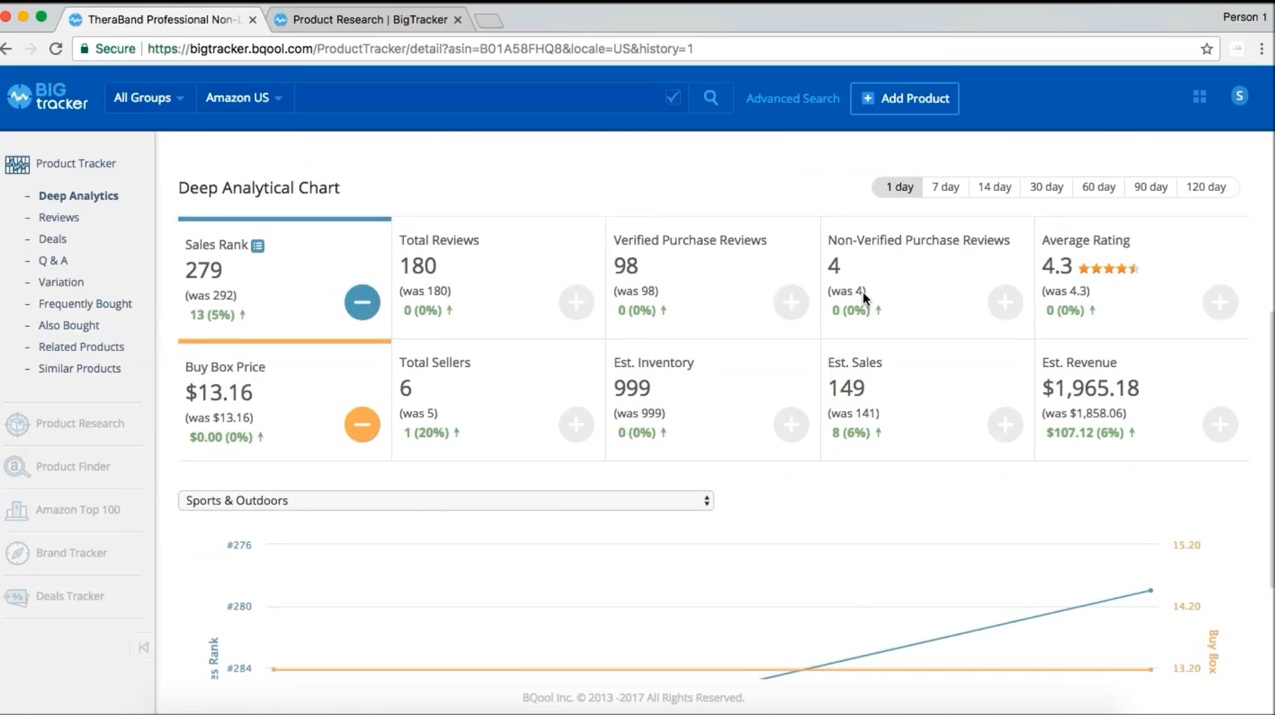 To handle large inventory fluctuations, BigTracker gathers sales data regularly to establish accurate sales models, which are modified every two weeks. Data accuracy is maintained in spite of any changes in stock numbers.
For greater data accuracy, BigTracker uses a sophisticated algorithm to analyze the results.
For best results, nonlinear regression, which is also referred to as NURBS in engineering mathematics, is employed. Hence, you can get more accurate data if you track for more days.
Related : Best Softwares For Inventory Management & Multichannel Listing
Big Tracker Deals Tracker
Deals tracker allows you to follow promotions offered by competitors. This way, you can discover the factors that lead to successful promotions and use them yourself.
With this feature, you will learn what works and what doesn't when it comes to promotions.
This is very important because promotions are the best way of marketing your brand, increasing orders and reviews, improving sales rank and gaining product awareness.
Brand tracker lets you monitor the performance of rival brands and it also shows how your brand is performing with respect to the competition.
Top 100 list shows the best selling products. Form this list you can discover the next product that will sell fast on Amazon.
You can track two or more products and perform a product comparison to compare sales statistics
You can establish email alerts and customize them according to your needs. You can set up 20 different types of emails to remain constantly updated.
With customized email alerts, you can respond faster, save time and focus your effort on sales and business strategy.
You can also establish and control different product trackers via group settings
Big Tracker Product Research
The product database has an important role to play in accurate product research.
In order the build accurate sales models, big sales database is required for accurate data analytics.
BigTracker employs a large database which contains information on more than 38 million products sold at Amazon.
Not only are there basic columns for estimated revenue and sales there is also a profit calculator and a sales graph which can be used to assess items before they are added to the product tracker.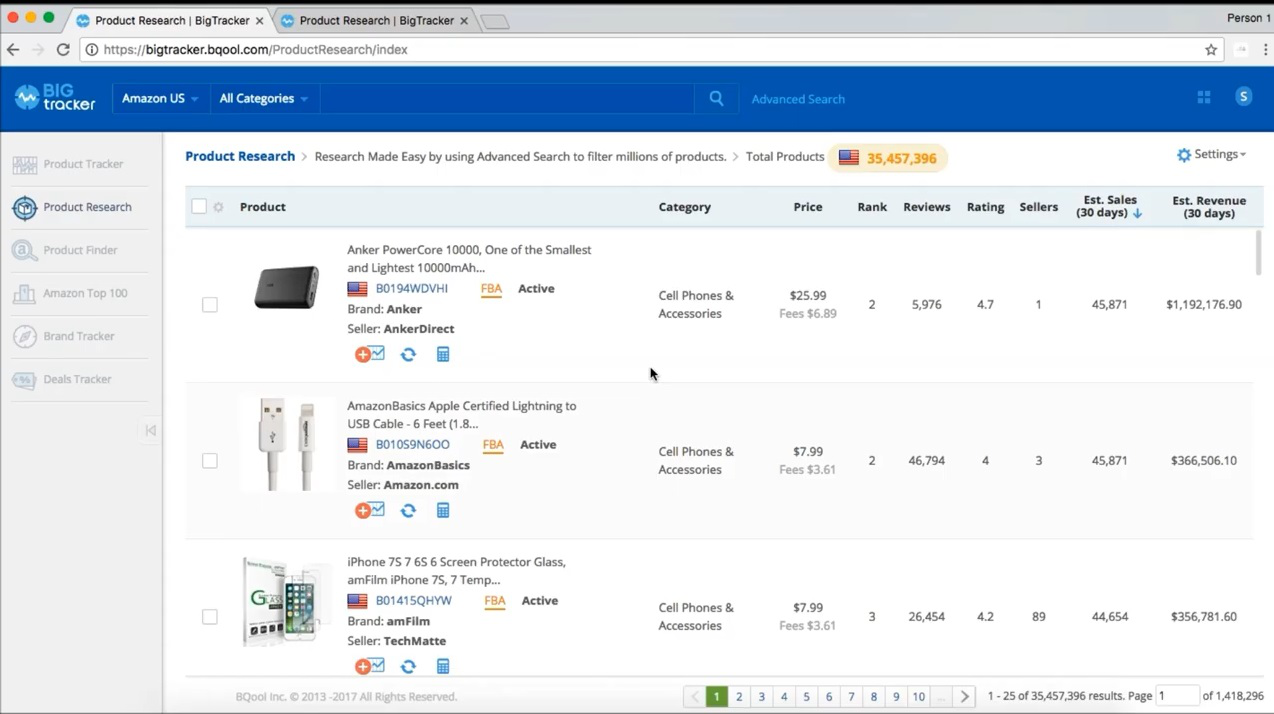 Big Tracker Database Filter
In advanced search, you can make use of group settings and filters to customize your search.
You can also save frequently used search criteria in the form of a template – this offers a lot of convenience and it saves you time and effort spent on research.
BigTracker gives you access to a powerful search engine which can help you to discover the most profitable product niches by filtering your results on the basis of brand name, category, product keywords and ASIN to name a few.
Since BigTracker focuses on data accuracy, it does not assign any scores to products. Such scores can prove to be inaccurate since there are daily fluctuations in the marketplace.
Instead, BigTracker updates the sales model periodically to reflect the latest business trend by collecting sufficient data for greater accuracy.
Related : Best Amazon FBA Calculators
Big Tracker Analytics
Many market research tools collect sales data and present them in the form of a graph.
BigTracker goes further by offering better competitor analysis and helping you to discover the best products through monitoring deals, reviews and Q & A which can serve as multiple reference indicators.
3 tier group settings can assist you in managing tracked products.
Big Tracker Product Comparison
The sales analytical chart will help you to evaluate sales data for multiple tracked products so that you can identify items that have a greater likelihood of higher sales.
You can also use this data to analyze competition to improve your chances of successful sales. Depending upon the type of subscription plan, you can track sales data ranging from 90 to 120 days.
In order to perform meaningful competitor analysis and finding the most lucrative niches, BigTracker offers the following features:
In-depth analytical charts to compare your product performance with the product performance of competitors.
To give you a better sales opportunity and to help you perform a SWOT analysis of competitors, BigTrackeranalyzes data from Q&A, deals and reviews.
For each listing, BigTrackerhelps you to identify the best selling child ASIN by following variations. You can buy a bigger stock of your fastest selling products and think about selling top performing competitor products if you do not possess the child ASIN.
Brand tracker gives you deep level of control over your brand performance and indicates how well your products are performing compared to the competition. Since the brand tracker points out the best performing products of your competitors, you can consider adding them to your inventory to drive sales.
With the profit calculator you can perform backward profit calculation and also determine your return on investment. The embedded calculator lets you quickly assess profit margins so that you can build an inventory with high profitability.
Related : Best Amazon Product Finder & Research Tools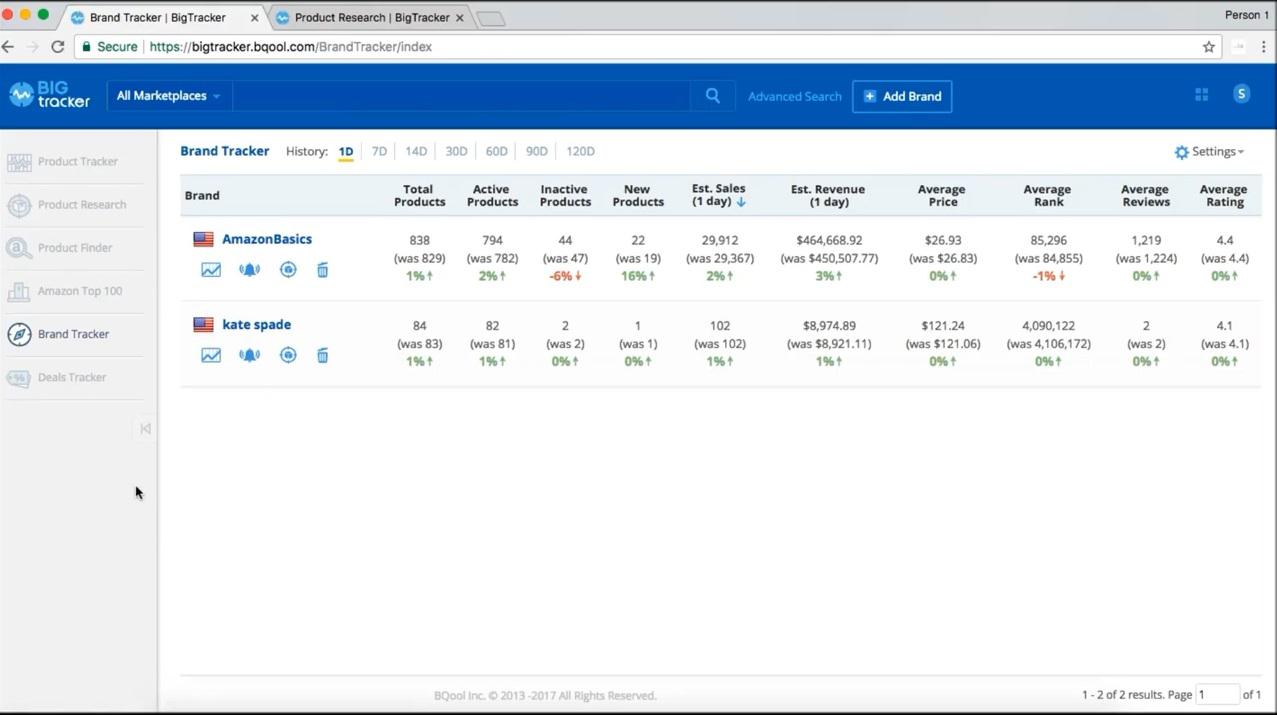 Big Tracker Listings
While there are millions of listings on Amazon, BigTracker will sift through all the irrelevant listings to retrieve those that are the most relevant for you.
You will get information about estimated sales, seller rank, product reviews, selling price and more to assist you in product research.
Related : Best Amazon Listing Softwares For Sellers
Big Tracker Subscription Packages
Compared to Jungle Scout, the subscription packages of BigTracker are more budget friendly.
To give an idea of what the software can offer you, BigTracker provides a completely free 14 day trial.
If you are satisfied with the free trial, you can choose from three subscription plans where you will be billed on a monthly or annual basis.
With yearly billing, you will get a discount.
BigTracker is owned by Bqool. BigTracker extension is available when you buy one of its BigCentral plans. They start from $50 to $500/month.
Who Wins It – Jungle Scout vs BigTracker
But this does not mean that BigTracker is superior to Jungle Scout in all aspects. There are certain features where Jungle Scout has the edge over BigTracker, such as product search filters and number of marketplaces where the tool can be used.
BigTracker is limited to the following countries:
Japan
UK
Italy
France
Spain
Germany
US
Jungle Scout is offered in the following Amazon marketplaces:
Canada
Mexico
UK
Spain
India
France
Italy
Germany
US
Jungle Scout also offers additional filters, which are not available in BigTracker such as net weight and listing quality.
These parameters are used in Jungle Scouts algorithm to give an estimate on the expected profitability for various products.
Therefore, Jungle Scout may be better for suitable product discovery. BigTracker offers greater advantages in finding the best product niches and analyzing the competition.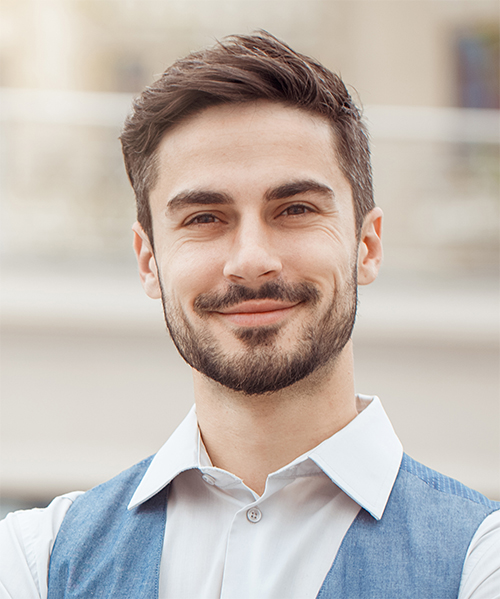 Author: Scott Macarthur
Scott L. Macarthur is a marketing consultant and an online author. He is mostly engaged in providing his expertise to startups and SMBs. He is also an author on TheNextWeb.