Amazon offers Fulfillment by Amazon (FBA) opportunities to all sellers across the world and enables them to increase their online sales.
It charges a fee for handling their Inventory, Orders and Shipments, while helping sellers to scale their businesses and reach more customers.
The FBA Fees vary as per product and its variations. This means that to make the FBA services profitable, sellers need to concentrate on what they sell and how much they sell.
Understanding the potential of their own inventory, finding the right products and eyeballing how their competitors perform – is utmost important if they want to generate higher profit margins and maintain their competitive edge.
Related : Best Amazon FBA Calculators Review
Following is the review of Jungle Scout – one of the most effective ways for the sellers to identify the best products to sell on Amazon –
What Is Jungle Scout?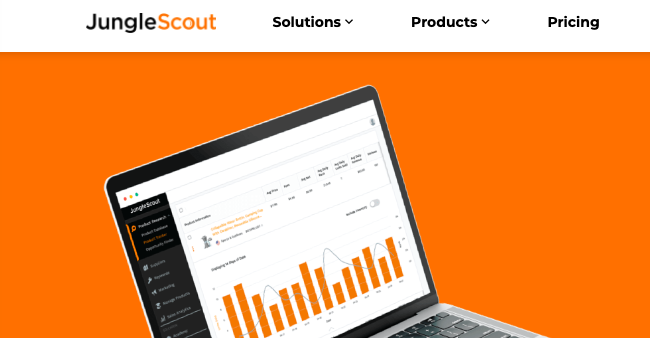 Jungle Scout is an Amazon product research tool.
It does a thorough market research on products, and provides excellent ways for you to assess the most profitable products to sell.
It also lets you spy on your competitor's product listings, their daily sales and fluctuations.
You can keep a track of how the products are doing in terms of daily or monthly sales, what are their average prices, what kind of ratings do they have, or how many reviews have they generated etc.
The idea is to refine your searches for maximum profitability.
Jungle Scout can be used either as a Chrome Extension or Web App.
It also supports international marketplaces like Germany, France, Italy, India, Spain, UK, US, Canada and Mexico.
Claim your exclusive 30% discount offer
Before we dive into detailed Jungle Scout review, pricing & which Jungle Scout type to buy, I would to share Jungle Scout Chrome extension & web app promo and coupon codes that are currently active.
Our Pick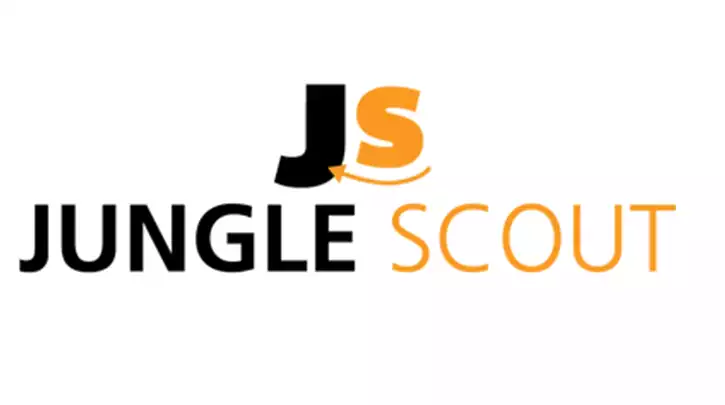 We earn a commission when you click this link and make a purchase.
Jungle Scout Chrome Extension & Web App Discount Codes [2021]
We now come to promo codes and discount Jungle Scout is offering at the moment.
Claim your exclusive 30% discount offer
Evergreen Jungle Scout promotion for veterans; 15% discount on all products to active and former U.S. Military service members.
Explore : Jungle Scout Vs AMZ Tracker
Jungle Scout Chrome Extension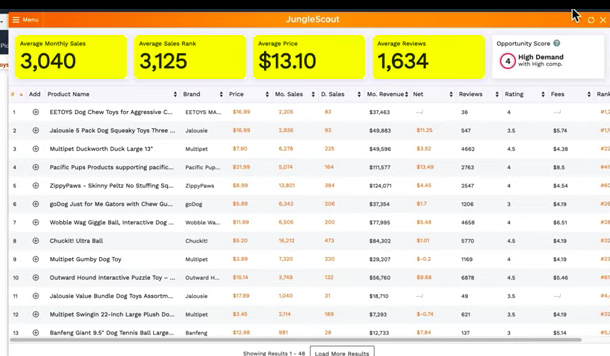 The Jungle Scout extension integrates with the Google Chrome browser and streamlines your product searches.
It enables you to search for your products faster and right within the browser, while you are accessing the Amazon site.
You can view the product data directly from the Amazon search pages and analyse their competitiveness in the market.
The extension provides numerous useful metrics such as best sellers rank, monthly sales estimates, number of reviews, average ratings, average price etc. Apart from that, it also offers data for –
Seasonal Trends – reveal the historic keyword trends for the past few months or years
FBA Fees – the Amazon fees associated with each product
Profit Calculator – calculates the net payout after deducting the Amazon share
Dimensions and Weight – helps to decide the varying FBA fees as per the weight and size of the products. (Heavier products have higher FBA fees, which means you cut down on your profit margin)
OverSize Indicator – lets you know if your selected product might come in oversized dimensions as well
Based on the metrics, you can use the filtering to narrow down your search criteria and view only what is relevant to you.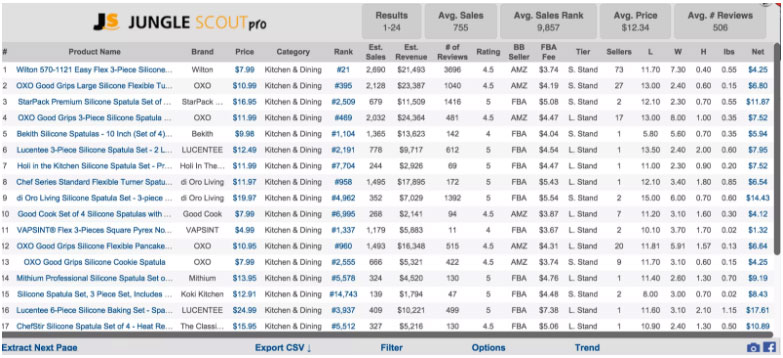 Claim your exclusive 30% discount offer
Also Read : Jungle Scout Vs AMZ Suite
Jungle Scout Web App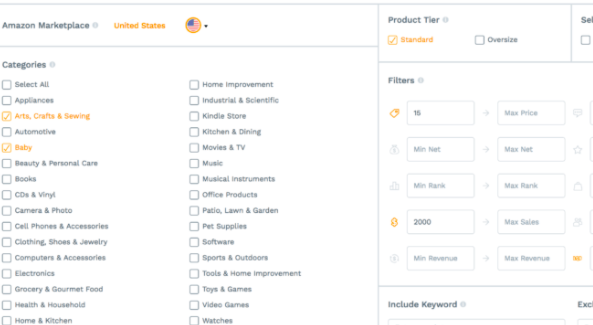 Jungle Scout web app is considered a great time saver for the seasoned FBA business owners, because it enables them to search the database and filter things down to their exact criteria – as compared to the tedious manual searches on Amazon.
Typically, it is a cloud based suite of three tools – Product Database, Product Tracker and Niche Hunter.
Our Pick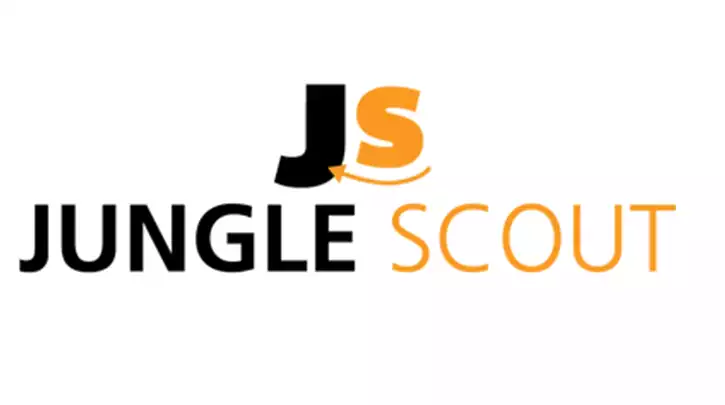 We earn a commission when you click this link and make a purchase.
1. Jungle Scout Product Database
Product Database helps you to find Amazon items based on certain criteria.
The CATEGORIES section gives you numerous options to select the category of a product such as – Appliances, Automotive, Kitchen and Dining and more.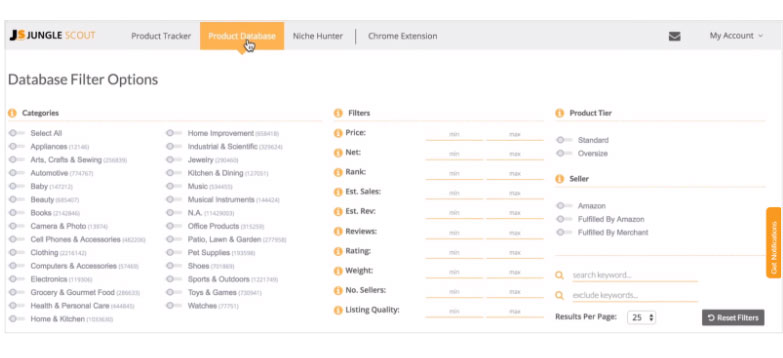 FILTERS play an important role in deciding which products are capable of generating the maximum revenue.
For instance- Selling cheaper products may not help in reaching the targeted amount, while the expensive products could be difficult to buy in the first place.
So the best bet would be to find the median price range to make that cut.
Similarly, the 'product ranking' helps in analysing the quantity of a product that is sold on a daily basis. Typically anything that ranks below 8000, sells.
And if you are using the 'estimated sales' filtering, you may opt for something that sells at least 3-4 units a day.
PRODUCT TIER enables you to display either the standard sized items or oversized items, or even both, while the SELLER option lets you choose the specific type of seller who will be fulfilling the final order.
Related : How To Find The Best Selling Products On Amazon
2. Jungle Scout Product Tracker
Product Tracker is an amazing tool for tracking the sales of the products that you are interested in.
It gives you an idea about how well a product is selling on site by gathering real time data such as – the average price, number of units sold per day and the daily revenue generated.
You can easily add items either from the Product Database, or directly from Amazon by entering the ASIN or URL and the results usually appear within 3-4 days.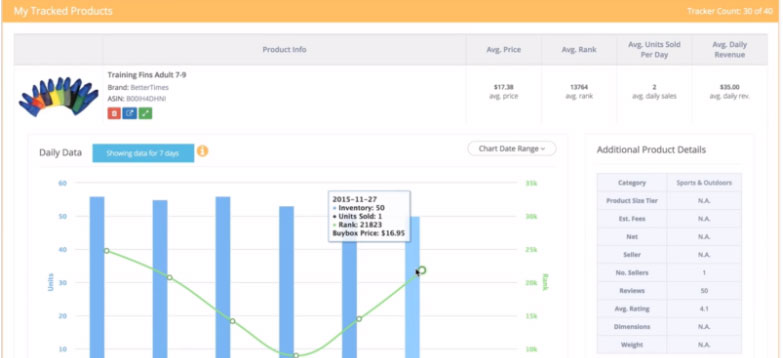 Product Tracker is also an essential tool to understand the strategies used by other sellers as well, like whether they are lowering their prices, running promotions or giveaways or running low on inventory etc.
Claim your exclusive 30% discount offer
Worth Reading : Jungle Scout Vs Keepa
3. Jungle Scout Niche Hunter
Niche Hunter provides you the easiest way to identify niches and keywords for unique product ideas.
You can choose the criteria of your desired niche and set the levels of various parameters like Demand, Price, Competition, Opportunity Scores, Quality of Listing etc.
The filtering will help you to expedite your searches and uncover the hidden niches for better possibilities.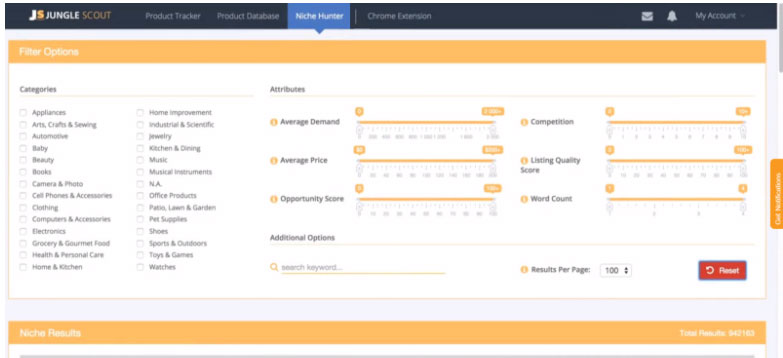 The Niche Hunter instantly displays the results for your searches along with the data of the top products within that niche.
You can also find some related keywords used by other customers as well.
Jungle Scout Opportunity Finder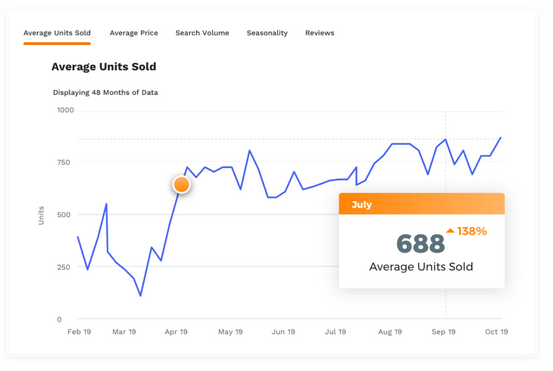 The Opportunity Finder tool helps you easily discover profitable product niches with high-demand and low-competition keywords.
This way, you can discover emerging trends and products, and start selling them fast whether you're just starting out on Amazon selling, or building your business around niche items.
Our Pick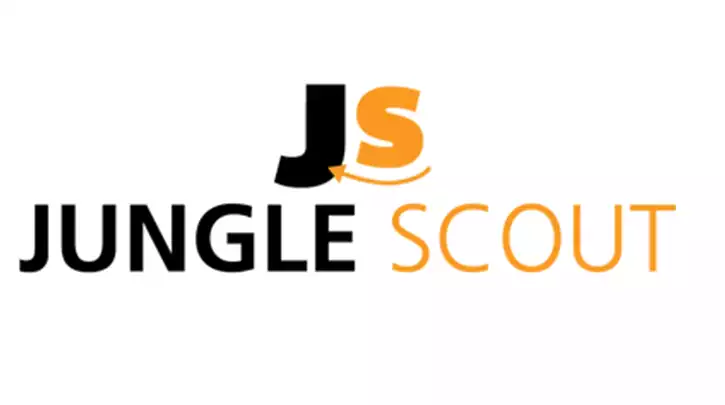 We earn a commission when you click this link and make a purchase.
Jungle Scout Supplier Database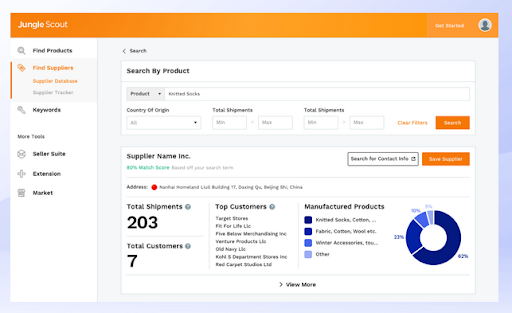 Jungle Scout's Supplier Database is the first feature of its kind among the myriad of Amazon FBA selling tool options.
It's a reliable tool that helps you find legit suppliers used by the best brands globally.
You get instant access to high-quality and verified suppliers who can help you turn your product ideas into reality.
Jungle Scout Keyword Scout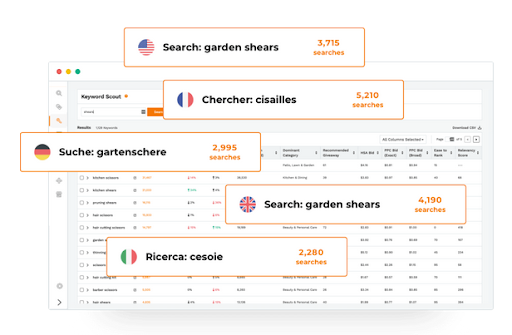 Keyword Scout is an Amazon keyword research tool, which Jungle Scout says is the most comprehensive and accurate of all.
With it, you can find keyword search volumes, high-quality keywords that count, and recommended PPC bids to help you get your product noticed on the platform.
It features a keyword rank tracker that you can use to track organic search ranks over time for any product using certain keywords.
Jungle Scout Launch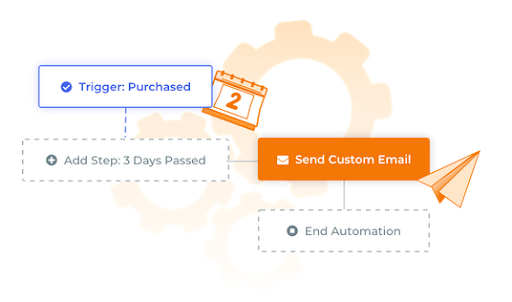 Launch is a Jungle Scout tool helps sellers with product promotion and sending of automated email messages to customers.
You can follow up with them to check on their issues, refunds, whether or not they received their products, and get reviews on your items.
With targeted outreach via emails and promos, you can drive sales too.
Jungle Scout Sales Analytics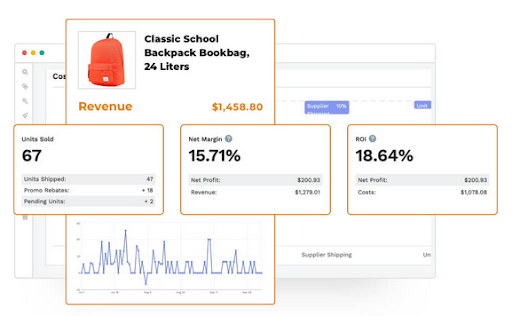 With the Jungle Scout Sales Analytics tool, you can figure out your sales metrics so you can keep the financial health of your business in check.
Our Pick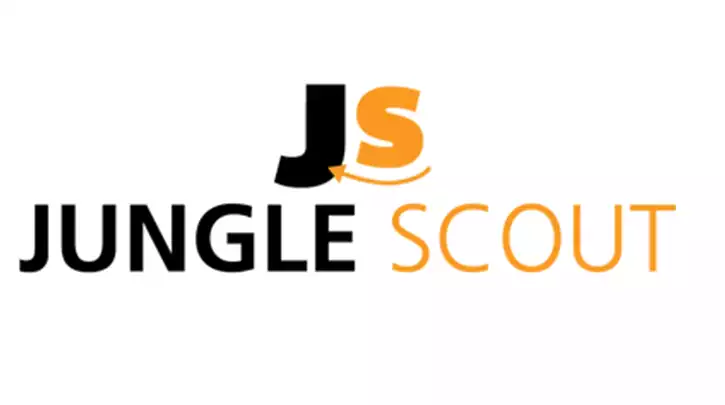 We earn a commission when you click this link and make a purchase.
You can instantly see all your profits and sales in real time as it organizes and tracks related data so you can understand the cost-saving and profit-building strategies for earning more with Amazon selling.
Jungle Scout Inventory Manager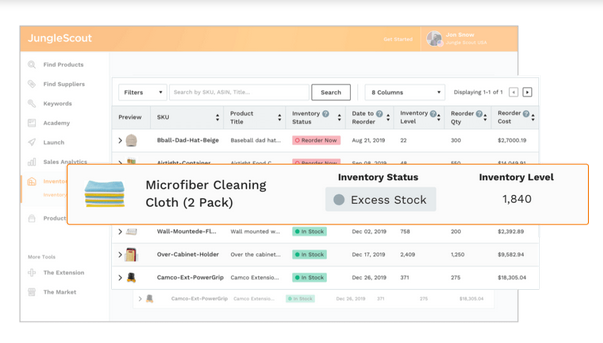 The Inventory Manager offers you a data-driven approach to managing and tracking your inventory in order to predict the stock to order, best dates to do so, and prevent any fees and stockouts.
It's great for when you want to take a backseat and automate your inventory planning while focusing on other aspects of your business.
Also Read : Jungle Scout Vs Egrow
Jungle Scout Alerts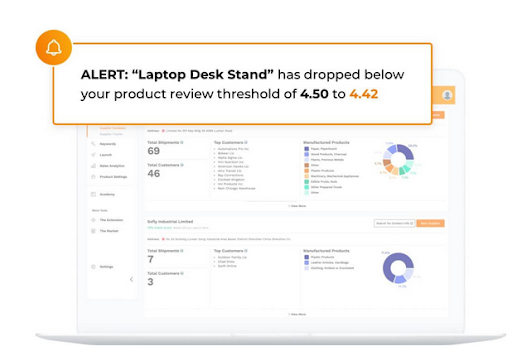 Alerts is a new Jungle Scout feature that lets you monitor products you're selling or tracking for pricing, reviews and other aspects.
This way, you can stay informed on any product changes so as to act as fast as possible.
Jungle Scout Academy
Jungle Scout started an Academy where you can learn how to sell on Amazon, and get the best tried and tested tips from experienced, real sellers including its own founder and CEO Greg Mercer.
Related : Best Amazon Keyword Tools To Discover Best Products To Sell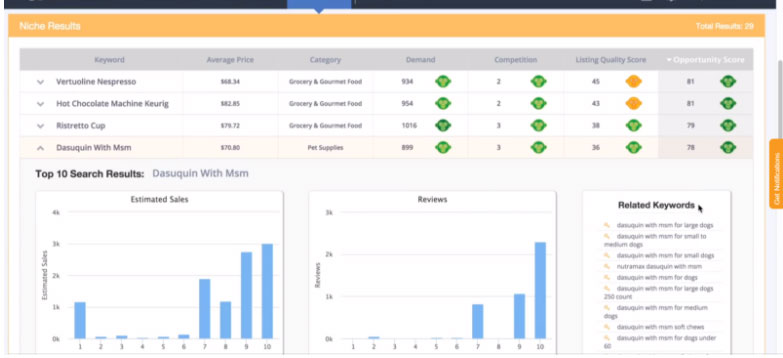 Jungle Scout Pricing & Free Trial
Jungle Scout pricing has been changed. Jungle Scout extension is now a feature and available with all plans. These are the three plans Jungle Scout offers at the moment:
Basic – $39/month (Includes full access to Jungle Scout Chrome Extension & product research features)
Suite – $69/month – (Access to advanced features, comprehensive product and keyword data)
Professional – $129/month – (Best for large sellers who need more accounts and often rely on extensive data trends for defining their product & keyword strategy)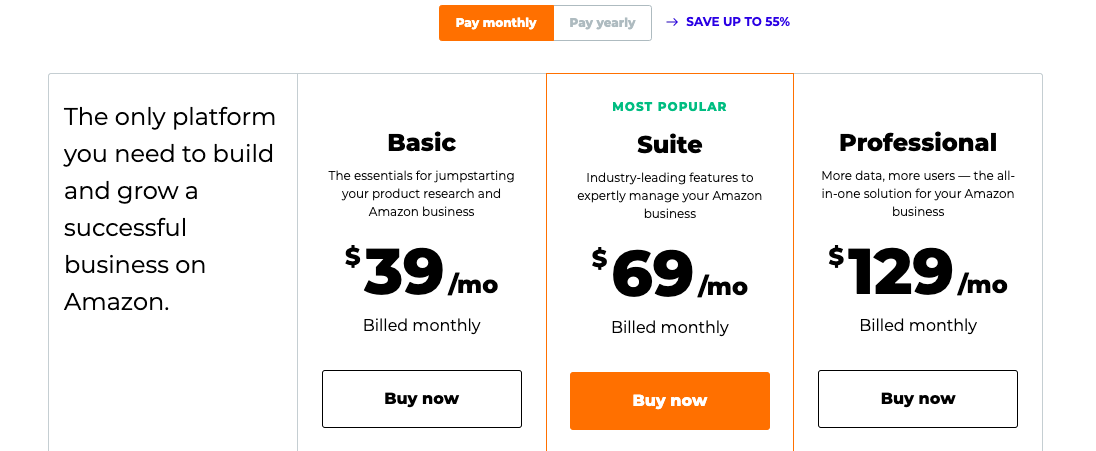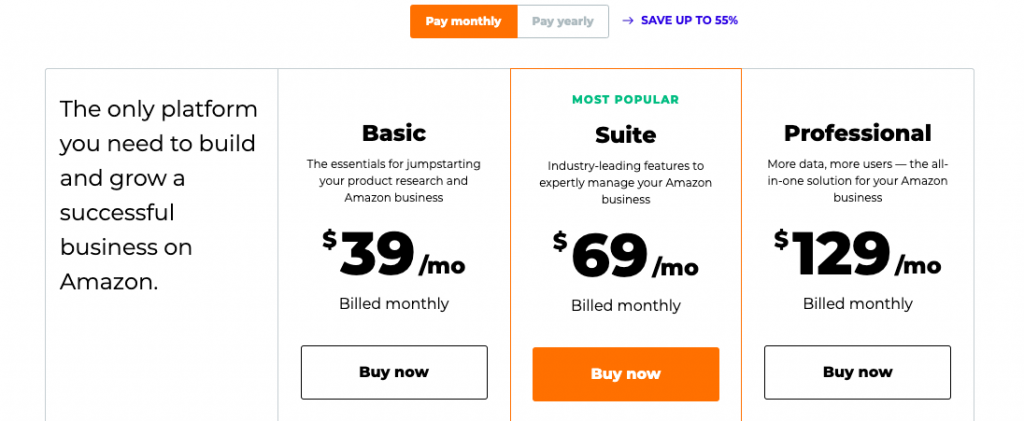 You can save upto 55% by paying annually.
Jungle Scout does not offer free trial. But Jungle Scout has a 14-day Refund Policy in case you are not happy with the product.
To get a great deal, always check out if there is a Jungle Scout promotion running on.
Note – Jungle Scout coupon codes that are currently active are mentioned above.
Worth Reading : Jungle Scout Vs Scope
Our Pick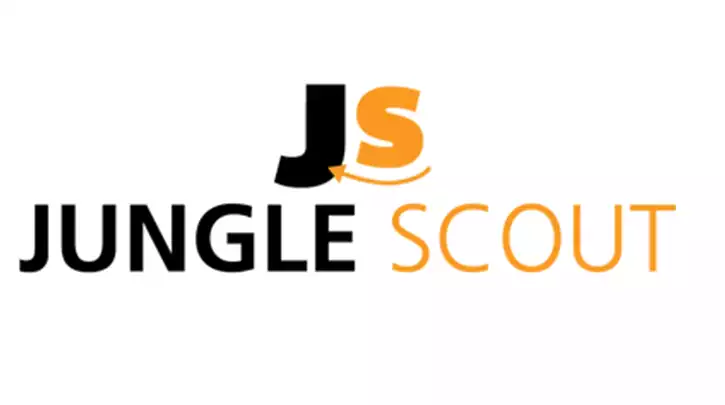 We earn a commission when you click this link and make a purchase.
Is Jungle Scout Worth It?
Jungle Scout is a wonderful time saving tool with a great interface.
The fact that it overlays the data on top of the existing browser page, makes it super quick and easy to search and track products on Amazon.
It also captures and highlights the information for all variations of a product, when performing a research.
Explore : Jungle Scout Vs Big Tracker
On the downside, the Product Database may provide a great source of ideas, but it doesn't cover everything that's listed on Amazon.
You may have to do your own manual researches to find something interesting and add them to your Product Tracker.
Also, the sales estimate isn't always accurate. You would need to keep a watch on the product through the tracker to get a better idea.
Check out the discount Jungle Scout is offering currently. It will make it even more worth.
You Might Want To Read : Jungle Scout Vs Helium 10
Conclusion
So here we come to the conclusion of this Jungle Scout review.
As you can see, Jungle Scout is a must have tool if you really want to compete and make some serious money.
Related : Best Jungle Scout Alternatives
The extension helps in quickly pulling the required data whereas the app helps in tracking the products and finding new niches -that can supercharge their sales on Amazon.
Claim your exclusive 30% discount offer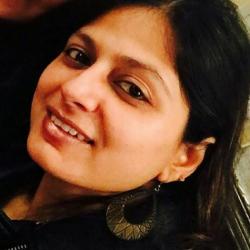 Author: Divya Dube
Divya Dube is an e-commerce subject writer at
Mofluid
. She loves to research and is an avid reader of technology, psychology and fiction. She is also a gadget freak, a traveller, loves chocolates & music and has an immense passion for writing.