In part 1 of the Ultimate guide to On-page optimization we discussed how to deal with the technical aspects of SEO for ecommerce.
Today we're going to continue with the content optimization of your store which is another really important part of SEO.
In fact, this is where majority of the online retailers struggle – mostly because of bad keyword strategy, lack of or thin content and bad internal link structure.

Ecommerce content optimization needs you to focus on the following elements:
Related : The Ultimate Guide To Ecommerce SEO – Part 1
Keywords In Body
Keywords are diminishing but still an important factor for SEO. If you want to rank your ecommerce store higher in search engines, you must choose and play the right keywords at the right place to get best result for your business.
Consider the following:
1. Head
Usually these are 1 word keywords with large amount of search volume. These words are usually not very specific and they don't always bring you the best customers.
Great example will be words like "shoes", "t-shirts", etc.
These kind of keywords you can use for your homepage to highlight what you're selling "shoes" or for category pages if you're selling other types of clothing as well – like "jeans" or "t-shirts".
Worth Reading : Ecommerce SEO Mistakes You Cannot Overlook
2. Body
2-3 word phrases keyword that usually have lower competition and a decent amount of traffic. They are usually more specific and convert better than head keywords.
Examples for those kind of keywords are: "tennis shoes", "white tennis shoes"
3. Long-tail Keywords
These are the most specific and longest keywords, usually with 4 or more words. They are the most specific ones and that's why they usually convert the best.
Unfortunately, they have the least amount of searches per month. That's why you need to combine many long-tail keywords to execute a successful SEO campaign.
Examples of these kind of keywords are: "polo ralph lauren mens shoes", "air jordan white and blue", etc.
These kind of keywords you should use for your product or filter pages.
Related : The Ultimate Guide To Ecommerce SEO – Part 2
4. Refine You Keyword Strategy For Commercial Intent
Choosing low competitive long-tail keywords with high enough search volume per month is not enough. You should also optimize your online store based on commercial intent.
Depending on the commercial intent we can group keywords into 5 categories starting with the one when people are most likely to buy:
5. Buy-now Keywords
When people are using these keywords they're looking to buy right now. That's why they should be at your highest priority for your optimization.
Examples would be: "Buy", "Coupon", "Discount", "Deal" or "Free Shipping".
Related : Ways To Improve Ecommerce SEO
6. Product Keywords
They have less chance of converting from the first visit since the buying intent is lower. Still you must optimize for these keywords as they are highly important.
Examples would be: Canon dlsr, Canon 7D Camera, DLSR cameras, Cheap, Affordable, Comparison, etc.
At this stage the people are searching to see where they can buy specific products and they'd spend some time to compare and make the decision if it's worth purchasing.
7. Information Keywords
People use these type of keywords to research the niche and find what type of products will best serve their needs.
This puts them in the category of they'd probably buy but first they need some time to find what the best is for them.
Examples of these type of keywords are: "Best", "Top 10", "Review", "How to", "Best ways to", "Ways to", "I need to".
Related : The Ultimate Guide To On-page Optimization – Part 1
People use these keyword to try to find the sites of companies and brands. They are extremely good to rank for if you have a well-established name in the industry.
Examples would be companies like Amazon, Walmart, BestBuy, etc.
You can also try to rank for brands that you're selling. Even though it might be hard to outrank the manufacturers.
9. Tire-kicker Keywords
These keywords are usually a waste of time for retailers because they don't have buying intent in them.
Searchers want to find free products and it's really hard to convince them to buy anything.
In your keyword strategy it's best to choose on focusing more on buy-now and product keywords with a little mix of information keywords.
Interesting Read : SpyFu Vs Semrush Vs Moz Pro – Best SEO Tool
10. Keyword Density
This is the percentage of number of times Keyword appeared on a Web page by total number of words in that page.
So if your copy is of 100 words and you keyword appears 10 times, this means your keyword density is 10%.
Not using keywords enough times in your copy and search engines won't know for which words to rank your site. Using your keyword too many times and Google will penalize you with bad ranking for spamming.
That's why you should use the optimum keyword density which is 2-3%.
11. Keyword Positioning
Keyword placement matters far more than keyword density. Posting your main keyword in the title tag and in the header is far more important than having it several times in the text.
When it comes to the body text – it's good to include your main keyword phrase in the first and last paragraph of your copy.
It's important to remember that keywords are still important but Google now understand also context and relation between words. So focus on writing for humans instead of for pure SEO purposes.
Content Quality
In the past few years we have spotted a massive shift in the SEO world from pure keyword dominated strategies to more complex topics.
With the update of Hummingbird Google now understands semantics and context of the words and it's using this knowledge to rank websites better online. It is clear that words like "car" and "automobile" are related to "Ford".
1. Proof Terms
Proof terms are words and phrases related to the original keyword and therefore are expected to be included.
These are for example synonyms. For example if you're selling sneakers, you can mention this word once in the text and next time use others like tennis shoes or runners.
The same is true for shoes and footwear as interchangeable.
You can always use the Thesaurus to find more proof terms to use in your text.
2. Relevance
Relevant terms are words that are not always present, but are likely to be included as they are relevant to the topic and keyword being discussed.
For example:
If you're a setting up deals for Black Friday relevant terms will be "Christmas shopping", "Discounts", "Promotions", "50% off", etc.
To learn more about proof and relevance terms, read the blog post by Brandpoint.
3. Uniqueness
If you want your website to be banned by all search engines, just add the product description from your manufacturer.
The issue is that these descriptions are distributed to many online stores which decides to publish them without rewriting.
It might be hard to create unique content for thousands of products on your ecommerce store but it's simply better to try if you want to get more search traffic.
If you have limited resources, you can simply focus on optimizing a few hundred of your best selling and most searched products and exclude the rest from the search engines.
These are the products that makes you the most money anyway. So you won't lose any if you try.
With time you can write more unique product descriptions and increase the pages that you want to rank for in search engines.
Related : How To Optimize Your Product Pages For Higher Conversions
4. Readability
Easier to read texts rank better in search engines and also increase sales.
To calculate how easy is your text to read you can use the The Flesch/Flesch–Kincaid readability formula.
You should focus on getting a score of 60-70 which is easily understood by 13- to 15-year-old students.
To calculate the score of your text you can simply use this online readability calculator.
Content Length
This is important when it comes to ecommerce content optimization.
In the past years Google have changed its algorithm so that pages with more content rank higher.
This is bad news for ecommerce sites who usually don't have text at all or have thin content on their pages.
If you want to rank higher in search engines, focus on increasing the length of your content. Here are the following elements you should keep in mind:
1. Number Of Words In Text
The study made by Search Metrics proved that webpages with more words tend to rank higher in search engines. URLs in the top positions usually have 900+ words in their copy.
Also Read :
2. HTML Length
90,000 characters is the optimum length of the HTML code. Adding more characters don't affect the rankings negatively, but don't add more value as well.
Now you're going to ask:
How do you create so much content for each page?
The answer is you don't have to create all the content. You can simply profit from user-generated content such as product reviews.
Think about it: if only 10 people leave a review of 100 words, that's 1000 additional words of unique content for your product page.
Here's how to generate more product reviews for your online store:
70% of people leave reviews because they want to help others make better decisions. So they don't need incentives to do it, just call to action.
Insert a flying with call to action to leave a review in the product packaging
Send follow-up emails to your customers asking them to leave a review on your site
Remind them to leave a review then they visit your website again
To learn more read the product reviews guide for ecommerce by Soldsie.
Worth Reading : Ecommerce Emails Your Customers Will Love
Enrichment Of Content
Merely having good content is not sufficient. Ecommerce content optimization requires you to make it attractive by adding visuals.
Visual content is not only more appealing to users but it also helps you rank better in search engines.
The study made by Search metrics found that higher number of images and videos improves your SERPs.
1. Number Of Images
Webpages in top positions on average of 8 pictures or more. To take advantage of this just add more images of your products. This will improve your conversions as well.
It's also better to add images of your products taken from different angels. Show how your product looks from all possible aspects.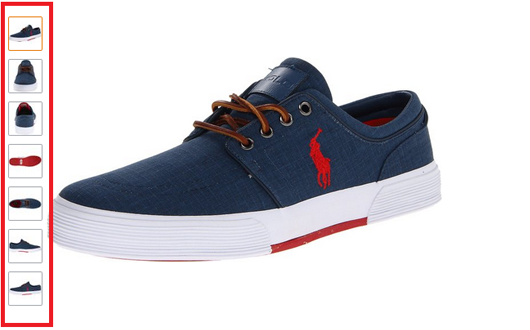 The Polo Ralph Lauren Men's Faxon Low Sneaker on Amazon has 7 pictures showing the shoe from all dimensions – front, back, bottom, top, left side and right side.
Related : Ecommerce Product Image Optimization Examples To Boost Conversions
2. Video Integration
As an addition to the images you can also add videos.
Links
Links on your pages highly influence SEO
1. Number Of Internal Links
The study by Search metrics concluded that webpages with more internal links tend to rank higher in search engines. To some extent of course.
The optimum amount of links per page should be about 120-140.
Building these links is not as hard as you think. You should just have links to other sections of your website such as:
Category pages
Account information
Shopping cart
Similar products
Shipping info
Terms of use
Returns and replacement
About us section
As you naturally add more sections to your main and footer menu you'll naturally build more links.
See what Amazon is doing: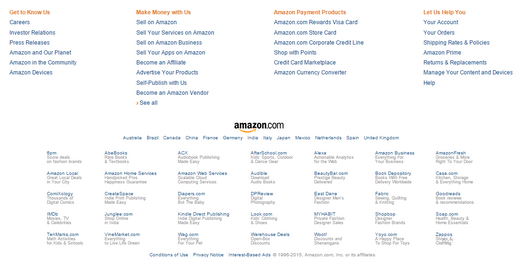 They have 31 internal links in the footer menu itself.
Related : How To Create Backlinks For Your Ecommerce Store
2. Keywords & Relevance Of Internal Links
The number of links is not the only thing that matter.
Links should be relevant and they should always make sense to both the page and to the expectations of the user within the structure of the page.
Broken, irrelevant, and unnecessary links should be removed.
Keywords in the internal links also play a vital role in the optimization process because they tell the search spiders what is the linking URL about.
However, many SEOs have overused this technique in the past and now you can get penalized if you use too many keywords in your URLs.
Search spiders also check out the surrounding texts to understand the context so it's ok to use licks with anchor text like "click here".
3. Number Of External Links
When you link to other websites you help search engines better understand the context of your niche. This also increases the trust and quality of your website which is important not only for SEO.
Keep in mind that you outbound links must be relevant to the content of your pages.
For example you can link to:
Manufacturers or distributors of your products
Blog reviews about the products you sell
Media websites and articles featuring your brand
News and posts about the latest trends in your industry
Other websites that you own in similar niche
Your social media profiles
Useful Post : How To Use Google Analytics To Increase Ecommerce Conversion Rates
In Conclusion
This is everything that you need to know about ecommerce content optimization.
Follow these and see your website climbing up on rankings in no time.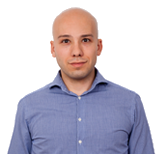 Author: Martin Zhel
Martin Zhel is an inbound marketing expert and Founder of Orior Creative. He specializes in SEO, content marketing & conversion rate optimization.