SEO research has become crucial to anyone trying to succeed on the internet.
It doesn't matter if you're building a blog or a multimillion dollar company, search engine optimization is crucial to cultivating your brand presence online.
While SEO started out as keyword stuffing and aggressive backlinking strategies revolving around what are now considered blackhat techniques, the current state of optimizing for the web (really Google) is much more in depth.
Long-tail keywords, linking, HTML, social media, traffic analysis, content marketing and more all make it crucial to keep tabs on your SEO far beyond a few keywords across your website.
That's why SEO research programs have become so popular.
Related : Guide to On-page SEO – Part 1
Investing in the programs are a must for anyone serious about moving up the SERPs page and solidifying themselves among the top SEO rankings within their niche. Though like most things, not all SEO programs are created equal.
To help ensure you're picking the best programs for your marketing needs, we're breaking down three of our favorite SEO research platforms. Let's get started with Spyfu vs SEMrush vs Moz Pro.
SEO Research: The Basics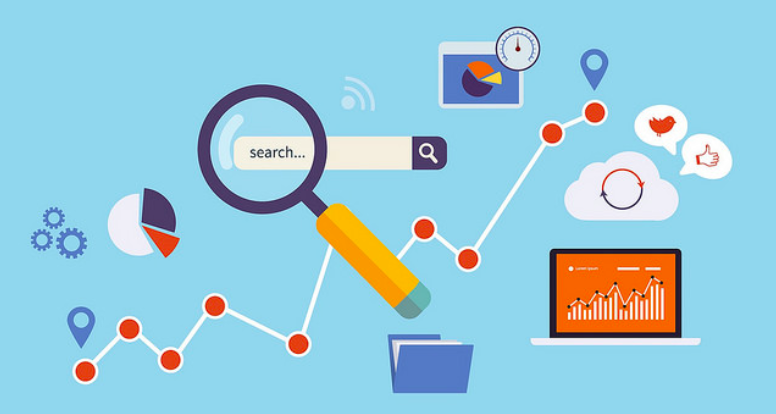 Research for search engine optimization concerns an enormous amount of different facets, each with different levels of importance.
And to make things even more confusing, each facet varies in importance not only on its own, but also in relation to your specific strategy.
For instance, keywords are far more important to someone with an on-page focused SEO strategy than to someone who's focused on boosting their social media presence.
You first need to know what you're targeting in order to utilize these tools (SEMrush vs Spyfu vs Moz) to their maximum.
Once you've set your strategy, you can get started deciding if you'll need a specific research tool. Before you pick a tool itself, you should understand SEO's basic premise. Here's a quick overview.
Keywords
Keywords are the backbone of any SEO strategy and as such, are featured prominently in each of our following tools.
Essentially, keywords tell Google what your web pages are all about. They're search aids, in some sense.
When someone types something into their Google search bar, that something is then considered a keyword.
Google runs its algorithm magic and returns websites that have similar keywords in common with the search phrase.
Research programs help you optimize your website's keywords to better fit with common search phrases. Each keyword gets ranked by factors like competition and search frequency, which can then help you optimize your pages.
Related : Guide to On-page SEO – Part 2
Backlinks
Backlinks are what SEOs call links from other web pages back to your own web pages. They tell Google that your page is worthwhile.
Think of it like a friend recommending something. Google sees that someone likes your page enough to refer it, and thus increases your SERPs rank (more on that later).
The below programs take backlinks into account and show what's called your "backlink profile." It's a fancy way to say quantifying, which backlinks bring you the most traffic and which links Google "likes" the best.
SERPs
The search engine results page is exactly what it sounds like. Every Google search leads to a page of links called the SERPs.
The end goal of all SEO (and thus all SEO research programs) is increasing your SERPs rank.
Advertising
Beyond traditional SEO, the better research programs also include the ability to analyze your paid advertising efforts.
If you're using advertisements across the internet, you'll need to know how your ads perform.
Related : Whatrunswhere vs Adbeat vs Adplexity
With most advertising platforms you're bidding on keywords and also pay-per-click. That means you need to know exactly which ads bring in the most traffic.
Have ads with a ton of clicks but no conversions? You're wasting money on something that doesn't work. You need to know or you'll risk having an enormously low ROI on your advertising budget.
Related : Adplexity vs Anstrex
SpyFu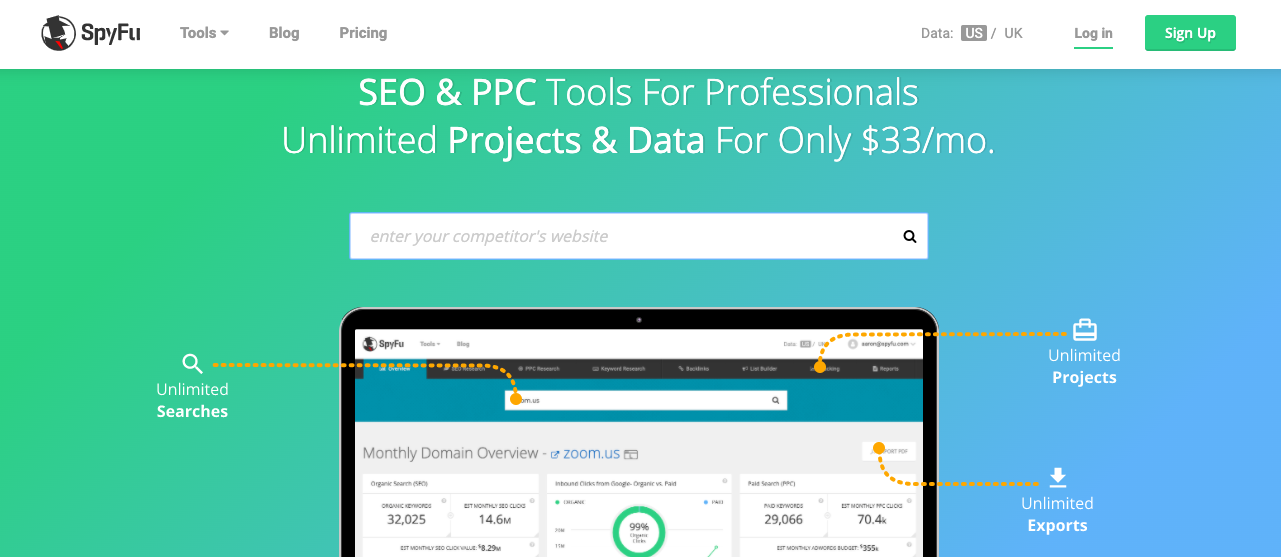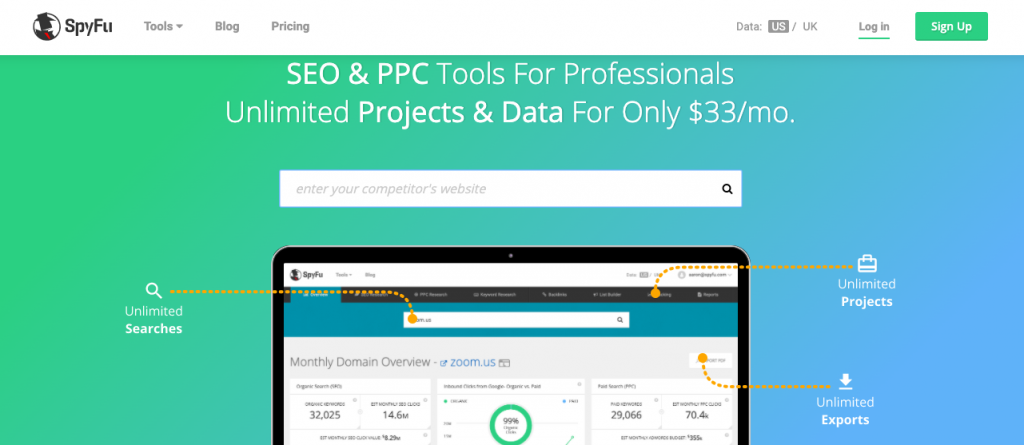 We'll talk about Moz Pro vs Semrush once we are done with SpyFu.
SpyFu aims at turning the competition's work into your payoff.
While they're focused on helping with the traditional research methods, SpyFu specializes in competitor research.
SpyFu - The Best SEO & PPC Tool
SpyFu reveals the marketing formula of your competitors. Search for any domain on internet, track rankings, keywords, ad variation and more. Make better marketing decisions with SpyFu.

We earn a commission if you click this link and make a purchase at no additional cost to you.
The Competition
SpyFu allows you to analyze your competitors' strategy.
You can keep track of domains bidding on your PPC AdWords, the organic growth of your chosen keywords against other domains using those keywords, backlinks that help other web pages' keyword rankings, and more.
We like SpyFu for its ability to offer all of this information in an easy to understand layout. Each category gets broken down into subcategories that only appear when you want to use them.
What's more, every one is further able to be broken down into individual campaigns designed to target hyper-specific marketing efforts.
The Basics
Basic keyword research yields a simple page with listed metrics that lean heavily on the side of PPC campaigns.
In other words, you'll end up seeing stats on which keywords cost what and how that relates to a monthly advertising budget.
There's also the traditional metrics like related backlink profiles, ranking history, related keywords, SERPs analysis, and more.
While the focus does seem heavy on PPC, that doesn't mean the platform won't work for your organic marketing.
Deep Metrics
SpyFu has an excellent reports system that generates overviews of both competitor marketing campaigns and your own hypotheticals.
You'll get data on keyword purchasing that's further broken down by industry, buying platform, affiliate marketing, email marketing, and more.
It's all heavily tied to the PPC and competitor analysis focus, so know that you'll gain much more from this feature if you're planning on heavily investing in the Google AdWords platform.
Related : Best Native Ad Spy Tools
SpyFu Pricing


Pricing works in tiers, with the lowest starting at $33 per month and the "Team" plan running $199 per month.
The "Professional" plan is similar to the "Team" plan and runs $58 per month. Businesses will want to opt for the "Team" or "Professional" plans.
Click here for latest pricing.
SpyFu - The Best SEO & PPC Tool
SpyFu reveals the marketing formula of your competitors. Search for any domain on internet, track rankings, keywords, ad variation and more. Make better marketing decisions with SpyFu.

We earn a commission if you click this link and make a purchase at no additional cost to you.
Now we'll talk about Moz Pro vs Semrush.
Moz Pro


Moz Pro is generally seen as the most complete of the keyword research tools, and we agree. Moz seo tool simply does everything well without devoting too much time to any one thing.
However, this does mean there's a high learning curve and no single specialty (like SpyFu's competitor research).
The Basics
Moz Pro makes keyword research simple, though actually finding the tool takes some time as it's cluttered in with the countless other features Moz baked into their product.
In fact, it's worth noting here that a major downfall of Moz is the sheer amount of features that make for a steep learning curve.
Moz keyword ranking is quite accurate. Searching your keywords in the Explore tool returns detailed metrics that keep a fairly organic approach. Average monthly search volume, ranking difficulty, click-through-rates, related keywords, and paid search data all appear.
Moz also qualifies its own special metrics called "opportunity" and "potential" which combine several metrics into one.
Deeper Metrics
A particularly useful feature in the Moz platform is the keywords ranking ability.
Users can rank keywords in terms of importance from 1-10, which then affects the "potential" score for that keyword's usefulness to your individual campaigns.
And speaking of campaigns, it's important to utilize individual campaigns in the Moz Tool. Hyper-specific campaigns integrate better with Moz's other tools and provide a better picture of your overall advertising strategy.
Related : Moz Analytics vs Semrush
Bonus
Moz Pro offers another feature that we're very much appreciative the company included; the website crawler.
Moz's crawler updates daily and dives into deep metrics like content titles, HTML, page elements, and crawl errors that hurt search rank.
The program automatically alerts you to anything that Google might not like.
Some people are critical about Moz pricing strategy but given the great features it offers, the point is somewhat justified.
Moz Pro Pricing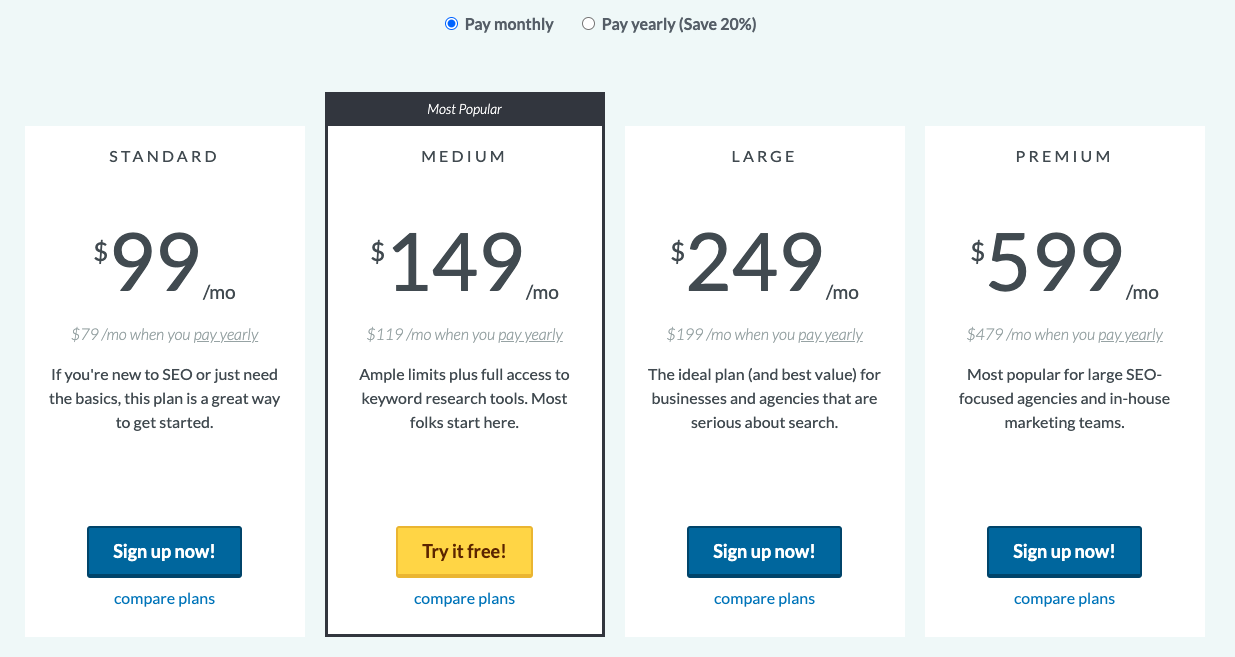 As we said, Moz pricing strategy is a little different. It comes in at a slightly higher price than SpyFu.
Moz pro cost starts with $99 per month, but most businesses opt for their most popular plan at $149 per month. With 4 different plans, Moz pro pricing has something for all.
This gives them access to all the features that make Moz Pro so attractive.
End of the day, Moz pro is a good tool to use. People who like to get started with Moz pro won't get disappointed.
Check here for latest prices.
SEMrush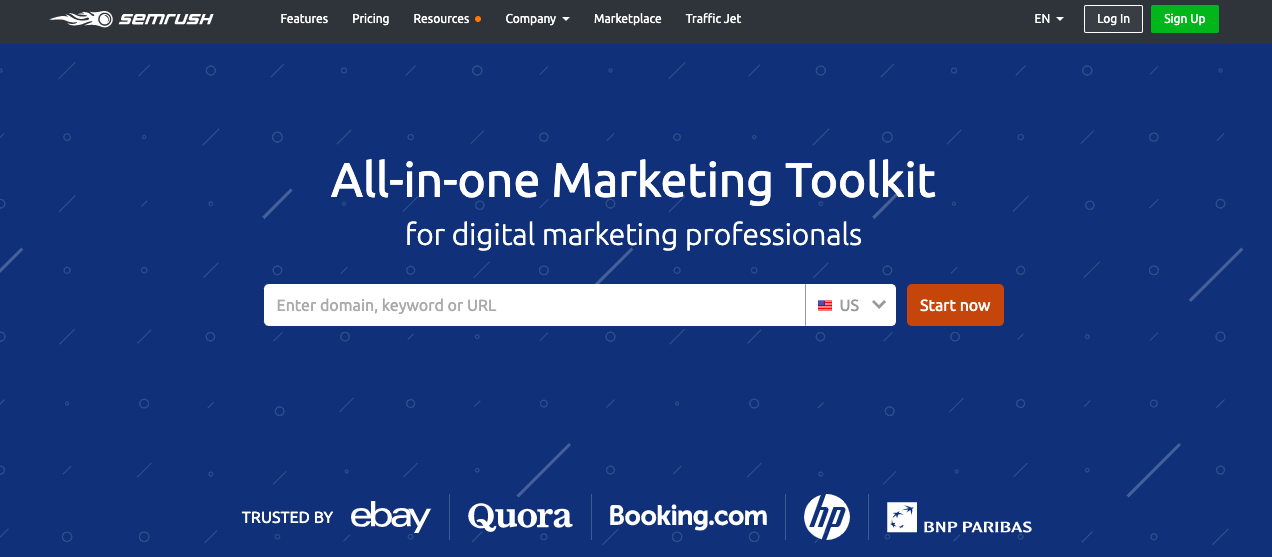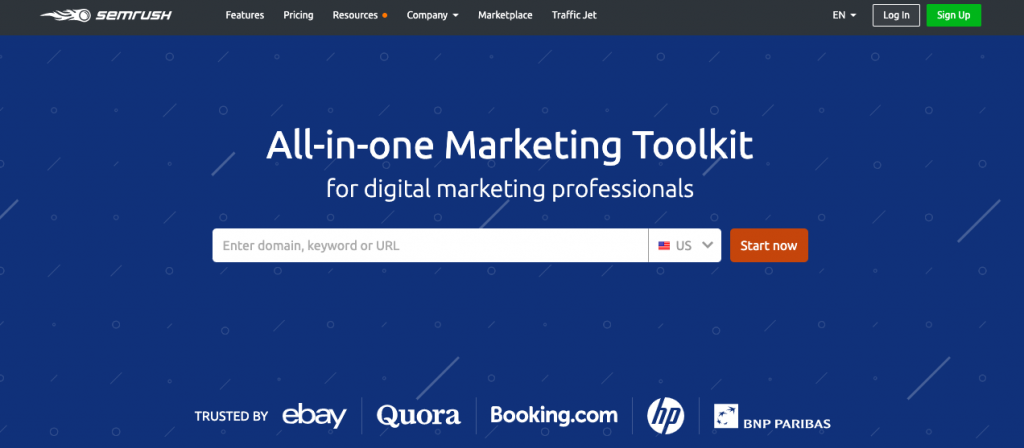 SEMrush, our final tool, looks something like a hybrid of Moz Pro and SpyFu. I often come across people who are not sure which tool to go with, Moz or SEMrush. So let's talk about the last tool on our list and make it easier for them.
We'd recommend SEMrush to those who are new to the SEO game as the layout is simple and each tool straightforward. What it does it does right, though not to the extent of our other tools.
Get Special Pricing For SEMrush
Our Pick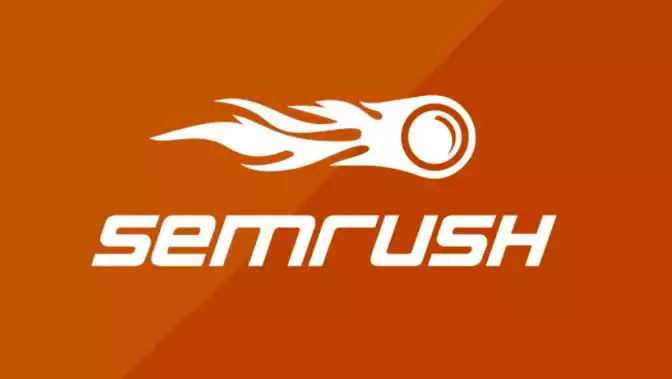 We earn a commission when you click this link and make a purchase.
The Basics
This tool consists of a straightforward sidebar that breaks the platform into smaller tools, each with their own unique application to your marketing strategy. There's traffic analysis, link building, keywords, etc.
As far as keyword research goes, SEMrush echoes Moz Pro with a fairly organic approach to keywords with some PPC information added in for those looking to strategically influence their traffic numbers.
Volume, cost per click, SERP screenshot (a nice touch), and more are available.
Deep Metrics
Getting deeper into SEO metrics SEMrush offers thorough reporting that shows "health" information about your website derived from crawling data, keyword information, and other collected SEO metrics.
Though our favorite part of SEMrush's reporting feature is undoubtedly the SEO Ideas tool.
The platform allows users to associate keywords with certain pages and then offers up suggestions to improve SERPs rank. The ideas cover everything from content to linking and are actually useful.
Get Special Pricing For SEMrush
SEMRush Pricing

Sem rush Prices start at $99.95 per month for the professional tier, rise to $399.95 for the business tier and include a case-by-case basis for larger businesses.
As always, we recommend the highest tier for access to the full-featured platform with no restrictions.
Check for the latest pricing here.
Our Pick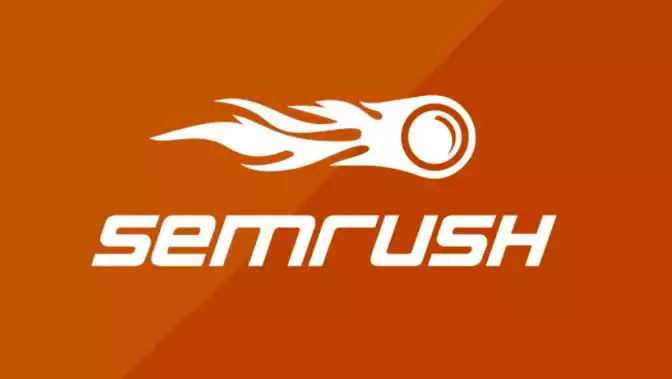 We earn a commission when you click this link and make a purchase.
Spyfu vs SEMrush vs Moz Pro – Which Platform Wins?
So now we know more about each of the three platforms – Spyfu vs SEMrush vs Moz Pro. Each platform has its strengths and weaknesses, with SEMrush taking the crown as the most well rounded.
However, that doesn't mean it's the best product for your needs. Only you can decide which features you need and what price you're willing to pay.
That said, any of these three programs can help bring your SEO marketing to the next level. Be it SEMrush vs Spyfu vs Moz. All three are powerful tools.
Get Special Pricing For SEMrush

Author: Sam Zaman
Sam loves to write on technology & related stuff. Ecommerce, mobile and internet marketing equally drive her interest. Likes gardening and experimenting with new recipes. An avid reader and absolutely mad @bout donuts :)