In the first part of the Ultimate Guide to ecommerce SEO, we already covered the basics of keyword research and On-page SEO.
Today we'd like to continue with Technical SEO and link building – topics that are extremely important for ecommerce sites.
In fact, this is where the majority of the websites in that niche have problems.
Technical SEO
Technical SEO is super crucial for ecommerce sites – simply because even small sites have 5,000 pages.
And with more pages you have, you're likely to have more issues that might hurt your search engine rankings.
Now let's take a look at the most important aspects of Technical SEO:
Related : Ecommerce SEO Mistakes You Cannot Overlook
Site Speed –
Websites that load faster tend to rank higher in search engines. This has been stated by Google many times.
One of the most crucial part here is image optimization. We already talked about this in the part 1 of the Ultimate guide to ecommerce SEO.
Another reasons for your slow loading site might be your hosting and servers.
If you notice any issues, be sure to upgrade your plan and to discuss what's best with your hosting provider.
Invest in a CDN that will boost your loading speed worldwide.
HTTPS –
Google has confirmed that there is a boost in rankings for websites implementing HTTPS.
The reason is for this is very simple – websites that provides greater security for their users can be better trusted.
This is super important for ecommerce sites because they tend to collect personal details with various forms. Which makes is better to implement HTTPS sitewide to better protect users.
When switching to HTTPS be sure to:
Decide the kind of certificate you need: single, multi-domain, or wildcard certificate
Use 2048-bit key certificates
Use relative URLs for resources that reside on the same secure domain
Use protocol relative URLs for all other domains
Check out our site move article for more guidelines on how to change your website's address
Don't block your HTTPS site from crawling using robots.txt
Allow indexing of your pages by search engines where possible. Avoid the no index robots meta tag.
Google has also updated Google Webmaster Tools to better handle HTTPS sites and the reporting on them.
Track your HTTP to HTTPS migration carefully in your analytics software and within Google Webmaster Tools.
Interesting Post  – HTTPS Setting Analysis & How It Impacts SEO
Duplicate content – duplicate content is a blocks of content within and across domains that completely matches other content or it's very similar.
The first reason ecommerce sites have problems with duplicate content is that they copy the same product descriptions from the manufacturers.
This is incredibly bad for their website – because this prevents them from ranking well for the search engines and also these description are not written in a way to generate sales so they also lead to low conversions.
The second reason ecommerce sites have problems with duplicate content is because they have so many pages that are similar to each other.
Related : Ultimate Guide To Ecommerce On-page SEO – Part 1
Sometimes the different products from the same series are almost identical so it must be really hard to create unique description for each one.
The best way to deal with this is simply to deindex your products that are not being sold.
Sometimes there are also technical reasons for the duplicate content because different URLs have been created for the same page. This is when you should implement the canonical tag to point which is the main URL.
Related : Ultimate Guide To Ecommerce On-page SEO – Part 2
Link Building
Link building is the hardest part of SEO, especially when it comes to ecommerce websites. You have more pages that you want to rank for getting links tend to be harder.
Get A Link From The Manufacturer –
This is probably the easiest link to get. All you have to do is email the manufacturers of the products you sell and ask them to link to you.
Most of the time they have a page with a list of suppliers or authorized resellers so this is where your link is likely to go.
If they don't have a page like that you can sell them the benefits of creating one. That way their customers can easily find where to buy their products.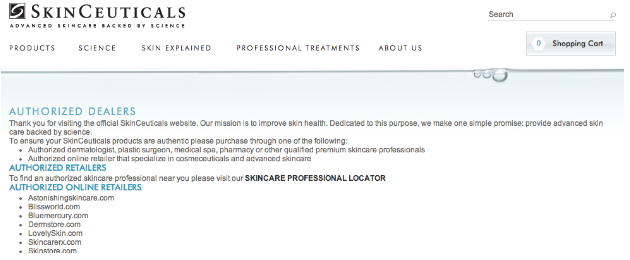 Product Reviews –
Unfortunately, this technique works only if you sell your own products.
In case you're a reseller there is a no reason why someone would buy from you instead of your competitors.
The idea is simple. Get your product in the hands of bloggers and convince them to write a review about it.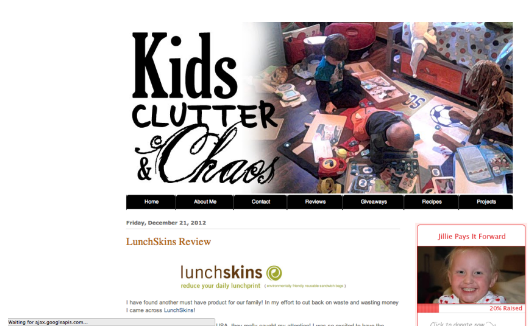 So how do you do that?
First, you need to find bloggers that write for your industry. Preferably the ones that already make product reviews.
To do that you can simply perform a Google search using your main keywords.
You can also use the content explorer of Ahrefs and find people who have written on relevant topics.
Then filter out and email the ones that makes sense.
Don't ask them for a review. Just offer them a free product to check it out. If they like it, they are going to write about you.
You can send them a similar pitch:
Hi I'm [your name] and I invented an espresso machine that can grind and brews fresh espresso drinks in your car so you can have uber-fresh lattes on the way to work. I would like to send you my mini machine so you can try it out.
Related : How To Create Backlinks For Your Ecommerce Store
Resource Pages –
They've been created with the idea to provide a list of helpful resources and naturally link to many pages.
Which means that there is a high change to get a link from that page if you pitch them with a relevant resource.
To find relevant resource pages for your niche simply perform a search in Google using one of the following phrases:
Keyword + "resources"
Keyword + "useful resources"
Keyword + "helpful resources
Keyword + "links"
Keyword + "useful links"
Keyword + "helpful links"
Then email the owners of the resource pages and ask your page to be included as well.
Broken Link Building –
This is one of the best strategies to get links to your ecommerce site.
Simply find broken links on other relevant website, tell them about it and ask them to replace the link with a content of yours.
To find broken links on a page you can use tools like Check My Links.
Another way is to put a website on Ahrefs and you can find all the broken links that it has (and who links to him).
To do that simply go to Backlinks -> Broken from the left side menu.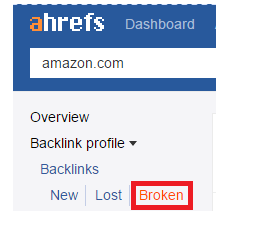 Then you will see the list of URLs that point to all broken links:

Moving Man Method –
This technique was popularized by Brian Dean and it works extremely well for ecommerce sites.
The idea it to find resources that are outdated, expired or not working, create something better and ask the site owners to link to your instead.
In most cases, when a domain name expires the homepage got replaced with a park page. That way the website is technically working so broken link checkers can't find it.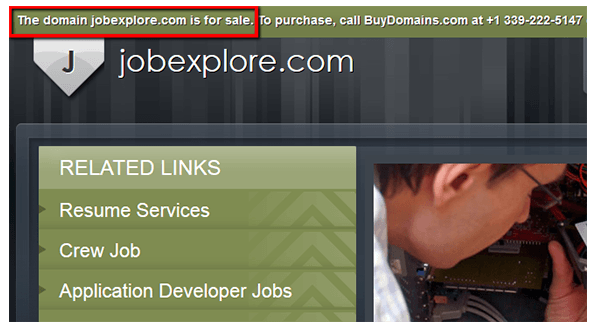 When these domain expires they go picked by domain auction sites like GoDaddy Auctions, NameJet or even Flippa domain search.
Related : Godaddy Alternatives For Finding Great Domains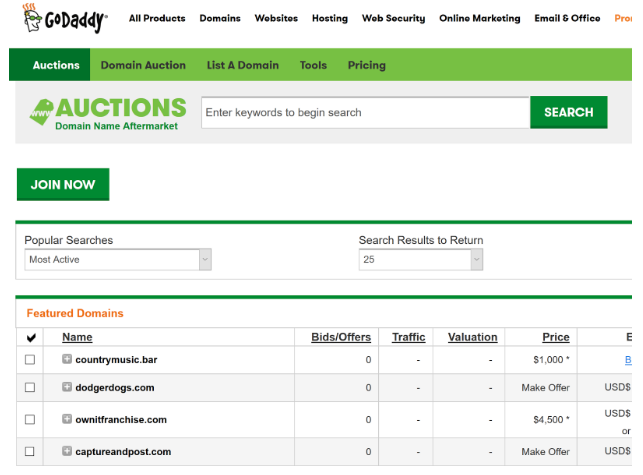 Simply type your keyword in the search bar and check out the results.
Another way to find them is to go to Google News and check out for businesses that closed, rebranded or merged.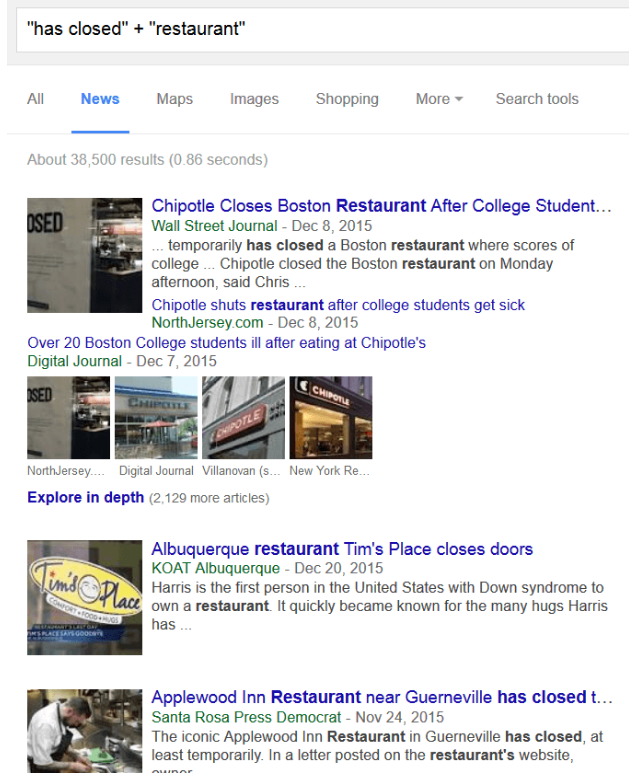 Once you find your outdated resources place the links in Ahrefs and check how is linking to them.

You can use Archive.org to find what the content on your expired resources were. Then you can recreate and pitch the websites to link to you.

Donate money to get links – there are many high authority non-profit websites that will be willing to link to your site if you make a small donation (usually $10-$50).
You can easily find them by searching in Google for:
"donate to us"
"sponsors page"
allintitle: "sponsors"
allintitle: "contributors"
Be sure to check out each website in Ahrefs and learn about its domain authority, relevance and prioritize your list that way.
Later on when you make the donation be sure to fill out all your personal information and an URL to your website so the site can link to you.
Related : MOZ Analytics Vs Semrush – Best Tool For SEO
Sponsorship –
Sponsoring local events and conferences will get you links to your website without even asking for them.
Just do a quick research in your area for a relevant events and conferences and sign up as a sponsor.
You might not need to give money as well. You can become a sponsor by providing free products, books, gifts, etc.
Guest Blogging –
Guest posting is one of the best ways to build links to your ecommerce site.
You have total control on what pages to link to (even product pages), what anchor text to choose, etc.
The big question is – how do you find these guest posting opportunities in the first place?
Best way to start is simply to search in Google using "your keyword" + "blog".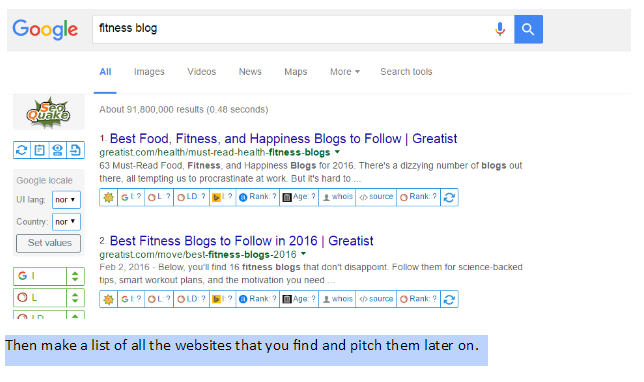 Then make a list of all the websites that you find and pitch them later on.
Learn More : Stalker's Guide to Highly Effective Guest Posting
Interview An Expert –
This is a great way to build link for an ecommerce site. Just find an influencer in your niche and offer to interview him.
People are always looking for more publicity so they will be likely to accept.
When you're ready with the interview, upload it on your website and send him a link. He'll be likely to link back to it from his website.
The first thing is to think about what kind of experts you can interview and how they can be related to your business.
If you're selling wedding linens, you can easily interview wedding planners.
Infographics –
This is a really good way to build links to your ecommerce website, even from super authority websites that otherwise would never link back to you.
You can easily search and find what kind of infographics has been made in you niche already by going to Google and searching for it.
Let's image that your niche is Dog food: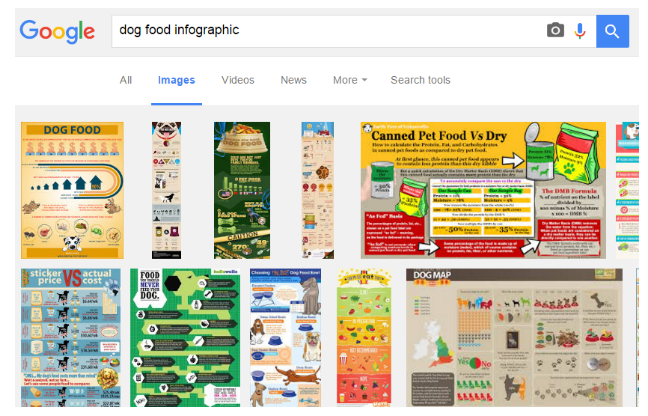 You can get ideas from them and decide to do something even better.
For example: there is one great infographic about the dangerous foods for dogs: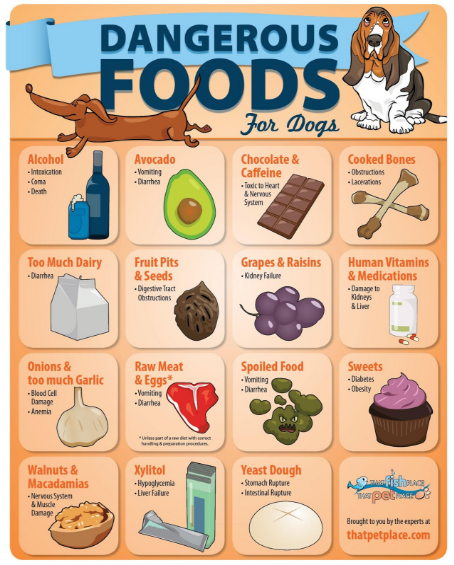 Your next step is to do something much better. Think about how this infographic can be improved.
Maybe you can extend your research and include more foods or simply explain why these foods are dangerous.
You can very easily find someone to design your infographic on Fiverr or Upwork.
Be sure to create an embed code for your infographic so people can easily share it on their websites.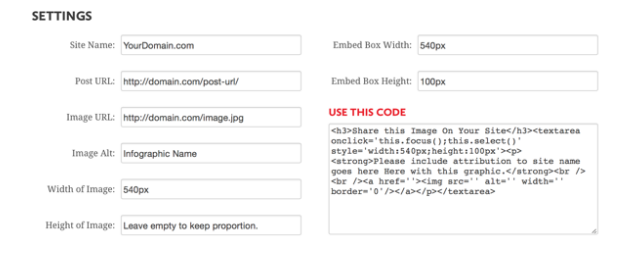 For that you can use SiegeMedia Embed Code Generator.
When you publish it on your website contact influencers and let them know about the infographic you have created.
Be sure to share it on social media site, send it to your email list and you can even send a press releases.
Check Out Some Great Infographic Posts Here :
In Conclusion
ecommerce SEO is a hard job. It requires a lot of effort and work to be able to rank well, even for not so important keywords.
So always consider putting 10 times more efforts than you believe you have to. Especially when it comes to link building.
Then you will see how your results are improving.
If you want to learn more about keyword research and on-page SEO, don't forget to check out part 1 of this guide.
What is the hardest part of ecommerce SEO for you? Is it technical SEO, on-page or link building? Let us know in the comments below.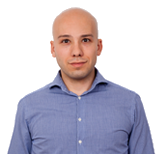 Author: Martin Zhel
Martin Zhel is an inbound marketing expert and Founder of Orior Creative. He specializes in SEO, content marketing & conversion rate optimization.