Over the years, the digital marketing space has grown in leaps and bounds.
The sector offers so many opportunities for entrepreneurs and companies to grow their brand. Albeit, it is awash with competition from brands seeking to attain top spots on Search Engine Result Pages (SERP).
Internet Live Stats reveals that there are over 1.5 billion websites on the web. Hence, entrepreneurs must equip themselves with digital marketing tools to stand out.
Adbeat and SEMrush are essential tools that help marketers and businesses get the best out of their marketing activities.
Both tools provide deep insights into competitor's digital marketing strategies. Also, they help companies improve page rankings, increase website traffic, and boost brand visibility.
This article provides a feature-by-feature comparison of both tools to help you make the best choice.
Overview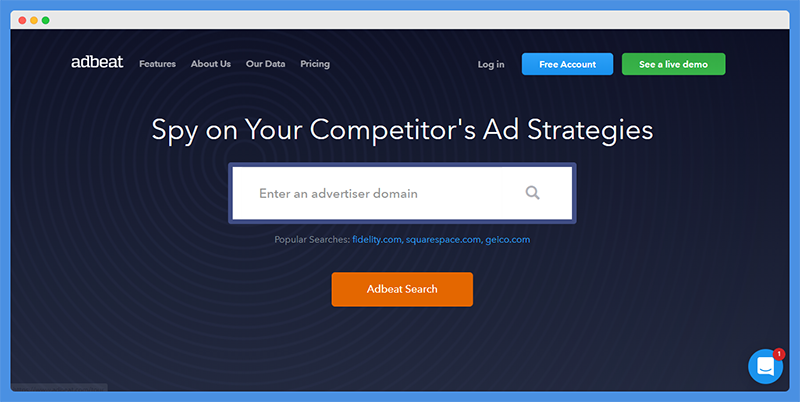 Adbeat is competitive analytics and intelligence software for advertisers and businesses. With this software, display advertisers can access real-time and actionable insights and competitive intelligence to drive marketing decisions.
Adbeat converts raw ad data into competitive insights by crawling millions of pages.
The tool has a global reach and a broader scope of coverage. The software detects, analyzes, and processes over 8 million ads every day.
More so, Adbeat crawls three million pages, and their crawlers cover over 1.1 million advertisers.
With unparalleled insights from Adbeat, organizations can dive into the complex world of digital marketing and streamline activities.
The software gives you an insight into what your competitors are doing and how they're doing it.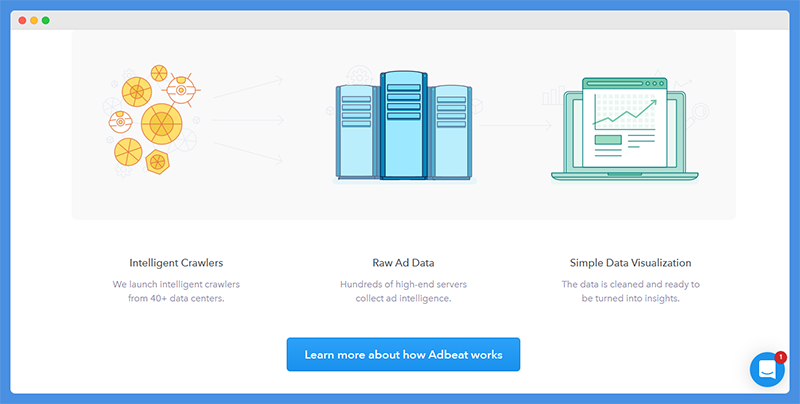 You will uncover your competitor's most profitable ad copy and messages used. The software shows you ad publishers, landing pages, and traffic sources.
And then, you can easily replicate their strategies to execute more profitable marketing campaigns.
Leading brands and companies use Adbeat to drive marketing campaigns. Some of them include
Lending Box
Ancestry
AOL
Credit Karma
Salesforce Desk
Ancestry.com
99 Designs
Buzzfeed
Dell
Amazon.com
Change.org
Equifax
As you scale your business, Adbeat helps you make smarter advertising investments. The tool offers value for
Advertisers
Agencies
Ad Networks and Publishers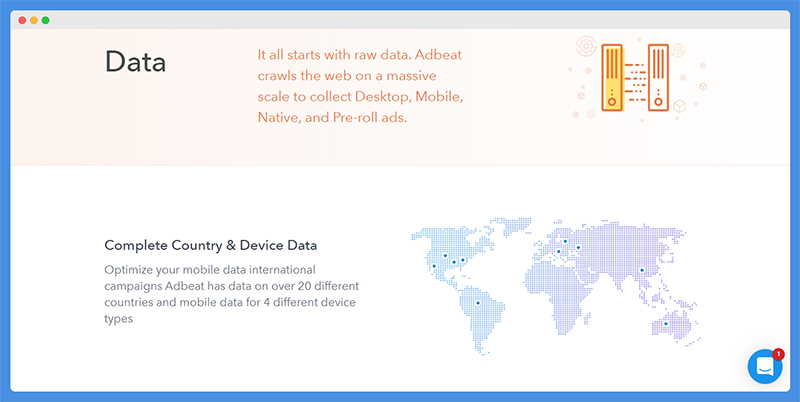 If you want to access accurate reports on the billions of ad impressions served across the digital advertising landscape daily, you must build a solid foundation with tools that have a global reach and scope of coverage.
Adbeat is an industry leader that offers an extensive array of high-performance servers strategically distributed across the world.
Mike Colella founded Adbeat in 2010. Their advanced infrastructure allows the company to provide extensive, timely, and accurate data in the industry.
Successful agencies use this software to surpass customer expectations and convert them into more valuable partners.
Explore: Best Adbeat Alternatives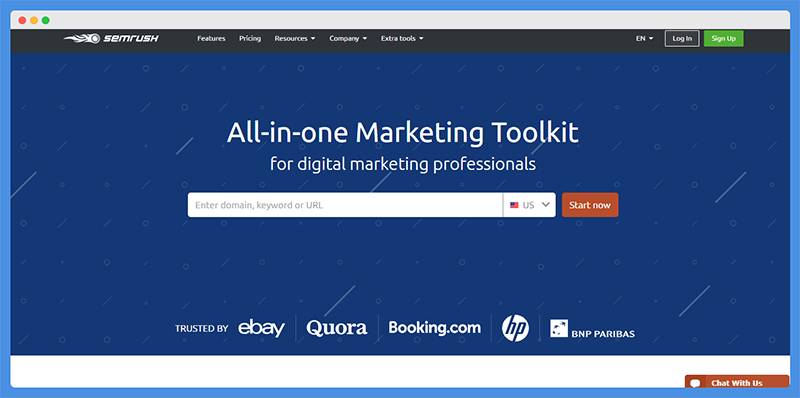 SEMrush is a powerful and extensive marketing toolkit for digital marketing professionals. The company started in 2008 and has over 5,000,000 users.
SEMrush offers multiple tools to help businesses thrive and get the best out of their internet marketing efforts.
With SEMrush's powerful toolset, digital marketing professionals can
Run technical SEO audit on any website
Track daily page rankings
Analyze competitor's SEO strategy
Examine domain backlink profiles
Research tons of keyword ideas
Access SEO ideas for driving organic traffic
Drive unlimited marketing success and business growth
With SEMrush, organizations and advertising agencies can deliver incredible results.
By gathering and processing massive volumes of data, SEMrush offers a complete SEO solution used by more than 4 million marketers worldwide. Some of the known brands that trust SEMrush include
eBay
Quora
Booking.com
HP
BNP Paribas
Vodafone
WIX and more
SEMrush has over 140 geodatabases, 790 million domains, and more than 19 billion keywords. With this software, you drive sales and boost your eCommerce store with SEM and SEO data.
The solution provides an insight into how to get more traffic with organic and paid searches, build your brand, and manage your online marketing activities.
For enterprises, SEMrush offers an industry-specific database and expanded geodatabase. They also provide a niche marketing report that fits the marketing needs of your business.
Our Pick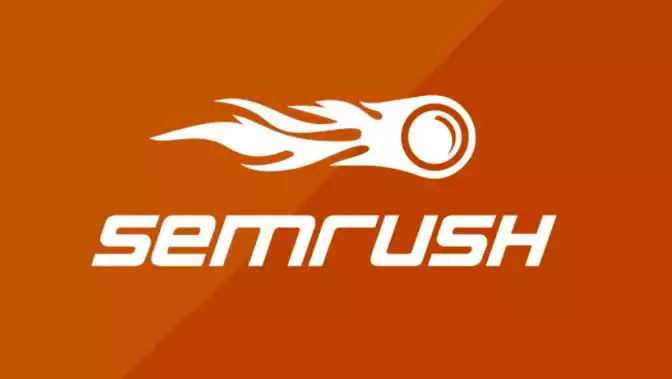 We earn a commission when you click this link and make a purchase.
With SEMrush's competitive research data, you can
View competitor marketing data and target their gaps
Refine your marketing strategy, and outperform competitors
The software allows you to analyze your competitor's marketing data including
Keyword strategies
Adverts
Paid or organic traffic
Content and social media
SEMrush is also an excellent growth tool for digital agencies. You can leverage the power of the software to improve your performance at every workflow stage including
Lead generation and prospecting
Campaign management
Reporting and analytics
Also Read: SEMrush Review
Competitive Monitoring
Adbeat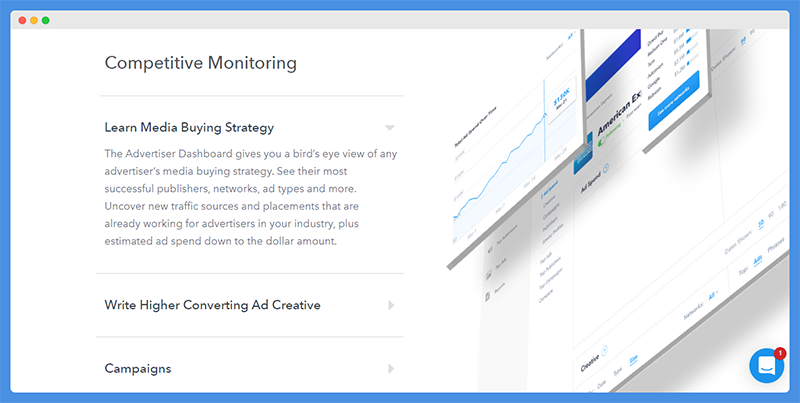 The tool offers a comprehensive view of the strategies of successful advertisers in the market. You can view your competitor's buying strategy, ad types, ad networks, landing pages, and publishers.
Adbeat helps you uncover new placements and traffic sources that are effective for advertisers in your industry. You can also identify estimated ad spend and dollar amount for that industry.
Adbeat provides insights to help companies develop their creative strategies. Users can access all formats and creatives for any advertiser including
Text
Image
Flash
Text-image creatives
Users will also get trends, flight dates, landing pages, and publishers for each creative. This software allows you to download creatives from their database easily.
You can use these ads to inspire your marketing teams to produce successful ads. Plus, you can adapt existing advertisements to wow your clients by sending creatives used by their fiercest competitors.
SEMrush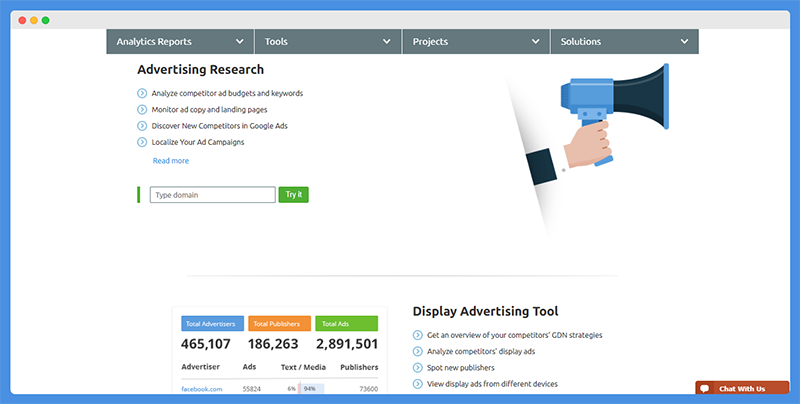 SEMrush allows companies to get insights into their competitors' strategies in paid and organic search, display advertising, and link building. This software enables you to discover new paid and organic competitors.
Also, you can view your competitor's best-performing keyword and change in domain positions.
This tool offers insight into your competitor's advertising research efforts. You can view and analyze
Competitor keywords and ad budgets
Track competitor's landing pages and ad copy
Spot new Google Ads Competitors
Localize ads campaigns
SEMrush allows you to get an overview of your competitor's Google Display Network (GDN) strategies. With this tool, you can
Analyze your competitors' display ads
Discover new publishers
View display ads on multiple devices
Define your competitors for product listing ad (PLA)
Gain insight into product feeds for your PLA competitors
View any brand's online performance and website traffic
Track your competitors' marketing strategies and activities
Verdict
Both Adbeat and SEMrush allow you to track your competitor's marketing activities. Albeit, Adbeat takes it a step further by enabling users to leverage creative ads in their database to create high-converting ads that deliver significant results. Therefore, Adbeat is the winner.
Check Out: SEMrush For Non-profits
Competitive Benchmarking
Adbeat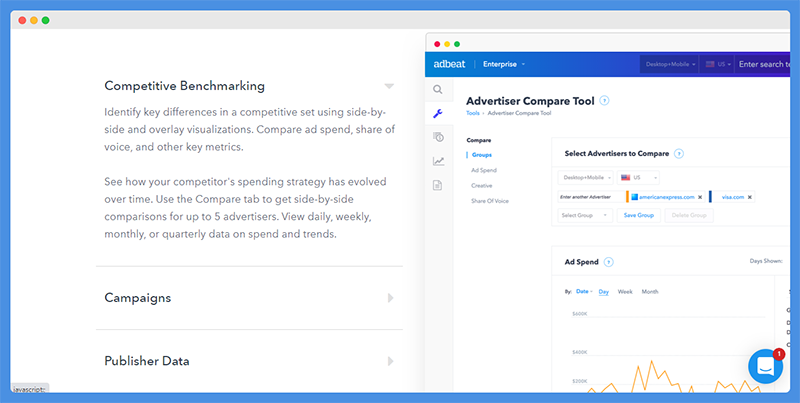 Adbeat allows marketers to compare their performance against competitor performance. You can identify critical variations in the competitive sets by using overlay visualizations or side-by-side comparisons.
You can make side-by-side comparisons for up to five advertisers. The tool allows users to
See daily, weekly, monthly, or quarterly data on trends
Compare share of voice, periodic ad spend, and other critical metrics
View how your competitor's ad strategy and spending has evolved
SEMrush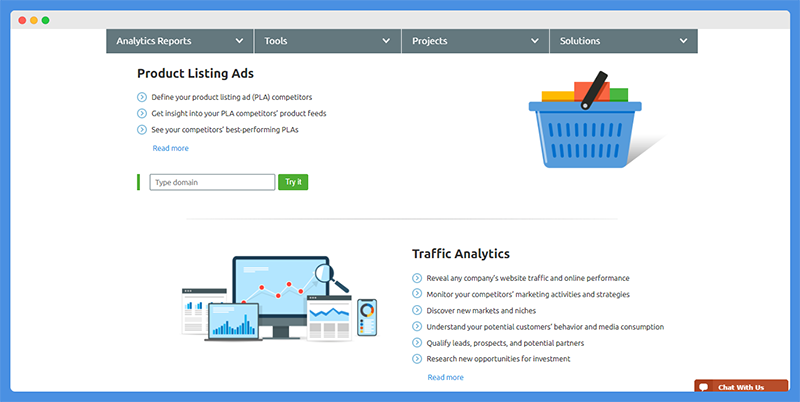 SEMrush allows organizations to track how their SEO and SEM activities stack against competition. With the Keyword Gap tool, you can find and compare keyword profiles and rankings for up to five domains.
This software offers deep quick insights into
Site's keyword distribution across mobile and desktop devices
The keywords your competitors rank for and how the keywords intersect and correlate with one another
Competitors unique and common keywords
Competitor's product listing ads (PLA), organic, and paid keywords
Our Pick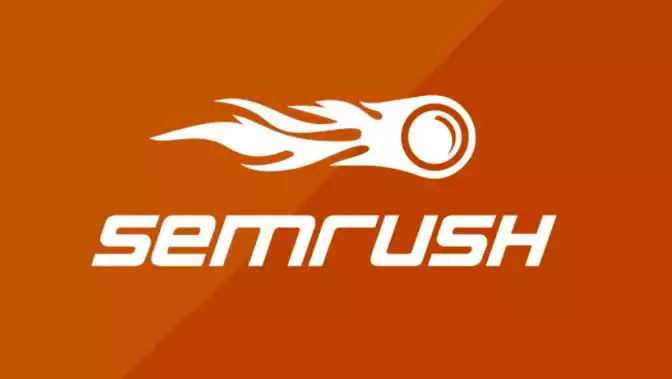 We earn a commission when you click this link and make a purchase.
With this tool, you can
Visualize critical competitor data
Perform in-depth competitive keyword analysis
Get a clear insight into your competitor's visibility
Build a strong SEO strategy to stay ahead of the competition
Verdict
Adbeat and SEMrush allow marketers to compare their domains with their competitors. So, they are both winners.
Reports & Analytics
Adbeat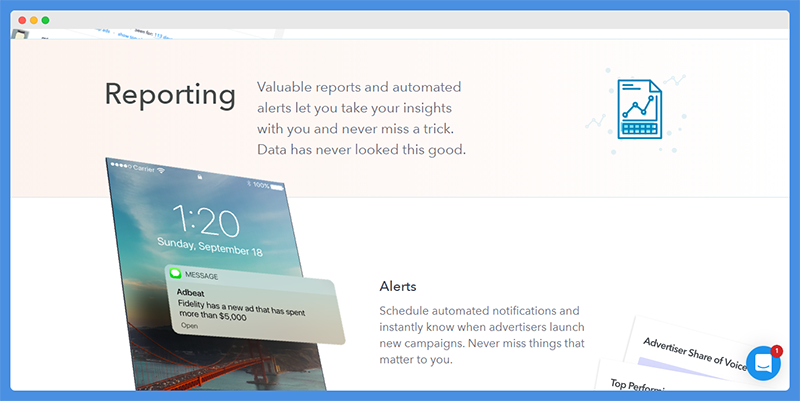 Adbeat's daily workflow involves data collection, large scale analytics, and processing of ads by
Ad type and size
Ad publisher
Advertisers and network
The software leverages complex algorithms and cloud-based workflows to perform over two billion calculations on crawled advertising data every week. Adbeat deploys hundreds of servers to crawl the web on a large scale daily.
The crawlers visit highly trafficked publisher websites, detect millions of ads, and send back billions of crucial data points.
Adbeat allows you to take your insights with you. You can generate detailed reports in multiple formats and set up alerts so that you don't miss out on critical activities.
Marketers can share Adbeat reports with clients, internal teams, and third parties. They can also create and export complete data sets in multiple formats, including PDF, CSV, and presentation-ready PowerPoint decks.
Explore: Whatrunswhere vs Adbeat
SEMrush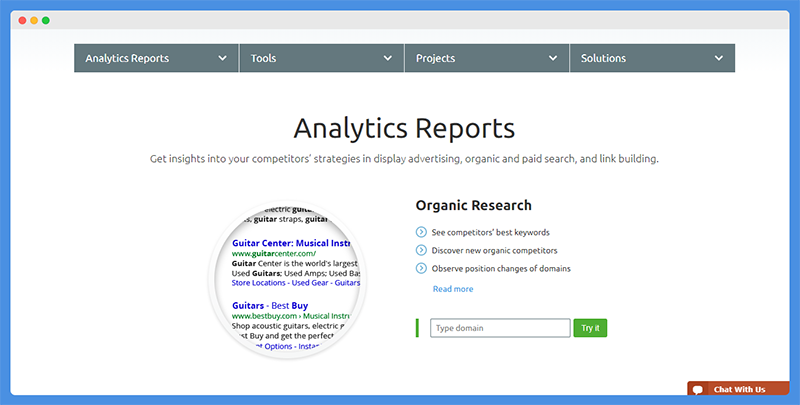 SEMrush allows you to track all your essential KPIs, metrics, and more. Also, you can visualize your data, save, and manage your reports. You can export reports from data points such as
Advertising research
Organic research
Keyword research
Backlinks
Display advertising tool
Traffic analytics
Product listing ads and more
More so, you can pull data from other sources to create your reports like
Google Analytics
Google My Business
Google Search Console
With SEMRush, you can streamline your reports and present metrics attractively. SEMrush offers templates to help you prepare your reports. Also, marketers can build and customize their reports from scratch.
With this tool, you can customize your reports with simple drag-and-drop widgets. You can add images and tweak elements like text elements, columns, pages, and titles to organize your report.
The software allows users to white label their reports. Users can personalize their PDF by integrating their brand essentials.
SEMrush allows users to send reports to their clients or team members automatically. You can share reports via a direct link or email. Managers can schedule to go out on a daily, weekly, and monthly basis.
With SEMrush, companies can visualize data, deliver KPIs, and view critical data at a glance.
Verdict
Adbeat and SEMrush support this feature. Albeit, SEMrush offers more in-depth reports and analytics options. Managers can customize and white-label reports, save and share reports, and more.
Keyword Explorer
Adbeat
Adbeat allows marketers to search for powerful keywords. Users can find creatives, landing pages, and advertisers and that contain specific keywords.
SEMrush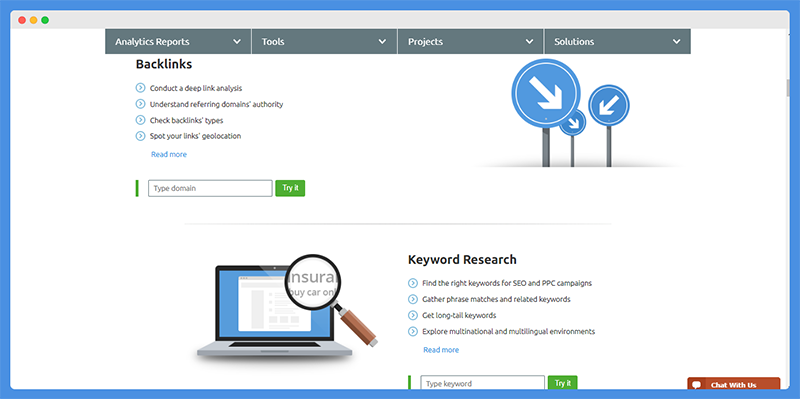 SEMrush allows marketers to find top-performing keywords for PPC and SEO campaigns. The tool offers more than 20 million keyword ideas. The tool will enable you to segment your keywords based on topics with keyword grouping.
Marketers can create up to 50 target keyword lists, select and save the best keywords in the Keyword Manager. The tool lets marketers gather phrase matches, long-tail keywords, and related keywords.
Our Pick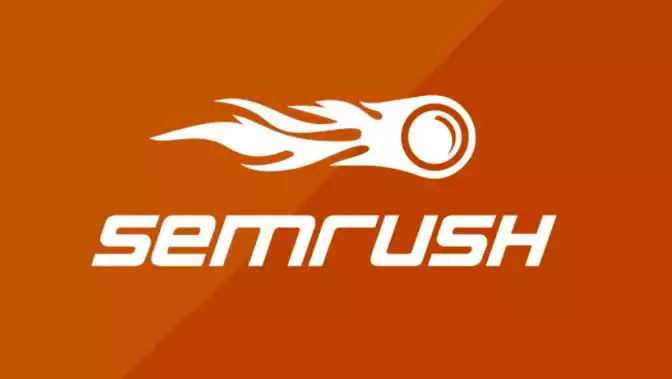 We earn a commission when you click this link and make a purchase.
Also, users can explore multi-lingual and multi-national environments and export selected keywords to other SEMrush tools.
SEMrush provides critical updates on
Trends and search volumes
The number of related keyword suggestions
Data on their value for organic and paid research
The tool also provides key data on
SEO, PPC, and volume metrics
Ad copies for the queried search term
Countries that have the highest search volumes
With this data, you can
Focus your marketing campaign on the locations that matter the most
Analyze data for both desktop and mobile index
Verdict
SEMrush is the winner. They help you find the right keywords for your SEO and PPC campaigns.
Interesting Comparison: SEMrush vs Serpstat vs iSpionage
SEO Writing Assistant
Adbeat
Adbeat does not support this feature.
SEMrush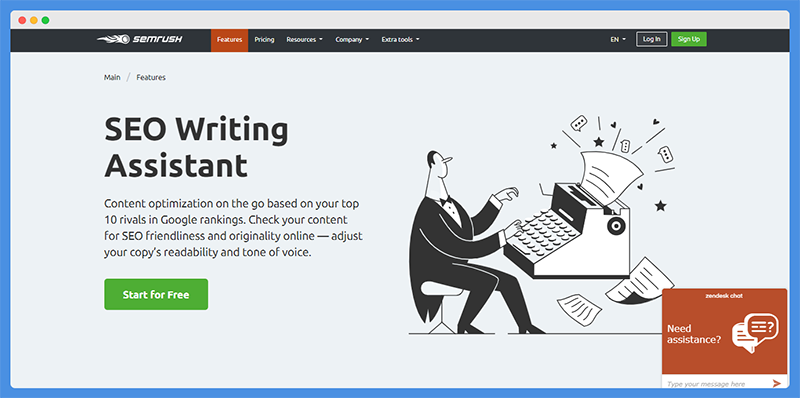 SEMrush has an SEO Writing Assistant that helps you optimize your content for search engines. The writing assistant's algorithm is based on the Flesch reading-ease score formula.
SEMrush SEO Assistant enriches your text with recommended keywords. The tool ensures that marketers do not overuse specific keywords and links are not broken. Also, the software reminds you to add alt attributes to your images.
Furthermore, the tool analyzes your ad copy's readability and complexity. Then, it compares your ad copy to an average score for your top ten competitors in Google rankings. The tool assigns a readability score that marketers should target.
With this software, marketers can
Get recommendations on the appropriate word count for their ad copy
Optimize their title in line with Google's guidelines
Improve the readability of the ad copy by removing long words, paragraph, and hard to read sentences
SEMrush has a plagiarism checker that scans your ad copy and content for originality. By creating unique content, companies can drive value to their audience. Also, the tool helps you rank higher and stand out from your competitors.
Verdict
SEMrush is the winner. The SEO writing assistant helps brands, marketing agencies, and companies optimize their content, drive brand visibility, and engagement.
CPC & PPC Tool
Adbeat
Adbeat does not have a CPC map tool.
SEMrush
Driving successful marketing requires critical analysis and understanding of the market. With this feature, marketers can analyze ad spend and search demands.
With data from SEMrush, managers can understand the PPC potential for their target niche, regions, or states.
The tool helps brands to evaluate the search demand for their service. Companies can harness this data to distribute their budget judiciously across ad campaigns.
Our Pick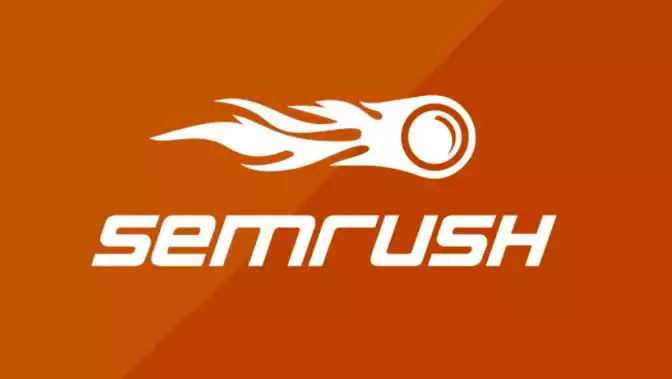 We earn a commission when you click this link and make a purchase.
With the CPC Map tool, brands that target various locations within one country can uncover how advertising costs differ across multiple states or regions.
The interactive map gives valuable insight into
Least and most expensive locations for ad placements
Average CPC for various industries and regions
The change in PPC costs over time
Estimated trends for the coming months
Verdict
SEMrush is the winner. The software allows marketers to
View average CPC in different niches across different regions
Compare search volume and CPC to find untapped opportunities in their niche
Search limitless ideas for experiments and A/B testing
Discover local competition in PPC and SEO
Explore: SEMrush 30 Day Free Trial
Ad Builder
Adbeat
Adbeat allows users to write compelling and high-converting ads. Users can develop their creatives within the software. Adbeat provides multiple elements, including text, image, flash, and image creatives, to help marketers create successful ads.
Marketers can download and use creatives in their database to create ads that drive conversion.
SEMrush
SEMrush helps marketers to research and build compelling ad creatives. The software inspires users before they start to create their ads. You can use the software's ideas as a template or create your ad copy directly via the Ad Builder.
This software allows you to understand the competitive landscape. You can discover how other top brands structure their display ads and gather proven ideas to create successful ads.
The tools allow you to include relevant ad extensions that offer extra information about your products and services. You can create responsive HTML ads for your GDN campaigns.
Verdict
Display ads help businesses get their brand in front of the right people across multiple places. With insights from both tools, users can optimize their GDN campaigns and promote their brand effectively. Adbeat and SEMrush are winners.
Site Audit
Adbeat
Adbeat does not perform site audits.
SEMrush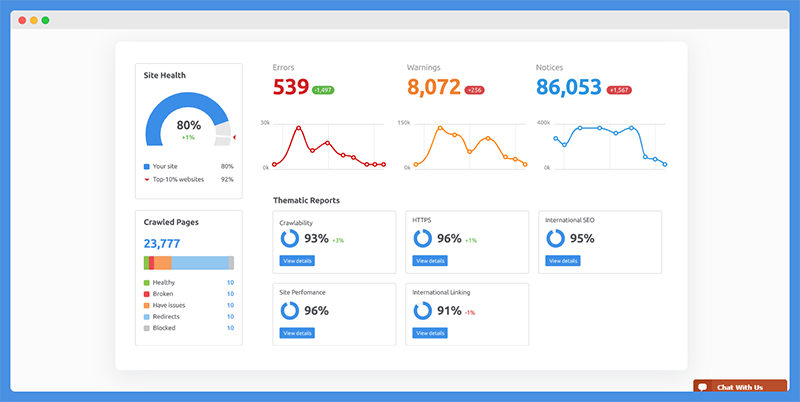 SEMrush performs an extensive technical SEO audit, scans, and fixes on-site issues. The tool helps brands improve their SEO and Google rankings.
With this software, you can
Analyze your page's health with the SEO analysis tool
Find SEO issues and prioritize fixing in order of importance
Monitor the progress of SEO optimization
Discover and fix hreflang errors
Use HTTPS checks to enhance website security
Identify AMP implementation issues and fix them
Verdict
SEMrush the winner, Adbeat does not perform site audits.
Also Read: SpyFu vs SEMrush vs Moz Pro
Social Media Poster & Tracker
Adbeat
Adbeat does not have a social media poster and tracker.
SEMrush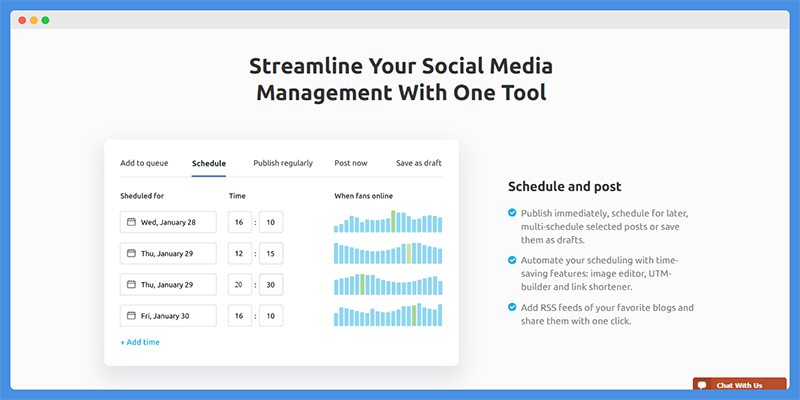 SEMrush helps organizations streamline social media operations and management. You can drive your social media strategy with scheduling, cross-network publishing, ads management, and analytics.
With one tool, you can
Post updates to all your social accounts
Schedule social media posts and manage queues
Save time and drive productivity with social media automation
Analyze content results and performance
Verdict
Again, SEMrush is the winner. The social media poster helps users achieve incredible results.
Backlink Audit
Adbeat
Adbeat does not offer backlink audits.
SEMrush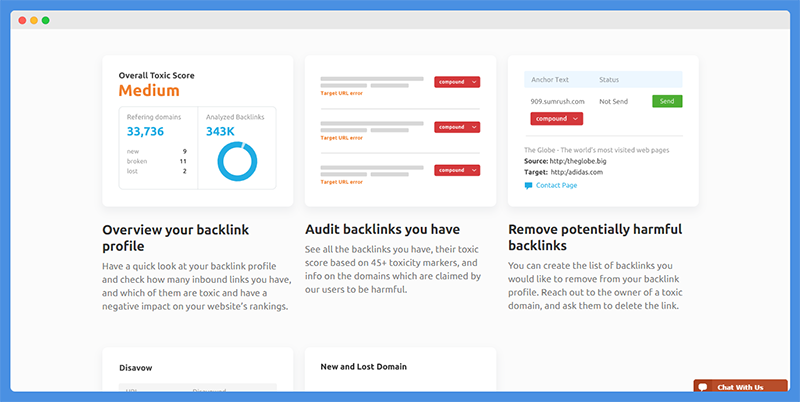 SEMrush helps marketers maintain a healthy backlinks portfolio, and enhances your website ranking. SEMrush scans user's backlinks using the Search Console integration. The tool finds and eliminates potentially toxic and dangerous backlinks.
Also, SEMrush regularly crawls your site to ensure your backlink profile remains clean.
Verdict
Although Adbeat allows you to view competitors' backlinks, it does not audit your backlinks. So SEMrush is the winner.
Customer Service & Support
Adbeat
Adbeat offers live chat, phone, and email support. Also, they provide a rich knowledge base of articles.
SEMrush
SEMrush offers phone, live chat, and email support. Also, they have an extensive knowledge base and a training academy. The training academy features tons of online digital marketing courses and exams.
Verdict
Both Adbeat and SEMrush are winners. They offer multiple customer service and support options.
Pricing
Adbeat
Adbeat's pricing plans include
Standard – $249 per month
Advanced – $399 per month
Enterprise – Contact sales
The pricing plan for this tool may vary from time to time. Kindly visit the pricing page for updated information.
SEMrush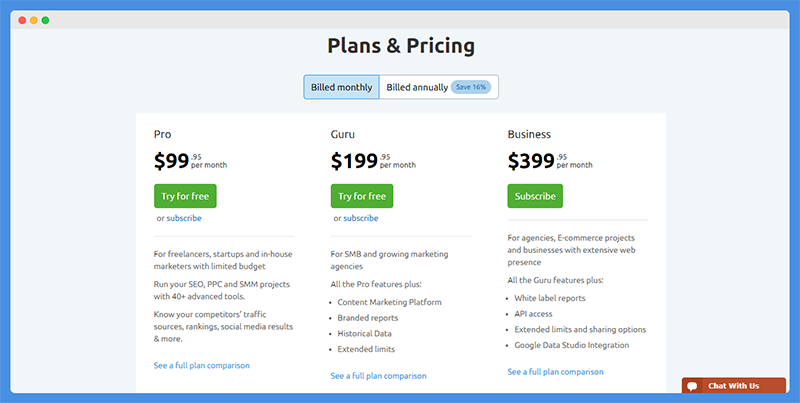 SEMRush's pricing plans are as follows.
Pro – $99.95 per month
Guru – $199.95 per month
Business – $399.95 per month
The pricing plans for this tool may vary from time to time. Please visit the pricing page for updated information.
Our Pick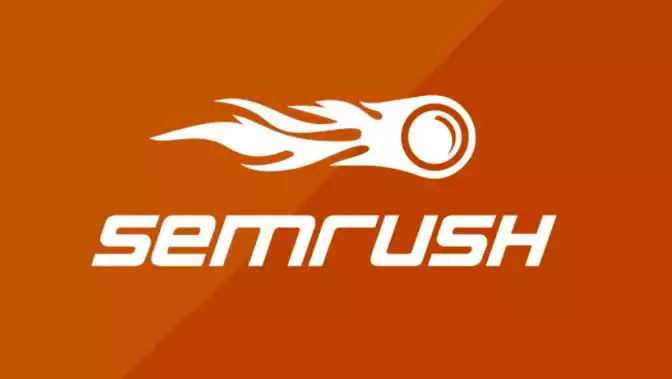 We earn a commission when you click this link and make a purchase.
Verdict
SEMrush is the winner. They offer more features and their pricing plan is cheaper than Adbeat.
Similarities
Let's take a look at some of the features that Adbeat and SEMrush share in common.
Both tools provide deep insight into competitor's ad strategies
Adbeat and SEMrush let users generate, save, and share multiple reports with relevant parties
Both tools have an extensive repository of industry and advertiser data
Adbeat and SEMrush allow users to benchmark their performance against their competitors
Differences
Let's discuss the features that set them apart.
Advantages
Adbeat
Adbeat has a user-friendly platform
They have multiple support options
Reliable tool for spying on competitors
Users can download, save, and share reports with relevant parties
Marketers can benchmark their performance against competitors
SEMrush
SEMrush offers a complete SEO optimization tool for marketers
Users can gain deep insight into competitor's activities
SEMrush allows users to visualize data, customize, and white-label reports
They have a keyword explorer, site audit, and SEO writing assistant
Accurate reports and analytics results
Disadvantages
Adbeat
The pricing plan is expensive
No SEO writing assistant or site audit tool
SEMrush
Multiple features can be overwhelming especially for newbies
Pricing is n0t affordable for small businesses
Worth Reading: Best KW Finder Alternatives
Final Verdict: SEMrush vs Adbeat
There you go. Our comparison has highlighted what makes both tools stand out. SEMrush is our overall winner.
Adbeat primarily focuses on tracking and providing deep insight into your competitors' ads performance.
On the contrary, SEMrush offers a complete toolset to help marketers derive value from their marketing efforts. Companies use SEMrush to gain insights into competitors' strategies paid and organic search, link building, and display advertising.
The software helps brands identify and harness growth opportunities. With the SEO checker, users can analyze the Google ranking factors that affect site performance.
SEMrush helps marketers create perfect content, monetize their audience, and drive positive ROI. So, if you are looking for a tool that takes care of your digital marketing needs, you should sign up for SEMrush.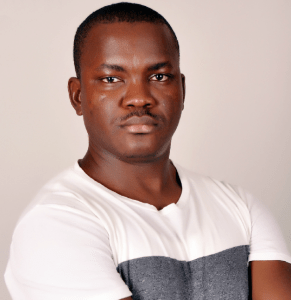 Author: Nicholas Godwin
Nicholas Godwin helps businesses tell profitable brand stories that their audiences love. He's worked on projects for Fortune 500 companies, global tech corporations and top consulting firms, from Bloomberg Beta, Accenture, PwC, and Deloitte to HP, Shell, and AT&T. Works with Mofluid these days.