If you're just getting started with paid search, you may not know about pay-per-click (PPC) advertising.
It's a great way to gain insight into keywords, ad copy, and even the AdWord and extensions! Essentially, pay-per-click advertising tools are competitor research tools.
Pay-Per-Click Tools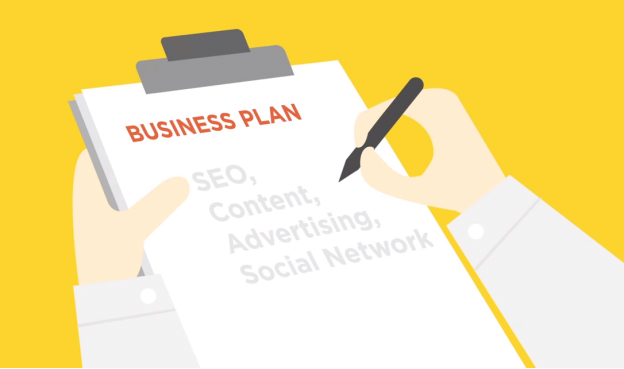 We are going to review SerpStat vs SEMrush vs iSpionage today.
These tools will help you find out which strategies are being used by your competitors and how effective they are.
This will be quite useful to you because it will let you find out which tools your competitors have abandoned and which ones they've deemed useful.
Essentially, this will act as a filter for you to decide which tools are worth your time and which ones aren't.
This will save time and money and you won't have to go on a trial and error hunt to decide which tools will work.
Researching your competitors' paid search marketing strategy can be very tricky if you don't have the right tools.
You can either go by trial and error to find out which tools are being used by most competitors, which entails using Google search, or you can use PPC tools to filter out the nonsense.
The Need For PPC Tools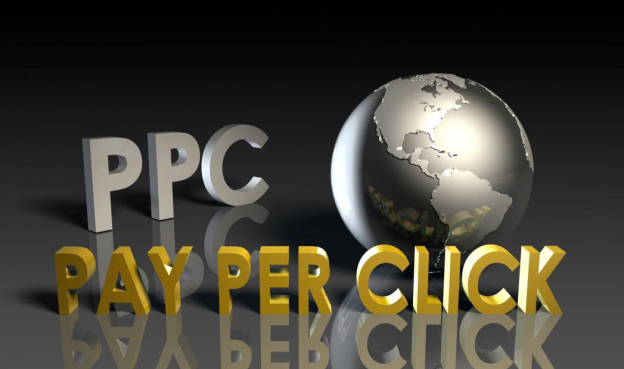 The need for PPC tools has arisen because of the wealth of advertising out there.
Since there are a lot of tools out there and novices can waste a lot of time working with tools that aren't necessarily as effective as others, PPC tools make it easier for them make the right choice.
PPC tools can essentially spy on competitors and find out which advertising tools are being used for their website.
These include ads, sponsorships, mailing campaigns, keyword optimization, etc.
In the case of the competitor doing worse than you, you can learn from their mistakes and not repeat them.
Hence, you can gain a valuable lesson without first committing a mistake. In case a competitor is outdoing you, you can find out what made their approach better.
This way you can adjust your budgets by uncovering the ad spend. Hence, you can get better returns and further enhance your campaigns with the knowledge you've gained.
You can also use a competitor's message in a localized manner to make it work for you.
Let's begin with our SEMrush vs SerpStat vs iSpionage review and know more about these tools.
SEMrush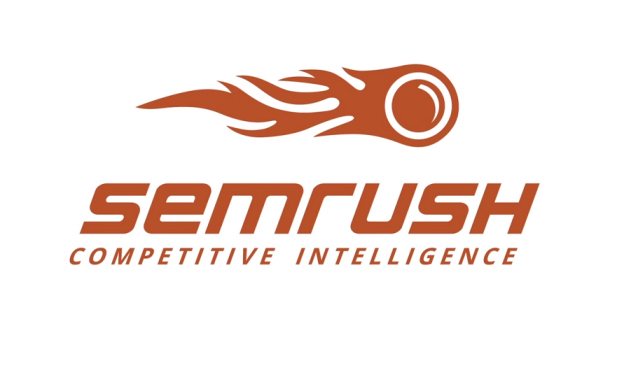 SEMrush PPC tool is suited for digital marketing and advertising management. It allows you to gain full visibility of the traffic that is coming from multiple channels to a website.
This allows you to gain insight into the different marketing approaches being taken by the said website.
SEMrush can provide engagement information so that digital marketers can better arm themselves to position brands in a manner that allows them to trend higher in search results on Google and gain higher SEO rankings.
Our Pick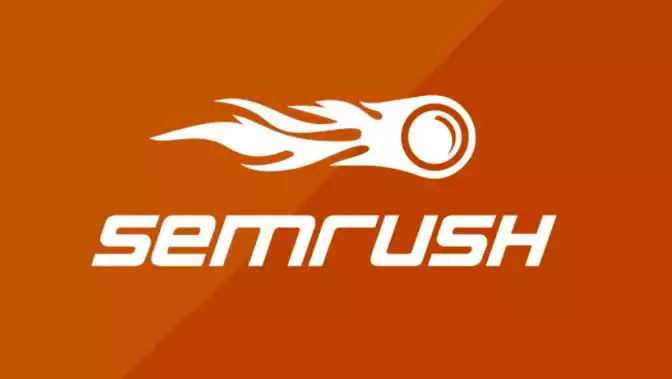 We earn a commission when you click this link and make a purchase.
Other media tactics which can work in their favor are also suggested.
The tool uses different tactics to allow you to gain leverage over your competition.
These include data analytics of course, but also the different targeted marketing techniques they're using.
Once those techniques have been identified, more engaging content can be created to take advantage of them.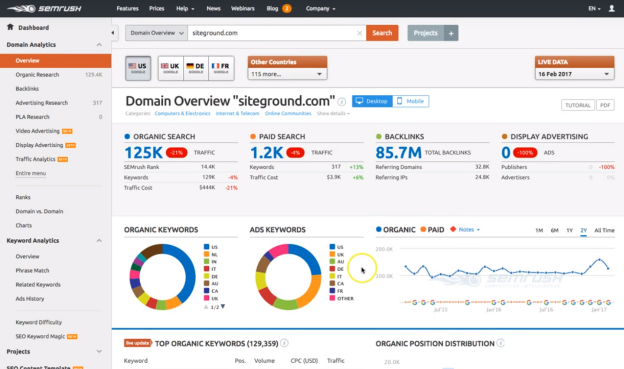 SEMrush Competitive Analysis Certificate
SEMrush can offer data that looks into the SEO tactics of various competing brands.
This shows the competing keywords used by different competing businesses to boost rankings.
This way you can develop a strategy to counter that and push your own product out there.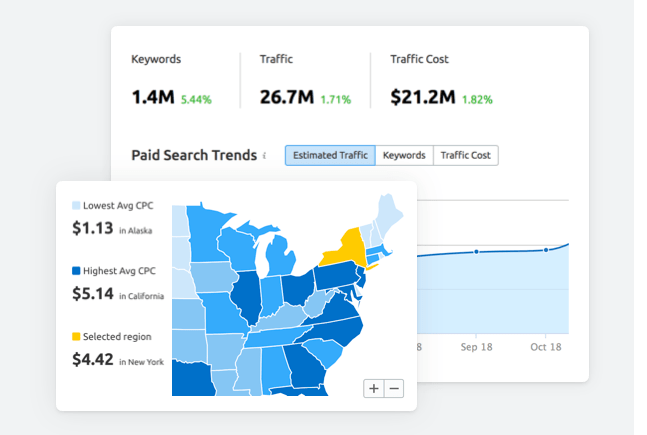 However, the tool is about much more than just looking at the established players.
It also looks at up and coming competitors that can throw you off balance if you don't pay attention to their strategies.
It gives you a look into how fast they're growing and what you can do to retain your advantage over them. These tactics help brands improve their SEO plans and stay on top.
SEMrush Strategic Advertising
You can compare the strategic advertising that you're using with your competitors through SEMrush.
Our Pick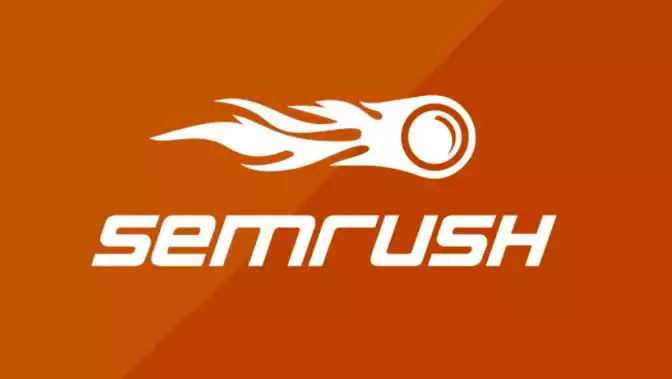 We earn a commission when you click this link and make a purchase.
This way you can find out which advertising techniques are making your competitors more or less popular.
SEMrush Expanded Social Media Research
A large chunk of consumers come from social media. That's an undeniable fact today.
This is why it's paramount for companies to exist in that domain to target specific customers.
These platforms can be utilized to increase engagement, as well as, to measure a brand's performance.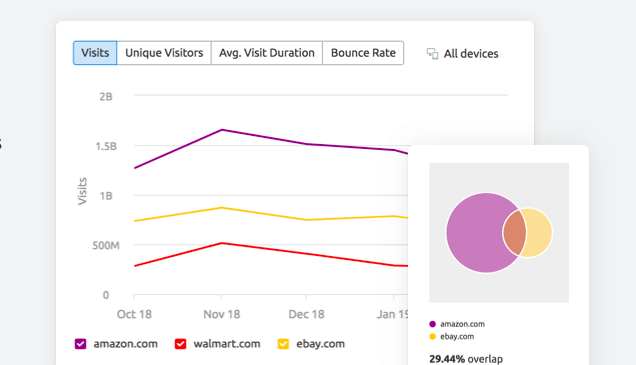 You can literally derive from the social media analytics how your competitors are doing and what is working for them.
On a social media platform, likes, views, impressions, and discussions speak. By gaining visibility into what bumps-up these numbers, you can increase your own engagement.
Increased engagement on social media may turn followers on Facebook, Instagram ,and Twitter, into paying customers.
SEMrush Content Marketing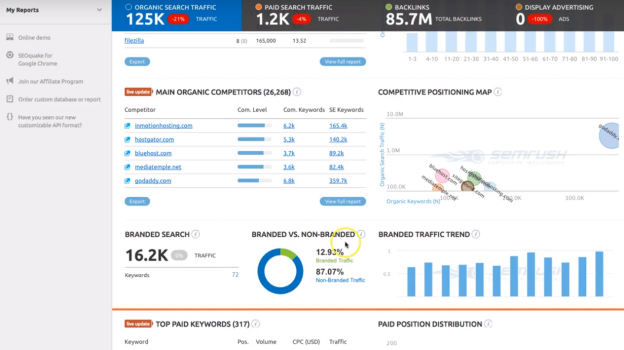 Brands can find out how popular they are with various internet communities through SEMrush.
This allows them to take advantage of the promotional opportunities that are occurring within those communities. This can broaden their audience reach.
This tells businesses which topics are generating the most interest among their communities, allowing them to spin and relate to their customers better.
Our Pick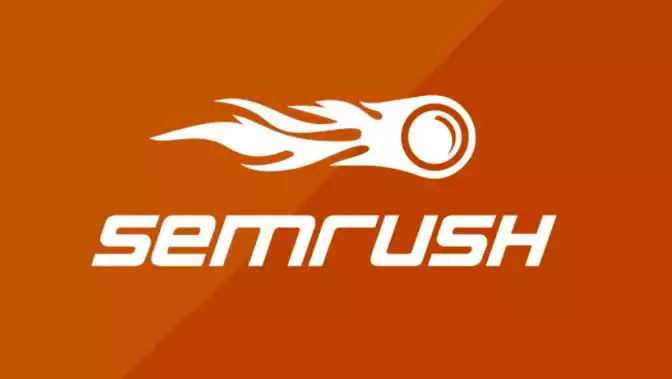 We earn a commission when you click this link and make a purchase.
This is always an opportunity to push services and goods on to customers through a relatable message.
Other Features
Domain Specific Keyword Ranking
Position Ranking
Crawl Audit Tools
AdSense
Keyword Search
Viewing Organic Competitor Positions
Backlinks
Long tail keyword search
Competitor Rankings
Ad campaign data in depth details
SEMrush pie chart and line graphs
Comparison of Multiple Sites
Organic Research
Advertising Research
Tracking of keyword metrics
SEMrush Pricing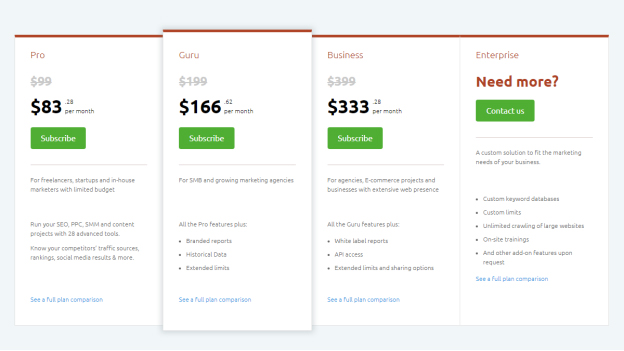 There are three specific plans that you can choose from in SEMrush.
The first is the Pro plan which costs $83 per month for the annual subscription and offers you the best features if you're a
freelancer or a startup.
The plan offers an insight into your competitors' strategic marketing tolls and traffic sources, rankings, and social media results, etc.
It gives you 28 advanced tools for your business.
The next tier is called the Guru plan which costs $166 per month for the annual plan and includes all the pro features as well as historical data reports, extended limits and branded reports.
This plan is specially designed for small and medium businesses.
The third tier is called the Business plan which offers all the features that are in the Pro and Guru Plans, as well as, White Label reports, API access and sharing options.
The plan costs $333 per month. It is built for companies with a large online presence and established E-commerce platforms.
However, there is another plan besides these three which is called the Enterprise Plan. This plan is for young companies specifically.
Our Pick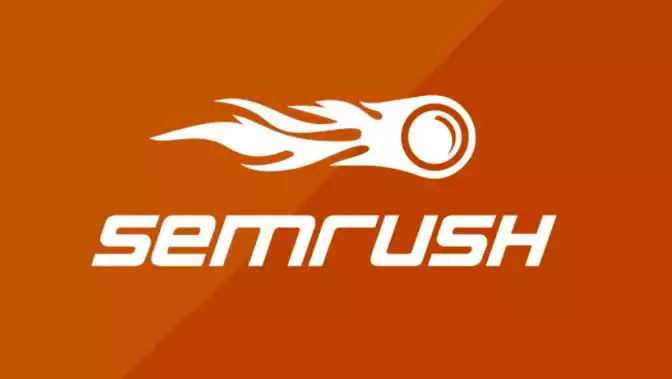 We earn a commission when you click this link and make a purchase.
It allows you to get the customized help you need in order to form strategies to compete with other brands.
The Enterprise plan offers, among other things, unlimited crawling of websites, custom limits, custom keyword databases, onsite trainings and any other add-on features.
The price can be set through negotiation and discussion.
You also have the option to pay each month but the cost go up by upto 16%.
Related : SEMrush vs Moz Analytics Review
iSpionage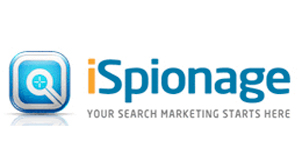 iSpionage is many things. It is first and foremost a PPC tool which increases your online visibility with several customized and long tail keywords for targeted promotion.
It allows you to generate leads from multiple search engine results.
It also allows you to increase conversion rates and offers all the other SEO advantages that your site needs to sell products better than its competitors.
iSpionage is User-friendly
The one thing that you'll notice straight off the bat is that iSpionage is a very user-friendly tool.
The homepage allows you to just type in the name of a competing website and the tool will show you a report that is chock full of the ways that they're advertising.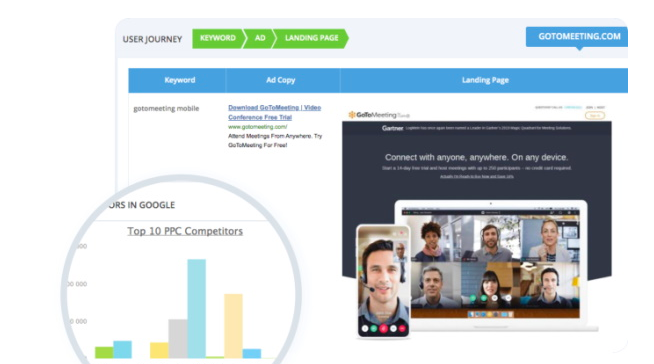 The user interface is very familiar if you've used a similar tool in the past. And even if you haven't, the entire UI is very easy to navigate.
The sections are listed as tabs at the top and you can switch between them seamlessly.
iSpionage Keyword Search
iSpionage will show you the PPC keywords that are being used by your competitors.
This can be very valuable if you find that your competitors are reeling in visitors through keywords that you haven't thought to use.
The PPC keywords report has the top search terms which your competitors are using in their ads and they're all listed in a table in descending order of effectiveness (KEI).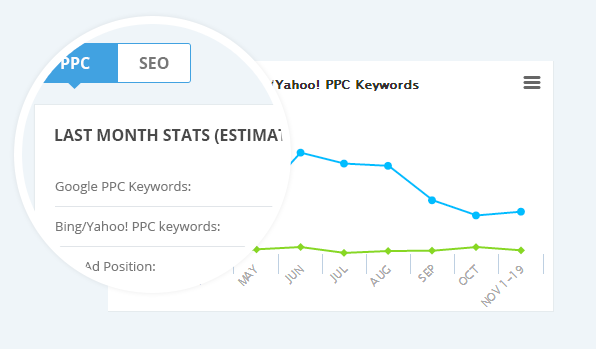 The Keyword Effectiveness Index is calculated based on two factors. These are the length of time which the competitor has used the keyword and the data that the keyword was seen last.
The time period matters because if the same keyword brings in traffic for a long time, then there's a good chance of targeted traffic being brought in through multiple ads.
iSpionage Ad Search
You can search for the different ads that your competitors are running with iSpionage. Depending on how well they're working, you can use the same strategies with a twist to sell your brands.
The tools will show you the headline, the URL and the description for the competitor's top ads.
iSpionage Organic Keywords
The organic keyword report will show you the keywords that are ranking and bringing the most traffic to your website.
The data is displayed in a table and is ranked in descending order depending on the effectiveness of the keyword in the Google search results for a single website.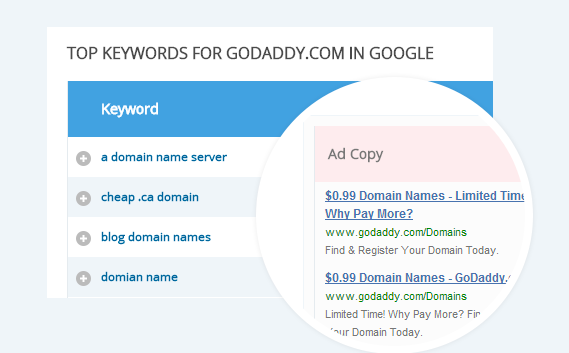 For example, if there is a page that ranks for 150 keywords in the top 10, the page will appear over any other pages that rank for fewer keywords in the top 10.
iSpionage also allows you to see an image of the ranking page. This displays the page title, the URL, and the description.
iSpionage Competitor Comparison
If you want to compare your competitors with each other and with your own website, you can do that with iSpionage.
In the comparison report that is sent to you, you can have a comparison between as many as three different websites.
This can be done through a simple search. At the top of the report, you can see a line graph which highlights the average PPC budget for every site for the past year.
For convenience's sake, the lines that represent different sites will be different colors.
Aside from the default chart, you can view the same section in average potential cricks, average position, and the number of Google Keywords.
iSpionage Campaign Watch
Marketing automation is a very important part of a successful business strategy.
This is why the iSpionage campaign watch feature is a very valuable part of the program.
First, you set up a campaign watch for a competitor. Then the tool will begin to monitor that competitor for recent changes in digital strategy.
This will allow you to see what is different every week. The highlights in the findings will be crystal clear in the report that is sent to your inbox weekly.
iSpionage Pricing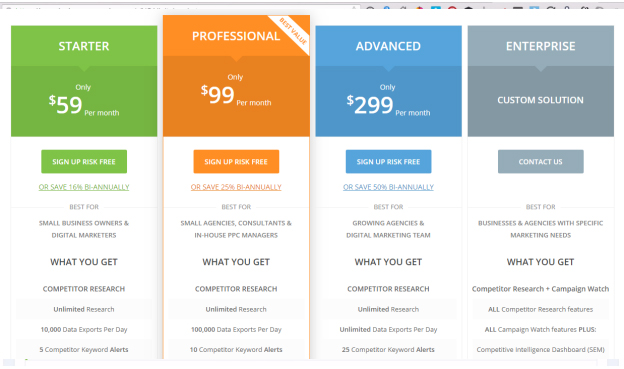 iSpionage is priced competitively with its counterparts. There are four monthly packages. You also have the option to pay annually which makes these plans 15% cheaper.
The first is the Starter which costs $59 per month and $50 per month for the annual plan. It allows you to get all the perks of competitor research and gives 10,000 data exports per day.
There are also 9 competitor keyword alerts.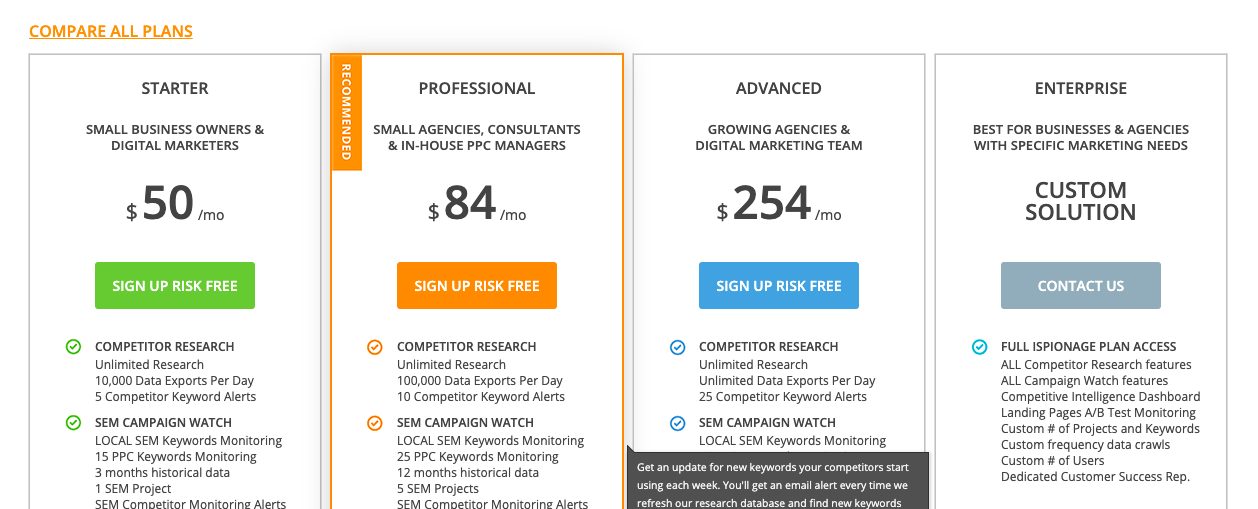 The second plan is the Professional plan which is priced at $99 per month and $84 per month for the annual payment plan.
It offers all the perks of the starter pack and gives you 100,000 data exports per day and 10 competitor keyword alerts.
The third tier is the advanced payment plan which goes for $299 per month and $254 per month for the annual plan.
It offers all the perks of the previous two plans and unlimited data exports every day along with 25 competitor keyword alerts.
The final plan is a custom plan which you can negotiate for. The plan offers all the competitor research features, campaign watch features and a competitive intelligence dashboard.
The price can be negotiated depending on the features you want and need.
Serpstat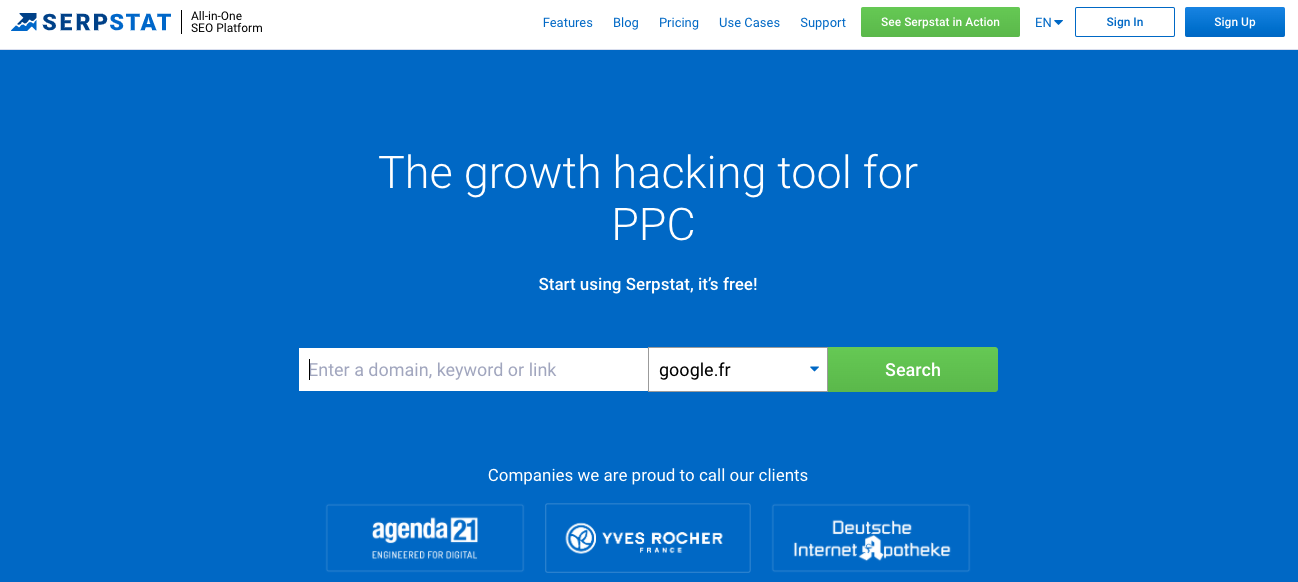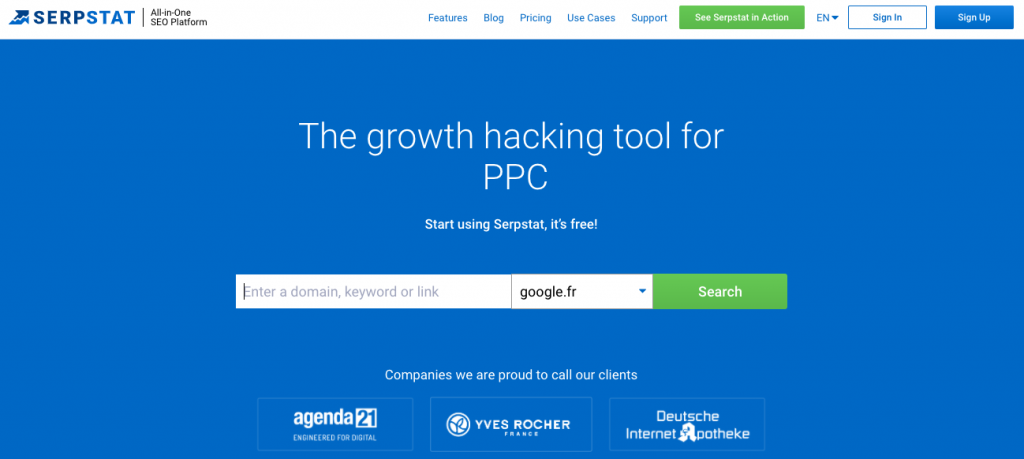 SerpStat was only founded in 2013 as a keyword search tool. Since then; it's evolved into a fully fledged SEO and PPC tool.
The tool can analyze over 100 million keywords and 180 million ads as well as more than 200 million suggestions.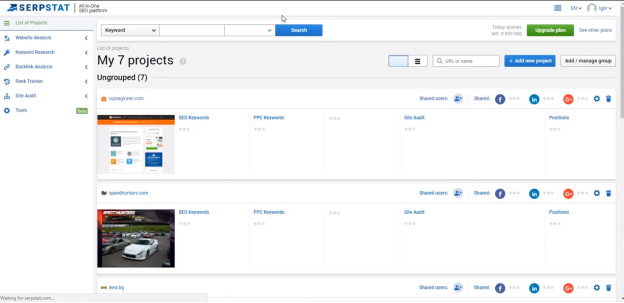 Serpstat Website Analysis
This comprises of two aspects which are domain analysis and URL analysis.
The former involves SEO research which can track positions and do a comparison of different domains and identify the top competitors for your site. Accordingly, you can define activities to improve your SEO. This would help you to avoid common SEO mistakes that we often make.
It can also explore the top organic pages on any site and get a tree view of keywords for the sites.
The URL comparison allows you to do a side by side comparison of a specific URL from the site with 1 or 2 competing URLs. This allows you to discover common, as well as, unique keywords.
Serpstat Keyword Research
Keyword research in SerpStat allows you to find the common keywords that you and your competitors use.
It also provides you with a load of other keyword opportunities that your competitors are targeting. These are ones that you may have overlooked.
Serpstat Backlink Analysis
SerpStat offers analysis on your link profile as well the competitor's backlink profile.
This feature can uncover the competitor's link building strategies and highlight new sources that can be tapped to build backlinks.
You'll be able to see your own page rank and the page rankings for your competitors with this tool.
Serpstat is Easy to Use
SerpStat is loaded with features and has a little bit of a learning curve if you're a beginner.
However, the UI is very easy to use and you'll find it very easy to adjust to if you're migrating from another PPC tool.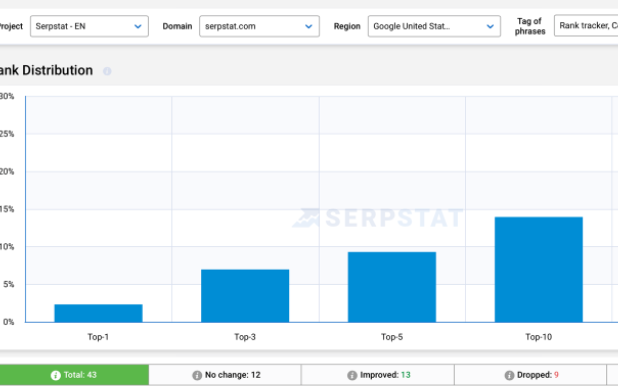 Serpstat Pricing
Serpstat cost includes five plans: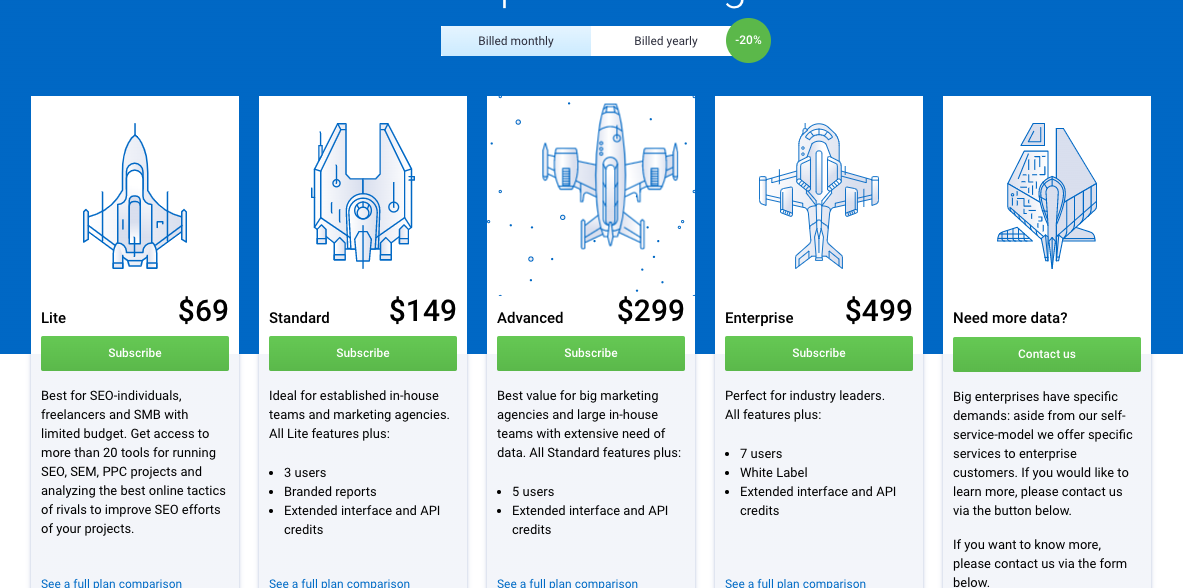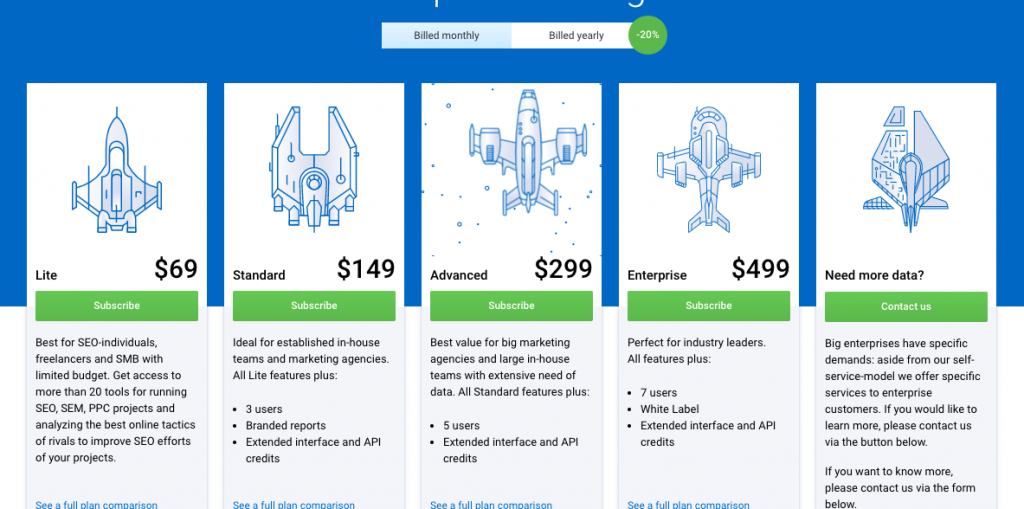 Lite – $69/month
Standard – $149/month
Advanced – $299/month
Enterprise – $499/month
Custom plan offering comprehensive data
If you pay annually, you get 20% discount on all plans.
Get in touch with their team if you want a SerpStat trial first.
SEMrush vs iSpionage vs SerpStat – Which Is The Best PPC Tool
So this was our iSpionage vs SEMrush vs SerpStat review.
The tools listed here are all very impressive and give you access to the tools you need to compete with your biggest rivals on the internet.
All three tools allow you to take advantage of different types of pricing tiers and deep analysis tools.
If you're a novice and just getting into the entire business of internet marketing, then SerpStat is probably the best for you just due to its pricing structure.
With the Personal pricing plan A, you can try it for $15.20 a month and find out if it's the one for you.
If you're a small to medium business owner, then either plan could work for you.
However, if you're a large business owner, then your best bet is to go with either SEMrush or iSpionage for one reason – they both allow for customizable plans which SerpStat doesn't have.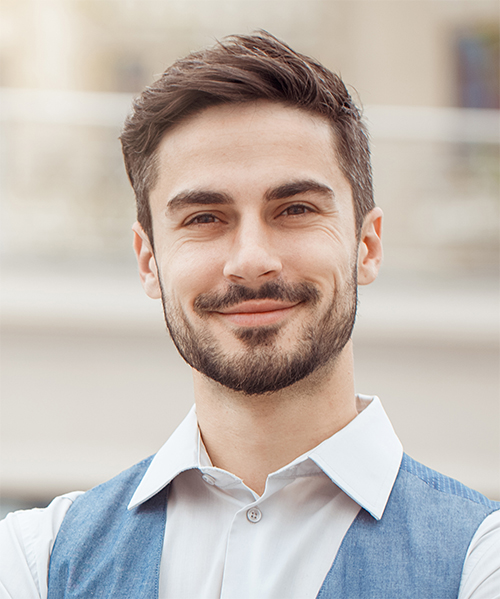 Author: Scott Macarthur
Scott L. Macarthur is a marketing consultant and an online author. He is mostly engaged in providing his expertise to startups and SMBs. He is also an author on TheNextWeb.