If you're seeking KWFinder alternatives, then you probably know something other marketers don't know — long-tail keywords are magical.
Look at the numbers.
Pages optimized for long-tail keywords move up the SERP by 11.24 positions. In contrast, head keywords move up by only 5.28 positions — long-tail delivers more than 200 percent higher rankings.
Why the boost in rankings? Long-tail keywords account for about 70 percent of all search traffic.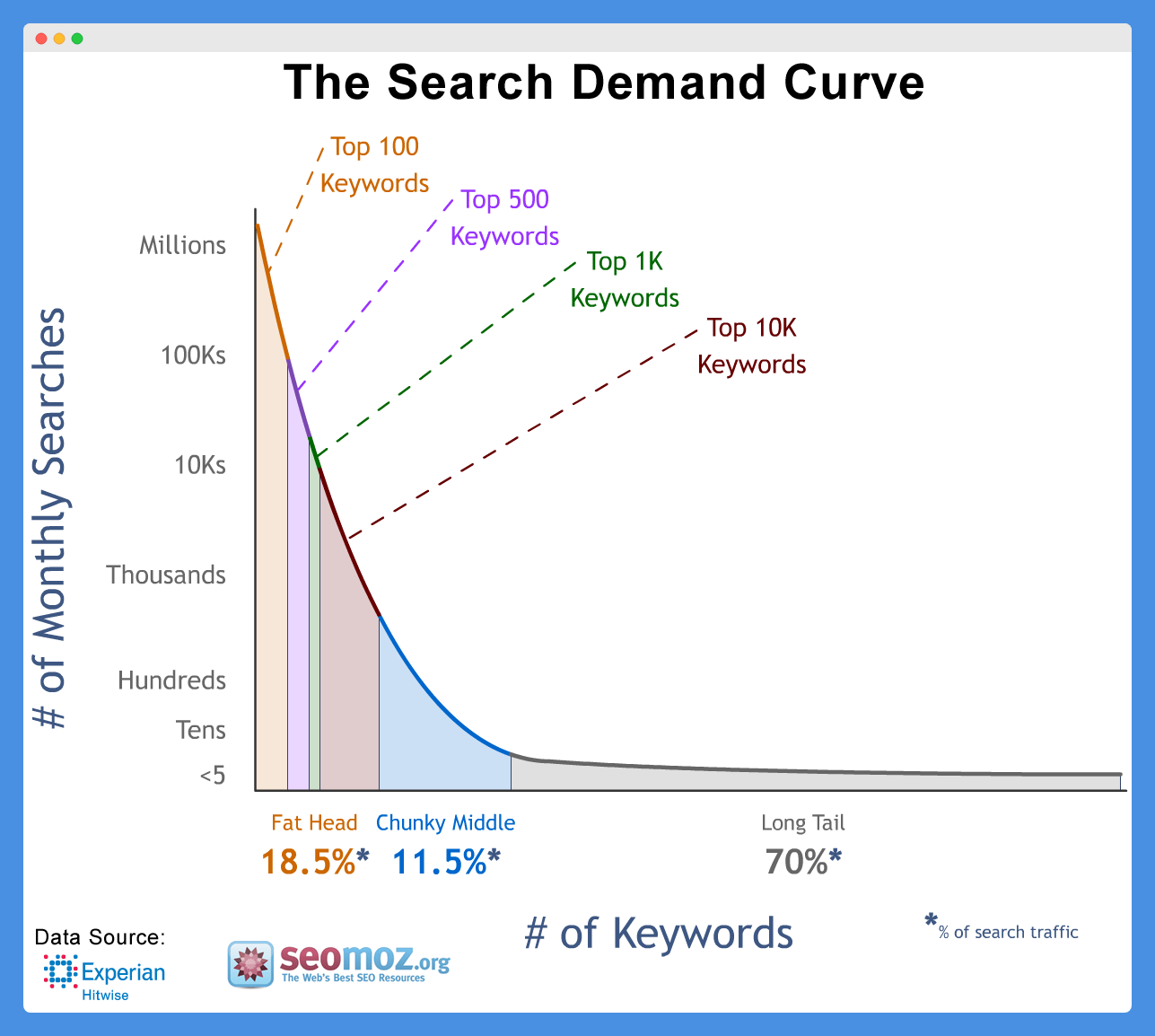 But there's more. Conversion rates are better with long-tail keywords; it delivers 2.5 times higher conversions than head keywords.
Hence, savvy marketers are seeking out highly potent keyword tools to help them capitalize on the benefits of long-tail keywords.
KWFinder is a powerful tool for researching long-tail keywords. But you might want to compare its features and offerings with its competitors.
Here are the top options.
AnswerThePublic
Ubersuggest
SEMrush
WordTracker
LongTailPro
InstaKeywords
SECockpit
Let's get to it.
Also Read: Best Keywords Everywhere Alternatives
Best KWFinder Alternatives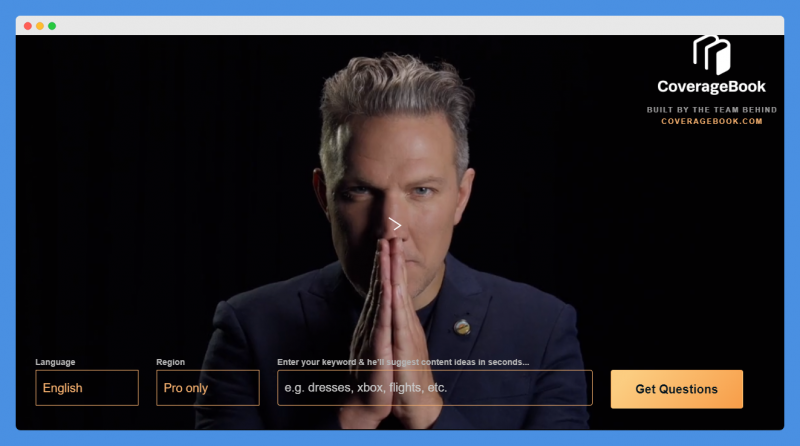 AnswerThePublic is an online tool that provides detailed keyword information and searches. It's a visual keyword research tool that gets queries from Bing and Google and categorizes them in a keyword cloud.
A lot of companies use it to get the guidance they need in properly marketing their content.
The platform collects search engine data and uses it to tell you everything you need to know about your customers. The free version is open to everyone.
Let's explore the features of AnswerThePublic.

Questions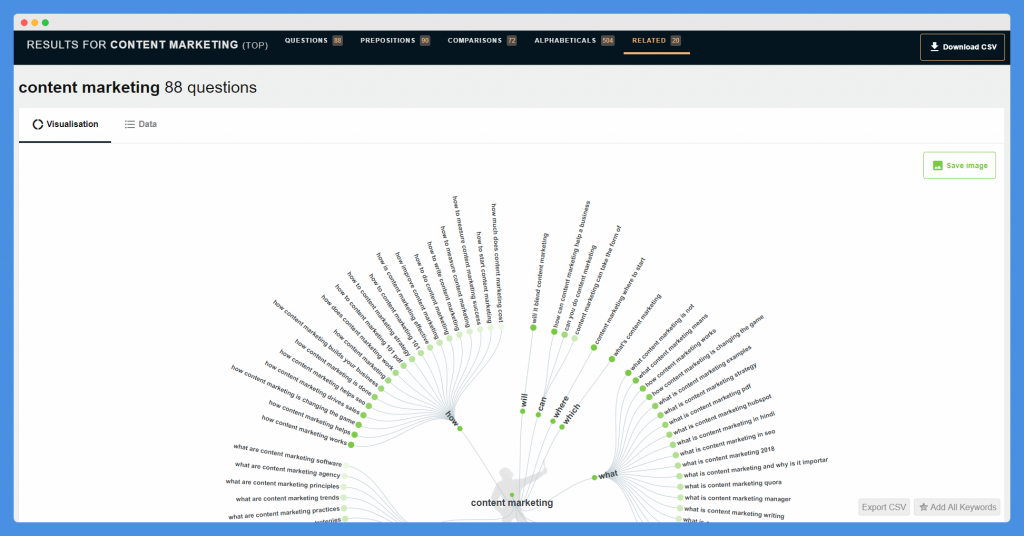 This feature serves as the heart of good content marketing since lots of users ask questions regularly. The questions section tends to be a goldmine for long-tail keywords, inspirations, and content ideas.
The keyword results here start with "How, why, what, who, are, when, which, where, will, can, etc.
Prepositions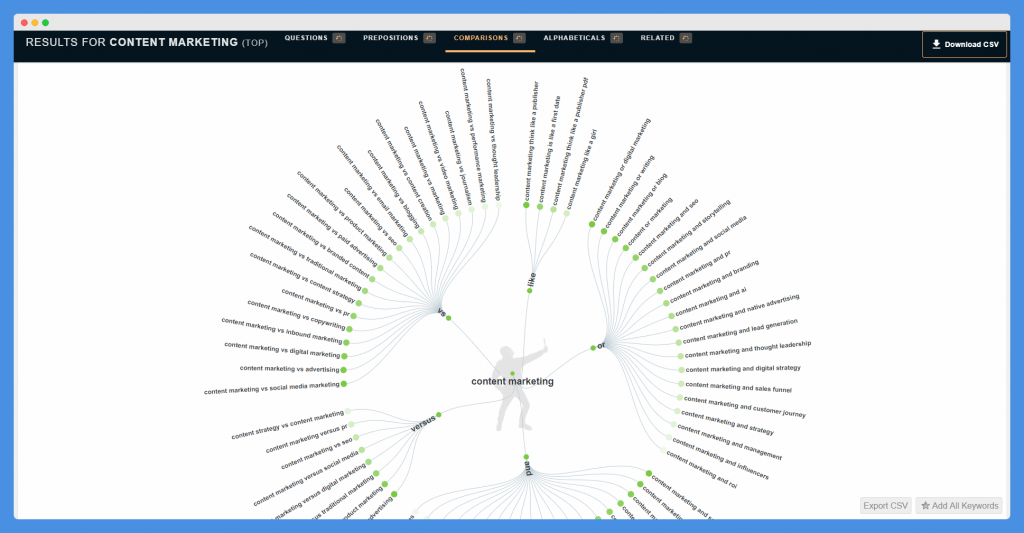 Here, AnswerThePublic breaks keyword results into "Is, with, for, to, near, can, or without." This feature is especially useful when coming up with new topics to cover.
Example: Instagram for designers or photographers, Facebook cafes near me, etc.
Comparisons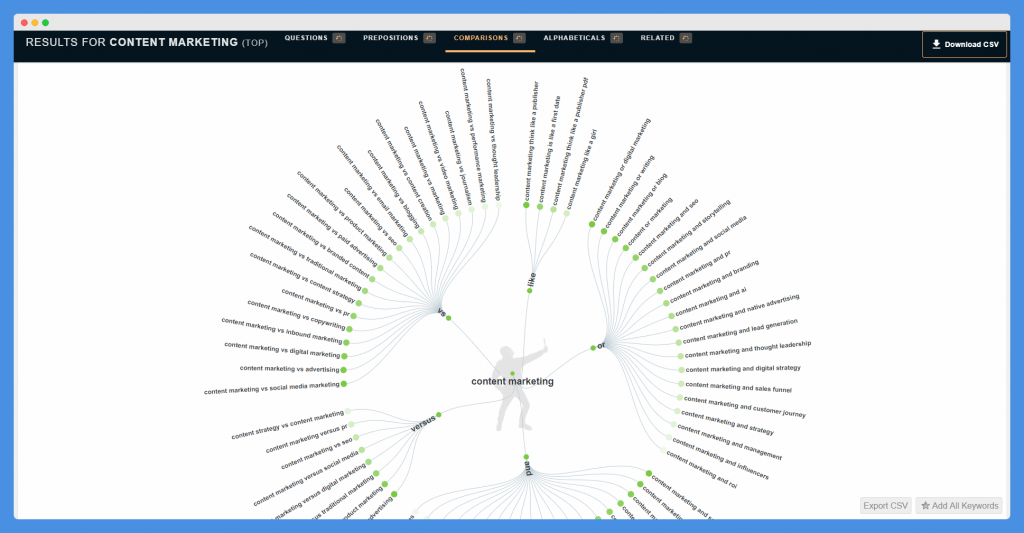 The feature allows you to compare your options after discovering the problem and performing research.
The comparison will enable you to analyze two different products and services and figure out which one is better or similar.
Example: Facebook vs. Instagram vs. Snapchat, etc.
The comparison keywords tend to have less competition.
Alphabetical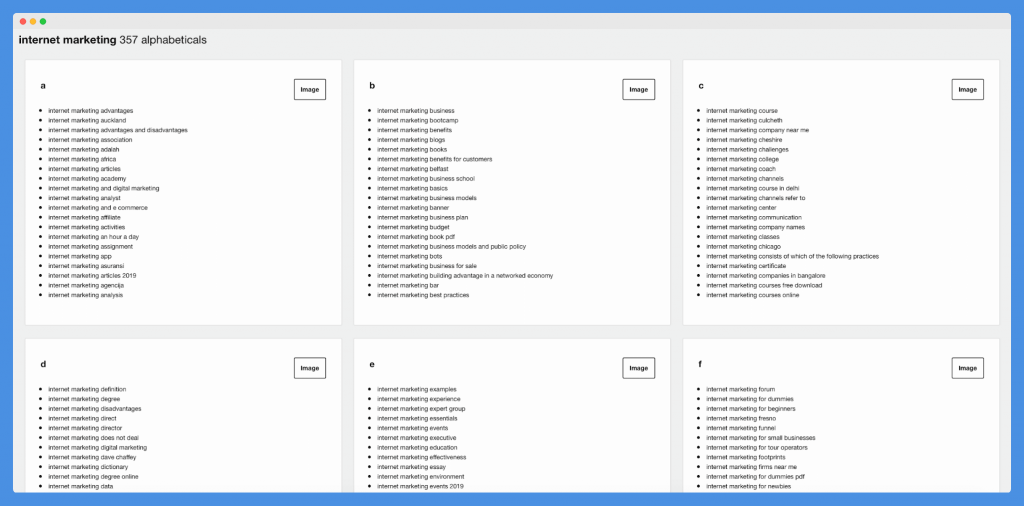 This section is useful for presenting keywords in alphabetical order (from A-Z). AnswerThePublic lists alphabetical search terms that are related to what you entered initially.
It's useful for discovering more keyword ideas and content.
Related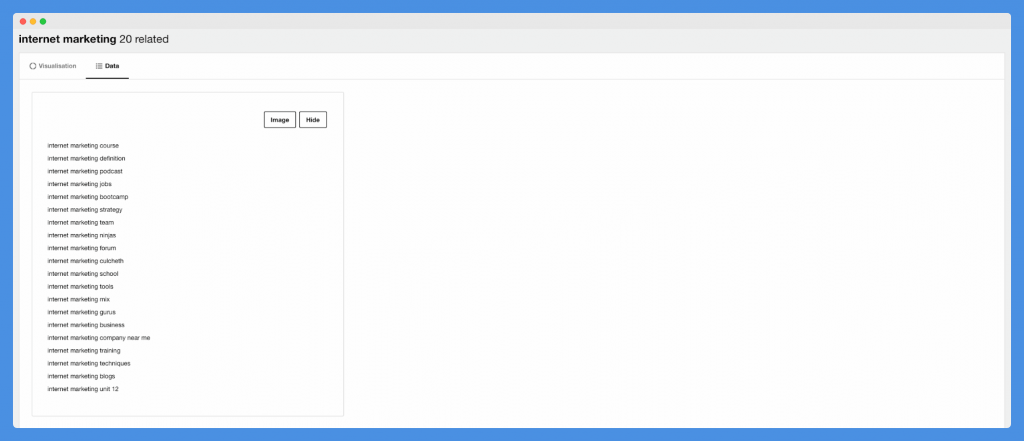 This section brainstorms associated keywords and topics based on your search history. While it might seem easy to gloss over some tiny niches and angles, AnswerThePublic ensures that you don't miss anything.
The tool provides you with hundreds of valid ideas and blogpost, just from typing one or more main keywords. This feature is great for finding low competition topics and search terms to target.
Interesting Comparison: Moz Vs SEMrush
AnswerThePublic Pricing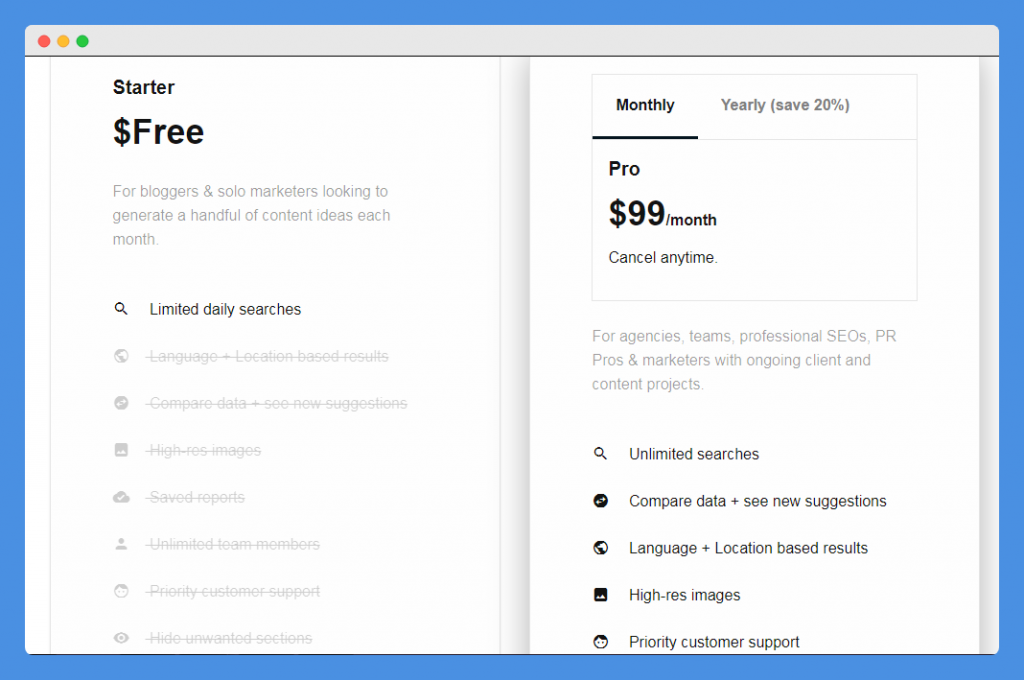 The free version of AnswerThePublic is excellent, but it has its limitations. This is where the Pro version comes in.
If you wish to gain unlimited access to searches and more detailed data, you might need to consider the Pro version. It costs $99 per month.
Where AnswerThePublic Shines
Here are the reasons why you don't need an AnswerThePublic alternative.
It is relatively easy to use
AnswerThePublic supports a free version
It only takes seconds to run the report
The search results are downloaded into a CSV file and saved
A free email course on how to use the tool is provided for users
Keyword search results have varied categories
The long-tail keywords provided are both current and relevant
AnswerThePublic offers customizable results
However, like every other tool out there, AnswerThePublic has its failings. Let's explore them.
Where AnswerThePublic Needs Improvement
Users find AnswerThePublic to be less than exciting in these areas.
The tool doesn't have a mobile application
There's a minimum of three searches per day for the free version
Keyword statistics aren't available in the current version
The "Save Image" has a few glitches
Users are required to upgrade to the Pro version to set a different location or language.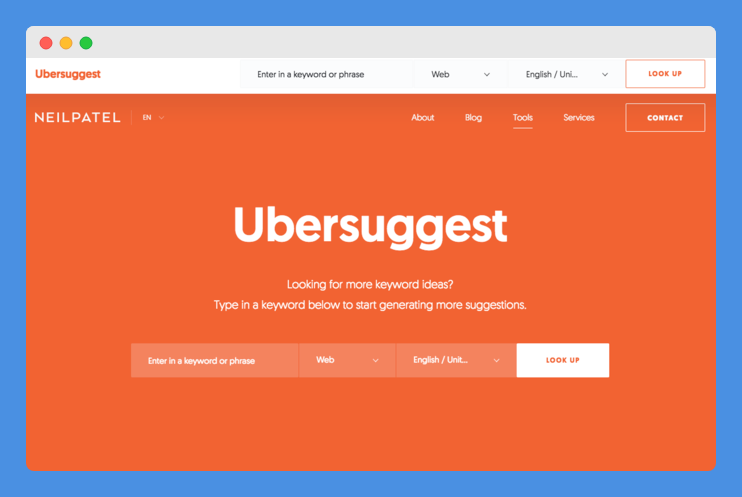 If you're looking for a good free KWFinder alternative, Ubersuggest is for you.
Ubersuggest is a free SEO tool provided by Neil Patel – the SEO guru. It's available online and highly accessible to everyone.
The tool is best used in finding new keywords, suggestions, data, and ideas. The best part about this platform is that you can use it without creating an account.
This tool's features include:
Also Read: The Ultimate Guide To On-page Optimization – Part 1
Keyword Ideas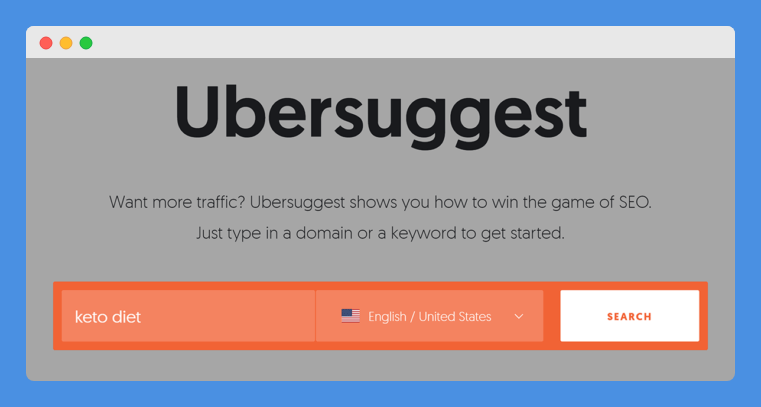 Once you input any keyword, Ubersuggest will get to work finding long-tail versions of the term you typed.
You'll also find key data (like average CPC, monthly search volume, SEO competition, etc.) for each keyword.
Related Searches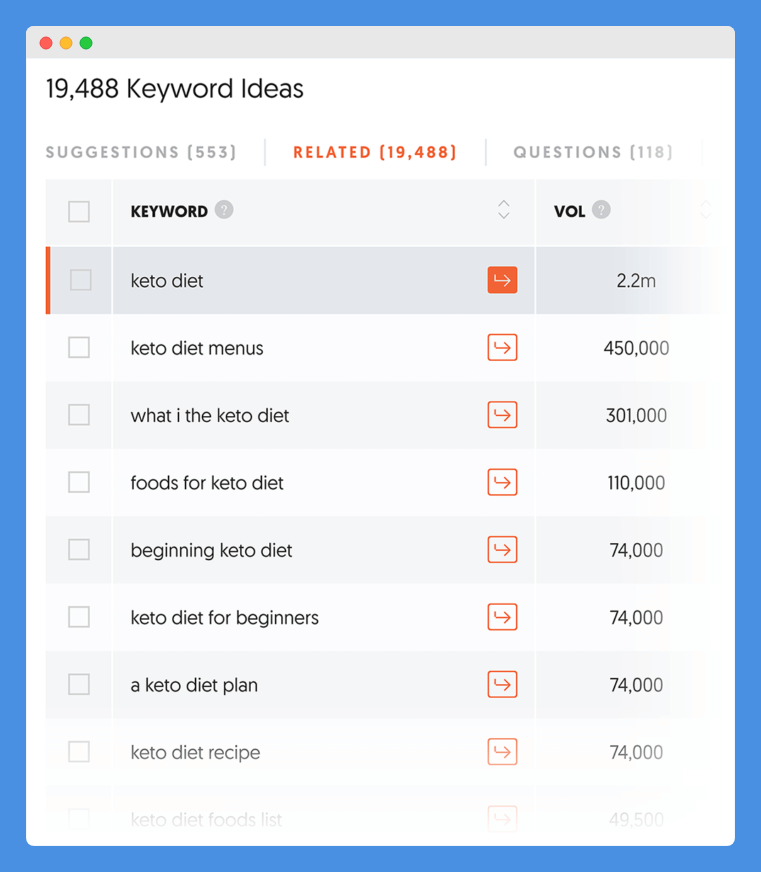 Ubersuggest can also be used in generating different types of keywords that are related to your original keyword.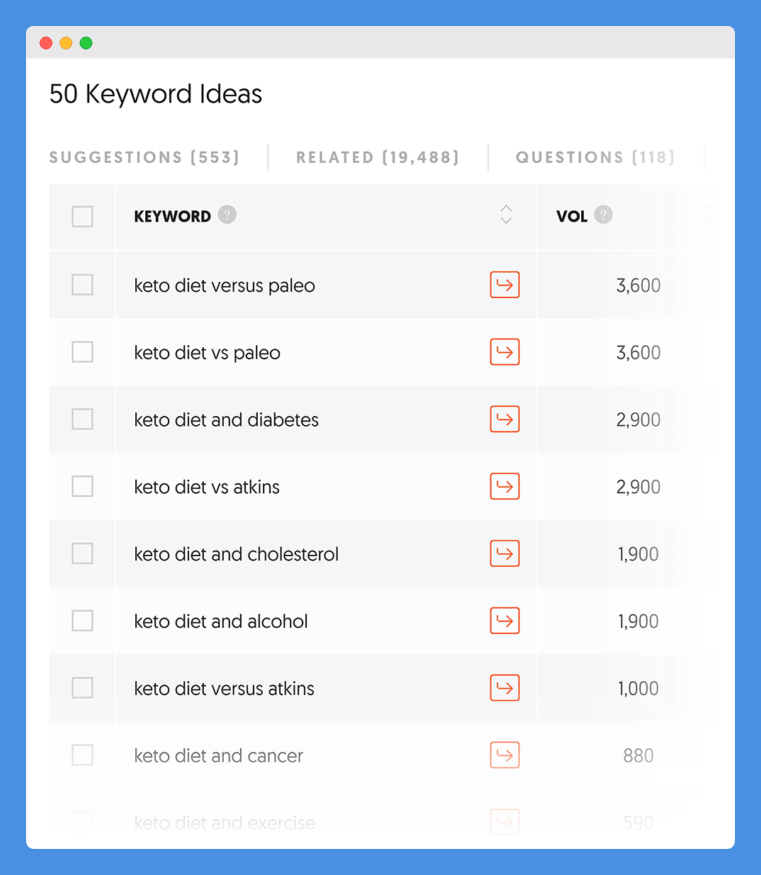 Just like AnswerThePublic, Ubersuggest also supports keywords in the form of questions, prepositions, and comparisons.
Overview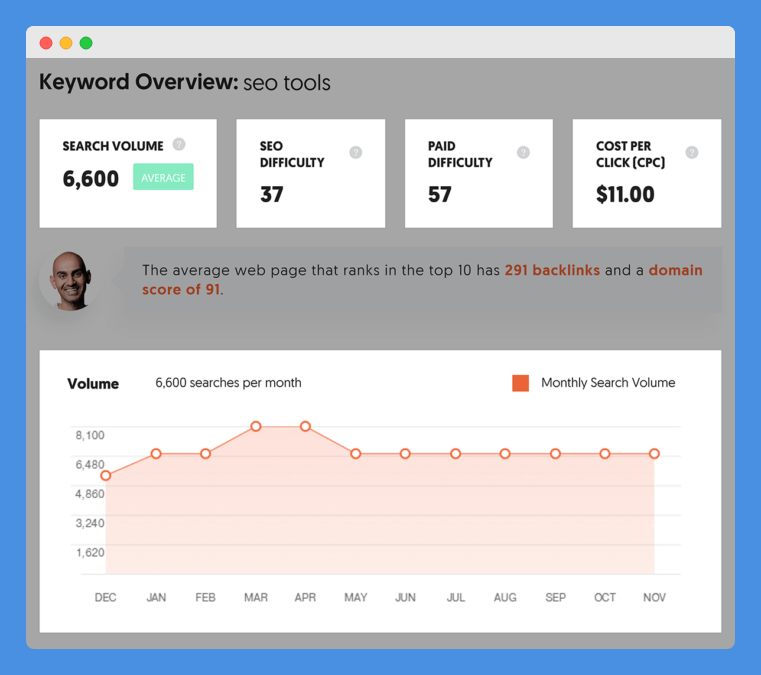 The tool provides essential data on each keyword typed into it. Ubersuggest also provides you with all the necessary information you'll need for the keyword and its search volume.
Traffic Analyzer Overview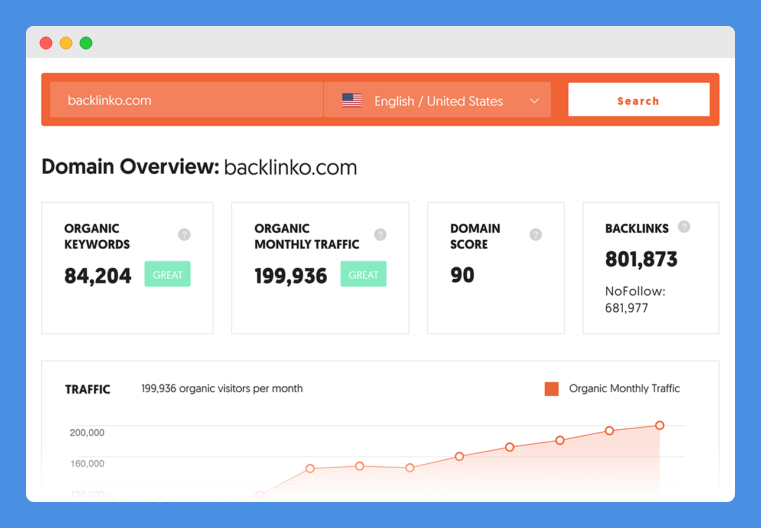 The tool allows you to analyze your domain and also note your competitors' rankings. While you might not be able to do much with this info, it helps to track inevitable fluctuations.
Explore: The Ultimate Guide To On-page Optimization – Part 2
Ubersuggest Pricing
Ubersuggest is entirely free to use. It doesn't have any subscription plans yet.
Where Ubersuggest Shines
Here's what users love above Ubersuggest.
It's a free tool that can be easily accessible to anyone online
Ubersuggest provides simplified metrics and fast results
The data on each keyword provided has charts and stats
The tool is a lot better than Google's keyword planner
Ubersuggest runs relatively fast and generates new keyword ideas for users
It supports keyword visualization which is excellent for visual learners
Where Ubersuggest Needs Improvement
With all the love that Ubersuggest users have for the tool, they still see points that need improvement.
Ubersuggest sometimes finds it difficult to generate results that are related to specific niche markets
The mobile layout on the site is subpar
It doesn't have a mobile app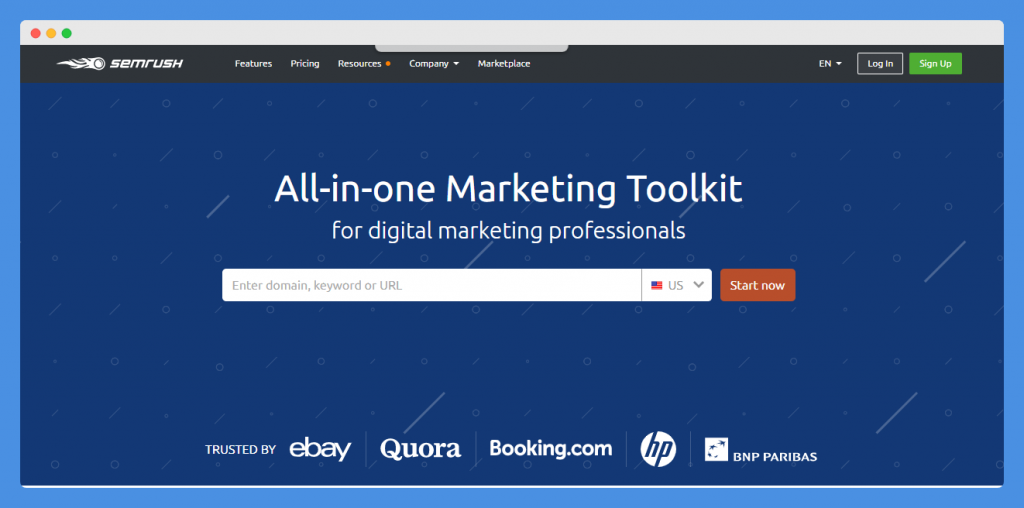 SEMrush is another powerful alternative to KWFinder.
SEMrush is an all-in-one SEO competitor analysis program that consists of several tools useful for digital marketing. It's one of the most extensive solutions you'll find on the internet.
Unlike some other keyword research tools, SEMrush is very comprehensive. It not only performs basic keyword searches but also helps you discover which keywords are ranking high for competitors.
Here are the features you'll get from SEMrush.
Our Pick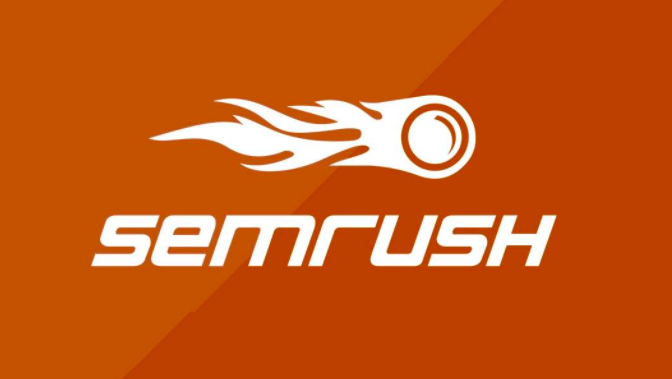 We earn a commission when you click this link and make a purchase.
Competition Analysis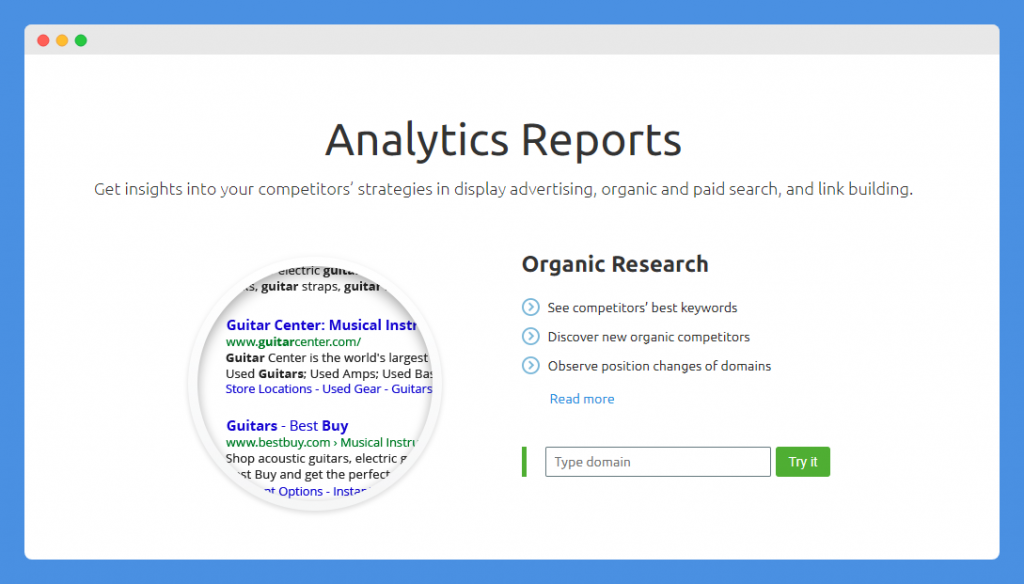 The tool helps you discover your competitors and perform a thorough analysis of their SEO strengths and weaknesses. It estimates the value of their keywords. The information gathered will then be used to compete against them.
SEMrush also keeps you updated on your domain position changes as well as your competitors' own.
Advertising Research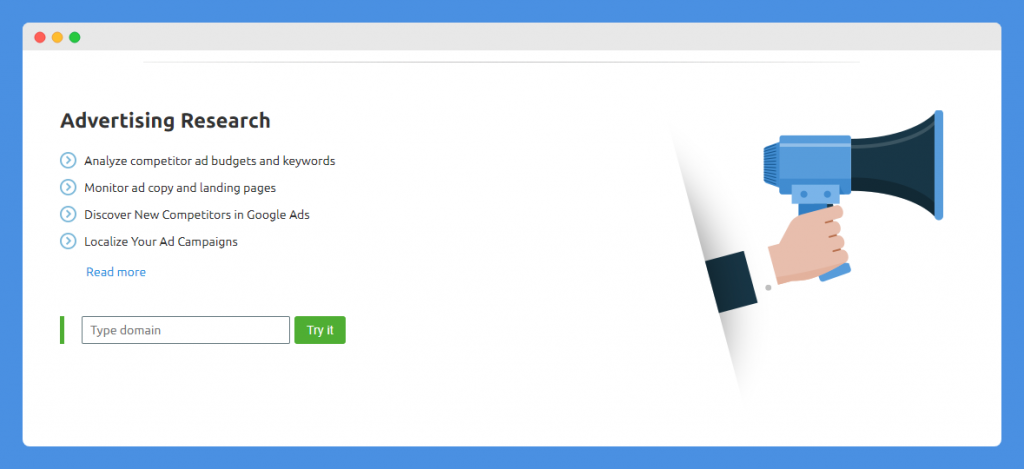 SEMrush allows you to analyze your competitors' keywords and ad budgets. It evaluates their PPC strategies from different angles. You get to see how much different advertisers within your niche are spending.
Our Pick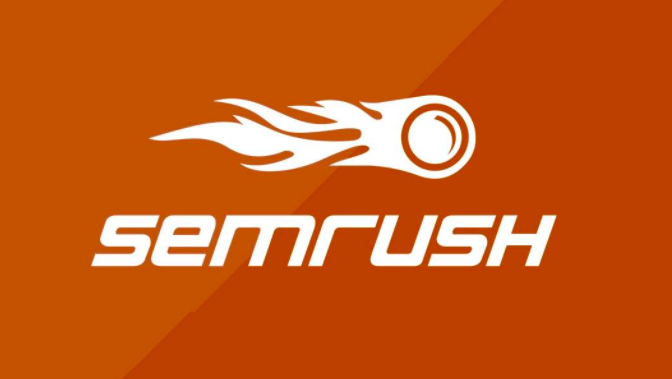 We earn a commission when you click this link and make a purchase.
The ad research allows you to save money and time while benefiting from your competitor's experiences with ad campaigns.
Keyword Research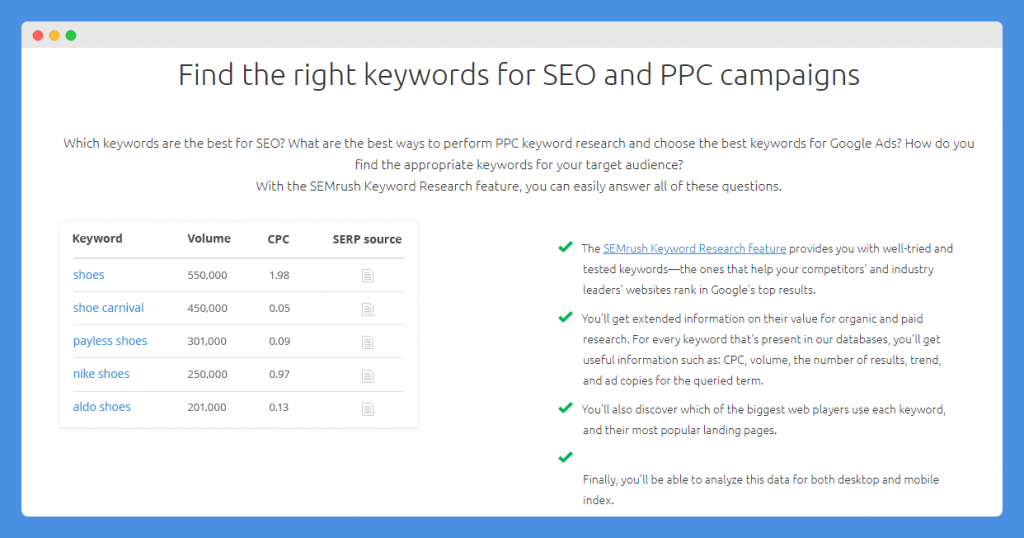 The tool allows you to find the right long-tail keywords for SEO and PPC campaigns.
SEMrush gathers keywords with a search volume of not less than ten queries each year. Results can be displayed in ascending order by size.
Keyword Difficulty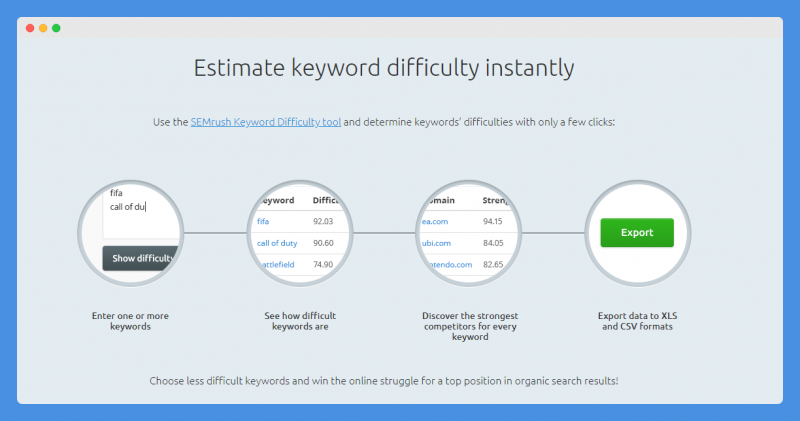 SEMrush helps find keywords with less competition and estimates difficulty instantly. The tool shows you which ones to focus on, and the ones to ignore.
Estimating the percentage of difficulty helps you discover how easy it would be to assume your competitor's organic position.
Higher percentages require more effort to overrun your competition for targeted keywords.
While KWFinder is a wonderful tool already, SEMrush offers excellent features. Owing to this, I would say SEMrush vs KWFinder is a very close battle.
Related: SEMrush Review
SEMrush Pricing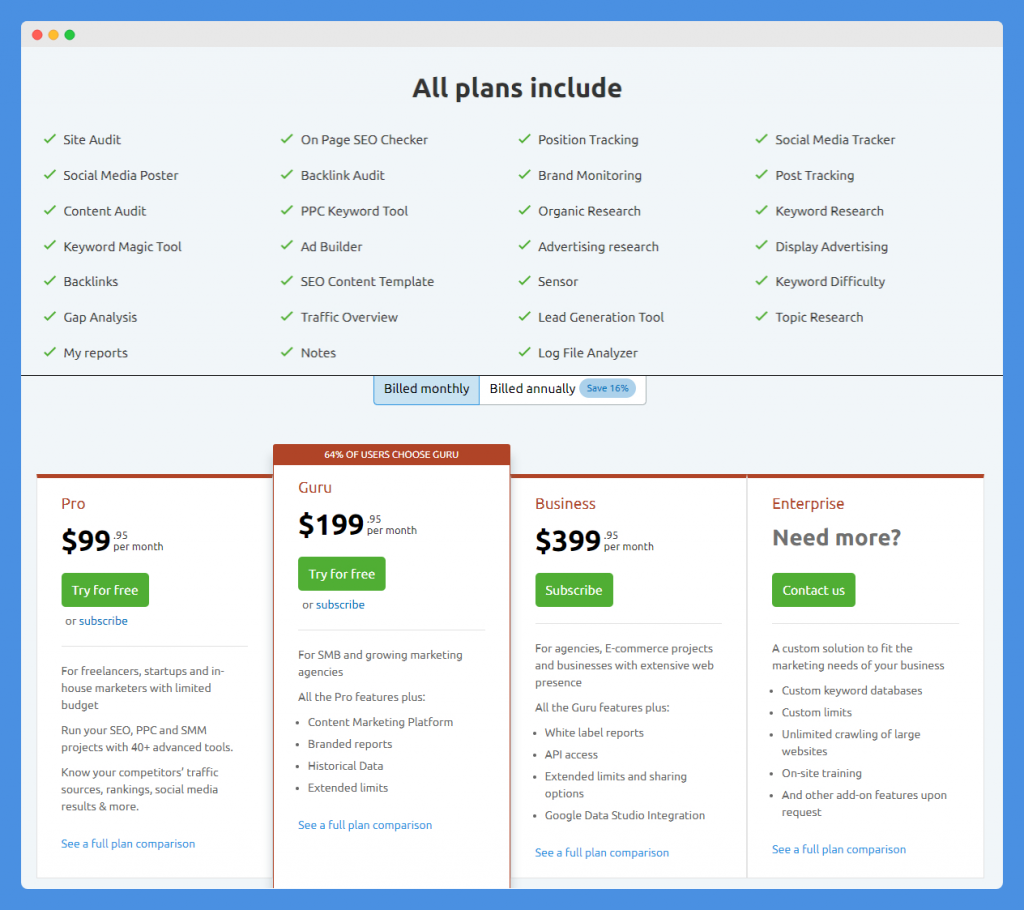 SEMrush offers multiple plans and prices. You could be billed either monthly or yearly.
The Pro plan goes for $99.95 per month, while the Guru version goes for $199.95 monthly.
The Business version, which offers more features than the first two, costs $399.95 each month.
Our Pick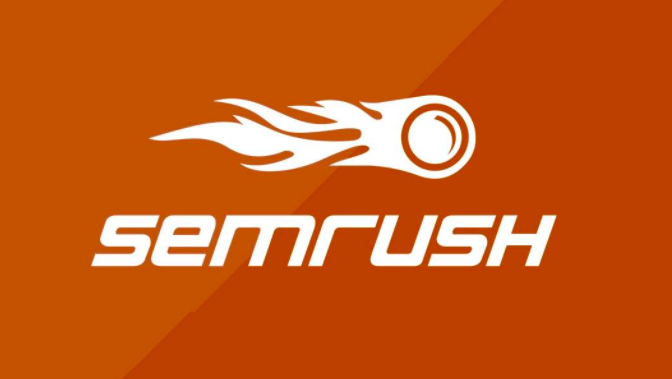 We earn a commission when you click this link and make a purchase.
Where SEMrush Shines
Here's what users love about SEMrush.
SEMrush offers the most advanced and detailed SEO and digital marketing metrics
It effortlessly integrates with Google Analytics and Google Search Console which allows you to track your website performance
It supports natural and completely organic keyword searches
Each subscription plan assesses lots of SEO tools
It has an excellent customer support service
Where SEMrush Needs Improvement
Here's what users say could use some improvement in SEMrush.
The user interface isn't friendly
New beginners might find it challenging to get used to the tool
The Business and Guru subscription plans are quite costly for people on a tight budget
SEMrush tends to encounter some discrepancies in the Ad Spend data aspect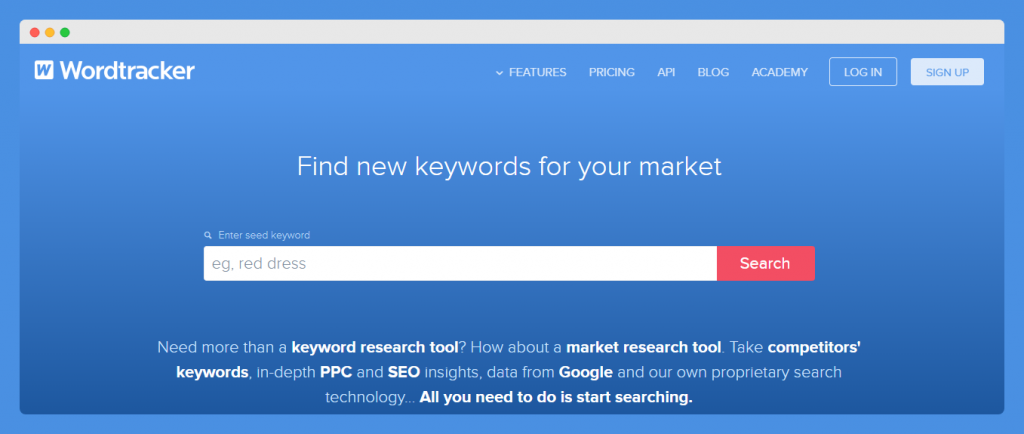 Another solid KWFinder alternative is WordTracker.
The tool was first started in 1998 when SEO was non-existent. Their keyword tool is a more recent development.
Since then, it has grown and evolved into the most used and trusted keyword research engine in the world. WordTracker allows you to generate more targeted traffic, get better SEO results, and increase profits.
WordTracker's is quite similar to that of KWFinder, but it also has the added ability to estimate Amazon, Google, and YouTube keyword data.
Here are WordTracker's features.
Keyword Tool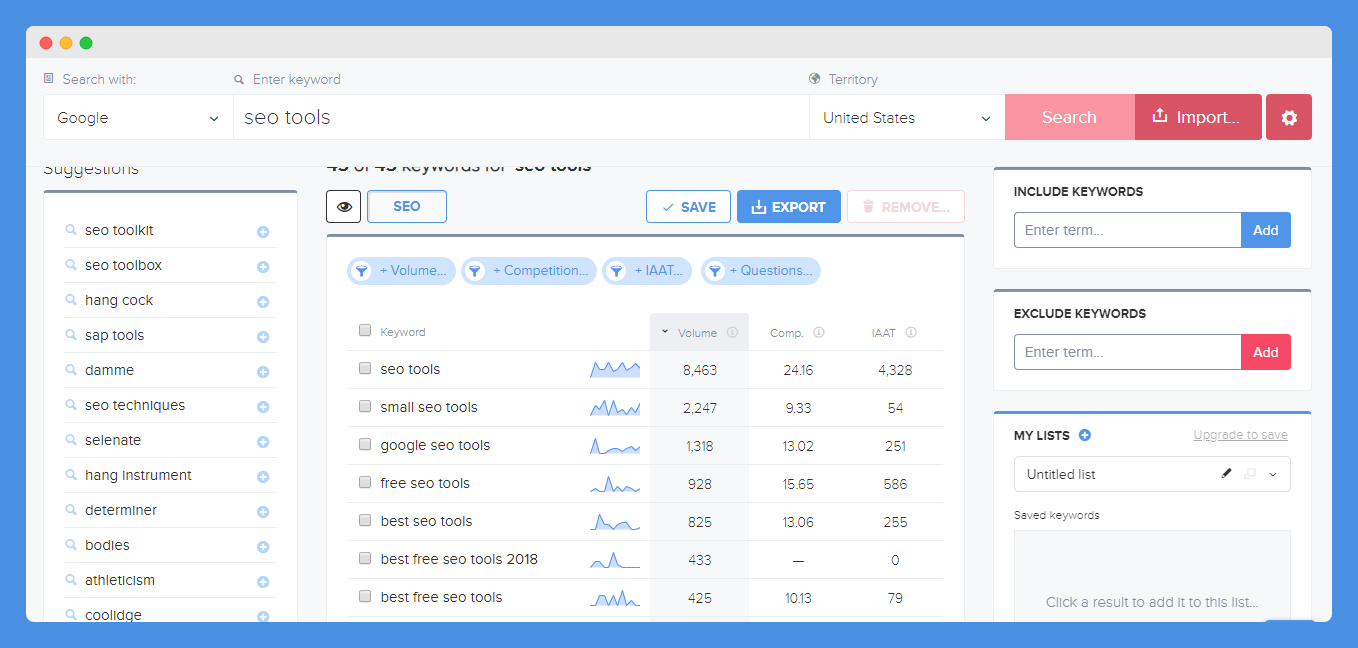 This option allows you to discover new keywords for your business and market. It supports faster and more effective searches. And within seconds, you can generate thousands of high value and targeted keywords.
Niche Explorer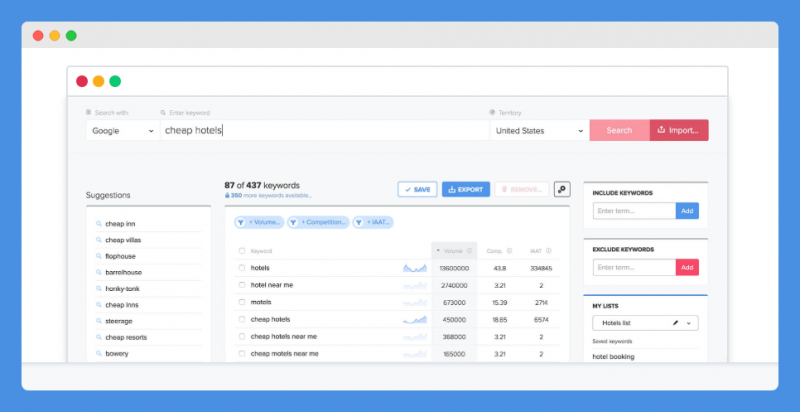 WordTracker makes it possible to uncover trending keywords for any given niche. So its Niche Explorer feature helps you get niche-specific keywords.
Inspect Tool

This feature helps you discover your competitor's keywords. You only enter the competitor's website URL, and you can get a list of their keywords.
Custom Reports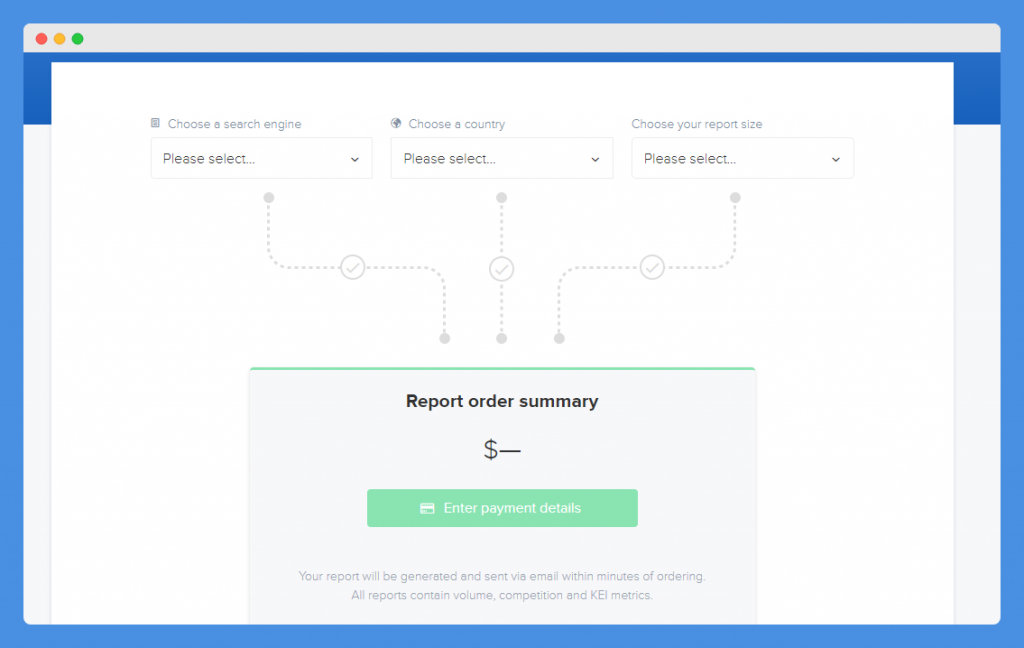 This report generator allows you to get the top keywords for any search engine in any country or region. It gathers all the information acquired and summarizes it in a report.
Also Read: SEMrush Vs Spyfu Vs Moz Pro
WordTracker Pricing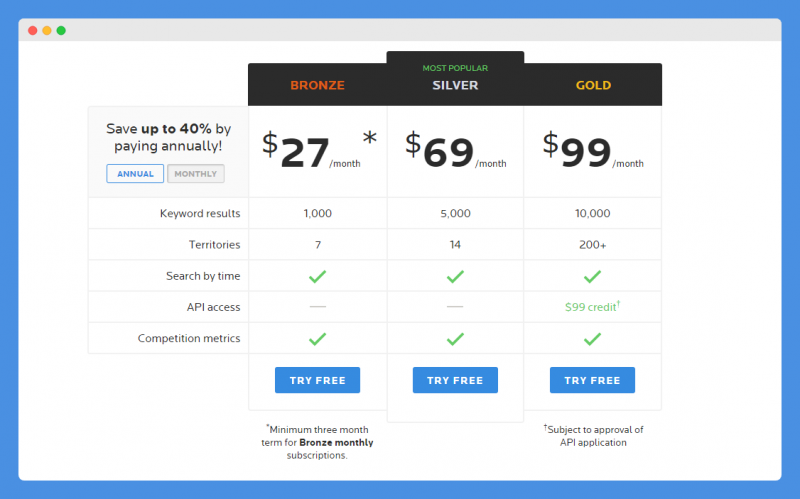 WordTracker offers three subscription plans to suit various business needs. At $27 per month, the Bronze plan is perfect for small businesses or website owners.
The Silver plan is more popular among the three, and it costs $69 per month.
The Gold plan is excellent for a large business with extensive SEO needs. It costs $99 per month.
If you're unsure of WordTracker's potential, you could always try out the seven-day free trial. You get 12 free searches before getting charged for subsequent searches.
Where WordTracker Shines
What users love about WordTracker include
The platform supports a vast keyword database
WordTracker is quite easy and efficient to use
Unlike some other tools, it utilizes misspellings of keyword or phrases
Subscribing to the service is virtually risk-free because of the 30-day money-back guarantee
Where WordTracker Needs Improvement
Here's what users would love to see improve.
WordTracker suffers from downtime almost regularly
The subscription plans are a bit pricey
Customer support is unreachable outside of regular UK business hours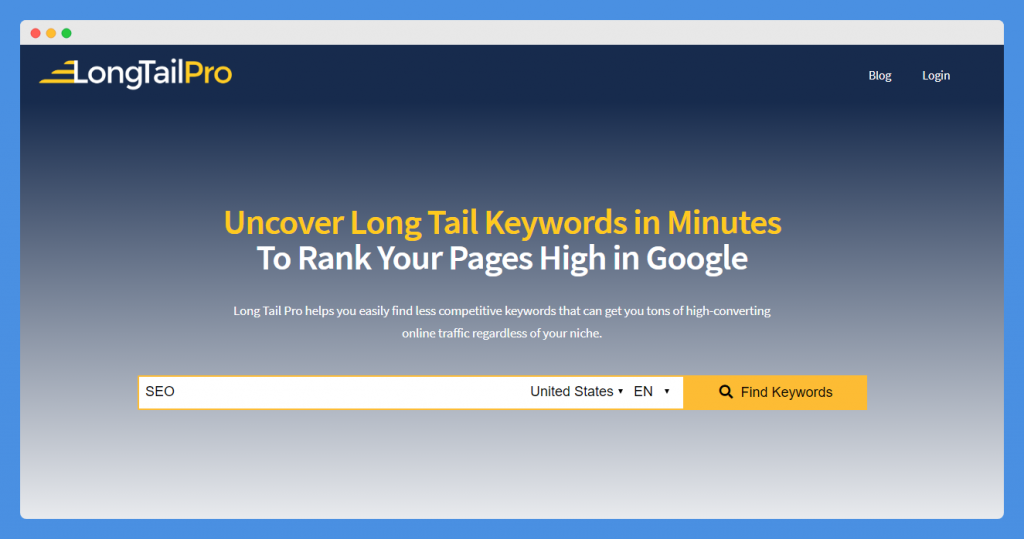 This is a desktop keyword research tool that works on both Windows and Mac devices using Adobe Air.
One of the best parts about LongTailPro is that you don't need to master the art of SEO to use it effectively. It's quite straightforward and easy to use.
LongTailPro helps you discover less competitive keywords that get lots of high-converting online traffic irrespective of your niche. It serves as the best SEO keyword tool to dominate your competitors.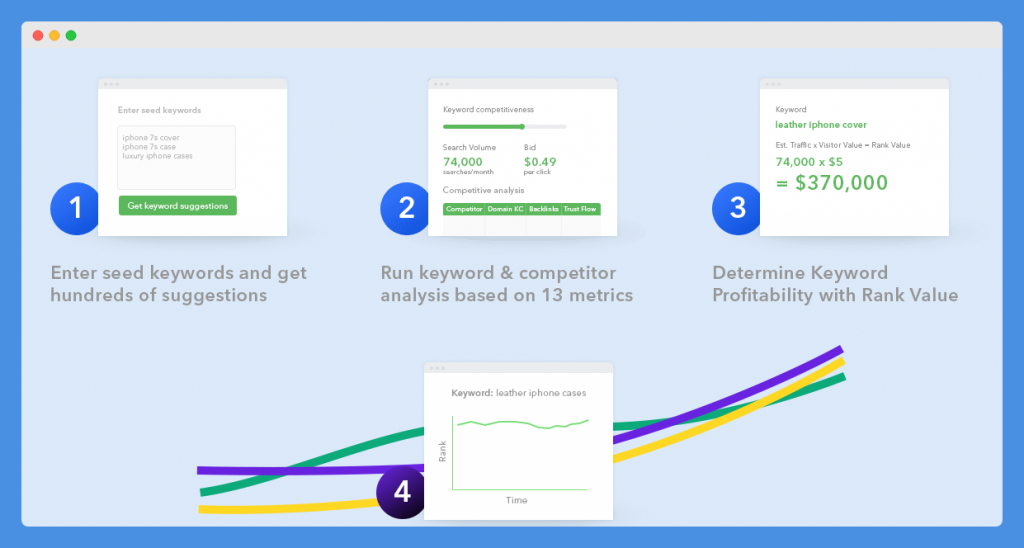 LongTailPro uncovers the in-depth metrics of your competitors and estimates your chances of outranking them.
Long Tail Pro vs KWFinder is a good contest. Let's explore LongTailPro's features.
Multiple Projects
LongTailPro allows you to create multiple projects at the same time. It helps you stay organized by running different campaigns for several sites. This tool lets you select the country you wish to target in your keyword research.
Adding Seed Keywords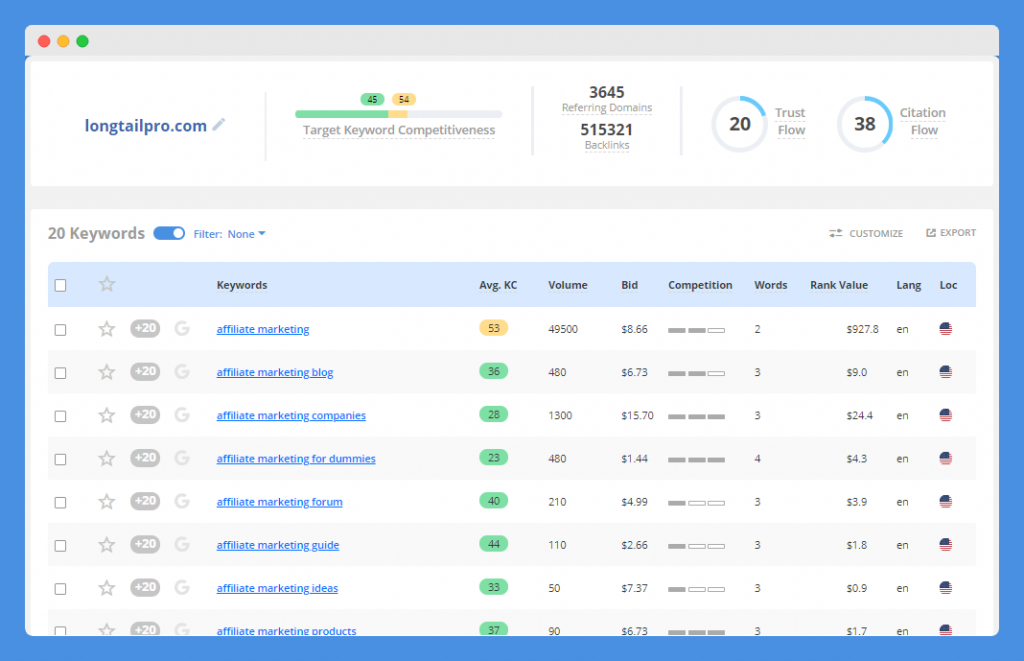 You get to generate keywords based on your seed keyword. Select the "Words" section and input the particular number of words you're aiming to find long-tail keywords.
Related: Spyfu Review
Checks Keyword Competitiveness
This feature is especially useful since it allows you to choose the best keyword for your website without wasting time. Picking out rank keywords becomes more comfortable based on this feature.
LongTailPro pricing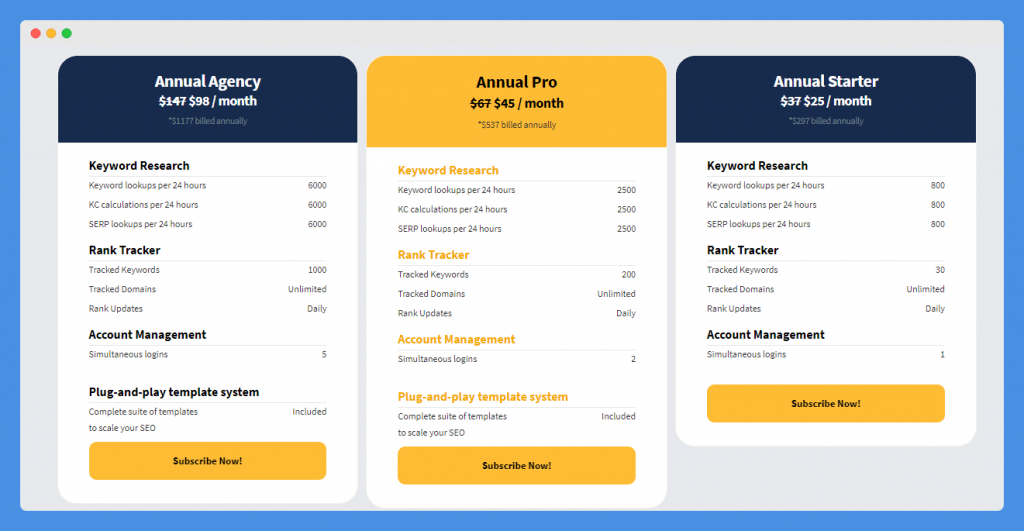 LongTailPro offers three subscription plans. The Annual Agency plan costs $98 per month. It supports keyword research, rank tracking, account management, and SEO template suites.
The Annual Pro costs $45, while the Annual Starter is $25 per month.
Where LongTailPro Shines
Users find LongTailPro useful in the following ways.
LongTailPro provides bulk keyword suggestions
It has an excellent competitiveness score rating
The tool's rank tracker is quite accurate and easy to handle
It supports multiple projects for different sites or blogs
Where LongTailPro Needs Improvement
Here's what could use some improvement.
The manual keyword limit could be higher
The texts and URL display tend to be uneven sometimes
Seed keyword limit could be higher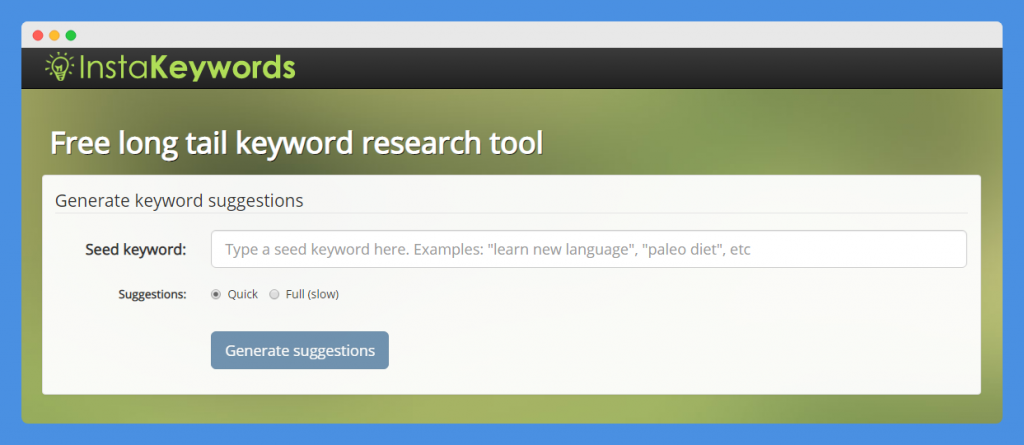 Instakeywords is a long-tail keyword research tool that offers users numerous keyword suggestions. It's one of the most straightforward keyword research services in the industry.
The data it provides is also similar to what Google Keyword Planner provides, although this service focuses more on longer keyword variations.
Instakeywords also provides the option for getting essential data like competition score or number of searches done monthly. However, this particular option is only available in the Premium version.
Let's look at InstaKeywords' features.
More Keywords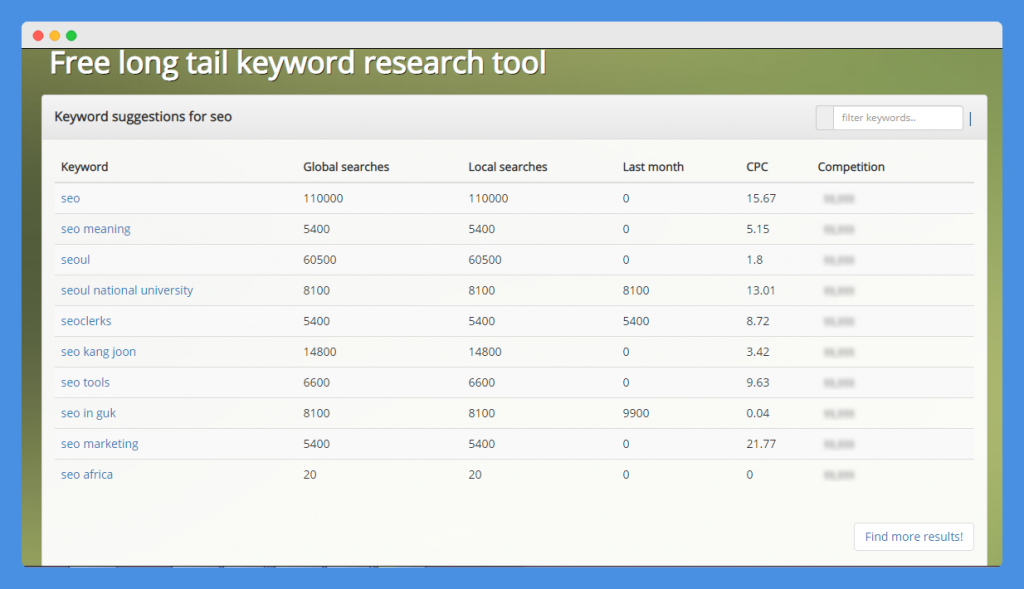 InstaKeywords provides users with three times more keywords. Other tools like Ubersuggest only add letters to the base term.
This suggestion tool inserts letters after every word, multiplying the number of search results and revealing hidden gems.
The tool provides stats and keywords on a single page, eliminating the need for reloading pages or navigation.
Keyword Export
The free version supports the export of keywords in a single click. Most SEO companies lock this particular feature, making you pay for it.
Finds Long-Term Keywords
This feature allows you to find highly targeted customers that are looking to buy what you're selling. It makes long-tail keywords quite useful for PPC and SEO and always outdoes generic keywords where conversion rates are concerned.
InstaKeywords Pricing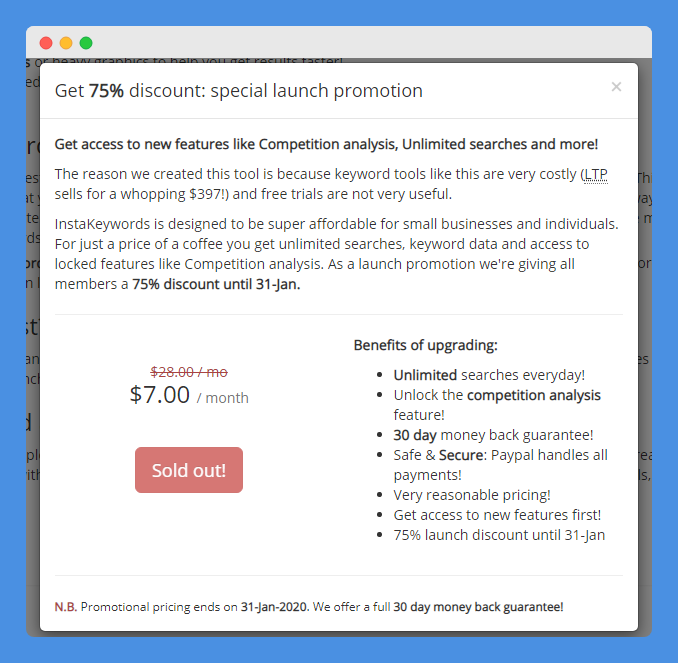 InstaKeyword is entirely free to use. You can also unlock new features by paying a small monthly subscription fee.
Also Read: Guide To Ecommerce SEO – Part 1
Where InstaKeywords Shines
Here are the reasons why users love InstaKeywords.
It's a free long-tail keyword search tool that offers hundreds of keyword suggestions
InstaKeywords is easy to use
It supports keyword export into CSV files
The site is fast and light-weight
It works on every device (including iPads and Android phones)
Where InstaKeywords Needs Improvement
The only issue users found with this tool is that the site is pretty basic (no heavy graphics). In a way, this is a positive thing too.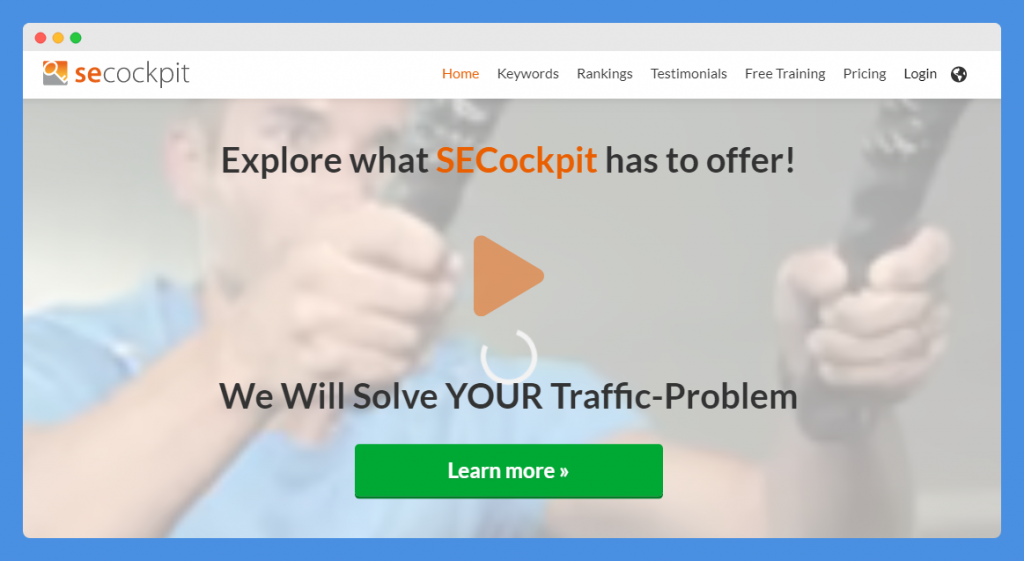 This keyword research tool has been around for several years, even though it's not as popular as some others.
The major selling point of SECockpit is that it provides users with thousands of profitable keywords within a couple of clicks. The platform is cloud-based and, as a result, pulls in results at a phenomenal rate.
The tool also analyzes the profitability rate of the keywords and provides readable data. SECockpit uses advanced keyword analysis software that discloses certain information like competition level and niche value, etc.
SECockpit can "add an in-between word," "append," and "prepend" while carrying out massive keyword searches.
Here are SECockpit's features.
Warp Speed
SECockpit can provide up to 200 keyword results per minute. This feature gives it an edge over several keyword research tools that take longer to process searches.
SECockpit's intelligent sorting and filtering option helps you save time by picking the most valuable keywords from a vast amount of results.
More Keyword Sources

SECockpit has more access to keyword sources when compared to some other research tools. The tool provides you with hundreds of ideas when you type in a particular keyword.
SECockpit doesn't depend only on Google AdWords for keyword suggestions. It scours the internet for long-tail keywords that are usually missed by other platforms.
You can also expand your search range by digging up ideas from sources like Amazon and YouTube.
Filtering Keywords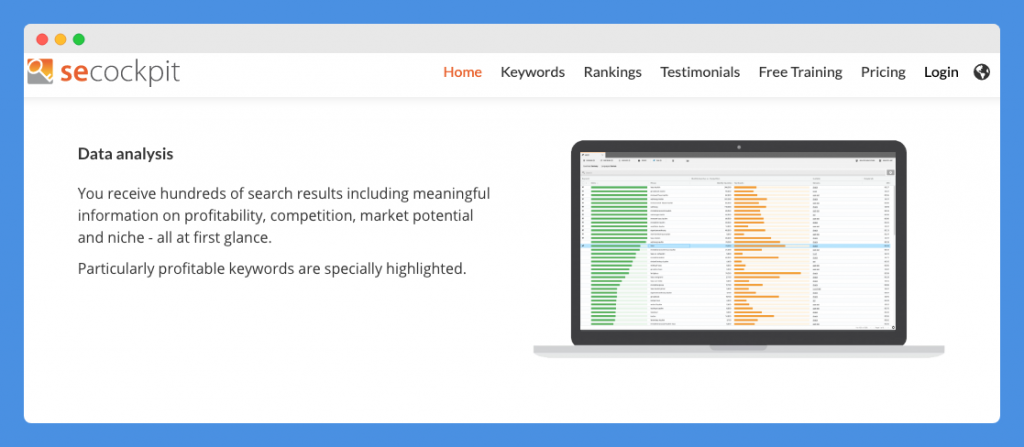 Selecting the right keyword to use from search results can be tedious sometimes. Luckily, SECockpit presents data in an easy-to-comprehend format. This feature is especially great for visual learners.
The built-in filters allow you to comb through the hundreds of suggestions and instantly organize your results. The options can be sorted according to the niche level, cost per click (CPC), daily visitors, and more.
Keyword Analysis

The platform has one of the most comprehensive SEO analysis tool belts in the industry.
SECockpit dissects the keywords into dimensions and performs a competitive analysis of the top 10 results for every keyword. All the data is combined in a single section.
SECockpit Pricing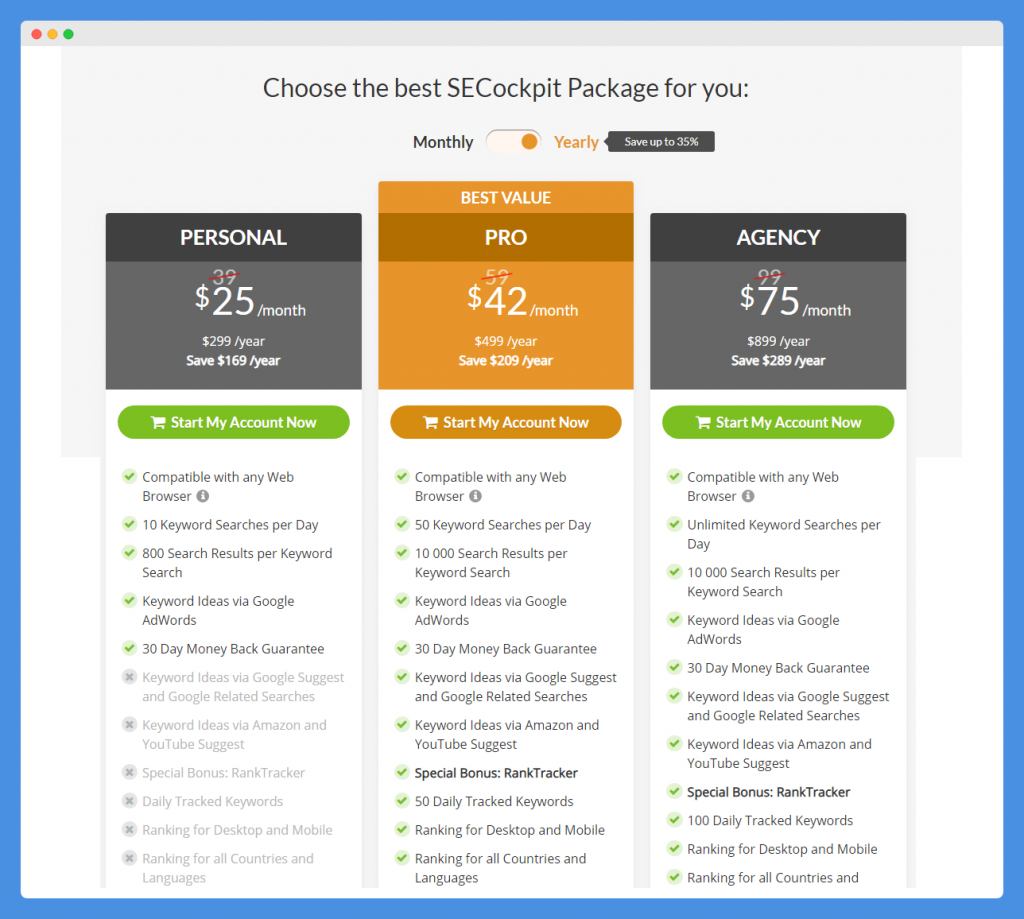 SECockpit offers three impressive subscription packages for users. The entry-level plan (Personal) costs $25 per month and $299 per year.
While the plan offers several useful features, it doesn't include the essential ones that make the tool worth using.
The Pro version costs $42 per month and $499 per year, while the Agency plan goes for $75 per month and $899 per annum.
Where SECockpit Shines
Praises from SECockpit users.
SECockpit has everything keyword researchers need (consistency, speed, and on-going development)
It finds profitable keywords that no one else uses
It already gathers all the competitive information you need; eliminating further waiting time
The platform supports multitasking unlike some other research tools
SECockpit supports the search for synonyms
It's relevant for users everywhere (it's geographically unbiased)
Where SECockpit Needs Improvement
The price is quite high
The entry-level plans don't support the crucial features
Also Read: Guide To Ecommerce SEO – Part 2
Time To Find Your Long-Tail Keywords
As you probably know already, keywords play a vital role in search engine optimization. You need to know what keywords to rank for, and this is even more important if you're going to buy ads.
The long-tail keywords are a lot easier to rank. Most individuals who perform searches using long-tail keywords are more likely to become buyers.
What this means is that you should be creating pages that utilize long-tail keywords. Users search for the same solutions using different long-tail combinations; it means one content can rank for multiple keywords if you optimize the page.
Although KWFinder is one of the most affordable research tools online, it's not as feature-rich as SEMrush.
It's also not as adept at competitor research as some of its counterparts, and it caps its keyword research. It's a good option for a tight budget, but if you want more features, these alternatives will do the trick.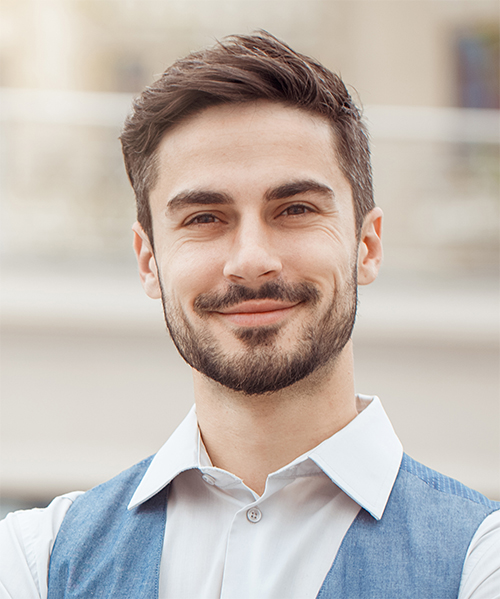 Author: Scott Macarthur
Scott L. Macarthur is a marketing consultant and an online author. He is mostly engaged in providing his expertise to startups and SMBs. He is also an author on TheNextWeb.