In this digital age, you need to invest in digital marketing to achieve your business objectives.
A lot of money is spent on digital advertising by online marketers yearly; the amount is expected to be more than $129 billion by 2021.
Massive amounts being spent on digital advertising not only tell us that it is an effective marketing strategy, but it also informs us that it is competitive.
It is one thing for your adverts to be noticed, and it is another for them to convert. For the latter, you'll need top-notch digital advertising strategies and tools.
Thankfully, there are digital advertising online tools that are based on competitive intelligence.
These tools are quite helpful as you can quickly figure out what advertising strategies your "winning" competitors are applying and do the same.
Similarly, you can figure out your "losing" competitors' advertising strategies and avoid them.
AdBeat is a perfect example of a digital advertising competitive intelligence tool, but it is not the only one in the field.
So, we will show you the best AdBeat alternatives and competitors in this post. But, before we do that, let's show you what AdBeat is all about and how it works.
What Is AdBeat And How Does It Work?
Let's do a brief AdBeat review before talking about its best alternatives.
AdBeat is a display advertising competitive intelligence platform founded in 2010 by Mike Colella, who currently works as its CEO.
AdBeat is used to crawl about 3 million web pages daily and analyze about 8 million digital adverts with a global reach. Fortunately, Yahoo, SalesForce, BuzzFeed, and Amazon are some of AdBeats' top customers.
AdBeat tools are classified into four major sections, which are Data, Insights, Reporting, and Advanced sections.
When the URLs of websites/web pages are entered, the tool crawls it for raw ad data, which includes desktop, mobile, pre-roll, and native ads.
The collected data can be sorted according to country, device type, etc.
From your AdBeat dashboard, you get insights on converting factors like the ad formats, ad network, ad cost, and more. With the reports, you can keep a tab on all your competitors do as you get automatic updates via alerts.
The Advanced category provides competitive benchmarking tools like a Compare tool amongst others.
AdBeat Pricing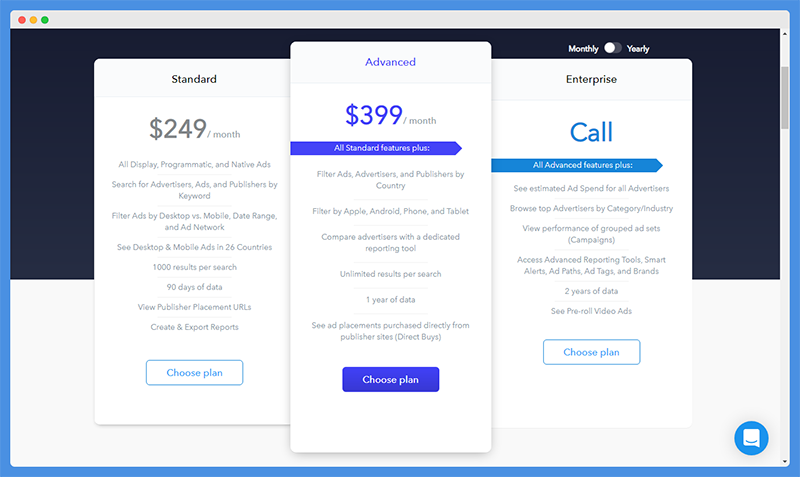 AdBeat pricing is relatively on the high side with $249 per month for the Standard plan, $399 per month for the Advanced Plan, and a custom-priced Enterprise plan. The high cost is one primary reason why people seek alternatives.
Without further, let's reveal the best AdBeat alternatives and competitors so that you can make a better choice.
Also Read: Best Native Ad Spy Tools
10 Best AdBeat Alternatives & Competitors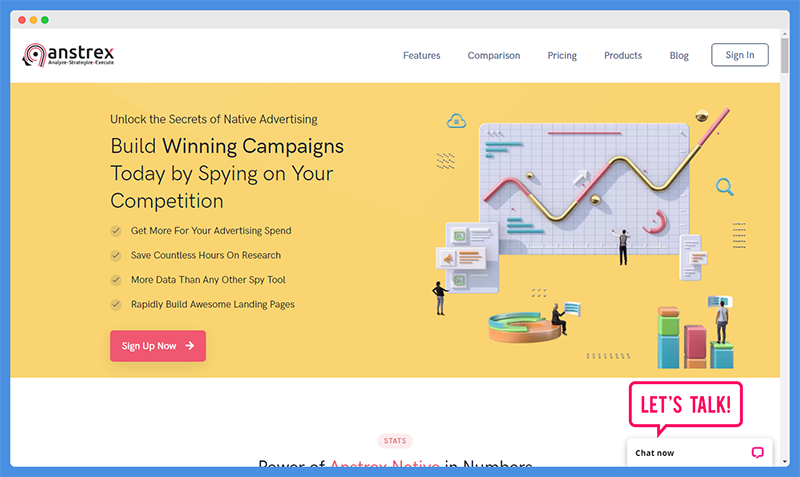 Anstrex is the first AdBeat alternative on our list.
Anstrex is a platform with multiple functionalities. For digital advertising, there are two products featured – Anstrex Native and Anstrex Push.
Anstrex Native can be used to spy on converting native advertising strategies while Anstrex Push works the same but for push ads. They cover about 27 native ads and 38 push ad networks, respectively, in more than 90 countries.
With Anstrex, you can discover profitable ads by searching using a websites' URL or keywords; moreover, a Boolean search is also featured for advanced searching.
The ads can be sorted by filters such as ad network, device, country, popularity, duration, and more. Anstrex can also be used to create ad landing pages in a matter of minutes.
This best AdBeat alternative platform can report campaign insights and statistics for a better understanding of the strategies used. You can as well find real CPC bids and never miss any new updates with alerts.
As an Anstrex user, you can get help when you need it directly on the platform via the live chat. Other methods of reaching the support are via phone and email, and the platform has a knowledge base.
Additionally, Anstrex integrates with other platforms including Shopify, AliExpress, WooCommerce, and Amazon.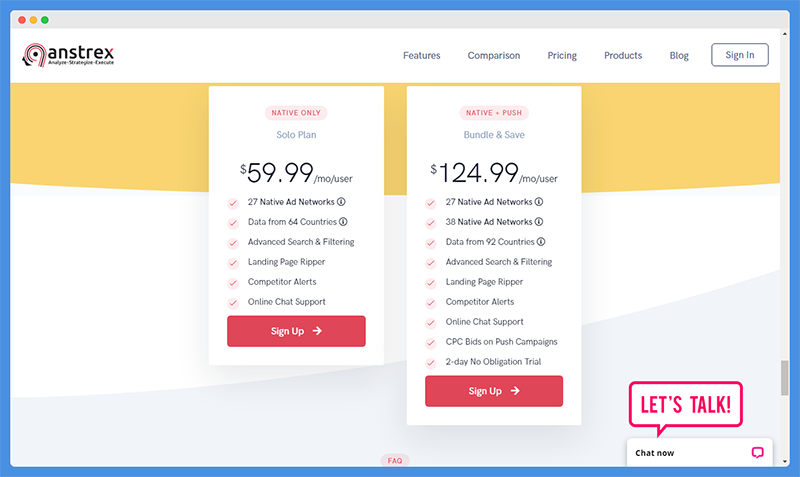 Anstrex plans include:
Native Only (Solo Plan) – $59.99 per month
Push Only (Solo Plan) – $79.99 per month
Native + Push (Bundle & Save) – $124.99 per month
Anstrex dropship is free at the moment
Short Tip: The two plans offered on Anstrex are more affordable than that of AdBeat.
Check Out: Adplexity Vs Anstrex
Our Favourite Native & Push Spy Tool
We earn a commission when you click this link and make a purchase.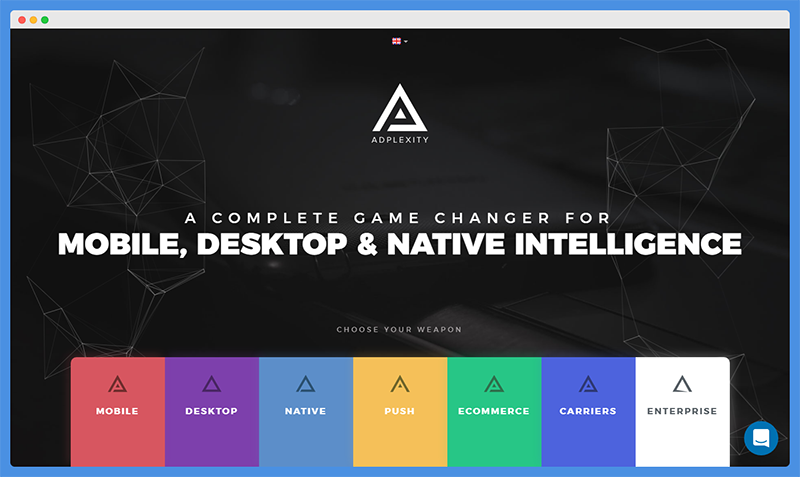 AdPlexity offers eight different tools for spying on your competitor's marketing strategies.
Four of them are focused on digital advertising and work to analyze mobile, desktop, native, and push ads. The platform tracks adverts from more than 75 countries.
It is fast and easy to use. Ad campaigns can be identified by advertisers, keywords, publishers, and affiliate networks.
With AdPlexity, you can figure out ad trends to know how ads perform and how long they have been up. It also provides insights on what sources drive the most traffic and what devices are working best.
You can download full landing pages along with their dependencies so you can easily recreate them.
For native ads, AdPlexity covers seven of the most popular native ad traffic providers. You can analyze native ads on all major device types. More than ten push ad traffic providers are covered by AdPlexity as well.
Support is provided on the website via live chat and by email. The other tools offered by AdPlexity can be used by eCommerce merchants, adult websites owners, mobile carrier networks, and enterprises.
In short, AdBeat vs AdPlexity is a tough contest.
AdPlexity Pricing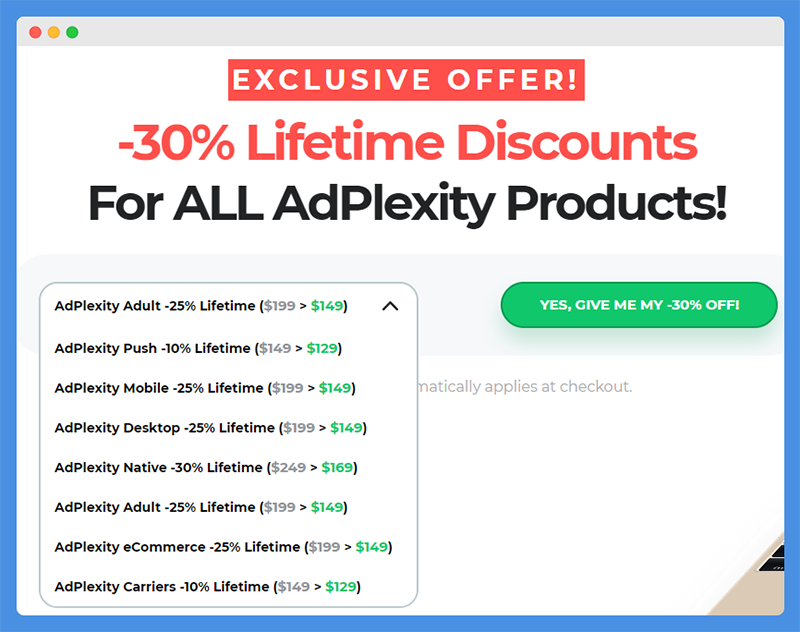 AdPlexity pricing plans differ depending on the ad type, which includes:
Mobile Ad Plan – $199 per month
Desktop Ad Plan – $199 per month
Native Ad Plan – $249 per month
Push Ad Plan – $149 per month
Short Tip: AdPlexity is currently offering a 30 percent lifetime discount promo, so you can quickly make the most out of AdPlexity features without paying as high as you would for AdBeat.
However, the plans are separated which implies that you'll need more than one subscription to use multiple tools.
Check Out: WhatRunsWhere Vs Adbeat Vs Adplexity
We earn a commission when you click this link and make a purchase.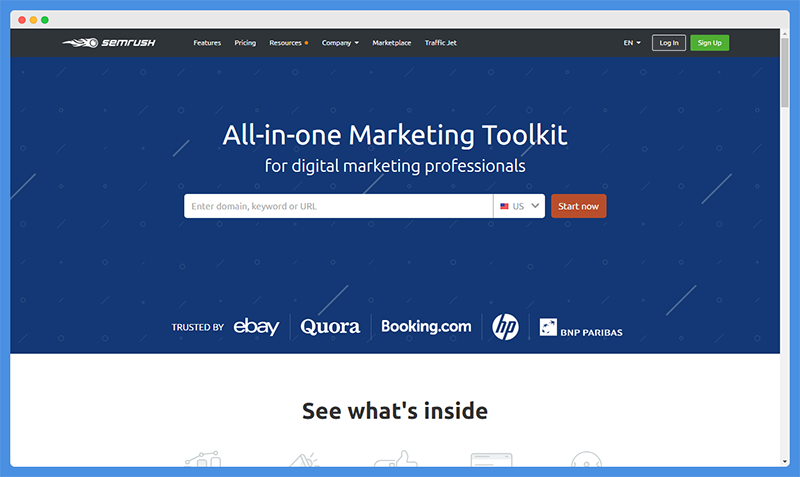 This best AdBeat alternative platform is ideal for digital marketing professionals. Also, it is prevalent and used by about 5 million marketers with about 140 geodatabases.
SEMrush features a useful Advertising Research tool, Display Advertising tool, and a Competitive Intelligence tool as an add-on. The tool covers more than 100 countries.
With the Advertising Research tool, you can analyze your competitor advertising strategies to discover target keywords and also their ad budget.
You can sort these by current state and seasonality to compare your competitors' past and present activities.
Not only can you monitor ads, but you can also track landing pages to figure out the best texts, CTAs, and triggers to use.
Another unique feature of the SEMrush Advertising Research tool is that it helps you to identify your unknown competitors. SEMrush can also be used to track ads on social media platforms.
While using SEMrush, you can integrate with other Google Products (Analytics, Gmail, Search Console, My Business, etc.), social media platforms, and other platforms like WordPress, Majestic, and Trello.
SEMrush offers support through phone, email, and live chat; plus, the platform does feature a Knowledge Base.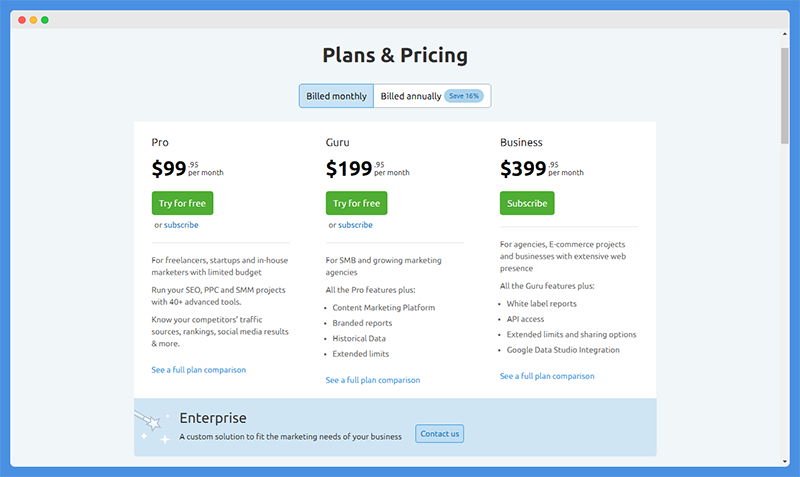 Four major pricing plans are featured on SEMrush, which include:
Pro Plan – $99.95 per month when billed every month, $83.28 per month when billed annually
Guru Plan – $199.95 per month when billed every month, $166.62 per month when billed annually
Business Plan – $399.95 per month when billed every month, $333.28 per month when billed annually
Enterprise Plan – Custom cost
Short Tip: SEMrush might have high pricing plans, especially the later ones, but it's still somewhat less pricey than AdBeat. Also, you can quickly get started with the Pro Plan.
Also Read: SEMrush Review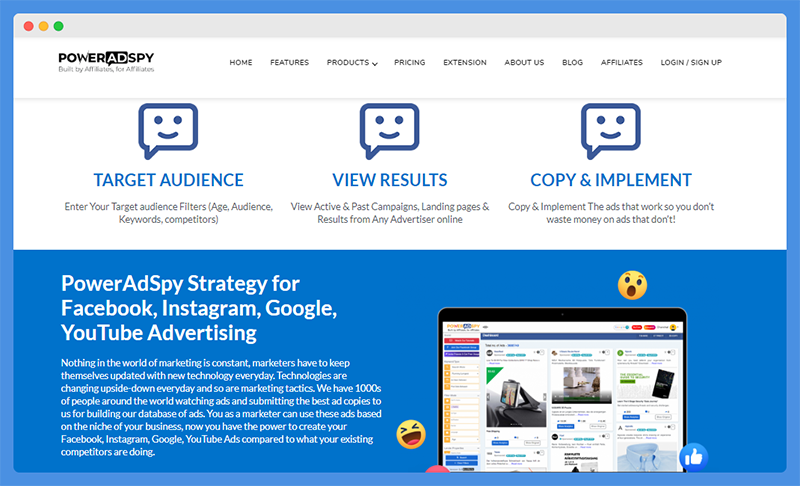 If social media ad spying is your thing, PowerAdspy is a good AdBeat alternative platform to consider.
Though focused on Facebook, the platform also works for native ads, YouTube ads, and Google PPC spying. In fact, its database is supplied with thousands of ads daily.
PowerAdspy allows you to filter ads according to their position and visibility. It uses a powerful search algorithm for looking up best-performing ads by keywords and phrases.
You can view their shares, likes, and comment counts on Facebook.
For creating your ads, there are ad samples based on demography to use and the tool suggests ideal keywords to include in your campaign.
It draws data from about 17 native ad providers and you can split-test your competitor ads to compare their successes.
Also, with a built-in analytics tool, you get deep strategic insights.
A live chat is featured on the website for quick help and you can also chat with the support team on Skype.
An FAQ page and instruction videos are available and you can reach them by mail with a contact form.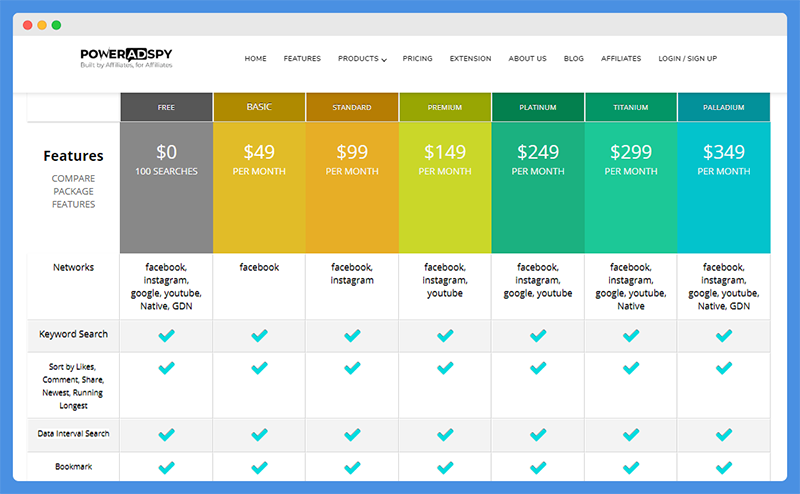 PowerAdspy pricing plans are based on user requirements, which include:
Free Plan – $0 per month
Basic Plan – $49 per month
Standard Plan – $99 per month
Premium Plan – $149 per month
Platinum Plan – $249 per month
Titanium Plan – $299 per month
Palladium Plan – $349 per month
Short Tip: With both affordable and expensive pricing plans, it'll be easy to opt for a pricing plan that meets your budget.
Also Read: PowerAdSpy Review
We earn a commission if you click this link and make a purchase at no additional cost to you.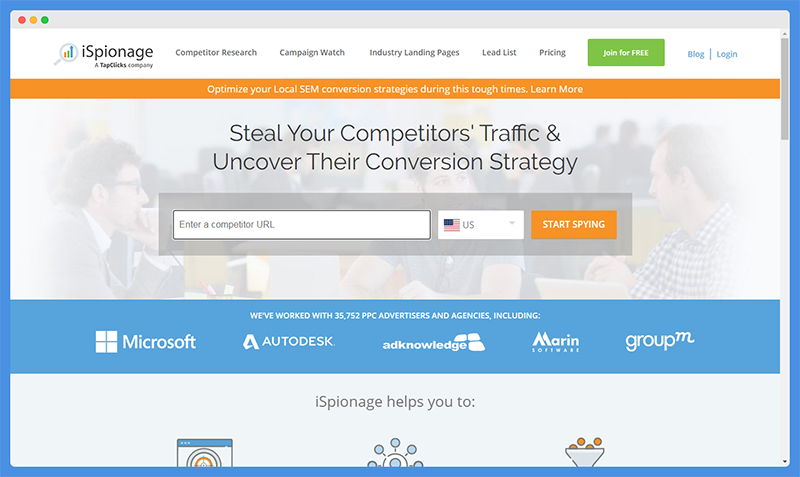 Another best AdBeat alternative and competitor that should be on our list is iSpionage.
iSpionage is an AdWords and ad copy competitive research tool. Since its launch in 2008, iSpionage has been used by more than 35,000 digital marketers to handle their campaigns.
The platform has been used by other renowned platforms like Microsoft, AutoDesk, and adKnowledge.
You can run a thorough analysis of your competition's advertising strategies using iSpionage. All it takes is to enter a domain or target keywords.
You can discover their PPC keywords, index score, etc., and iSpionage can help you identify competitors you don't know.
With SEM Watch, you can monitor your competition advertising campaigns both locally and internationally. An exciting perk about iSpionage is that it allows you to spy on your competitors' split-tests.
The platform provides an AdWords competitor keywords list for discovering new keywords. With the help of the Keyword Effectiveness Index (KEI), you'll identify the most profitable ones.
iSpionage also functions for building ad landing pages. There are industry landing page templates to use and you can copy any landing page design you want.
The iSpionage customer support team can be contacted only via email. However, there is an FAQ page, articles, and other resources to help users.
There are four pricing options to choose from on iSpionage, including:
Starter Plan – $59 per month when billed every month, $50 per month when billed annually
Professional Plan – $99 per month when billed every month, $84 per month when billed annually
Advanced Plan – $299 per month when charged every month, $254 per month when billed annually
Enterprise Plan – Custom Pricing
Short Tip: The highest plan on iSpionage is close to the lowest plan on AdBeat, quite a difference.
Check Out: iSpionage Vs SpyFu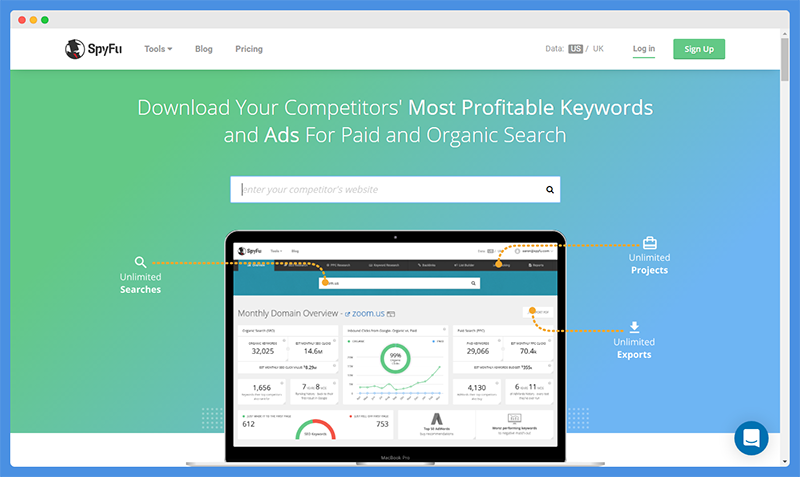 SpyFu is an online tool for digital marketers who wish to leak their competitors' secrets. It is an ideal tool for AdWords and PPC research with a database of over 102 million domains.
When you search for a domain on SpyFu, it gives you a rundown of all AdWords and paid ranking keywords. The keywords list can be downloaded, and there are no limits.
As you search for domain ad keywords, you can also monitor themselves and get notified when there's any change. This means you don't miss out on any new strategies.
SpyFu features an AdWords advisor tool. This tool advises you on ideal keywords to use for your next Google AdWords campaign. You have to enter your domain URL and analyze it.
With the AdWords grouping tool, you can sort out keywords in various categories while the Ad Rank Tracker can be used to keep a tab on how your adverts perform.
For support, a live chat is on weekdays from 11 am – 12 am. You can also send an email via a contact form or call them on the phone. Videos, tutorials, a blog, and other helpful resources are provided.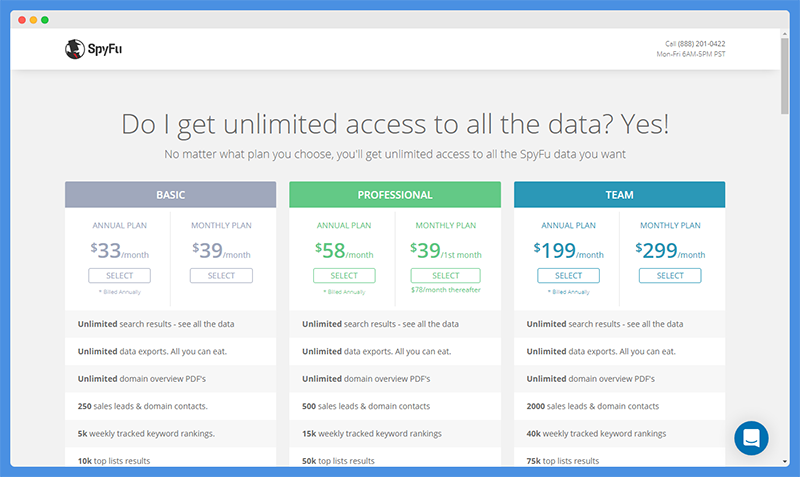 Here are the SpyFu pricing plans:
Basic Plan: – $39 per month when billed monthly, $33 per month when billed annually
Professional Plan – $39 per month for the first month and $78 per month for subsequently monthly payments, $58 per month when billed annually
Team Plan – $299 per month when billed monthly, $199 when billed annually
Short Tip: SpyFu pricing plans are not as expensive as AdBeat, and they meet small, medium, and large digital marketing campaign needs.
Also Read: SpyFu Review
SpyFu - The Best SEO & PPC Tool
SpyFu reveals the marketing formula of your competitors. Search for any domain on internet, track rankings, keywords, ad variation and more. Make better marketing decisions with SpyFu.
We earn a commission if you click this link and make a purchase at no additional cost to you.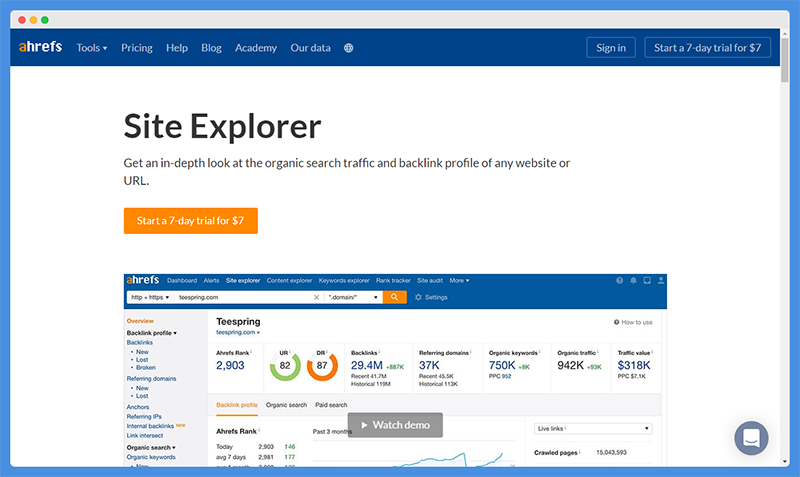 Ahrefs is one of the most renowned digital marketing platforms on the internet, with a database of over 10 billion keywords from about ten search engines.
It is more than a competitive intelligence tool as it focuses on SEO in General. Facebook, Adobe, LinkedIn, Netflix, and more have all used Ahrefs.
You can analyze your competitors' digital marketing strategies with the featured Site Explorer tool. By exploring a domain, you find out all the keywords they rank, both organic and paid.
That way, you can figure out what advertising channels they are using, the ad patterns, and their top landing pages.
You can also directly search for ads, enter your competitors' domain, and all ads they run will be displayed.
The Ahrefs Rank Tracker is another helpful tool. It works for tracking your ad keywords rank overtime. You can arrange and sort them using filters for easier tracking.
You can contact Ahrefs via live chat. Likewise, they have several resources that users can search through for information.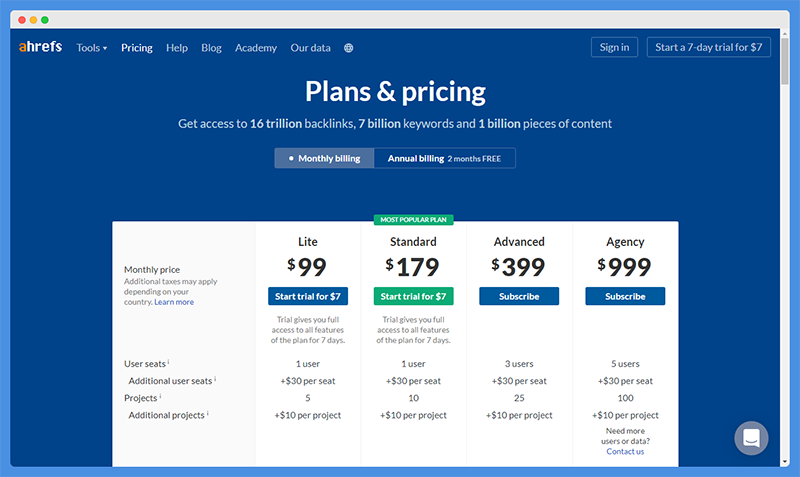 Ahrefs has four pricing plans, which include:
Lite Plan – $99 per month when billed monthly, $82 per month when billed annually
Standard Plan – $179 per month when billed monthly, $149 per month when billed annually
Advanced Plan – $399 per month when billed monthly, $332 per month when billed annually
Agency Plan – $999 per month when billed monthly, $832 per month when billed annually
Short Tip: Most of Ahrefs pricing plans are on the high side, but the low-priced Lite plan is perfect for starters.
Explore: Best Ahrefs Alternatives & Competitors (Free & Paid)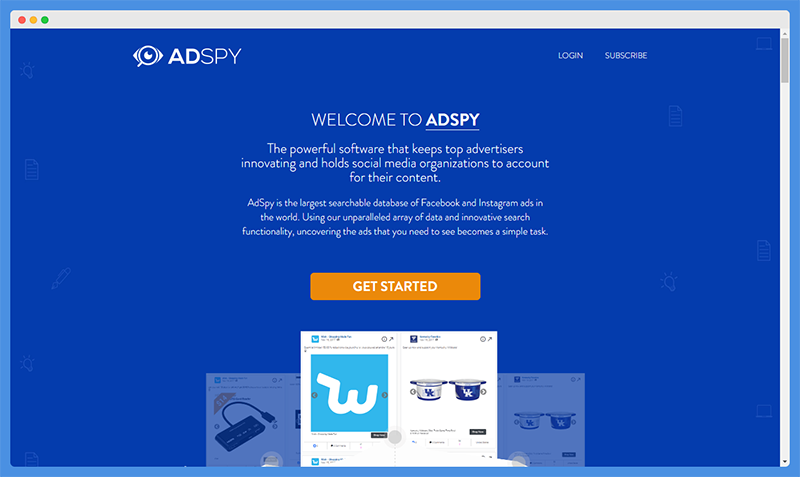 AdSpy is another AdBeat alternative and competitor that is worthy of being mentioned.
As the name suggests, AdSpy is an online tool for ad spying. The platform is self-described as the largest database of Instagram and Facebook ads, which makes it an ideal tool for social media advertising campaigns.
Its database contains more than 88 million ads from 202 countries and more than 14.5 million advertisers. With its rapid interface, it takes just seconds to search this database.
AdSpy lets you discover new ad campaigns, test them, and also monitor them. There are several options to search for ads, which include using ad keywords, page titles, and domain URLs.
An in-depth result is provided, and you can sort them using several filters. As a social media ad research tool, you can discover how many likes, reactions, shares, and comments your ad gets.
There is an option to search through comments so you can find out what the audience is saying about your competitors. That way, you can figure out their weakness and top-selling points from the "mouth" of their customers.
While delivering ad insights, AdSpy provides demographic data. Information like location, gender, age, etc. will enable you to understand your audience better. Contacting AdSpy support can be achieved by either phone call or email.
AdSpy Pricing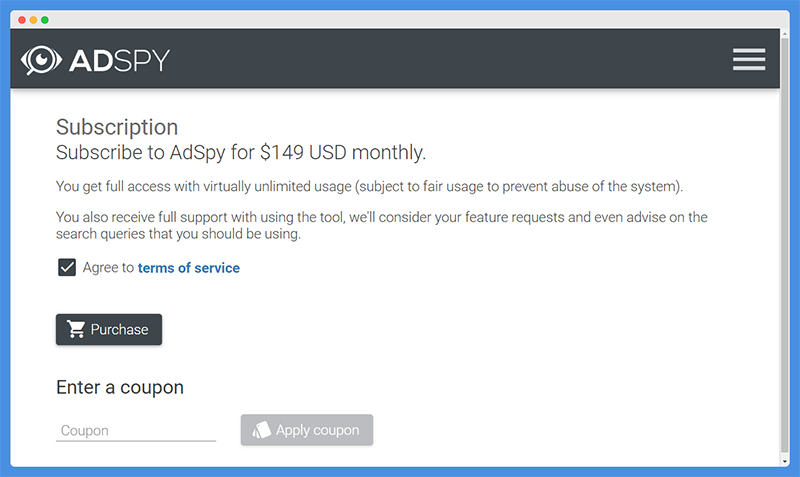 AdSpy features just one subscription plan, which goes for $149 per month. The price is fair enough as it gives you access to all features.
However, they did make it clear that it is an introductory offer and won't be the same for long.
Explore: AdSpy Review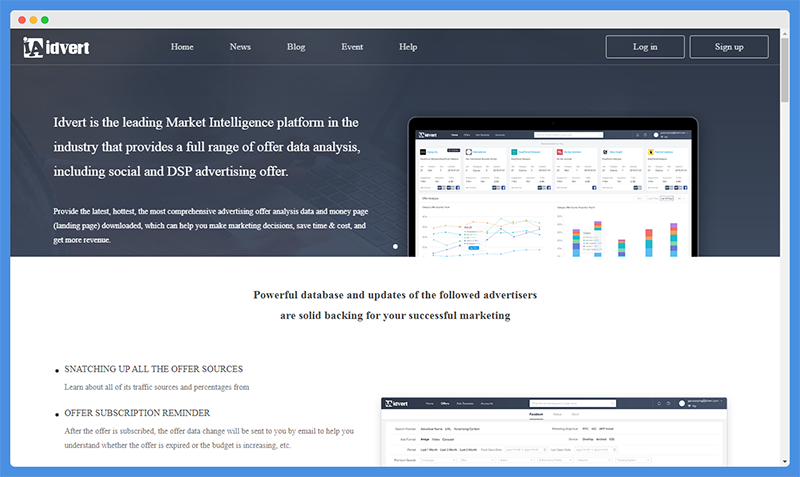 With a powerful database, Idvert is a top market intelligence platform for not just digital advertising but also marketing in general. There are two featured tools – MediaBuy and eCommerce.
The platform covers major countries and regions in Europe and America, about 60 countries in total. It can be used to analyze Facebook ads, Native ads, and also Adult ads.
Idvert MediaBuy analyzes ads and provides insights on ad source, traffic rankings, countries, devices, and more. To make the results efficient, you can use these insights as filters.
It gets even easier with the eCommerce tool as you can track advertisers with just a click and stay abreast of any new trend they implement.
If you need help, you can get it via the help center, send an email, or you can contact a representative on Skype or WeChat. Also available is an FAQ page, blog, and several business insight resources.
Idvert Pricing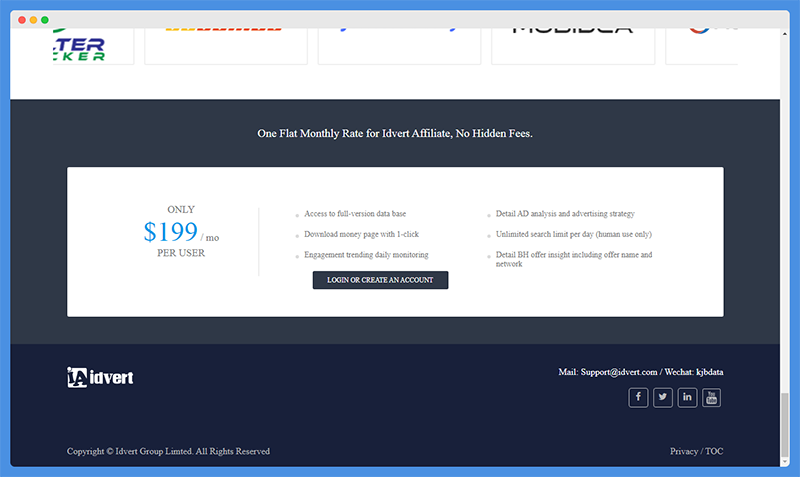 There is only one pricing plan available on Idvert Media Buy. The plan is priced at $199 per month for one user. It might be on the high side but it's a flat fee for everything the Idvert MediaBuy platform has to offer.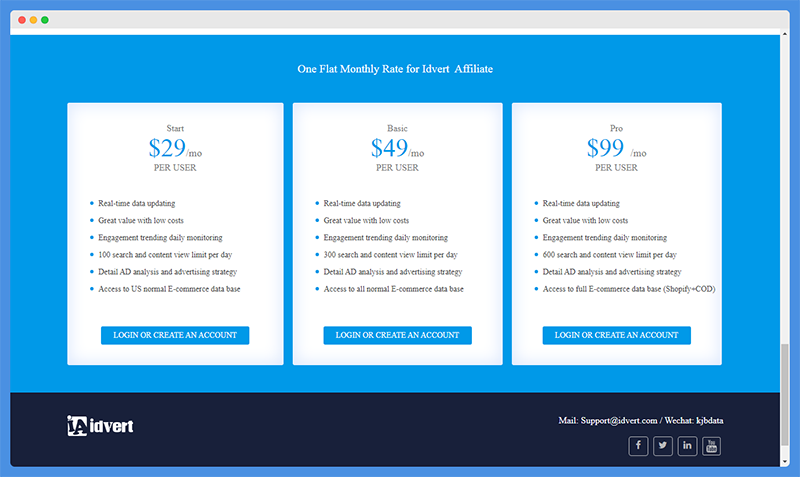 Conversely, three pricing plans are featured for Idvert eCommerce, which include:
Start Plan – $29 per month
Basic Plan – $49 per month
Pro Plan – $99 per month
Check Out: AdSpy Vs AdSector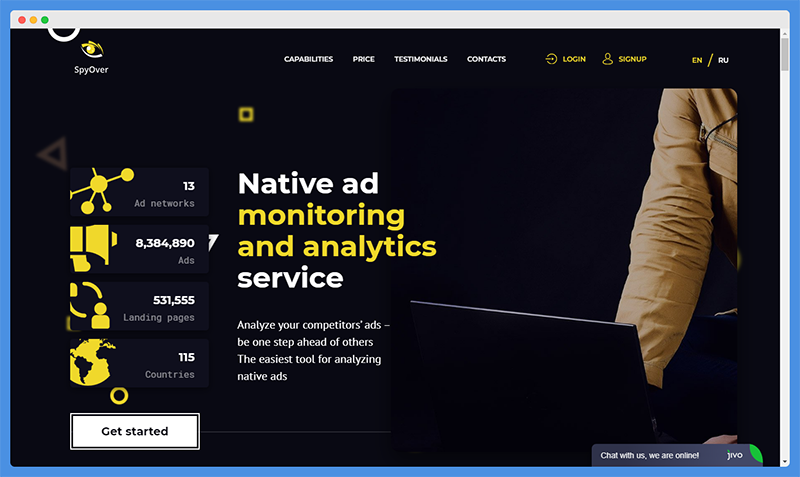 SpyOver is a noteworthy mention when talking about AdBeat competitors.
It is one of the most easy-to-use AdBeat alternatives. It can be used to track your competitors' digital marketing activities which you can use to your advantage. The platform is easy to use because you can download ads with just one click and it supports mass downloads.
There are several options for sorting ads such as by trend, popularity, novelty, and lifetime. The ads can be searched for by keywords, links, landing text, and publishers.
About 13 ad networks are covered by SpyOver in over 100 countries. SpyOver also tracks ads according to the device with coverage on six major device types.
You can monitor the ad networks and keep in touch with their strategies. SpyOver partners with other platforms like Adcombo, Traffic Light, Admobispy, TradeLeads, etc.
Not to mention, their customer support is provided via email, phone, Skype, and Telegram.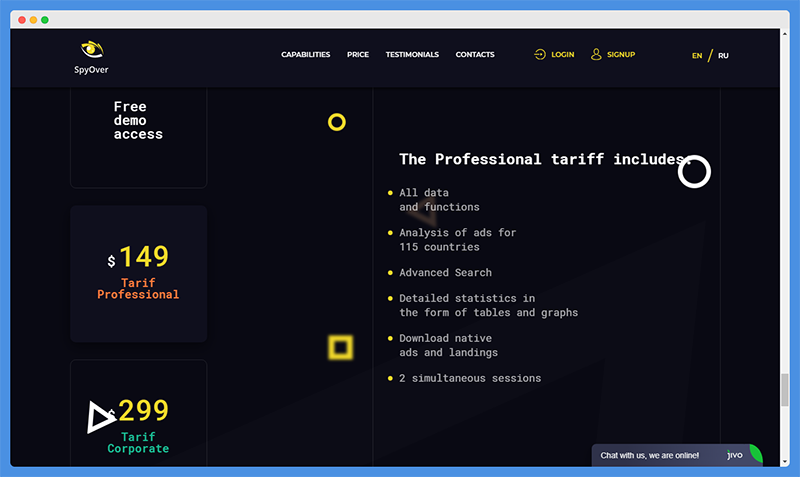 Apart from the Free demo access option, there are two pricing plans available on SpyOver, including:
Tarif Professional Plan – $149
Tarif Corporate Plan – $299
Explore: PowerAdSpy Vs AdSpy
Final Thoughts
There you go! Our list of the best AdBeat alternatives and competitors.
A very noticeable difference between AdBeat and these alternative platforms is the pricing.
While AdBeat charges over $200 for its lowest price, some of these platforms have plans for less than $60.
However, it is noteworthy that these subscription plans vary depending on the season and can change at any time.
Most of these AdBeat alternatives tend to change their pricing when a new feature is added or for discount purposes.
Nonetheless, Anstrex is the ideal alternative for AdBeat primarily because both platforms are very similar.
Just like AdBeat, Anstrex is focused mainly on spying competition ads with a focus on native and push ads.
Not to mention, Anstrex seamlessly integrates with Shopify, AliExpress, WooCommerce, and Amazon, unlike other AdBeat alternatives.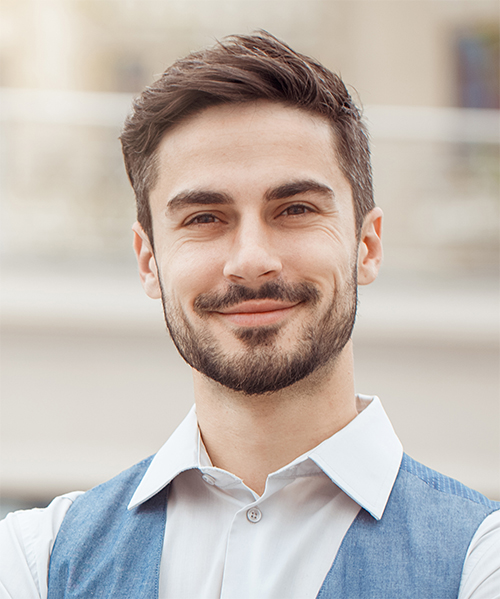 Author: Scott Macarthur
Scott L. Macarthur is a marketing consultant and an online author. He is mostly engaged in providing his expertise to startups and SMBs. He is also an author on TheNextWeb.