Internet is a vast landscape where you can't keep manual tabs on the SEO practices of your competitors. Finding a keyword that generates traffic is like finding a needle in a haystack.
The enormous online volume has paved the way for online tools that can assist businesses to streamline their SEO practices by drawing comparisons.
SEMrush is one of the competitor analysis tools that can come in really handy for businesses that are just starting out and quite clueless regarding the SEO that works for their business niche.
It is also really effective for businesses that are neck and neck with their competitors and wants to get ahead.
SEMrush is a versatile SEO tool, which doesn't revolve around a single feature.
From keyword finding to competitor's backlink analysis to do your own SEO audits, SEMrush is a complete package that offers great analytical prowess to help you in improving your online visibility.
SEMrush Features
Before we delve into the detailed review of the features of SEMrush, let's have a quick glance at them.
Keyword research and finder
Backlink Analysis
Site Audit
Position Tracking
Product Listing Ads
Domain Comparison
Social Media Analytics
Interesting Comparison : Moz Analytics Vs SEMrush
SEMrush Keyword Research

All the search traffic on your website originates from the keywords. In other words, if you are hitting the right notes with keywords, you will eventually succeed in increasing the number of impressions on your site.
However, extreme competition has made it difficult to capitalize on the right keywords.
Everyone out there is using Google Keyword Planner to find keywords.
So, now even the keywords that are supposed to be 'less competitive' are not less competitive anymore. SEMrush also does the keyword analysis just like your standard Keyword Planner. However, it adds one valuable caveat to it.
While giving the related keywords and phrases and their volume for a particular region through its database, it also gives a CPC distribution of each and every entry.
In other words, SEMrush provides the most profitable keywords in your niche and the region you are working in.
In the above example, we have searched for the keyword 'golf club' for the UK to find the matching phrases and keywords along with their profitability.
This information will be of great help to come up with short and long tail keywords for the content of a business that is going to sell golf clubs in that region.
The 'view full report' option will gill you more nuanced insight into the keywords that can help your content to win the race on search pages.
In the same manner, you can search for keywords related to every business niches in the 29 databases offered by SEMrush, which are categorized on the basis of geography.
Related :
SEMrush Backlink Analysis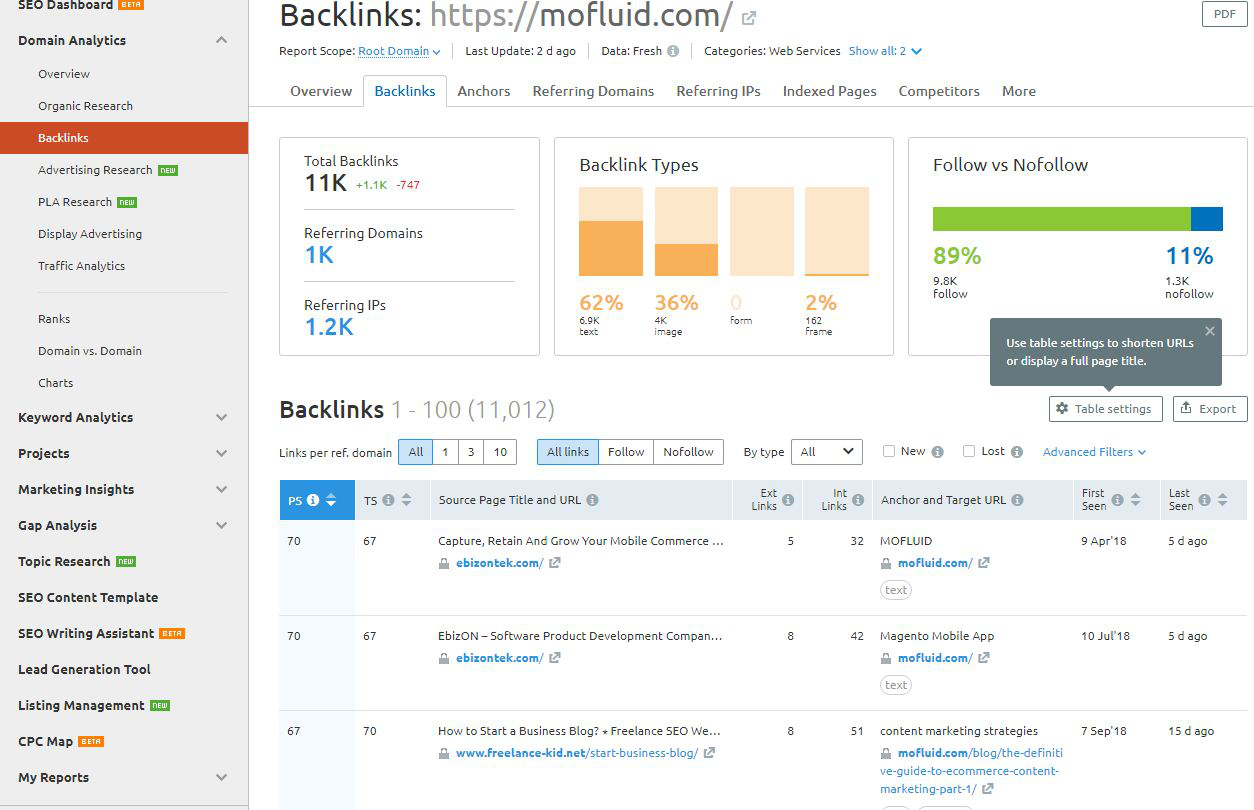 After keywords, backlinking is the element that improves the SERP ranking of any website. And it is no
longer a secret that search engine matrices give priority to pages that have a good backlinking profile under their belt.
In many cases, backlinking takes precedence over keyword placement. Ask around any SEO expert and they would tell you that a new site or blog must work on its backlinking in order to get the initial traction.
For them, the use of keywords only starts yielding results when backlinks are already providing enough support.
In short, backlinks are an essential building block of SEO. But keep in mind that if you are going to build an organic online profile then you can't just buy backlinks.
You have to create useful content that is able to automatically attract others to pin your domain in their posts.
So, how to crack the secret to effective backlinking that can turn your webpage into an authority site to improve its ranking on the search page?
Many experts have concluded that analyzing the backlinking profile of the top players in a niche can help any site to improve its backlink volume as well.
Related : How To Create Backlinks For Your Ecommerce Store
SEMrush has outplayed the most of SEO competitor analysis tools with its feature of backlink analysis.
The feature allows you to get all the backlinking-related information about any website.
You get to learn what their source URLs are, the anchor texts that were used, what is the follow/nofollow ratio, how many of them are internal and external links and even when they are last visited— you get every minute detail from the backlink analysis of SEMrush.
Let's try to understand it through an example.
We have put the link of our own website to have its backlink analytics. This backlink information along with the authority score can help other blogs to improve or modify their content to attract the source URLs from the same niche.
As you can see this tool even tells you how many backlinks are made through texts and images.
If you know how to mine and decipher data, then this comprehensive set of information can immensely help you in devising a winning backlinking strategy.
SEMrush Site Audit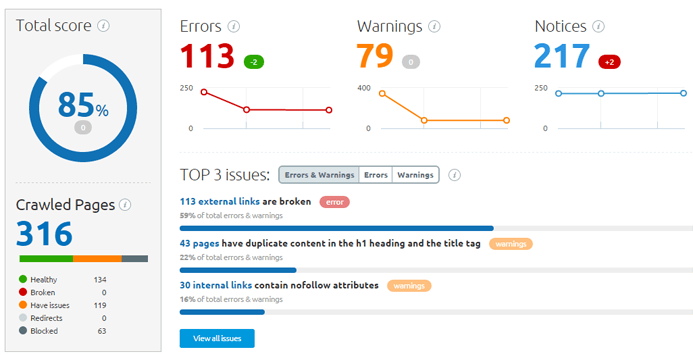 It's definitely worthwhile to keep tabs on competitions and leaders of your niche, however, your SEO strategy can't meet any success if it is devoid of introspection.
While getting inspirations and new ideas from your online surroundings, it is also essential to audit your own site for mistakes and slip-ups that are inadvertently hurting your SEO.
SEMrush helps on that front as well. There is a separate feature to run SEO audits for your own domain.
Many times it happens that a business curate great content, follow keyword and backlink practices, but still couldn't able to produce the desired results.
If you are also struggling with the same problem and wondering what's going wrong, use this site audit feature of SEMrush. Let's see how this competitor analysis tool helps in analyzing your own domain too.
Interesting Read : Ecommerce SEO Mistakes To Avoid
When you run an audit it gives you an aggregate percentage or score of how good your page is doing with its SEO. Then it digs deep in the issues that are affecting that score.
For instance, it provides you with the exact number of external links that are broken (it is categorized as error). Moreover, you get to know how many pages have duplicate content (it is categorized as a warning).
Nofollow is a crucial SEO problem and can affect your position in SERP. Site audit offered by SEMrush also take this issue into account and notify you.
You will get to know about the internal links that have nofollow attributes (it is also categorized as a warning).
You will also get the information regarding the status of all the crawled pages that is indexing your website on the search engines.
With the help of this information, you can fix the pending SEO issues to drastically improve your search ranking.
Related : Ways To Improve Your Ecommerce SEO
Keyword Position Tracking
SEMrush has made its keyword analytics more robust with the add-on of position tracking.
Through this feature, you can find out the position of your domain for any keyword in any given database (location). But why position tracking matters?
To begin with, it can help you in devising a dynamic optimization strategy to keep your ranking up there.
The feature gives you the Google top 100 rankings (both organic and paid) to find out which keywords are getting more traction, on a daily basis!
There is a reason why SEMrush is one of the top competitor analysis tools. With this feature, you can also find out how your competitors are getting ranked on the basis of keywords.
This information can help you in devising the do's and don'ts for your own keyword placements. With the option of localized searches, you can also discover all your local competitions.
In short, you can take up a better keyword optimization strategy along with finding out the competition you are facing in the local online market through position tracking.
Interesting Comparison : SpyFu Vs SEMrush Vs Moz Pro
Position Tracking on Different Devices
People are visiting your domain on different mediums (desktop, mobile, laptops, and tablets). In the last couple of years, it has become quite clear that a website doesn't experience the same impressions, growth, and interaction on every medium.
SEMrush has integrated this development into its position tracking feature. Here, you can track your keyword position on different devices.
This information will help you in identifying the medium where you are acing it and where need improvements. If used properly, all this information can be of great value in keeping your business competitive in the cutthroat online scene.
Domain Vs Domain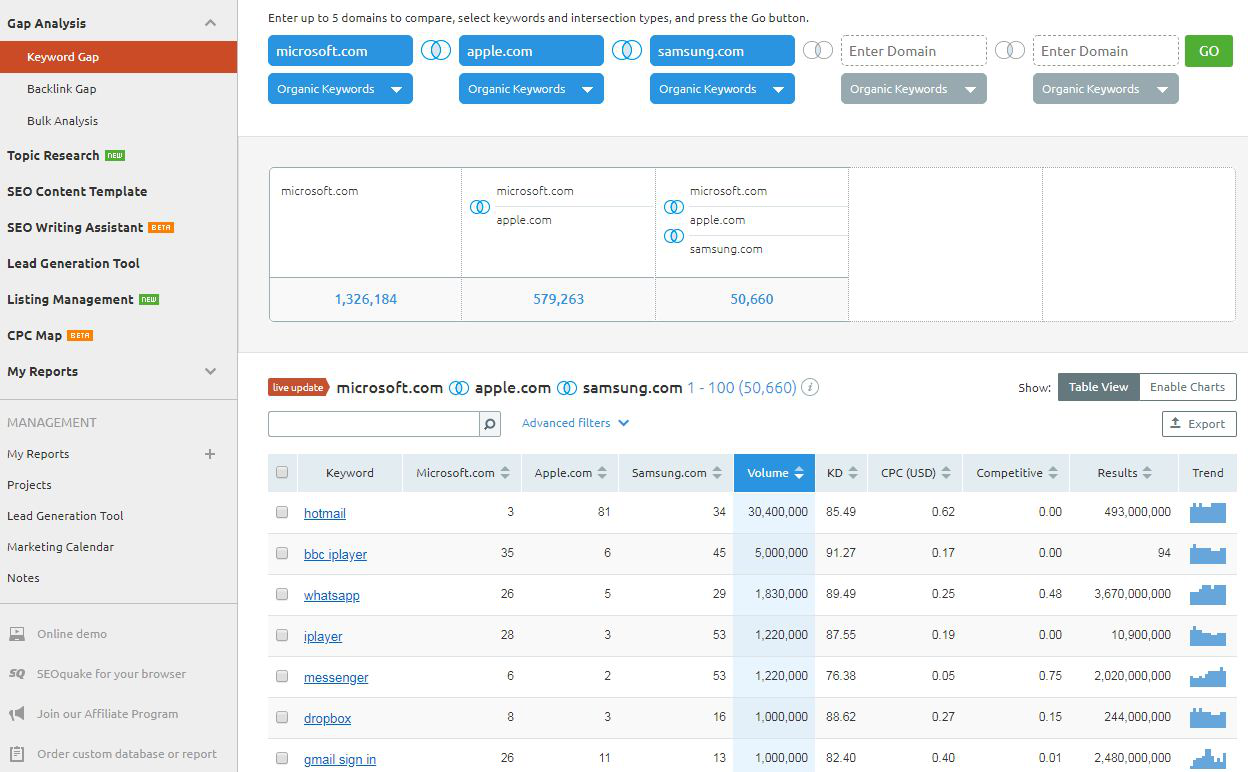 After all, SEMrush is a competitor analysis tool and thus it is also providing a one-on-one domain comparison as well.
Through this feature, you can run a comparison of your domain with up to four competitor domains to find similar keywords along with their volume and the position of every domain with respect to those keywords.
You also get the CPC and competitiveness value of every keyword as well.
In the given example, the domains of three tech giants Microsoft, Apple, and Samsung are compared. As you can see, an entire list of keywords that these three domains share appears along with KD, CPC, and competitiveness indexes.
Like keyword position tracking, you can run domain vs. domain comparison for different mediums. This feature is a great way to find how you are doing with your CPC and keyword usage.
Moreover, the KD and competitiveness values can help you in devising a strategy to improve your standing among the competitors.
Apart from this comprehensive SEO competitor analytical regimen, SEMrush is also providing users with a list of other analytical features for elements that can help in improving online imprint of any business.
Also Read : SpyFu Review
PLA Competitor Analysis
E-commerce retailers commonly use Product Listing Ads (PLA) to streamline their presence on Google search results. But you are the only one who is using PLA.
You will certainly have competitors that might replace your PLA with theirs by following a better SEO strategy.
SEMrush can help you in running a comparative analysis with your PLA competitor. To begin with, you can find out what are the real competitors you are facing on the PLA front by running queries for your PLA keywords.
After identifying your top PLA competitors, you can find out what keywords they are using to end up in paid search results.
SEMrush & Social Media
You can't think of executing a winning digital strategy without taking Social media performance in the loop.
Even though SEMrush doesn't boast about its social media tracking features, but they are still good enough for any small to medium enterprise to improve its strategies in a moderately competitive market.
Some of the salient elements of this feature are:
YouTube video analytics
Comparison of follower count with competitors
Hashtag reports for hottest topics and trends in your niche
Tracking competitors publishing trends for a specific time period
Besides providing SM analytics, SEMrush also offers you to streamline and manage your social media activity.
You can manage the posting on all of your online accounts through the Social Media Poster feature of SEMrush.
Worth Reading : How To Develop Content Strategy For Different Social Media Platforms
SEMrush Pricing
This is the most important part of any review. Honestly, no matter how impressive the features are, you can't convince users to buy a product it if they don't feel they are paying the right money for it.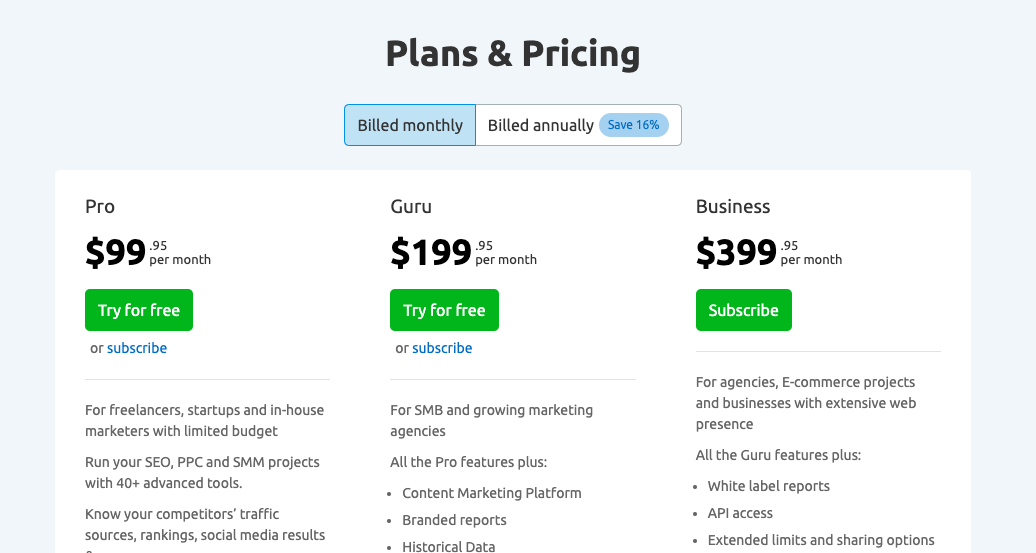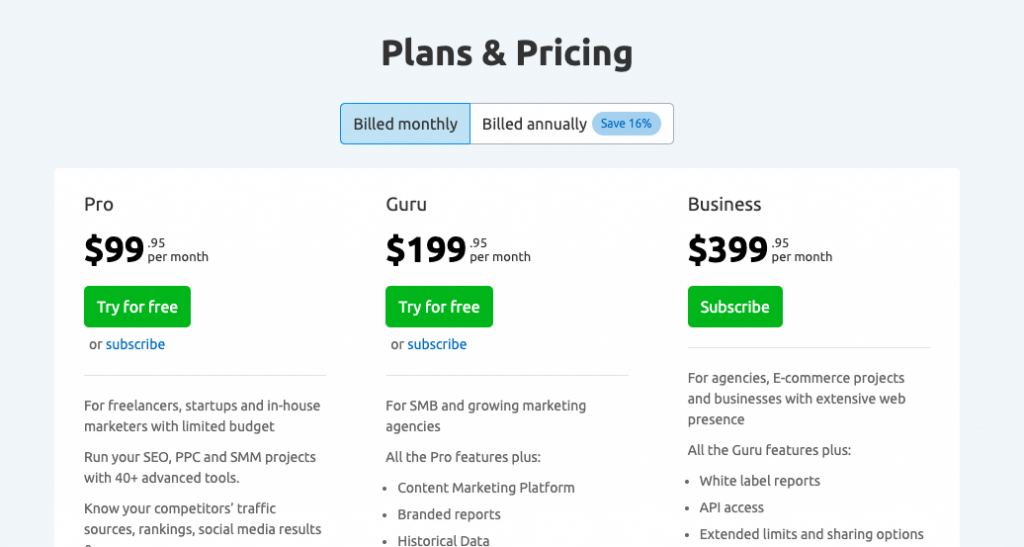 As of now, SEMrush is providing its competitor analysis tool in four different packages.
It is important to mention here that they have revised the prices of all their plans, which is an indicator that users are willing to pay for their SEO analytics.
Pro Plan
It's the base plan that comes in $ 99.95 per month. SEMrush Pro is good enough for all those businesses that have just started out their journey in the online realm.
Moreover, freelancer and in-house marketers can find all the helpful SEO and SM tools in the Pro package to improve their digital imprint.
Guru Plan
It is touted as the most popular SEMrush plans for social media businesses and marketing agencies. Besides extended search limits for keywords and backlinks, you get branded reports and access to historical data in SEMrush Guru.
The plan can be subscribed at $199.95 per month.
You Might Want To Read : SEMrush Vs iSpionage Vs SerpStat
Business Plan
For large marketing agencies, businesses with extensive online footing and large-scale e-commerce projects, SEMrush offers a Business plan that comes at $399.95 per month.
The plan improves on the Guru package with these features:
Extended limits
API access
White label reports: You can furnish all the analytical results generated by SEMrush with your own company name and logo. In other words, SEMrush gives you the intellectual ownership of its data through the Business plan.
Enterprise Plan
It is the latest addition in the SEMrush plans. Enterprise is actually a customization plan offered by the SEMrush to the enterprises to get tailored SEO comparative tools for their exact needs.
It includes custom keyword databases and customized limits with unlimited crawling service. On-site training is also part of this executive plan. SEMrush also offers the addition of new features in its Enterprise plan.
In short, if you are looking for a highly customized SEO tool, then go for SEMrush Enterprise. The price of the Enterprise plan is adjusted as per the services used.
For a quick comparison, we are putting all the important details of the first three plans side by side.

SEMrush Promo Code & Free Plan
Discount, SEMrush promo code and offers quickly change. So, we are not quite sure if an offer will be valid in the next week. These days, you can avail a 14-day free trial period on the Guru plan to save more than $100.
It is important to mention here that the regular free SEMRush trial allows you to only use the features of a pro plan.
You can avail this limited discount offer at this link.
SEMRush Free Trial Without Credit Card
In order to incentivize the users, SEMrush is offering a flat free 14-day trial of the pro plan that only needs a simple sign-up.
You can make the most of SEMRush free trial by hoarding as much backlinks and keyword data as you can.
And if this data helps you with effective comparative analysis, then you can go on to subscribe to the plan.
Is it Possible to Avail to SEMRush Free Trial without Credit Card?
It has been observed that users remain reluctant in providing their account information when they are not sure about buying the product or service.
This is the reason why many service providers offer free trials where users don't have to use their credit cards or other banking information.
If we look within the industry, then we have BuzzSumo that offers its services on trial without asking for the credit card information.
Unfortunately, SEMrush's free trial needs you to register with your credit card. A nominal amount is also deducted from your account at the time of signup. But there is no need to worry since it is refunded when you opt out of the plan.
Final Verdict
If you are striving to find profitable keywords for your online content and want to keep updated about your competitors' SEO maneuvers, then we would strongly recommend you to give SEMrush a try.
You can start with SEMrush Pro to get hold of this competitor analysis tool.
The fortnight SEMrush trial period is enough to understand how different features of the tool works.
During this time period, you will also find out if it contains long-term viability for your marketing analytics and strategies.
In short, give a try to SEMrush through its 14-day free trial. You are not going to lose anything.