Many bloggers struggle to increase their search traffic, which is often touted as the biggest challenge they will face.
This is the reason why they are always recommended to use SEO tools that will give them the edge when it comes to competitor research, backlink analysis, and keyword research.
However, the one thing that no one tells bloggers is that even though you get a ton of great features from SEO tools, they can be quite expensive.
So, if you don't have the resources to invest in SEO tools what are you supposed to do?
That is exactly where affordable tools like SpyFu come into the picture, as it offers you with all the features you'll need, and you won't need to spend a lot of money.
To give you a better idea, we are going to review all the features you can gain from SpyFu, including its pricing, coupons etc.
Along with this Spyfu review, we would also be talking about Spyfu competitors or alternatives in the end.
So the first thing we're going to do is look at all the incredible features that you can gain from SpyFu. These include:
Custom branded reports
Backlink exports
Access to SEO reports
Filter all your sales needs
AdWords history of 12 years
Organic ranking history of 12 years
Tracking thousands of keywords
Unlimited backlink results
Unlimited backlink searches
Unlimited data exports
Unlimited keyword searches
Unlimited domain searches
With so much data at your fingers, you'll manage to accurately analyze your competitors and understand how to beat your competition.
Related : SpyFu Vs SEMrush Vs Moz Pro
The Amazing Reasons You Should Be Using SpyFu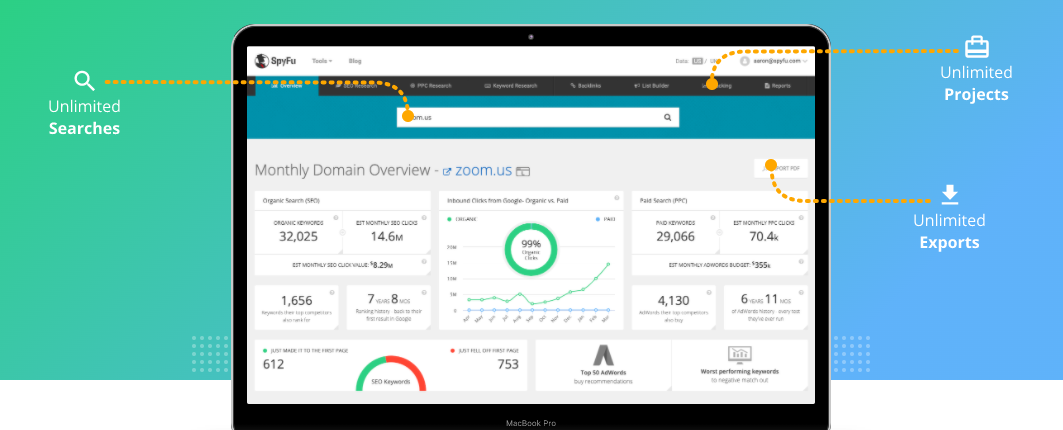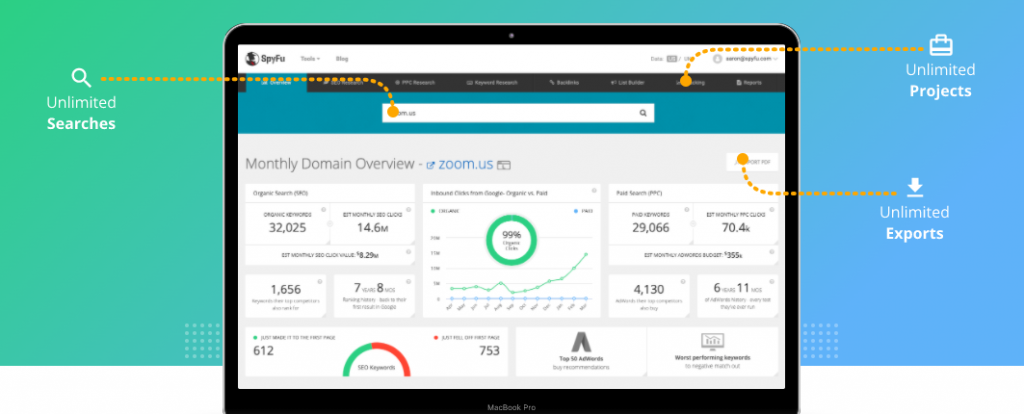 If you're still on the fence about using this amazing SEO tool, then we are going to talk about some of the amazing features that will give you the advantage when you're using this tool.
So, let's discuss the amazing reasons why you should be thinking about using SpyFu:
1. The Best Competitor Analysis Tool
One of the main reasons why you should be using SpyFu is because it is recognized as the #1 competitor analysis tool in the market.
It provides you with comprehensive information on your competitors, which includes their ads, backlink sources, and top-ranking keywords.
Using the competitor analysis function on SpyFu isn't that difficult as well, as you'll simply need to enter the website of your competitor in the search box on the dashboard in the Overview section.
Once you enter your competitor's website, you'll be shown a ton of useful information and data that will include:
Organic ranking history
Top domain keywords
Data on inbound backlinks
Competitor shared keywords
Top competitors of the domain
List of keywords that their competitors are ranking for
Paid search
Inbound clicks from Google
Organic search
Apart from that you the data shown above can be exported into a PDF easily, so that you can share it.
By clicking on the organic keywords, you'll be shown a keyword list comprising of the keywords that your competitor is using to rank on Google.
This will include a lot of useful keyword information, which will involve information regarding:
Estimated clicks every month
Monthly searches
Keyword ranking difficulty
Costs per click value
Changes in the positions of keywords
Most valuable list of keywords
If you're looking to grow your online business or build a profitable blog, the fastest and easiest way to do that is by spying on your competition.
You'll manage to understand the weaknesses and strengths of your competitors, and what works for them, by analyzing their strategy.
This is where SpyFu is such a great tool, as it not only allows you to comprehensively analyze any domain or website you want but also helps you acquire useful information about the website of your competitor. Using this tool, you can find:
Backlink information about your competition
Information about PPC ads
Estimated monthly traffic
Most profitable keywords they use
All that is what makes SpyFu the undisputed leader when it comes to competitor analysis tools.
Related : iSpionage Vs SpyFu
2. SEO Reports, Rank Tracking & List Builder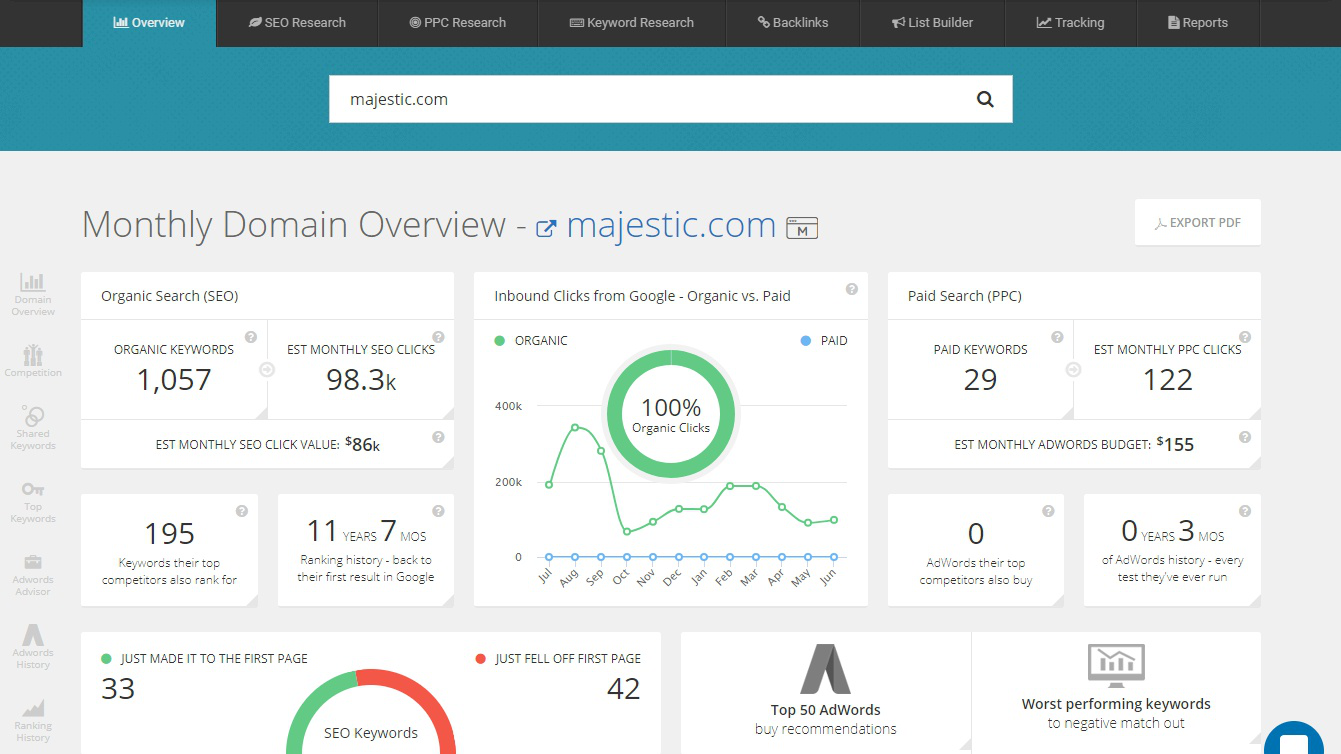 One of the best features you are provided with by SpyFu is the 'List Builder', which helps you find leads information, keyword top lists, and domain top lists.
You'll be provided information in the domain top lists, such as domains that have the most organic traffic, domains that have spent the most on AdWords, and companies that can offer you information such as social media details and email.
The section for keywords top list will also offer you useful information such as, expensive keyword lists in different countries, list of expensive keywords, keywords that have the most clicks, and keywords that have the highest CPC.
Apart from that you also get a feature known as 'Rank Tracking', which allows you to track Google search keywords rankings easily.
All you'll need to do to start tracking keywords is creating a new project and add the keywords to it. Once the keywords are added to the project, you'll get weekly reports from SpyFu along with the keyword positions of the domain on Bing and Google.
That will help you organize your keywords with the labels and group names or you can look towards the keyword suggestions offered by SpyFu.
The SEO reports will provide you with in-depth insights on the best way to increase organic traffic and things like:
Organic pages that are newly ranked
Most valuable keywords
Biggest gains
Monthly organic clicks value
Monthly top organic clicks
Number of pages that have organically ranked
Number of keywords that appeared in results for top search
Apart from all that you can also view the analytics data of your competitors by going to the Domain Overview and clicking on the 'Their Analytics Data', which will review in real time their sales along with how you can get them.
All you'll need to do is enter the URL of your competitor's website in 'Their Analytics Data' and you'll be given access to all the data from SpyFu. It's simple and allows you to find the following things:
Sales of your competitors, including how much money they are making, and which are their top selling products.
Analyze the results of their A/B tests
Learn what strategies are employed by your competitors to acquire more visitors on their website.
All this puts you in a strong position to understand your competitor and allows you to compete better.
Related :
3. Attain Amazing PPC Results
One of the most difficult things you'll face when you start a new online business or launch a new website is increasing the search traffic.
This is the reason most businesses choose paid advertising options to get more traffic on Google.
They are known as AdWords, where you spend money to show ads on Google so that more traffic is driven to your website and is converted into leads and sales.
PPC is a great way to increase website traffic, but if you want to achieve great results on your investment, you must implement the right strategy.
The great thing about using SpyFu is that enables you to achieve great results on PPC quickly since it provides you with useful information about the ads your competitors have been using to attract traffic.
All you need to do is analyze the keywords they have been using and which ones deliver the best results. Using the PPC keyword research tool on SpyFu helps provide you with the following benefits:
Find and analyze the ad spend history and paid keywords for any website
Discover the keyword strengths and weaknesses of your competitor
Discover ad copies and keyword groups
All you'll need to do is enter the domain name of your competitor in the PPC keyword research tool and you can easily view their estimated monthly PPC budget, estimated monthly PPC clicks, and paid keywords.
Apart from that, you'll also be shown a list of the PPC keywords that have been used on Google AdWords by your competitor to attract more leads and traffic.
You'll also find out buy recommendations for top AdWords, AdWords history, most profitable keywords, and the leading paid competitors for the targeted domain.
Also Read : SEMrush Vs Serpstat Vs iSpionage
4. Simple Keyword Research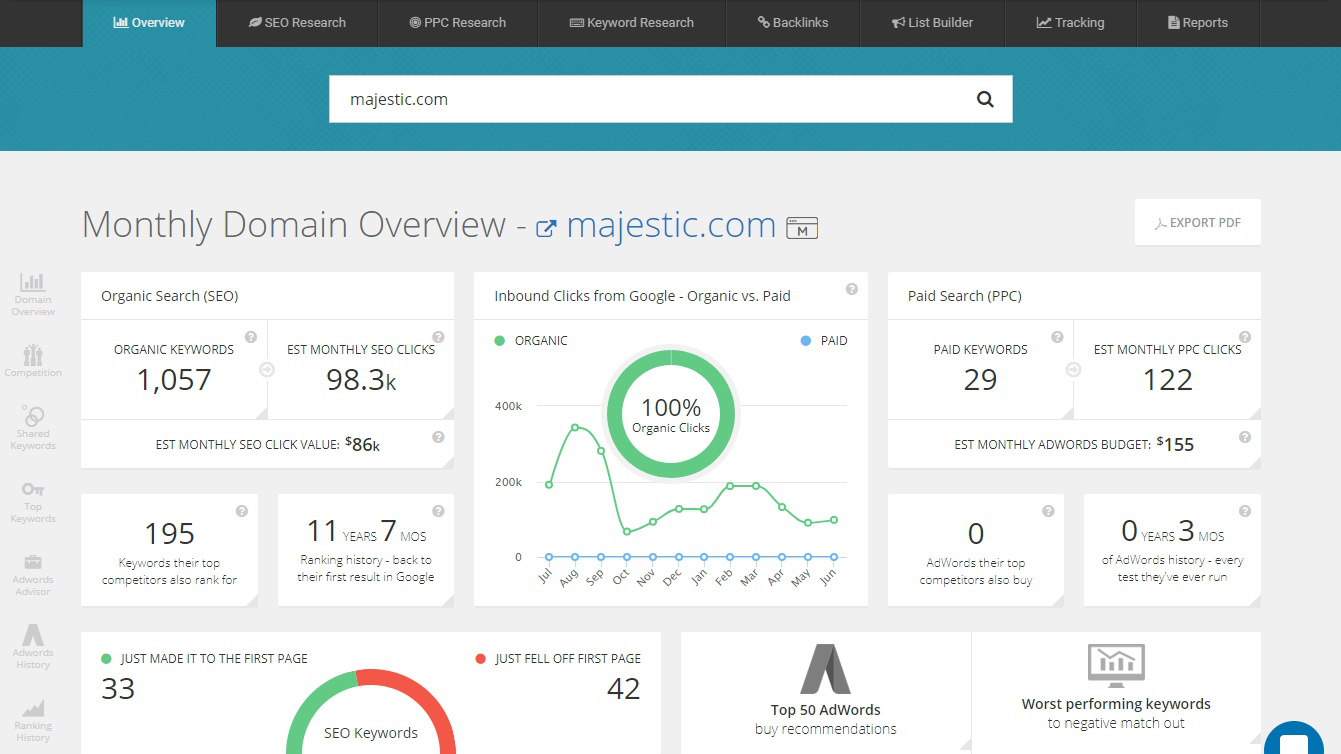 Amongst the biggest reasons why you should be using SpyFu competitor analysis tool is because it helps you quickly find great keywords.
The interface is extremely easy to use, and you can easily start researching the keywords you like in the search bar.
After entering your targeted keywords, you'll be provided comprehensive data on those keywords by SpyFu, which will include global and monthly searches for the keyword and the average ranking difficulty and CTR of the keyword.
Apart from that, you'll be shown a list of related keywords and an extensive range of keyword metrics, which will include:
Broad CTR
Clicks per month
Local searches
Global searches
Broad CPC
SEO difficulty score
Advertisers
Costs per month
Apart from all that the keyword analysis tool of SpyFu will offer you with comprehensive information about metrics like SERP analysis for the keywords, advertiser history on all targeted keywords, organic ranking history for the keywords, and backlinks information.
It helps you attain rankings on the first page for your keyword.
The amazing user interface of SpyFu makes it very easy to find profitable keywords in any industry that you want, and you also gain in-depth data for keywords, which includes advertiser history, SERP analysis, and keyword metrics.
All that information makes it incredibly easy to find keywords that are profitable for your website.
Worth Reading :
5. Amazing Link Building Opportunities
Backlinks are extremely important for your website as they impact your search rankings and are considered by Google to be the #1 ranking factor on Google.
Therefore, if your goal is to increase your website rankings and attract more traffic to your website, your focus should be on building high-quality backlinks.
However, link building is difficult, and you'll struggle a lot if you're new to SEO or blogging, as you'll need the right SEO tools to achieve success.
That is another area where SpyFu proves its worth as an amazing tool; it has a Backlink Builder tool that helps you find thousands of opportunities for link building in any industry.
All you need to do is add information regarding your competitor the backlink tool, and it will show you their backlink sources.
You can even enter the keyword terms you prefer and find links that are related to that keyword, which will not only help save time but allow you to build links easily. Some of the metrics you'll find for backlinks on the SpyFu Backlink Builder tool are as follows:
Outbound links
Ranked keywords
Domain strength
Organic clicks on page every month
Organic clicks on domain every month
You also gain an amazing feature in the SpyFu Backlink Builder tool, known as 'Backlink Outreach'.
This is a great tool and helps you find link building prospects so that you can reach them and improves your chances of building amazing links for your website.
This allows you to find great opportunities for link building and helps you with important data, like social media profiles, phone numbers, and emails.
Related : How To Make Backlinks For Your Ecommerce Store
SpyFu Pros & Cons
Even though SpyFu is an amazing tool, there is no such thing as perfection in this world. To give you a fairer idea about this tool we'll look at the pros and cons:
Pros
SpyFu offers you with some tremendous benefits, and here are some of the best of them:
30 days Money Back Guarantee – No Questions Asked
SpyFu has one of the largest databases as it indexes over 8 billion results in more than 91 million domains
Find an extensive range of low competition highly profitable keywords in any niche or industry
Provides you with on-page technical audits that search and fixes all issues related to content to improve organic rankings
The leading competitor analysis tools in the market
Affordable pricing offered
Cons
Even though it is an incredible competitor analysis tools there are some flaws we found out, which include:
Estimates of backlinks or keywords can be more accurate
No mobile ranking available
SpyFu Pricing


Now that you've gotten a fair idea about SpyFu you'll be wondering how much does SpyFu cost.
Spyfu pricing is simple. They have both monthly and annual options.
There are three main types of pricing plans: Free for life, Basic and Professional
You Might Want To Read : Ecommerce SEO Mistakes To Avoid
Free For Life – $0
10 search results

Unlimited searches

Personalized strategy session
Credit card is not needed.
Basic Plan – $39/month
Unlimited search results

No limit on data exports

No limit on domain overview PDF's

250 leads & domain contacts

5000 weekly updated keyword rankings

10000 top lists results
Professional Plan – $39 for first month. $78 thereafter
Unlimited search results

No limit on data exports

No limit on domain overview PDF's

500 leads & domain contacts

15000 weekly updated keyword ranks

50000 top lists results

10000 API calls

Custom reporting
The extensive choices available in the pricing plans for SpyFu means that whatever plan you do end up choosing, you'll benefit greatly from the services provided to you.
Useful Post : Ways To Improve Your Ecommerce SEO
Best SpyFu Competitors
If you're still not completely sold on SpyFu as a competitor analysis tool, you'll be pleased to know that there are two other Spyfu alternatives that are available in the market.
These are as follows:
SEMrush
Serpstat
We're going to discuss both SpyFu alternatives so that you gain a better understanding of them and can make the right choice.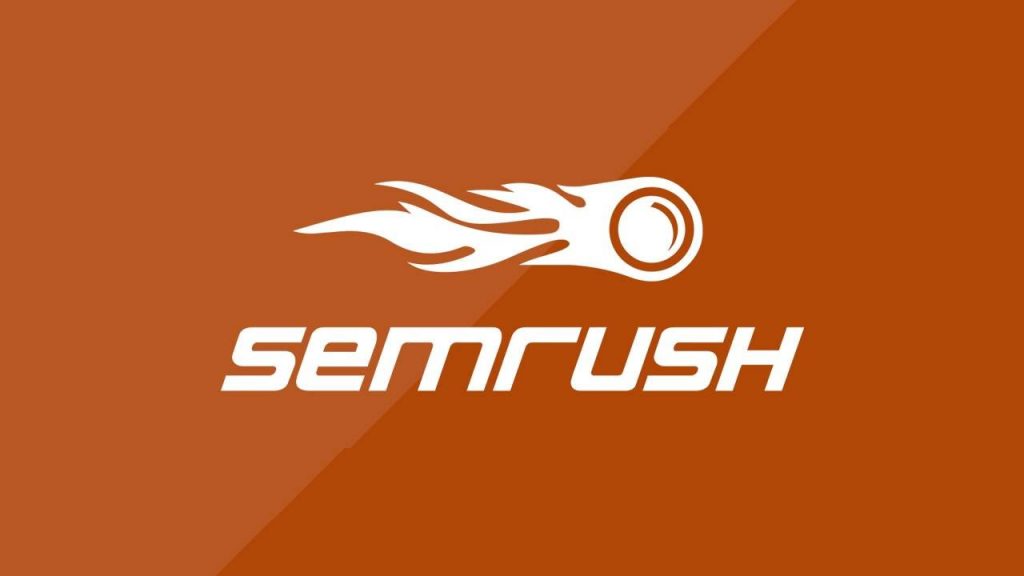 More than 4 million people use SEMrush worldwide, which makes it one of the most popular SEO tools in use. If you've been searching for a better alternative to SpyFu and the ultimate SEO toolkit, it doesn't get any better than SEMrush.
It offers you an extensive range of features such as website audits, keyword research, competitor analysis, and more.
Some of the main features offered by SEMrush include the following:
Advertising analysis tool
Product Listings Ads
Backlink analysis
Keyword rank tracking
Website audits
Keyword research
Competitor analysis
Domain comparison
Ideas for content creation
Website position
And more
All these features make SEMrush one of the best alternatives to SpyFu in the market.
Read : Complete SEMrush Review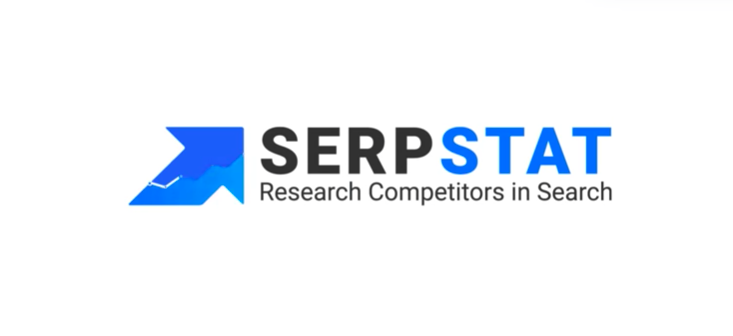 For those of you that have been searching for an affordable alternative to SpyFu, the best choice would be Serpstat, which offers a starting pricing plan for just $19 a month, along with plenty of great features, such as, on-page SEO audits, competitor analysis, keyword research, in-depth URL analysis and more.
You may not get many features in the basic plan of Serpstat, but if you're looking for affordable alternatives to SpyFu there aren't much better than this one.
Some of the main features offered to you by Serpstat include the following:
Content marketing ideation
Advertising analysis
Search analytics
Keyword research
On-page audit
Market intelligence
Rant tracking
Competitor research
And more
The great features and affordability make Serpstat a worthy Spyfu alternative in the market.
Interesting Post : Moz Vs SEMrush
Final Thoughts
Here we come to the end of Spyfu review.
When it comes to competitor analysis tools in the market there are tons of options available to you, but what makes SpyFu great is that it is easy-to-use and has amazing features at an affordable cost.
Therefore, it's not much of a surprise to find that millions of people prefer using this SEO tool.
The great thing about SpyFu is that it isn't just a competitor research tool, as you can use it to manage the SEO of your website and attract more clients as well.
SpyFu is an excellent choice for those that are working with paid ads and PPC campaigns since it makes your task so much simpler and easier. I am sure most Spyfu reviews online will echo it.
For those of you that have been searching in the market for an affordable tool that can perform everything—backlink analysis, keyword analysis, competitor research, SpyFu is the ultimate choice.