Have you ever been looking for the top-performing keywords for your blog posts or articles but didn't know where to find them? A keyword research tool can help you with that.
One of the best ones available that's been in use for almost five years now is Keywords Everywhere – a freemium keyword research tool launched in mid-2015, and that's offered as a Chrome extension and Firefox add-on.
Since 2015, the tool was available for free, but from September 2019, users of the software started paying to buy credits at different price levels to enable them to carry out their research on the tool.
For many users who relied on it as a free tool, the new system may not be favorable or what they expected.
However, this isn't necessarily the only reason why users may opt for alternatives to the tool.
There are several advanced and alternative tools that outdo Keyword Everywhere at its game and offer even more features and functionality than it does.
However, they're not all free and some are expensive whether you're paying monthly or annually, especially for individuals.
Let's take a look at some of the best alternatives to Keywords Everywhere.

Best Keywords Everywhere Alternatives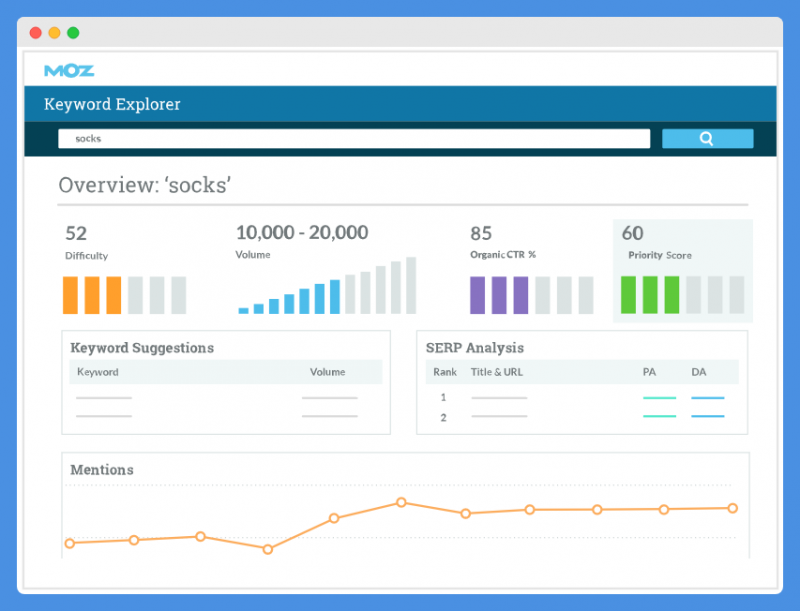 Moz Pro is the first on our list of Keywords Everywhere Alternatives. It is the gold standard for SEO tools in many ways.
As a pioneer in the SEO space, the tool is highly developed into an end-to-end SEO solution covering web optimization, keyword management, and crawling.
It also covers link tracking and analysis using its Fresh Web and Open Site Explorer tools.
Its Keyword Explorer tool isn't a standalone tool, so you'll have to pay for the full suite of SEO tools just to use it.
However, it helps you find keywords that'll generate lots of traffic, as it finds "lateral" keyword ideas and closely related keywords lists.
The smart tool provides out-of-the-box suggestions you'd not find in other tools.
Also included is the Priority and Organic CTR feature that tells you the number of clicks to expect from the keyword you're targeting if you crack the top 10, and an overall score of whether you should target the keyword or not.
This single metric – Priority – considers the CTR search volumes and difficulty so you can easily find keywords that'll generate the most traffic for your site from Google.
Moz Pro overhauled its capabilities such as page optimization, website monitoring and crawling, replacing the latter with a bigger, more comprehensive, and faster version with unique features that improve its website optimization and monitoring features vastly.
The site crawler sweeps your pages on a weekly basis, sending you monitoring alerts on any new issues.
It uses crawl depth and page authority to prioritize the level of impact while identifying issues like broken links, duplicate content, crawl errors, and missing page elements.
It even goes further to give you recommendations on how to fix these issues and instructions.
A free MozBar, which is a Chrome browser extension, scans your site's page authority and domain authority scores, on-page metadata, and page attributes.
There are a ton of other features in this tool beyond site optimization and the Keyword Explorer. You can also get free resources and a knowledge base to learn more about using the tool, especially for SEO newbies.
Pros
Offers useful resources
One-on-one sessions with experts available
Integrates page and domain authority metrics
User-friendly interface
Basic plan accessible by two different users
Powerful and dynamic SEO tool suite
Offers handy suggestion
Cons
Takes long to deliver data and reports
Advanced features are somewhat lackluster
User experience isn't as intuitive as of other tools
Range and depth of features may overwhelm some users
Interesting Comparison: Moz Vs SEMrush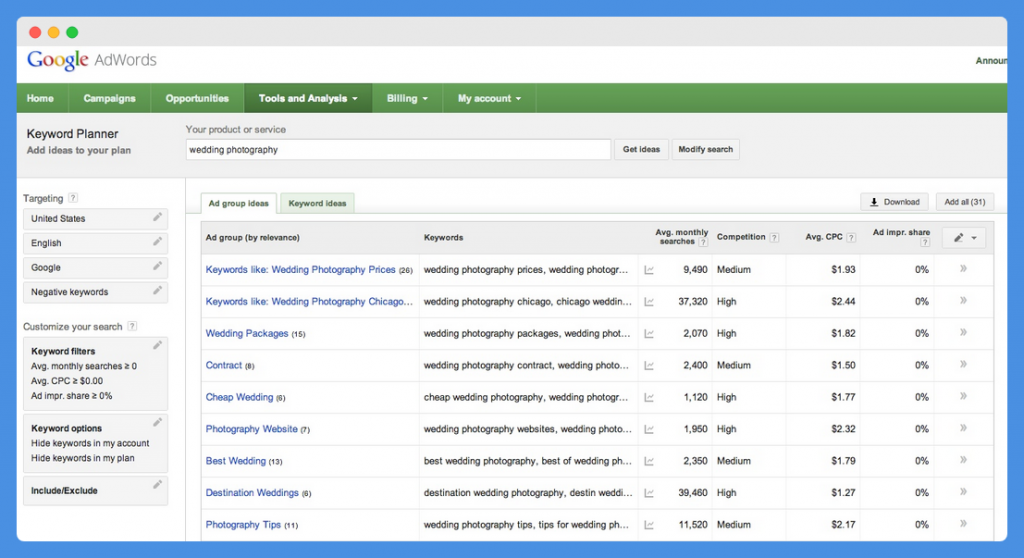 Another good keywords everywhere alternative is Google Keyword Planner.
This is a free tool by Google, which offers details you're basically searching for like search volume, CPC, and competition, which are useful in data analysis.
You can input many keywords as a baseline right before it pulls up the results you need, which means you can enter different keywords with related themes and find out what users search for.
It's a good tool to use when you're trying to figure out the angle of your blog post or article so as to properly capture the readers' attention.
To use it, you'll need a Google account, and then you can tap into its massive keyword database. Its data comes straight from Google, which means it's current, reliable and legit.
One of the great features of this tool is the top of page bid, which shows how much advertisers bid on a particular keyword.
For instance, if you see a bid of $25, it means on average, people spend 25 dollars per click for that particular keyword. The higher the bid number, the more commercial intent the searcher has for that keyword.
Using this tool for SEO purposes can be tricky though because it's designed for Google Ads.
When researching what keywords to use for your blog posts or articles, the search volume is only half of what you should do; the next half is to find the right keywords your business should rank for, but the tool helps you do that.
Google Keyword Planner tops the list in terms of overall functionality thanks to its robust and accurate keyword research, plus it lets you build plans, add goals and metrics, and create ads from particular keywords.
You can boost your site content SEO and build a marketing strategy from the ground up.
It is super easy to use even if you've never tried it before as it'll guide you through the process, giving you options to research based on what you want to do.
Unlike Keywords Everywhere, the tool is free to use which is a huge plus.
Pros
Free
Allows multiple inputs of keywords
Offers all the details you need including competition, CPC, and more
Helps you with PPC advertising using the New Ad Groups tab
Allows you to see keyword volume based on geographical location
Filters out keywords if their search volume is below a specific set
Cons
No searching for related terms
Google account needed to use it
Limits you to Google searches
Also Read: The Ultimate Guide To On-page Optimization – Part 1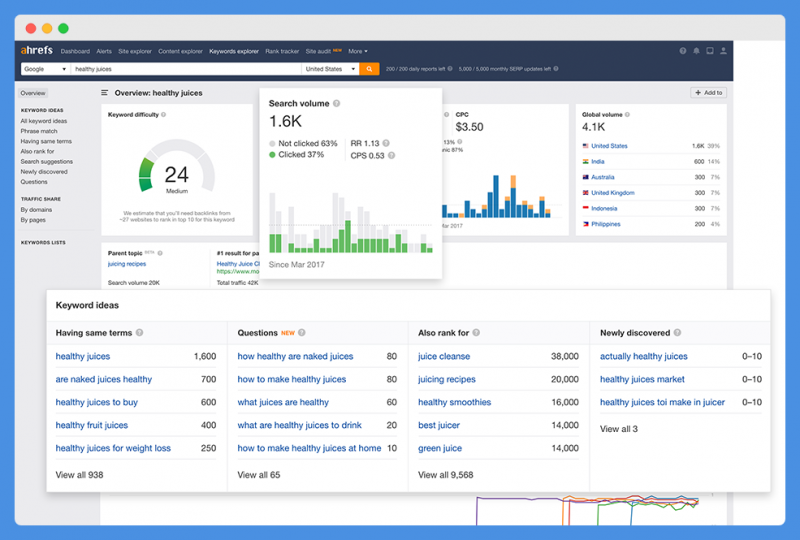 This pro-grade SEO tool comes with powerful features from competitive analysis to keyword management and more.
If you're an experienced digital marketer, Ahrefs is a solid choice as it maintains a huge index of backlinks on the internet crawling more than 6 billion web pages and 12 trillion historical backlinks every day.
Among its great features include ongoing SEO monitoring, ad-hoc keyword research, position tracking, competitive domain comparison, and content-specific research.
Ahrefs doesn't only focus on Keyword management like Keywords Everywhere. It can do a bit of everything and with aplomb.
However, it doesn't have the SEO reporting and keyword management features of Moz Pro, and similar user experience to boot, but it does plenty beyond its crawling functionalities.
Plus, its interface is improved, and it now has better keyword management features and more advanced reporting.
Ahrefs is an exceptional SEO tool with powerful domain analysis and crawling capabilities, which cater to your needs in terms of ongoing monitoring and basic keyword research.
You can make smarter keyword decisions, and its Keywords Explorer now offers super in-depth information with every keyword.
You'll get a breakdown of first-page competition as well as search volume and other common metrics, plus the number of searchers that click on a result.
One of the features you'll find useful is Keyword Difficulty, which tells you the number of backlinks you need to rank on Google's first page.
Pros
Strong link analytics
Reports more metrics accurately
Useful SEO toolbar browser add-on with important metrics
Internet-wide crawling and site-specific capabilities
Comprehensive domain comparison and monitoring
Improved keyword suggestions
Solid ad-hoc keyword research
In-depth SERP analysis
Cons
Basic keyword management
Bare-bones user experience
Only one user at a given time can use the tool
Limited SEO reporting
Explore: The Ultimate Guide To On-page Optimization – Part 2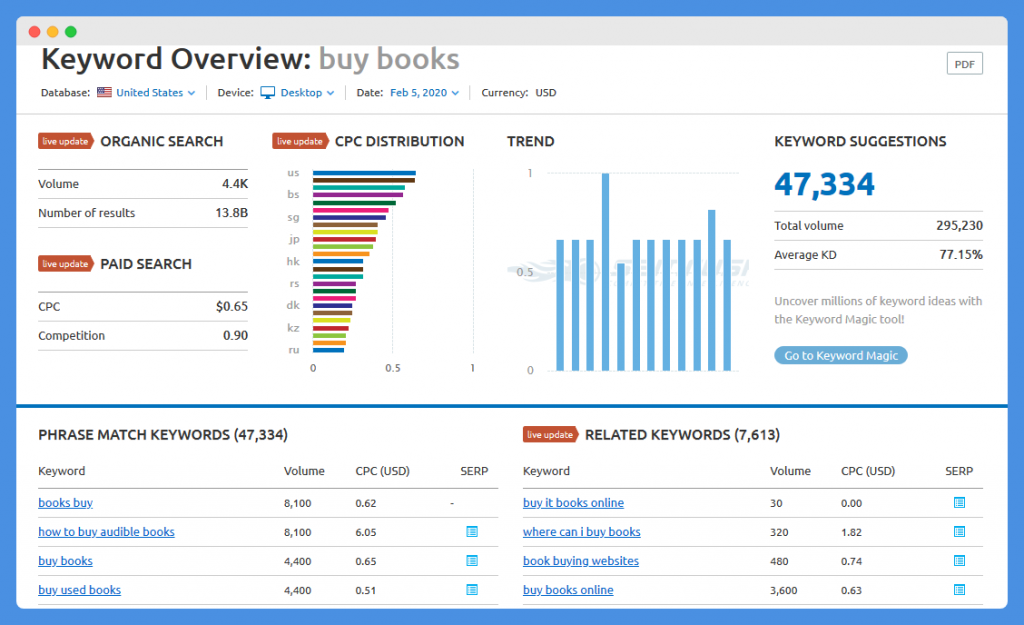 This tool goes head-to-head with Ahrefs and Moz Pro in different ways, but it's still a solid choice for your digital marketing efforts especially for SMB (small and medium-sized business) users.
It offers what you need from an SEO tool with a variety of functionality across crawling, ongoing search position monitoring and ad-hoc keyword research.
Our Pick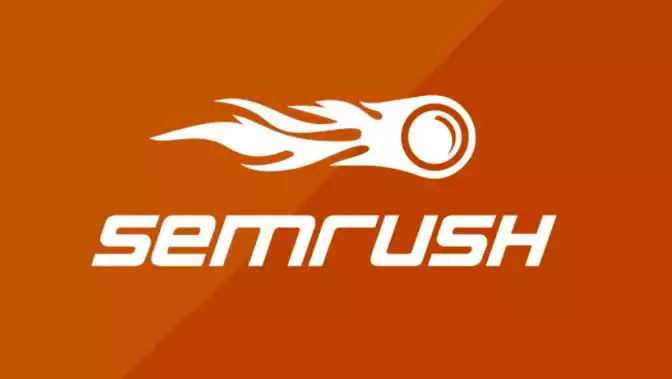 We earn a commission when you click this link and make a purchase.
Moz Pro beats it in terms of being feature-rich, but it's still worth considering as an alternative to Keywords Everywhere.
SEMrush shows keywords that your competitors rank for, which you wouldn't find with other tools, instead of making you enter a seed keyword and showing a long list of keyword ideas.
In the Organic Search section, you'll find the SEMrush Rank, which ranks sites in a database based on total estimated organic traffic.
In the same section, you'll see the Keywords, which is an estimate of the monthly organic visitors from Google, and Traffic Cost that indicates the value of the traffic based on CPC from Google Ads.
If you see a low traffic cost but high organic search traffic, it means a domain is ranking for keywords that don't have conversions.
However, the Organic Keywords data is what you really need to look out for as it shows you the top five keywords your competitors rank for.
You can get more ideas by checking the Competitors section in the domain overview from the sidebar, and see the search queries they rank for.
You can also search for a keyword instead of a website or domain/URL, and see a Phrase match report with the keyword you typed in.
Keyword Magic is a nifty tool that pulls suggestions of keywords you can use from its 800+ million databases full of useful terms.
Pros
Comprehensive
Tracks backlinks
Offers search breakdowns for desktop and mobile
Keyword suggestions available
Offers proactive SEO recommendations
Useful project-based SEO campaign structure
Cons
No keyword list management
No free plan
Related: SEMrush Review
Our Pick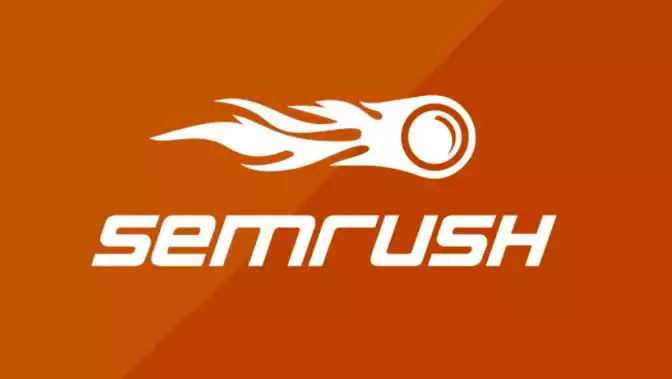 We earn a commission when you click this link and make a purchase.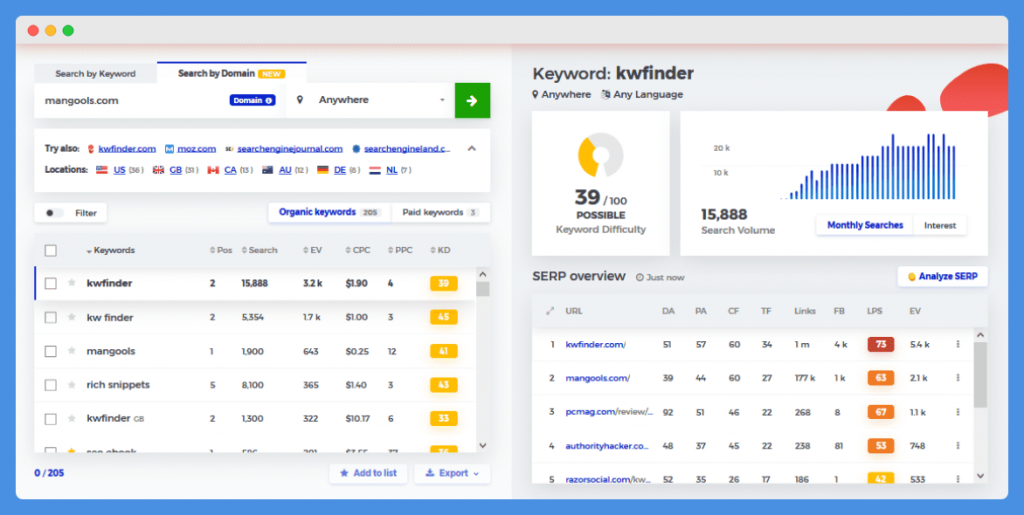 KWFinder doesn't have the breadth of features that you'd find with Moz Pro, Ahrefs or SEMrush, but it does a good job either way and at a reasonable price.
It's a go-to keyword research tool for SEO professionals as it doesn't have a large toolbox like others on this list.
However, it focuses on specific functions that it manages very well, with a laser focus on ad-how keyword research and suggestions.
As a purpose-built SEO solution, KWFinder is easy to use and has a straightforward interface. Queries begin with a simple search box, so you won't find a complicated setup as with other tools.
It's also been improved to add ongoing position monitoring, rank tracking, and a SERPWatcher feature.
It also adds other capabilities that let you see changes in keyword positions with time, plus a dominance index that gives you a website value estimate for each keyword you track.
The SERPWatcher offers rank tracking though you won't find advanced position monitoring and reporting features as with other tools.
KWFinder is also great for long-tail keyword research that identifies results from which you can get a valuable page ranking for your site over the long-term.
Pros
Affordable price
SERP-specific keyword tool (Google)
Rank tracking available
Good ad-hoc keyword research
Offers keyword lists and management
Cons
Limited in advanced SEO capabilities
Also Read: SEMrush Vs Spyfu Vs Moz Pro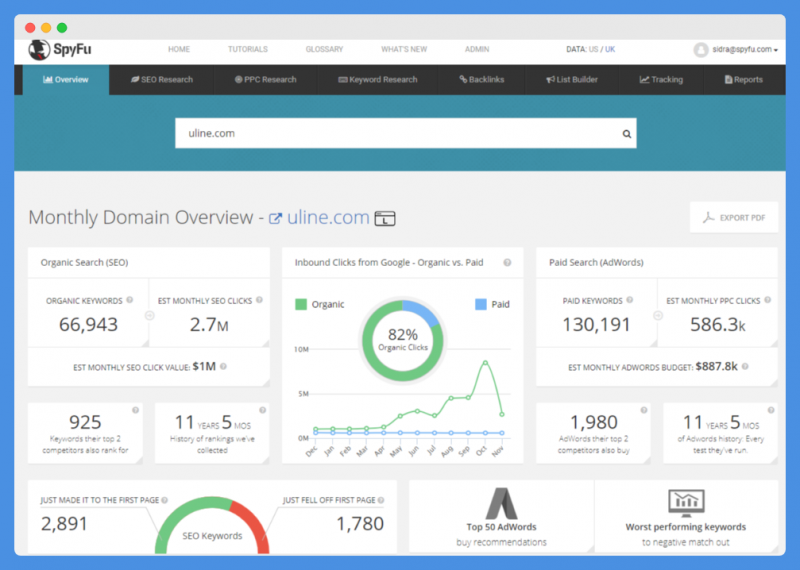 SpyFu is a spy tool basically. It gives you an idea of how your competitor marketing is doing. Accordingly, you can define your strategies to gain an upper hand.
The tool has a good user interface design, friendly price, more tools overall, and an excellent bet for SMB users.
Its dashboard is laid out well with a navigation bar and tabs for tracking, reports, SEO research, keyword and PPC research, backlinks, and a list builder.
It can do a lot more than just SEO tooling, but for this guide, we've focused on its keyword research functions.
If you want to target SERPs with your optimization strategy, you need to perform a keyword-driven investigation to find pages that rank higher.
SpyFu has keyword management and recommendation capabilities baked into its platform. In its research tabs, you'll find the keyword, SEO and PPC options, plus specific features for each of these under group features.
Its four main metrics for keyword research are monthly search volume, difficulty score, CPC and monthly cost.
Like SEMrush, this tool also offers basic keyword grouping functionality but executes it better than KWFinder and Moz Pro.
It's quite popular due to its excellent reporting, deep feature set, and solid digital marketing and advertising support.
As an all-in-one SEO package, SpyFu goes a lot deeper than other tools mentioned here, bringing direct value to your marketing and sales efforts, and your bottom line.
It anticipates your business needs, is easy to use, and more affordable than other tools in this list.
It's rather complicated for SEO newbies, but still a great choice to use over Keywords Everywhere.
Pros
Variety of keyword search and management tools
Attractive price range
Tracks backlinks
Offers ongoing site monitoring
Unlimited search results
Interactive reporting
Deep CPC/PPC and paid ad metrics
Cons
Lacks web crawling
Complex ad metrics for SEO newbies
Related: Spyfu Review

We earn a commission if you click this link and make a purchase at no additional cost to you.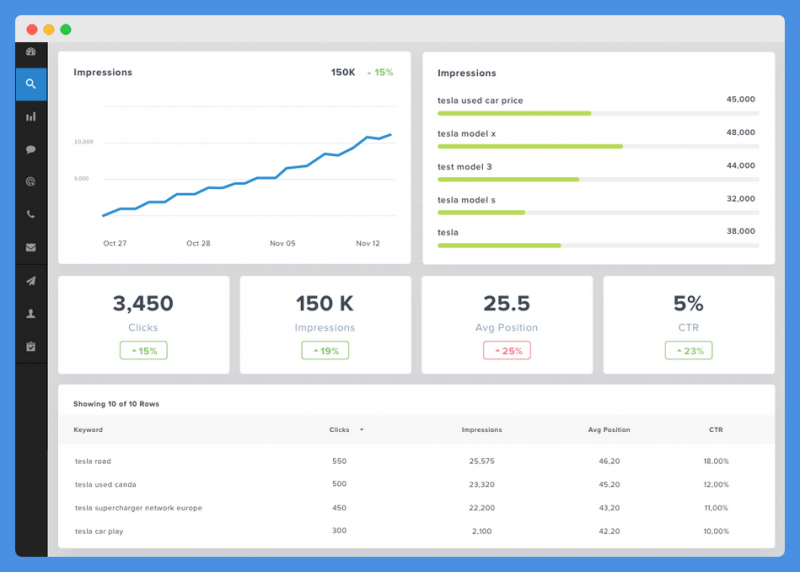 Google changed its search console with some new features, though you can still use the old platform until it fully switches over the new functionalities.
So far, the new console seems to be doing users well, with hundreds of Opportunity Keywords, and a Performance Report that lists where you get the most clicks from Google and the keywords that led users to those pages.
You can use the Opportunity Keywords that show your rank in Google for specific keywords, and with some on-page SEO, you can get a nice boost to your rankings.
Coupled with Google Analytics, you can get in-depth keyword data that you'd get using either of the tools.
You also get a more in-depth user experience with the new rebuilt console, such that your webmaster can also easily find and fix any possible problems.
With the improved console, you can also filter multiple variables at a go so there's no need to switch between different options to find what you need.
Plus, you can get more data ranges, unlike the older version that only gave you three months of data – the new one gives you 12-16 months of data.
You also get added features like Search performance, AMP status, Index Coverage Status, and a Sitemaps report. A job posting report is also available if you tend to post job listings on your site.
There's also an easy-to-read graph that shows your performance based on overall website clicks from the home page, and a table with key metrics that you can click on to get more information on the values you see.
Pros
Easy to find and fix bad links
Improved search analytics to find pages or search terms easily
Fetch as Google tool helps you test if the Googlebot can access your website's pages, how they render, and if there are any blocked page resources
Saves time
Cons
Page grader needs some improvement
Improved version lists HTML errors found when crawling your site but it's not always current
Interesting Read: Best KWFinder Alternatives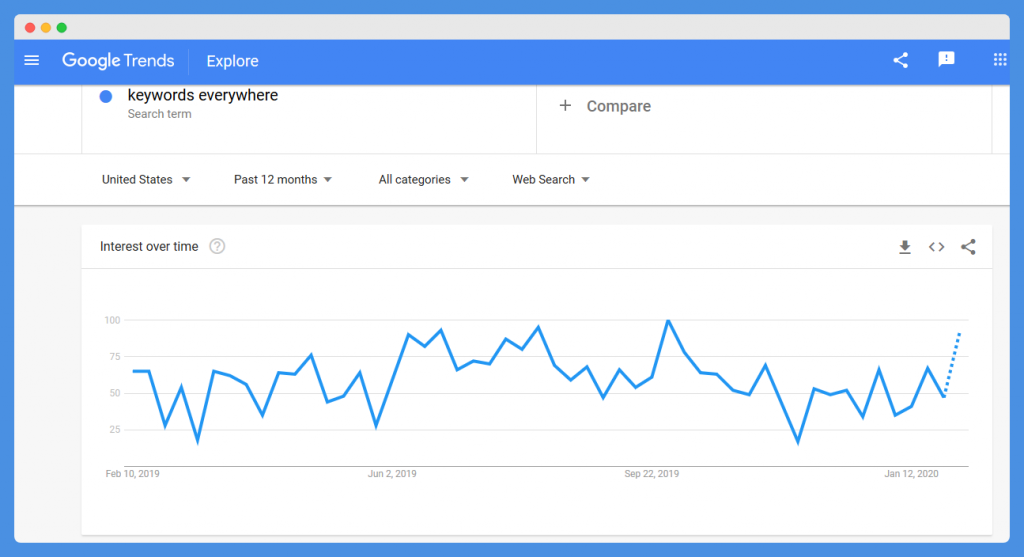 If you're looking for new keywords and search trends, Google Trends is a good free tool that can be used as keyword everywhere alternative.
You can search specific keywords and go to related queries to see if a keyword is popular, or growing in popularity.
This is important when you're trying to decide between two related or similar keywords, so you can go with the one that's trending higher.
The YouTube search feature is one of the best ways of seeing whether a specific keyword is rising on the second preferred search engine, so you can see if it'll bring traffic over the long-term before creating content.
It also shows you what's trending on Google, and shows you visualizations of how search trends change with time.
It's easy to use by simply typing a keyword in the search box and viewing its relative popularity over time.
Pros
Free
Compares different search times against each other
Shows search interest over a specific period of time
Simple user interface with graphs showing how keywords or topics are searched for over time
Cons
Shows search results over time, not actual ones
Defaults to USA searches
Doesn't present top search results over time
Also Read: Guide To Ecommerce SEO – Part 1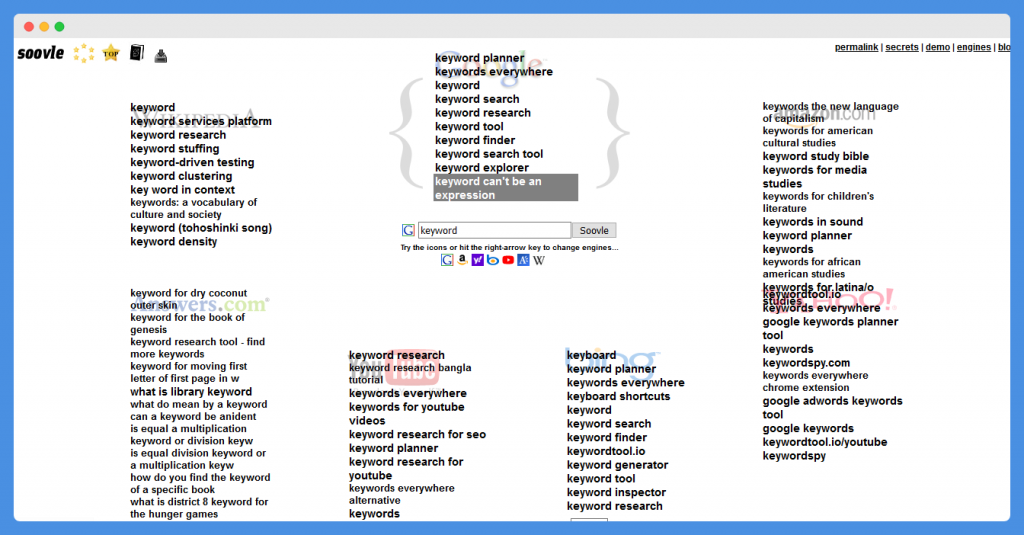 Soovle is another good Keywords Everywhere alternative that scrapes suggested keywords from a variety of sources including search engines like Google, Bing, YouTube, Amazon, Yahoo and others all in one platform.
This way, you can find the keywords that even your competitors don't know about as they're untapped, plus you can use the Saved Suggestions to save favorite ideas and download them in a CSV file.
It's a free to use tool that offers a full picture of keywords you can find on each search engine and find the ones that fit your content best. It's a great option for people looking for free alternatives to keywords everywhere.
To use it, just open Soovle, type the keyword in the search bar and see the related keywords you can use from each search engine.
Pros
Easy to use
Simple
Free
Good for discovering long-tail keywords
Saves lists in a downloadable CSV file
Gives you related keywords on one page
Cons
Doesn't show CPC, search volume, competition, and other metrics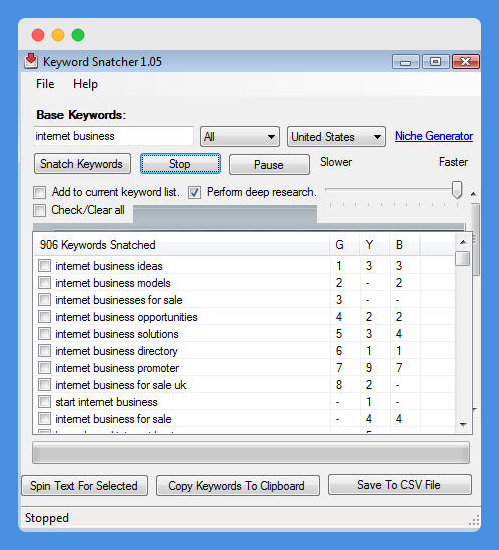 This keyword research tool offers 2,000 keyword ideas from a single seed keyword. Once you open the tool and pick the sources you want it to get suggestions from, you can get a large number of ideas.
However, it won't give you data on the keywords like search volume or keyword competition from the ideas it generates. It's just good for keywords.
If you want such information, click Download Suggestions to extract the keywords, and then save as a CSV or text file. Copy and paste the keywords into a tool Google Keyword Planner to get more details.
It also has a Word Count feature that focuses on keywords of a particular length, which makes it easy for you to find long-tail keywords.
Pros
Free
You can download keywords in CSV or text formats
Wide variety of keyword suggestions for a single search term
Cons
Doesn't offer more keyword metrics
Can't be used as a standalone tool
Also Read: Guide To Ecommerce SEO – Part 2
Final Thoughts
You can have a solid content marketing and SEO strategy, but without keywords, you may not achieve the goals and objectives you desire for your content.
With any of these Keywords Everywhere alternatives, you can organize your keywords by different metrics and find out exactly what you need to use in your content.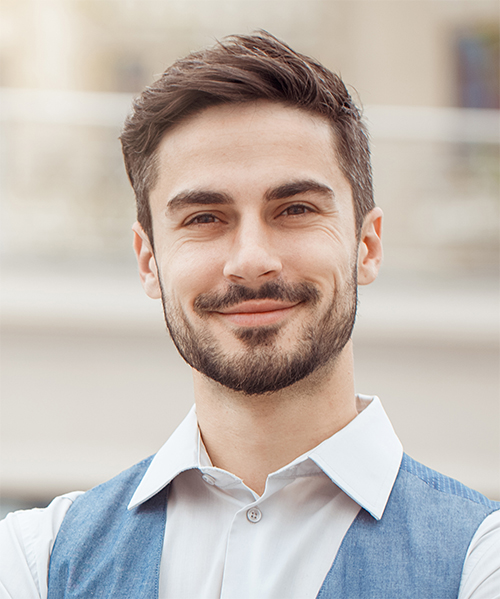 Author: Scott Macarthur
Scott L. Macarthur is a marketing consultant and an online author. He is mostly engaged in providing his expertise to startups and SMBs. He is also an author on TheNextWeb.