Did you know that around 27 percent of online retailers have shifted towards dropshipping as their primary eCommerce method?
Dropshipping is still the craze, and many people are starting to use the dropshipping model due to its low startup costs.
In this 10-part guide, you will learn what dropshipping is and how you can start an Amazon dropshipping business from scratch. Let's get straight into it.
What Is Dropshipping?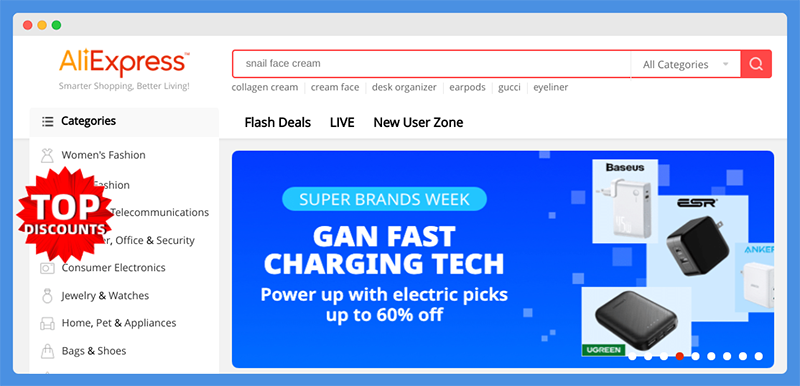 To understand what dropshipping is and how it differs from the standard eCommerce model, we must first go over the standard eCommerce model, which is as follows:
You buy a product in bulk (100 units, for example)
You store it at your warehouse
You list it on Amazon
A customer makes a purchase
You ship the product from your warehouse to the customer
With dropshipping, however, you don't invest in any stock upfront. Instead, here is how it works:
You find a product on AliExpress
You go straight to listing the product on Amazon without buying any stock (you list it at a higher price than the AliExpress price)
A customer makes a purchase and you collect the money
You order the product on AliExpress and pay the lower AliExpress price for the item
The AliExpress supplier ships the product to your customer
You collect the price difference, which is your profit
In other words, as a dropshipper, you are a middleman between the supplier and the consumer. You don't have to take care of storing, shipping, and handling, but you do get to earn money.
Sounds like a win-win, doesn't it?
Related: Best Dropshipping Companies & Sites
Why Use The Dropshipping Model
The top reason to use the dropshipping model, which is what makes it so popular, is that you don't have to invest any money upfront. If you are jump-starting a business on a small budget, dropshipping is a lifesaver.
In addition, when you order a product in bulk, you run the risk of not being able to sell all of it and losing money. What happens if you only sell 20 percent of your stock?
Not only will you lose your original investment, but you will lose money on the storage fees. Storing products in a warehouse isn't free, and the longer it takes to sell a product, the more you will end up paying in storage fees.
It's hard to know beforehand how well a product will sell. Dropshipping gives you a chance to test a product's profitability; you always retain the option of purchasing it in bulk later if it sells well.
Where To Source And Sell Your Products
There are a number of places you can sell your products, and there are a number of places to source from. In this article, we will focus on selling on Amazon and using AliExpress as a source.
Amazon is the top eCommerce marketplace in the world, and selling on Amazon gives you access to hundreds of millions of buyers.
AliExpress is a great place to source products from because the products there are cheap and plentiful. You'll have many options to choose from.
Now that we know what dropshipping is, its benefits, and where to sell, let's go over the steps you'll need to take to be a successful Amazon dropshipper.
Researching And Finding A Niche
Like any business, you can't go into dropshipping blind. You need to do your market research and have a strategy beforehand.
This starts with researching a niche. A niche is a product category that you will work in.
Examples include:
Men's clothing
Women's clothing
Health and beauty
Fashion accessories
Baby toys
Pet products
You can narrow down your niche even further and focus on a sub-niche, such as:
Men's Eyeglasses
Women's leggings
Acne care
Beard care
Dog food
You can get niche ideas from the list of categories on AliExpress.
Explore: Best Dropshipping Niches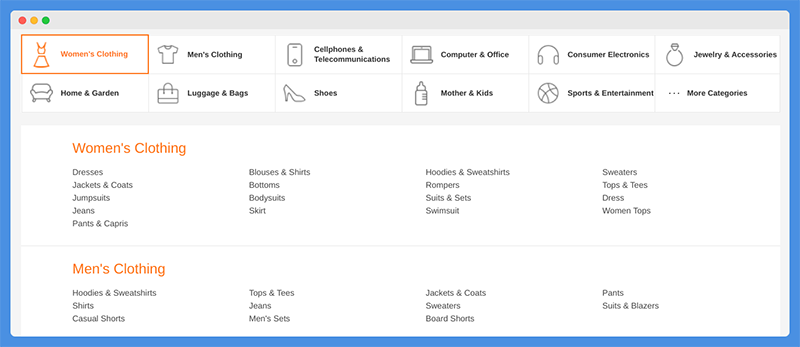 It's important to research your niche carefully. When you pick a product category, you want to look for the five following things:
A high turnover rate
Low competition
Evergreen
Low return rate
Low likelihood of negative reviews
The first two criteria are self-explanatory. Products with a high turnover rate sell well and will bring you a consistent income stream, and niches with low competition are easier to break into.
Products should be evergreen so you can profit all year round, unlike Christmas ornaments or Halloween costumes.
Finally, you don't want products that are likely to have high return rates or negative reviews. One of the perils of being a dropshipper is that you are not actually in control of the product or its shipping and handling.
You also likely don't have a physical office or warehouse, so processing returns (which we will cover later) is a bit more complicated.
Therefore, it's best to avoid products that have high return rates. Think clothing, which often needs to be returned due to an improper fit.
Products that are more likely to arrive damaged or stop working after a few days include electronics, so it's best to avoid them as well.
This doesn't mean that you can't be a successful dropshipper selling clothing and electronics.
It just means that these niches come with an added risk, and if you do decide to enter them, you must be aware of those risks and be ready to respond to problems that arise.
To check whether a product or niche is selling well on Amazon and what the competition is like, you can use a research tool like Jungle Scout.
With Jungle Scout, you can research new markets and niches and discover which products are likely to be profitable.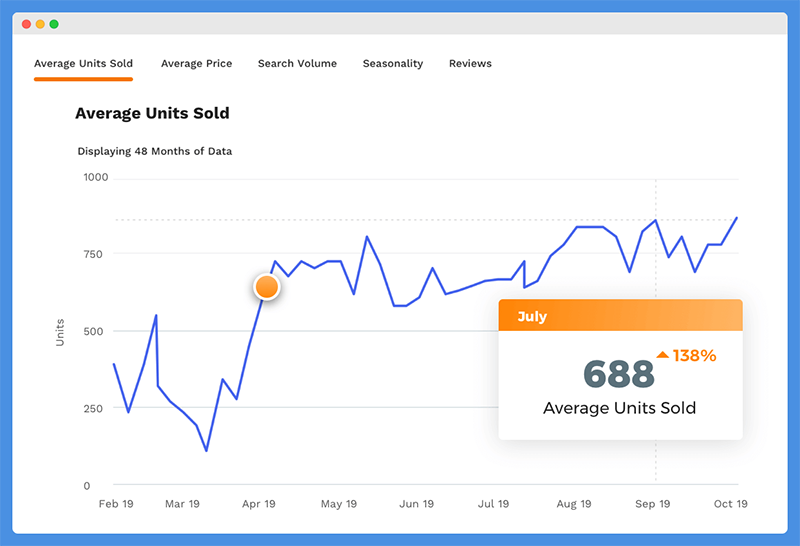 If you don't want to spend money on a premium tool like Jungle Scout, you can search Amazon's best sellers to see what sells well, look at how many reviews products get, and check what the competition is like.
Do this in conjunction with a free Amazon keyword tool like Keywordtool.io.
Check Out: Best Dropshipping Products To Sell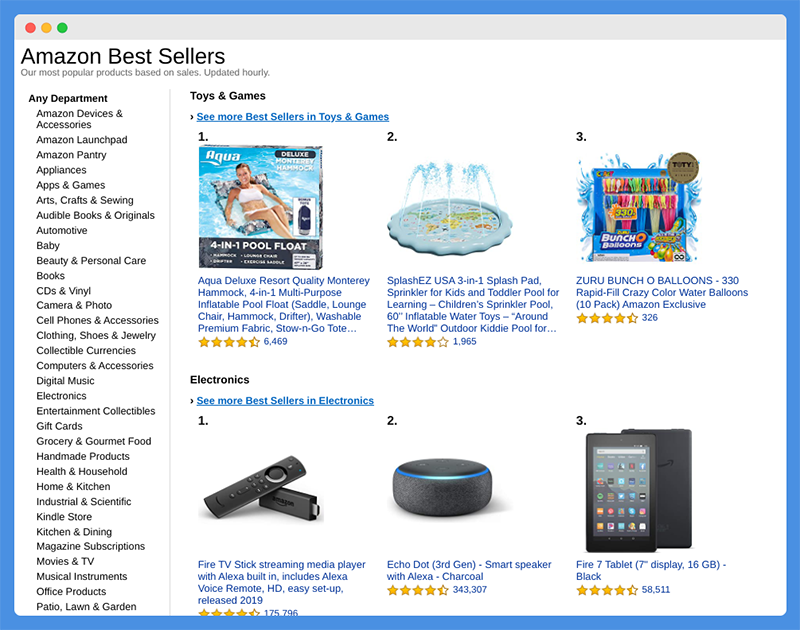 Finding Products On AliExpress
Once you have figured out what your niche is and what kinds of products you want to sell on Amazon, it's time to head over to AliExpress and search for products that you can sell.
Don't just pick the first product listings that appear in your search and list them on Amazon! Everyone's doing this, but you're going to be smarter by using the AliExpress filtering and sorting options to narrow down your searches.

Let's go through the sorting options first:
Best Match
Orders
Newest
Price
Using the Orders filter will help you find products that are proven to sell. These are the top-selling products that are popular and selling well.
Using the Newest filter can help you find products that nobody else on Amazon is selling yet, but be careful! There's no way of knowing if such a product will sell well or whether it is high-quality.
Finally, using the Price filter will help you find the cheapest products, but be careful not to exchange quality for cost.
I'd recommend using the Orders filter. The listings that will appear are selling well for a reason.
However, I'd also recommend checking on Amazon to ensure that Amazon isn't saturated with listings of that product. This will take some work, but it is worth it.
Now, let's go through the filter options:
Fast shipping
Free shipping
Free return
4-star and up
Min/Max price
Shipping country origin
To start, I'd recommend using the fast shipping, 4-star and up, and free return filters.
Free shipping isn't as important as it sounds, because you can always list the item on Amazon as having free shipping and just add the shipping cost to the base price of the item.
For example, if a product costs $2 on AliExpress + $2 shipping, you can sell it for $10 with free shipping.
Instead, it's important to focus on having quick shipping. One of the biggest hurdles when dropshipping from AliExpress is shipping speed.
Since most products originate from China, shipping can take weeks. Sometimes, it can take a couple of months.
This is NOT ideal. You want your customers to receive their products as soon as possible.
Even better than checking off the fast shipping filter is choosing products that ship from the United States.
Many products that say "fast shipping" but ship from China will still take a very long time to arrive; products that ship from the US will arrive much quicker (assuming you're selling on Amazon US).
Sometimes, though, shipping will be too expensive if you ship from the US. That's why it's important to choose products that ship from the US at low rates.
Products will often give you an option, as many sellers have warehouses both in China and the US.
Take the sunglasses in the screenshot below. As you can see, shipping from China takes about a month (the time of this writing is June 2nd) and costs $2.32:
Explore: Alidropship Review – Best AliExpress Plugin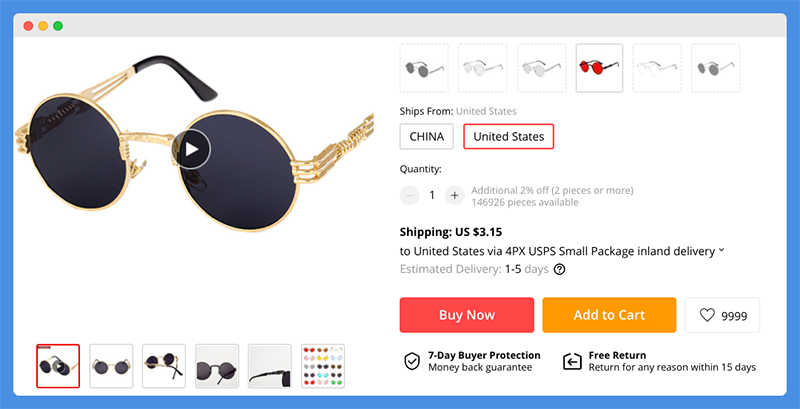 On the other hand, shipping from the United States takes only 1-5 days and costs $3.15: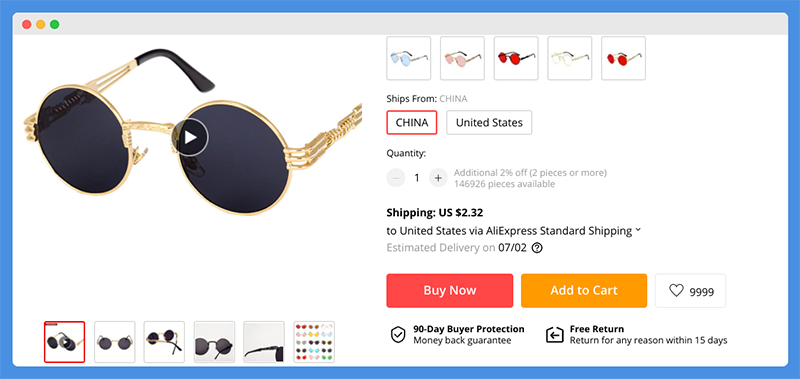 The obvious choice is to choose to ship from the US and simply add an extra dollar to the product price to cover the added cost.
To most Amazon buyers, there isn't much of a difference between a $17.99 pair of sunglasses and an $18.99 pair of sunglasses — but there is a huge difference between 1-5 days shipping and 30 days shipping.
After 1-2 weeks, customers might start emailing you and asking where their sunglasses are, and they won't be happy to hear that it might take another 2-3 weeks to arrive.
To summarize so far: You want to look for high-selling products that have quick shipping times.
However, that's only part of the equation. You also need to make sure that the product is of high quality and you can rely on the supplier to ship the product in time.
Making sure that the product is of high quality and will satisfy your customers is as simple as choosing a product that has great reviews.
You will already be filtering out products that have a star rating of less than four, but the higher, the better.
However, don't just look at the general rating. Read through the reviews yourself and see what people are saying — were they happy with the product? Are there any issues that stand out often?
Are people saying that they got the product quickly, or are they complaining that it took too long to arrive?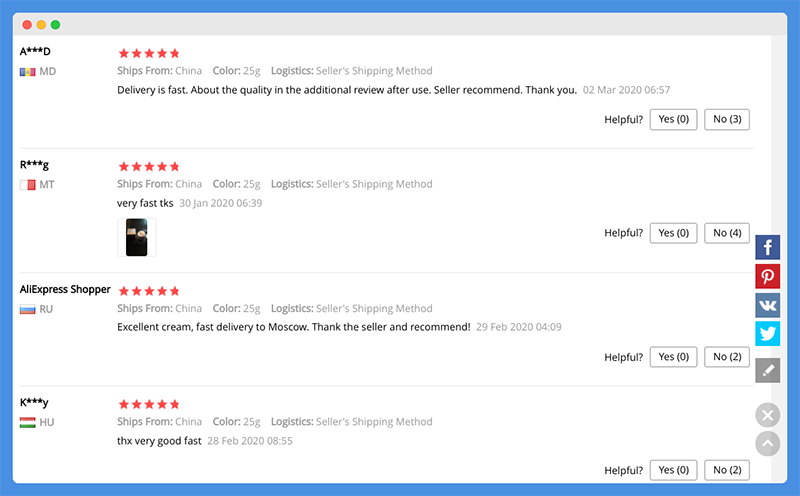 Next, you have to look at the supplier information, which will be shown on the left-hand side of the product listing page. There, you'll see the seller's overall satisfaction rating, and some sellers will be marked as a "Top Brand."
Go further and click on "Visit Store" to check out the supplier's full details. See how many years they have been in business — the longer this is, the more reliable they are likely to be.
Hover your mouse over the part that says how many years they have been in business (as shown in the screenshot below) and you will see more information, such as their location, business license, and customer ratings for the three following qualities:
Item as described
Communication
Shipping speed
Make sure the seller has high ratings in all three qualities. Otherwise, your customers may get a product that doesn't meet their expectations, you might have trouble contacting the seller when you need to make a return, and your customer may not get their product as quickly as promised.
As you can see in the following screenshot, this seller has below-average ratings in all three aspects. This is a seller you should avoid as it will only bring you headaches.
Also Read: How To Launch Your Alibaba Dropship Business Using Alidropship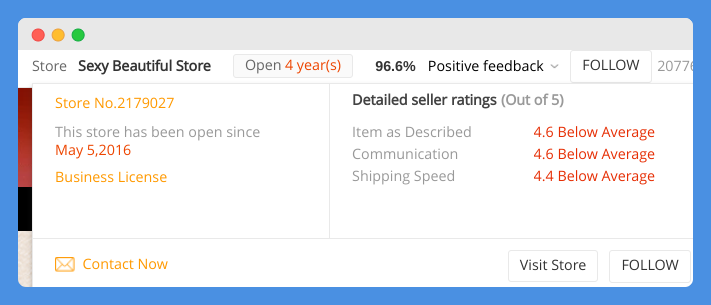 In the seller's profile or in the product description, you may also see them specify that they work with dropshippers. This isn't entirely necessary, but it is a good sign.
As you can see in the following screenshot, this seller won't put any marketing materials or price invoices in the box, so customers won't suspect it didn't come from you.

There is one thing we haven't yet mentioned, but it is worth talking about: Ordering paid samples.
As a dropshipper, you may not want to order samples as you are trying to keep your costs low. Nevertheless, if you can, ordering samples is a great way to verify the quality of a product and its shipping speed yourself.
Creating Your Amazon Listing
Now that you have chosen your products, it's time to list them on Amazon. Don't make the mistake that other dropshippers are making and just copy and paste the listing from AliExpress to Amazon!
This is a bad strategy for several reasons:
It's bad for Google SEO: Google doesn't like duplicate content
It's bad for Amazon SEO: Another dropshipper might be listing the same product on Amazon and might have copied and pasted the listing already. Amazon doesn't like duplicate content either
Customers can tell: The listing may have grammatical and spelling errors, and customers will be able to tell you lazily copied it
It won't work: It might just be a poorly written listing. Also, what works to gain visibility on AliExpress won't necessarily work on Amazon
Use the information from the AliExpress listing to write your own, unique Amazon listing. If you ordered a sample, you can write a listing based on the firsthand information you have.
Use a keyword tool like Keywordtool.io to find high-volume keywords to use in your title and description.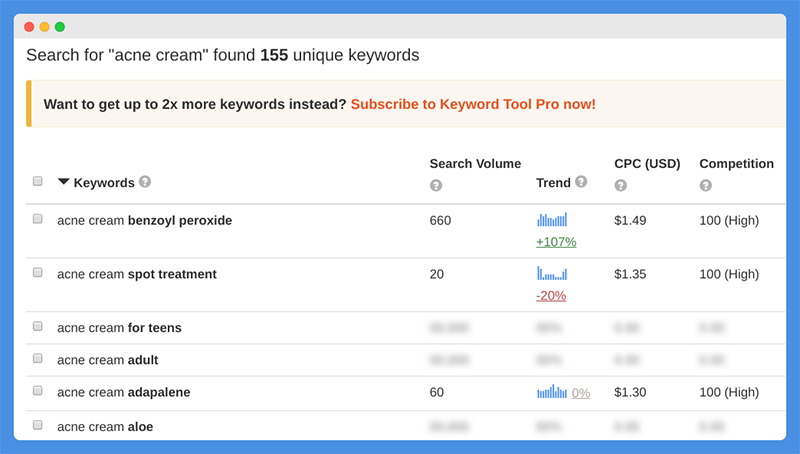 Use size charts from the AliExpress description in your own listing, when applicable.
As for images, you can take images directly from AliExpress. One problem with this strategy is that if another dropshipper listed that product, your product images will look the same.
To get around this, don't use the first AliExpress image as your first image. Instead, use the second or third image as your default Amazon image.
Even better, if there are additional images in the listing description, use them on Amazon instead of the default AliExpress images.
Another idea is to take partial images that are unique. For example, if the AliExpress image looks like this:
Interesting Post: Best WooCommerce Dropshipping Plugins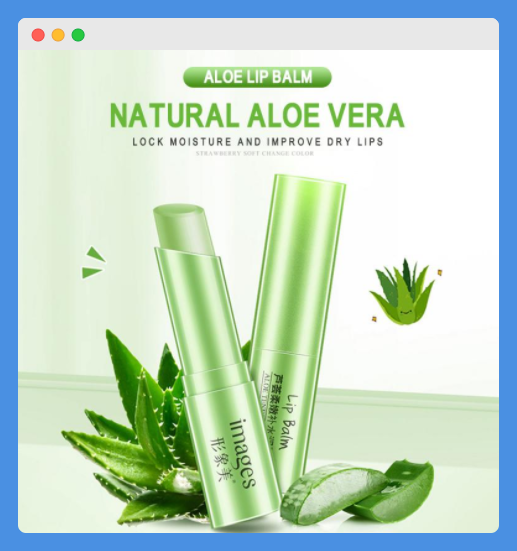 You can take this screenshot: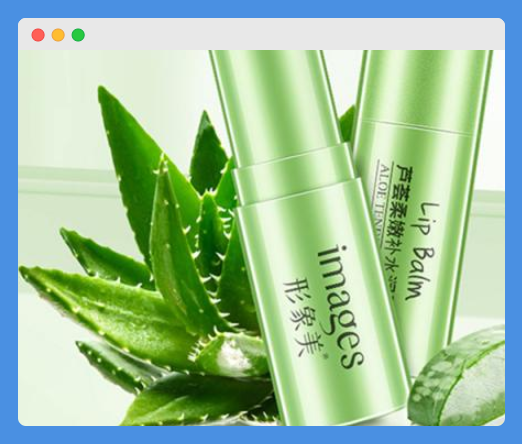 If the AliExpress listing has a product video, that's even better, as you take screenshots from the video.
Finally, if you ordered a sample yourself, taking pictures yourself is best. As long as you have a decent smartphone camera and good lighting, you can take beautiful product images that are entirely unique.
Product images are important, but so are a catchy title, a list of features and benefits, and a well-written description. Take your time; it's worth it and will pay off.
Fulfilling Orders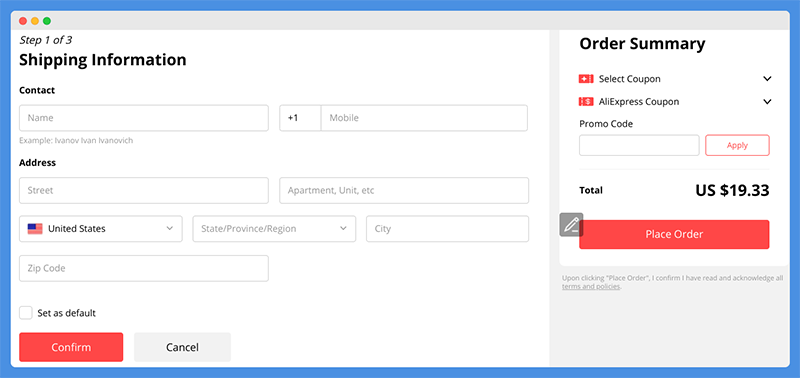 Your listing has been up for a while and now you have your first order. Congratulations!
It's time to fulfill the order, which you need to do as quickly as possible so that the customer doesn't experience a delay in shipping or in getting their shipping confirmation.
Simply take the customer's name and address that they entered on Amazon and enter it when ordering from AliExpress. Double-check to make sure there are no typos.
Of course, choose the correct size and color.
Once the product has shipped and you have gotten a tracking code, give the tracking code to your customer so they can track the shipment themselves.
Also Read: Best Amazon Dropshipping Courses
Getting Reviews And More Sales
It's important to encourage customers to leave reviews. If you have more positive reviews, your listing will get more visibility on Amazon and will convert much better.
Being proactive in getting positive reviews will ensure that occasional negative reviews are overlooked.
Send emails to your customers after their product has arrived asking for feedback and ask them to leave a review if they are satisfied. You can also send your customers emails when you list a new item you think they will like.
Handling Returns And Negative Reviews
It's bound to happen: Some customers won't be satisfied with their purchase and will want to return the item or get a refund.
This can be a headache, so some sellers have a strict no-return/refund policy. This will make things easier for you, but it may cause some customers to feel disgruntled and leave negative reviews.
If you do wish to allow returns, make the return period a bit shorter than the AliExpress return period (for example, 12 days instead of 15 days). This gives you some time to process the return.
When a return is requested, request a return yourself on AliExpress. Once you get the return label from the AliExpress seller, forward it to your customer.
If you plan on allowing returns, it's a good idea to use the "free returns" filter when searching for products to sell on AliExpress. Remember that not all products that allow returns and exchanges offer free returns paid for by the seller: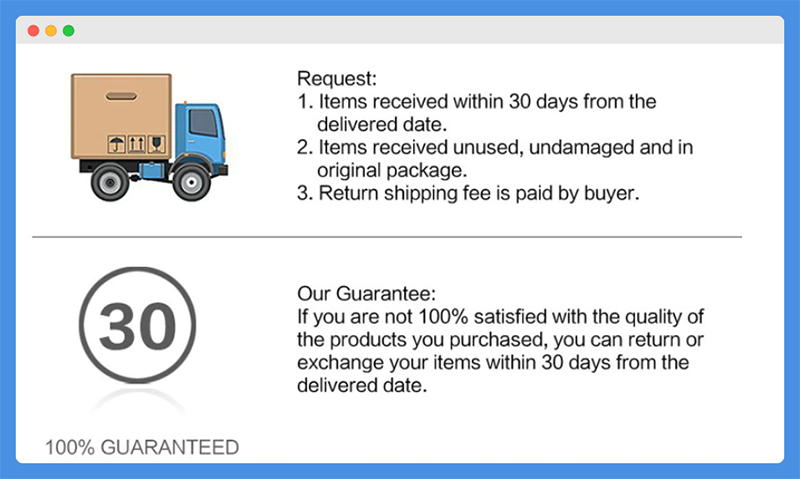 Sometimes, the product will be so cheap that instead of allowing the customer to return it, it may be worth just sending them a new one for free and allowing them to keep the old one. This will save you a lot of headaches and will lead to more positive reviews.
After all, if a product costs $2 on AliExpress and you sold it for $8 on Amazon, you can give them a second one for free and allow them to keep the first one — and you would still earn a $4 profit.
Using Amazon FBA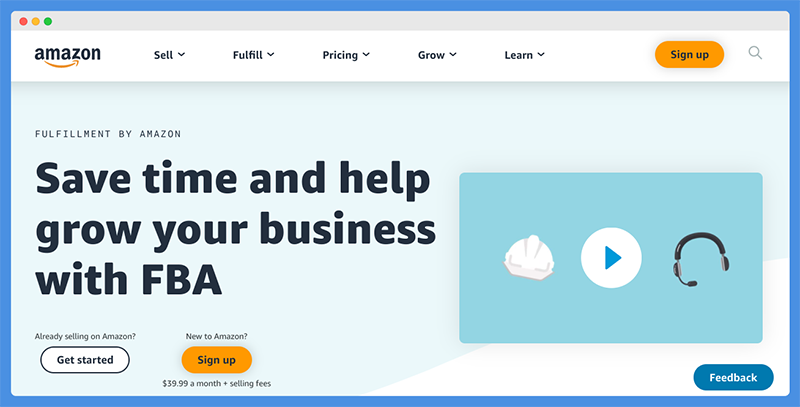 Although this guide is about dropshipping, it's worth spending a little bit of time talking about Amazon FBA, or Fulfillment By Amazon. Here's how FBA works:
You purchase a product in low quantities or in bulk
You send the product to Amazon instead of your own warehouse
Amazon handles and ships the product for you
Like dropshipping, you don't have to handle the product yourself. However, you do have to buy stock upfront and pay for storage.
Nevertheless, FBA has its benefits. Since Amazon is doing the shipping, it will be quick and Prime customers will be able to get two-day shipping. In addition, Amazon will take care of the returns.
One idea is to first dropship an item and when you see that it is selling well and has a high turnover rate, you can order it in bulk using Amazon FBA. You can even use your profit from dropshipping to fund your bulk purchases.
Explore: Best Amazon Tools For FBA Sellers
Wrapping It Up
There you have it — our guide for dropshipping on Amazon using AliExpress. Success doesn't happen overnight and you may face some trial-and-error in the process of figuring out which products sell and which don't.
However, it won't require any upfront investment, and as long as you have patience and are willing to be consistent, you can be a successful dropshipper.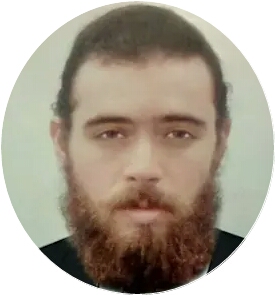 Author: Benjamin Levin
Benjamin Levin is a digital marketing professional with 4+ years of experience with inbound and outbound marketing. He helps small businesses reach their content creation, social media marketing, email marketing, and paid advertising goals. His hobbies include reading and traveling.